How to recover files and data from a dropped SSD hard drive? Which is the best external hard drive and Android Smartphone microSD card data recovery software? Are there any good free damaged dropped hard drive data recovery tools? How much to fix broken, bad sector, dead and crashed hard disk or laptop hard drive data?
See More ▼ 7 Best iOS Data Recovery Software For Apple iPhone And iPad
Your hard drive or hard disk crashed, what do you do now? Send it to a specialist shop and it is going to cost you a bomb to retrieve, save, recover and extract all your data, or forget about it? Have you ever wondered how the computer expert was able to extract the lost data and files? They use specialized software, while these freeware have the basics covered, it is still no match to those professional grade data recovery software. If you are seeking professional help, Seagate Rosewood and Western Digital both have their own professional data recovery service. Check out their official website for more information.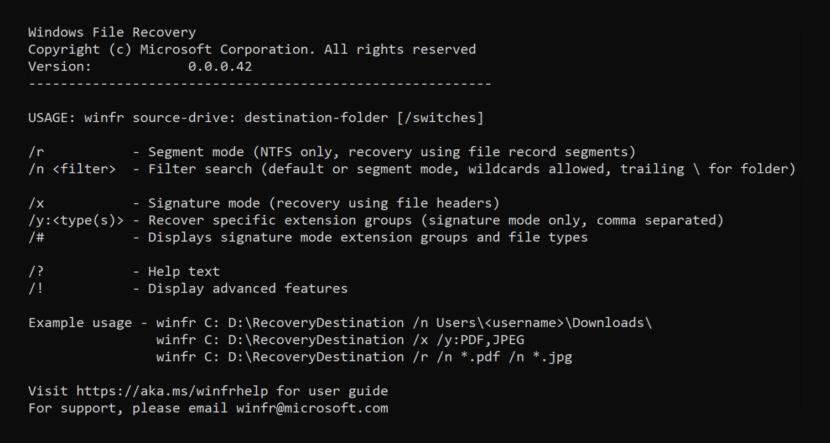 Accidentally deleted an important file? Wiped clean your hard drive? Unsure of what to do with corrupted data? Windows File Recovery can help recover your personal data. For photos, documents, videos and more, Windows File Recovery supports many file types to help ensure that your data is not permanently lost.
Recovering from a camera or SD card? Try Signature mode, which expands beyond NTFS recovery and caters to your storage device needs. Let this app be your first choice for helping to find what you need from your hard drive, SSD (*limited by TRIM), USB drive, or memory cards.
Target file names, keywords, file paths, or extensions in your recovery
Recovers JPEG, PDF, PNG, MPEG, Office files, MP3 & MP4, ZIP files and more
Recover from HDD, SSD, USB, and memory cards
Supports NTFS, FAT, exFAT and ReFS file systems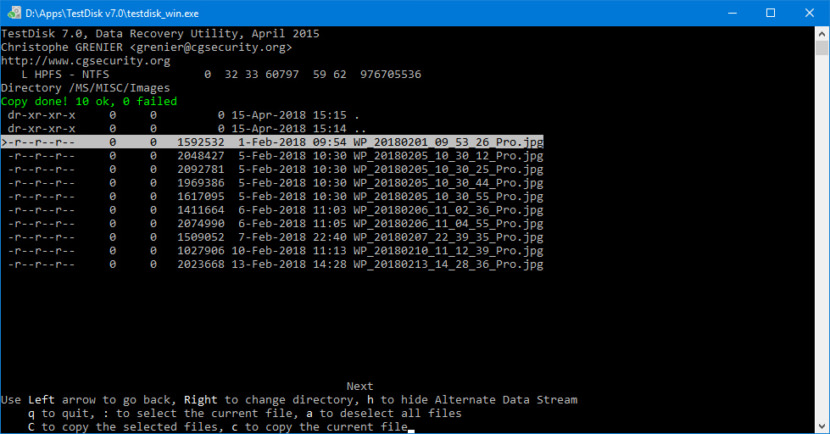 TestDisk is powerful free data recovery software! It was primarily designed to help recover lost partitions and/or make non-booting disks bootable again when these symptoms are caused by faulty software: certain types of viruses or human error (such as accidentally deleting a Partition Table). Partition table recovery using TestDisk is really easy. TestDisk can:
Fix partition table, recover deleted partition
Recover FAT32 boot sector from its backup
Rebuild FAT12/FAT16/FAT32 boot sector
Fix FAT tables
Rebuild NTFS boot sector
Recover NTFS boot sector from its backup
Fix MFT using MFT mirror
Locate ext2/ext3/ext4 Backup SuperBlock
Undelete files from FAT, exFAT, NTFS and ext2 filesystem
Copy files from deleted FAT, exFAT, NTFS and ext2/ext3/ext4 partitions.
Free and Paid Version Available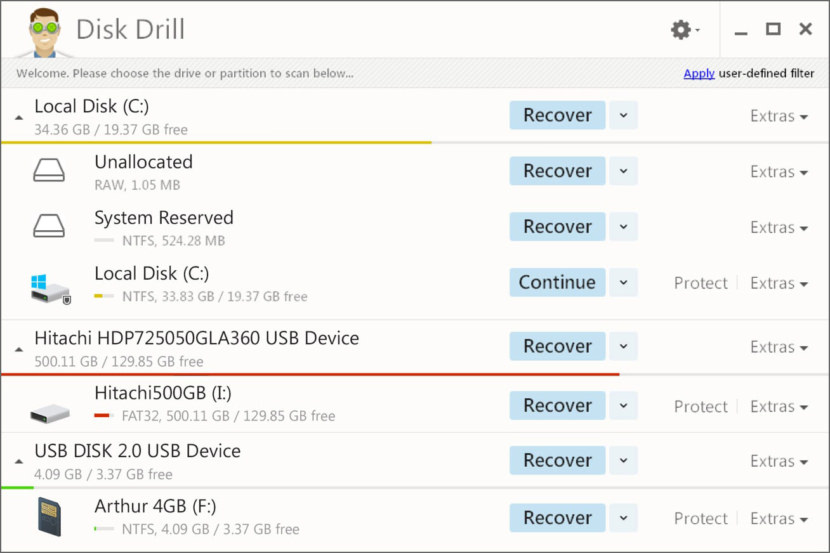 Do you need to recover deleted files in macOS, such as critical business documents, music, photos or videos? Have files or whole partitions gone missing from your Mac? Are you having trouble accessing an external USB drive or camera card? They can help. They make data recovery for macOS easy. Disk Drill makes data recovery in macOS super easy. With just one click of a button, it will run through all of its scanning functions and display a list of files that can be potentially recovered.
You can even preview these files so that you can determine which ones can be successfully recovered. If you have Disk Drill's data protection features enabled, some methods of file recovery on your Mac are free! If not, a quick upgrade will enable you to recover your files and get back to work. Deep Scan method can be used in any situation and is able to recognize and recover over 80 different file types.
The Basic version is free. It gives you all the functions of data protection and scanning, so that you can see which files can be found and preview them to verify that they are recoverable. But you must upgrade your license to actually recover any files found
Photo files like JPG, PNG and TIFF
Graphic files like AI, PSD and INDD
RAW camera files like CR2, NEF and DNG
Video files like AVI, DV and MP4
Music files like AIF, MP3 and WAV
Recover corrupted Jpeg photo from Android smartphone's microSD card
Document files like DOCX, PPTX and XLSX
Free and Paid Version Available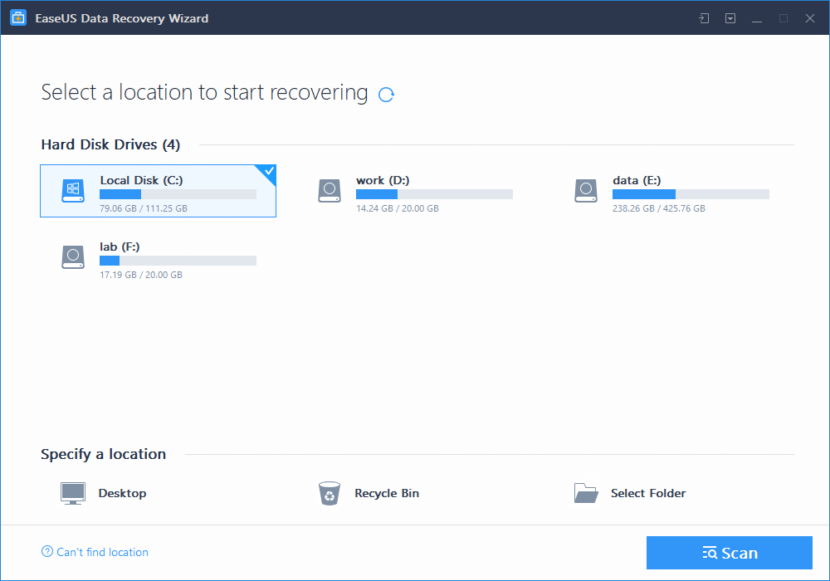 Free file recovery software can help users to recover lost/deleted files from Windows and Mac-based hard drives, external hard drives, digital cameras, MP3/MP4 players, and other devices. With the intuitive interface and the 3-step process "Scan – Preview – Recovery", it easily retrieves photos, videos, music and other files lost by accidental deleting, formatting, virus infection, or improper operation. EaseUS Data Recovery Free for Mac allows users to freely recover 2GB of data.
You can recover 2GB Data
Recovers many types of files, including images, videos, documents, email, archive, etc.
Supports the recovery of data from multiple storage devices like external drives, USB drives, SD cards, memory cards, and others.
Supports macOS 10.10 (Yosemite), 10.9 (Mavericks), 10.8 (Mountain Lion), 10.7 (Lion), 10.6 (Snow Leopard).
Free and Paid Version Available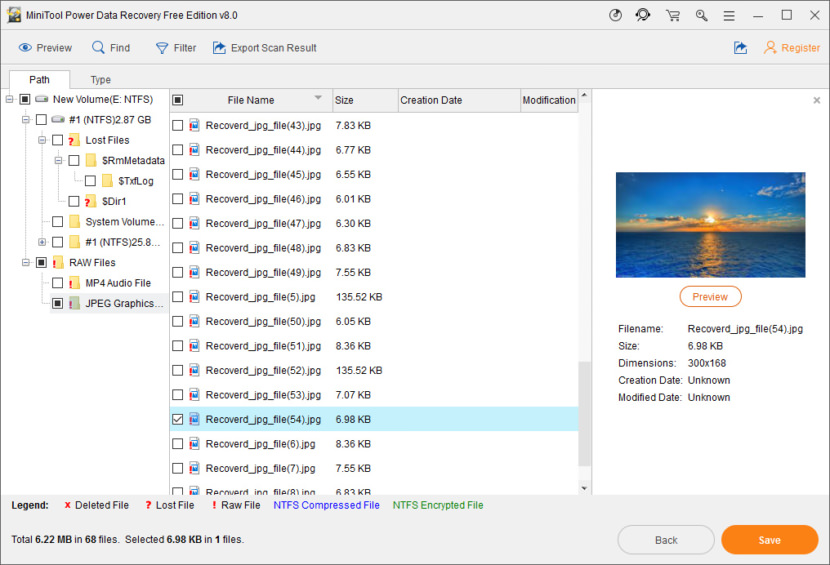 Best data recovery program for home users to recover data from different data loss crisis. MiniTool Mac Data Recovery Personal License can recover photos, music, videos, emails, documents, and other types of data from Windows or Mac computer or other storage devices. This data recovery software is fast, safe and easy to use. It has a data preview effect, so Mac users can enjoy the charm of data recovery in advance. Four powerful recovery functional modules:
Undelete Recovery: helps Mac users quickly recover data lost due to accidental deletion from storage devices.
Damaged Partition Recovery: recovers lost data from existing partitions, such as damaged partition, formatted partition and the partition with a RAW file system or the partition which is notified by Mac: "Do you want to format it?".
Lost Partition Recovery: recovers lost data from lost or deleted partition.
Digital Media Recovery: recovers photos, audios, videos and other multimedia files from portable storage devices, such as memory card, memory stick and USB flash drive.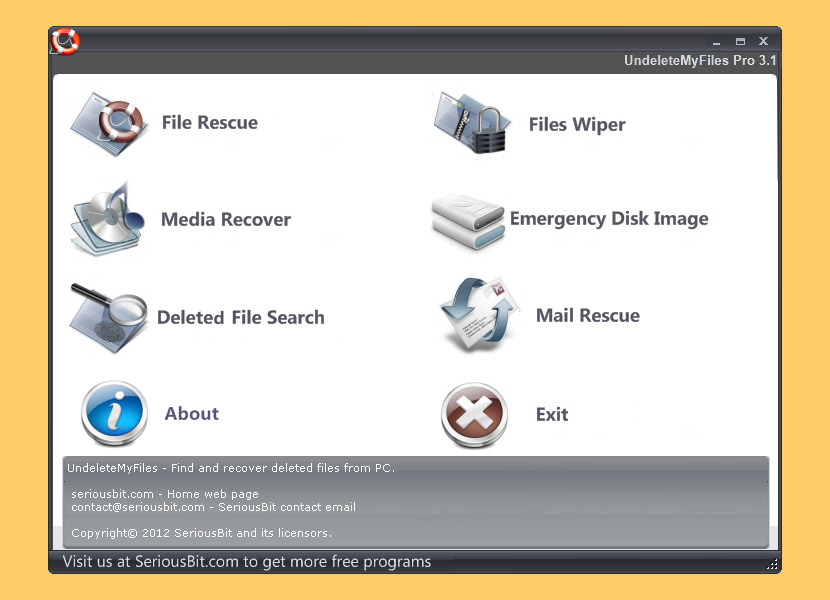 UndeleteMyFiles Pro is a free professional tool to recover accidentally deleted files from hard disks, USB flash drives, CF and SD cards and other storage media. UndeleteMyFiles is a quick and easy way to find and recover deleted media and digital devices.It employs a simplified two-step process that enables you to recover any files that used to reside on your system.
File Rescue Wizard – a quick and easy way to find and recover deleted files.
Media Recover – Recover media files in a couple of easy steps.
Deleted File Search – Specialized filters that allow you to find specific deleted information.
Files Wiper – Allows you to delete any files permanently without any chances of recovery.
Mail Rescue – Mail Recovery Wizard.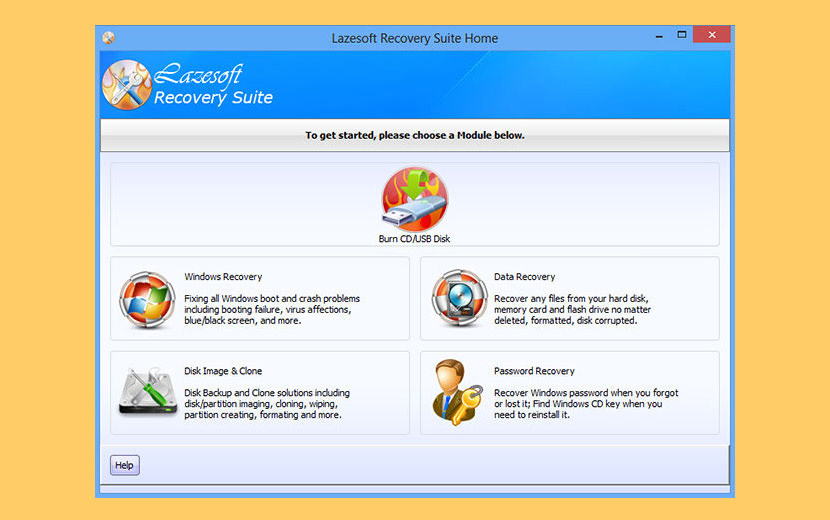 With a series of easy-to-use utilities on Lazesoft Recovery Suite Home Edition Recovery CD, you can recover your data even if file deleted, partition formatted, you can repair your Windows even if Windows crashed, you can reset your windows login password even if you forgot it. With Lazesoft Recovery Suite Home Edition, just three steps to recover your data, repair Windows system or reset Windows password. It is easy as 1, 2, 3.
Lazesoft Windows Recovery – Windows System Recovery, Fix Windows boot problems
Lazesoft Data Recovery – recover data from deleted, formatted, damaged disk/drive/partition
Lazesoft Recover My Password – Windows Password Recovery
Lazesoft Disk Image & Clone – Disk Backup, Clone and Partition Manager
Free and Paid Version Available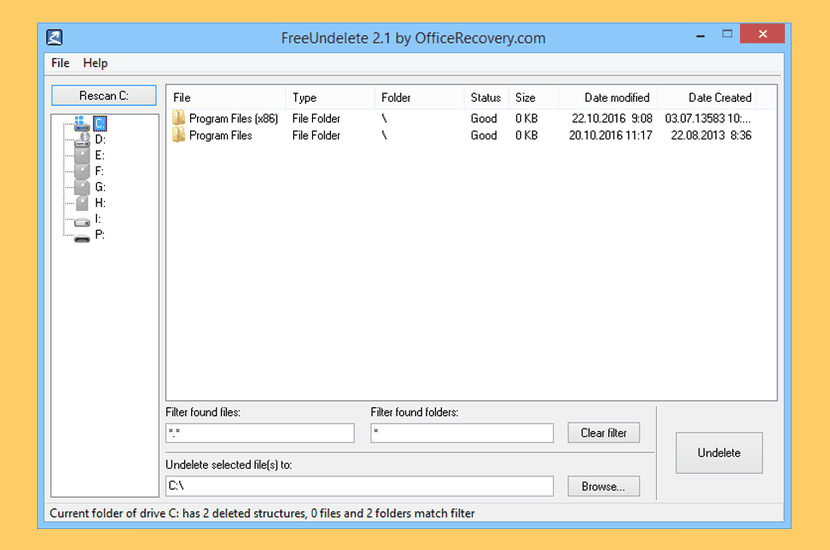 FreeUndelete restores deleted files, including those removed from Windows Recycle Bin. In case of accidental removal of files on a NTFS (1.0 and 2.0) (default for Windows Vista, XP, 2000 and NT), FAT32, FAT16 or FAT12 file systems this is the utility to help. Supported file systems include NTFS 1.0, NTFS 2.0, FAT12, FAT16 and FAT32. The recovered files are saved into a new user-selected location to prevent overwriting the deleted files on the original media.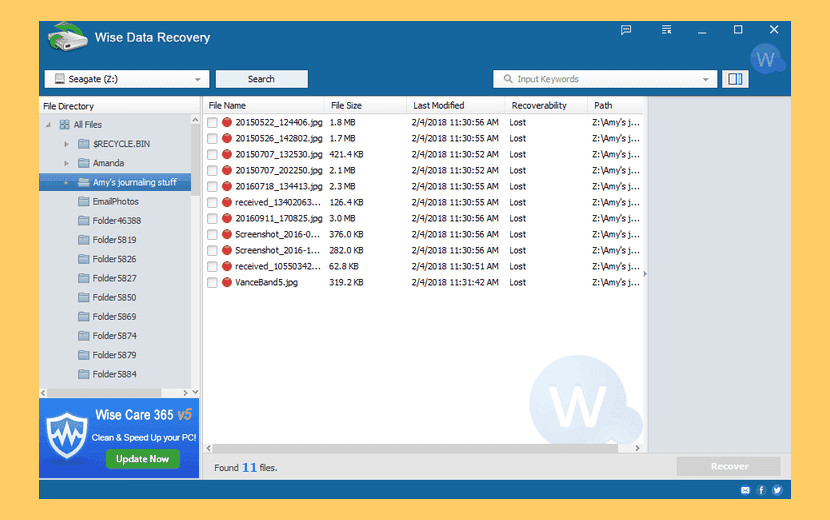 Wise Data Recovery is a free data recovery program to get back deleted photos, documents, videos, emails etc. from your local or removable drives for free. Wise Data Recovery is a free data recovery software to solve your data loss problems Whether you deleted some files by accident, formatted a drive or encountered a system crash and lost some files, It can get back lost files from hard drive, external hard drive, USB drive, Memory card, digital camera, mobile phone, MP3 player and other storage media.
Wise Data Recovery supports recovery data from FAT (FAT12, FAT16, FAT32), exFAT and NTFS disk. With advanced algorithms, Wise Data Recovery is able to finish the scanning process in seconds, saving you a lot of time. You can also choose your recovery file types or type in keywords before scanning to narrow down searching results and save more time.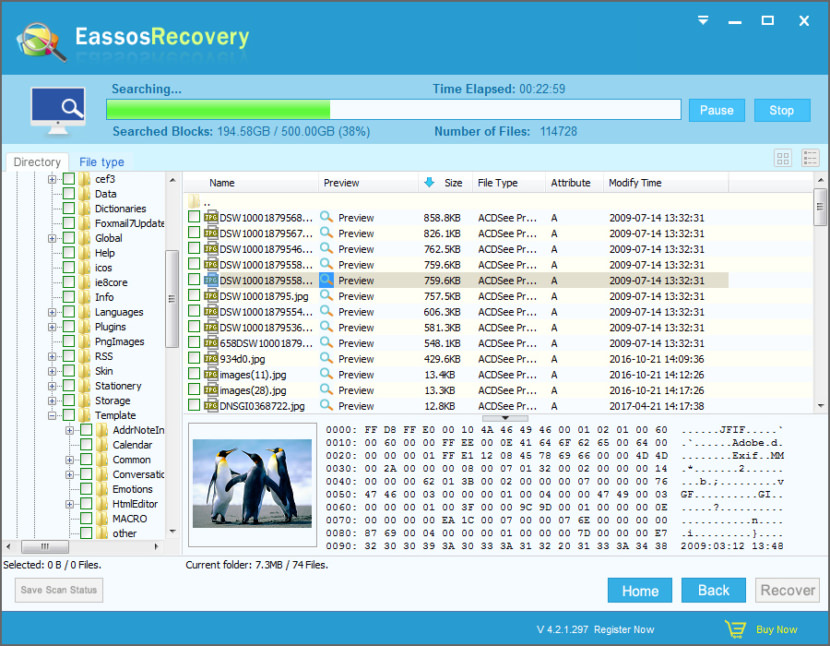 Free Data Recovery Software, easily recovery deleted, formatted, or lost data. Eassos Recovery Free is capable and free recovery software, which can easily and quickly get back deleted, formatted or lost data from hard disks, USB drives, memory cards and other storage devices. Multiple recovery modes help precisely perform file recovery & partition recovery with high recovery rate.
Retrieve deleted or lost files from hard drive and removable devices.
Recover formatted, RAW, corrupted, damaged and lost partitions.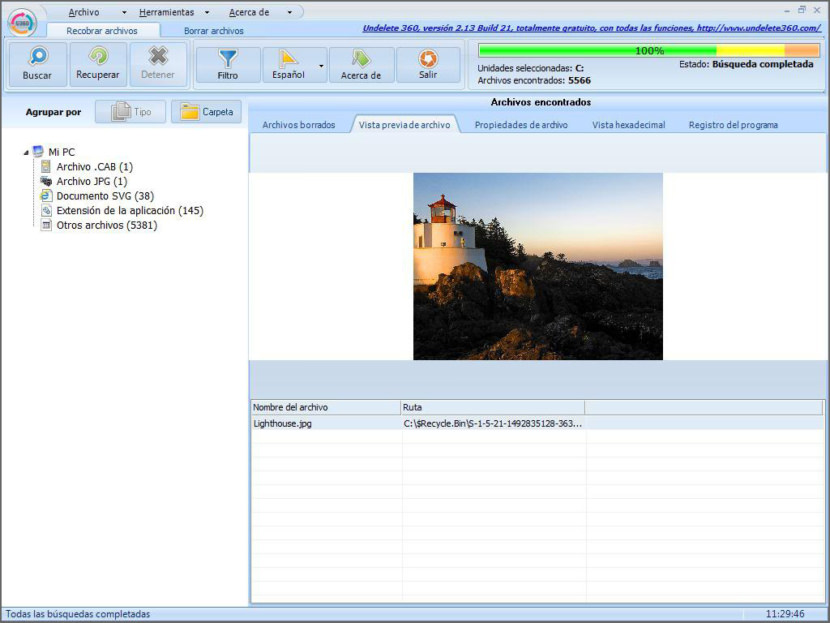 Restore files accidentally deleted from your Computer, Recycle Bin, digital camera, flash drive. Undelete 360 is one of the best programs to use for restoring accidentally or unintentionally deleted files from your computer, regardless of storage medium. Using Undelete 360, you can restore files from SSD Hard drives, Digital cameras, Floppy drives or USB flash drives.
Built on a very fast and efficient algorithm, the program will browse, search, and recover files that have been deleted as a result of an accident, a virus, or software and computer failures. Undelete 360 can recover files deleted from computer hard drives, USB/thumb drives and memory sticks, the memory cards used in cameras, smart phones, and other devices, pen drives, and more. The program supports both file recovery and folder recovery.
Accidentally deleted from your PC or other media
Deleted by viruses
Too large to fit in the recycle bin
Deleted on Windows network shares
Deleted from a USB Memory Stick
Deleted when you press "Shift+Delete" keys
Erased when the Move or Cut command has been used
Created and deleted by certain applications
Deleted from the command line
Free and Paid Version Available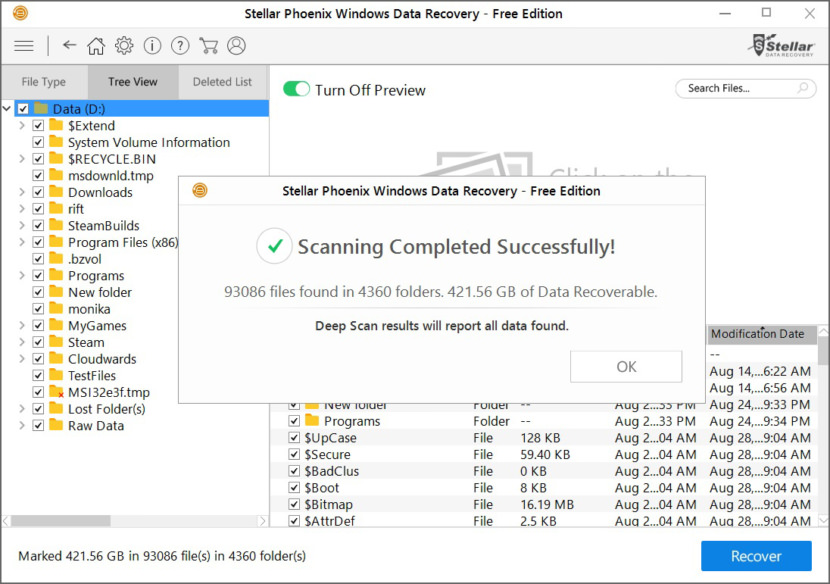 Try out the Stellar Data Recovery Free software to recover lost or deleted documents, email data files, videos, photos, and audio files. The software recovers data from all types of storage devices including hard drives, pen drives, memory cards, etc. Retrieves lost photos, videos, documents, emails, compressed folders, audios, and several hundred other file formats from any Windows PC or Laptop. The free recovery software can recover deleted files and data from a formatted or severely corrupt drive in 3-easy steps.
Permanent Data Deletion – Recovers data lost due to accidental deletion or emptying the Recycle Bin.
Missing or Lost Partition – Recovers data from missing and deleted partitions—lost due to drive corruption or accidental deletion.
Hard Drive Corruption – Recovers data lost from corrupt and RAW drives due to reasons like improper use, power failure, malware attack, etc.
Virus Attack Recovery – Recovers lost, deleted, and hidden data from malware or virus-infected storage media and Windows systems in 3-simple steps
OS Crash Recovery – Recovers data from the unbootable system and corrupt drives after Windows crash and Blue Screen of death (BSOD)
RAW Partition Recovery – Recovers data lost from corrupt hard drive partitions that turn RAW due to virus and malware attacks, unsafe drive removal, and system crash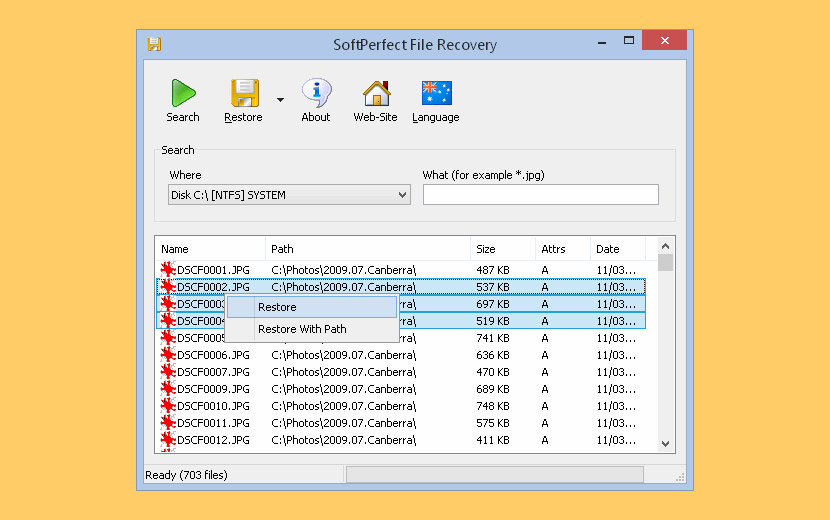 SoftPerfect File Recovery is a free and useful tool for restoring files and rescuing data that was accidentally deleted from hard disks, floppy disks, USB flash drives, CF and SD cards and other storage media. It supports the popular file systems such as FAT12, FAT16, FAT32, NTFS and NTFS5 with compression and encryption. If some important files disappeared and you can't find them in the recycle bin, don't panic yet. Try SoftPerfect File Recovery software and see if you can bring the lost files back to life. It is very easy to use, and no installation is required.
Lightweight and free.
Works with FAT and NTFS.
Supports compressed and encrypted volumes.
Recognizes most storage media.
Runs on anything from Windows XP through Windows 10.
Portable software, no installation required.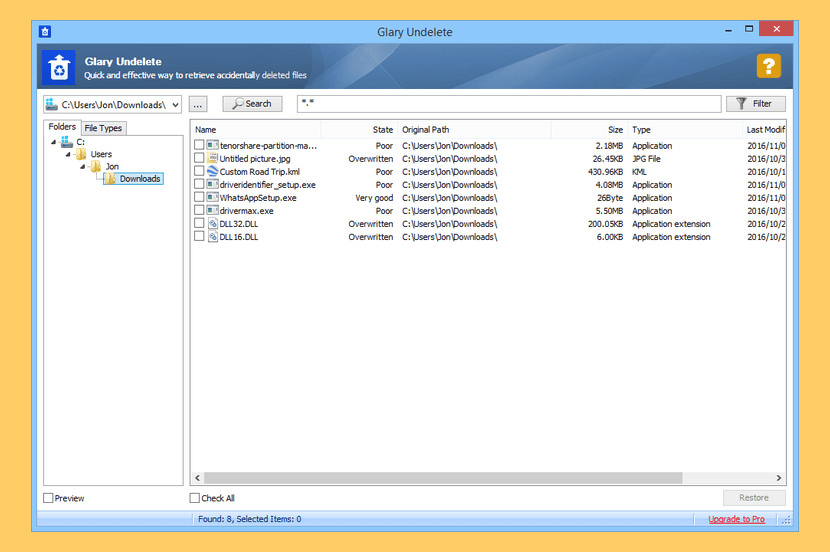 Glary Undelete is a free and easy-to-use yet powerful file undelete solution for FAT and NTFS file systems. It will bring back files emptied from the Recycle Bin, in a DOS window, from Windows Explorer with the SHIFT key held down. It will even recover files that have been deleted by bugs, crashes and viruses!
Glary Undelete supports multiple file systems ie NTFS + EFS, FAT , NTFS . Moreover, it is able to recover files that the user has compressed or fragmented or even encrypted on NTFS file system.
Supports FAT, NTFS, NTFS + EFS file systems.
Supports recover compressed, fragmented and encrypted files on NTFS.
Undelete files on removable devices.
Filter by file name, file date, size, recovery state.
Supports analyzes recovery possibilities.
Free and Paid Version Available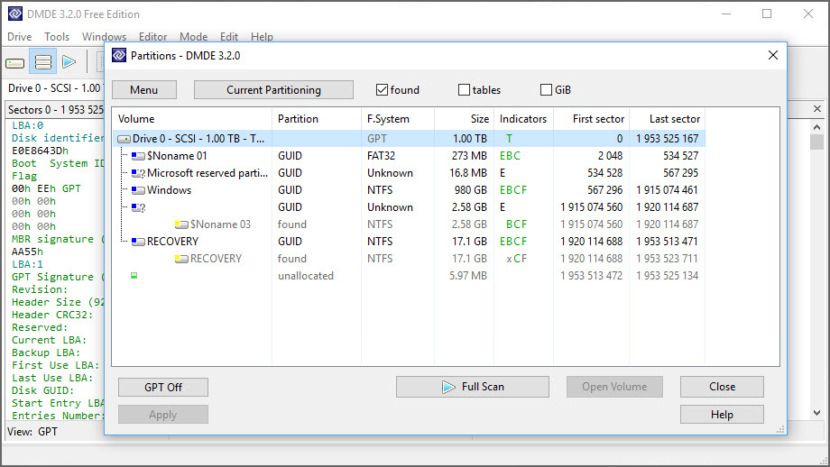 DMDE is a powerful software for data searching, editing, and recovery on disks. It may recover directory structure and files in some complicated cases through the use of special algorithms when other software can't help. The software is listed, reviewed, and awarded in magazines and catalogs.
DMDE has a number of freeware features such as disk editor, simple partition manager (e.g. allows partition undeleting), a tool to create disk images and clones, RAID constructor, file recovery from the current panel. Paid editions support file and directory recovery without the restriction, DMDE Professional Edition has additional features to recover data for clients.
Free and Paid Version Available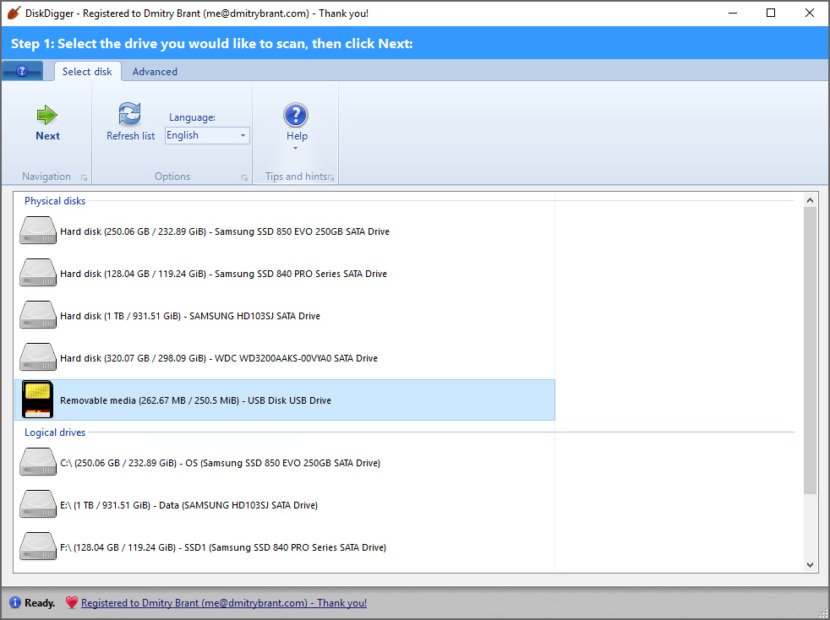 DiskDigger is a tool that undeletes and recovers lost files from your hard drive, memory cards, USB flash drives — you name it! Whether you accidentally deleted some documents or photos from your computer, reformatted your camera's memory card, or want to see what files are lurking on an old USB drive, DiskDigger is here for you.
When using it in Windows, DiskDigger is free for downloading, scanning your disk, and previewing any recoverable files. However, when saving the recoverable files, the program strongly encourages you to purchase a personal license. To use the program for commercial purposes, you must purchase a commercial license. (When using DiskDigger in Linux, it's completely free.)
"Dig Deep" mode has been enhanced with an option to show either "Deleted files only" (which was the previous default behavior) or "Deleted and existing files." This is useful when the disk is improperly formatted or partitioned (or if the partition area is damaged), but the file system itself is still healthy. When you insert the disk and Windows shows an error such as "You need to format the disk before you can use it," it's an indication of this kind of issue. DiskDigger will now let you recover all the files from such a disk, whether or not they were actually deleted within the file system.
In "Dig Deep" mode, there is now improved support for scanning certain file systems that are not native to Windows, including HFS+ (used in macOS disks) and ext4 (used in Linux).
Enhanced support for scanning optical disks (CDs and DVDs) and the file systems that they contain, including ISO 9660 and UDF. There is also improved support for scanning damaged or improperly-burned disks: When selecting the drive to scan, you can go to the Advanced tab and check the "Detect disk size manually" box, which will make DiskDigger ignore the size of the disk as reported by the driver, and instead read the disk explicitly until it can no longer be read.
Free and Paid Version Available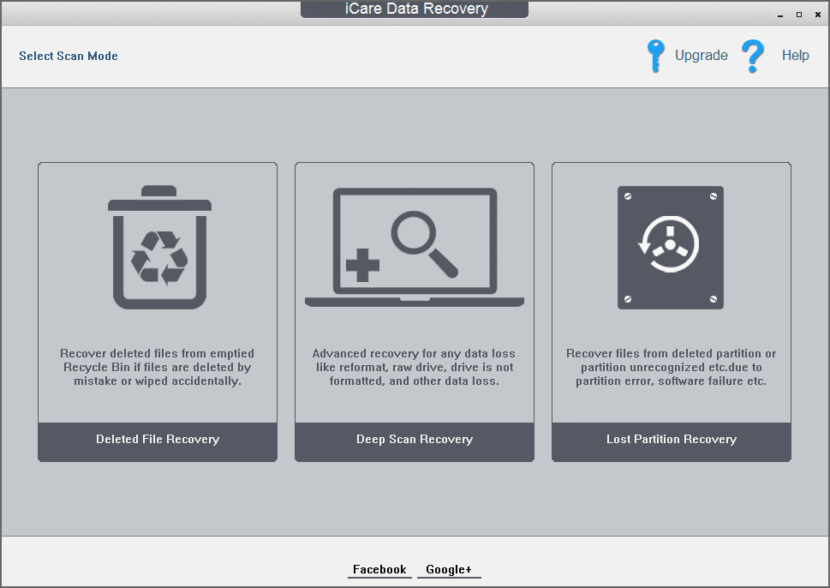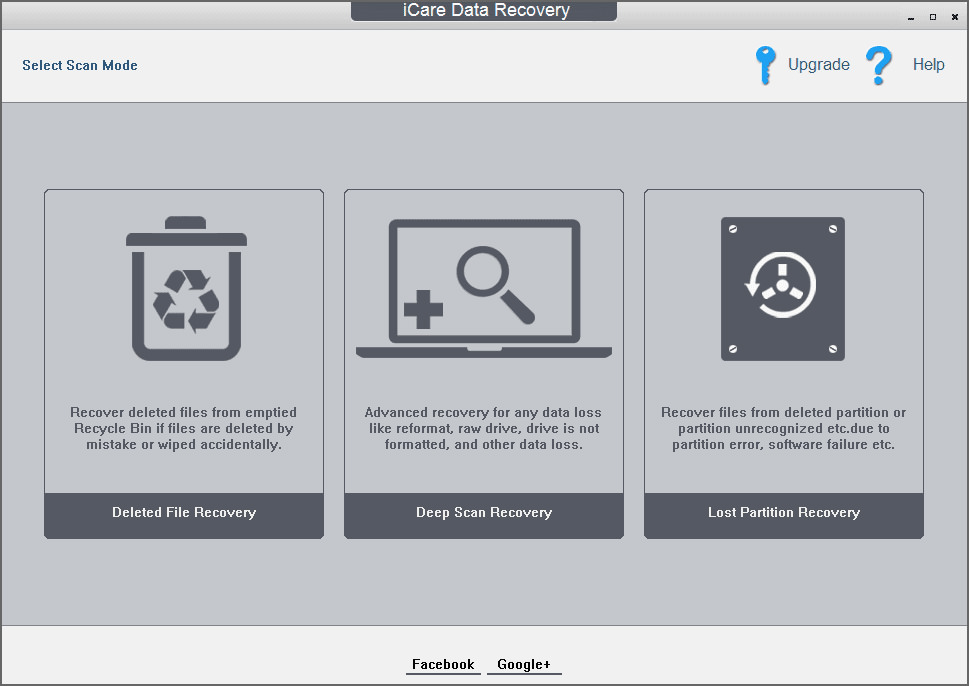 iCare Data Recovery Free – 100% freeware. Recovering deleted data from various kinds of digital devices in just a few seconds. iCare Data Recovery Free can recover permanently deleted/erased files from Windows 10/8/7/Vista/XP. It can recover most often used files like word/documents, emails, videos, even audio files from PC hard drive or external usb disk, memory card/usb drive, etc.
Recover files after format/virus attack/ inaccessible digital device; Raw file system or drive shows 0 bytes; chkdsk reports raw drive; Disk/drive/card reports not formatted; Deep Scan Recovery – scans every possible file on each block on digital devices; Deleted/Lost Partition Recovery.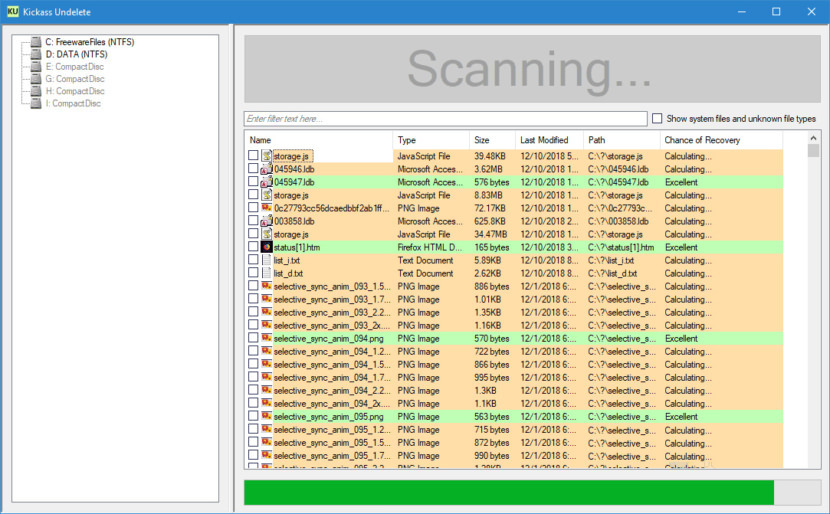 Kickass Undelete is a free, fully featured, file recovery tool for Windows. Accidentally deleted a file? Never fear; the data is probably still on your drive and may be recoverable. Kickass Undelete finds all of the deleted files on your hard drive, flash drive or SD card and allows you to recover them.
Free and Paid Version Available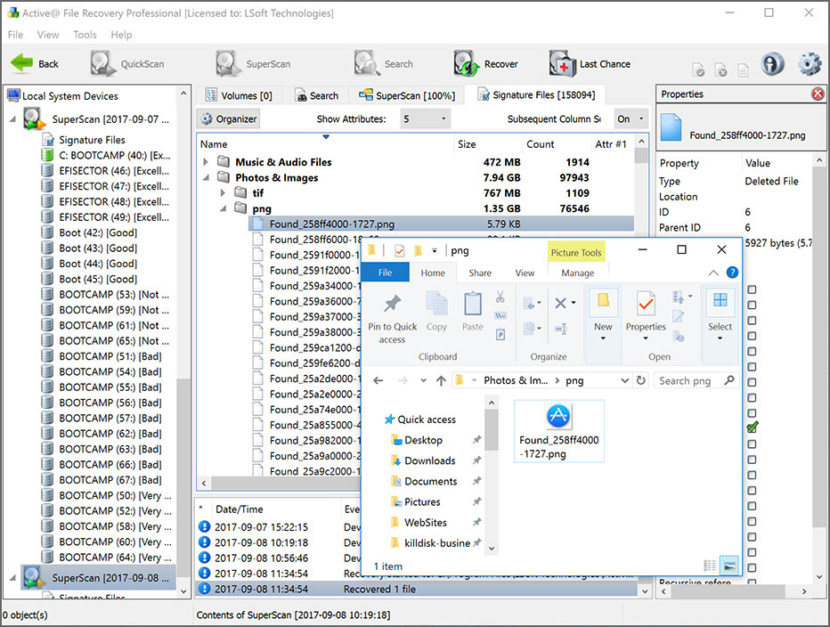 Active@ File Recovery for Windows provides the ability to effectively detect and recover files and disks lost due to accidental deletion, disk formatting, virus and other reasons. The Professional package also includes integrated Active@ Disk Editor (or Hex Viewer – a utility for low-level data inspection), Virtual RAID re-constructor, being able to recover damaged RAID disk arrays, and File Organizer needed to re-organize and rename files detected by their signatures.
Recovers from damaged Microsoft FAT/exFAT/NTFS/ReFS, Apple HFS+, Unix UFS, Linux Ext2/Ext3/Ext4/BtrFS/XFS/JFS file systems
Supports HDD / IDE / SATA / eSATA / SCSI / SSD disks / RAID disk arrays, USB Flash Disks and Memory Cards, External USB drives and USB3 disks
Recovers extra-large, compressed, encrypted and fragmented files on NTFS, just deleted files can be recovered based on NTFS Journal ($LogFile)
Creates and Recovers from Raw (sector-by-sector copy), Raw-Compressed images and disk images created by third parties
PhotoRec is file data recovery software designed to recover lost files including video, documents and archives from hard disks, CD-ROMs, and lost pictures (thus the Photo Recovery name) from digital camera memory. PhotoRec ignores the file system and goes after the underlying data, so it will still work even if your media's file system has been severely damaged or reformatted.
For more safety, PhotoRec uses read-only access to handle the drive or memory card you are about to recover lost data from. Important: As soon as a picture or file is accidentally deleted, or you discover any missing, do NOT save any more pictures or files to that memory device or hard disk drive; otherwise you may overwrite your lost data. This means that while using PhotoRec, you must not choose to write the recovered files to the same partition they were stored on.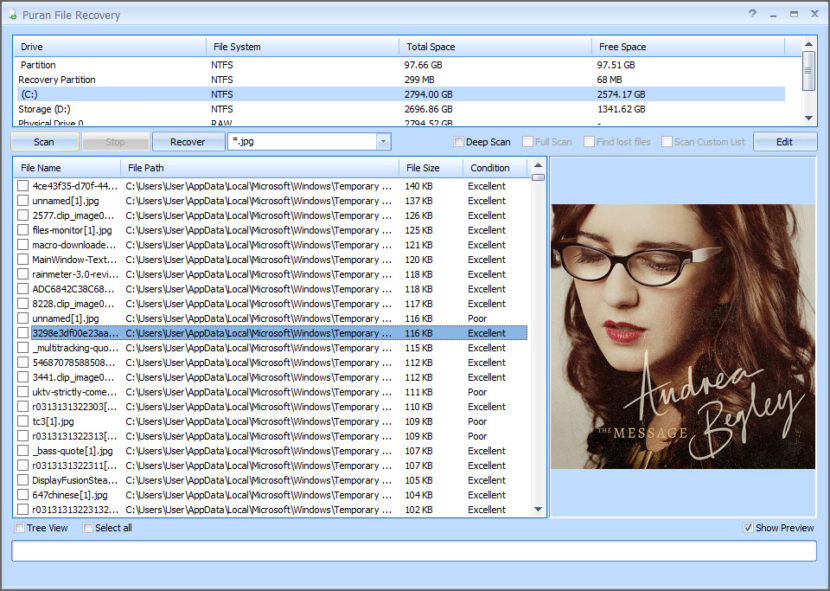 Puran File Recovery can be used to recover deleted/lost files/partitions. Files can be recovered from formatted disks too. Almost everything that is detected as a drive by Windows can be scanned irrespective of its file system. Be it Hard Disks, Pen Drives, Memory Cards, Mobile Phones, CDs, DVDs, basically any storage medium.
A very simple interface with an extremely powerful recovery engine. A perfect combination of speed, accuracy and simplicity.
A Quick Scan that lists deleted files in a click and a few seconds. It supports FAT12/16/32 and NTFS.
A Deep Scan that can intelligently scan a drive byte by byte resulting in high speed listing of many more deleted and lost files.
A Full Scan that can detect deleted/lost partitions and even recover files from formatted drives. RAW and Physical drives can also be scanned.
Deep/Full Scan not just look for lost file records but also detect different format files based on data patterns.
More than 50 formats/data patterns list expandable to hundreds of formats is included. Hence almost everything can be recovered.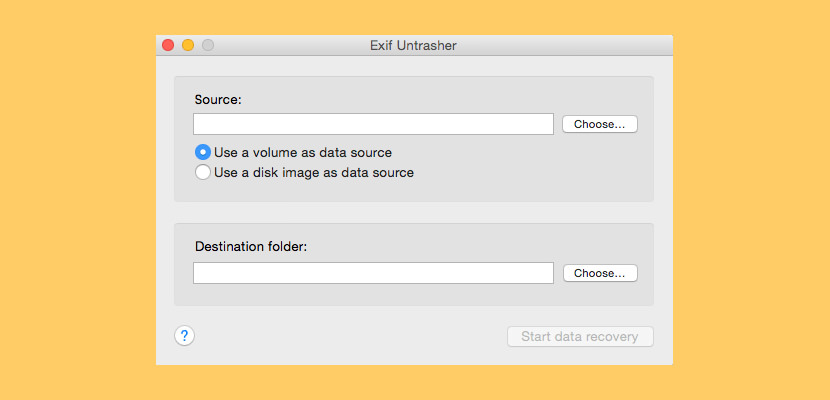 Exif Untrasher is a Photo recovery software that will try to locate photos in JPEG format on any kind of storage medium (SD card, CF card, memory stick, Hard Disk, SSD, CF Card…) and save them to your Mac. It won't succeed in every case, but a lot of people were very relieved to find out that it did a pretty good job for them. And even if it fails, it doesn't make things worse, as it does not alter the memory card.
To use Exif Untrasher, the camera's memory card must be mounted as a volume on your Mac. When restoring photos from a USB stick or hard drive, this is automatically the case, and when dealing with a memory card you can use your mac's card reader, an external reader or connect the camera to the Mac via USB (in case it supports the "Mass Storage Protocol").
Free and Paid Version Available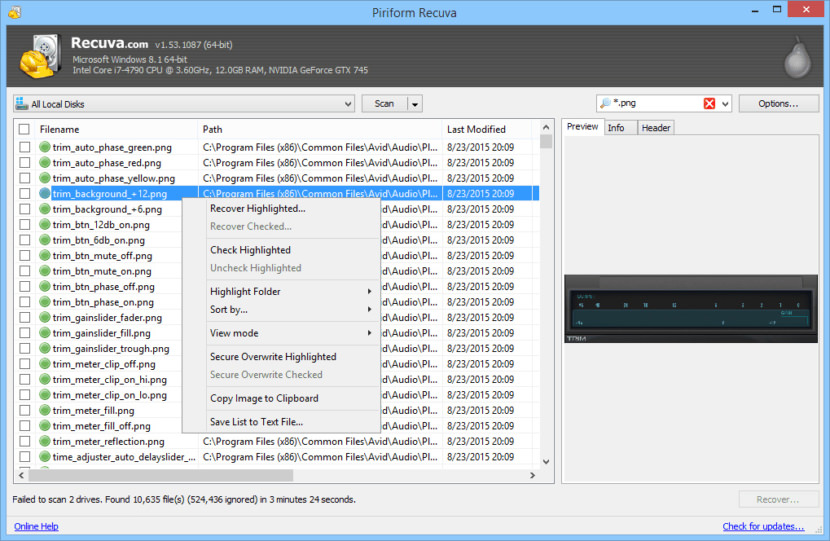 Recuva Freeware is a free hard drive recovery software made available by Piriform, it can efficiently scan and recover data from crashed hard disk data in FAT and NTFS format. Besides standard hard disk file recovery data, Recuva can also. Accidentally deleted an important file? Lost files after a computer crash? No problem – Recuva recovers files from your Windows computer, recycle bin, digital camera card, or MP3 player!
Superior file recovery – Recuva can recover pictures, music, documents, videos, emails or any other file type you've lost. And it can recover from any writable media you have: memory cards, external hard drives, USB sticks and more!
Recovery from damaged disks – Unlike most file recovery tools, Recuva can recover files from damaged or newly formatted drives. Greater flexibility means greater chance of recovery.
Deep scan for buried files – For those hard to find files, Recuva has an advanced deep scan mode that scours your drives to find any traces of files you have deleted.
24. Softtote Free Data Recovery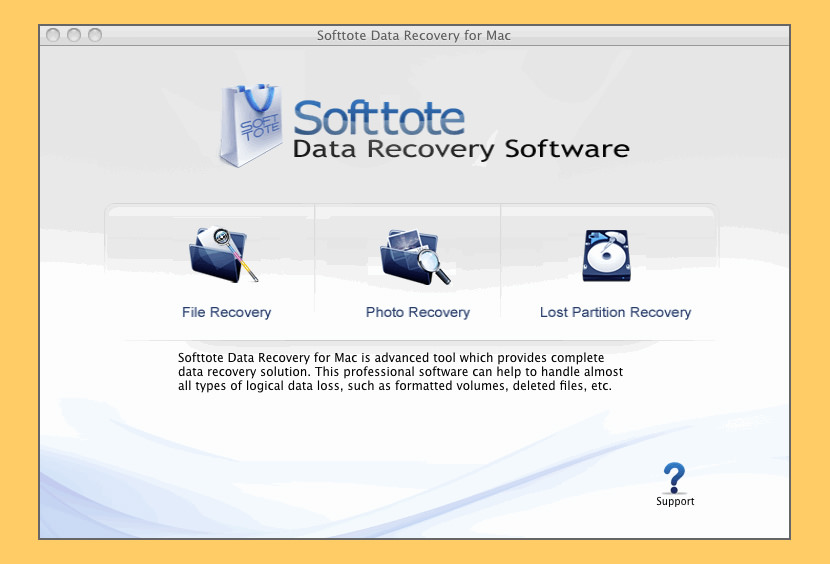 [ Discontinued ] With Softtote Mac Data Recovery Freeware you can recover the common bmp, jpg, png, tif, mp3 files from Mac-based internal/external hard drive and perform data recovery like undeleting accidentally deleted files from HFS+, FAT, NTFS, and ext2 file systems.
Unlike other free data recovery software, there is no size limitation for recovering such as only 1GB of data can be recovered, which means users can recover the lost data back no matter how large it is. What's more, it also possesses the ability to preview found files and enables users to select target files to recover.
The Correct Way On Backing-up Up Your Files
It is always a good idea to have a portable USB hard disk acting as your backup system, alternatively, cloud storage is getting cheaper and more popular as time goes by. Other than cloud, the many mistakes done by the average user is to have 1 copy of the files on a single hard disk. The correct method is to have 2 copies of the identical files on 2 different hard disks.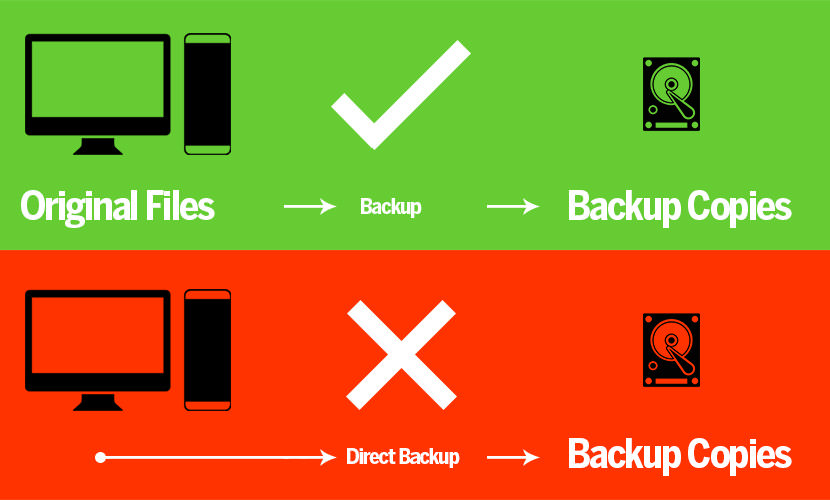 I personally prefer backing up my files on an external hard disk. For those new to backing up their files, here are 14 Free Folder and File Synchronization For External Hard Drive Backup. If possible, set the software to automatically sync all of your files to an external hard disk. Accidentally deleted or formatted your photo and images in your SD and CF card?
How to recover data from an SD card? Which is the best SD card data recovery software? Is there any free SD memory card data recovery program? What are the ways to recover lost data from an SD card? How to retrieve and restore missing data and photos in SD and CF flash drives? Due to some unforeseen incident, my Canon 450D camera's SD memory card appears to be corrupted, downloading images is not possible because my computer refuses to recognize the corrupted SD card file format system.
Remember, if the data is important; always seek professional data recovery service if money is not an issue. The chances of salvaging data from damaged, failed, corrupted, or inaccessible secondary storage media when it cannot be accessed normally is higher from these data recovery centers, this is because they have the incentive to recover as much as they can as they charge for every GB of data recovered.