The number 1 mistake by most people is to save everything onto their external hard drive and calls it a backup. This is not the correct way, just because you save everything to your external hard drive doesn't make that a backup copy. A backup copy is when you have duplicate copies of the same files, one copy in your desktop or laptop, the other in your external hard disk.
🤣😍😂 6 Free Disk Cloning, Imaging, Backup And Restore Software For Windows
Why is it important to have 2 copies? By having 1 copy on your external hard drive, what happens when you lose that backup hard drive? What if the external hard drive crashed? That is why you always keep 2 copies as insurance.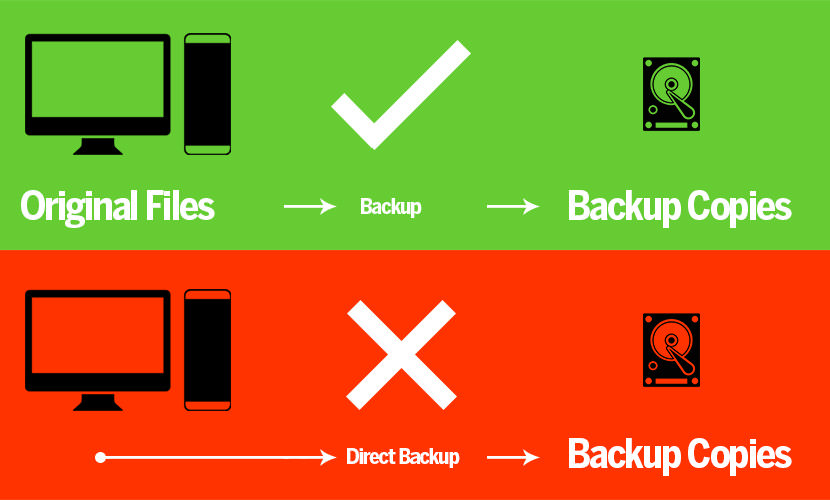 The most powerful free backup solution ever! Take complete control of your PC's safety. Create a backup of your data today. Based on solid commercial backup and recovery software from Paragon, the new Backup & Recovery 14 Free Edition will give you a rich set of features that you can trust. Backup Features:
Disk backup to save not only all on-disk information but also the system service structures. It is ideal for making a backup image of an entire hard disk (including GPT-discs) or system partitions to guarantee the operating system's working capability
Differential backup to a sector image to only archive changes since the last full sector-based image, thus considerably saving the backup storage space. To restore this kind of backup you will require a full image and one of its differentials
Backup Capsule – You can place a backup image to a special secured place on the hard disk called the Backup Capsule that has an independent system layout (e.g. a separate partition) and will stay operable should the active file system be damaged. To avoid an accidental removing or unauthorized access of the backup data, this partition is hidden and thus cannot be mounted in the operating system
Back up separate partitions or entire hard disks to a pVHD (Paragon Virtual Hard Drive) format – a special VHD, optimized for storing backups of virtual and physical machines
Back up changes since the full, or the latest incremental image. It's allowed to maintain several incremental chains based on one full image, provided each chain contains changed data of a particular backup object(s). pVHD based incremental imaging works much faster and rock-stable in comparison with the old PBF
Universal Image Mounter (UIM) – Mount pVHD backup images to browse their contents and retrieve data both, in the program and directly under Windows OS
↓ 02 – FreeFileSync | Windows | Mac | Linux
FreeFileSync is a free Open Source software that helps you synchronize files and synchronize folders for Windows, Linux and macOS. It is designed to save your time setting up and running backup jobs while having nice visual feedback along the way. This is one of my favorite syncing software. Yes, FreeFileSync may be used in business, commercial, and government environments without cost. Which features make FreeFileSync unique?
Synchronize network shares and local disks
Synchronize MTP devices (Android, iPhone, tablet, digital camera)
Synchronize via SFTP (SSH File Transfer Protocol)
Cross-platform: Runs on Windows, Linux, macOS
↓ 03 – DirSync Pro | Windows | Mac | Linux | DOS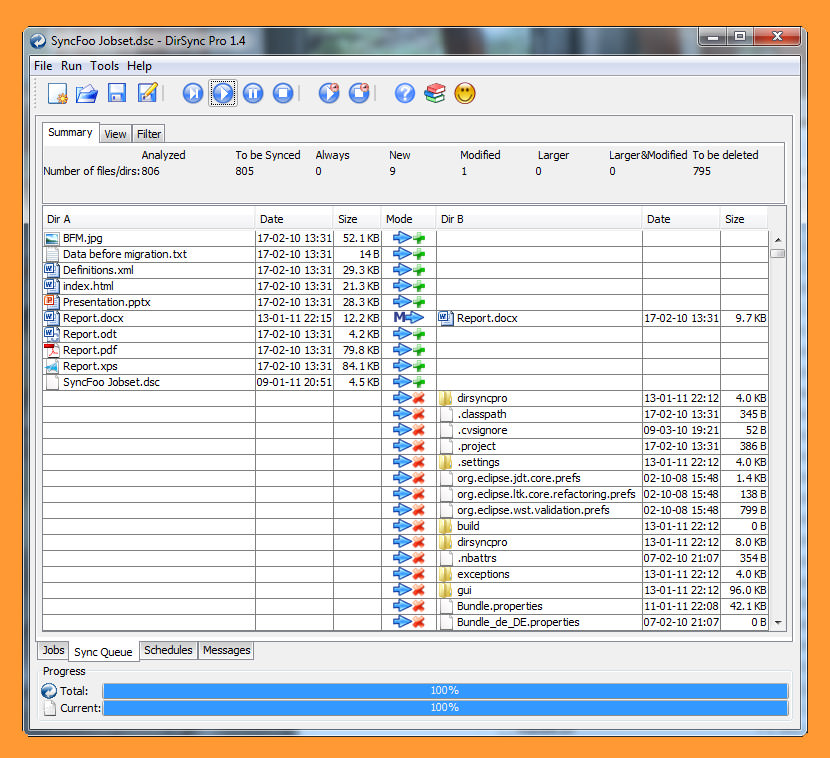 DirSync Pro is a small, but powerful utility for file and folder synchronization. DirSync Pro can be used to synchronize the content of one or many folders recursively. Use DirSync Pro to easily synchronize files from your desktop PC to your USB-stick (/Externa HD/PDA/Notebook, …). Use this USB-stick (/Externa HD/PDA/Notebook, …) to synchronize files to another desktop PC.
Using DirSync Pro you can make incremental backups. In this way you'll spare lots of time because you don't have to copy all the files each time you want to update your backup; only new/modified/larger files would be copied. DirSync Pro provides some preconfigured modes (e.g. Mirror, Backup, Contribute, ?) for common synchronization and backup tasks and some custom modes in which the user could set up the synchronization behavior to meet specific wishes.
Prior to synchronization, DirSync Pro performs an analysis on files and folders and detects any kind of changes to any file/directory in the source. If a file is for example modified, removed, deleted, renamed in the source DirSync Pro synchronizes the destination accordingly. DirSync Pro detects changes to file metadata (e.g. DOS attributes, POSIX file ownerships/group/permissions) and could preserve them to the destination file/directories.
↓ 04 – Areca Backup | Windows | Linux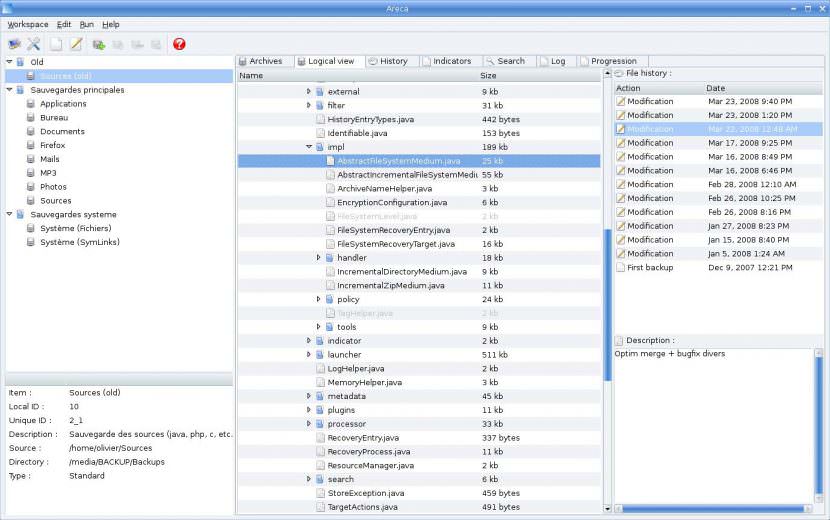 Areca Backup is an Open Source personal backup solution which is released under the General Public License (GPL) v2. It basically allows you to select a set of files / directories to back-up, choose where and how (as a simple file copy, as a zip archive, …) they will be stored, and configure post-backup actions (like sending backup reports by email or launching custom shell scripts).
Archives compression (Zip & Zip64 format)
Archives encryption (AES128 & AES256 encryption algorithms)
Storage on local hard drive, network drive, USB key, FTP, FTPs (with implicit and explicit SSL / TLS) or SFTP server
Source file filters (by extension, subdirectory, regular expression, size, date, status, with AND/OR/NOT logical operators)
Incremental, differential and full backup support
Support for delta backup (store only modified parts of your files)
Archives merges : You can merge contiguous archives into one single archive to save storage space.
As of date recovery : Areca allows you to recover your archives (or single files) as of a specific date.
Transaction mechanism : All critical processes (such as backups or merges) are transactional. This guarantees your backups' integrity.
Backup reports : Areca generates backup reports that can be stored on your disk or sent by email.
Post backup scripts : Areca can launch shell scripts after backup.
Files permissions, symbolic links and named pipes can be stored and recovered. (Linux only)
↓ 05 FBackup | Windows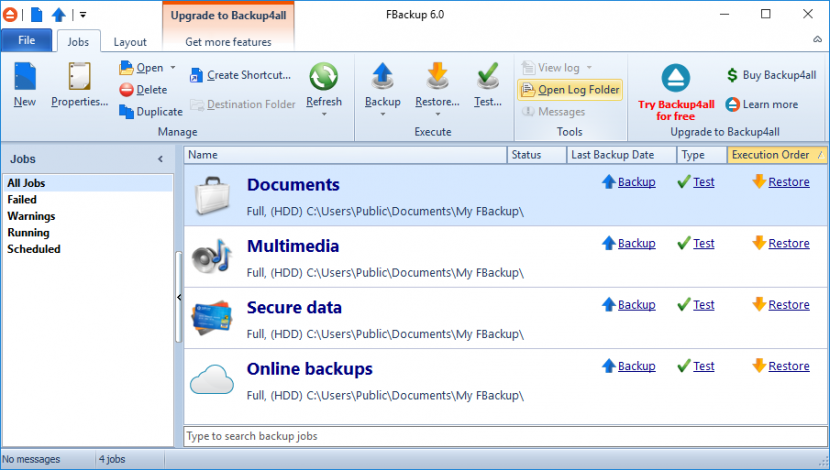 FBackup has a simple interface and guides you through the process of defining a backup job using a friendly wizard. Once a backup job is defined, you can run it manually by pressing the Backup button (or F6), or if you add a scheduler it will run automatically.
FBackup can easily back up sources from local drives (including USB connected drives) to destinations such as USB/Firewire connected devices or mapped network locations. It creates either standard zip files (when using "full backup"), or exact copies of the original sources without any compression (using "mirror backup"). The best thing about this freeware backup software is that it protects your data for free.
Backup with standard zip compression
Run actions before/after backup
FBackup you can back-up your files and folders in the Cloud to your existing Google Drive account.
Multiple backup destinations
Free and reliable backup & recovery software enables users to back up system and restore it to original state when disaster happens and performs comprehensive backup types. ToDo Backup supports 16TB high capacity hard drive support for any mission-critical backup plans such as server or mass backup via network.
Cloud backup solution – easy data backup to Google Drive, OneDrive & Dropbox
Free and reliable – backup & disaster recovery software for home users
Easy to install and use – intuitive interface guiding you step-by-step
One scalable solution – backup, disk clone, SSD migration & restore
↓ 07 – FastCopy | Windows
FastCopy is one of the Fastest Copy/Delete Software on Microsoft Windows. It supports both UNICODE and over MAX_PATH (260 characters) file pathnames, and it automatically selects different methods according to whether Source and DestDir are in the same or different HDD(or SSD).
Reading/Writing are processed with no OS cache, as such other applications do not become slow. It can achieve Reading/Writing performance that is close to device limit. Include/Exclude Filter (UNIX Wildcard style) can be specified. ver3.0 or later, Relative Path can be specified. It runs fast and does not hog resources, because MFC is not used. (Designed using Win32 API and C Runtime only).
↓ 08 – Toucan | Windows [ Portable ]
Toucan is a small utility allowing you to synchronise, backup and secure your data with more options than the built in suite utilities. It is split up into 7 tabs, allowing you to easily find the function that you want. This version features:
Five synchronisation modes, Copy, Mirror, Equalise, Move and Clean. These can be combined with a variety of file checks such as File Size, Modified Time and a File Header Check to minimise the amount of copying needed.
Backup and restore in industry standard Zip, 7-Zip and GZip files, with support for complete backups, updating existing backups and differential backups, as well as restoring files from an archive. Automatic testing of created archives is also supported as is password protection.
AES-256 encryption using ccrypt.
A complete command line system allowing you to create new jobs and run existing ones from the command prompt or a batch file.
A Rules system that allows you to easily exclude files based on their name, a regular expression, their modified date or file size.
An advanced scripting system using the Lua programming language that allows complex scripts to be created, anything from a backup script that automatically uploads new backups to a script that synchronizes your files to a USB drive and then encrypts the sensitive files in case of loss.
A large collection of in-built Variables for basic functions such as the date and time or more complex variables that point to the drives label or documents directory. You can also define your own as shortcuts to paths on your USB drive or your PC.
Many other features such as support for the new Windows 7 taskbar, full drag and drop support and translations to many languages.
Personal Backup is a program for saving personal data to any destination folder. This folder may be located on a local fixed or removable drive, on a Windows network server or on an FTP server. The 32-bit version runs under Windows 7, 8 and 10 (32- & 64-bit), Windows Vista, Windows XP and Windows Server 2003/2008(R2)/2012(R2), the 64-bit only under Windows 7,8 and 10 (64-bit) and Windows Server 2008(R2)/2012(R2).
At the destination folder the original drives (C:, D:, etc.) appear as subdirectories named LwC, LwD, etc. The original directory structure remains unchanged beneath these folders. All files may be compressed in gzip, either in toto or separated by subfolders as zip files. Optionally all data can be AES algorithm-encryption.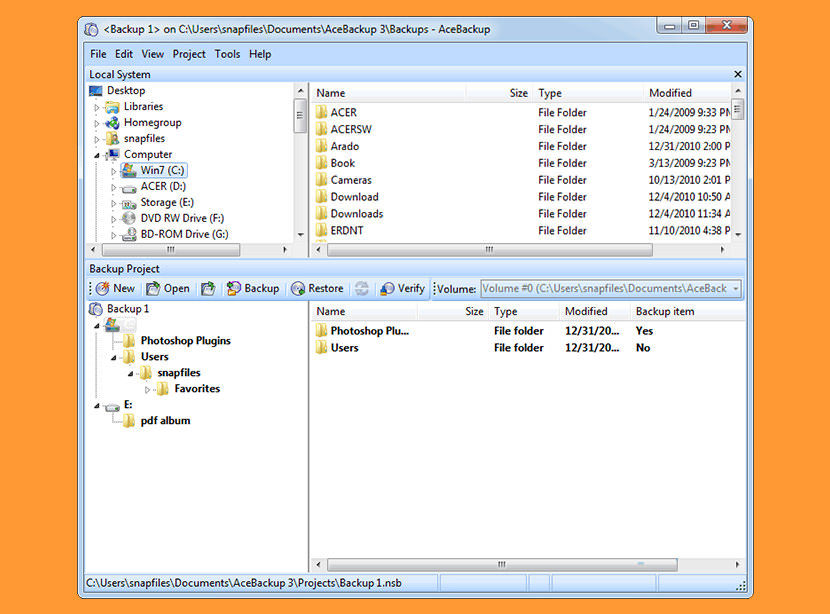 AceBackup is a powerful freeware tool to create completely secure backups of your data. Store your data on any local storage device, on CD, DVD or on your remote FTP server! With the AceBackup Archive and Backup project types you can create easy, secure and quick backups of your (confidential) data at the highest stage – by request encrypted and thus virtually uncrackable!
256 bit encryption – AceBackup has five different encryption algorithms to protect your data against unauthorized access.It can encrypt even the file names.
Remote FTP backups – A unique feature of AceBackup is the ability to store backup files on FTP servers as well as on any local storage device.
Scheduled backups – Enter the desired dates in the Scheduler and the program backs up your data at the dates and time selected.
Integrated zip compression – You can back up files with without compression or you can select the highest possible compression level to keep backups as small as possible.
Flexible source selection – Apply filter to exclude defined file name extensions. Or define a filter to only back up files containing the selected file name extension.
SyncBackFree is the best Windows backup and synchronization program on the planet with great features and benefits at no cost. Backup Software that is free for personal, educational, charity, government, and commercial use. It comes with no Ads, Viruses, Spyware, Trojans, Nags or registration. 100% Free.
EncryptOnClick – Military grade 256 bit encryption.
DeleteOnClick – Securely delete data in one click and the data becomes unrecoverable.
Synchronize Your Folders and Drives In A Quick and Easy Way. Whether it's an individual file or an entire drive – Synchredible will synchronize, copy and save them for you. A software wizard will assist you to determine jobs that are either pre-scheduled or to be done through a USB connection. This way, you can keep your files in sync – automatically!
Over the years, our state-of-the-art technology in Synchredible has made copying files easy. It also makes matching your files a simple task while it automatically detects changes and synchronizes the most recently edited files safely and reliably! Thanks to its advanced system for identifying similar files, Synchredible saves you time – unedited files may be skipped if desired. This way, large folders are synchronized in seconds!
SyncFolders helps you to synchronize the contents of two folders, including any subfolders. The folders may be on different disk drives, on the network, or storage devices attached to the USB port, including external hard disk drives, flash drives, and any other type of USB storage device. The program allows you to easily copy new and updated files and folders in either or both directions. SyncFolders is a very useful tool for backup and synchronization purposes.
SyncFolders runs on all Windows versions from Windows XP and higher and you are free to use SyncFolders for any purpose. SyncFolders has a clean installer and does not contain any spyware and will not install unwanted programs.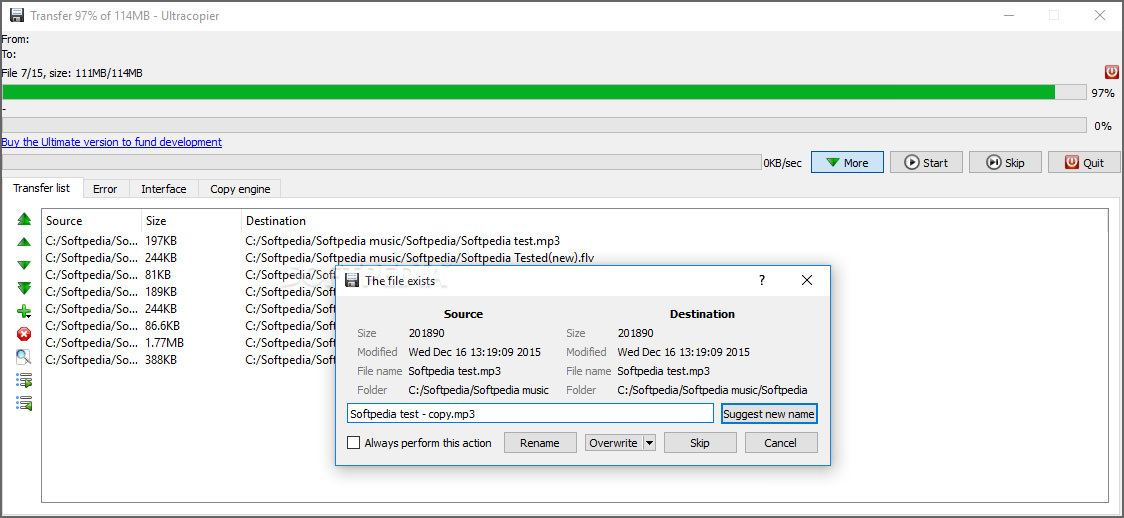 Ultracopier is free and open source software licensed under GPL3 that acts as a replacement for files copy dialogs. Main features include: play/pause, speed limitation, on-error resume, error/collision management.
High performance and control – Ultracopier is faster than most default system tools. It provides many advanced features such as: start/resume the copy process, speed limitation, search through the copy list ..
Error and collision management Error and collision management – Ultracopier predicts internal and external errors. It results in detailed information dialogs which allow you to pick up the best solution (eg. always overwrite, overwrite if newer, …).
↓ 15 – TeraCopy | Windows | macOS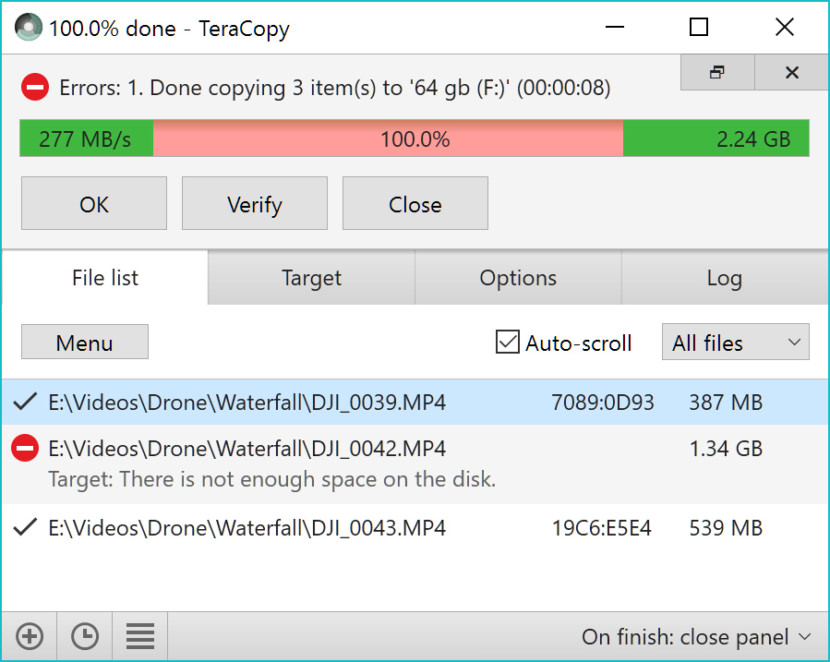 Copy your files faster and more securely. TeraCopy is a nifty piece of freeware that improves the Windows copy/move function and adds useful extras like checksum calculation and permanent delete. In case of a copy error TeraCopy will try to recover. If unable to recover in the worst case scenario it will simply skip the problematic file, not terminating the entire transfer. It can also wait for network or device reconnection.
TeraCopy can verify files after they have been copied to ensure that they are identical. This is done by comparing hashes of source and target files. Supported algorithms: CRC32, MD5, SHA-1, SHA-256, SHA-512, Panama, Tiger, RipeMD, Whirlpool and xxHash.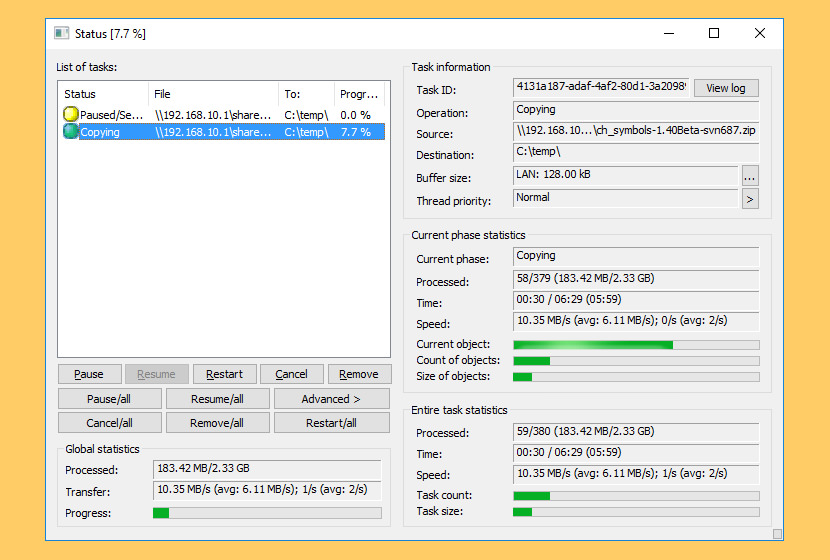 Copy Handler program is a small tool designed for copy/move files and folders between different storage media. Currently it works only in Windows systems, however in the future more platforms should be supported. Copy Handler provides many advanced options like task queuing; filtering files according to specific criteria; pausing and resuming copying files operations and changing the copying parameters on the fly. With Copy Handler the speed of your copy and transfer process is also increased.
Full-control over the copying or moving process by pause, resume, restart and cancel features.
Copy files faster than standard Windows copying.
Automatically resume all unfinished operations on system start.
System integration provides additional commands to context menus of folders.
Ultracopier is free and open source software licensed under GPL3 that acts as a replacement for files copy dialogs. Main features include: play/pause, speed limitation, on-error resume, error/collision management. Ultracopier is faster than most default system tools. It provides many advanced features such as: start/resume the copy process, speed limitation, search through the copy list.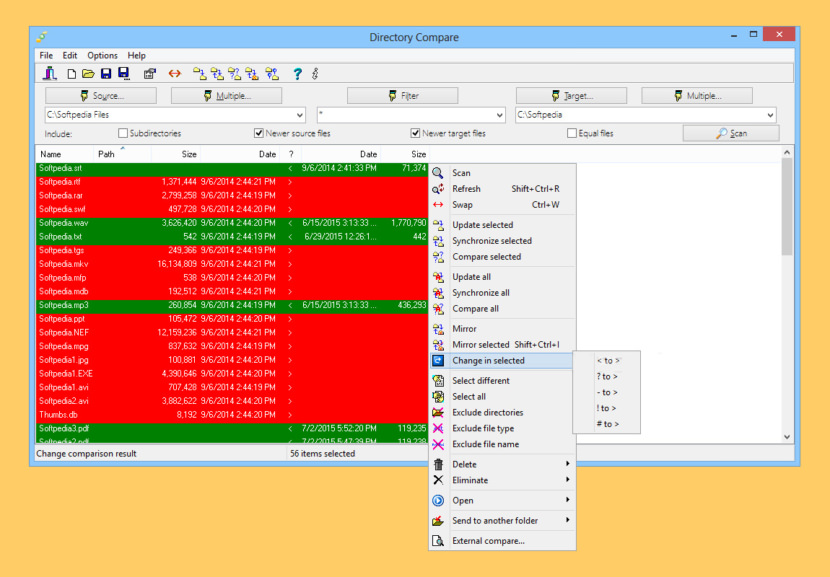 Directory Compare is a utility to help you keeping copies of your important directories (documents, programs under development and so on) in a backup hard disk or any other storage system (like 100Mb diskettes), as well as in a compressed .zip file (only in version 2.53). The backup may be made automatically (in unattended mode) or by using a friendly user interface.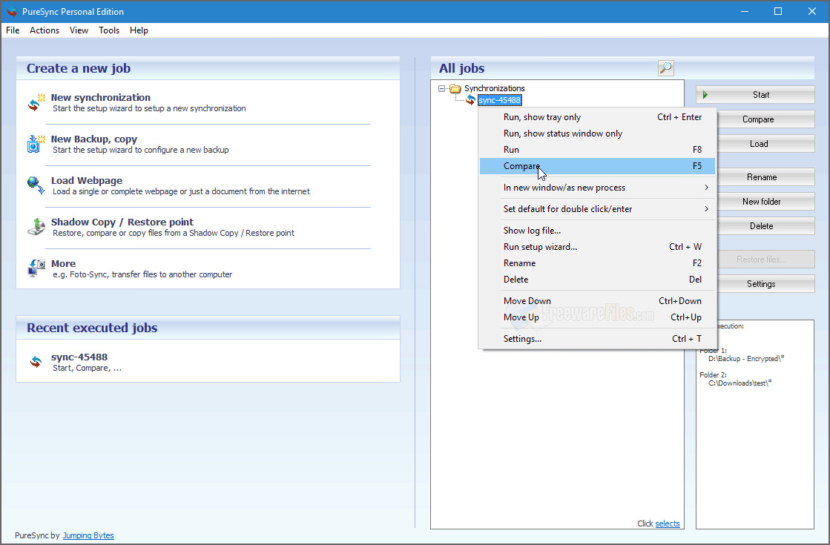 PureSync is a professional file backup and synchronization software, that can automatically keep a backup of your important files, import files from your digital camera and synchronize the contents of multiple folders, but not from "Windows Mobile" devices and no webDAV-folder, as Allway Sync or GoodSync does. No portable app.
The program offers a step-by-step wizard to configure your backup and synchronization tasks and set advanced options like file exclusions, conflicts management, compare options and more. You can choose to run the backups manually as needed or automatically on a regular schedule. The program can also synchronize your files automatically when it detects that they have been modified, or when a specific device (e.g a USB drive) is connected or a certain folder is found. 4 languages: english, german, italian, norwegian.
↓ 20 – Genie Timeline [ Not Free Anymore ] | Windows | iOS iPhone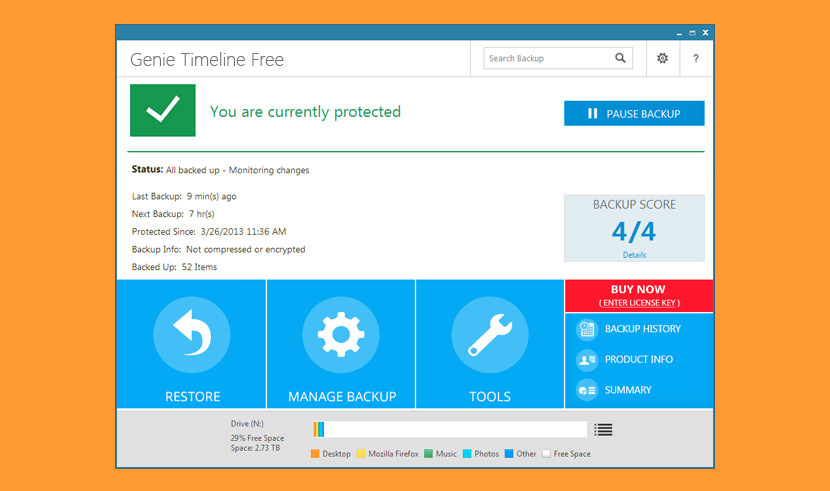 Genie Timeline makes it easy to continuously protect all your files no matter where they are stored; on your computer, external and network drives. Genie Timeline works automatically to protect new and changed files without any intervention.
Fast and lightweight, swift backups that work in the background.
Smart mode to optimize your computer speed
Doesn't take resources
Turbo mode backup when computer is idle
Backs up external, network or any storage attached to your PC.