Norton Ghost was the best free disk imaging software until Symantec decided to put a price tag on it and eventually discontinue the product, the last version is Norton Ghost 15 and is being replaced by enterprise version Symantec System Recovery for business.
😭 😍 😂 20 Free Bad Sector, Corrupted, Damaged Hard Disk Data Recovery
Almost all laptop computer manufacturers such as HP, Dell, Asus, Lenovo, Apple, Acer and more no longer provide Microsoft Installation DVDs, Windows operating system are now hidden in a 'secret' drive within C drive. The reason being that – It is better for the environment. and Faster formatting and installation time.
The only drawback is what if your hard disk crashed? What if you decided to upgrade your SATA hard disk to SSD hard disk? How do you go about replacing your hard disk together with the Windows software in it? You can't copy the files since it is hidden, you have no choice but to 'clone' it. Without further ado, here are 5 methods and software that enables you to clone your laptop and desktop hard disk.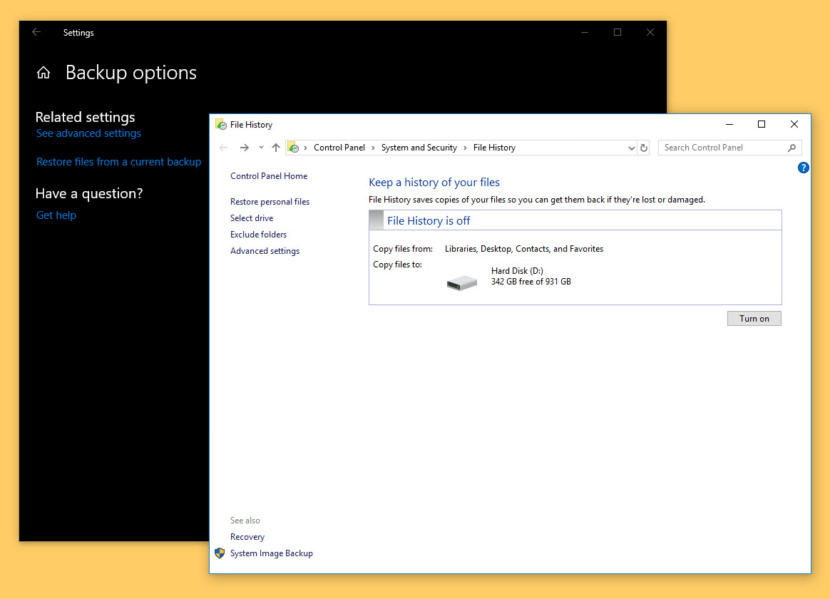 Microsoft Windows 10 Backup Settings comes free with all Microsoft Windows operating systems. This feature enables you to create a duplicate copy of your drive with additional hidden drives. A Windows Complete PC Backup image contains copies of your programs, system settings, and files. It is a complete system backup that you can use to restore the contents of your computer if your hard disk or entire computer ever stops working.
↓ 01 – G4L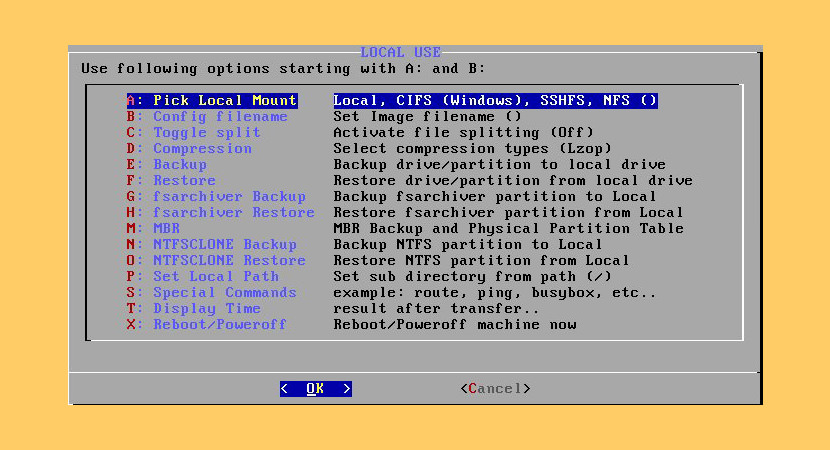 G4L is a hard disk and partition imaging and cloning tool. The created images are optionally compressed and transferred to an FTP server or cloned locally. CIFS(Windows), SSHFS and NFS support included, and udpcast and fsarchiver options. Backing up Windows partitions requires the use of a bootable G4L CD or running g4l via grub4dos.
Raw compressed images of Disks or Partitions
Create Images to ftp server, or sshfs, or windows cifs or nfs or local device
Create NTFSCLONE compressed Images
memtest to confirm good ram
Hardware Detection Tool (HDT)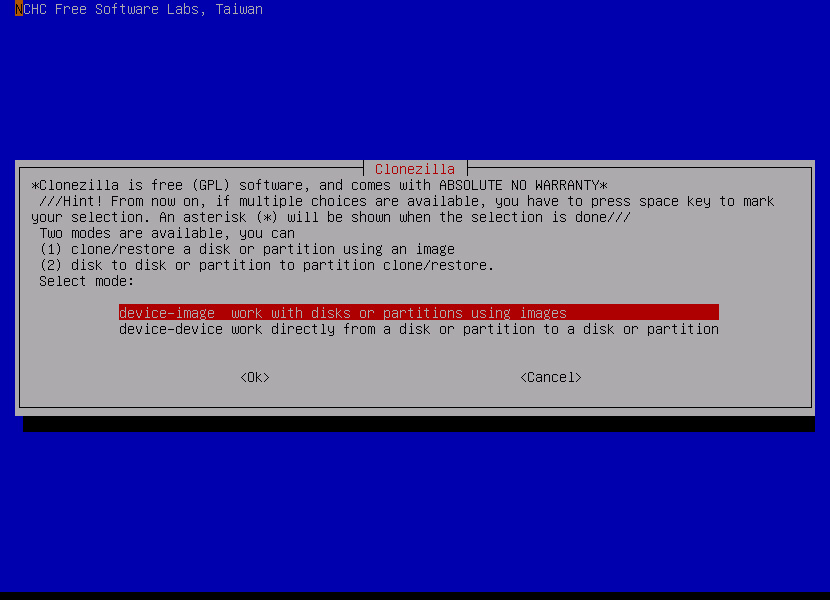 Clonezilla is a partition and disk imaging/cloning program similar to True Image® or Norton Ghost®. It helps you to do system deployment, bare metal backup and recovery. Two types of Clonezilla are available, Clonezilla live and Clonezilla SE (server edition).
Clonezilla live is suitable for single machine backup and restore. While Clonezilla SE is for massive deployment, it can clone many (40 plus!) computers simultaneously. Clonezilla saves and restores only used blocks in the hard disk. This increases the clone efficiency. With some high-end hardware in a 42-node cluster, a multicast restoring at rate 8 GB/min was reported.
Many File systems are supported: (1) ext2, ext3, ext4, reiserfs, reiser4, xfs, jfs, btrfs, f2fs and nilfs2 of GNU/Linux, (2) FAT12, FAT16, FAT32, NTFS of MS Windows, (3) HFS+ of macOS, (4) UFS of FreeBSD, NetBSD, and OpenBSD, (5) minix of Minix, and (6) VMFS3 and VMFS5 of VMWare ESX. Therefore you can clone GNU/Linux, MS windows, Intel-based macOS, FreeBSD, NetBSD, OpenBSD, Minix, VMWare ESX and Chrome OS/Chromium OS, no matter it's 32-bit (x86) or 64-bit (x86-64) OS. For these file systems, only used blocks in the partition are saved and restored by Partclone. For unsupported file system, sector-to-sector copy is done by dd in Clonezilla.
LVM2 (LVM version 1 is not) under GNU/Linux is supported.
Boot loader, including grub (version 1 and version 2) and syslinux, could be reinstalled.
Both MBR and GPT partition formats of hard drive are supported. Clonezilla live also can be booted on a BIOS or uEFI machine.
Unattended mode is supported. Almost all steps can be done via commands and options. You can also use a lot of boot parameters to customize your own imaging and cloning.
One image restoring to multiple local devices is supported.
Image could be encrypted. This is done with ecryptfs, a POSIX-compliant enterprise cryptographic stacked filesystem.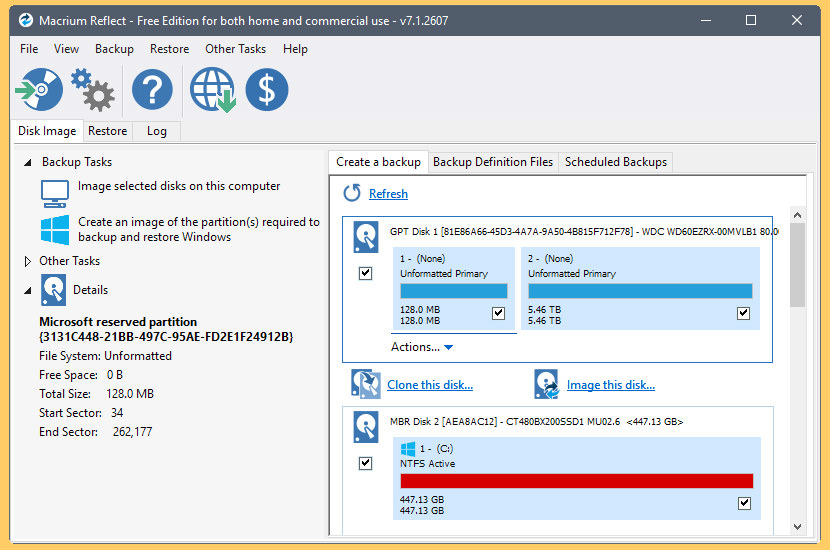 Macrium Reflect Free is a Free Disaster Recovery that works on Windows XP, Vista, Windows 7, Windows 8/8.1 (32 and native 64 Bit) and Windows 10. It is the fastest disk imaging and cloning software! What makes this different from others is the support for GUID Partition Table, also known as GPT.
GPT is meant as a replacement to hard drives using a MBR partition table, which has a 2.20TB size limitation and extends upon UEFI. Using GPT a drive could support between 8 and 9.4 ZB depending on the sector size. Some of the more unique features are:
Access images in Windows Explorer.
Schedule backups.
Linux Rescue CD.
Windows PE Rescue Media (RAID support).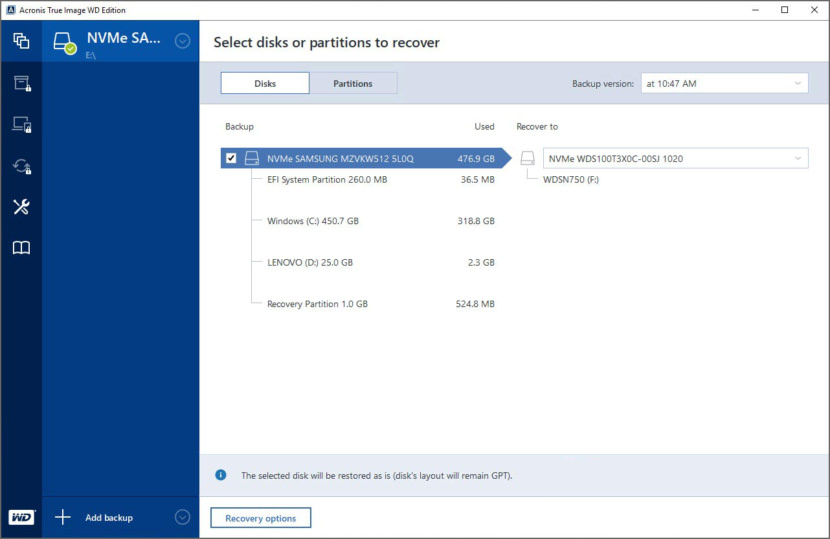 Acronis True Image WD Edition Software helps you to completely clone your current system drive onto your new WD hard drive. Cloning makes an exact copy of your old system drive on your new WD hard drive, including the operating system, applications, data, preferences, and email settings.
Everything will be present and operate exactly as it did on your old hard drive. Acronis True Image WD Edition now supports WD Advanced Format Drives and ensures that all partitions are optimally aligned. Key Features of Acronis True Image WD Edition Software:
Drive Cloning – Copies the source drive to a new WD drive, leaving all data on the source drive.
Drive Migration – Erase the source drive after the new WD drive has been imaged.
Drive Deployment – Enables users to prepare a WD drive so that selected folders or partitions can be excluded from the destination image.
Drive Image Backup – The long-term usage of the Drive Kit software will be to provide full drive image backups of a source drive at any time. Backup drive images will be stored as a file, which can be copied to any direct attached drive, network attached storage drive or optical media (CD/DVD).
Drive Image Recovery – The Recovery Manager enables users to restore a drive image from a direct or network attached drive. The Recovery Manager can also either erase just a portion of the drive to be used for the restored drive image, or all of the previous OS.
Create a Bootable Standalone Recovery Manager – With the Drive Kit software, users can create a bootable ISO image file, which contains the WD Drive Kit Standalone Recovery Manager software.
Recover a Drive Image from the Bootable Recovery Manager Software – The bootable Standalone Recovery Manager enables users to recover a drive image from either a CD/DVD drive, a direct attached drive, or a network attached drive.
Download the Data Lifeguard Tools software (Acronis True Image WD Edition and user manual and the WD diagnostic tool) and follow the instructions provided to complete the installation.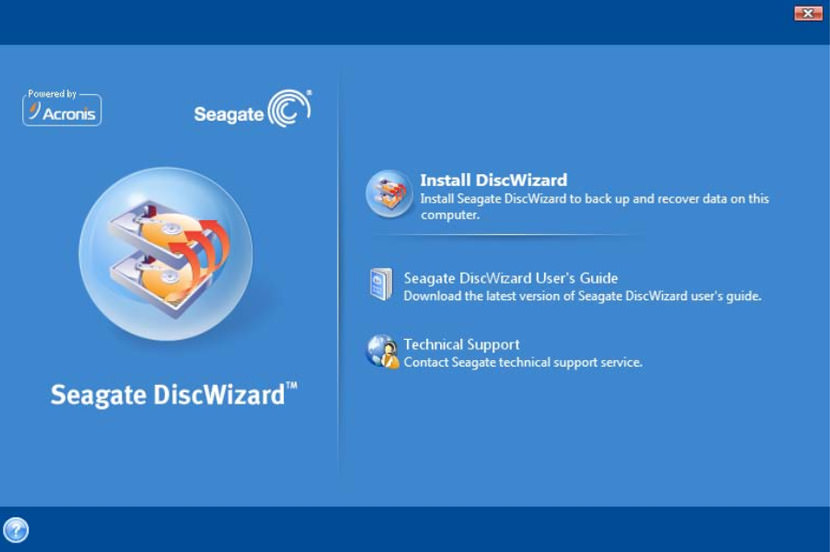 Seagate DiscWizard only works with Maxtor and Seagate disc drives. The software lets you quickly install your new disc drive with wizards that guide you through the processes of creating and formatting partitions on your disc drive, transferring data, and backing up your data.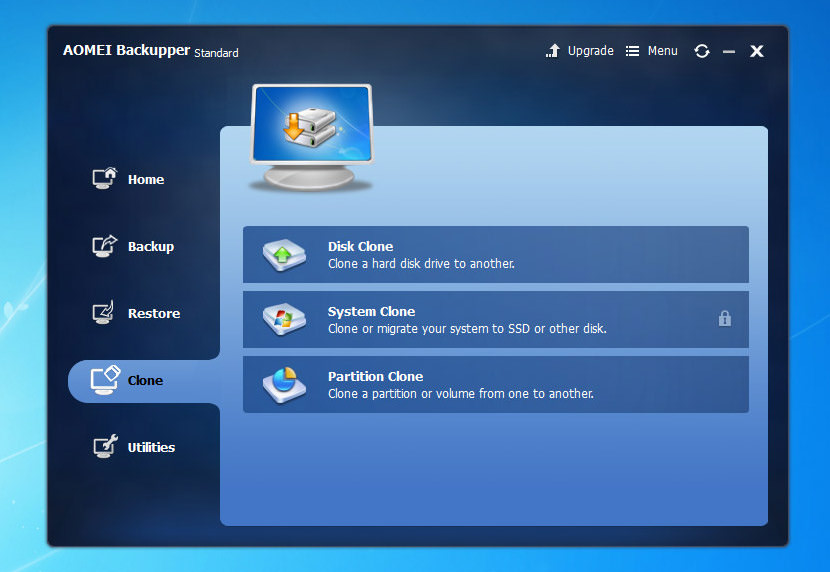 Suffer a lot from data loss? Or worry about what will happen to you in the future? Then, why not backup your system, disks and files in advance, and once accidents happen, restore them all back immediately. AOMEI Backupper Standard is an all-in-one Free System backup and recovery software which is easiest and faster for users, even if you aren't an IT expert.
Backup system and create a system image to keep Windows and applications safe.
Back up entire hard disk or specified partitions, or just cloning them.
Save time and effort with automatic backup and incremental backup only for modified or added files.
Clone a smaller HDD to a larger HDD for disk upgrade, or clone HDD to SSD for better performance.
Back up your most important files and folders on a regular basis.
↓ 07 – EaseUS Disk Copy Home – [ Not Free Anymore ]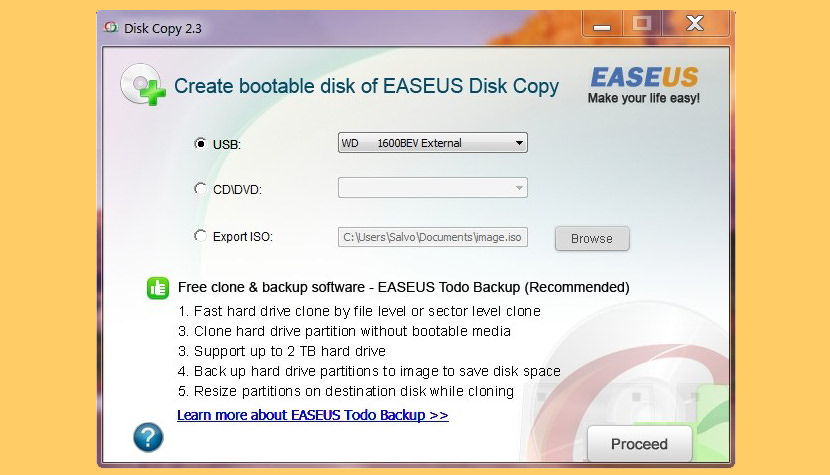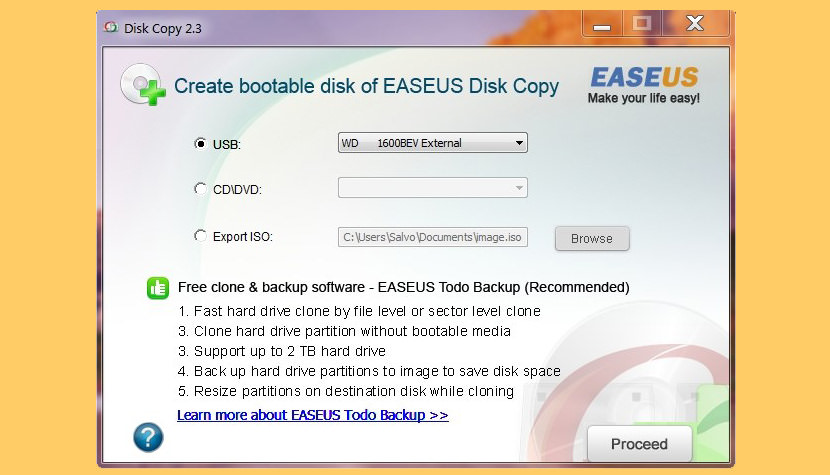 EaseUS Disk Copy Home is a faster & easier disk cloning software with reliable & powerful data backup and restore features to fully protect your data and computer. This is very useful because have an exact copy of all your files and Windows settings at any given time. This is a brilliant disk clone, SSD migration and hard disk upgrade solution. Unlike the free 'Backup and Restore' disk cloning function in Windows, EaseUS comes with more features, such as:
Incremental and differential backup – Only backup changes made since the previous backup, saving time and storage space.
Schedule backup – Flexible backup scheduler allows backups to run based on daily, weekly, monthly or event.
Why It Is Important To Have A Backup Copy Of Your Hard Disk?
Murphy's law, anything bad that can happen will happen. It is always better to be safe than sorry, thus, buy a USB portable hard disk and keep a backup copy of all your files.