How to backup an android phone to pc? Having used all three Microsoft Lumia's Windows Mobile, Apple iPhone iOS and Google Android, I can safely conclude that the backup and restore feature for Windows Mobile and iOS works as advertised. Just login with your username and it automatically restores everything from photos to contact list.
See More ▼ 14 Online Backup Services For Android Phones
Android on the other hand is a hit and run, depending on the manufacturer, it might work on certain Android models and for some, it simply fails except for Google Nexus. Works great on Android 8.0 Oreo / Android 9.0 [ Popsicle, Pancakes or Pie ] smartphones such as Samsung Galaxy, Huawei Mate, Oppo, Vivo, XiaoMi, and Nokia.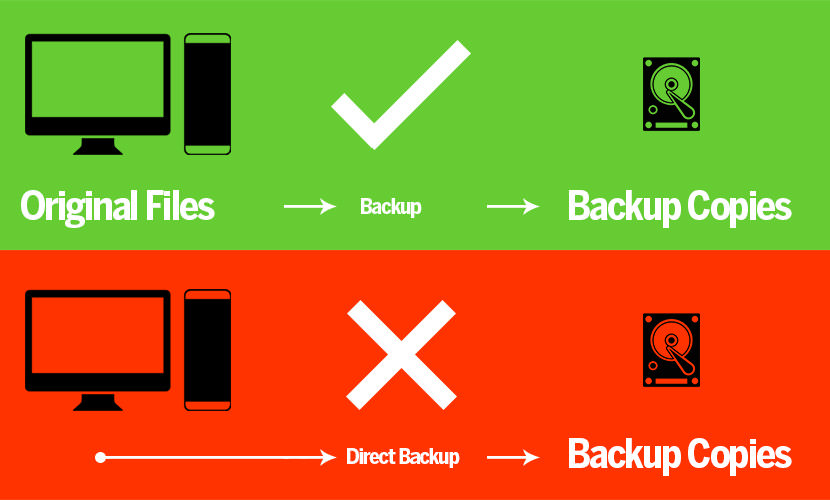 I've said this many times, a proper backup consists of 2 copies of the same files on different devices, preferably these hardware are physically at different locations too. This is because if you have 1 backup on an external hard disk, in the event that that external hard disk was stolen, damaged or broken, you've essentially lost everything. That is not how backup is supposed to work. For Android smartphone users, the best option is to automatically sync all of your data to your own desktop or laptop. Without further ado, here are 7 free and paid software for backing up and restoring data to your android smartphone from desktop PC.
Free With Limitation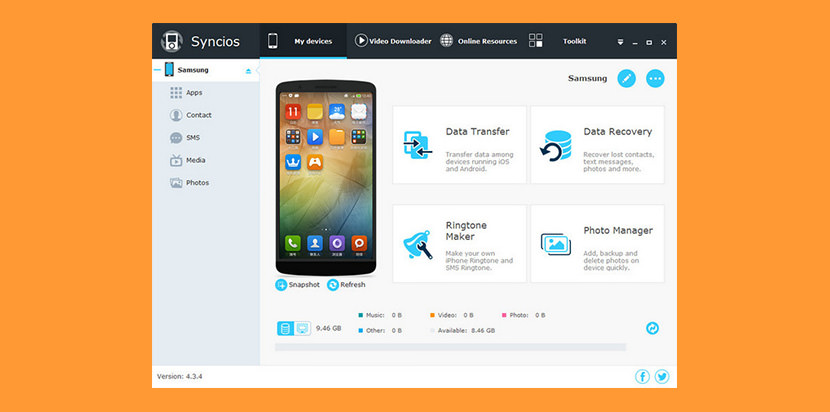 SyncDroid is a free yet powerful Android to PC transfer software that enables you to transfer SMS, Contacts, Call Logs, Bookmarks, Audio, Videos, Camera Photos and SD Card Photos between PC and your Android devices. With the One-click backup and restore tool, you are allowed to backup all of your mobile files to PC breathtakingly easy, and you do not have to worry about data loss or phone theft any more. Of course, you can restore your iPhone or Android whenever you want.
On-click backup: Photos, Contacts, Videos, Bookmarks, Apps, Music, SMS, Call history, Playlist, Ebooks, etc.
Transfer, edit, backup, manage, view Android mobile data.
Download videos from 100+ video sharing sites and transfer to devices.
Massive free resources: videos, wallpapers, ringtones
Handy toolkit: Audio converter, video converter, ringtone maker, etc.
Free Backup But Restoring Cost Money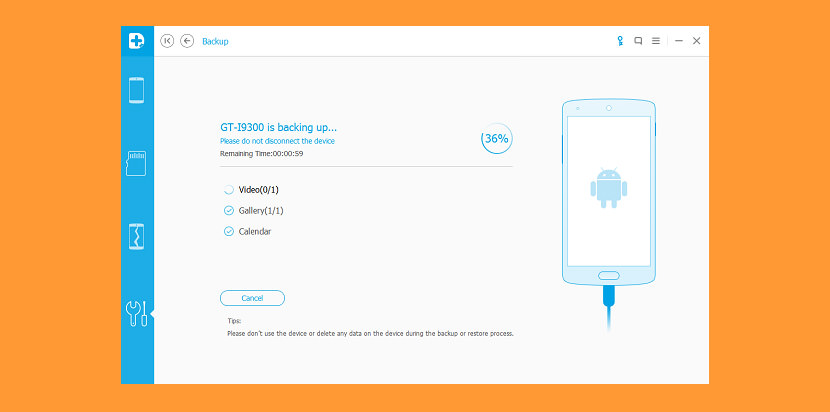 Many smartphones running Android OS don't have an assistant to help backup and restore contents like contacts, call logs, SMS, music, movies, photos and even applications. In fact, it is very important for all Android users to back up their phone contents to the computer. That way, they can keep and restore all Android data from the computer whenever the original one gets deleted or lost during the process of formatting the SD card, resetting to factory data, rooting phone, etc.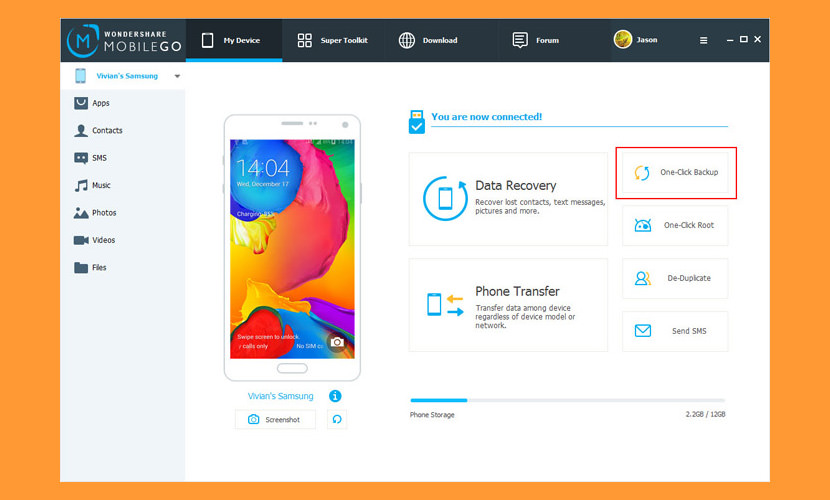 Wondershare MobileGo Android Backup is a perfect choice for backing up your Android run devices like Android phones and tablet PCs. One click backup facility has made this smart tool one of the best ones for backup. MobileGo can easily back up your Android phone contacts, call logs, messages, audios, videos, calendar history etc to your PC. The easy and smooth transition of data between cross platforms is another great option for the tool. MobileGo supports a wide range of Android phones, making brands like HtC, Samsung, Sony, LG, Motorola, Google, Huawei etc, so you don't have to be worried about the compatibility of the tool for your own Android phone.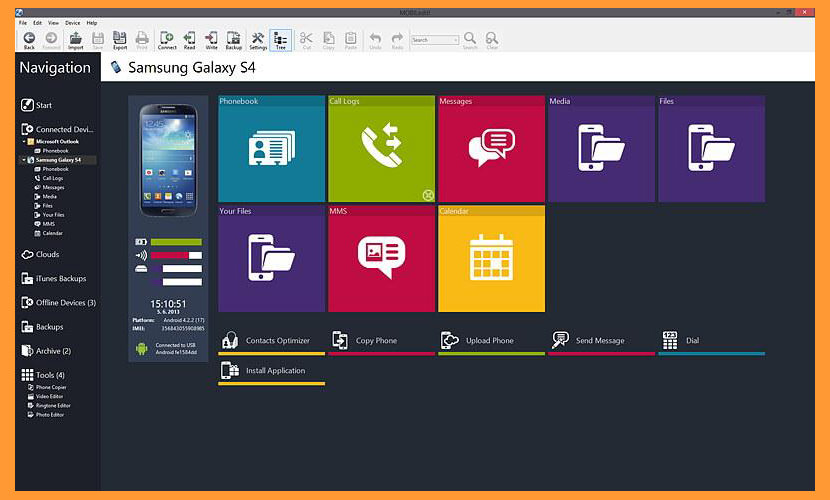 Whether it's the latest and greatest or your tried and true classic phone, MOBILedit is the central toolbox that can manage them all. Control your phone's content the way that you have always wanted. With so much important content in your phone the convenience of MOBILedit on your PC makes all the difference when adding new contacts to your phone book, managing files, making back ups or sending text messages.
Backup iOS and Migrate to Android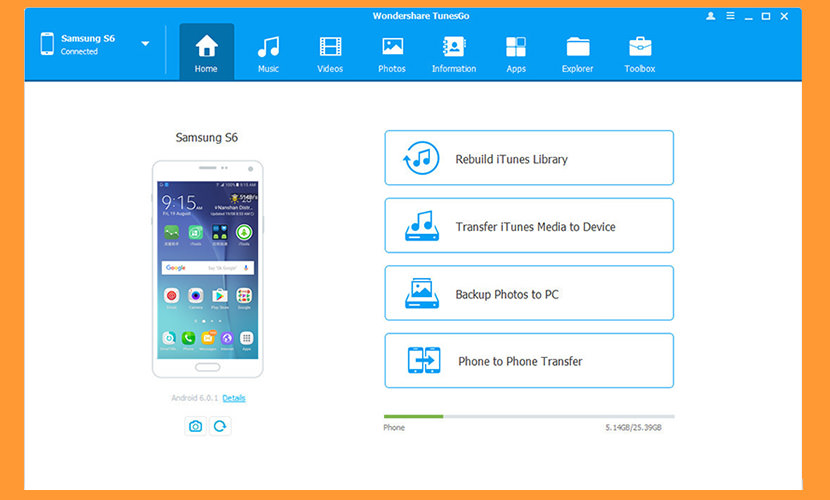 This is also an Android backup and sync software, the difference is it allows you to backup all of your iOS data and sync it to your new Android smartphone, including all of your iTunes mp3.
Back up data: Back up your data such as contacts, call logs, music, images, videos, SMS, app and app data, and calendar from your Android device to PC with just a click.
File transfer & manage: Transfer, search, add, delete all the files including contacts, photos, videos, music and system files on your Android device or SD Card. This software supports Outlook Express, Windows Live Mail, Outlook and Windows Address Book. So you can easily import & export contacts, add new contacts or edit contacts from your PC. And also you can find and merge duplicate contacts with one click.
Convert multimedia files: Convert multimedia files to the Android optimized formats such as MPEG/MPG/DAT, MOV, AVI, ASF, MKV, FLV and WMV to MP4, MP3 or AC3, APE, AIFF, AIF, AMR, AU, M3U, FLAC, MPA, MKA, WMA, MP2, AAC to MP3.
5. MoboRobo
Free With Ads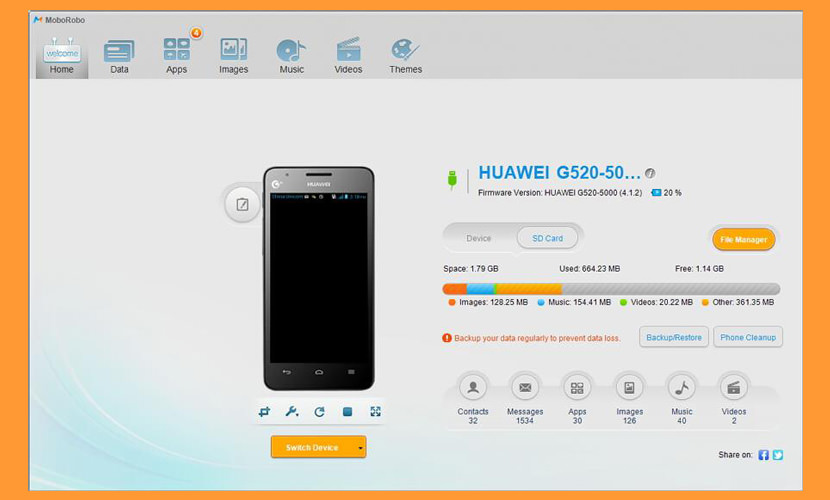 [ Discontinued ] Moborobo is another desktop manager for both Android and iPhone to manage data. It is free but comes with many recommendations such as Apps to install and etc. Hot features of MoboRobo:
Backup & Restore data: Backup information such as messages, call logs, apps, contacts, multimedia files easily.
Media & Data management: Manage different types of media file such as images, video, audio along with special platforms such as Video, Theme center, wallpaper center, PandaApp ringtone, etc.
Application Management: Manage & update the installed applications. Besides, you can also download new applications from the MoboRobo Store.
Device information: Show all the storage information about the device and SD card.
Send SMS & Dial Calls: Send SMS, reply to any new messages or make calls.
6. MoboGenie
Free With Ads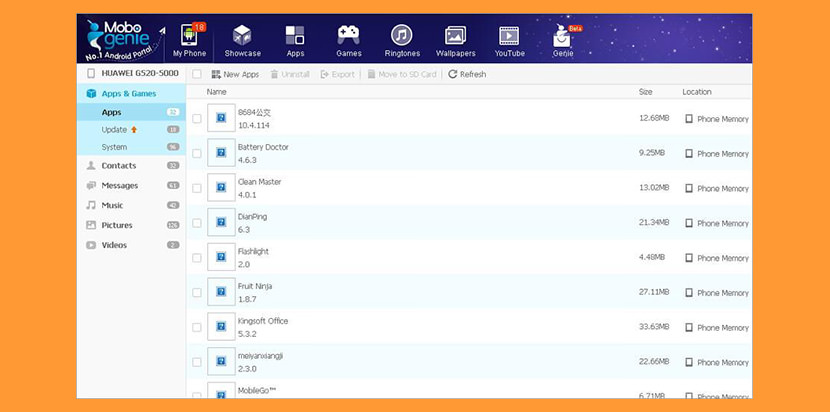 [ Discontinued ] Yet another android backup manager, these free software are more into recommending apps to download than being a proper backup manager. Not recommended unless you do not wish to pay for a backup software.
Manage Your Device Like Never Before – Simplify your life with the easy and convenient android manager including contact management and group messaging.
Secure Your Personal Data with a One-click Backup – Worried about losing data on your phone? Try out their brand new backup function of the android manager.
Liberate Your Phone with One-click Rooting – Speed up your phone, uninstall stock apps, save battery usage and generally do whatever you want – with Mobogenie, you make the rules.