There are 4 ways of backing up your WordPress – manually, web hosting backup, plugin backup to cloud and plugin backup to a backup service. Using the web hosting backup service has its advantage, such as speed of restoring as there are no bottleneck to the bandwidth. Backing up to cloud services such as DropBox or AWS S3 has a cost benefit as they are cheaper. The other method is to subscribe to a backup service as mentioned below.
See More ▼ 6 Free WordPress MySQL Database And Jpeg Files Backup Storage Service
What are the advantages? Unlike backing up to a personal cloud storage system, some of these backup services work on the server level, therefore the chances of a backup failure or restoration failure is minimal. The other good thing about this type of service is some will scan your codes for malwares and provide a solution.
10GB | Automatic | Unlimited Websites and Databases | Backup Only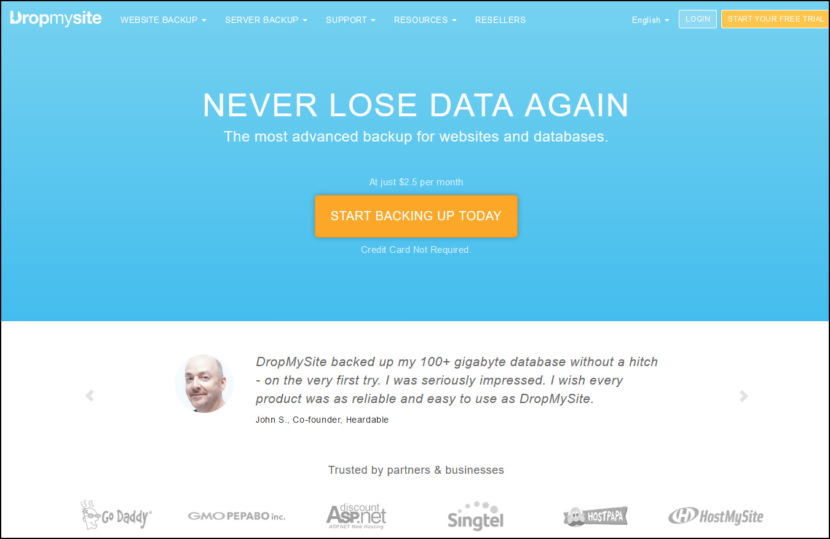 Dropmysite provides a simple and easy-to-use interface to backup websites and databases. To backup your website, just enter your FTP or SFTP or RSYNC details and backups will be scheduled on a daily basis. Databases can be backed up by providing the hostname and the database username and password to connect to the server. They currently support MySQL(with / without SSH over tunnel), MS-SQL, MongoDB, PostgreSQL databases at the moment.
Dropmysite pays special attention to ensure that your backups are secure while backing up and when stored on their servers. Dropmysite deploys military-grade encryption to protect your data. This includes AES 256-bit encryption, at rest and in transit, as well as Secure Sockets Layer (SSL) endpoints. All backups are stored on Amazon Web Services data centers which have multiple system security and data protection certifications, including SOC1, SOC2, SOC3, and ISO-27001.
Unknown GB | Real Time | 1 Websites and Databases | Management and Backups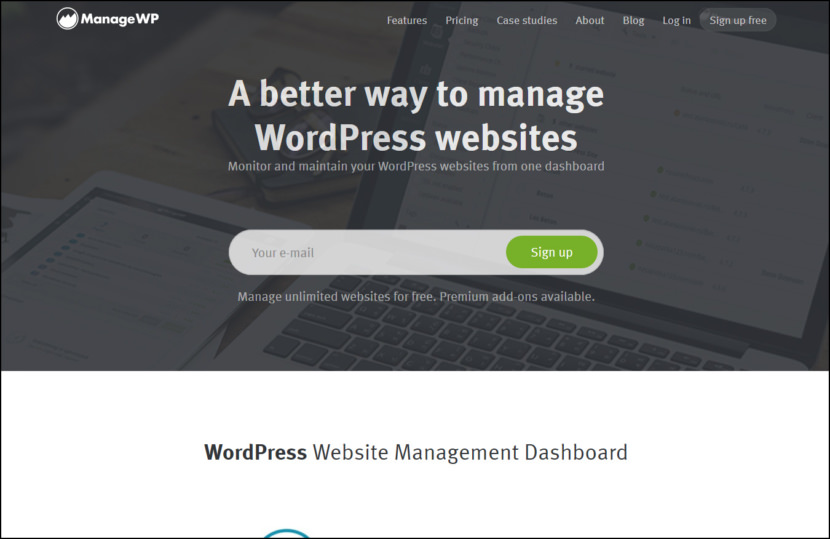 Everything you need to automate your workflow. From Updates, Backups and Clone tools, Managing Plugins and Themes, to Client Reports, White Labeling, SEO, Security and Performance Checks. Backup is the cornerstone of WordPress website management. If an update fails, or your website crashes, it's imperative to have an up-to-date backup of your website.
ManageWP takes the load off your mind by running scheduled backups and making sure that up-to-date backup is always ready. And since their backups are incremental and run off-site, it will successfully back up even the most problematic websites. The premium backup is suited to more demanding websites and active development. The premium add-on has everything the free version does, plus:
On-demand backups
Cloning/migration tool
Different backup frequencies, from weekly to near real-time (every 1h)
Upload to your own external destination (Dropbox, Google Drive, Amazon S3, OneDrive). This feature is charged separately at $0.13/GB.
Unknown GB | Automatic | 1 Websites and Databases | Backup Only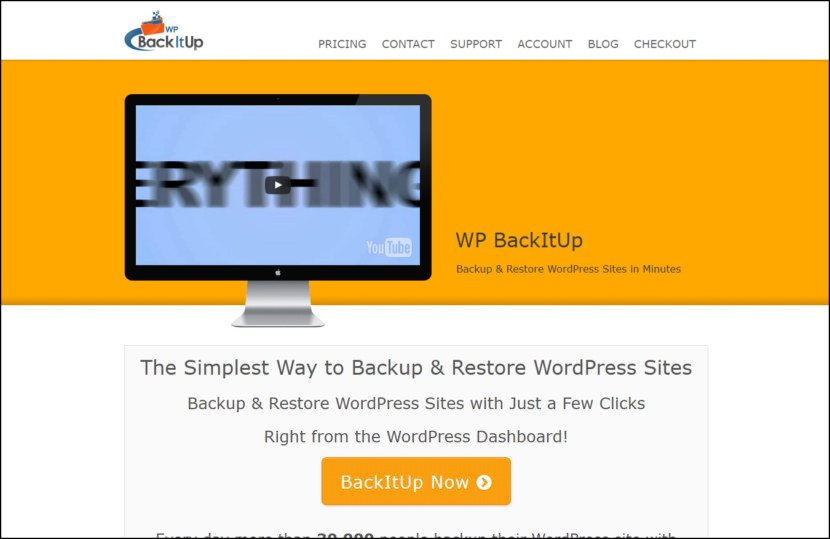 The Simplest Way to Backup & Restore WordPress Sites. Backup & Restore WordPress Sites with Just a Few Clicks Right from the WordPress Dashboard! Backup your WordPress site in just minutes. No trying to figure out which settings or what options need to be configured to get your entire site backed up. Just back it up! Quick and easy full site backups.
We know that you have more important things to do than spend a lot of time figuring out how to backup your site. At WP BackItUp they work really hard to make backing up and migrating your WordPress site as simple as possible. But keeping it simple doesn't mean you have to sacrifice features. Checkout some of their key features below.
UNLIMITED BACKUPS – Backup your site monthly, weekly or even daily and never be concerned about losing any of your content. They never restrict the number of backups that you can perform and don't worry, they never charge extra for the number of backups you perform.
FULL BACKUPS – WP BackItUp does complete backups of your entire site, every time. This includes your database, themes, plugins and even your media uploads. If it's something you add to your site then they back it up.
RESTORE – They don't just do backups. After all, what good is a backup if you can't restore it. WP BackItUp allows you to restore your entire site from a backup. This includes all your database content, themes, plugins and even media uploads. Best of all the restore is just as easy as the backups.
SAFE – Backups are only good if you have them around when you need them. This is why WP BackItUp allows you to download all your backups. Save them somewhere safe on your PC, external drive, google drive, or even Dropbox, it's up to you.
5 GB | Daily | 1 Websites and Databases | Backup Only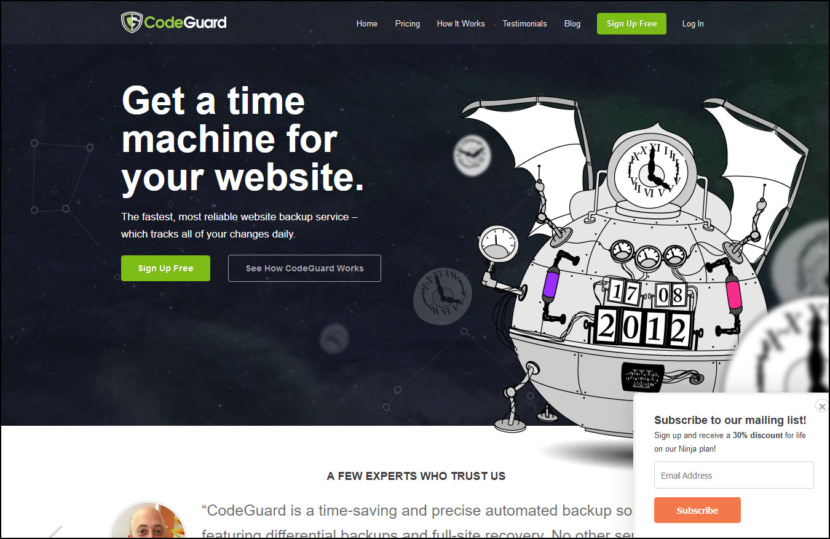 Get a time machine for your website. The fastest, most reliable website backup service – which tracks all of your changes daily. CodeGuard is a time-saving and precise automated backup solution, featuring differential backups and full-site recovery. No other service offers this level of simplicity while providing full website peace-of-mind.
Connect and get automatic backups – First connect your website to CodeGuard by giving us your SFTP/FTP/MySQL information. They take an initial backup and show you real time updates of its progress. It's that easy!
Monitor daily for changes – During monitoring if they detect a change they send you a ChangeAlert email notifying you of what was added, modified, or deleted and when.
Restore your website from any point – You can restore your website or database to any previous backup version. You can download a zip of the contents at any time, choose an automatic restore, or restore individual files and folders.
Unlimited GB | Real Time | Unlimited Websites and Databases | Management and Backups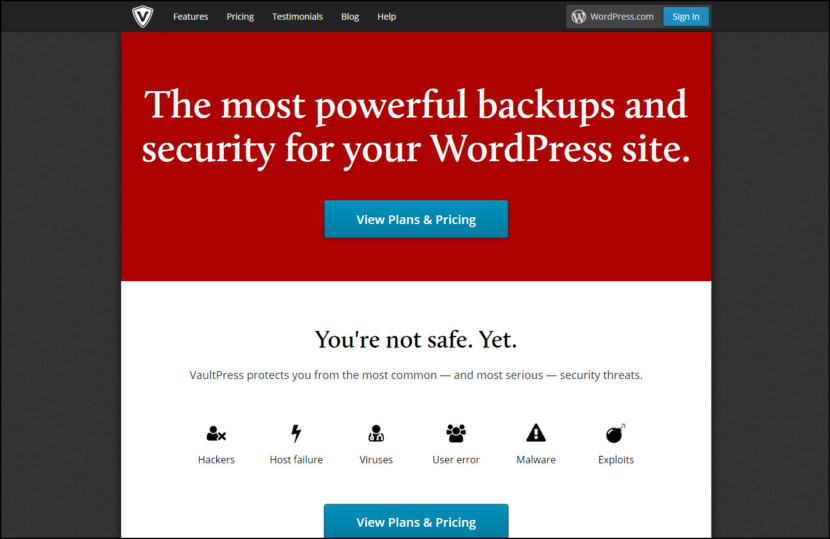 VaultPress by WordPress makes it easy to keep an up-to-date backup of your site with both daily and real time syncing of all your WordPress content. To ensure your site stays safe, VaultPress performs comprehensive security scans daily and makes it easy to review and fix threats.
Restore Backups Automatically – Click a button and begin restoring any backup in just a few minutes using an FTP or SSH connection. You can restore to your current site, or to an alternate test site.
Download any Backup – Browse your entire history of backups and instantly download your database, uploads, themes, and plugins.
Unknown GB | Automatic / Real Time | Unlimited Websites and Databases | Management and Backups

Jetpack Backups allow you to easily restore or download a backup of your site from a specific moment in time. It's like having a powerful undo button for your WordPress site! Keep a secure copy of all your content, data, media, and WordPress settings.
Automatic daily or real-time backups of your entire site, with unlimited storage space.
A 30-day or unlimited archive of your entire backup history.
Secure, off-site storage locations for your data, completely separate from your hosting provider.
The ability to restore or migrate your site from a previous backup.
7. Backup Machine
50GB | Weekly | 1 Websites and Databases | Backup Only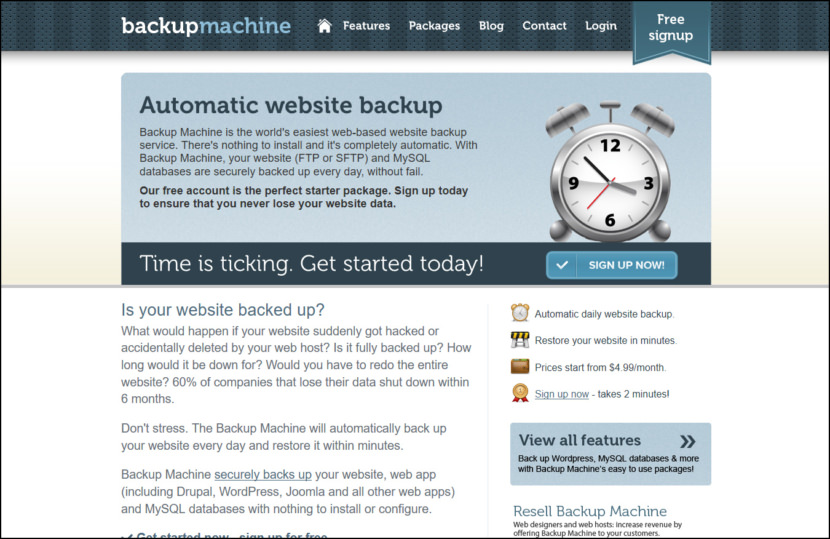 [ Discontinued ] Backup Machine is the world's easiest web-based website backup service. There's nothing to install, it's completely automatic and very secure as all backups are encrypted. Backup Machine is the world's easiest web-based website backup service. There's nothing to install and it's completely automatic. With Backup Machine, your website (FTP or SFTP) and MySQL databases are securely backed up every day, without fail.
Fully-automatic backups – Every day, week or month (depending on your package type), we'll automatically back up your website. There's nothing to administer or remember; they do everything automatically for you! Backups are stored securely and remotely for complete protection.
MySQL databases – Have a dynamic website? We'll automatically back up MySQL databases at the same time as your website.
File history – They don't just back up your website; they archive it. Need to restore your website from two months ago? We've archived it all!
Easily restore your website – You'll have your website back up and running in minutes after a crash. Just choose which version you want to restore and you'll be able to get your site back online in no time.
8. Perfect Dashboard
Unknown GB | Real Time | 1 Websites and Databases | Management and Backups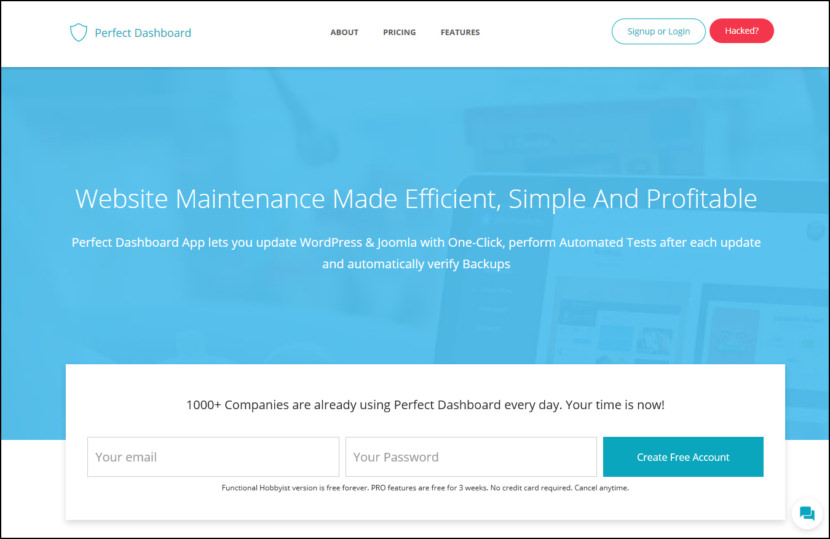 [ Discontinued ] You don't really have a backup unless you know that you can restore a website from it. Restoring every copy of a website and manually checking its integrity is boring and takes ages. They want you to be able to concentrate on more important tasks. That's why they give a one-click backup that starts a chain of actions which include copying the website, remote restoration, integrity testing and storing backup at a chosen storage location. That's it!