When it comes to backing up your WordPress site, you are spoiled with choices. There are basically 3 ways of backing up, the first one is via your own hosting server where you backup your entire server together with the WordPress site, second option is to use a plugin and download the database and files onto your computer, the third option involves backing it up to a 3rd party server. In this article, we'll look into the 3rd option.
🤣😍😂 7 Reliable Offsite Data Backup And Cloud Storage For Small Businesses
Why backing up to a 3rd party WordPress backup services is a better option? It is backing up and restoring is automatic with a click of a button, the files are safely stored in multiple servers across different location, and most important of all, restoring the site is as easy as 1 click of the button.
↓ 01 – BackupSheep | USD9/m for 100GB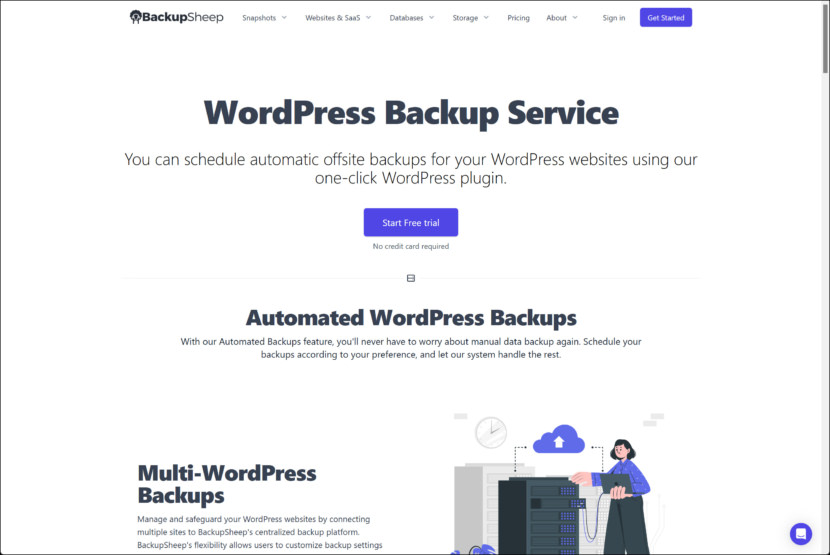 You can schedule automatic offsite backups for your WordPress websites using our one-click WordPress plugin. With their Automated Backups feature, you'll never have to worry about manual data backup again. Schedule your backups according to your preference, and let our system handle the rest.
Manage and safeguard your WordPress websites by connecting multiple sites to BackupSheep's centralized backup platform. BackupSheep's flexibility allows users to customize backup settings for each site, including frequency, retention periods, and storage destinations. Connect any number of file servers for simple, secure, and cost-effective backups.
Automate the backup process for your various databases like MySQL, PostgreSQL, MongoDB, and more. Our sophisticated retention policies enable you to retain any number of daily, weekly, or monthly backups as required. Connect your cloud storage providers and store backups in multiple storage accounts simultaneously.
AWS S3
Alibaba
Azure
BackBlaze B2
Cloudflare R2
DigitalOcean
Dropbox
Exoscale
Filebase
Google Drive
Google Cloud
iDrive E2
IONOS
IBM Cloud
Leviia
Linode
OneDrive
Oracle
pCloud
RackCorp
Scaleway
Tencent
UpCloud
Vultr
Wasabi
↓ 02 – Skyvia | Free / USD7/m for 20GB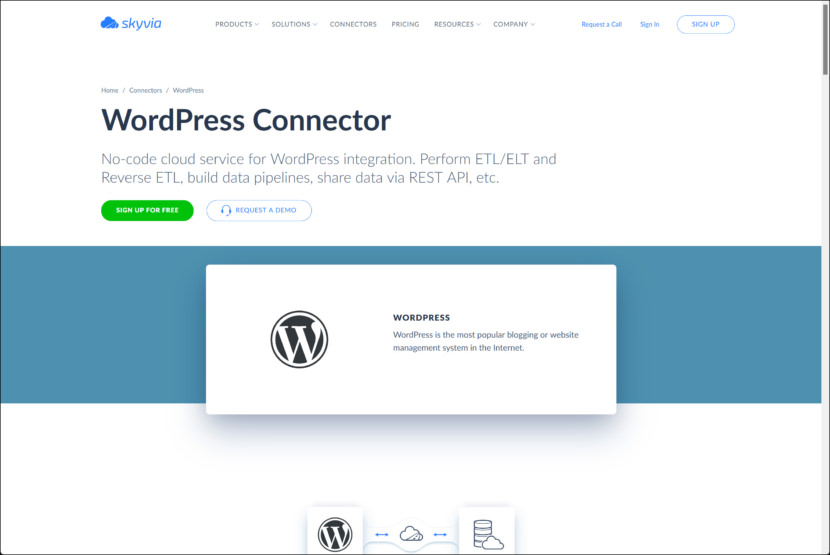 Integrate WordPress with cloud applications and relational databases via Skyvia. Import WordPress Users, Comments, Posts, etc. directly to/from major cloud and on-premise data sources or perform WordPress sync in both directions.
Powerful mapping settings allow you to load and synchronize WordPress data with sources having different data structure. You can schedule your WordPress integration operations, like WordPress import or WordPress export, etc., to execute it automatically.
Import and Export CSV Files – Import and export CSV files to/from WordPress in a convenient web-based user interface. Skyvia allows loading CSV files both from your computer and from various file storages. Build ETL pipelines, importing several CSV files at once, import a single CSV file to several related WordPress objects, use powerful expressions for mapping, etc
WordPress Data Replication – Replicate WordPress data to a relational database with Skyvia and maintain this database in an actual state. Our cloud data replication service (ELT) can be especially useful if you want to use data analysis and reporting tools for relational databases with your WordPress data.
WordPress Backup – Skyvia backup can secure your WordPress data from human errors, incorrectly working third-party software, account hijacking, etc. Skyvia offers automatic daily and anytime manual backup with search, view, and export of backed up data and one-click data restore. WordPress Backup can be configured in less than a minute, and after this you can restore your data in few clicks.
OData Connector for WordPress – Skyvia Connect allows you to expose your WordPress data via OData REST API. This makes the data available for world of tools and data-oriented applications and allows you to integrate your data with other solutions, supporting OData protocol.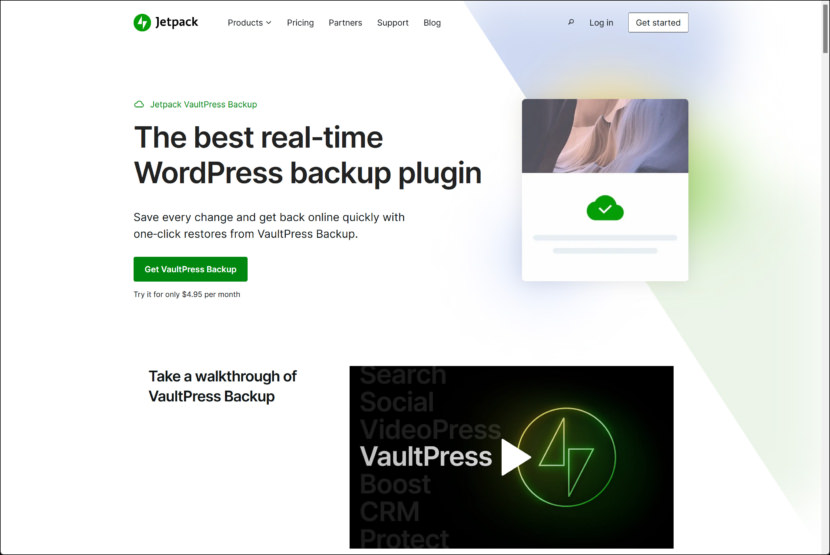 VaultPress Backup is the most proven WordPress backup plugin with 269 million site backups over the last ten years. Host backups offer some protection but may not be sufficient to fully safeguard your valuable data. They often have limitations, such as single daily backups only, on‑site storage, and clunky interfaces.
If you make money from your site, or spend hours perfecting content, you need WordPress backups. Protect your investment by getting your site back online in seconds. Our automated backup plugin is powerful enough for pros, but easy enough for beginners. Jetpack VaultPress Backup is built on WordPress.com's world‑class infrastructure, so you can be sure your site is safe and can be recovered at any moment.
Instant Recovery: Restore your site even when your host is down.
Backups built specifically for WordPress and WooCommerce sites.
Backups of all files including database backups and file backups
Backups of all WooCommerce customer and order data
Redundant copies made globally on multiple servers
Off‑site / cloud backups so there's no load on your server
Easy‑to‑use plugin with one‑click restores
Restore from anywhere with the Jetpack mobile app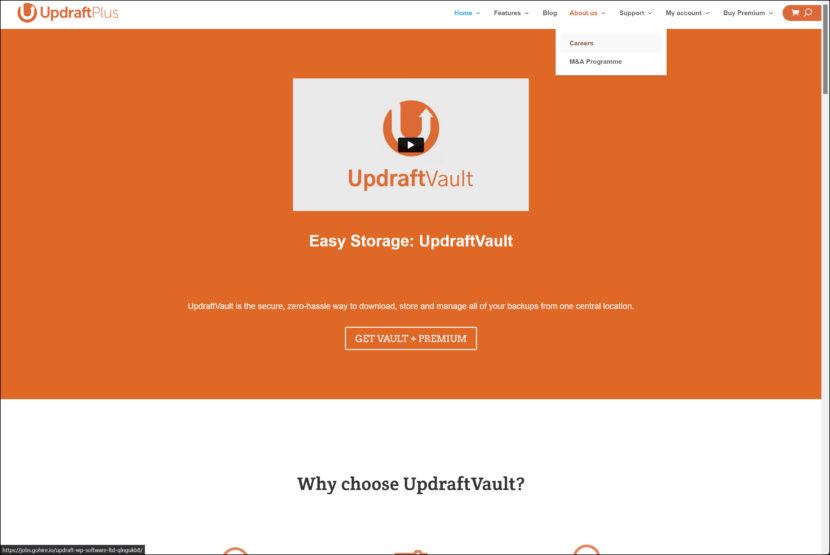 Hacking, server crashes, dodgy updates or simple user error can ruin your WordPress site. That's why you need UpdraftPlus. Keep your WordPress site safe and install now! Performs complete manual or scheduled backups of all your WordPress files, databases, plugins and themes.
UpdraftVault saves you having to depend on other remote storage systems. Because it's been specifically tailored to UpdraftPlus, you won't have to figure out how it works and then deal with setups, passwords, fiddly keys and accounting bother. UpdraftVault is fully integrated into the plugin, so you can connect and back up in just a couple of clicks.
UpdraftPlus Vault will store multiple (i.e. redundant) copies of your backups at data-centres in multiple locations. Although we cannot guarantee the precise location of your data, it will be at the nearest possible location, prioritising data centres within your continent.
UpdraftVault is an extremely secure off-site storage location. It's built on Amazon S3, a world-leading cloud that provides 99.999999999% reliability, redundancy and high scalability. We're giving all our UpdraftPlus customers 1Gb of free UpdraftVault storage space, with the option of purchasing more.
↓ 05 – BlogVault | USD7.5/m for Unlimited Once Daily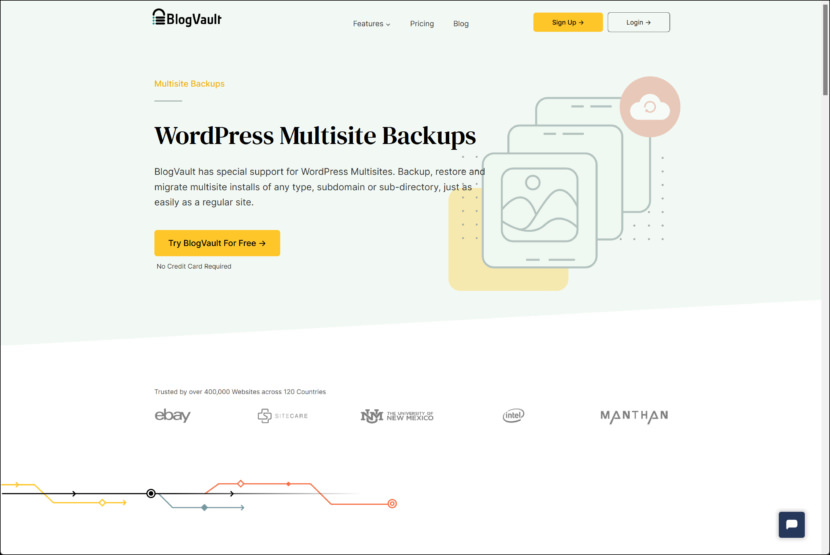 BlogVault has special support for WordPress Multisites. Backup, restore and migrate multisite installs of any type, subdomain or sub-directory, just as easily as a regular site. Move large WordPress multisites to new domains or webhosts seamlessly with BlogVault. You don't need any additional plugins, as there is an integrated search and replace function to make sure everything works as intended.
Backup and Restore 100 GB+ Sites
Restore Selective Subsites for Multisites
Backup Large Network With 1000s of Sub-sites
↓ 06 – WP Buffs | USD80/m for Unlimited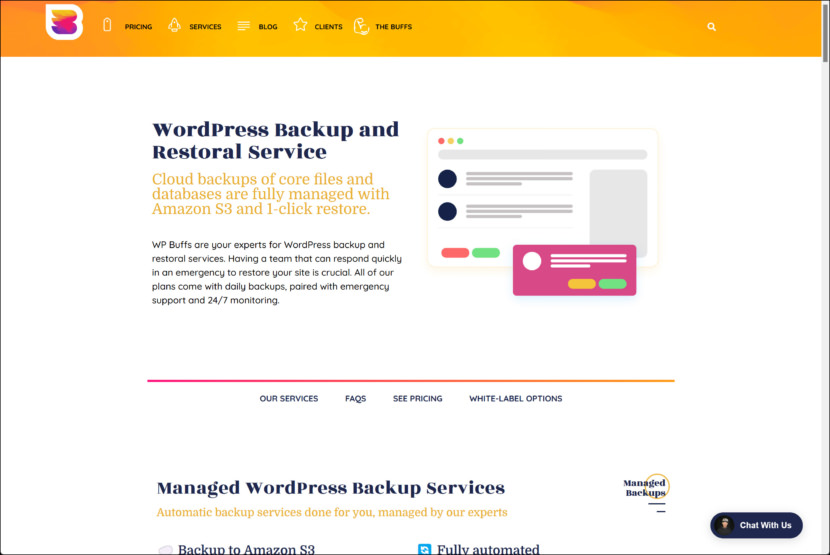 Partnered with Kinsta, WP Engine, SiteGround, Rank Math, Themeco, HubSpot, and more of the world's best companies in the WordPress community, WP Buffs is highly recommended for our WordPress website maintenance packages.
Well-known brands such as National Day Calendar, Cupertino Times, WP Mastery, and others rely on us to fully monitor, maintain, and support their sites. Whether you have an enterprise company with a large site, an ecommerce site for a local business, or have a simple brochure site, we have a website maintenance plan to serve you.
Backup to Amazon S3 – Their team backs up your entire website to our reliable Amazon S3 cloud so that even if your server crashes, nothing from your website is ever lost.
Fully automated – We never leave backups to chance. We schedule backups during optimal, low-traffic times to ensure they're 100% successful.
Up to 4x daily backups – We can backup your website multiple times per day to make sure every change to your site is recorded, captured and available to restore.
eCommerce Data Backups – With dynamic sites, like ecommerce, that have changing data every day, you need multiple daily backups to stay up to date. That's why we offer 4 per day on Perform plans and above.
1-click Restorals – When a restoral is required, we have the ability to restore your website entirely with just 1-click to get your site up and running as quickly as possible.
30-Day Backup History – Maintain a reliable history of backups with multiple restoral points, without taking up hosting or server resources.