If you own an old desktop system, where the existing drivers work and newer updates might break it, chances you, you might need a third party driver backup software, in the event that the new Microsoft Windows update is not compatible with newer drivers.
See More ▼ 6 Tips To Get 5x Better Wifi Signal And Boost Speed
For missing drivers, third party software to identify the hardware components and search the manufacturer websites for the correct drivers. The other benefit is if you have lots of computers to reformat and backup, re-downloading GB of data doesn't make sense. A backup of similar drivers for similar systems makes perfect sense.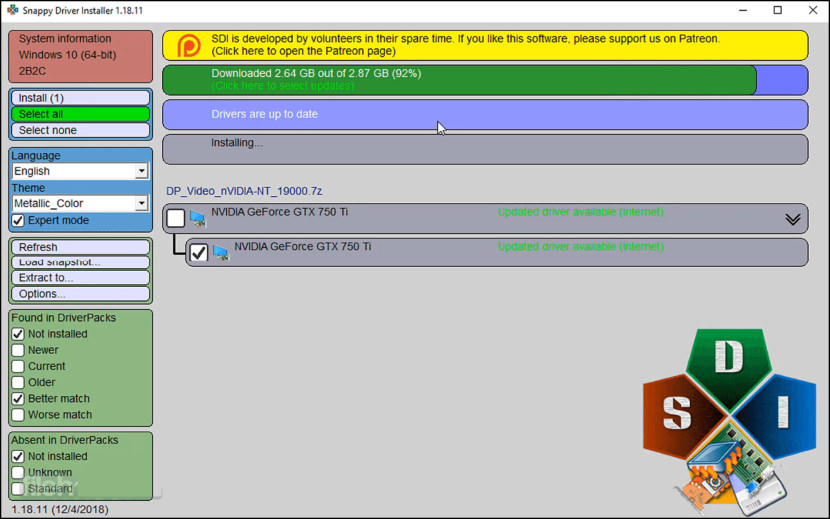 If you've lost your driver discs, you're unable to find drivers on the manufacturer's web site or Windows Update can't configure your hardware, use this tool to quickly find and install all missing drivers. If you're a PC technician, keep Snappy Driver Installer on your USB flash drive or external hard drive and take it with you wherever you go. In environments with no Internet access you can quickly get things working. No more searching for drivers after a clean install, just let Snappy Driver Installer do it's thing and your job will be done in no time.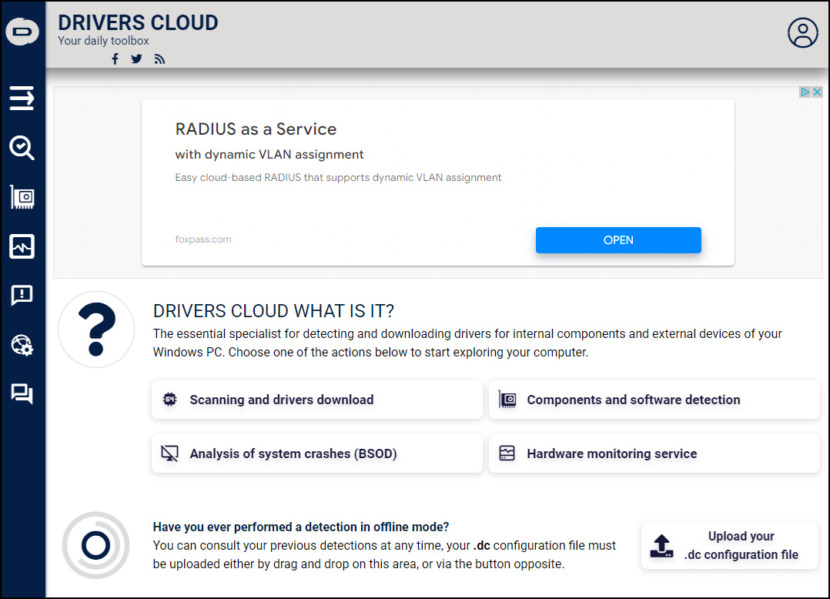 Created in 2004, and continually improved, DriversCloud.com, formerly Ma-Config.com, has established itself on the web as a free service to PC users running Windows and Linux operating systems. The service is designed to work with the most common Internet browsers (MSIE, Firefox, Opera, Chrome V2, Safari). After installing a program (certified by VeriSign) the user can choose the detection level (depth) of the hardware and software components of a PC. This site works in partnership with TousLesDrivers.com. You can easily identify and install the drivers that correspond to your configuration.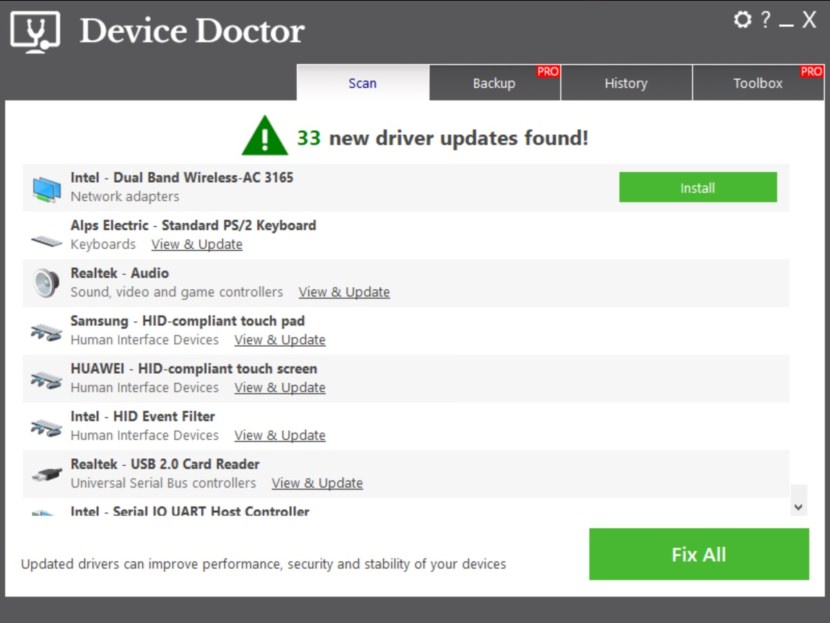 Device Doctor is a free Windows application that scans your computer hardware and checks to see if there are new driver updates available for your devices. It also locates drivers for "unidentified devices" in the Windows Device Manager. This tool was designed to be very simple and easy to use. Just click on 'Begin Scan' to detect your hardware; Device Doctor queries their manufacturer driver database and immediately fetches the correct driver files for your computer.
Free and Paid Version Available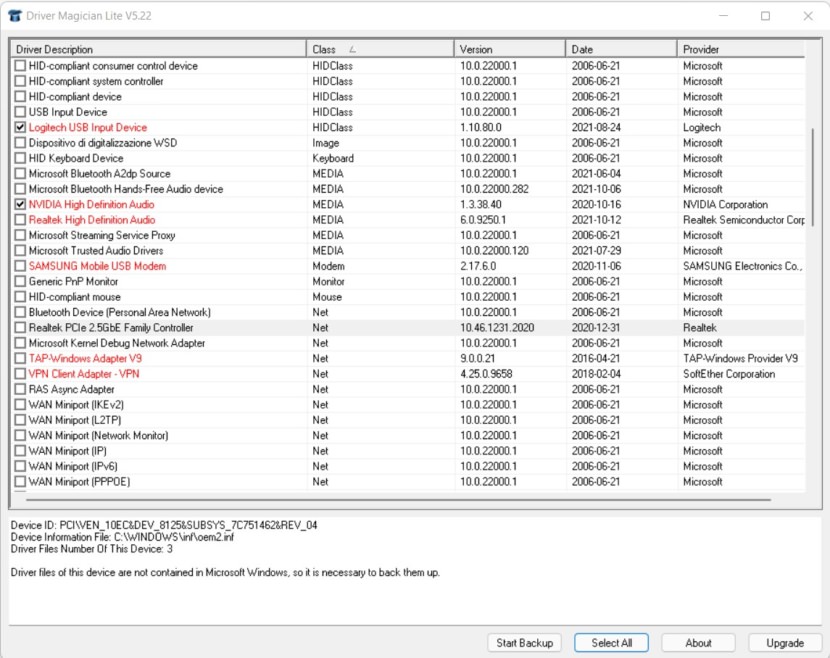 Driver Magician Lite is freeware, it identifies all the hardware in the system, extracts their associated drivers from the hard disk and backs them up to a location of your choice. Then when you format and reinstall/upgrade your operating system, you can restore all the "saved" drivers just as if you had the original driver diskettes in your hands.
What's more, Driver Magician has a built in database of the latest drivers with the ability to go to the Internet to receive the driver updates. It saves lots of time to find the correct drivers and mature drivers will obviously increase the performance of hardware. If there are unknown devices in your PC, Driver Magician helps you detect them easily and quickly with its built in hardware identifier database. Key features:
Back up device drivers of your computer in four modes.
Restore device drivers from backup in one mouse click.
Update device drivers of your PC to improve system performance and stability.
Uninstall device drivers
Live Update device identifier database and driver update database.
Detect unknown devices.
Back up more items such as My Documents and Desktop.
Restore more items from backup.
Get detailed information of the hardware drivers.
Clone all drivers to an auto-setup package (.exe), so you can restore drivers without installing Driver Magician.
Free and Paid Version Available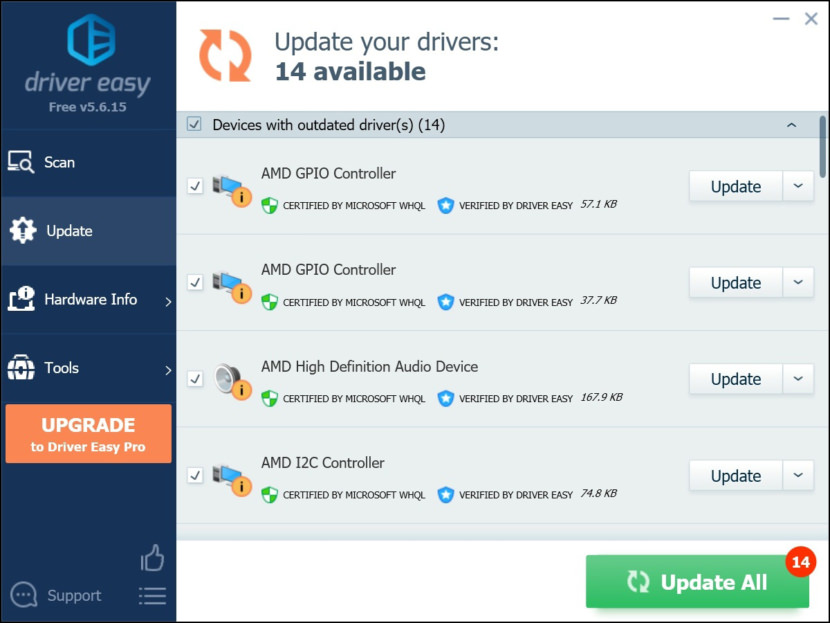 Manually finding drivers for Windows takes forever. And sometimes you still don't find what you need. Driver Easy changes all that. It scans your computer, tells you what drivers are missing or outdated, then updates them all, in one go. All you have to do is click the Update All button, and all drivers will be downloaded and installed automatically. Finds drivers for:
Audio Devices
Bluetooth Devices
PCI Cards
Network / Ethernet Cards
Modems
Wi-Fi Cards
Chipsets
Graphic Cards
Scanners
Printers
USB Devices
CD/DVD-ROM Drives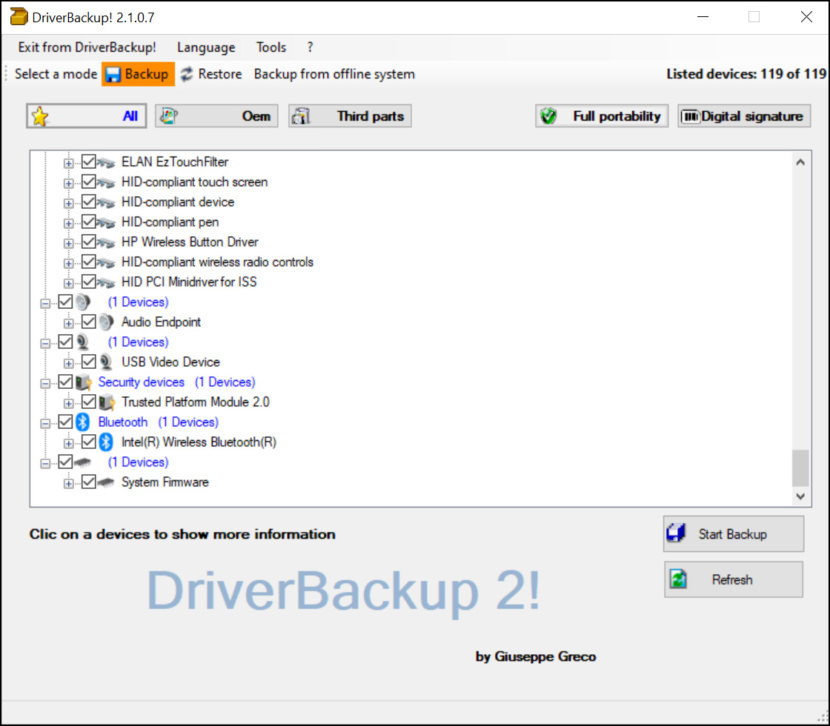 Fast and user-friendly free tool for driver's backup, restoration and removal with command line options, automatic restoration from CD\DVD and path formatting. DriverBackup! includes also an interactive command line builder.
Features
Backup & restore of windows drivers
Drivers' backup from offline or non-booting system
Unknown device recognition
Command line switches with integrated command line builder
Compatible with 64 bit systems
Automatic generation of autorun files for drivers' restoration
No installation required
Free and Paid Version Available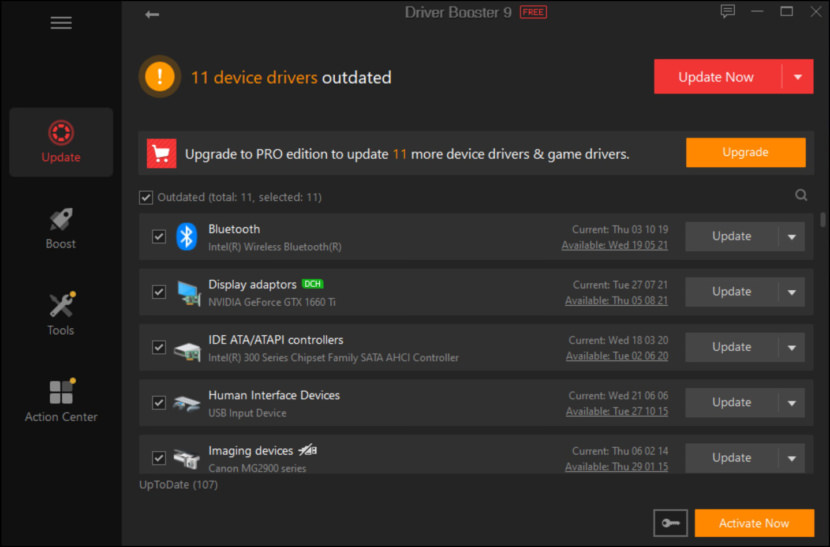 Easily Identify & Fix over 400,000 Outdated, Missing & Incorrect PC Drivers. Download Intel PC Drivers, Nvidia Drivers, Realtek Drivers & Microsoft Drivers with Driver Booster. Support 400,000+ Devices & Drivers. Automatically get recommended drivers and updates for your hardware with Driver Booster 4. With a 200% larger online database, Driver Booster 4 is the best driver updater software that can automatically scan & fix over 400,000 devices and PC drivers provided by more than 5,000 companies.
Users can easily update Realtek HD Audio Drivers, Intel Audio/HD Graphics/WLAN/LAN Drivers, Nvidia drivers and all important driver packages by Microsoft with the help of Driver Booster 4. Users will be free from problems such as slow internet, computer freezes & crashes, as well as conflict with peripherals caused by outdated, missing or incorrect drivers. Driver Booster helps you find the right driver updates for Windows 10 systems including the new Windows 10 Redstone system.
Free and Paid Version Available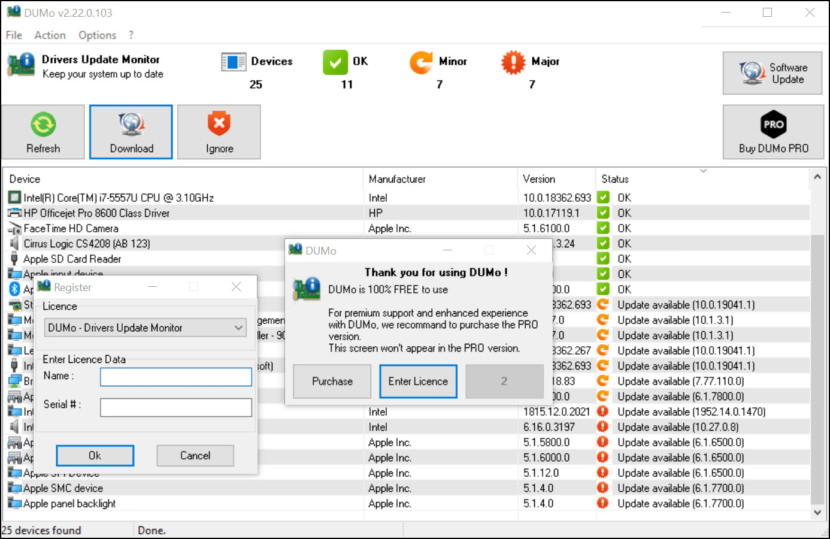 DUMo (Drivers Update Monitor) keeps your PC up-to-date & safe by using the most recent version of required hardware drivers!
User-friendly driver updater
Automatic detection of installed hardware
Detects required drivers according to your version of Microsoft Windows
More compatibility and less false positive than others Drivers Monitors
Free With Bundleware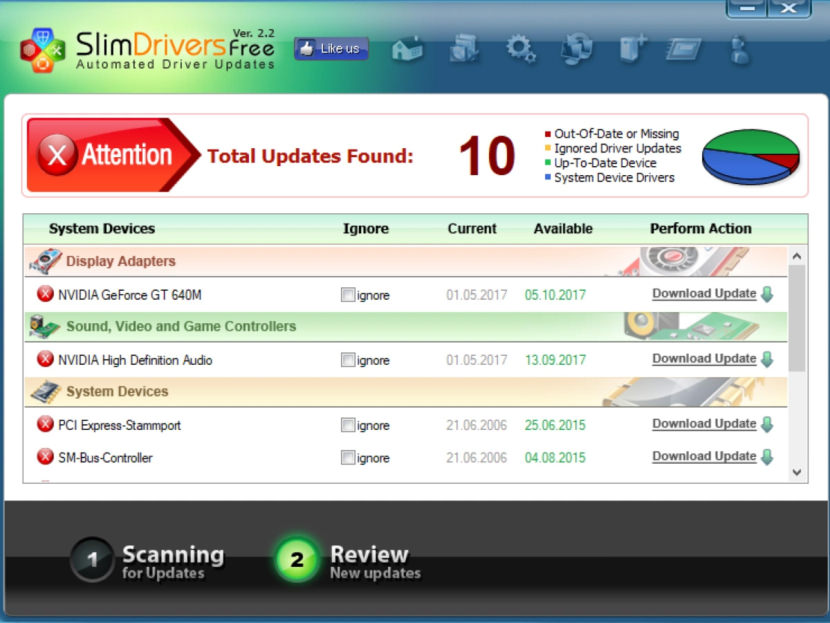 Crowd-sourcing to spider and aggregate millions of devices. SlimDrivers not only detects when a driver needs updating, but also identifies the proper executable for your system and initiates the driver install automatically. – Note: Individual Driver updates are free. The Plus version called DriverUpdate allows for "Download All" and advanced automation functionality.
SlimDrivers automatically updates PC drivers with real-time scanning and cloud technology. The first cloud-based utility for updating and maintaining drivers, SlimDrivers provides instant optimization of the interaction between a computer and its system components and peripherals, such as printers, graphic and sound cards, motherboards, USB ports, game controllers and other devices and hardware. SlimDrivers scans a PC, identifies the correct drivers needed, and retrieves them from the cloud, automatically installing the most current, precise drivers for each individual PC.
Cloud-Based Driver Management – Advanced technology unlocks new potentials in the way you repair and optimize a PC. Their applications don't come with a pre-set list of drivers. Instead, they contact a dynamic information cloud, an online data center that is constantly receiving new driver definitions.
Optimizing your PC – Having a slimmed down update process makes it easier to get the latest drivers, including those that improve computer performance, PC function and user accessibility.
Better Controls – With SlimDrivers and DriverUpdate, you can take control of the various drivers on your PC. Quick setup lets you find outdated drivers, update old drivers and restore broken drivers just by pointing and clicking.
Rapid repair of Driver-related Errors – SlimDrivers and DriverUpdate are equipped to automatically repair problems with the update and install processes, taking the hassle out of unforeseen errors and incompatibilities.
New Technology to Maximize Efficiency – Not all scans are created equal. SlimDrivers and DriverUpdate implement the latest developments in analysis technology, coordinating checks with the Windows Device Manager, Windows System Manager and Windows Update Online.
The Latest Driver Every Time – By using cloud-based technology, DriverUpdate keeps you in-step with the latest releases in hardware and software. No matter how new your component is, there's an up-to-date definition for it in the cloud.
Free With Bundleware and Paid Version
DriverMax is a tool that changes the way you update your computer drivers. Remember how hard it was to search by yourself all the drivers you needed? DriverMax changed that. You no longer have to do this by yourself, DriverMax has got you covered. It scans your computer and identifies missing or outdated/faulty drivers, downloads them and installs them for you.
Because of the fact that Windows stores all versions of older drivers, older versions get mixed up with more recent ones. To avoid that, the DriverMax Export Wizard will only export the drivers you select by copying the needed files to a folder or a compressed ZIP file. DriverMax allows you to export all your current drivers (or just the ones that work ok) to a folder or a compressed file. After reinstalling Windows you will have everything in one place! Works great on Microsoft Windows 10.
Hardware Manufacturers
ATI Drivers
Broadcom Drivers
Brother Drivers
Canon Drivers
Creative Technology Drivers
Dell Drivers
HP Drivers
Huawei
Intel Drivers
Lexmark Drivers
LG Drivers
Linskys Drivers
Logitech Drivers
Microsoft Drivers
Mitsubishi Drivers
Motorola Drivers
Netgear Drivers
Nvidia Drivers
Realtek Drivers
Sony Drivers
Update drivers
Display Drivers
Audio & Sound
Graphics & Video Adapters
Modems & Network Adapters
Digital Cameras
Video & TV Tuners
Printers
Scanners
Wireless Internet
Input Devices
Optical Disk Drives
SCSI & SATA Devices
External Hard Drives
Motherboard Chipsets
DriverMax finds and downloads the best drivers for your PC for:
Windows 10
Windows 8.1
Windows 8
Windows 7
Windows Vista
Windows XP
Both 64-bit and 32-bit editions of Windows are fully supported.
11. DriverPack
Free and Paid Version Available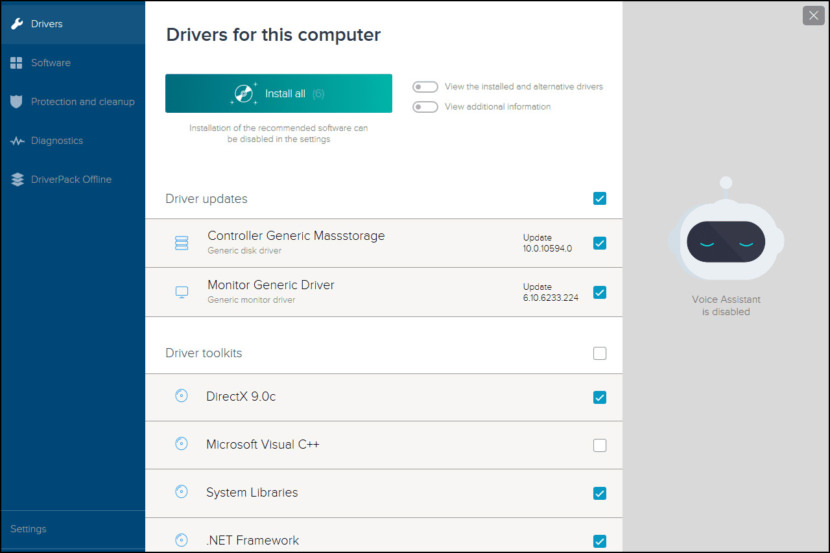 [ Discontinued ] DriverPack is the most convenient and fastest way of configuring a computer. The software is provided for free, and is suitable both for professionals and for beginners. DriverPack has the largest driver database in the world, and can be used to configure any computer.
12. Snail Driver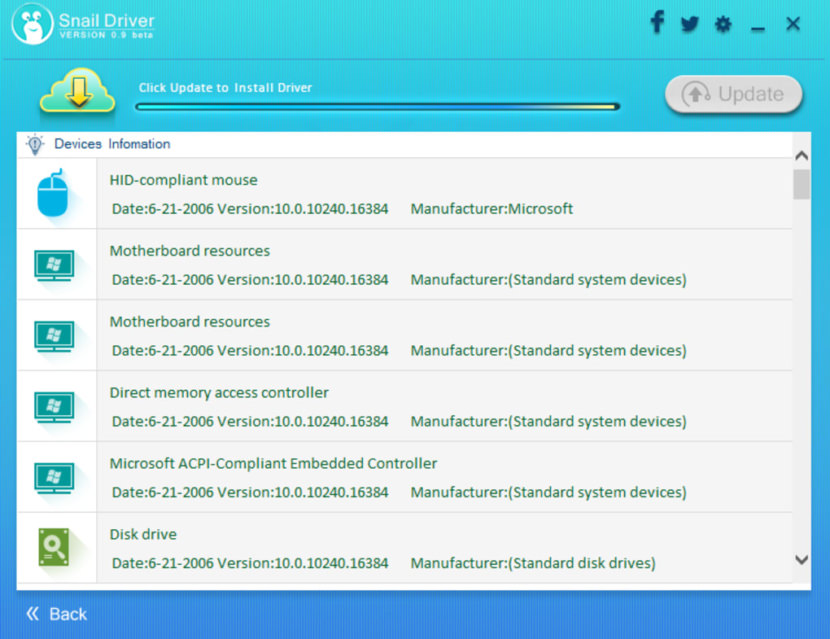 [ Discontinued ] Snail Driver is a free desktop software which allows you to download, to update and to install Windows drivers automatically with one click. You also utilize Snail Driver to install most of the manufacturer's printer drivers and install drivers for some devices you're not sure what driver they need, like webcam drivers.
Snaildriver is a free Windows driver updater. No Virus, No Malware, No Adware. Category by components are Audio, BIOS, Bluetooth, Camera, Card Reader, Chipset, Display, Graphic Card, Fingerprint, IO Controller, Keyboard, LAN, Modem, Mouse, WLAN, WAN, Utility, USB, Touchpad, Storage, Security, and Power Management.