Updated: August 11, 2018 / Home » Desktop Computer Software » Data Recovery and Backup Software
How long does Google store your deleted emails from their server? The answer is nobody knows, some speculate that not more than 30 days, some say 60 days, what we do know is they probably store them forever because of security and legal reasons (at the request of NSA, CIA, FBI and etc). When something is free, you will have no control of the services, this is why you should use your own email server whenever possible.
Related Article 2019 ➤ [ Tutorial ] How to Recall, Undo or Unsend Gmail Email
Here are 3 free email archiving solutions and software for backing up your Gmail, Hotmail, Yahoomail and etc. Backup these free email services and closing down your email does not make your email disappear from Microsoft, Google or Yahoo server. These free email backup software works great when you have a self hosted email server and system.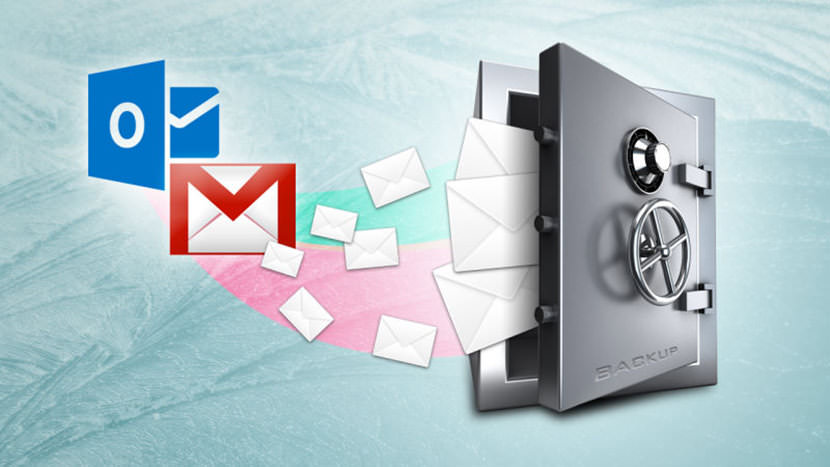 ↓ 01 – MailStore Home [ All Hosted Email Archiving Solutions | Windows ]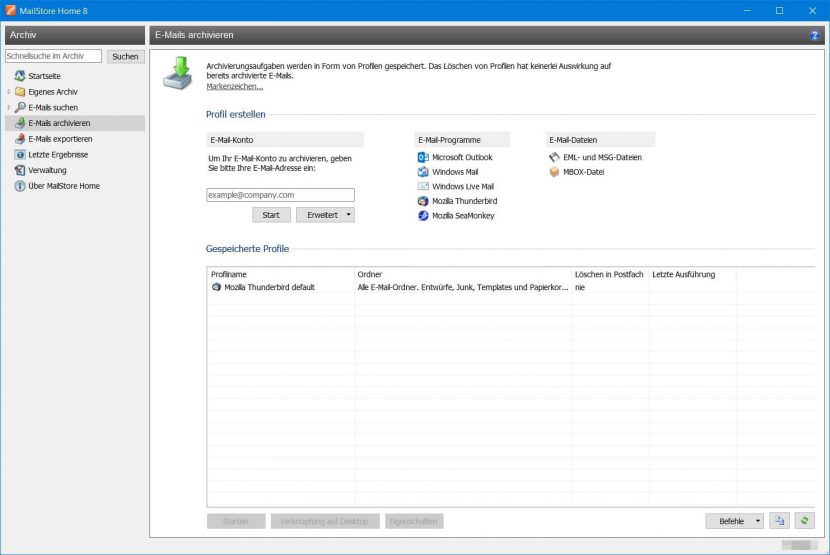 MailStore Home lets you archive your private email from almost any email source and search through them extremely quickly. You will never lose emails again. For home users, emails are also a valuable source of information. A large amount of data and important files is saved in the form of emails. With MailStore Home you can backup all emails in a central archive, even if they are distributed across different computers, programs or mailboxes. You can do this either on your PC or on a USB drive as a "portable" option. A Central Archive for All Emails.
Internet mailboxes such as Gmail or Yahoo! Mail
Any POP3 and IMAP mailboxes
Microsoft Outlook 2003, 2007, 2010, 2013, 2016
Windows Mail und Windows Live Mail
Microsoft Exchange Server 2003, 2007, 2010, 2013 and 2016 mailboxes
Microsoft Office 365 (Exchange Online)
Mozilla Thunderbird and SeaMonkey
PST, EML and other files
Integrated CD/DVD burning utility to backup your archives with just one click, in addition to backing up the entire archive, your messages can be exported to a variety of destinations and search all your email within fractions of a second.
↓ 02 – Gmvault Gmail Backup [ Gmail Offsite Data Backup | Windows | macOS | Linux ]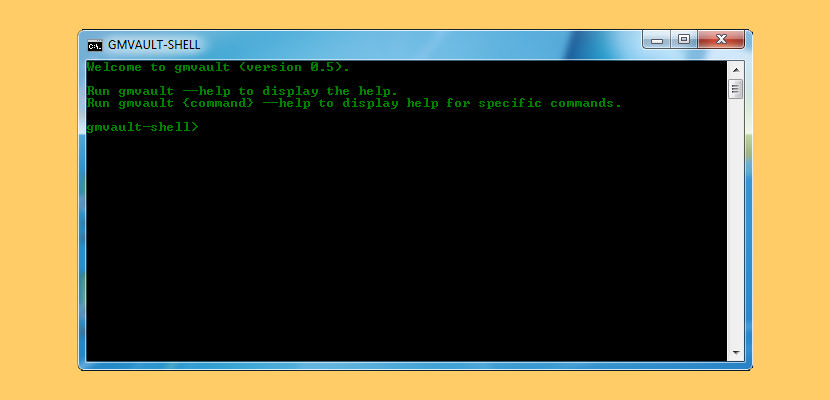 Backup and restore your gmail account at will.Liberate your emails and never lose that part of your life.Backup all your emails on disk.
Use the full sync mode to backup your entire gmail account in a unique directory. Your email backup repository can then be easily tar and moved from one machine to the other.Update your backup in minutes. Gmvault can run a quick sync mode regularly (ie. every day) to keep your backup up to date.
↓ 03 – Upsafe Gmail backup [ Gmail Offsite Data Backup | Windows ]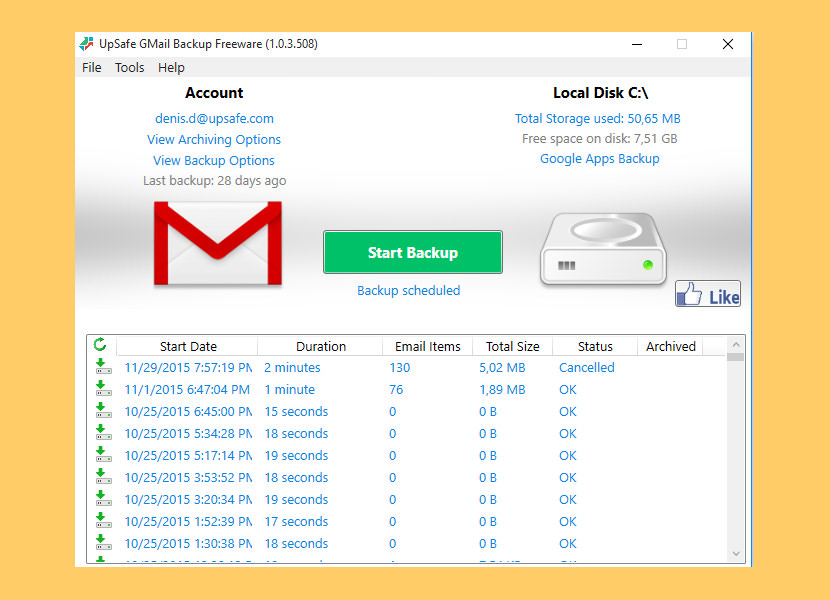 UpSafe Gmail Backup is a simple yet efficient solution for inter-cloud, cross-cloud backups and cloud-to-local storage replication. The solution comes with following capabilities. There are several situations when you can lose your Google emails:
You deleted an email more than 30 days ago. The emails are kept in the trash bin only for a month.
You have overrun your Google storage quota.
Your account can be hacked or infected by a virus.
Whatever the reason, you lose your data and you lose money. Try Upsafe free Gmail backup to keep reserve copies of your emails on Microsoft Windows 10 or your macOSX macbook and always have an easy and searchable access to them.