For those using Microsoft Windows 10, the build in Outlook Mail is pretty decent. Compared to Apple's iOS Mail, Outlook Mail for Windows 10 lacks a simple feature where all emails are displayed all together. It makes perfect sense since I do not receive many emails and owns 5 email accounts, thus a central email folder makes perfect sense.
See More ▼ 7 Free Temporary Disposable Email Services To Fight Spam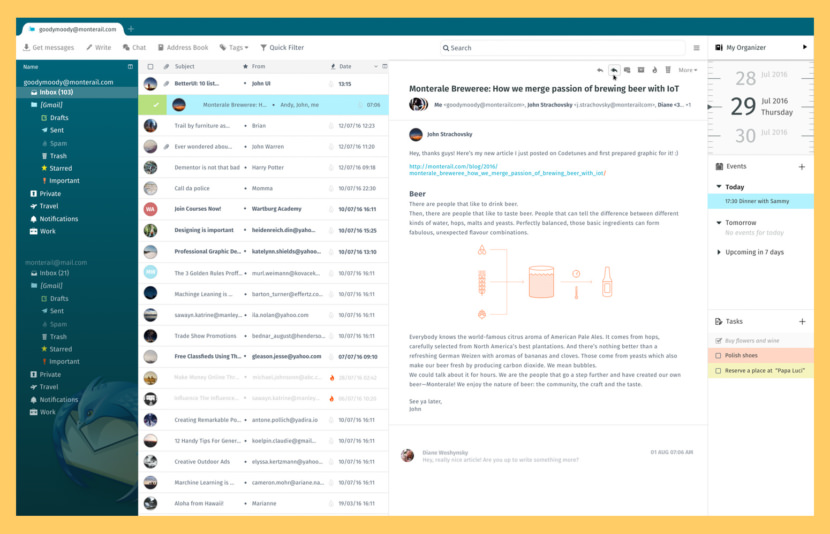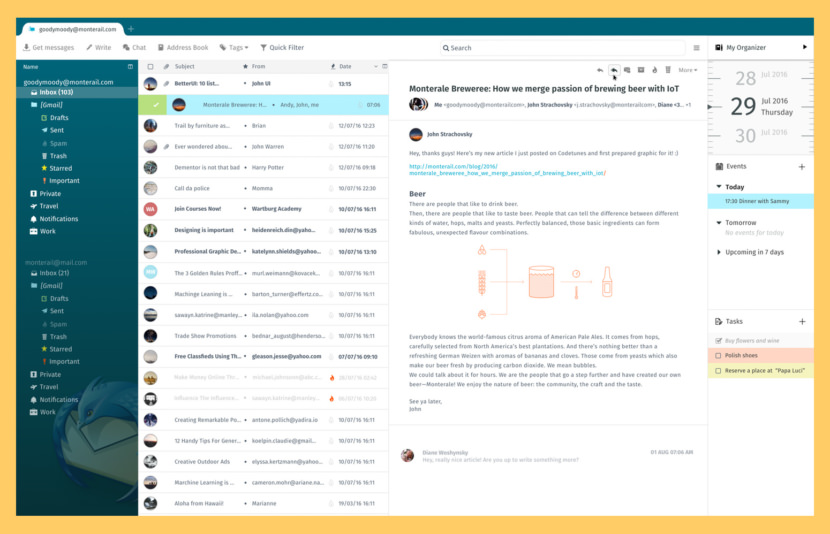 Software made to make email easier. Thunderbird is a free email application that's easy to set up and customize – and it's loaded with great features! It supports POP (storing mail locally on your hard drive so that it can be accessed without an internet connection), and IMAP. It features excellent mail filter capabilities and management. Thunderbird makes email better for you, bringing together speed, privacy and the latest technologies. Works great on Microsoft Windows 10.
Phishing Protection – Thunderbird protects you from email scams which try to trick users into handing over personal and confidential information by indicating when a message is a potential phishing attempt. As a second line of defense, Thunderbird warns you when you click on a link which appears to be taking you to a different Website than the one indicated by the URL in the message.
Cutting Out the Junk – Thunderbird's popular junk mail tools have been updated to stay ahead of spam. Each email you receive passes through Thunderbird's leading-edge junk mail filters. Each time you mark messages as spam, Thunderbird "learns" and improves its filtering so you can spend more time reading the mail that matters. Thunderbird can also use your mail provider's spam filters to keep junk mail out of your inbox.
Robust Privacy and Do Not Track – Thunderbird offers support for user privacy and remote image protection. To ensure a user's privacy, Thunderbird automatically blocks remote images in email messages.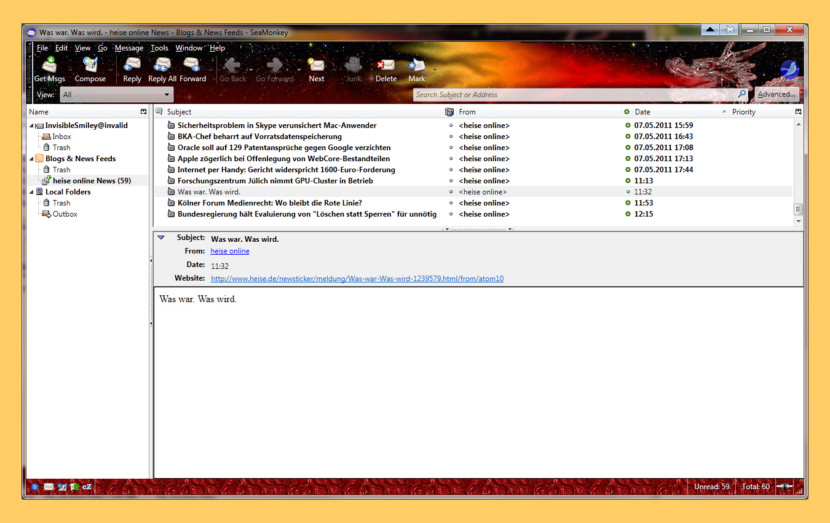 The SeaMonkey project is a community effort to develop the SeaMonkey all-in-one internet application suite (see below). Such a software suite was previously made popular by Netscape and Mozilla, and the SeaMonkey project continues to develop and deliver high-quality updates to this concept.
Containing an Internet browser, email & newsgroup client with an included web feed reader, HTML editor, IRC chat and web development tools, SeaMonkey is sure to appeal to advanced users, web developers and corporate users.
Additional components include an easy-to-use HTML Editor, the ChatZilla IRC chat application and web development tools like a DOM Inspector and a JavaScript debugger.
If that's still not enough, SeaMonkey can be extended with numerous Add-Ons that provide additional functionality and customization for a complete Internet experience.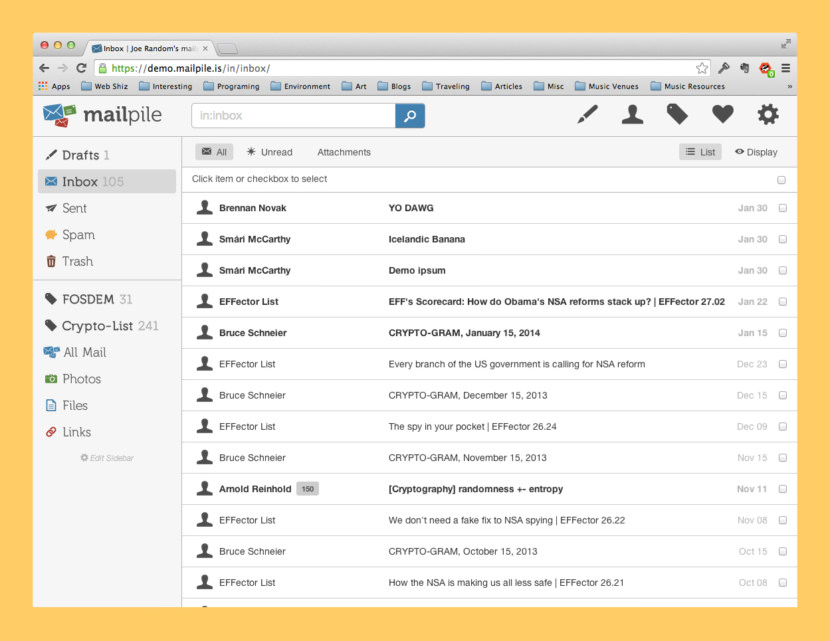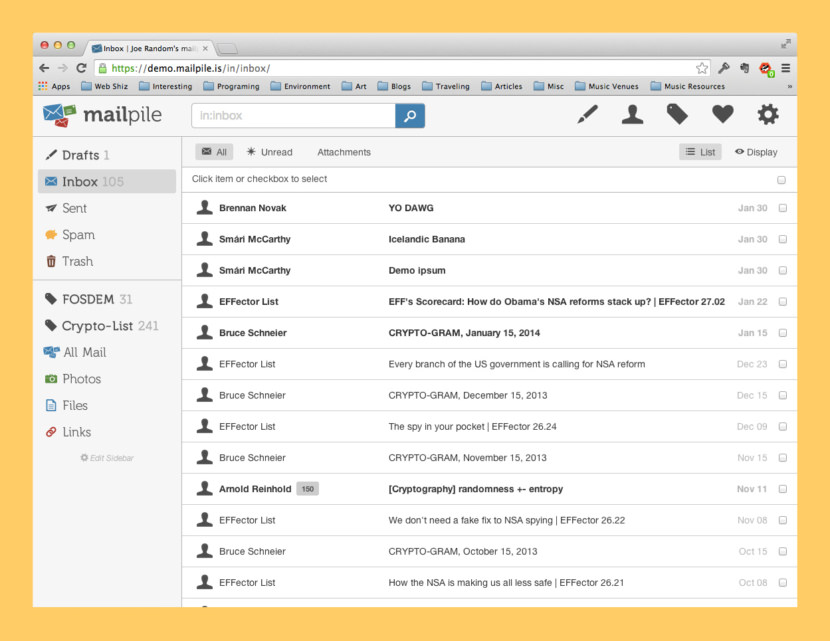 Mailpile is an effort to reclaim private communication on the Internet. A project to rescue their personal lives from the proprietary cloud and prevent their conversations from being strip-mined for corporate profit and government surveillance. Mailpile is taking email back. Born out of a belief that everyone deserves privacy and respect, Mailpile aims to provide an answer to the question: "How can I protect my privacy online?"
Encryption – OpenPGP signatures and encryption are part of Mailpile's core design, not an afterthought. Mailpile makes it easy to sign and encrypt your mail.
Privacy – Store your mail on devices you control. Your search index is encrypted so if your computer gets stolen, your mail stays secure.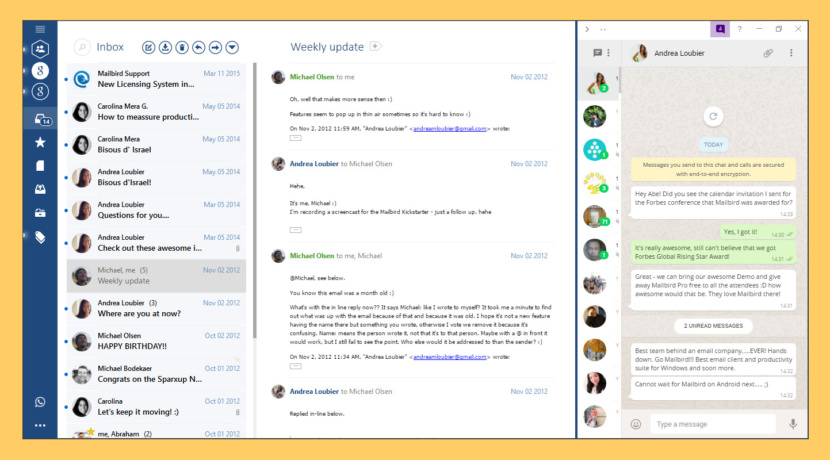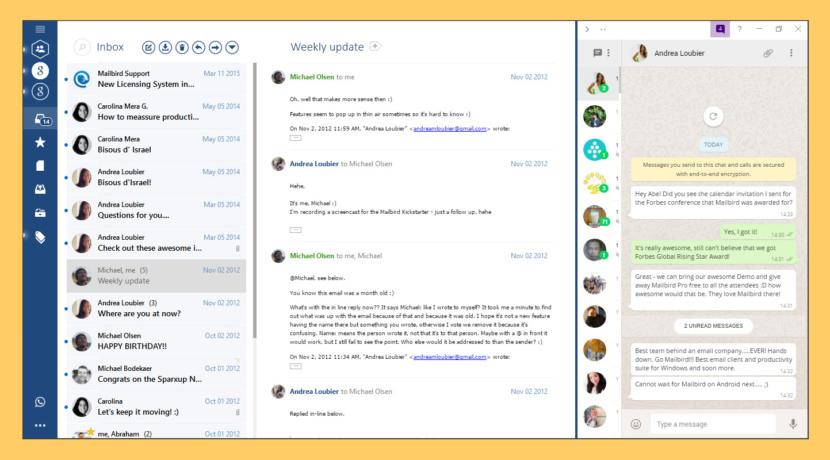 Mailbird is a Windows based email client whose design and style match Windows 7, 8 and XP's native styles. Mailbird provides a clean, simple and lightning fast email experience. The current free version of Mailbird has Multi Account support for Gmail, Yahoo, Outlook.com, iCloud, and any other IMAP/POP3 email provider.
Unified Inbox – Manage all your emails and contacts from multiple accounts easily in one Inbox.
Customizable Layout – Choose from tons of free color themes. Transform your Mailbird email client into a work of art.
App Integrations – Built in apps like Facebook, Twitter, Whatsapp, Dropbox, Google Calendar, Asana, Todoist and many more…
Snooze – Snooze messages for later to focus only on the emails you need to at the moment.
Speed Reader – The first ever integrated to make you literally fly through your emails.
Custom Sounds – Choose any of their notification sound suggestions or upload your own.
Linkedin Lookup – Connect via Linkedin with only one click from within your Inbox.
Attachment Search – Find even year old attachments with their powerful attachment search feature.
Dark Theme – Change between the Dark or Lite theme whenever you like.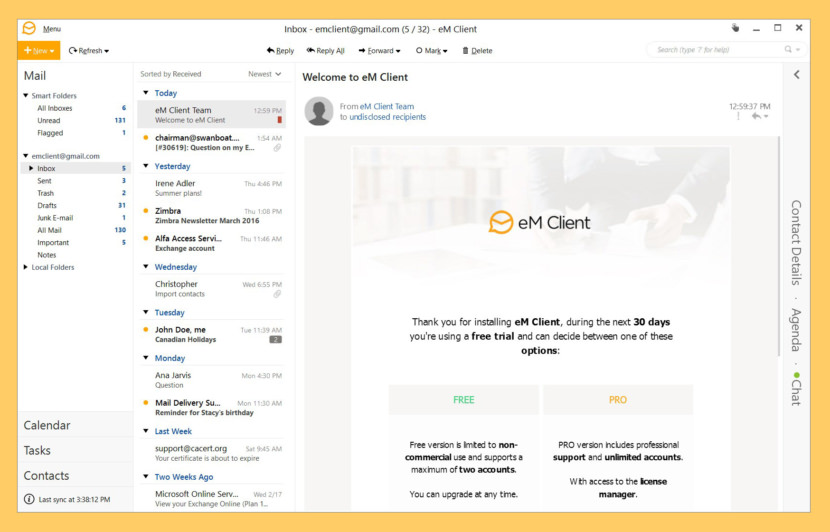 eM Client is a fully-featured email client with a modern and easy-to-use interface. eM Client also offers calendar, tasks, contacts and chat. eM Client now supports PGP – create or import your PGP keys to send encrypted and signed emails. You no longer have to exit eM Client in order for the backup to proceed. eM Client will now back up while running so you can simply keep working even while it is underway.
Offers calendar, tasks, contacts and even chat.
Supports all major services including Gmail, Exchange, iCloud, and Outlook.com.
Easily imports your data from most of the other email clients. This includes Microsoft Outlook, Outlook Express, Windows Mail, Windows Live Mail, Thunderbird, The Bat and more.
Fully supports touch devices like touch-enabled laptops, tablets and hybrid devices. Use your email client easily in a modern way.
Finds any email, contact or attachment in seconds with eM Client's super-fast search.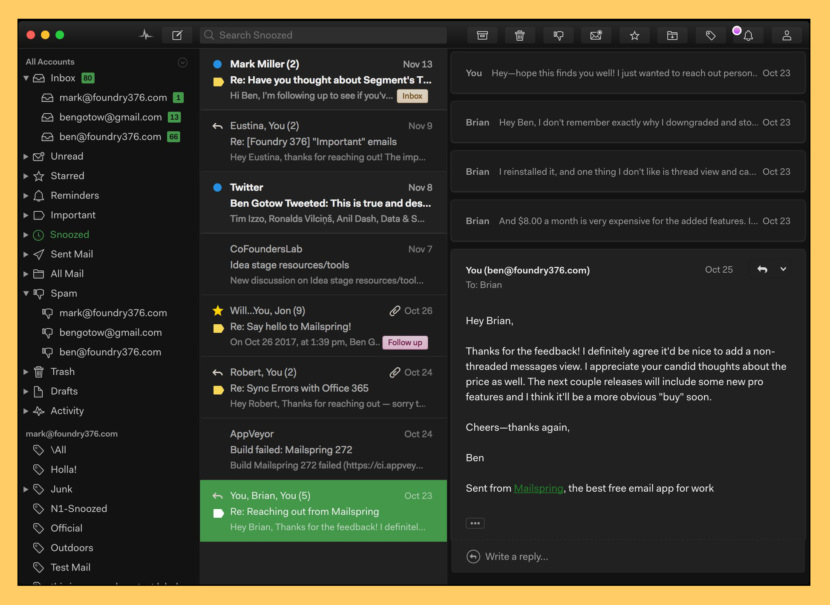 Mailspring is a desktop email client designed for macOS High Sierra, Windows 10 and Linux. With modern features like unified inbox, snoozing, templates, offline search, and support for Gmail labels, Mailspring will breathe life back into your tired inbox! Mailspring is free and supports all IMAP providers, including Gmail, Office 365 and iCloud. Mailspring does not support Exchange ActiveSync.
Unified Inbox – See all your email in a single view
Powerful Search – Use Gmail search syntax across all your accounts
Gestures – Swipe to archive from the thread list
Signatures – Create signatures and set defaults per-account
Aliases – Send email from aliases you've configured
Quicklook Integration – See previews of attachments and PDFs within the app
Notifications – Get rich notifications and reply directly from Notification Center
Drag & drop – Move emails, add attachments, and more with drag and drop everywhere
Gmail Labels – Label threads and add, remove, and manage labels within the app
Keyboard Shortcuts – Choose from popular presets or create custom shortcuts
Message Templates – Save emails as templates—complete with variables—and quickly autofill messages
Undo Send – Never accidentally send an email again
7. Yahoo Mail Client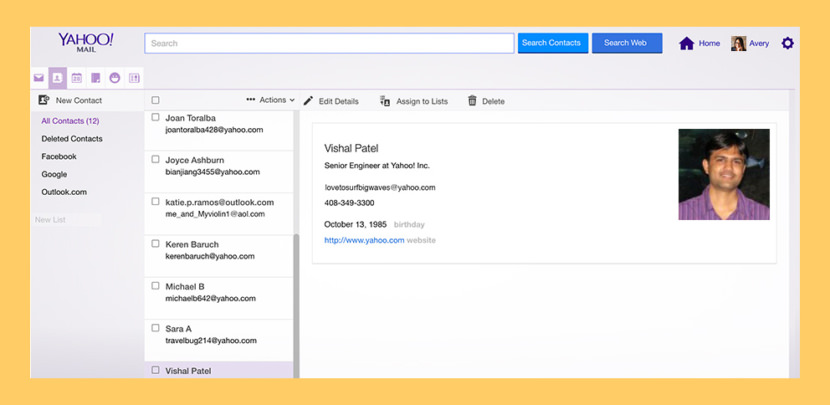 [ Discontinued ] Works with Gmail, Hotmail, Outlook and more. Yahoo Mail Client is beautiful, easy-to-use, and lightning fast. The Yahoo Mail app makes it easy to send high-res photos, switch between inboxes, and sign in securely while ditching your password. Yahoo! Mail offers grouped conversations, themes, powerful search options, Small Dropbox iconDropbox integration for attachments, Small Yahoo! Messenger iconYahoo! Messenger, SMS, disposable addresses and apps for the major platforms.
SSL – Anytime you use Yahoo Mail – whether it's on the web, mobile web, mobile apps, or via IMAP, POP or SMTP – it is 100% encrypted by default and protected with 2,048 bit certificates. This encryption extends to your emails, attachments, contacts, as well as Calendar and Messenger in Mail.
Spam Filters – Yahoo Mail blocks over 15 billion spam messages daily. They use machine learning and constantly tune and improve their filtering technologies that block spam and other malicious emails you do not want to see. You can help train the filters by clicking on the Spam button every time you encounter unwanted emails in your inbox.
8. Opera Mail Client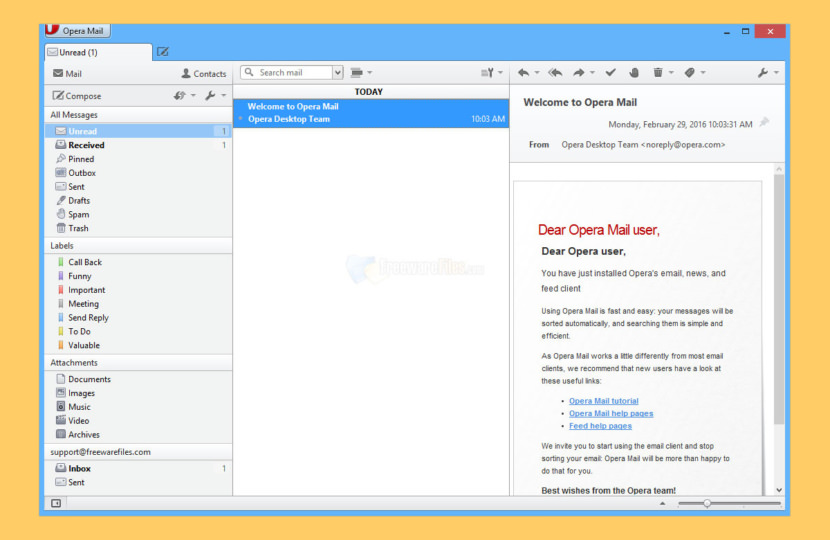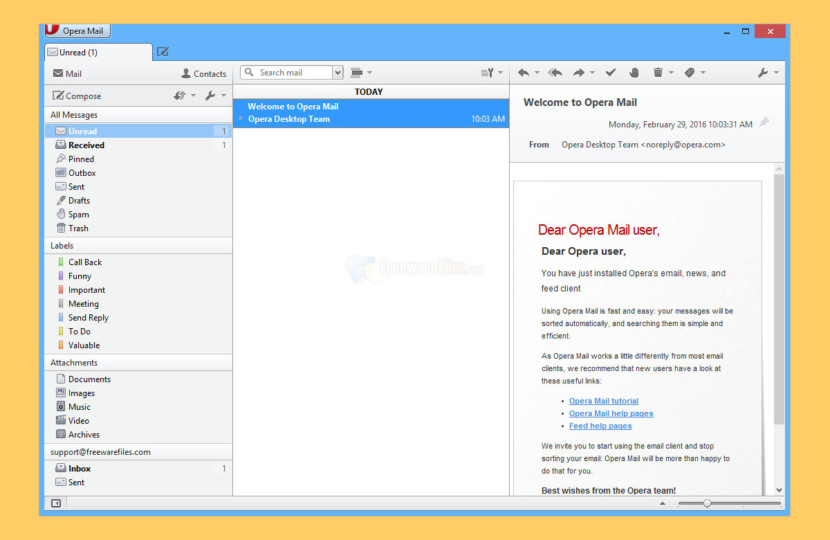 [ Discontinued ] Opera Mail is a lightweight, customizable mail client. Reading, labeling, and filtering messages has never been so easy. The way you read mail just got better. Elegant tabs allow you to view multiple emails messages at once and navigate between them with ease.