Of the 100 emails you got today, almost 90 were spam. Spam emails probably took up most of your email storage space, furthermore, it is wasting your time going through and deleting them. You probably spend up to 40% of your day managing email communications. This is where email spam filters can help you do this efficiently. How to stop receiving email spam on Yahoo, Gmail and Hotmail?
See More ▼ 6 Sites To Check If Email / Password Was Hacked, Leaked Or Compromised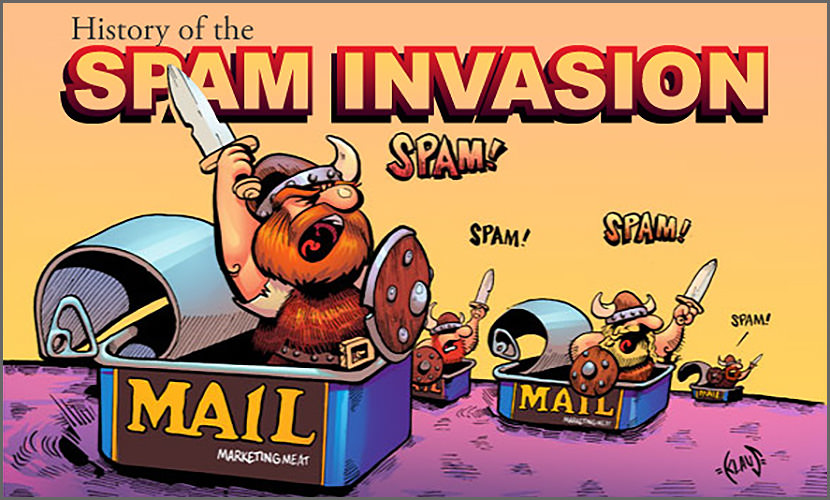 Anti-spam tools are here to help. Where to download the best spam filter for Microsoft Exchange and Outlook? And most important of all, which is the best exchange / outlook spam filter available in the market for free? They wade through all the emails you receive and sort out all the unwanted ones before they reach your email program's Inbox. Here are my picks for Windows users.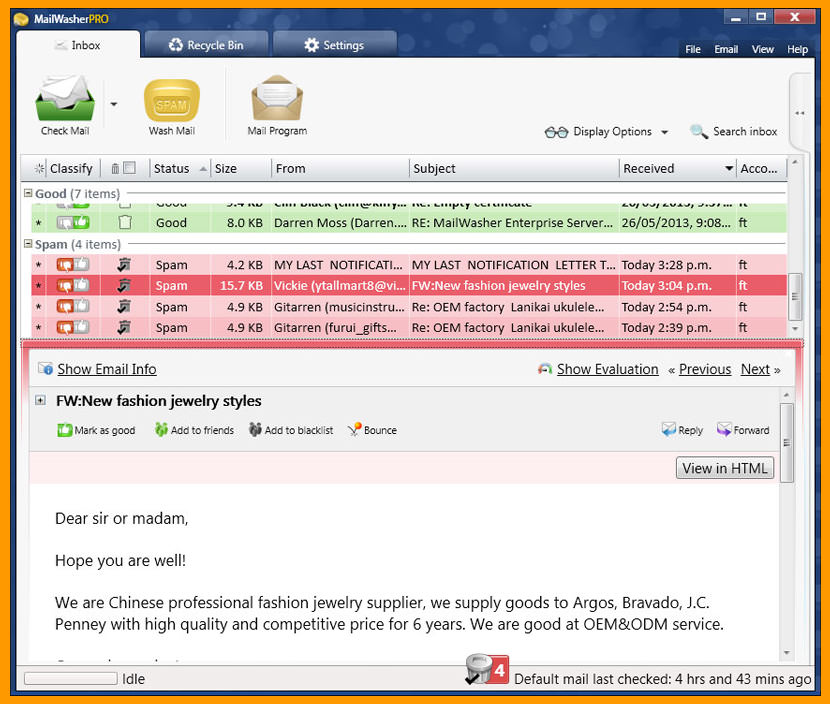 MailWasher lets you preview all your email before it gets to your computer or mobile device, enabling you to read all your email securely, and instantly delete any unwanted or suspicious email. Your remaining good email is downloaded to your PC or mobile device, saving you from receiving any spam or email viruses. When you use MailWasher, the benefits become obvious.
Zero spam in your computer or mobile device.
Inspect any email before it gets to your computer or mobile device.
Never lose an email because you can't afford to.
Intelligent spam tools ensure spam is caught and good email is not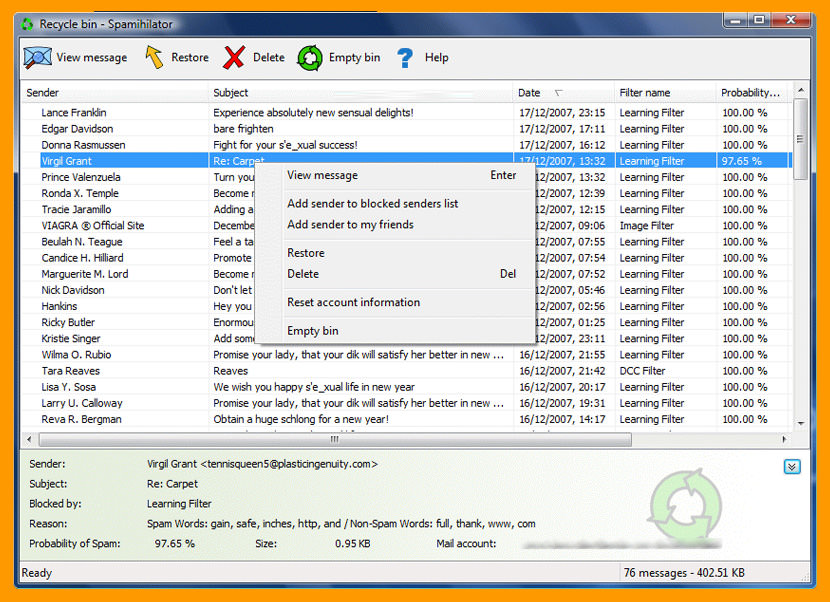 Spamihilator works between your email client and the Internet and examines every incoming message. Useless and unsolicited spam mails (junk) will be filtered out. This process runs completely in the background. Spamihilator uses a number of different filters in order to achieve the highest spam recognition rate possible. The program is highly configurable and can be extended by plugins.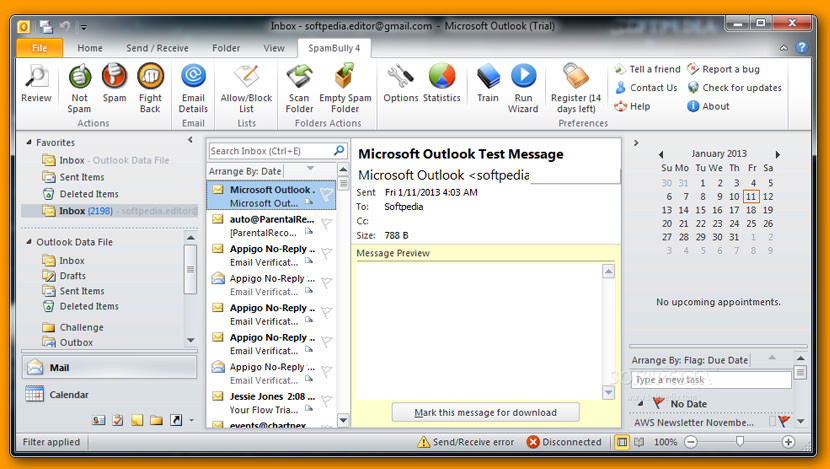 SpamBully for Windows Works with Outlook, Live Mail, Outlook Express, Windows Mail & IMAP. It uses Bayesian Spam Filter to intelligently know which emails you've received are good and which are spam by using artificial intelligence and server blacklists. Everytime you download your email, SpamBully will make sure good emails make it to your Inbox.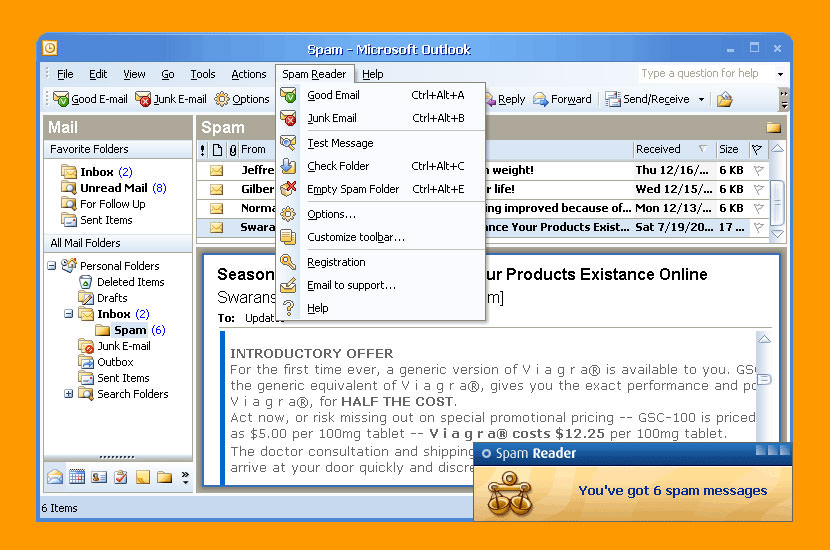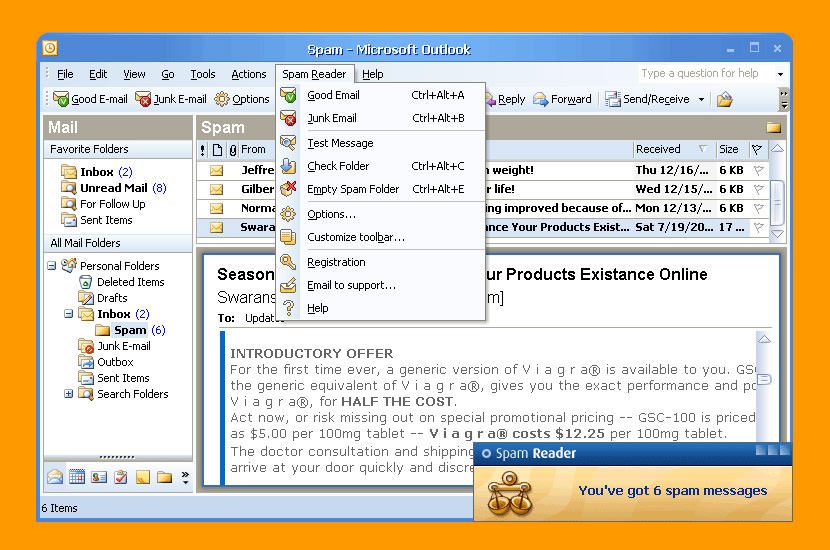 Spam Reader is a free anti-spam add-on for Microsoft Outlook. The software uses the most reliable approach to block junk emails – Bayesian algorithm based on statistical analysis, capable of being adjusted to user's needs and detecting up to 98% of spam messages.
Spam Reader automatically scans all incoming mails and sends detected spam messages to the special folder for further review. Support of Exchange, POP3, IMAP, and HTTP mail accounts, working with all versions of Microsoft Outlook (including 64 bit).
Exchange, POP3, IMAP, HTTP accounts
Special folder to keep detected spam
Smart auto-updated White Lists
Bayesian Self-Training Technology
Distinguishing "sure"/"not sure" spam
Works with 64-bit version of Outlook (2010, 2013, 2014 , 2015)
5. Cactus Spam Filter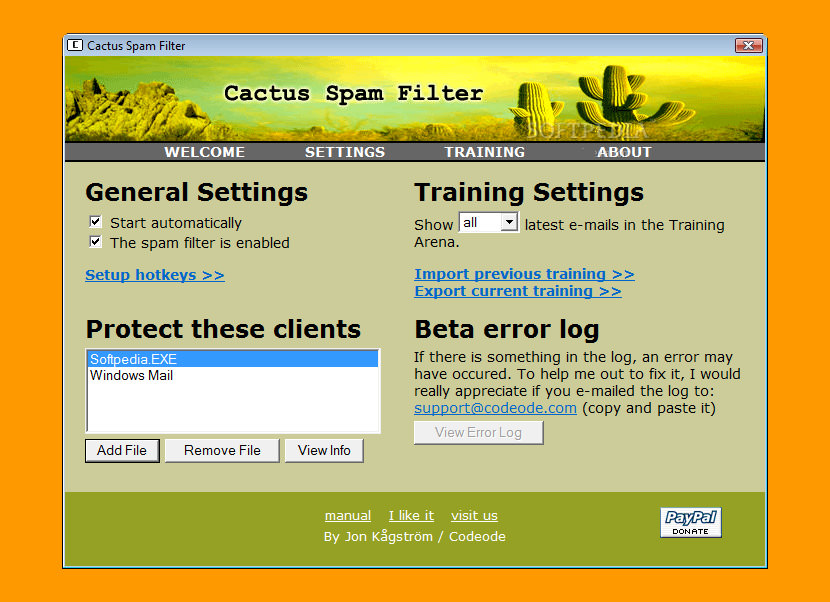 [ Discontinued ] Cactus Spam Filter is a free easy-to-use spam blocker. It protects your inbox by learning to detect spam as it's being used. After a short while it has adapted to your personal mailbox and blocks out most of the junk e-mail. Since the filter becomes personal, spammers will not be able to fool it.
Even though this is a brutal, merciless spam killer, no emails will get lost unless you delete them. Installation is very simple. No setup is required in your e-mail client; this spam stopper integrates seamlessly with all email clients that use POP3. It has been successfully tested with Microsoft Outlook, Microsoft Outlook Express, Windows Mail, Windows Live Mail, Netscape, Opera, Mozilla, Mozilla Thunderbird, Eudora, Pegasus Mail, IncrediMail, Foxmail, POP Peeper, Command Line POP Client, The Bat!, and Phoenix Mail. With some additional setup you can get it running with gmail also.
6. MailMatters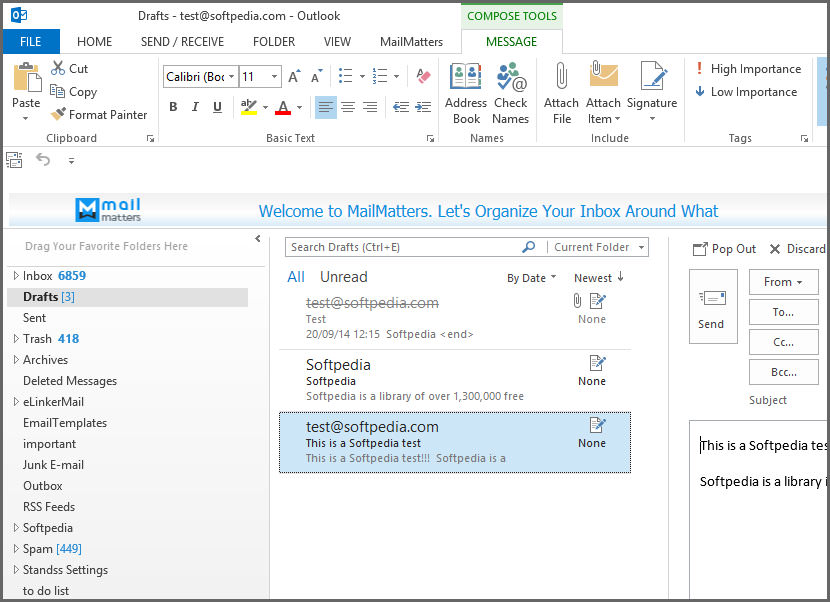 [ Discontinued ] MailMatters allows you to set their own rules, priorities, and filters to eliminate 'email noise' so they can focus on real, productive work.
Full Outlook Compatibility – For Outlook 2007, 2010 & 2013 32-bit/64-bit on Windows
Automatic Updates – Receive powerful new features throughout the year at no extra cost
Network Deployment – Deploy firm-wide with supported registry customizations
What Do People Think of Spam Emails?