How to stop robocalls on iOS, iPhone and Android? Are you getting spam calls from numbers that look like they are from local numbers in your area? They are not! They are spoofed, but with the best robocall blocking app you are fully protected. With these spam caller protection apps, you not only have access to all of the calls they block or send to you, but you can also create your own personal list of allowed and blocked callers.
🤣😍😂 13 Virtual SIM Phone Number Apps For iOS And Android Smartphones
With elections around the corner, and the rise of internet scams, it is time to take control of your smartphone. Block, identify and report suspicious phone numbers via crowdsourcing. Unlike manual call blocker, these apps have a ready list of numbers that were reported to the community as spam. If enough people report the number, it will be blocked. Stop telemarketers from calling my cell phone with these apps.
↓ 01 – RoboKiller | iOS | Android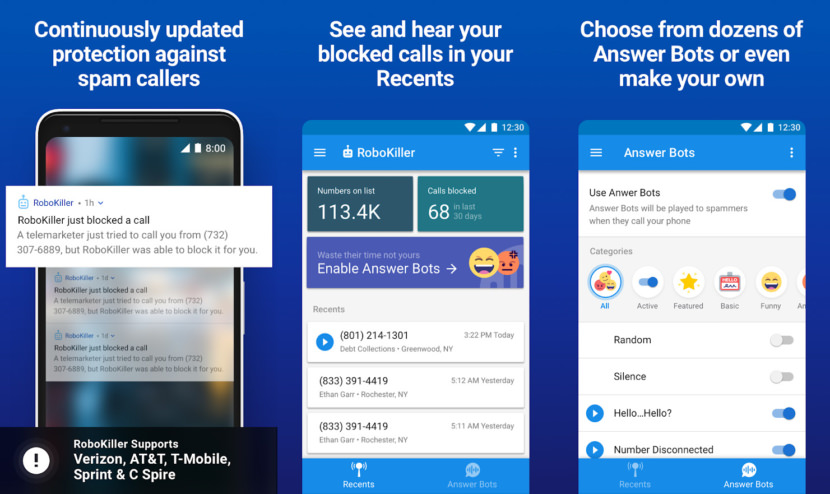 With RoboKiller, answer your phone with confidence once again! Telemarketers and scammers have made it painful to pick up a call, but RoboKiller, winner of the FTC's anti-robocall competition, gives you your phone back. The New York Times, NBC, Wired, Engadget, Vice and others, are all raving about RoboKiller's power to block over 100,000 spam calls and its uncanny ability to show you exactly who is calling you before your answer.
RoboKiller reduces unwanted calls by up to 90% in 30 days! RoboKiller is available with both monthly and yearly subscriptions, both with a free 7-day trial; opt-out at any time during the trial and you aren't charged a penny.
Automatically blocks spam and robocallers with patented FTC-award winning technology.
Spam list automatically updates automatically, making sure you always have the most up-to-date protection.
Take control! Bad number got through? Block it! Good number got blocked? Allow it!
Identifies missed calls with Caller ID – including names, addresses and even photos (where available).
See missed and blocked calls in your Recents – you can even listen in to hear why blocked callers were calling.
Dedicated customer service team with real humans, 7 days a week.
↓ 02 – Truecaller | iOS | Android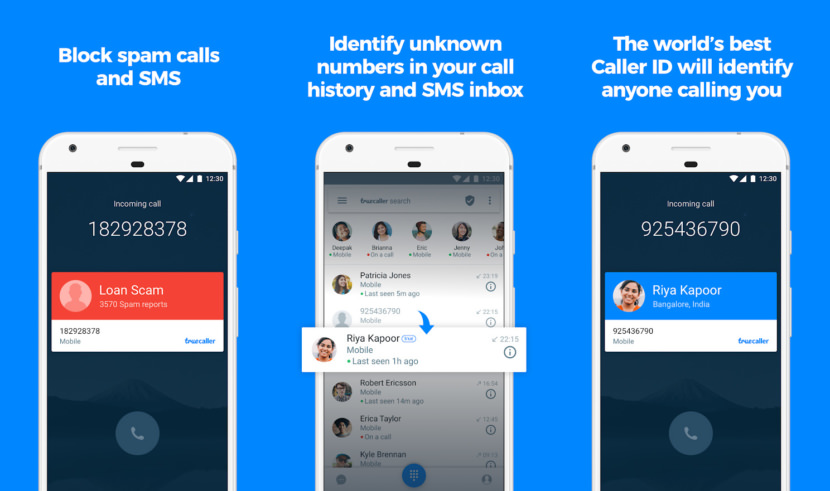 Identify and block spammers, search for unknown numbers, call friends and much more! With a community-based spam list from over 250 million users, Truecaller is the only phone app you'll ever need. With a community-based spam list updated by millions of users worldwide, Truecaller is the only app you need to make your communication safe and efficient.
The world's best Caller ID will identify anyone calling you
Block spam and telemarketers
See names of unknown numbers in the call history
Call Recording – Record important phone calls and save them to your phone
Flash messaging – Share location, emoji & status in a flash to your friends
Know when your friends are free to talk
Backup call history, contacts and settings to Google Drive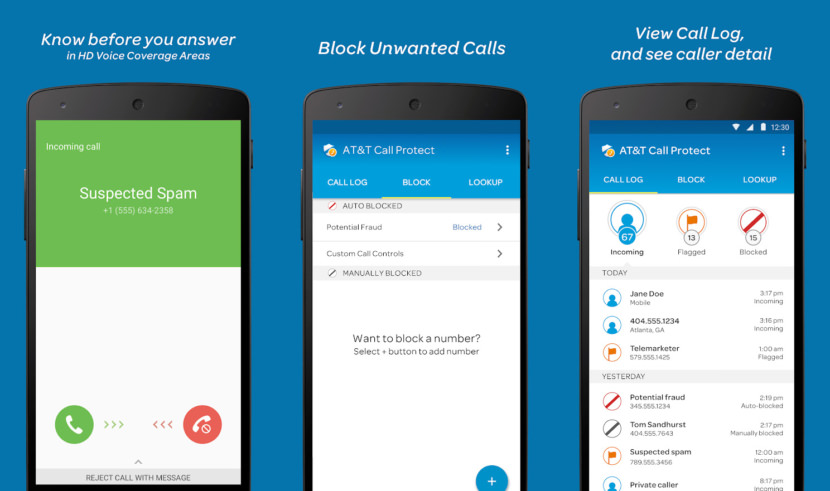 AT&T Call Protect uses the power of the AT&T network to automatically block potential fraud calls, show warnings of suspected spam calls and gives you the power to add unwanted callers to your personal block list. Avail. for AT&T postpaid and business wireless customers with eligible wireless service. Excludes government and AT&T PREPAID.
Compatible device is required: iPhone 6 or newer running iOS 9.3+ and includes AT&T HD Voice-enabled smartphones. Smartphones sold by other carriers may not be eligible.
Automatic Fraud Blocking detects and blocks calls from likely fraudsters.
Suspected Spam Warning identifies telemarketers and other suspected spam calls.
Personal Block List lets you block unwanted calls by number.
Enhanced Caller ID identifies unknown caller details.
Reverse Number Lookup provides details when you enter a U.S. number.
Custom Call Controls lets you choose call categories to accept, block, or send to voicemail.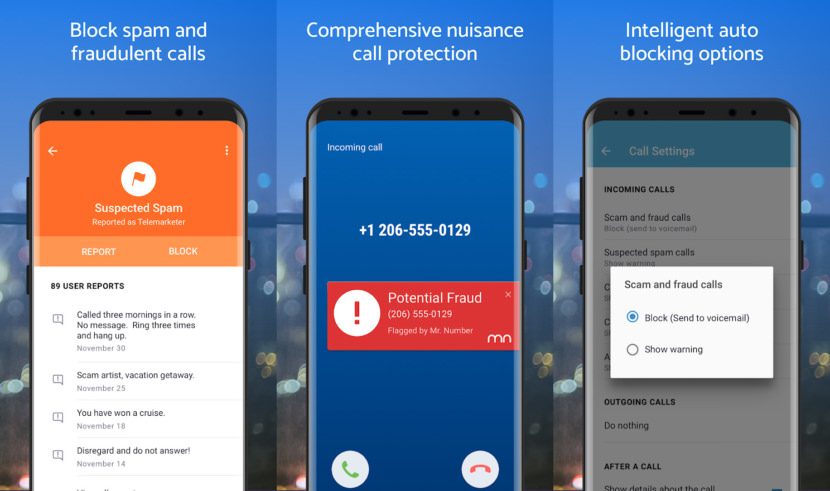 Hiya Caller ID & Block identifies calls you want to take and blocks the numbers you want to avoid. Users benefit from caller ID, call management options like auto-blocking, and reverse phone lookup capabilities. One of the most powerful call blockers on the market. Users can block calls from individuals, businesses, hidden numbers, or the world. Spam alerts notify users when callers are suspected of spam, fraud, or telemarketers.
Security: Automatic alerts warn you if an incoming call is spam, scam, telemarketer, debt collector, or spyware. Easily report spam and scam callers
World's most advanced phone spam protection engine. Identifies and blocks robocalls, telemarketers, debt collectors and fraud calls like IRS scam.
Create & Manage A Block-list – Avoid unwanted calls by creating a personal blocklist.
Spam Detection & Blocking – Get real-time alerts warning you of incoming spam and scam calls. Auto-block spam/scam calls.
Report Spam – Help others in the community by blocking and reporting spam.
Reverse Phone Lookup – Search for any number to find out if it is spam, scam, malware, a virus threat, adware, or spyware.
Discover Call Control – Call Blocker, Spam Stopper & Caller ID. With over 12M users and 4.4 stars rating, you can be sure you'll be getting the highest quality call blocker app on the store, and even be able to back up your contacts securely. Completely free to download and use, with options to upgrade and enhance your call blocking capability. Download today to stop spam calls! Call Control respects your privacy and DOES NOT store or share your contacts!
Block Calls on your Home Phone – Supports blocking phone calls on your home or business phone. Visit www.callcontrol.com/call-control-home to learn more.
Block Calls from Robocalls and Scams – Zap Rachel from Card Services and millions of other robocalls just like her! Block calls from the IRS scam, Microsoft Tech scam, Grandparent scam and block calls from thousands of other scammers.
Blacklist and Block Anyone – Block calls from anyone by adding them to your personal blacklist.
Search Any Number – Free reverse lookup to find out who's calling from that unknown number.
Block calls from violators of the FTC/FCC Do Not Call list.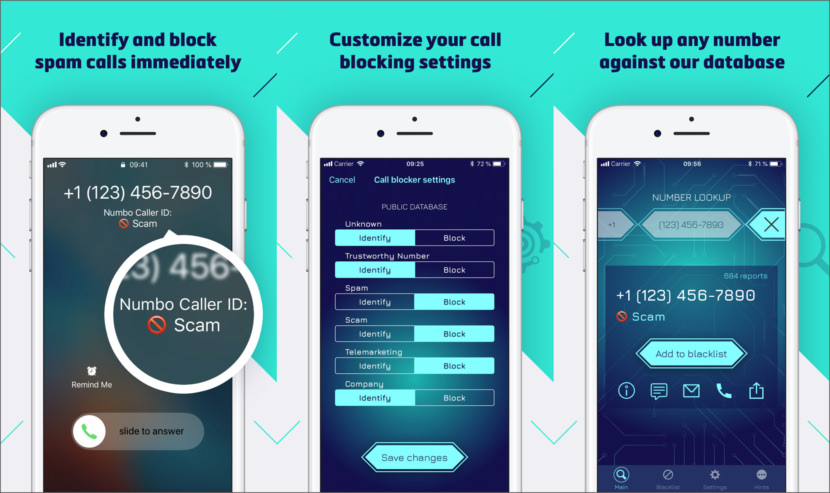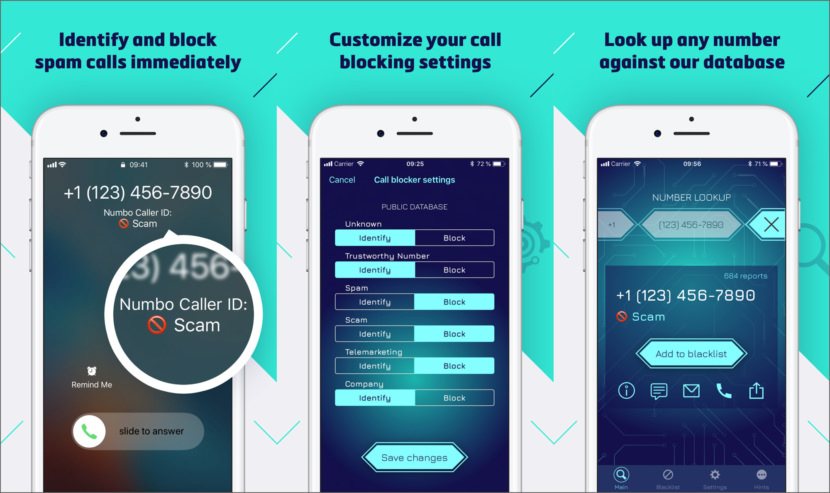 Numbo: Call Blocker rids you of all surprise and spam callers. Sounds good, right? Never again will you have to wonder who's on the other end of the line – Call Blocker will take care of all your unwanted and unknown calls and messages. Simply enjoy your life without distractions.
Call Blocker immediately tells you whether the person calling you is one of your contacts or possibly a blacklisted number from the database. The app offers you Caller ID lookup, showing your business information instead of only the usual location. You can choose which action to take and get rid of phone scammers forever!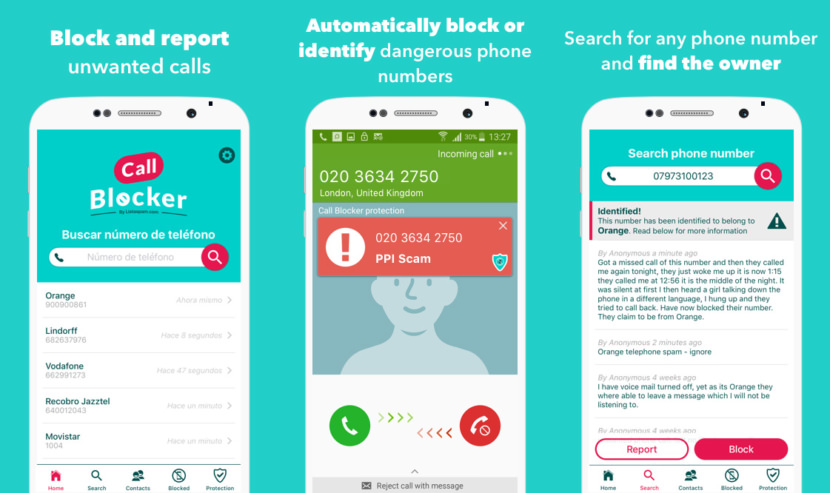 Block, identify and report suspicious phone numbers. Unknownphone.com brings you the most complete app to avoid phone scams, unwanted calls and extra charges in your bill. With more than 100.000 telephone numbers registered and identified in our website and a community with millions of users in the United States and around the world, Unknownphone.com has the pleasure to bring you its official app.
Get the latest and most updated information on telephone scams in the United States. Block suspicious phone numbers before they call you. Search any phone number and check if it has been previously reported in UnknownPhone.com. Share your experience and warn our community.
Biggest phone number database – After 8 years helping our users to identify who is calling we have built the largest database of spam phone numbers. And we give it to you for free.
Identify – Every time a dangerous phone number calls you we will identify it for you, so you can decided whether to answer or not.
Block – Can't be bothered? No worries, we will block all dangerous phone numbers who call you.
Huge community – Biggest community on the internet. We have lot of users with similar problem to yours.