One of the rudest things a person can do is to invite you out for a coffee and then have his or her eyes glued to the smartphone on and off. This pisses me off, why ask me out when you cannot stop playing with your phone? If everything is urgent, then settle it before coming out.
🤣😍😂 8 Best Cloud Apps For Android – Online Photo Backup And Storage
Internet addiction is a big problem, I understand the need to communicate instantly, especially work related business, however, when it comes to family time, it is important to keep your hands off the smartphone. Works great on Android smartphones such as Samsung, Huawei, Oppo, Vivo, XiaoMi, OnePlus, and also Apple's iOS iPhone. Stop your smartphone addiction with these apps.
How to curb your addiction to smartphones and boost work productivity? Teach yourself to use your phone less. Rethink your relationship with your phone, one day at a time. After all, the best app is your own mental ability to control what to do and what not to do. It is like smoking, no amount of nicotine patches will help, the mind is the best medicine.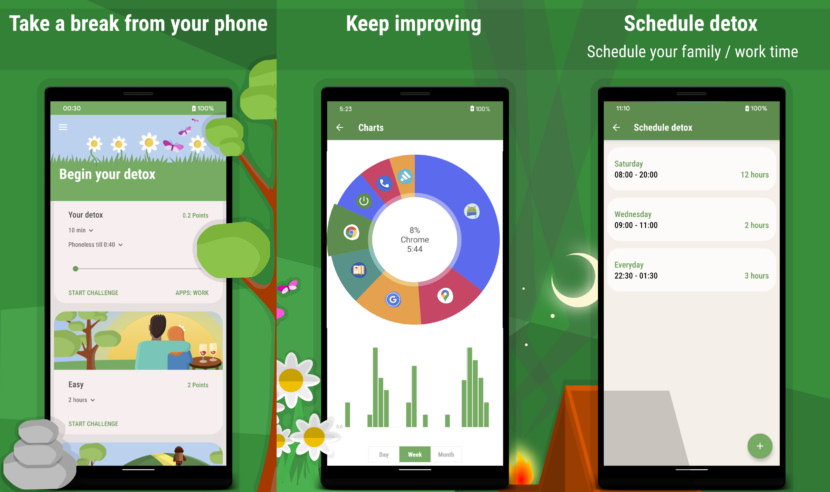 Disconnect from your phone in order to reconnect with yourself, others, and the world. Start your challenge today! Are you always on your phone? Do you live with a constant fear of missing out? Do you panic when you have no signal? It's time for a detox. You can do this. We're here to help.
Limited access to your phone during the challenge
Multiple difficulty levels with built-in accountability
Scheduling and whitelisting capabilities
Achievements and leader board at Play Games
↓ 02 – AppDetox | Free | Android
AppDetox helps you to calm down your mobile app usage, and take a digital detox. You are able to set your own rules for your apps to detox from some heavy usage and stop procrastinating and phubbing. Lock your apps with this applocker.
Every time you violate one of your own rules, AppDetox will remind you to take a break and stop your heavy app usage. You can also keep track of these violations in a log. Some people are using AppDetox for parental control of their kid's screen time.
↓ 03 – Flipd | Free | iOS | Android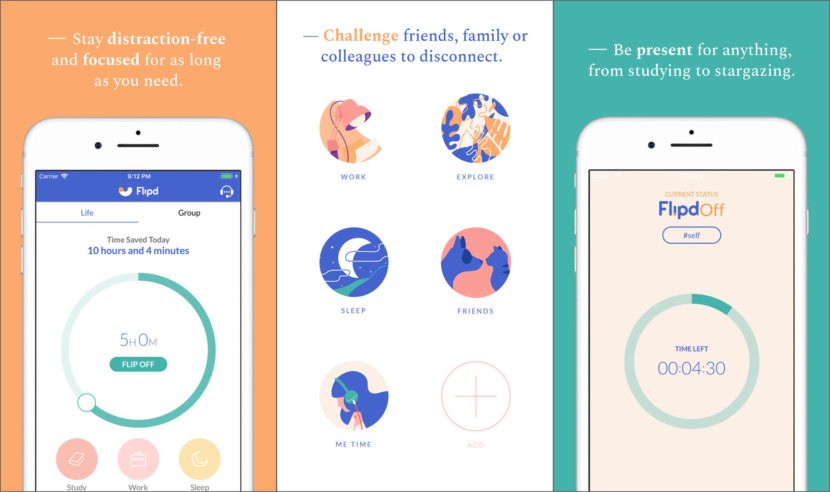 With Flipd, you never have to be distracted by your phone again! Backed by research, Flipd is the leading app that effectively hides social media apps and games for you so that you can stay focused and on-task. You can even challenge yourself to stay off of your phone and track your productivity and progress as you go.
Challenge yourself to unplug while you work
Flipd will remind you to stay on task
Motivate yourself by tracking the time you've saved
Schedule reminders for whenever you need to Flip Off
Use the Full Lock to hide distracting apps and games
↓ 04 – OFFTIME | USD3 | iOS | Android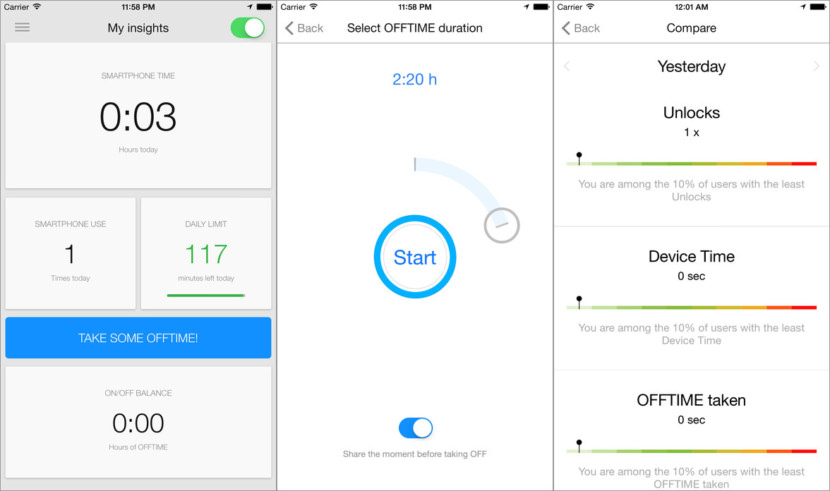 OFFTIME lets you focus and find digital balance in a hyperconnected world. The award-winning ( OFFTIME ) lets you monitor your smartphone usage in real time and take dedicated timeouts from the digital – alone and together with others. The app's intuitive analytics make it easy to identify your habits and take action to change them.
Find balance instead of giving in to digital distraction – start to unplug, take a digital detox and focus on your work, enjoy quality time with the people you care about, or simply find some peace of mind. As proven by science, with ( OFFTIME ) you can improve your wellbeing and productivity.
Improve self-control – Set hurdles, reminders or restrict access to any apps that you find distracting. Instead of pointless procrastination, get involved with what's right in front of you.
Tame the chaos – For a chosen period, block calls, texts and notifications that might disturb you. Select the people who can still get through, and we'll make sure you don't miss a thing. (Android only)
↓ 05 – QualityTime | Free | Android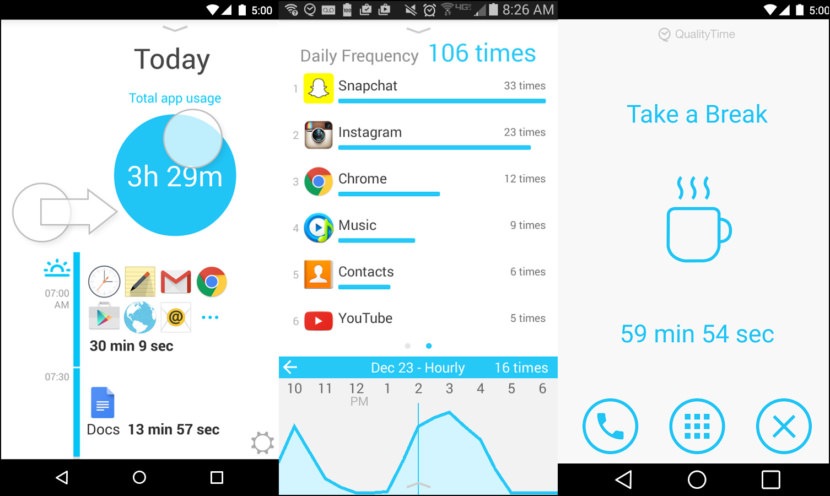 QualityTime offers a unique and in-depth analysis of your smartphone activities by tracking total usage, screen unlocks and individual apps with hourly, daily and weekly summary reporting options. The app provides the ability to curb your habits by using actionable features allowing you to set your own time restrictions like 'alerts', 'take a break' and 'scheduled breaks'.These features can help you manage and control your usage when needed.
You can create different QualityTime profiles to customize how you wish to unplug from your smartphone during "take a break" or "scheduled breaks" to minimize distractions during those periods. QualityTime profiles provide options for you to block notifications and reject phone calls with auto reply text messages. You can also define exceptions to allow incoming calls from important contacts and permit access to specific apps during those restricted periods.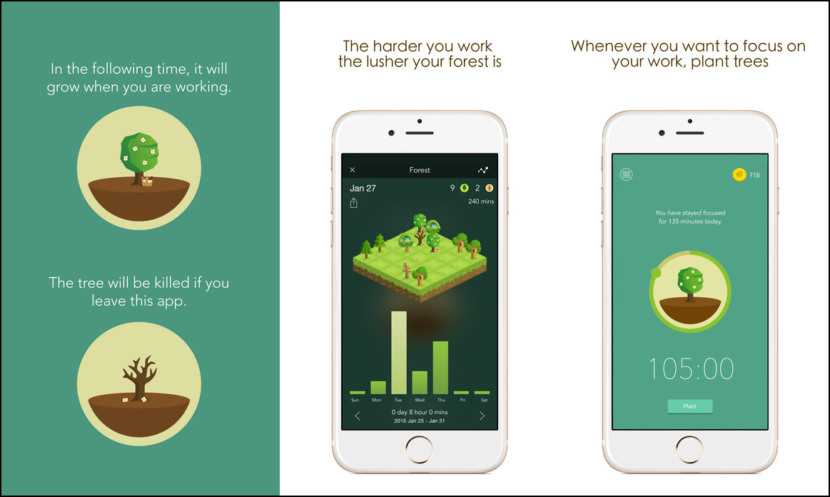 Have you ever been addicted to your phone and just cannot put it down? Forest provides an interesting solution to beat your phone addiction. You can plant a seed in Forest. In the following time, this seed will gradually grow into a tree. However, if you cannot resist the temptation and leave this app to check Facebook or play a game, your tree will wither away. With this interesting mechanism, the sense of achievement and responsibility will drive our users to stay away from their phone with no pain. Features
A self-motivated and interesting way to help you beat phone addiction
Stay focused and get more things done
Share your forest and compete with friends
Track your history in a simple and pleasant way
Earn reward and unlock more tree species
Customize your whitelist : Leaving Forest and using apps in whitelist won't kill your tree.
↓ 07 – Yukan | Free | iOS | Android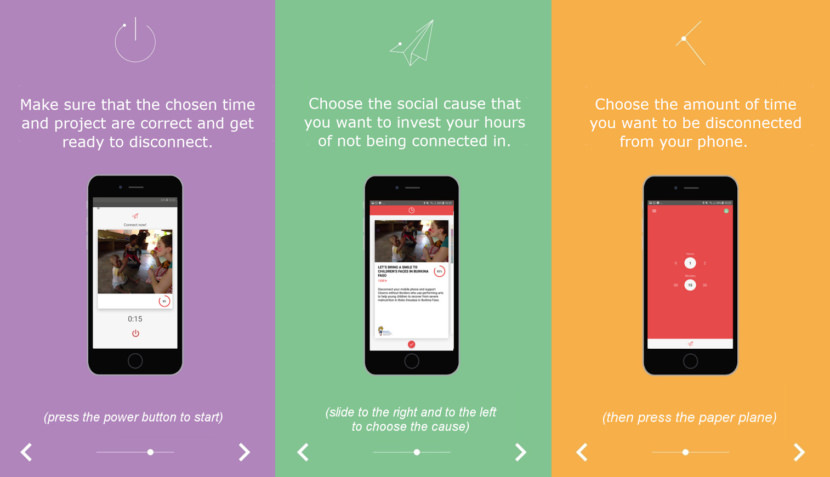 Simply open the Yukan app, decide how long and for which project you are collecting offline time and off you go. So you can simply do good and experience how beneficial timeout is for you. Who benefits from Yukan? You, because you can make the most of your time. When you use Yukan, you can:
Use your smartphone in a controlled way
Reduce the usage time
Accomplish your tasks in a concentrated and successful way
Make your time distraction-free and efficient
Spend more quality time with friends and family
↓ 08 – Channel | Free | iOS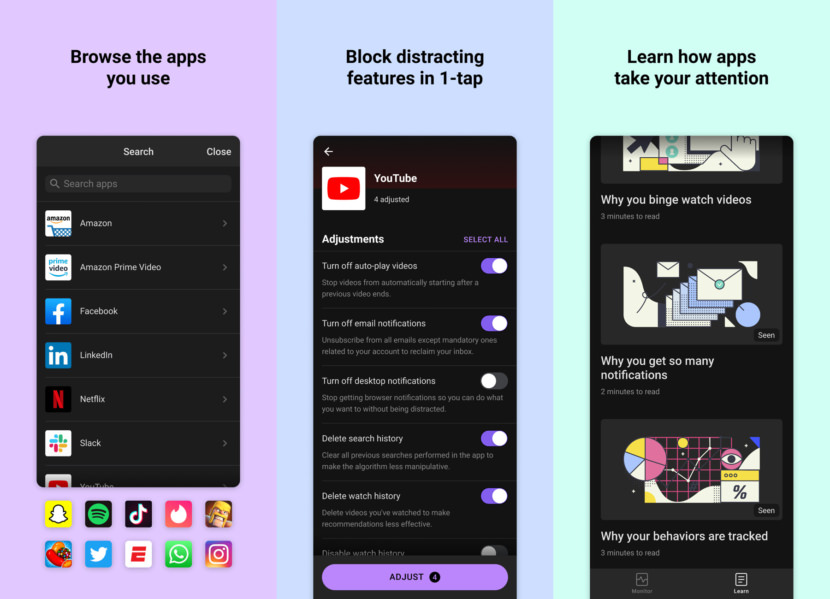 Do you ever feel like you're spending too much time on your phone? It's not your fault, most of the popular apps have teams of thousands of people who use persuasive tactics designed to keep you engaged as long as possible. Channel easily helps you to turn off distracting settings and features from the apps you use, all in one place. Adjustments (1-tap changes to your apps) such as:
Unsubscribe from email notifications
Stop getting promotional materials in the mail
Turn off distracting auto-play videos
Delete your search history
Block advertisers from getting your personal information
With Channel we can help people keep the parts of their devices that they find value in, and leave behind the parts that distract them. The following apps are supported:
Amazon
Amazon Prime Video
Facebook
Linkedin
Netflix
Slack
YouTube
Dating (Bumble, Hinge, OkCupid, Tinder)
Games (Candy Crush, Clash of Clans, Fortnite)
Social (Instagram, Pinterest, Snapchat, Tik Tok, Twitter)
Video (HBO, Hulu)
Utilities (Gmail, Google Maps, Reddit, Spotify, Uber, WeChat)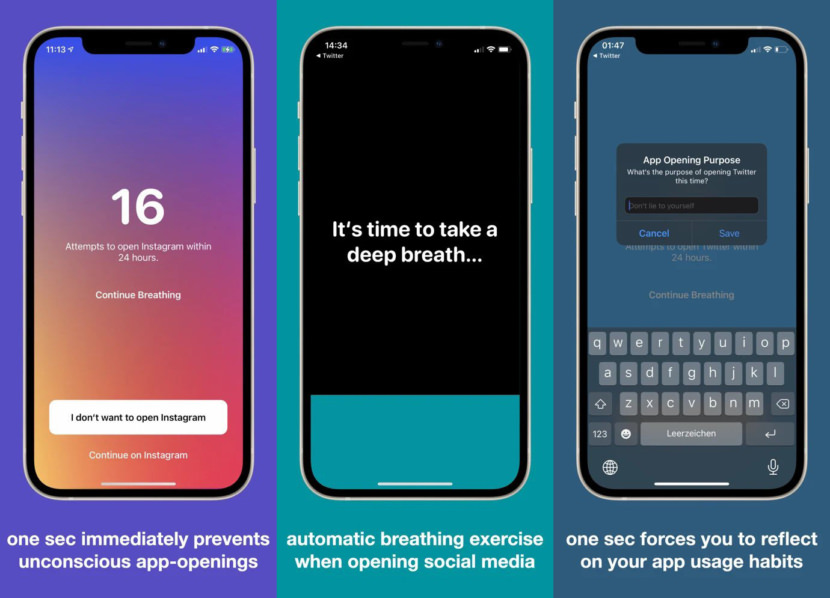 "one sec" uses Shortcuts Automation to toggle a deep breath animation whenever you open one of the configured apps (Instagram, Twitter, YouTube…). This breaks unconscious social media habits and even helps long-term by adding more friction when opening these apps.
Breaks unconscious social media habits – Being forced to take a deep breath helps yourself to reflect on what you are currently doing on your phone – did you really want to open Instagram or was it muscle memory?
Takes dopamine away from social media – A clever trick: by making you wait longer for social media to open, your brain loses interest in those (destructive) short-term dopamine hits.
HealthKit Integration – one sec contributes all moments of mindfulness to the Health app.
↓ 10 – Moment [ Discontinued ] | Free | iOS | Android
Put down your phone and get back to your life. Moment is an iOS app that automatically tracks how much you use your iPhone and iPad each day. If you're using your phone too much, you can set daily limits on yourself and be notified when you go over. You can even force yourself off your device when you're over your limit.
↓ 11 – ClearLock [ Discontinued ] | Paid | Android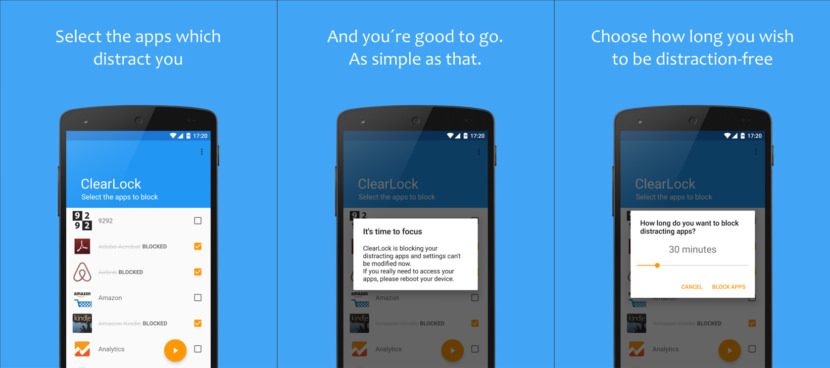 Do you keep wasting time because of distracting apps, while you're supposed to work or study? ClearLock is for you! ClearLock is a productivity app which allows you to block all distracting apps on your device in order to let you concentrate and focus on what matters. This will greatly increase your productivity.
Select which apps you wish to block, choose for how long and you're good to go. As simple as that. ClearLock comes with an elegant and simple interface which is easy-to-use and doesn't get in your way. ClearLock is the perfect app for procrastinators or whoever needs to get his job done. Block out all the distractions and stop procrastinating!