With today's smartphone, you don't have to waste money on a dedicated bike computer when a simple app can turn it into a fully functional bike computer. These apps enable you to track your movement using the smartphone sensors and display parameters such as: speed, distance, time, altitude, elevation, and many more. Together with a smartwatch, you can even sync your oxygen level, heart rate and more with the app.
See More ▼ 7 Free Mother Nature Sound Effects for Meditating, Sleeping and Relaxing
App vs dedicated cycling computers, which is better? There are pros and cons. You've probably seen people on a motorbike snatching a cyclist's smartphone mounted on a bike, if you live in a bad country, using a dedicated cycling computer is a better option, not to mention dedicated cycling computers are sturdier and smaller. But if you're looking to save some cash and keep device ownership to a minimum, a phone will do the job.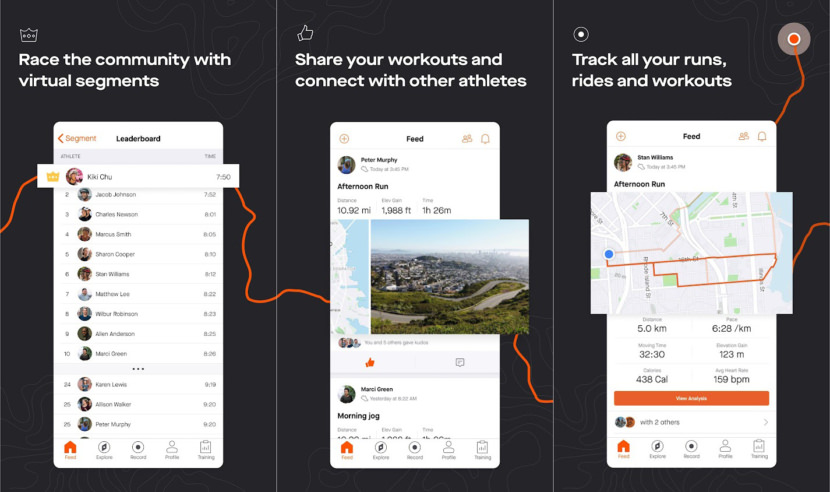 Track your fitness with Strava activity tracker. Record routes, map your favorite bike trail or run & analyze your training with all the stats – for free! Marathon training or simply love going for a bike ride? Turn your phone into a sophisticated cycle or running tracker with Strava. Try out a new trail with Strava distance tracker and mile counter or even track running speed. Join millions of active people and reach your goals! It doesn't stop at running and cycling, you can use Strava activity tracker for a whole range of sports such as Swim, Alpine Ski, Hike, Crossfit, Kayak, Rock Climb, Surf, Yoga, Indoor running, Indoor cycling, Gym workouts, and many more!
Advanced Performance Metrics – Import your HR and power data, then let Strava analyze it to show you how hard you've been working. Strava accepts data from nearly every type of fitness device.
Plan & Discover Routes – Get suggested routes for runs and rides in seconds, leaving from anywhere and based on past activities from other Strava athletes.
Set Custom Goals – Set time, distance or performance goals and measure your progress.
Analyze Your Training – Quickly scan your past activities and find connections between training patterns and performance.
Compare Past Efforts – Automatically match runs and rides on the same route so you can see how your performance changes over time.
The best mobile ride tracking experience, backed by the world's largest digital health and fitness community. Whether you're just starting your fitness journey or are a seasoned runner, this app has what you need to stay on track and motivated to hit your goals. Get customizable Training Plans, personalized coaching tips to make running feel easier, and an inspiring community of over 60 million athletes all supporting your shared commitment to health and fitness.
Track Everything – Log any kind of workout using just your phone or with your favorite device like Garmin or Apple Watch.
Get Social – Find support and motivation from other runners, plus create challenges for you and your friends.
Train Smarter – Analyze your data in the app or on the web, then conquer that 5K or marathon using their adaptive training plans.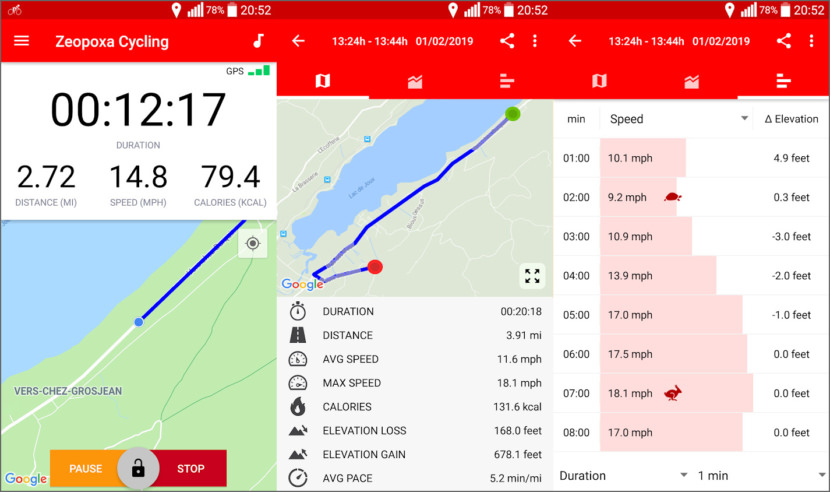 Track your pace, measure workout distance, count burned calories, crush training goals and more with the Cycling – Bike Tracker app. Stay on track, no matter where you are, on the trail or streets. Whatever your goal be it to lose weight, shape and tone, build strength, bike race, get faster or improve endurance or just ride the bike, this fitness bike computer app will help you achieve your goals faster. With this app, you can track all of your exercise using GPS, check your stats, and reach your goals. Longer distances covered equals more calories burned, too!
Take your first step today, download the free Cycling – Bike Tracker app on your phone and push yourself to a fitter and healthier lifestyle. On top of being a bike computer, cycling tracker, bike tracker and fitness tracker, this app provides you with many more features to improve your fitness and ensure you're enjoying your exercise. No locked Features, all features are 100% FREE. You can use all features without having to pay for them.
Map workouts in real-time with GPS & monitor exercise progress
Calculate route distance, duration, speed and calorie burn for your activity – in high accuracy and real time, it's your personal bike computer and is much more than a cycling tracker.
See your time, distance, calories burned, average speed, max speed, average pace, elevation gain , graphs with speed and elevation and map with route you biking, in the workout summary
Track your Road Bike, Mountain Bike, bmx or any other bike. This Bike Tracker app offers everything a hobby biker, BMX rider, road bike or professional mountain bike rider could ever need.
Advanced graphs for distance, time and calories burned, in 4 different intervals (week, month, year and all)
Cycling – Bike Tracker app allows you to set a goal that's right for you (number of burned calories, distance traveled or riding bike time during the day) and get notification when they accomplish.
No wristband, bike gear, or other hardware required, no website login, just download for free Bike Tracker app and start tracking your exercise right away. This Cycling app works entirely from your phone.
Calculate your BMI with built in BMI Calculator
Voice feedback letting you know your progress as you cycling. A motivating voice that you can customize to relay your speed, pace, distance, time and calories burned, also customizable per distance / time.
Complete challenges that app provide and stay motivated to riding bike more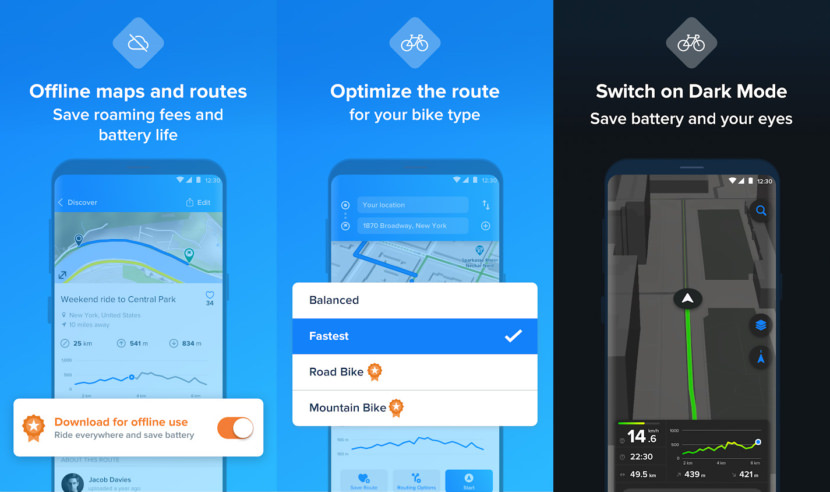 Track your ride using Bikemap. Turn your phone or tablet into a bike computer (GPX and KML support included). While riding, you'll see real-time ride stats alongside your navigation—current speed, distance, duration, elevation, and the ETA. The ride stats are saved to your user profile to let you track your bicycling activity over time.
Get started with Bikemap to turn your phone into a bike computer, cycle route planner, and bicycle ride tracker! Navigate confidently from A to B with stopovers. Their intelligent GPS navigation lets you choose between taking the fastest route or prioritizing bike paths, cycle lanes and biking trails. Turn on voice navigation to get spoken turn-by-turn directions without having to look at your screen. Don't worry if you take a wrong turn—the Bikemap navigation will safely bring you back on track.
Bike Tracker is an app for everyone who loves cycling and other sport activities like runing, trekking, hiking or biking. Doesn't mater, you like winter or summer sports, you are a profesional cyclist, bmx fan, use electric bike or bike enduro trail, this app is perfect for you! It will measure your bike speed, the distance, altitude and gps position, record and mark your routes on the map and provide full statistics of your sport activities.
Open Street Maps [Beta]
ANT+/Bluetooth Cadence and Heart Rate sensor support
Sound and voice notifications about time or distance
GPX, TCX files from Endomondo, Garmin, etc. import
Session map and data sharing to Facebook, Instagram and more,
Export and import all Bike Tracker data
Measure and recording the maximum biking speed and average speed
Measure time, pace, slope and calories
Monitoring the altitude above sea level, with recording min. and max. values (based on data from GPS, maps and barometer sensor) and elevation gain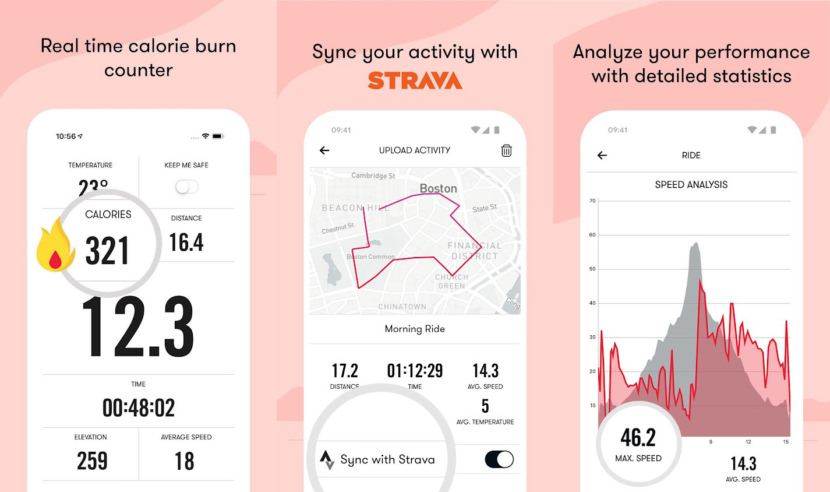 Your phone is now your personal Bike Computer. The only way to improve your cycling performance is to track your personal results. With Bike Computer, you can choose the metrics that matter to you. Get inspired to ride more, together with over 100.000 active cyclists from the Bike Computer community.
Minimal, modern and functional design: Bike Computer has a minimal interface for maximum performance. Your ride, with your metrics: With Bike Computer, you can personalize metrics that are important to you. Save battery and go elegant with the Dark Theme: Whether you bike at night, you want to save battery or just want a fancier option for your Bike Computer, you can never go wrong with their dark theme.
Speed – This shows how fast you are moving. Current speed is often the measurement casual cyclists are most interested in.
Distance – A basic measurement of how far you have ridden in total.
Heart Rate – It shows exactly how hard your cardiovascular system is working during a ride, and also enables more accurate calorie calculations.
Avg. Speed – This is the most basic measurement of speed, and doesn't take into consideration factors such as having to stop at junctions.
Elevation – Tracking the elevation gained during a ride can be a useful metric, but is often only necessary for competitive cyclists.
Elapsed Time – Record the time while cycling.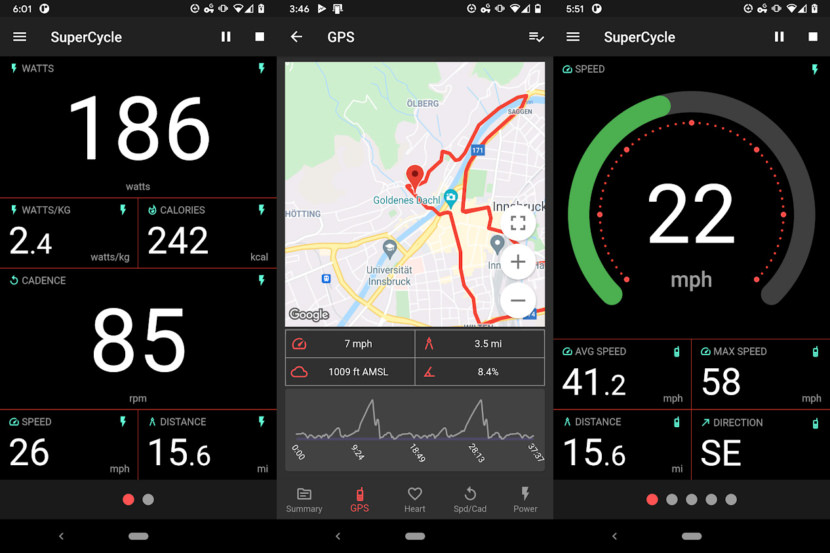 SuperCycle is a cycling computer app that tracks and maps your bicycle rides, while displaying real-time statistics such as speed, distance, elevation, calories burned, cadence, and power. It's Free! No pesky ads, No pay walls. All functionality is freely available, No expensive upgrades or subscriptions, This is donation ware. If you like the app, please donate to support its development.
Supports most Bluetooth® (BLE) sensors.
Power meter – Supports both single and dual sided power meters.
Speed and cadence sensor – Supports both separate and 2-in-1 sensors.
Heart rate monitor – Supports most Bluetooth® compatible heart rate monitors.
GPS – No sensors? Use the GPS in your phone to track speed, distance and elevation.
Barometer – If your phone has a built-in barometer (most do), the app uses it to track elevation gain/loss.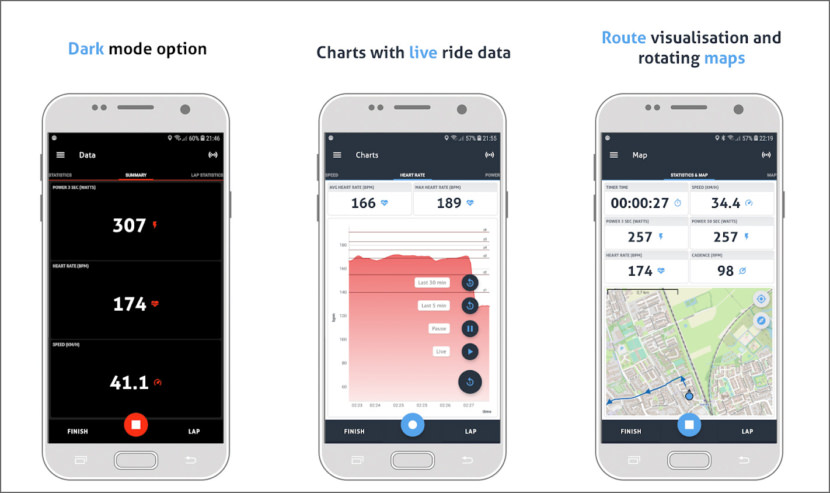 Jepster uses GPS to track your ride. Furthermore, it supports ANT+™ and Bluetooth heart rate monitors, speed and/or cadence senors and power meters. Jepster provides real-time performance data of your ride. Jepster supports multiple pages which are customizable such that you can have all the information that interests you displayed.
Load GPX tracks or Strava routes (Strava premium members only) which will be shown on the map such that you can easily follow your route (no turn by turn navigation). You can choose to either use Google Maps or OSMdroid (OSMdroid supports offline maps).