Dash Cam are relatively cheap, but for those looking into owning one but doesn't have the budget, if you're not sure you need a dash cam at all, perhaps you can consider converting your old smartphone as a temporary dashcam video recorder for your journey. Always go for a quality product over quantity, my advice is a branded dash cam is well worth the investment at Amazon, go for branded brands such as Garmin, Philips, BlackVue etc. A GoPro is equally good as a dash cam.
Dedicated Car Dashcam vs Smartphone Dash Cam App
Although indeed there are apps available for iPhone, Android and Blackberry, there are some significant disadvantages to turning your smartphone into a dashboard camera. The only advantage you have is money. You do not have to spend a single cent if you already own an old unused smartphone. Works great on Android smartphones such as Samsung Galaxy, Huawei Mate, Oppo, Vivo, XiaoMi, and Nokia.
Smartphone has a smaller Field of View, meaning to say you capture less details. This is important because the whole point of having a dash cam is to capture as many details as possible. Most smartphones come with a Medium / Standard FOV, whereas a dedicated DashCam has a wide FOV. This is a hardware issue, no app can ever solve this.
Dedicated Dash Cam comes with a sensitive sensor for night time shooting, smartphone doesn't have a night mode.
Possible overheating or locking up due to long hours of usage.
Shortened lifespan of smartphone and SD-memory card, because smartphones are not build to record video none stop, it might break at any moment, if you are unlucky, it might break when you needed it the most.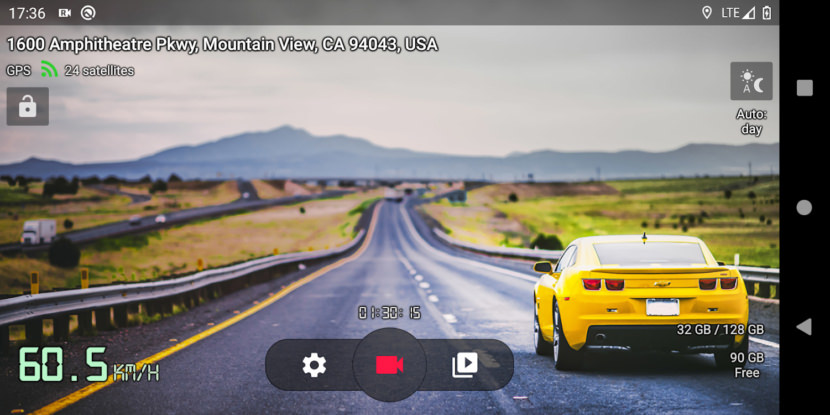 Droid Dashcam is a great driving video recorder (dashboard camera) app for car/vehicle drivers which can continuously record videos in loop mode, add subtitles with needed information directly on those videos (read below) and record in background
Hardcoded (embedded) Subtitles – Overlay Captions directly on Recording Video file such as Timestamp (Date), Location Address, GPS Coordinates, and Speed (based on GPS data)
Background Video Recording – you can continue recording in background and use other apps which doesn't use camera. You can also use notification panel to start/stop recording while this app is running in background.
Loop Recording – Auto Deleting old video files when there is not enough space for new videos (you can set max space usage for all videos)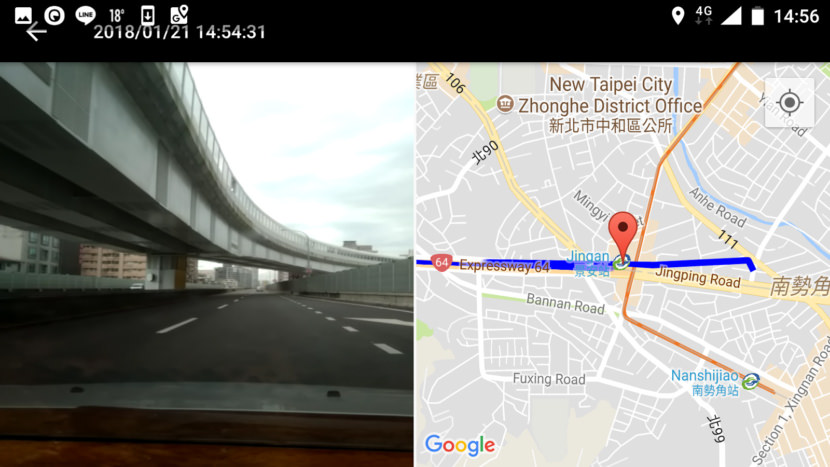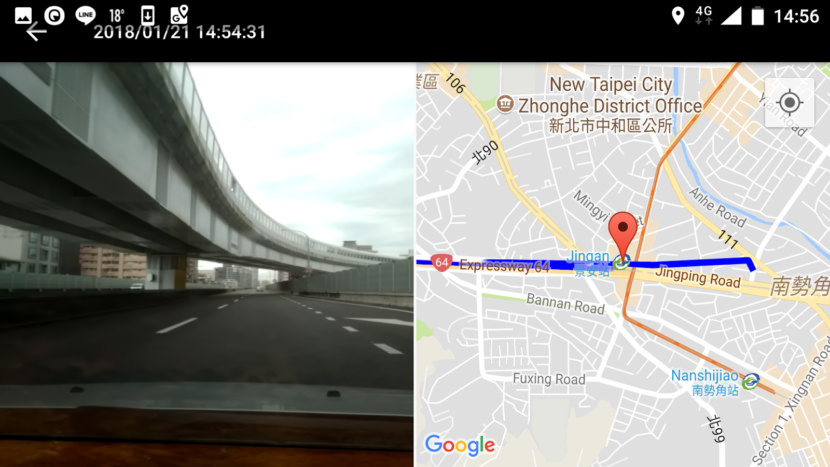 DriveRecorder is a free and car dash camera app which can record the video when driving, and it will give you an extra pair of eyes when driving. In the future, they will keep adding more features if this app really helps you, therefore, please rate this app to let us know if this app is helpful to you.
Support recording in the background
Support recording repeatedly
Auto recording once you launch the app
Support different video resolutions and file size
Support specifying the video storage size
Support sharing the video to your cloud drive
Support recording the driving trajectory
Support the feature which can navigate to the last location in the video
Support editing videos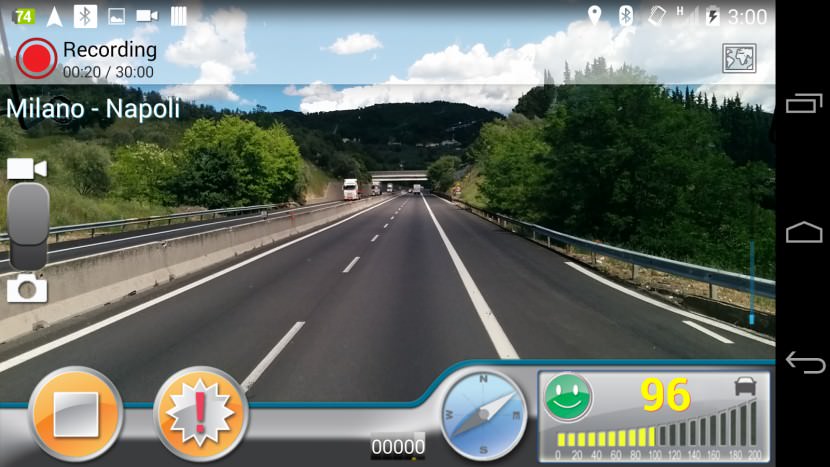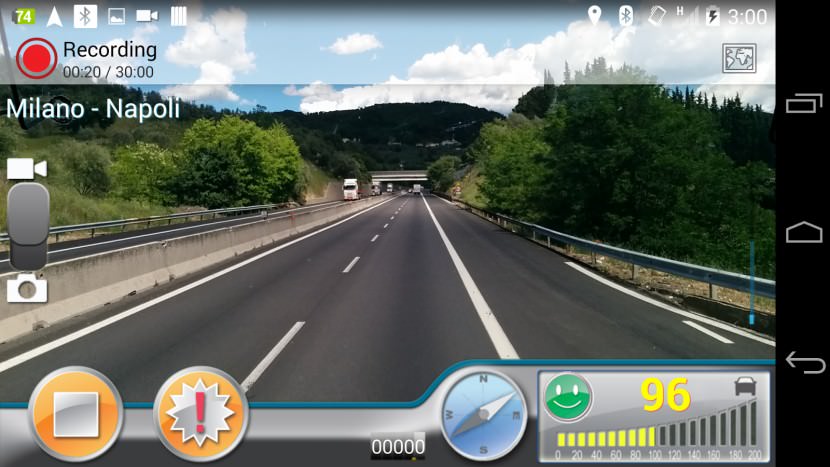 Your smartphone can be clever as you with AutoGuard, the best Blackbox application, will give you wonderful experiences. AutoGuard records various lengths of video, acceleration, latitude, longitude, and speed. The video recorded can be limited to save space on your phone. After the space is filled it will automatically delete the oldest videos, unless marked to be saved. Key Features:
(Pro) Background recording: Multitasking with other apps (like navigation)
Upload videos on YouTube.com with captions for location and time information
Capture photos at important situation automatically
Show the video and map information on one screen
Automatically starts video recording when put into car dock or connect with bluetooth devices
Records driving video, speed, GPS, and nearest address
Supports high resolutions (1080p, 720p)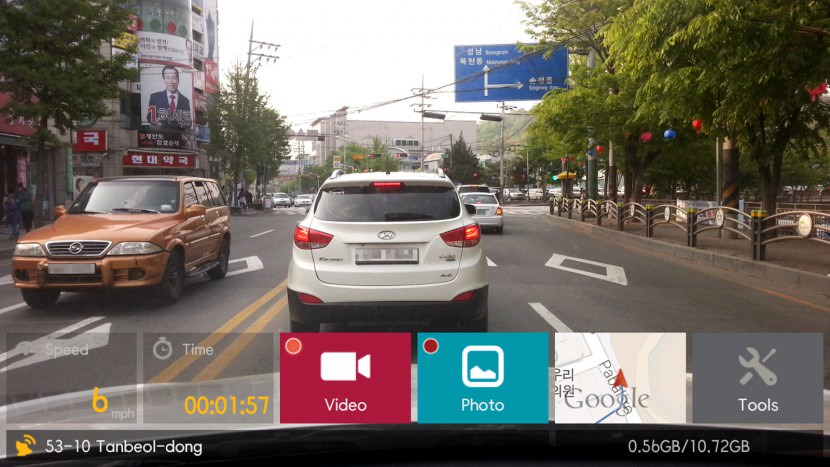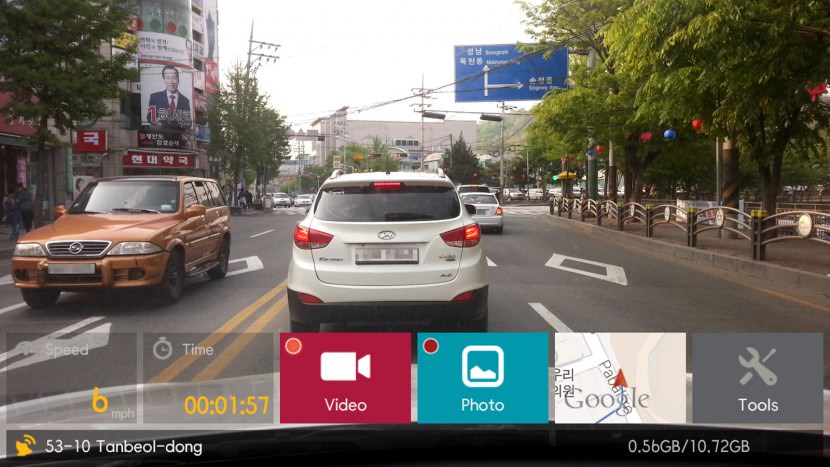 Black Boxes are a necessity these days. Have you hesitated to get a black box app for your phone because of the high prices? Now available at Android Market, you can get the Autoboy Blackbox for free. From now on, Autoboy will be your personal guardian for free, with all the functionality that you can get from other paid applications. Main function of Autoboy. Key Features:
Continuous Background Recorder (Continue recording as long as the battery is charged in background.
Three-Full Foreground (Full Screen, Full Recording, Full Files. Recording files' resolution doesn't get low or doesn't create new ones in foreground recording)
Pause And Background (The world's first application of new technologies continue recording with the same form of background recording)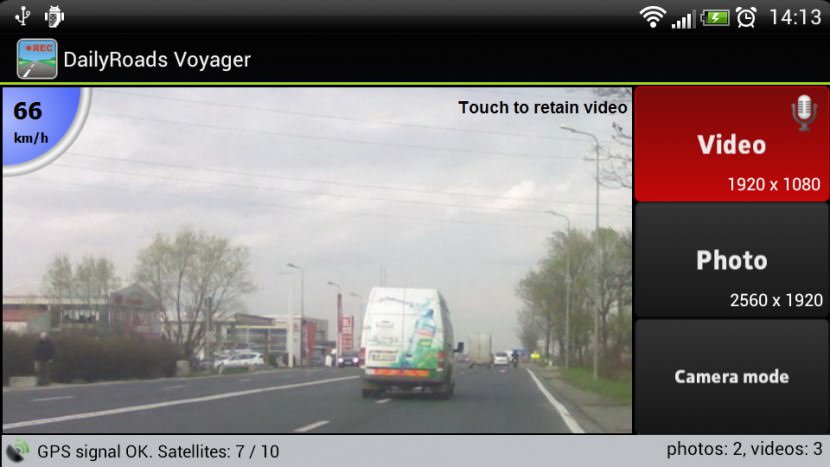 Recording road videos since 2009, DailyRoads Voyager works as a car blackbox, dash cam or auto DVR, continuously capturing videos and photos during your journeys. The app automatically records everything, but only important events are retained for future reference or as evidence. You get to choose what to keep, simply by touching the screen, even while you drive.
The video evidence can be invaluable in case of accidents, insurance fraud, police abuse, protection from crash-for-cash scams and differences of opinion with other drivers. Key features:
Continuous video recording, with user-defined length and video quality; sound can be included
User-defined storage space on the SD card with cyclic recording; i.e. the card never fills up
One-touch video retention allows you to keep video files for interesting road events during the whole journey
Auto retain video upon sudden shock (e.g. accident); configurable g-force sensitivity
Automatically capture photos at user-defined intervals and resolutions; great for time-lapse photography
Background video/photo capture, with optional buttons over other applications
Auto start and shutdown based on car dock detection and related options
Videos/photos are time stamped & geotagged
Automatically determine street address of retained videos/photos
Display videos/photos location on a map
Display speed, elevation, timestamp and GPS coordinates on videos/photos
Overheating protection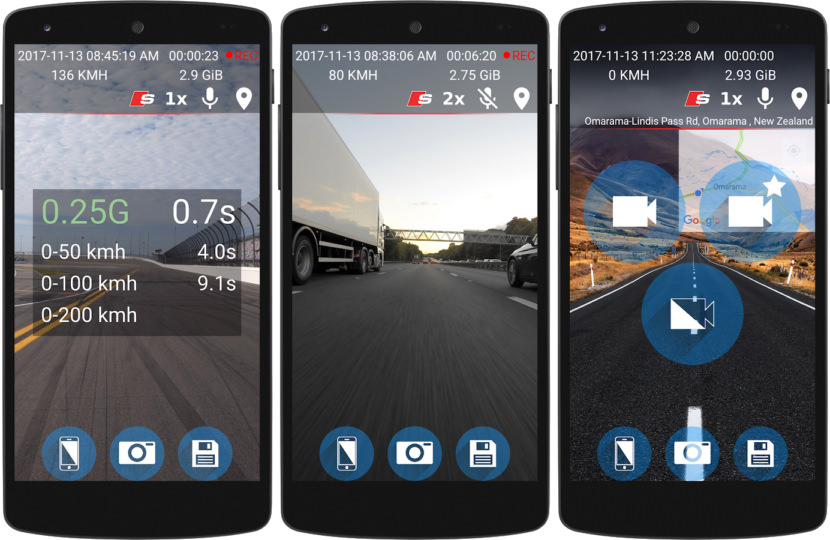 User-friendly DashCam Travel application used as a car camera (blackbox, dash camera, dashboard, road video recorder) to the windscreen of a car for daily riding. It's very useful to save videos about: traffic accidents, providing evidence for insurance, aggressive drivers, unexpected situations or interesting moments. The speed, date-time and all graphics can be hard stored in the video. It is very important in either an accident or proving a speed camera.
VIDEO – 4K 2160p, FullHD 1080p, HD 720p, VGA 480p.
LIMITATION – Can limit max. length of video for 1-60 min. Recording automatically continues with new file.
7. Avto Video Registrator AVR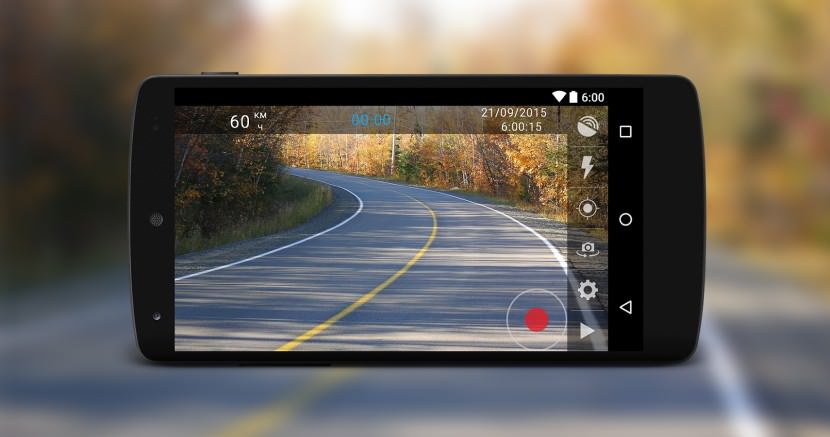 [ Discontinued ] This is the newest program in the world DVRs (dashboard camera , DVR) video registrator AVR! It has a simple and intuitive user interface and is packed with features. All you need to do is fix the UTB smartphone near the head-on car window. Everything else she will do herself!
8. CamOnRoad Car DVR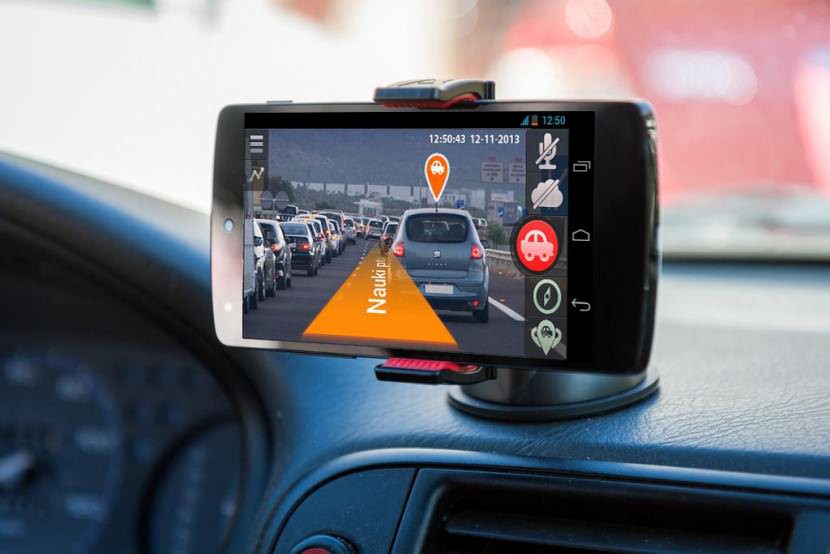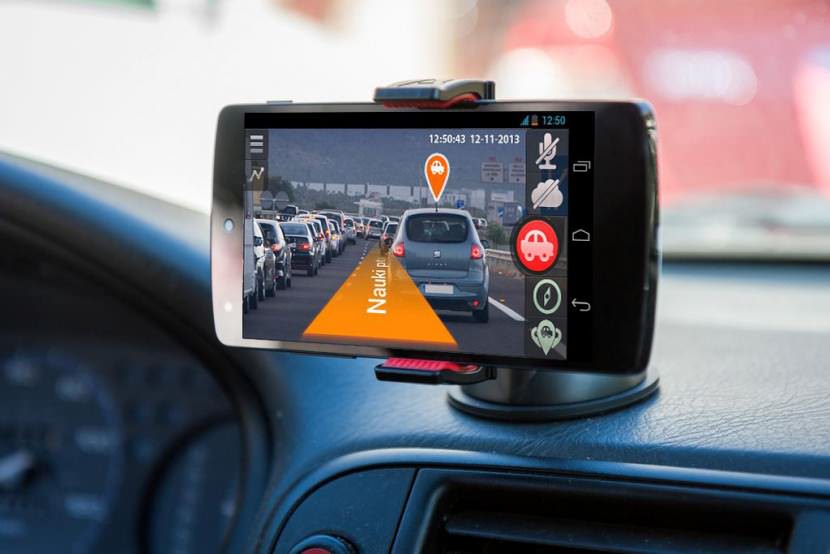 [ Discontinued ] CamOnRoad is a free dash cam application for your smartphone, transforming it into the advanced car DVR with GPS navigation features based on augmented reality. You no longer need to buy a separate dash cam to improve your road safety or to buy a separate GPS navigation device to reach your destination. Use CamOnRoad application for both purposes: as the car blackbox and as the awesome video-navigation system. Moreover, speed camera notifications are available in the app.
9. CaroO Free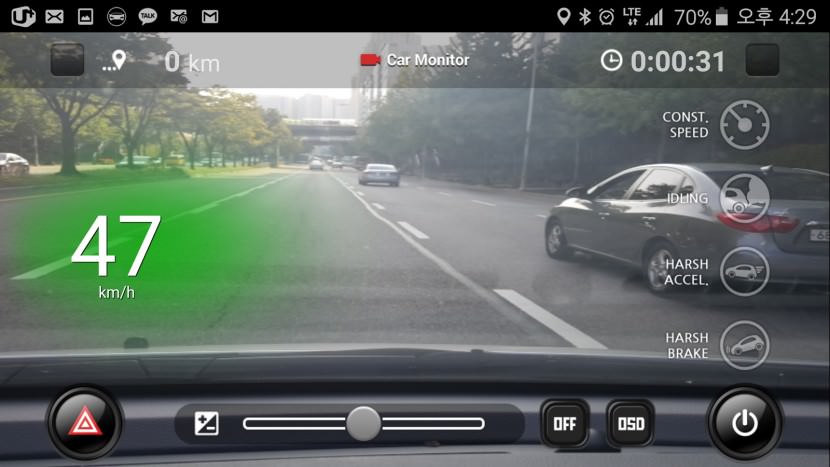 [ Discontinued ] CaroO Free Driving Recorder is a free and lite version of CaroO Pro Driving Recorder which supports a full pack of features including video dashcam with collision detection, driving track recorder with GPS function, and car-diagnosis and monitoring with OBD-II device. You can use video event recorder function and car-monitoring function separately or together. Experience the stable background operation as well as no gaps between recorded files on Android 4.1 or higher devices!
Video dashcam supporting resolution and quality control up to full HD (1920×1080)
Camera exposure and focus control (depending on capabilities of phones)
Auto file deletion for normal/emergency video