Where is the download manager android? There isn't a properly built IDM, also known as Download Manager for Google Android OS. These download managers are both simple yet powerful to speed up the downloading process, with much needed pause and resume features.
🤣😍😂 6 Best Dash Cam App for Android Smartphone [ Pros & Cons ]
Without further ado, here are 4 of the best downloader app for android. Why download big files using your own internet when places such as StarBucks or some other office shops offer free WiFi? Works great on Android 8.0 Oreo / Android 9.0 [ Popsicle, Pancakes or Pie ] smartphones such as Samsung Galaxy, Huawei Mate, Oppo, Vivo, XiaoMi, and Nokia.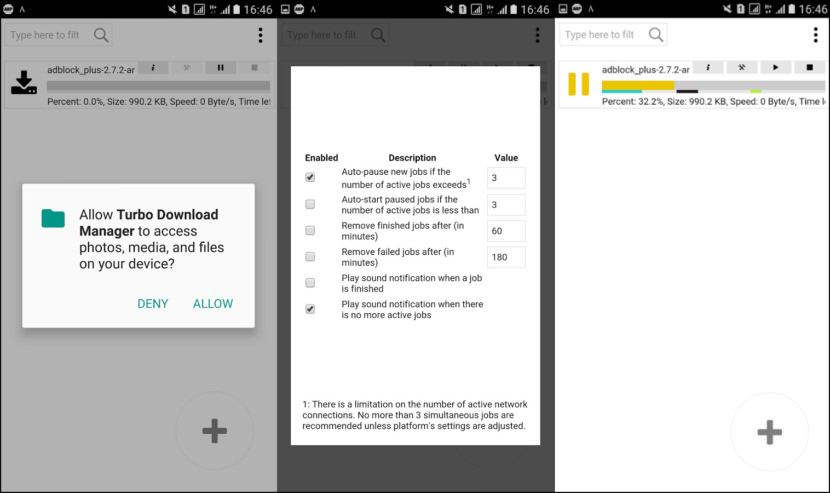 Turbo Downloader (Turbo Download Manager) is an open-source download manager for Android devices and tables. It can be used to either increase downloading speed up to 10 times or just to stabilize your downloading jobs over unstable networks like 3G and 4G mobile networks.
Download a single file using multi-segment (multi-thread) requests
Resume broken downloads on internet failure or network unavailability
Download a single file from multiple mirrors
Manage multiple jobs simultaneously
Download mp3 music, YouTube Videos, and etc
Resume and pause downloading jobs
↓ 02 – uGet free | Open Source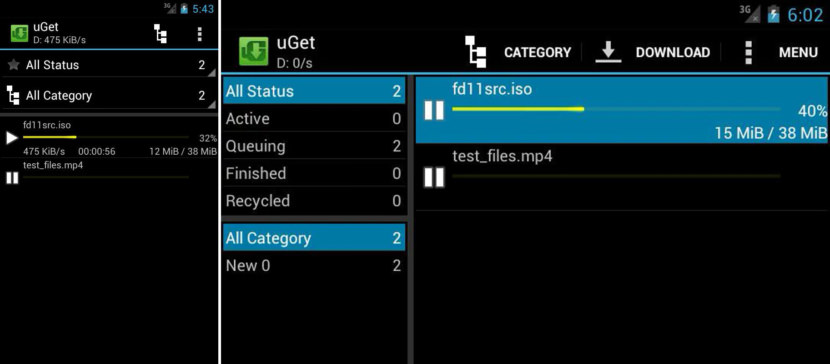 uGet is the #1 Open Source Download Manager app. uGet is a VERY Powerful download manager application with a large inventory of features but is still very light-weight and low on resources, so don't let the impressive list of features scare you into thinking that it "might be too powerful" because remember power is good and lightweight power is uGet!
Downloads Queue: place your downloads into a Queue to download as many, or as few, downloads as you want simultaneously. As a download finishes the queue will automatically start downloading the remaining files.
Resume Downloads: if your connection drops out you don't have to worry, you can start right back where you were with download resuming. (not guaranteed, server controlled and can not be bypassed by a download manager)
Batch Downloads: allows the user to add an unlimited amount of files at one time to the queue for downloading…scroll down for Batch specific features.
Multi-Connection (aka Multi-Segment): up to 16 simultaneous connections PER download – uGet's Multi-Connection feature also utilizes adaptive segment management which means that when one segment drops out then the other connections pick up the slack to ensure optimal download speeds at all times. This also applies to segments that become drastically slow due to server limitations.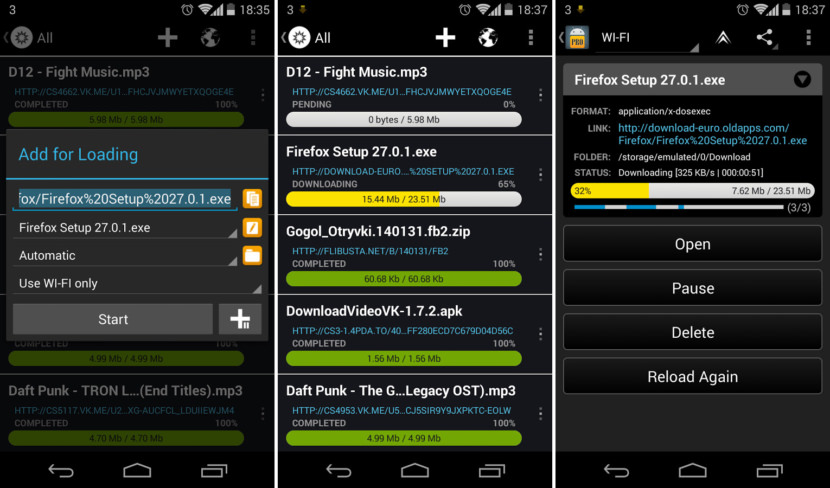 LoaderDroid is a Download Manager tailor made for the Android platform. It supports ANY type of file for downloading: Videos, Images, Music, Applications, anything. And all this is accomplished whilst having a very small footprint on your Androids resources. Make your downloads smart, efficient, reliable, and easy.
With a user friendly Interface in our "light" or "dark" color schemes available, and notification bar progress interface, you can download what you want (Any file type supported), when you want it (Schedule your downloads), and stay informed on your downloads progress in real time. Here are some of the features you can expect from LoaderDroid.
Resumable Downloads (Continue your downloads from the same place it was interrupted)
Auto pause when your connection is lost
Auto resume when your connection reappears
Intercepts links from your Android Browser and other applications
You can define what connection is allowed for each link (WI-FI, 3G, etc)
Faster downloading by splitting the download into parts
Link replacement feature for outdated links
↓ 04 – =G-Download Manager [ Discontinued ] | Free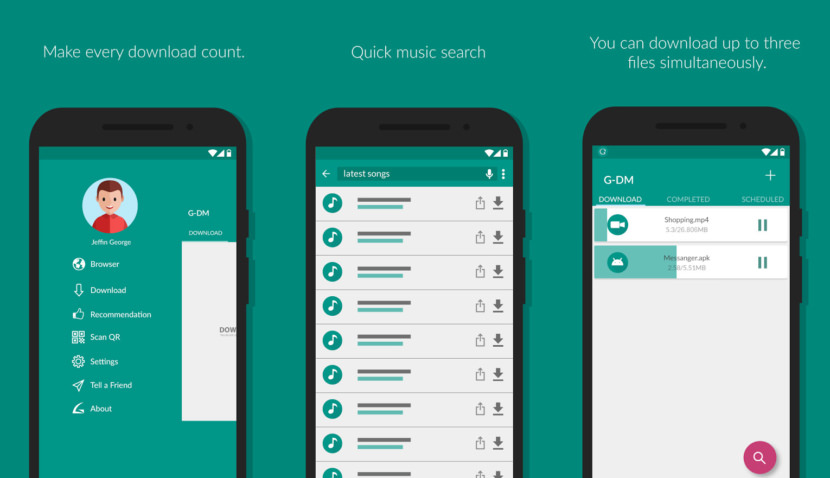 Saw a video you liked? With G-DM, and it's video downloader feature, don't even bother with the effort of copy-pasting that link. Just long-press on the video and our app automatically copies the link and asks you whether to download it. Download it now or schedule it later. Happy downloading!
Download Scheduling
Pause & Resume feature
Support for almost every Video streaming website except video downloading
Access and share files to computer wirelessly
Facebook videos and Instagram videos are supported
Downloader and download accelerator