When you uninstall an app on iOS, there will not be redundant files sitting around, once gone everything is gone for good. Unfortunately, Android with its much more open system allows apps to make many modifications, thus there are more left over files.
🤣😍😂 5 Free Apps To Clean Up Android And Free Up Storage Space
All Android smartphone makers do have a file manager that comes pre-installed, unfortunately they are not very user friendly. A good file manager will allow you to browse all files based on categories, by file size, file types, date, thumbnails and more. Here, we've compiled a simple list of the best file managers which are rich in features and most important of all free to use with no ads or in-app purchases.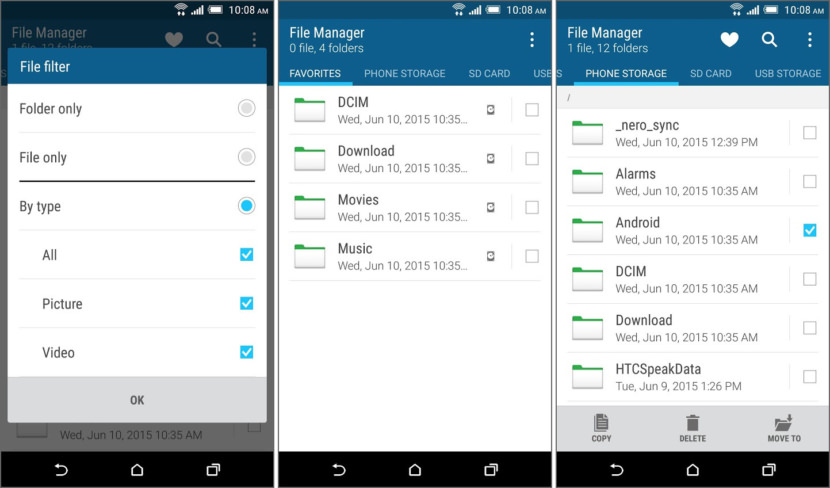 HTC File Manager makes it easy to find, browse and organize files on your phone, SD card or USB storage. Heart items to add them to your favorites, search for files by name and select multiple files or folders to cut, copy, delete, rename or move. HTC File Manager is the window into your storage space.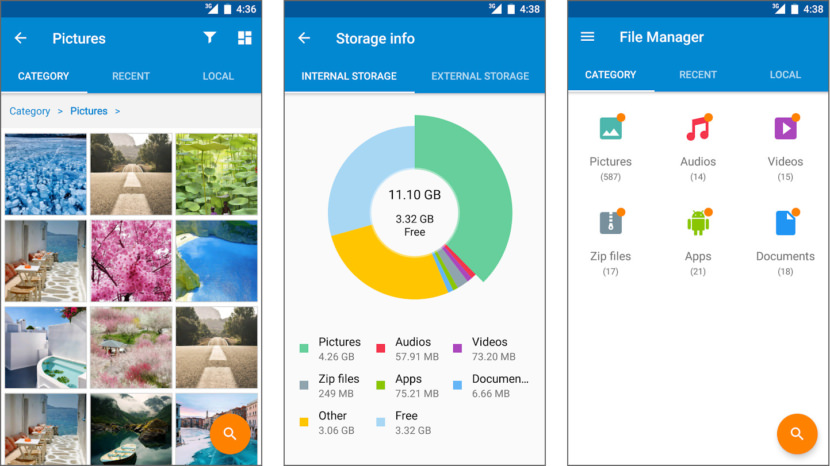 Manage your files efficiently and easily with Moto File Manager! Moto File Manager helps you handle all your files whether they are stored in your device's main storage or microSD card. Browse files easily by category right from Moto File Manager's home screen: picture, music, videos, archive, documents and recent files. It's quick and easy to access files in each category. File operations allows you to copy, move, rename, delete, compress and decompress ZIP files, create encrypted ZIP files and share files.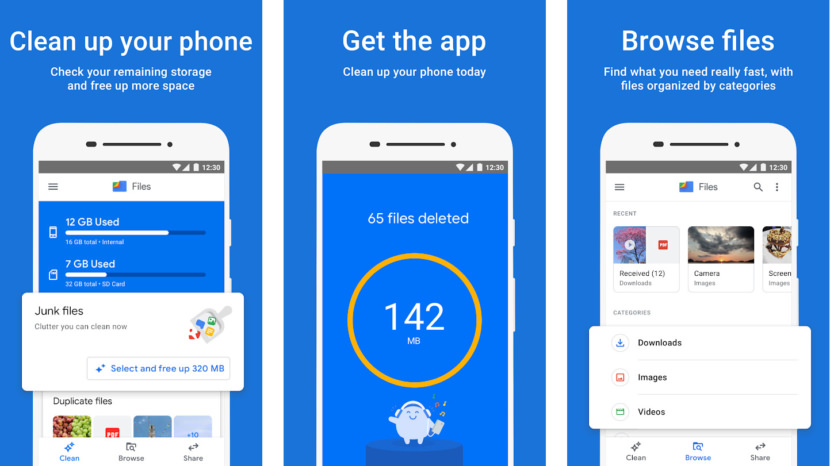 Save time looking for photos, videos, and documents on your phone. Files use filters rather than folders so your stuff is organized more intuitively. Files by Google is the file manager and storage browser that helps you find what you're looking for fast. Search for your files or simply navigate to them through categories and filters. View, delete, move, rename or share any files. Sort them by file size to understand what's taking space. Browse all the GIFs you have. Find and share that video you downloaded last week. All of this with few taps.
Use Files to see how much free space is left on your phone and SD card. Easily transfer files to an SD card to free up your phone's storage, right from the app. Or use the integrated file cleaner to get more space on the phone.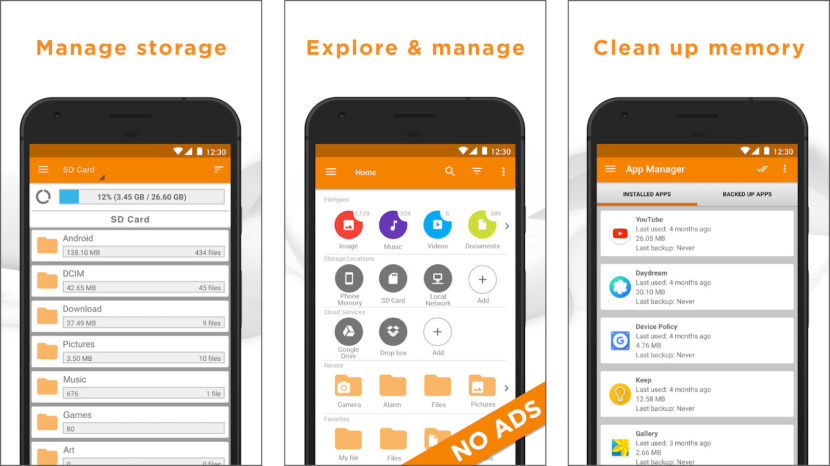 Astro is the best file manager and memory cleaner app to make the most out of your internal and external storage and boost phone memory. Every day, hundreds of thousands of people use this handy file organizer to move, copy, delete, backup files and clean their phone. Astro has all the top-rated file organizer features.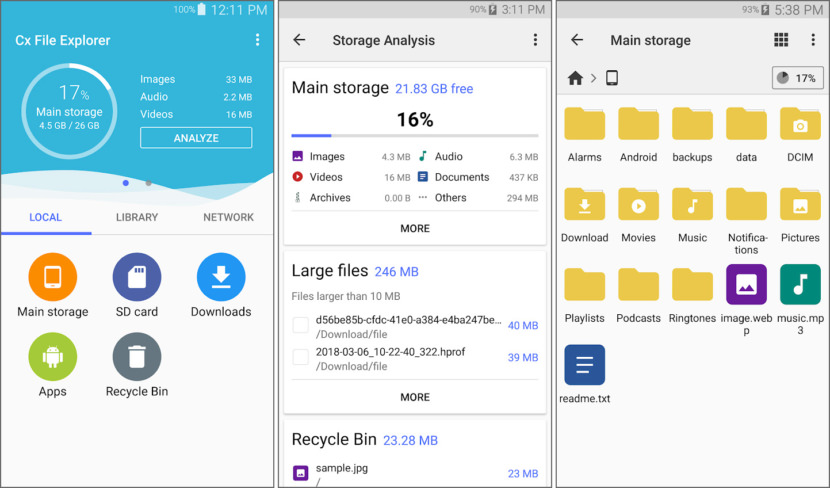 Cx File Explorer is a powerful file manager app with a clean and intuitive interface. With this file manager app, you can quickly browse and manage the files on your mobile device, PC, and cloud storage, just like you use Windows Explorer or Finder on your PC or Mac. Also it provides a rich set of features that advanced users are looking for without feeling bloated. You can even manage the space used on your mobile device with a visualized storage analysis.
↓ 06 – Mi File Manager [ Contain Ads ] | With File Cleaner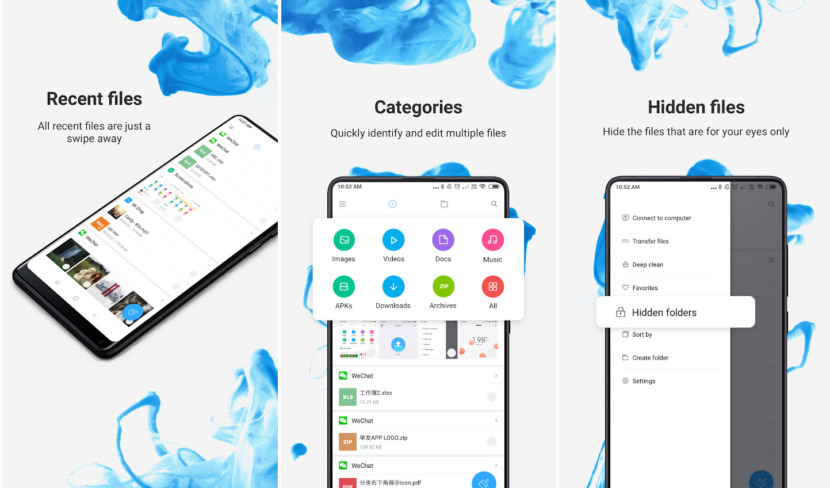 Mi File Manager is a free, secure tool that helps you find files faster, manage files easily, and share them offline with others. It supports tons of cool features: quick search, moving, deleting, opening, and sharing files, as well as renaming, unzipping, and copy-paste. Mi File Manager also recognizes multiple file formats, including music, videos, images, documents, APKs, and zip-files. We update our app regularly to bring you the best experience. With Mi File Manager's crisp and clear UI, file management becomes easier than ever before!
↓ 07 – Asus File Manager [ Discontinued ]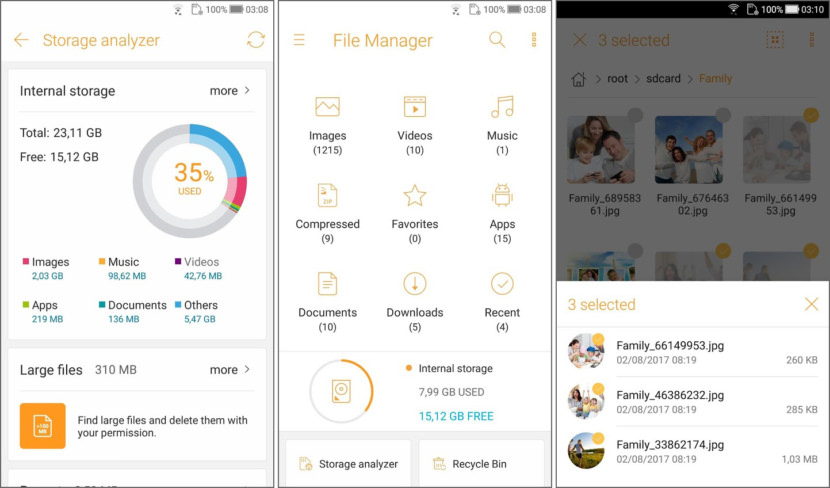 Manage your files efficiently and easily with ASUS File Manager! ASUS File Manager helps you handle all your files whether they are stored in your device's memory, microSD card, local area network, and cloud storage accounts. By default, ASUS File Manager allows you to copy, move, rename, delete or share files to and from any of your storages. It also lets you browse and access your files by category. Supports cloud storage accounts such as ASUS WebStorage, Dropbox, Google Drive and Microsoft OneDrive.