Some senior citizens find it hard to use today's modern smartphone, this includes the user-friendly iOS. Even if they are able to learn how to use it, the text and icons can be somewhat too tiny due to their eyesight. The best option is to download an app called Android Launcher, what this app does is it re-style the theme with big icons and text, usually a simple 6 icons layout that is minimalist.
See More ▼ 5 Free Apps To Find, Spy And Track Stolen Android Smartphone
Download these apps or launcher, it transforms your phone into an intuitive simple user-friendly interface specifically formulated for anyone who has difficulty with using smartphones. Give your smartphone a completely new look. Large colorful buttons to help those shaky hands. Single touch access to the most frequently called contacts. All the basics of making calls, receiving and sending text messages are simply made stress-free.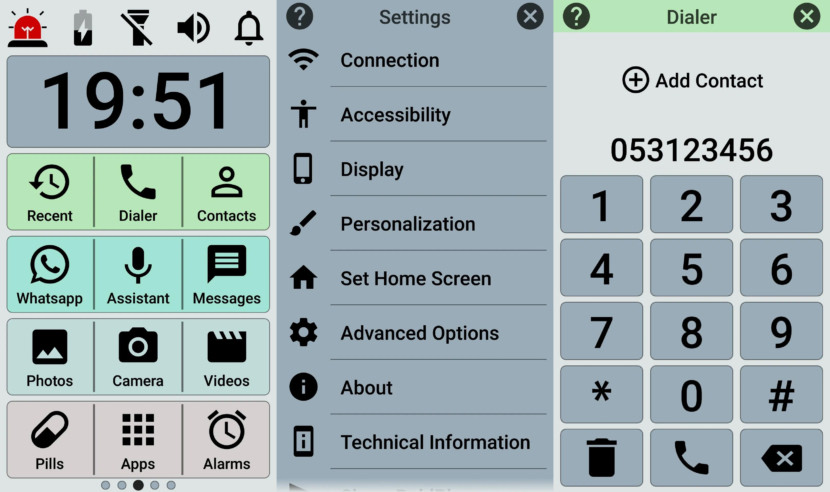 BaldPhone is a platform which replaces the phone's interface with a larger, simpler and friendlier one. BaldPhone is made for elderly users, people with motoric or sight handicaps, as well as anyone who struggles with the daily use of smartphones. BaldPhone is free for all, completely open source. No ads, no charge. it is made out of a desire to help the community and is purely a goodwill product :)
It's recommended for people who have a difficult in typing to use BaldPhone's special keyboard. Bald Phone replaces the phone's launcher, accessible for elderly and seniors. The interface of BaldPhone is big, simple, and accessible for seniors and elderly. BaldPhone contains a Launcher, Alarms, Reminder for Pills, Dialer, Contacts, Photos and Videos, Notifications area, and more. BaldPhone is highly customization and can be personalized to match elderly and seniors specific needs.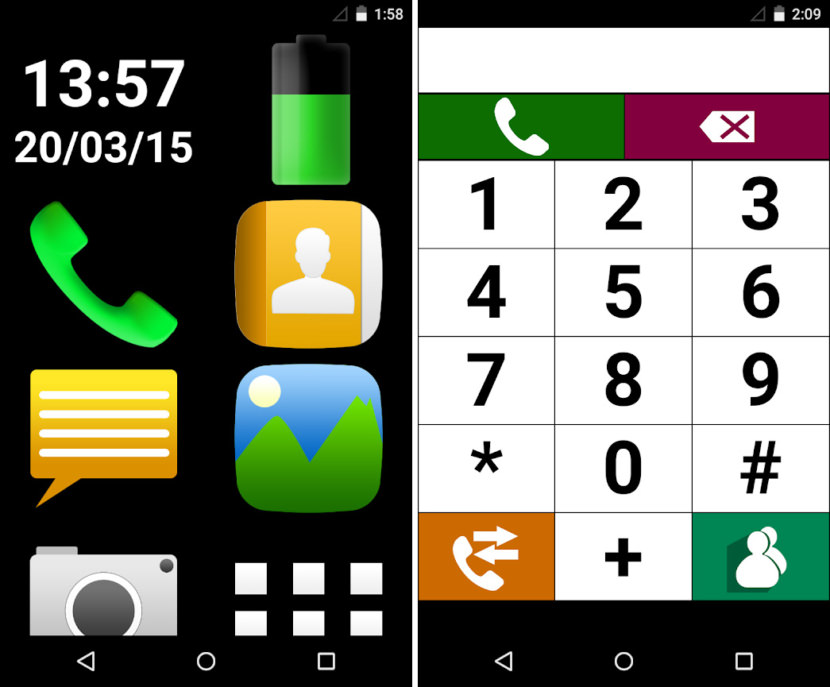 Senior Easy Phone is a launcher or skin that helps the seniors use a smartphone. Very useful for older adults to move their phone to smartphone from basic phone. As shown in the image, it comes with big fonts, big buttons and big text for easy reading.
Free and Paid Version Available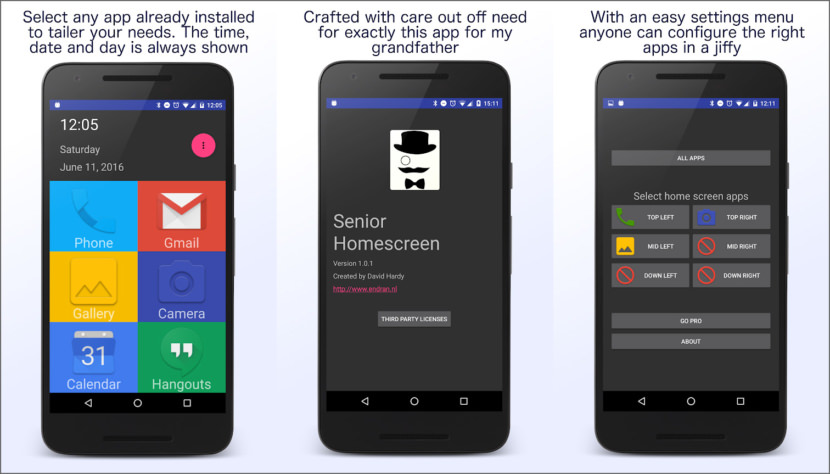 This app is specially crafted to help senior citizens use their smartphone. Usually they only need a few apps, and that's exactly what this app offers. By default three apps are configured already, but you can change this to whatever app you need. The setup should ideally be done by someone who feels comfortable with smartphones already.
For the best performance select Senior Homescreen as your launcher app. Press the home button of your phone after installing Senior Homescreen, and select 'Always use' Senior Homescreen as your launcher application.
Free and Paid Version Available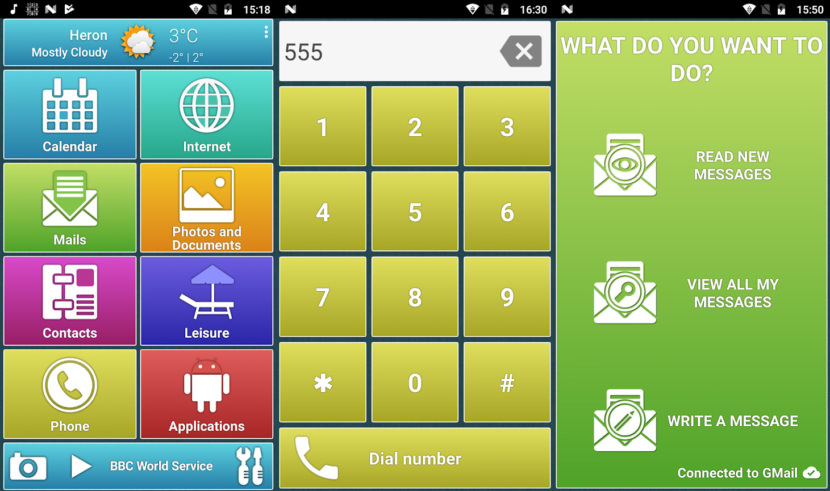 Elementique Senior is a set of applications specially designed for seniors. Thanks to it's simple, elegant and secure environment, sending an email, managing your agenda, surfing the Internet, playing, sharing photos or chatting with relatives… becomes easier and easier ! Elementique Senior offers a clear, structured and identical environment in each application. The icons are wide and legible, the keyboard is either alphabetic or « qwerty », and the user is guided throughout its use. Tablets and Smartphones keep their access to the Google Play Store, a high tech look and all their possibilities.
Free and Paid Version Available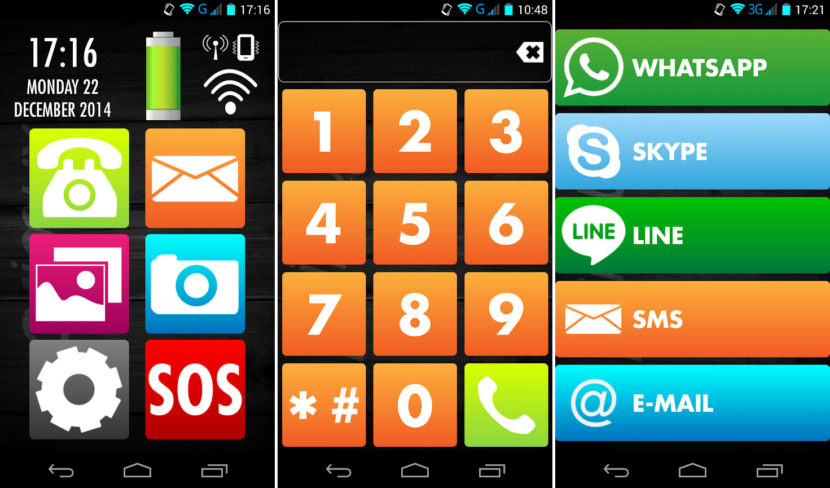 Help Launcher is an app which has been especially designed so that the elderly, blind or visually impaired people, etc. find it easier to use smartphones. Simple menus accessible to everyone, identifying and bold colours, big icons and a perfect font size for a perfect display on any screen.
Thanks to Help Launcher you won't lose sight of any app. Besides, from the "Messaging" menu you will be able to access apps like Whatsapp®, Telegram®, Skype®, etc. directly, so you are always connected to your friends and family. This launcher combines all the features of high-performance devices with the simplicity of a basic telephone. Its different colours make the app more accessible as the user can easily associate the symbol with the button. Thus, understanding a text is no longer important, which results in a more intuitive use of the device.
Free and Paid Version Available
Android home screen launcher based on simplicity. The most commonly used features available to people who use their smartphone primarily for phone calls and messages.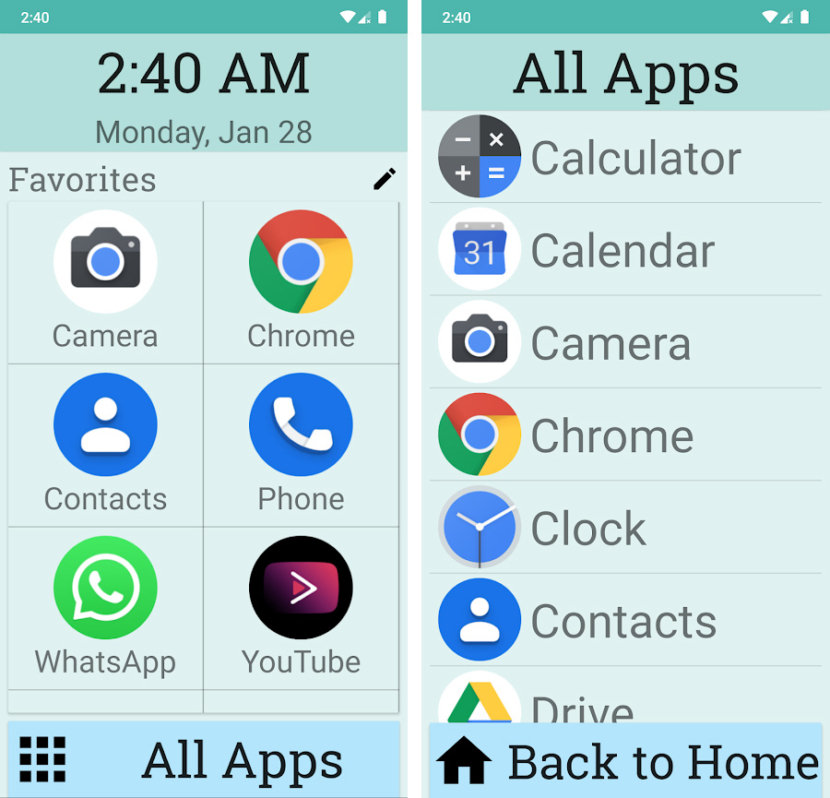 Elder Launcher is an app which makes using an Android device easy for the elderly or first-time smartphone users. In addition to being a launcher, it also has the functionality of dialing phone numbers, listing contacts.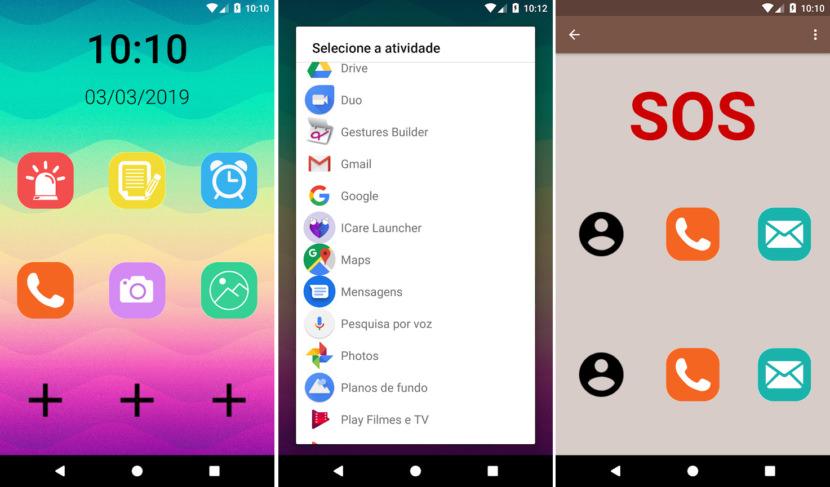 The ICare Launcher application was developed by an independent programmer and was thought from the beginning to facilitate the use of the mobile by the elderly. To accomplish this, three different functionalities have been developed within the launcher:
SOS screen, where two emergency contacts can be saved so that the user can call a certain number with just one click, or send a predefined message
Note screen, where information regarding the user's health can be saved for emergencies, or any other relevant information can be saved – feel free!
Alarm screen, specially designed for the elderly to set alarms to remind them to take their medicine.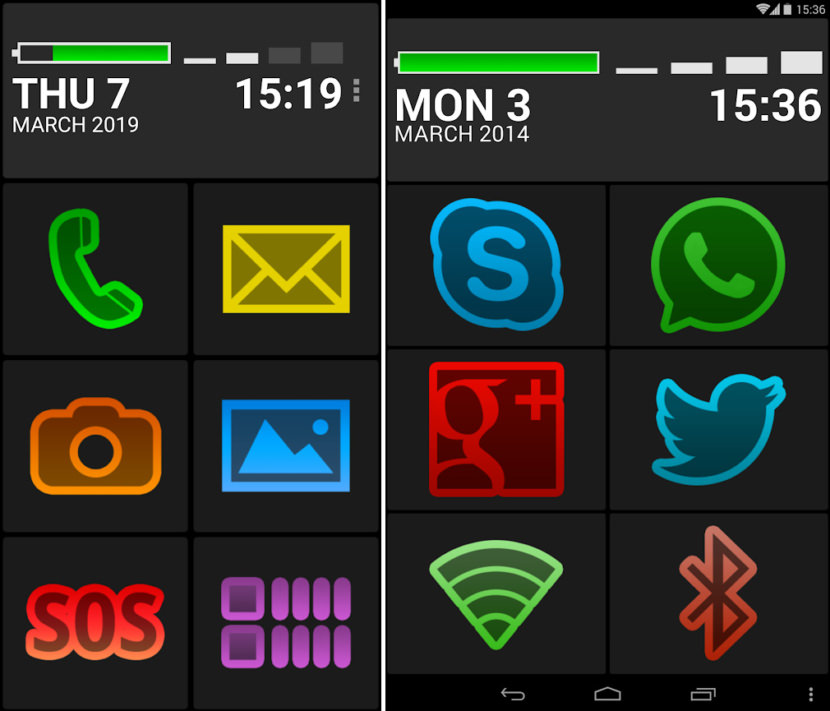 BIG Launcher makes the smartphone suitable for seniors, children, and people with eye diseases, motor problems or the legally blind. Visually impaired and technically challenged users can use the simple and easy-to-read interface with ease. There is no fear of making a mistake and losing everything with stress-free navigation. And it also features the SOS button which can save lives!
Due to the latest update of the Permissions Policy "BIG Launcher" app with all its available features can't be listed in the Google Play Store. In order to function properly, it requires access to sensitive permissions, which is now limited to all the apps.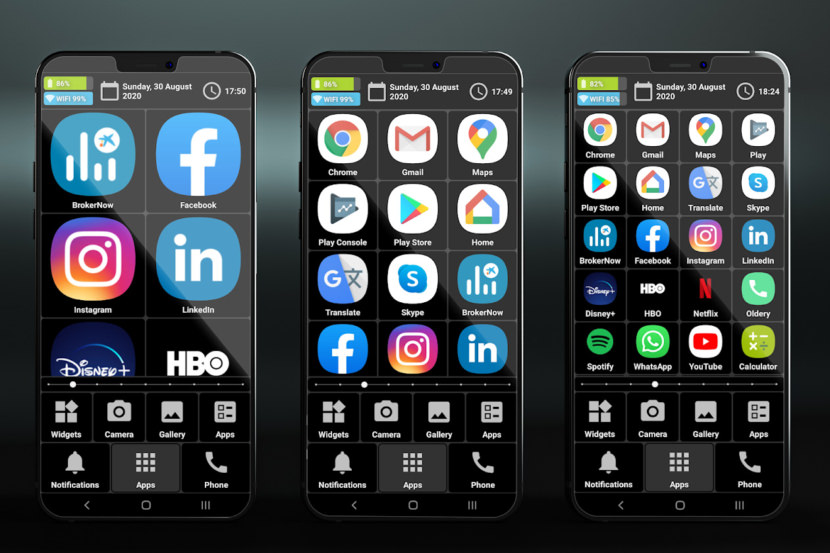 Oldery simplifies the operation with the smartphone, making it suitable for older people, children and people with vision problems, totally blind or motorized. And why not? For practical lifestyle users.
Oldery can be configured so that certain options are not available to the user, since they may not use them or they may complicate the experience with the smartphone, for example: control notifications, display Widgets, uninstall or run applications that do not are in the favorites list, see the call history.
11. Big Button Launcher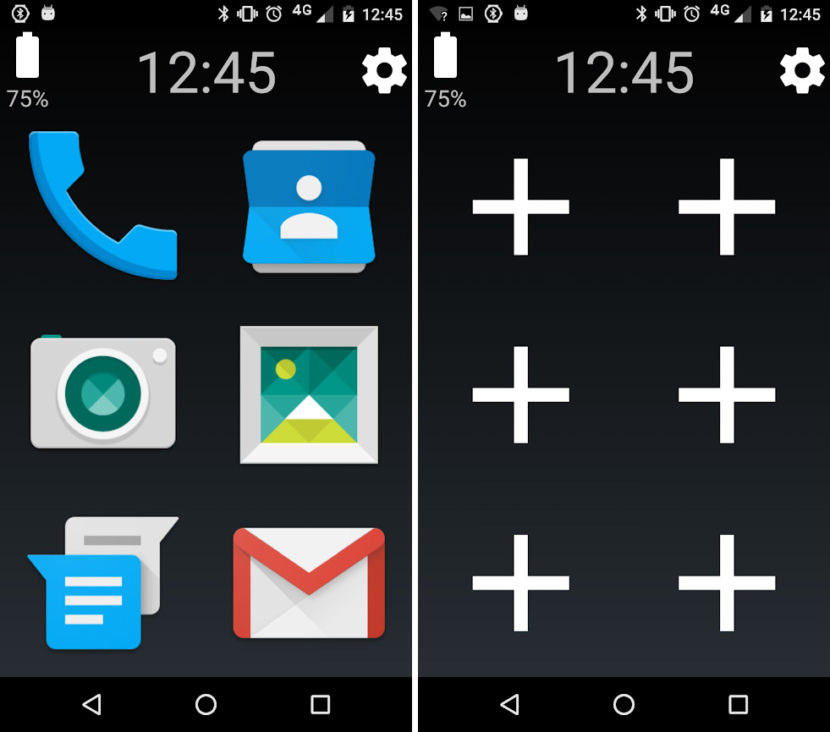 [ Discontinued ] Six Button Launcher. A launcher designed to cut down the complexity of most modern launchers. Six user definable buttons. Excellent for seniors who are new to smartphones. Click on a plus button to assign an app. Long press settings to clear all assigned buttons.