How do you sign up with BitCoin? Bitcoin is different from Internet Banking you know and use every day. It is like a credit card or Paypal but different. Before you start using Bitcoin for any serious transaction, be sure to read what you need to know and take appropriate steps to secure your wallet. This is because there are cases of people losing millions due to hacking, or losing all their coins in their wallet when the company goes bankrupt.
Always remember that it is your responsibility to choose your wallet carefully and adopt good practices in order to protect your money. Find your wallet and start making payments with merchants and users. Works great on Android 8.0 Oreo / Android 9.0 [ Popsicle, Pancakes or Pie ] smartphones such as Samsung Galaxy, Huawei Mate, Oppo, Vivo, XiaoMi, Nokia, and also Apple's iOS iPhone.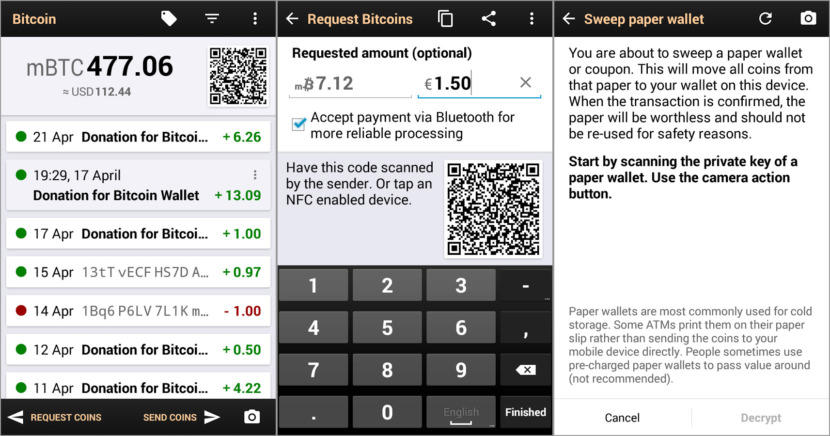 Have your Bitcoins always with you, in your pocket! You pay by quickly scanning a QR-code. As a merchant, you receive payments reliably and instantly. Bitcoin Wallet is the first mobile Bitcoin app, and arguably also the most secure!
No registration, web service or cloud needed! This wallet is de-centralized and peer to peer.
Display of Bitcoin amount in BTC, mBTC and µBTC.
Conversion to and from national currencies.
Sending and receiving of Bitcoin via NFC, QR-codes or Bitcoin URLs.
Address book for regularly used Bitcoin addresses.
When you're offline, you can still pay via Bluetooth.
System notification for received coins.
Sweeping of paper wallets (e.g. those used for cold storage).
App widget for Bitcoin balance.
↓ 02 – Edge [ Airbitz ] | Apple iOS | Google Android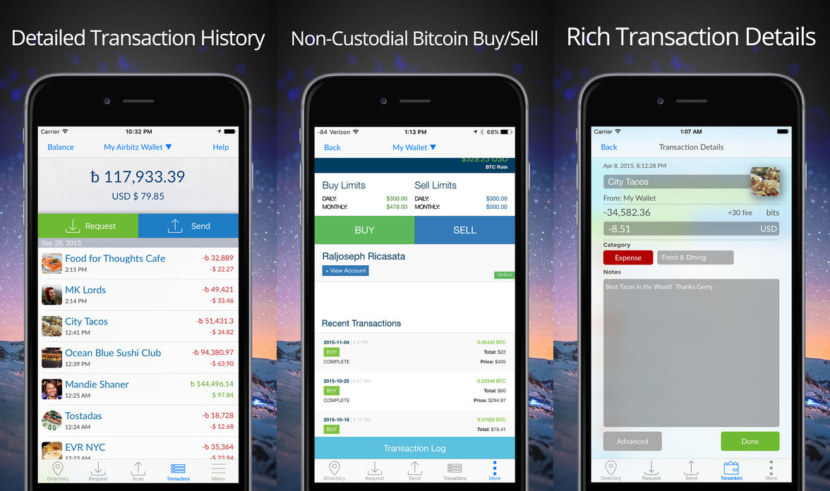 Powerful and easy to use bitcoin wallet allowing users to easily control their own bitcoin private keys with the familiarity and ease of mobile banking. Take control of your funds! With Airbitz, only YOU have access to your funds or transaction info. Neither Airbitz or any 3rd party can access your money or data. You get the financial privacy and autonomy bitcoin was designed for with the ease of use even grandma could handle. With a focus on delivering an amazing user experience, the Airbitz wallet provides the following great functionality:
Zero-knowledge & zero-access to user funds, keys, or transaction data by Airbitz or 3rd parties
Integrated purchase of discounted gift cards (20% off Starbucks!)
Integrated bitcoin buy / sell from a linked bank account
Simple account creation using just a login & password (no printing of PDFs, writing down pass phrases, or adding encryption settings)
Hierarchical Deterministic wallets with changing addresses per transaction
Search transactions by payee, category, or notes
Spending limits (require password or PIN to spend above limits you set)
Decentralized server architecture. Wallets work even if Airbitz servers are down.
↓ 03 – Bither | Apple iOS | Google Android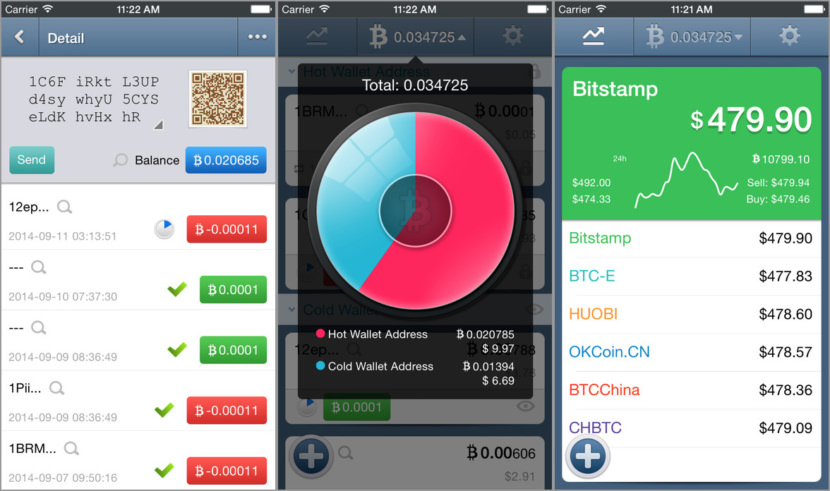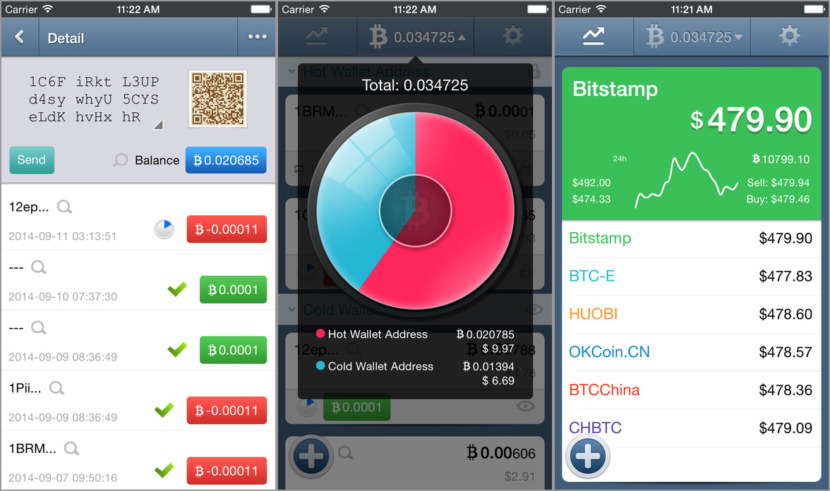 With Bither wallet running in cold or hot mode, you can use Bitcoin as simple as cash or credit card.
Bither Cold Wallet Features:
Cold wallet running on offline mode (Backup phone).
Private keys are protected by digital password.
Real Time monitoring the network status (Wifi, 3G, BlueTooth).
Security check for private keys.
Sign the hot wallet's unsigned transactions.
Automatically backup and recovery.
Bither Hot Wallet Features:
Hot wallet running on online mode (Daily phone).
You can easily monitor your Bitcoin savings with Watch Only mode.
You can prepare unsigned transaction for Watch Only address.
Hot wallet also supports private keys, you can save some pocket money in this kind of addresses.
Decentralized and P2P (peer to peer) Bitcoin wallet, no registration or login needed.
Realtime price of major Bitcoin Exchanges.
System notification for new transactions.
↓ 04 – GreenBits | Google Android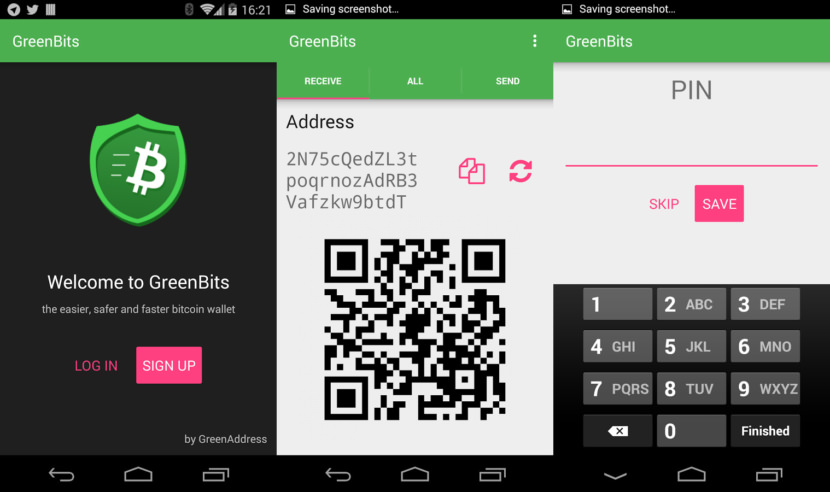 GreenBits is a native Android Bitcoin wallet for GreenAddress' wallet service. This wallet provides security, privacy, and a great user experience.
SPV Validation client-side
Connect to your own Bitcoin full node for additional security and privacy (even over Tor!)
Easy paper wallet backup via BIP39 mnemonics
2FA via phone/sms/email
Multisignature addresses between client and server, for enhanced security
Instant transaction confirmation with GreenAddress transaction attestation [link here to more details]
In the event of service disappearance funds can be recovered via nLockTime transactions and our open-source tools[link to Gentle]
Hardware wallet support such as Ledger, Trezor, and KeepKey
↓ 05 – Mycelium | Google Android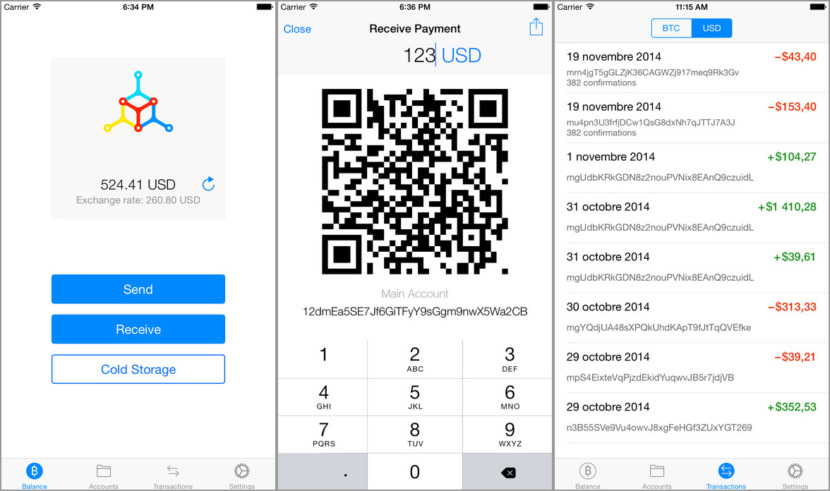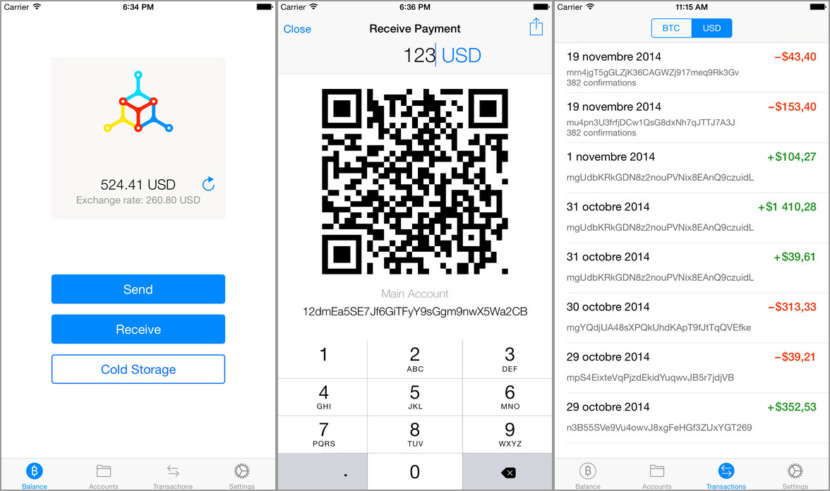 With the Mycelium Bitcoin Wallet you can send and receive Bitcoins using your mobile phone.
The unparalleled cold storage functionality allows you to 100% secure your funds until you are ready to spend them, works for your paper wallets, private keys, master seeds.
100% control over your private keys, they never leave your device unless you export them
No blockchain download, install and run in seconds
HD enabled – manage multiple accounts and never reuse addresses (BIP32, BIP44)
Ultra fast connection to the Bitcoin network through our super nodes
Watch-only addresses & private key import for secure cold-storage integration
Secure your wallet with a PIN
Compatible with other bitcoin services through bitcoin: uri handling
Support for BIP38 Keys
Find other people to trade Bitcoins with in person using our Local Trader feature.
↓ 06 – Green Address | Apple iOS | Google Android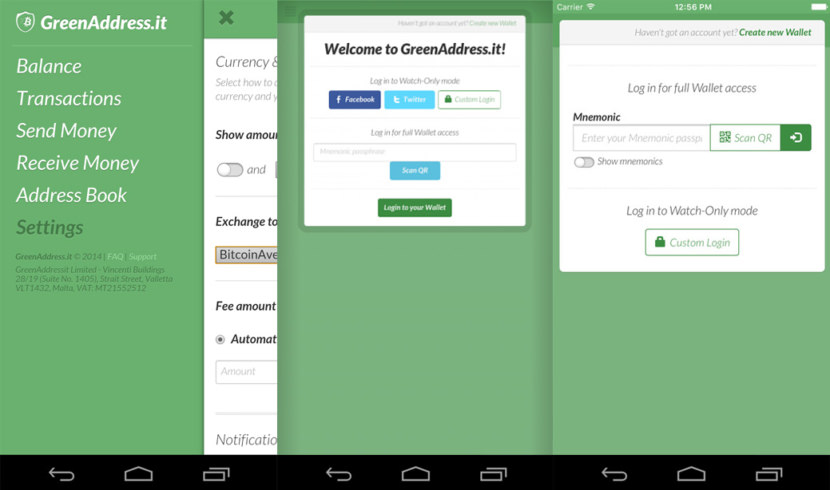 GreenAddress Cordova is a multi-platform Bitcoin Wallet service. This wallet provides security, privacy, and ease of use through multi-platform mobility.
Easy paper wallet backup via BIP39 mnemonics
2FA via phone/sms/email
Multisignature addresses between client and server, for enhanced security
Instant transaction confirmation with GreenAddress transaction attestation greenaddress.it/faq
In the event of service disappearance funds can be recovered via nLockTime transactions and our open-source tools
↓ 07 – Coinomi | Apple iOS | Google Android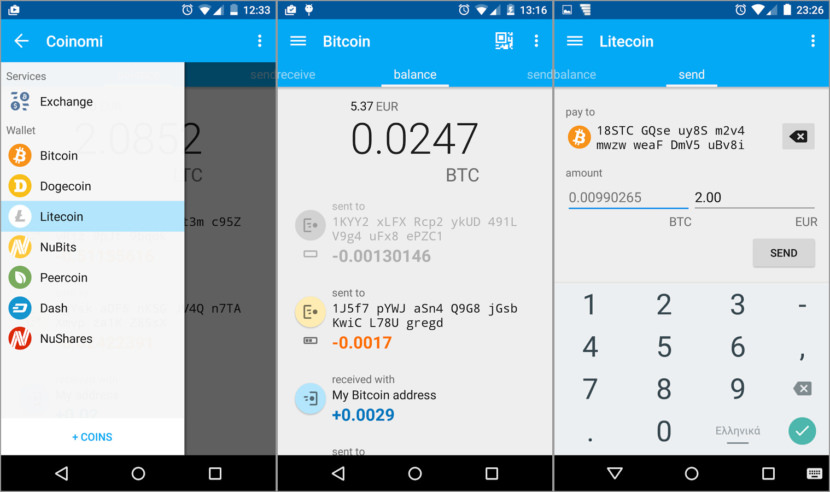 Absolute control of money and privacy at any given time is not negotiable. Bitcoin, Ethereum and numerous other altcoins are always on you, securely with our cross-chain enabled mobile hybrid wallet.
Multi-Coin – Native support for bitcoin and most major altcoins. Continuous integration of key alt-coins.
Superb Security – Your private keys never leave your device. Strong wallet encryption and cryptography guarantee that your funds will remain safe under your ultimate control.
Enhanced Privacy & Anonymity – No KYC bureaucracy to access your funds, no IP association, no identity linking, no transactions tracking. Our servers anonymize your requests by hiding your IP from prying eyes.
Exchange Inside – Convert between altcoins instantly from within the app, through our strategic partner ShapeShift.
One-time Backup – Hierarchical Deterministic Wallet (BIP44) enables you to keep everything accessible and secure with just one super-passphrase which you only have to back-up once and for all.
Open Source & Transparent – No hidden code, no malicious modules, no exploits, no small letters. Our code is publicly available and publicly reviewed.
Streamlined & User Friendly – Advanced technology enables you to use your altcoins to pay directly to bitcoin addresses and vice versa. No extra steps, no endless sign-ups/ins. One-click cross-chain payments.
Lightweight & Community Driven – Top engineered, runs smoothly even in older, low-spec devices. Reduced power consumption and data usage. No need to download huge blockchain files locally. New features are constantly crowdsourced.
Coinomi Bitcoin & Alt-coin Universal wallet, supports the following digital coins: Bitcoin, Asiacoin, Auroracoin, Bata, Blackcoin, Canada eCoin, Cannacoin, Clams, Clubcoin, Dash, Digibyte, Digitalcoin, Dogecoin, EDRCoin, e-Gulden, Ethereum, Feathercoin, GCRCoin, Gulden, IXCoin, Jumbucks, Litecoin, Monacoin, Namecoin, Neoscoin, NovaCoin, NuBits, NuShares, OKCash, ParkByte, Peercoin, Potcoin, Reddcoin, Richcoin, Rubycoin, Shadocash, Solarcoin, Syscoin, Verge, Vertcoin, and Vpncoin
↓ 08 – CoinSpace | Apple iOS | Google Android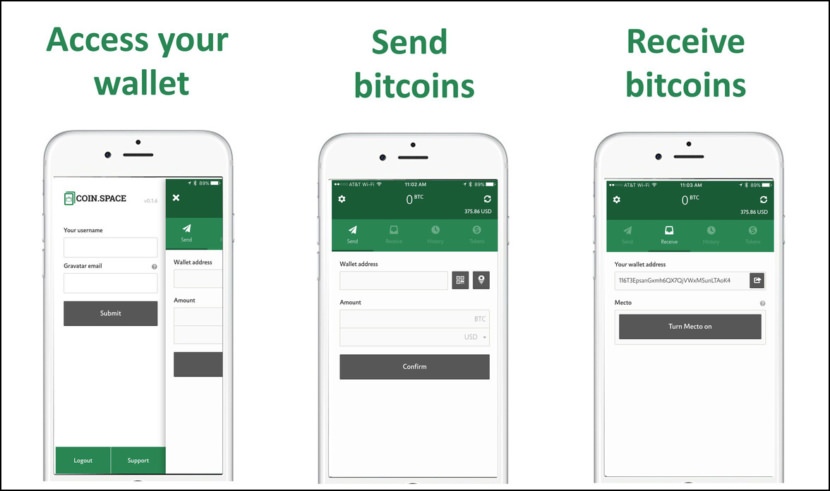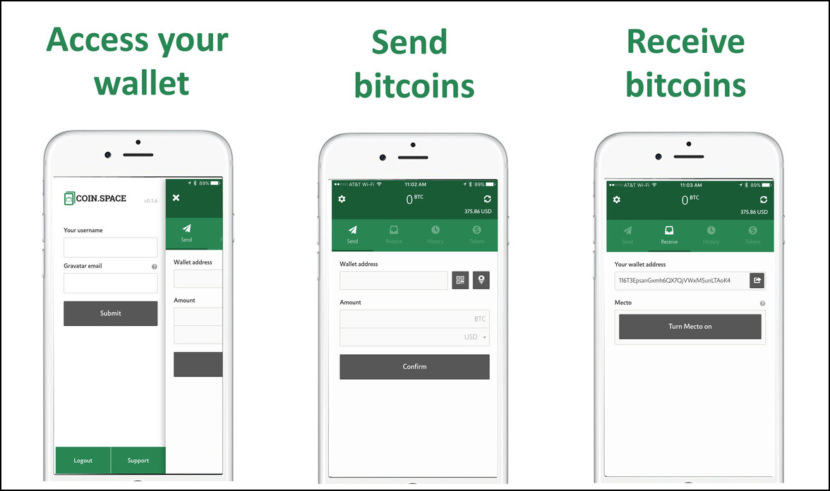 CoinSpace is a free HD bitcoin wallet, which you can use to make worldwide payments for free. Complete control of your finances for your Android mobile phone. Take your Bitcoins with you on your phone.
It's cheap. It's transferable. It's fast. It's not owned by a company. It's secure. Be your own bank with CoinSpace.
Secure passphrase generation (your master private key), no one else can access your Coin.Space wallet.
Each transaction generates a new address in the BIP32 tree, for maximum privacy.
Support for OpenAlias to send and receive payments.
Quickly scanning a QR-code.
Use the geo-location feature (Mecto) for transactions with nearby users. Mecto never displays your exact location on a map to other users. Instead, you simply appear on a list if the person searching for you is within the same area.
Single-tap balance conversion into your chosen fiat currency.
Supports Bitcoin and Litecoin with more coming soon.
CoinSpace's free wallet makes paying with bitcoins easy and secure, available anywhere on your phone (mobile) or desktop (web). Make more value with your virtual bitcoin wallet for free.
↓ 09 – Copay | Apple iOS | Google Android | Microsoft Windows 10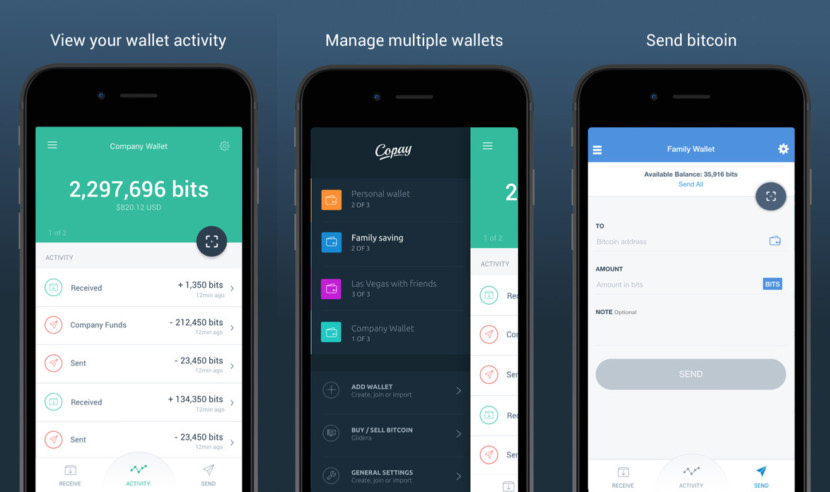 Secure bitcoin on your own terms with an open source, multisignature wallet from BitPay. Copay users can hold funds individually or share finances securely with other users with multi signature wallets, which prevent unauthorized payments by requiring multiple approvals. We built the following features into this version of Copay for a bitcoin wallet that doesn't compromise on security or accessibility:
Multiple wallet creation and management in-app
Intuitive multisignature security for personal or shared wallets
Easy spending proposal flow for shared wallets and group payments
Hierarchical deterministic (HD) address generation and wallet backups
Device-based security: all private keys are stored locally, not in the cloud
Support for Bitcoin testnet wallets
Synchronous access across all major mobile and desktop platforms
Payment protocol (BIP70-BIP73) support: easily-identifiable payment requests and verifiably secure bitcoin payments
Support for 150+ currency pricing options and unit denomination in BTC or bits
↓ 10 – Electrum | Google Android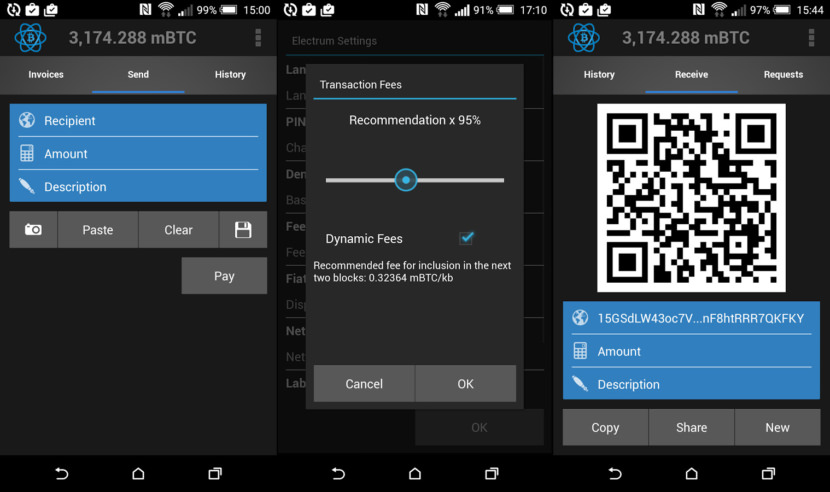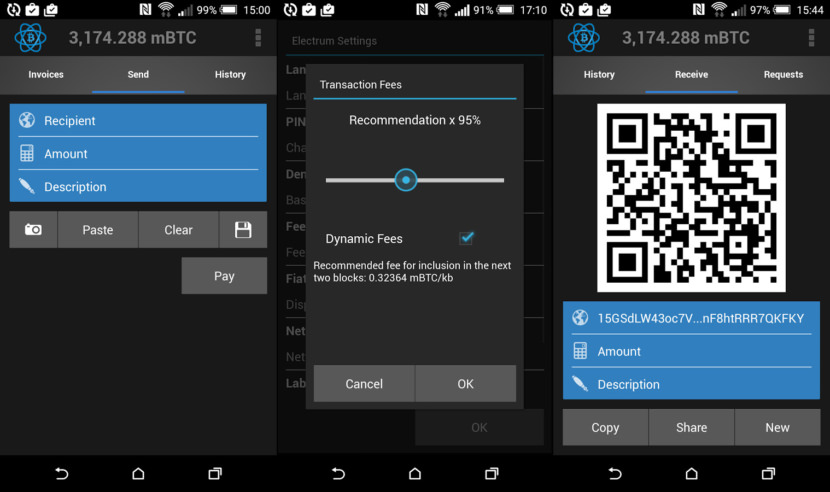 Securing Bitcoin payments since 2011, Electrum is one of the most popular Bitcoin wallets. Electrum is fast, secure and easy to use. It suits the needs of a wide spectrum of users.
Safe: Your private keys are encrypted and never leave your device.
Forgiving: Your wallet can be recovered from a secret phrase.
Instant On: Electrum uses servers that index the Bitcoin blockchain making it fast.
No Lock-In: You can export your private keys and use them in other Bitcoin clients.
No Downtimes: Electrum servers are decentralized and redundant. Your wallet is never down.
Proof Checking: Electrum Wallet verifies all the transactions in your history using SPV.
Cold Storage: Keep your private keys offline and go online with a watching-only wallet.
↓ 11 – breadwallet [ Discontinued ] | Apple iOS | Google Android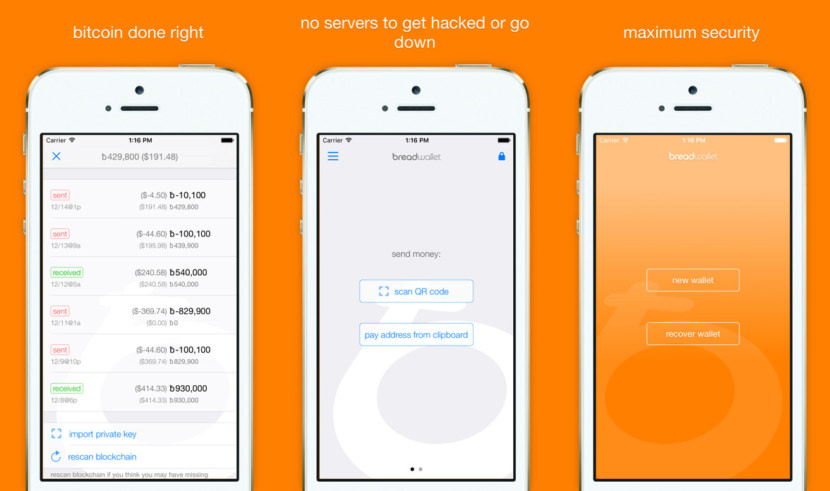 breadwallet is your on ramp to bitcoin – the future of money. Intuitive and secure, breadwallet gives you complete control over your bitcoin. Send and receive bitcoin payments instantly, with the safest mobile wallet available.
breadwallet is the only iPhone wallet which connects directly to the bitcoin network. This means that there are no servers to get hacked or go down – your funds are always safe. Even if your phone is lost, damaged or stolen, you can easily recover your funds using your personal recovery phrase. Designed with beautiful simplicity as the core design principle, breadwallet is easy and intuitive for anyone to use. Now everyone can participate in the future of money.
Send and receive bitcoin payments in seconds, online or in person
One button payments to bitcoin-accepting merchants and websites
Store your bitcoin safely and securely using built in hardware encryption
Simple recovery phrase enables you to recover funds when your device is lost or broken
Direct bitcoin network client – no servers to get hacked or go down
breadwallet is open source and free. There are no extra transaction fees or costs. Send any amount of money to anyone in the world instantly. This is how money should be.
↓ 12 – Simple Bitcoin [ Discontinued ] | Google Android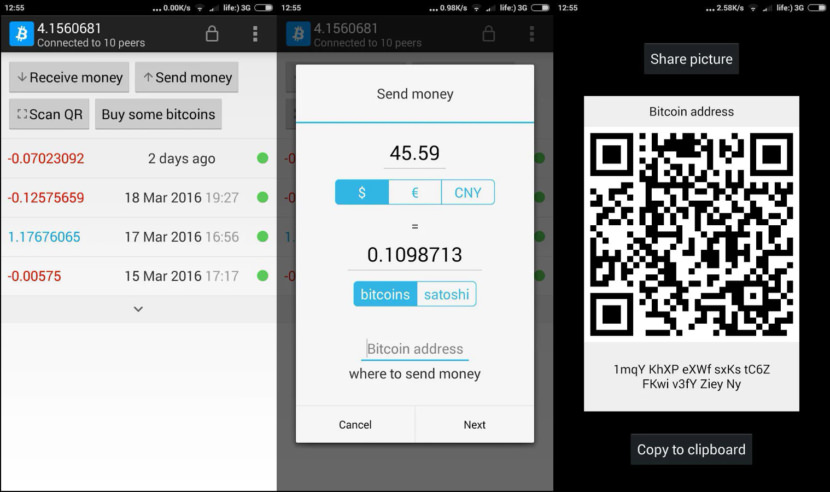 Simple Bitcoin is a standalone wallet for Android devices which does not depend on any centralized service and gives you full control over your precious bitcoins. Here are some reasons to use it:
A single-page application which allows you to store your bitcoins securely and transfer them easily.
It is an HD wallet which means your balance and full transaction history can always be restored using a single mnemonic code should anything bad happen to your device.
This wallet is lightweight and blazingly fast. It works well even on a slow internet connections.
Wallet data is encrypted and password-protected. Emergency Lock and Destruction Code can preserve your funds in a situation when you are forced to reveal a password.