Which is the best smartphone camera for shooting in RAW format? As smartphone's camera becomes more powerful, it has essentially replaced the Digital Compact Camera dominated by Canon, Sony and Nikon. Today's smartphone camera is 10 times better than the second or third generation digital compact camera, thus making it an ideal entry point for those interested in photography but don't want to invest in a DSLR first. Skill is always more important than hardware, once you have the necessary skills, any picture taken with any camera is as good as what can be achieved with a simple DSLR.
🤣😍😂 6 Virtual Phone Number App For iOS And Android Smartphones
The first step towards being a pro in photography is to shoot in RAW. So what is RAW? RAW is a file format that captures all the data recorded by the sensor. Unlike JPEG, there is no compression and no loss of information. For this reason, RAW allows photographers to work with a wider range of colors and tones. More importantly though, RAW allows the correction of imperfections in post, including under/over exposure, the recovery of highlights/shadows, and of course temperature and tint.
Skills not only include taking the right picture as the right angel and at the right perspective, it also includes processing the image on Photoshop, bringing out the best composition. The below comparison shots clearly highlight the benefits of shooting in RAW. We recommend that you select the RAW+L format, which saves a RAW image as well as a full resolution JPEG.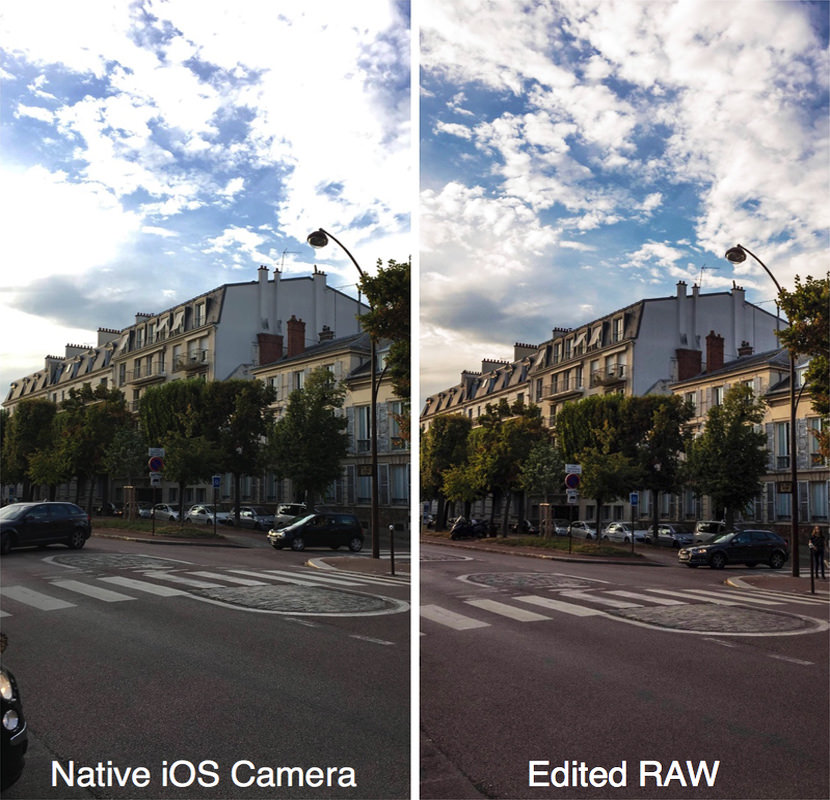 Surprisingly the best cell phone with the best lens for taking the best photos is not Apple's iPhone. DxOMark website provides DxOMark Mobile ratings [ Best Smartphone Camera For Photography ], mobile reviews and explanations on how DxOMark is testing camera-embedded mobile devices, and according to them, these are the smartphone with the best cameras lens for mobile photography at the time of writing. Note: Not all smartphone in the list below supports RAW.
1st – Google Pixels
2nd – HTC 10, Samsung Galaxy S7 Edge and Sony Xperia X Perf.
5th – Moto Z Force Droid, Samsung Galaxy S6 Edge Plus, Sony Xperia XZ and Sony Xperia Z5
9th – Apple iPhone 7, LG G5, Samsung Galaxy Note V and Samsung S6 Edge
13th – Huawei Mate 9 and LG V20
15th – Apple iPhone 6s Plus, Google Nexus 6P, Moto Z Droid, Moto G Plus and Moto Droid Turbo 2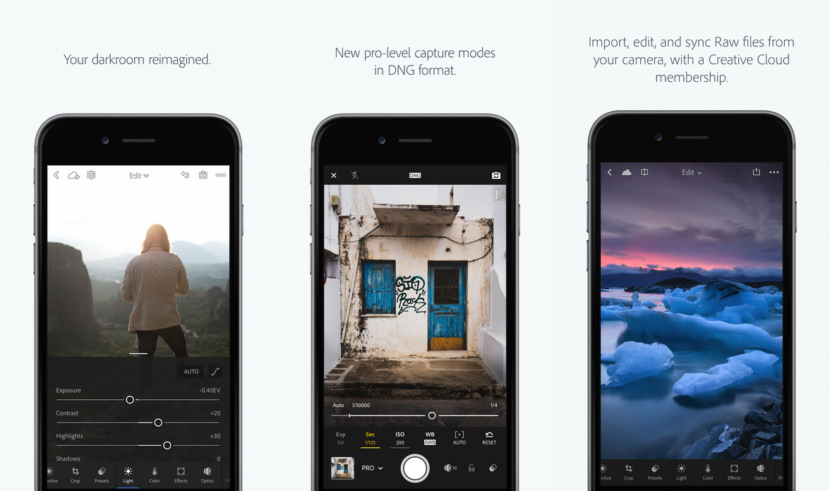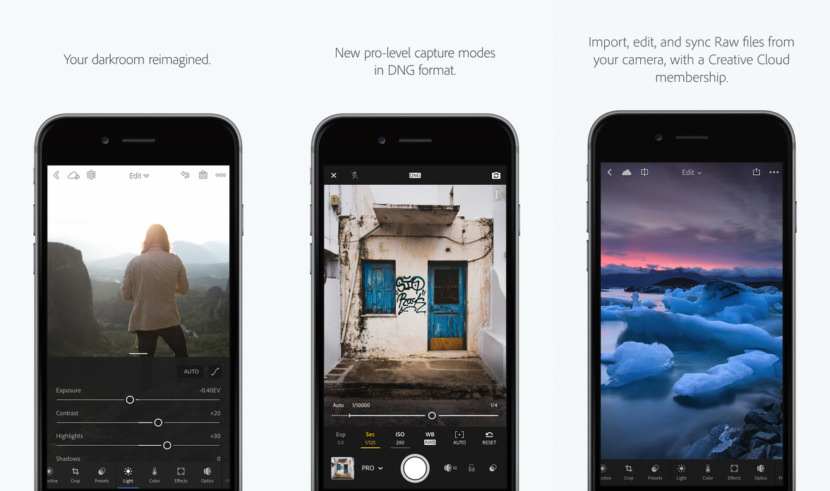 Import, edit and sync the raw photos you take with your camera (Paid Feature). Craft and share pro-quality images from your smartphone or tablet using simple yet powerful tools built with Adobe Photoshop technology. Perfect your shots in a tap with more than 40 presets.
Experiment with color, adjust clarity and add vignettes. You can even connect to other Adobe apps like Photoshop Fix to retouch and refine your work. Become a Creative Cloud member or start a free Creative Cloud trial and get everything you need to make beautiful photos including:
Access to Paid Features in Lightroom for Mobile:
Import, Edit and sync raw photos from your camera
Local Adjustments
Lightroom CC for your computer – All the editing tools found in Lightroom Mobile plus additional tools that give you precise control over the color and tone of your photos with selective local adjustments, and more.
Sync your photos across Lightroom on all your devices
Photoshop CC for your computer – The world's best tool for combining multiple images, removing objects, and retouching your photos.
Access all your Lightroom photos in Photoshop Mix, Photoshop Fix, Spark Video, Spark Page and Premiere Clip, thanks to Adobe CreativeSync technology.
↓ 02 – ProShot | USD4 | iOS | Android | Windows Phone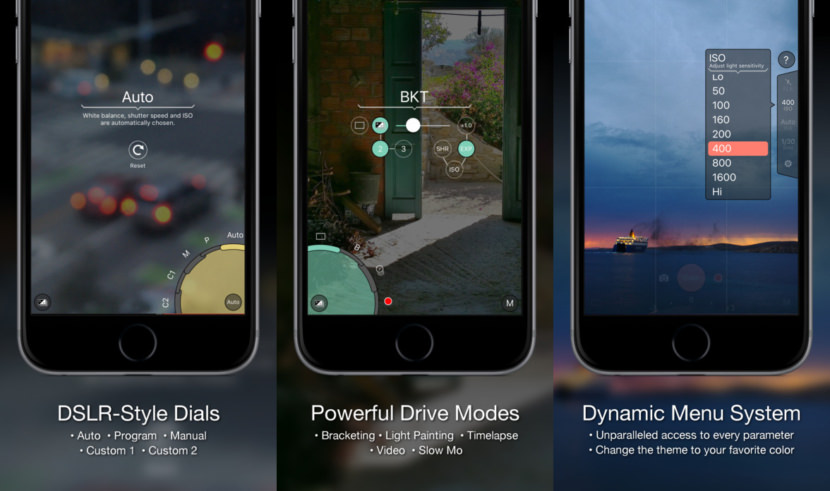 This photography application is by far better than Apple's photo app. It allows you to choose a 16×9 aspect ratio! Apple's app does not and puts black bars on the top and bottom, this is 2015 Apple, get with it… I love how you can focus the light source and get a better photo. You could actually do HDR this way. Taking a HDR image with this app would be a nice new feature.
Auto, Program, Manual, and two fully configurable Custom modes
Full manual control over exposure, ISO, shutter speed, white balance, torch intensity
Burst, Timer, Timelapse, and Video modes all with full manual controls, even during video recording!
4K Video
Customizable video size and FPS
Slow motion video, up to 240 FPS
Zero-lag exposure bracketing with EXP, ISO, and SHR modes
Fully featured Camera Roll integrated into the viewfinder with EXIF metadata, support for video playback, and media delete
Real-time ISO, aperture, and shutter info
↓ 03 – ProCam | USD5 | iOS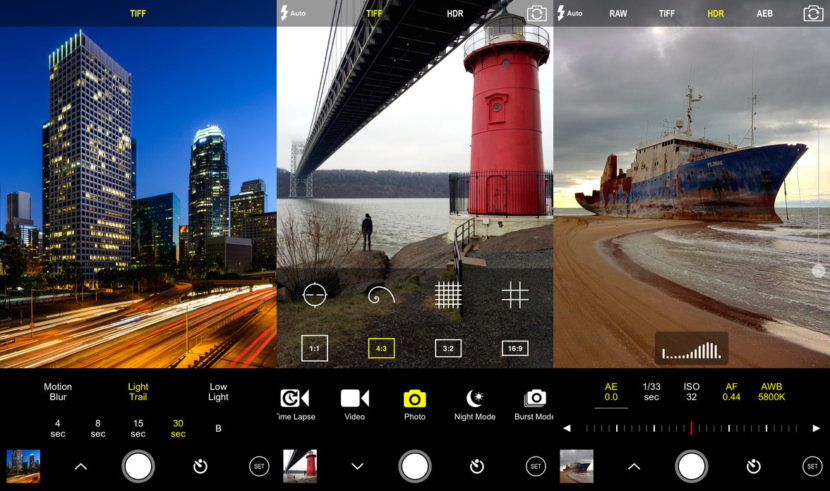 ProCam offers unparalleled control and quality with DSLR-like camera functionality and full featured photo / video editing capabilities. This app provides more control over the settings of the iPhone's built-in camera than your old compact camera probably ever did. If you're looking for a pro-grade camera app with neat photo and video editing features to boot, better set your sights on ProCam.
Manual exposure, shutter speed, ISO, focus, and white balance controls
Scroll and steppers system inspired by DSLR cameras
Tap location accurate manual focus assist
True focus peaking – iOS 9 or later
Live shutter speed, ISO, focus, and WB values
Manual controls are supported in all photo and video modes
↓ 04 – MuseCam | Free / In-App Purchase | iOS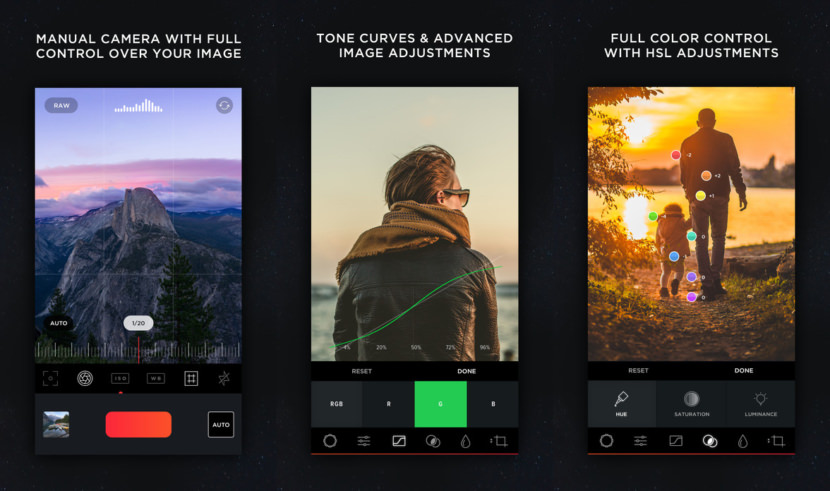 MuseCam is a next generation image editor that makes it easier than ever to capture the perfect look for your photos. Shoot and edit your images using film emulation presets, professional grade tools, and advanced camera controls. MuseCam was built by a team of photographers & creatives with the understanding that stories need to be shared. We wanted to provide you the tools to tell your story, and to take your photography further. We get our inspiration from the art and people in our community.
Manual Camera Tools – Custom exposure for your iPhone camera with independent control of shutter, ISO, white balance & focus.
Refreshingly Simple Interface – Featuring no-import editing, a clean gesture-based UI & advanced tools made simple to understand.
Create Custom Presets – Choose from presets designed by world-class photographers, or create & share your own.
Tone Curves & Color Tools – Capture the perfect tone and create emotion by adjusting the HSL of each color separately.
↓ 05 – ProCamera | USD5 | iOS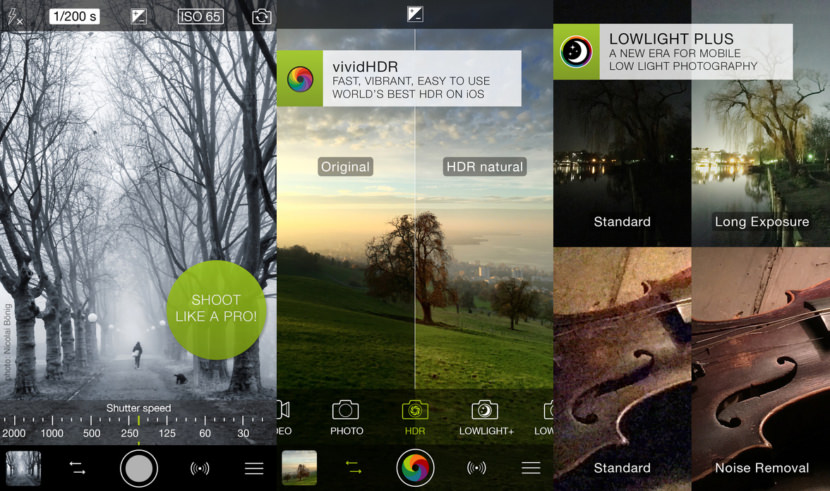 ProCamera, the gold standard for professional iOS photography, provides a highly intuitive interface for beginners as well as an impressive array of DSLR-like controls for experts. Leveraging the capabilities of the iPhone, ProCamera is easy to use, yet deep when needed!
RAW Photos – Raw capture and editing opens up a whole new area for iPhone photography. Having access to the raw sensor data allows for even more creative freedom in post-processing.
Dual-Lens Support – Support for the dual-lens camera system of the iPhone 7 Plus, including a Wide, Tele and Dual setting.
Selfie Camera – The Selfie Camera is a streamlined photo mode to enable quick and easy self-portraits. The Selfie Camera comes with our innovative Skin Tone Front Flash, which will also work on older devices. More info >>
ProTimer – ProTimer allows you to capture a series of photos. You can set up and start it directly on your iPhone or remotely via Apple Watch.
3D Tiltmeter – For perfectly straight photos at any camera orientation/angle.
Advanced HFR video recording – 240 fps slow motion capturing (iPhone6/6+).
↓ 06 – Manual | USD4 | iOS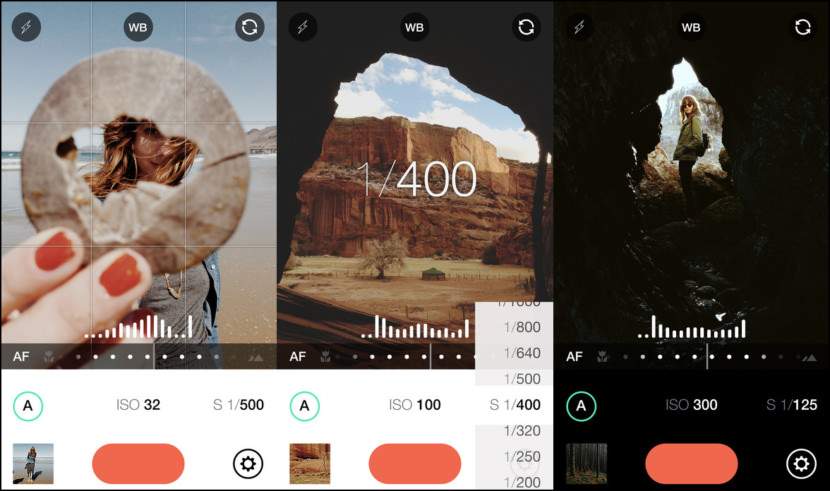 RAW capture now available! Shoot RAW in DNG format with full control of exposure. Amazing. RAW is available on iPhone SE, 6s, 6s Plus, 7, 7 Plus. Requires iOS 10. (Manual controls available to any device iOS 8 or above). A powerful camera app with full control over your image. Quickly and simply adjust all parameters of your image.
No more tapping and hoping automatic can understand what you want. Take control. If you're a photographer tired of trying to tap your way to the exposure you want, then this is the app for you. Fighting to get the sweet spot between a blown out background and a silhouetted subject? Stop tapping and just set the ISO and shutter yourself, you know how, stop letting your silly pocket computer decide what looks good to you.
Save photos in RAW DNG
Level
Live monitor automatic exposure values
Histogram
Focus Zoom
Photos save directly to Camera Roll
Fill Flash (Flashlight) Mode
Light and Dark Themes
EXIF Viewer
Rule of Thirds Grid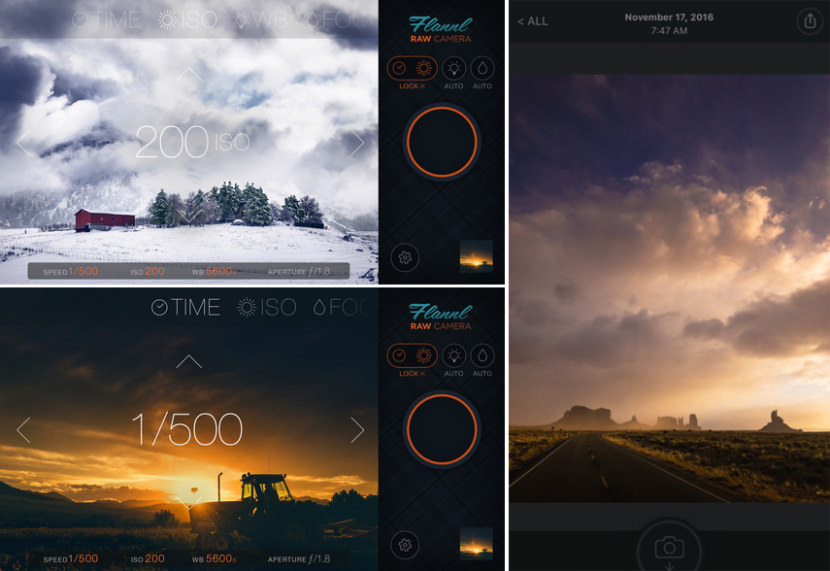 Flannl is the world's most powerful mobile camera, available now on iPhone. Mobile photography just took a major leap forward. Flannl RAW Camera is the most gorgeous, powerful camera you can carry in your pocket. Flannl finally brings the power of true RAW to the iPhone. Flannl's dead-simple one-handed operation means it has never been easier or faster to dial in the perfect exposure and capture your shot. Flannl Cam stores RAW images in a fully open Flannl DNG format. This means your best images can be opened by any DNG/RAW editor (in essence, any modern image editor).
In addition to true RAW capture, Flannl brings a whole new way to set your camera's manual settings. Get precise exposure control fast with the full-screen selector. Scroll left-right to choose the setting mode. These include Shutter Speed (Time), ISO, Focus, and White Balance. Then simply scroll up or down to adjust the settings for each mode. Need full auto? It's as easy as tapping the Exposure, Focus, or WB lock buttons to clear them.
↓ 08 – Focus | USD2 | iOS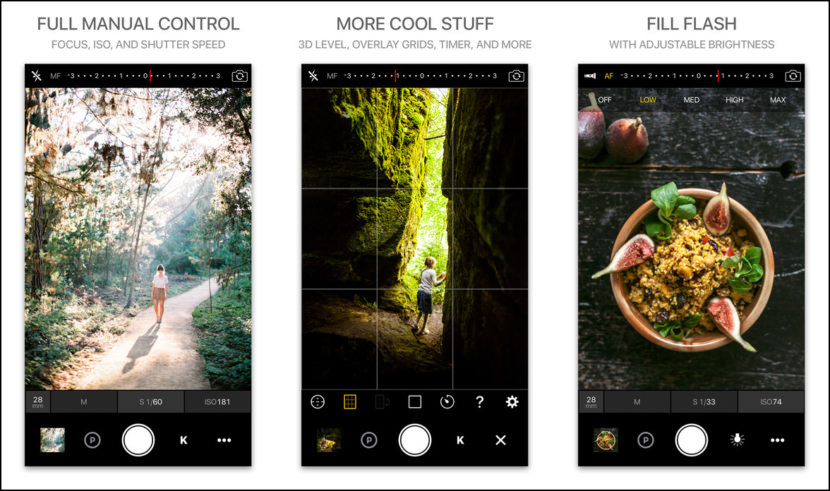 The easiest, most intuitive manual camera app for your iPhone. What's the point of manual focus if you need a magnifying glass? See what's in focus with Smart Focus Peaking. More Sweet Features:
Capture RAW or RAW + JPEG (compatible devices only)
Live Light Meter
Live ISO and Shutter Values
Shutter priority mode
ISO priority mode
3D Level
Rule of Thirds, Triangle, and Golden Spiral Overlays
3 & 10 Second Timers
Photos save directly to Camera Roll
↓ 09 – RAW by 500px [ Discontinued ] | Free | iOS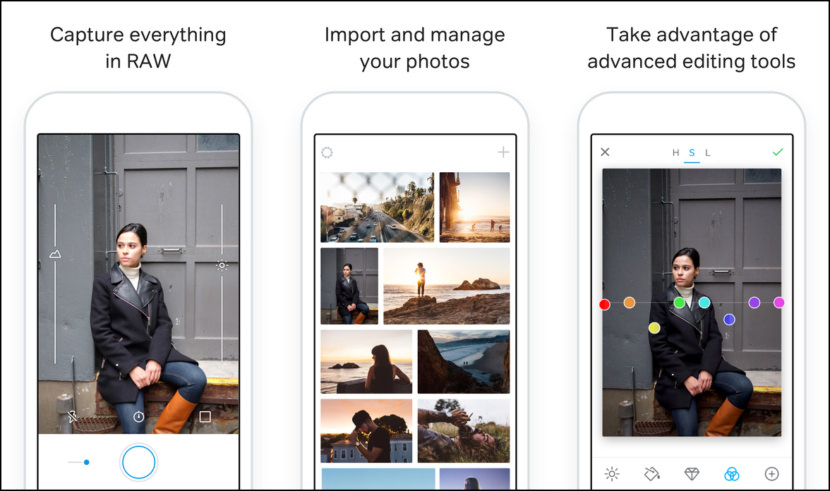 RAW by 500px is a simple and powerful photo capture, editing, and licensing workflow on your phone. RAW by 500px brings a simple and powerful photo capture, editing, and licensing workflow to your phone. Take beautiful photos with the manual camera controls. Process your photos using the fast professional style editing controls. Create and manage model releases and license your photos on the Marketplace. With RAW you can.
Capture and edit RAW photos for the best quality image
Use powerful editing tools that include hue, saturation, and luminance controls
Create your own custom filters based on your best edits
Use filters created by some of the top 500px community members
Upload and license photos to 500px and share to social networks
Create, export, and attach model releases to photos
Sign up for photography on-demand to participate in photography assignments
Get notified about assignments near you (coming soon)