Can you turn your old phone into a home security camera? You can turn your old smartphone devices as a free Wi-Fi security camera, why throw them away when with a simple app, your smartphone now comes with motion and sound detection. The only catch is, you will need to subscribe to their plans for more features such as alerts and storage.
Alternative 2020 Article ➤ 6 Best Dash Cam App for Android Smartphone [ Pros & Cons ]
Is this a long term solution compared to a dedicated CCTV camera with NAS Storage? This smartphone security camera solution is a band-aid solution, not meant for long term, reason being that smartphone's camera are not designed to run 24/7, there is a possibility it might overheat, especially in hot weather such as summer or tropical climate. Not advisable to be used under certain condition. Works great on Android 8.0 Oreo / Android 9.0 [ Popsicle, Pancakes or Pie ] smartphones such as Samsung Galaxy, Huawei Mate, Oppo, Vivo, XiaoMi, Nokia, and also Apple's iOS iPhone.
↓ 01 – WardenCam | iOS | Android | Free Trial / USD6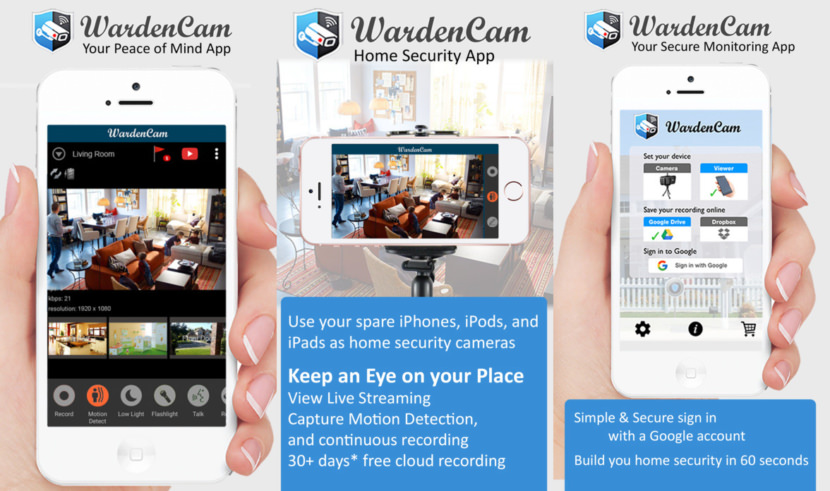 WardenCam will take any phone or tablet and put its Internet connectivity and advanced video and audio sensors to good surveillance use. Video surveillance has never been easier. Install WardenCam on two phones. One is your Camera at your designated location and take the other one with you as a Viewer. Log in with the same Google account, and that's it! You are now connected to your loved ones via WiFi or 3G/4G from anywhere in the world. With WardenCam's unique motion detection feature and Google Drive and Dropbox integration, you can enjoy peace of mind without keeping a constant eye on things. If you are looking for a home security solution, video surveillance baby monitor, pet monitor or an IP cam, stop searching now that you have WardenCam.
Motion Detection & Alert (push notification and email)
Cloud Storage (directly to your Google Drive or Dropbox)
Scheduled Motion Detection (day and time)
Night Vision Mode (enhance visibility at low ambient light condition)
Ultra High Definition Video & Audio
↓ 02 – Presence | iOS | Android | Free / USD6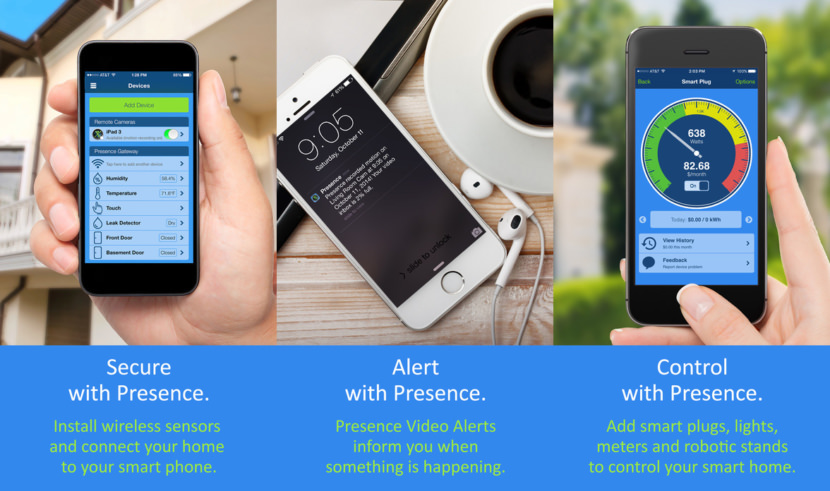 Presence re-imagines your spare iOS and Android devices as free Wi-Fi security cameras! It easily expands with add-on products to secure and control your home from anywhere in the world. Presence Security is the addition of easy to install wireless sensors that notify you and your trusted circle of friends and family when something important happens at home when you are away. No monthly fees are required! We want security to be affordable for everyone because we all have homes, loved ones and valuables that we want to protect.
↓ 03 – Alfred | iOS | Android | Free / USD4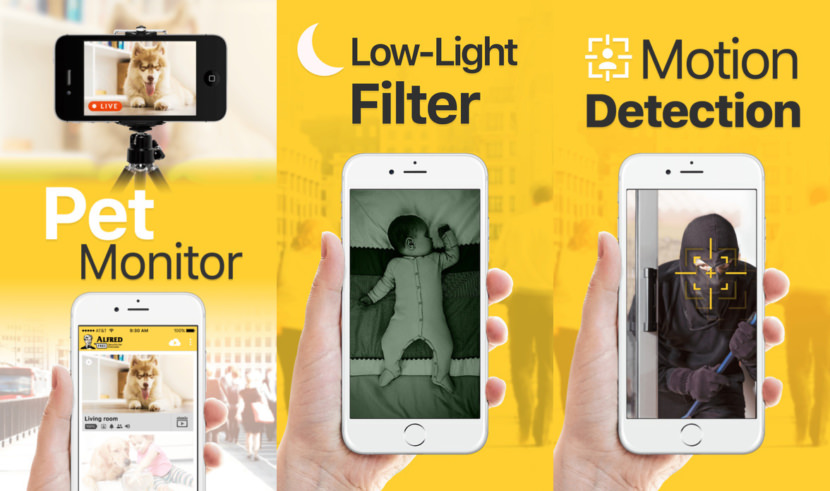 First, their logo looks like KFC's logo. Turn your unused smartphones to Home Security Surveillance IP Camera for free. Your smartphone is definitely more versatile and powerful than IP cameras in the market. If you are looking for a home security solution, baby monitor, pet monitor or an IP cam, stop searching now that you have Alfred.

Video surveillance has never been easier. Install Alfred the mobile app on two smart phones.
Home Security Camera – Motion Detection. Get instant notification when your Camera Phone picks up on any movement.
Pet Cam – Two-way Talk, Deter thieves, interact with visitors, sooth babies, correct behavioral problems
Baby Monitor – Night Vision. Observe sleeping babies, reinforce security when it's dark, monitor your pets' night life
↓ 04 – Manything | iOS | Android | Free / Paid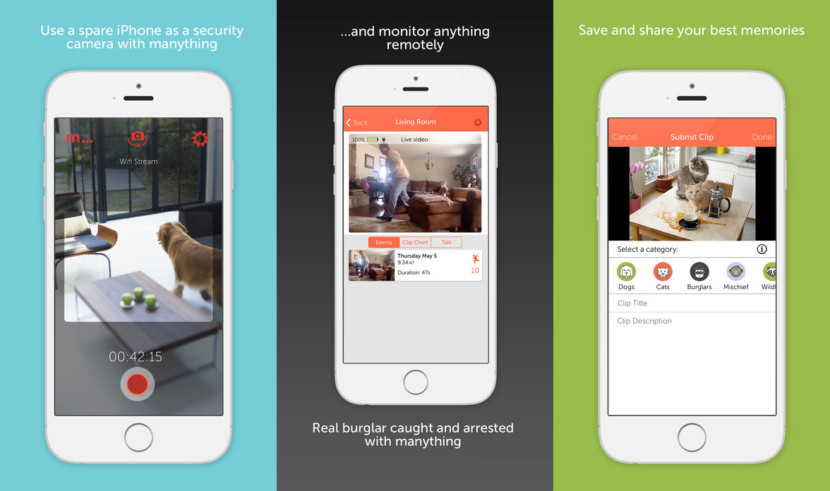 Monitor your house, pets, baby or anything with Manything! Our free app turns a spare iPhone or iPad into a sophisticated wireless security camera without the up-front costs and expensive plans of conventional security cameras. Simply install Manything on a spare iPhone or iPad and your main phone to watch live streams, view motion-activated clips or even to talk to the person at the other end from anywhere. Key features.
Easy set-up – simply install the app on both phones.
Live video streaming – CCTV functionality to see what's going on in real time.
Motion activation – camera will automatically record on movement.
Cloud-based DVR – past events are automatically backed up to the cloud.
Motion activated alerts – receive alerts on movement use as a driveway or burglar alarm.
Talk functionality – for two-way audio communication.
Adjustable motion sensitivity – ensure you only capture significant events.
Motion detection zones – only monitor the areas you need to.
IFTTT integration – for home automation and enhanced alerts.
Connectivity – use over wifi or your spare phone's data connection.
Stills only mode – for time lapse and still capture.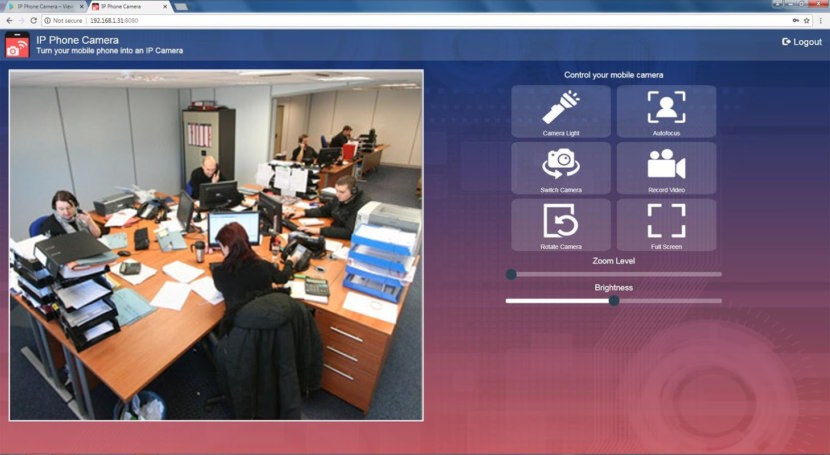 IP Phone Camera will turn your phone into a IP camera. This is a great way to utilize your old Android phones! Use any device that has a browser and an internet connection to view your mobile camera remotely. Just like any good IP camera, this application also works with video surveillance software, such as – Security Monitor Pro and IP Camera Viewer.
View your mobile camera in the browser or in a video surveillance software, such as – Security Monitor Pro and IP Camera Viewer.
No USB cable is required for connection.
Choose 'Wi-Fi', 'Mobile hotspot' or 'Mobile Data' to connect with your PC
Support for ONVIF IP cameras.
Control how and when your phone's screen should stay on. It helps to prevent mobile from going into sleep mode while streaming is in progress.
Broadcast your camera in greyscale to save data and make your camera updates faster.
Set a password to prevent anyone from randomly viewing your camera.
View camera in full screen on your PC by maintaining aspect ratio.
Switch from the front to rear camera easily from your mobile device.
Start broadcasting camera preview on application launch.
Adjust the brightness of camera preview from browser to see a clear image in low light situations.
Turn on the flashlight when your camera is monitoring over a dark place.