Have you ever wanted to mask your voice into Kylo Ren from Star Wars or Bane from Batman? How to change or mask your own voice for iPhone And Android smartphones?
🤣😍😂 4 Free Voice Recorder, Music Editor And Sound Processing Software
Due to security reasons, and privacy, voice changing apps for Google Android or iPhone iOS smartphones are not available in the official Apple Store or Google Play. The only way to do this is via a computer or jailbreak your smartphone.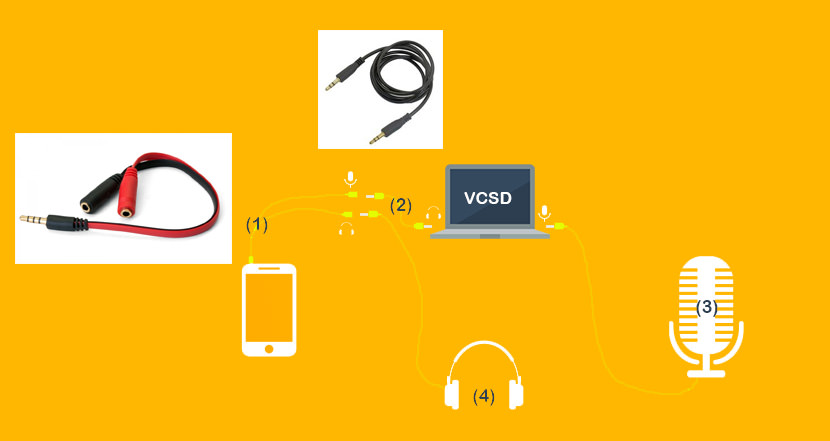 Step 1 – Insert Male Plug of Y Splitter into iPhone Earphone Jack (1)
Step 2 – Insert Jack-jack Cable: one pole into Microphone Jack of Y Splitter; another pole into Headphone Jack of your PC (2)
Step 3 – Connect a Microphone to Microphone Jack of your PC (3)
Step 4 – Connect an Earphone to Headphone Jack of Y Splitter (4)
Step 5 – Set AV Virtual Audio Device as default recording device. Right-click on Speaker icon >> Playback devices >> Playback tab. Make sure your main speaker was set at default device.
Step 6 – Switch to Recording tab >>Right-click on Microphone (Avsoft Virtual Audio Device) >> Set as Default Device.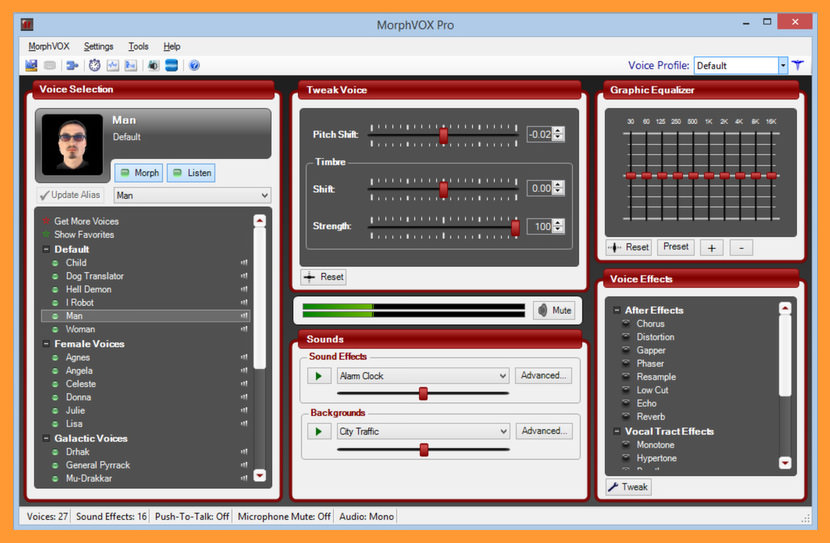 MorphVOX Junior is free voice changer software that will modify your voice to match your personality. You can sound like a man, woman, or little folk. Built-in voices and sound effects make this voice changer so convenient to use.
MorphVOX Junior is optimized for online games, but is also great for prank calling friends via instant messaging and VoIP. This voice changer can even send out car screeches and drum rolls with a push of a key, mouse or joystick button. MorphVOX Junior is fun and absolutely free. Download it today and share it with all your friends. Features:
High-quality voice changer software technology
Learns from your voice for optimal sound quality
Integrates easily with online games and chat programs
Low bandwidth and CPU usage voice changer
Built-in voices to change to: man, woman, and little folk
Built-in sound effects
Custom mouse and joystick shortcuts to common functions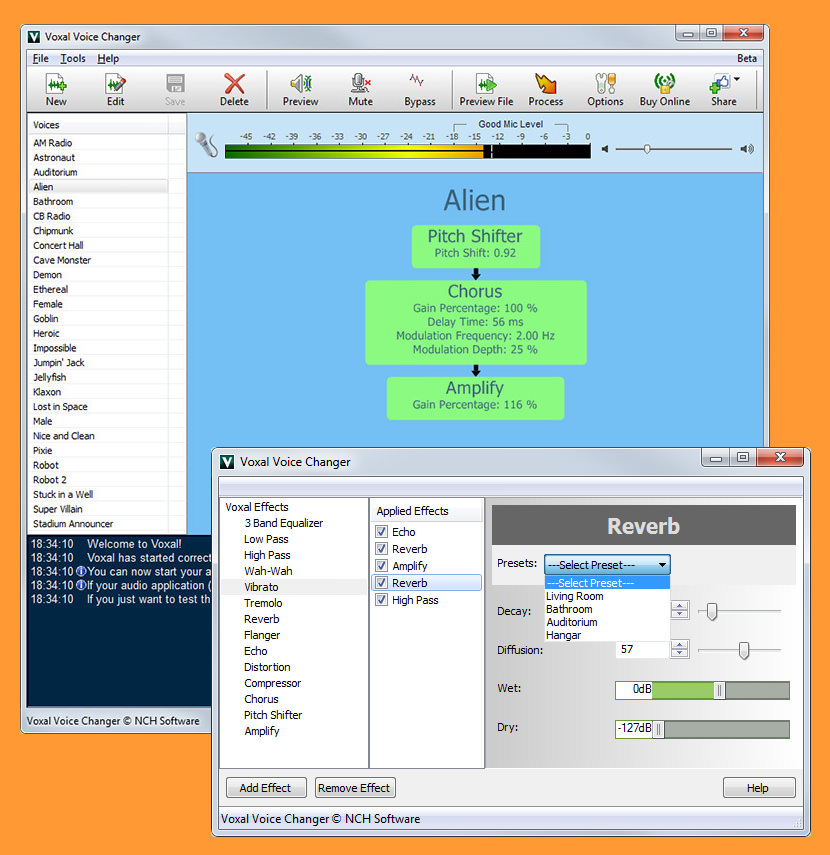 Modify, change and disguise your voice in any application or game that uses a microphone to add another dimension of creativity. From 'Girl' to 'Alien', the voice changing options are limitless.
Create voices for online video games, avatars and podcasts
Voice disguiser for anonymity over the radio or internet
Change voices for voice overs and other audio projects
Small download installs in seconds
Voxal works behind the scenes intercepting audio from your microphone before it goes to your applications, so you don't need to change any configurations or settings in other programs. Simply install and start creating voice distortions in minutes.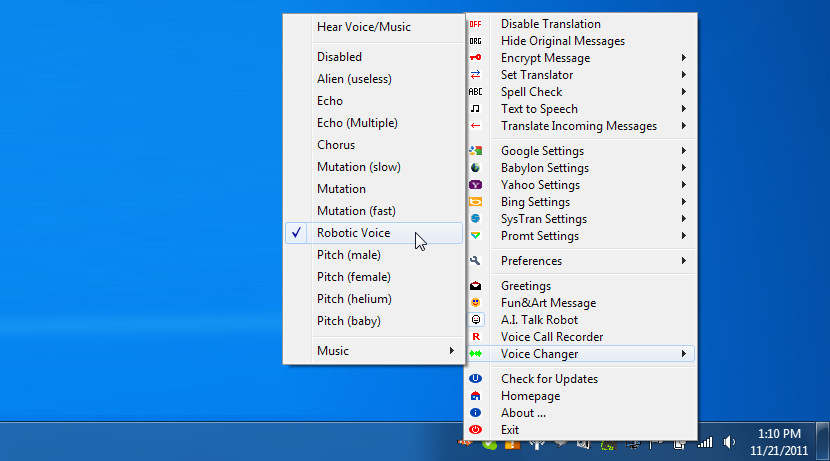 Voice Changer – modify your voice with different audio effects. List of all effects: Echo, Echo( multiple), Chorus, Robotic Voice, Pitch( male ), Pitch( female ).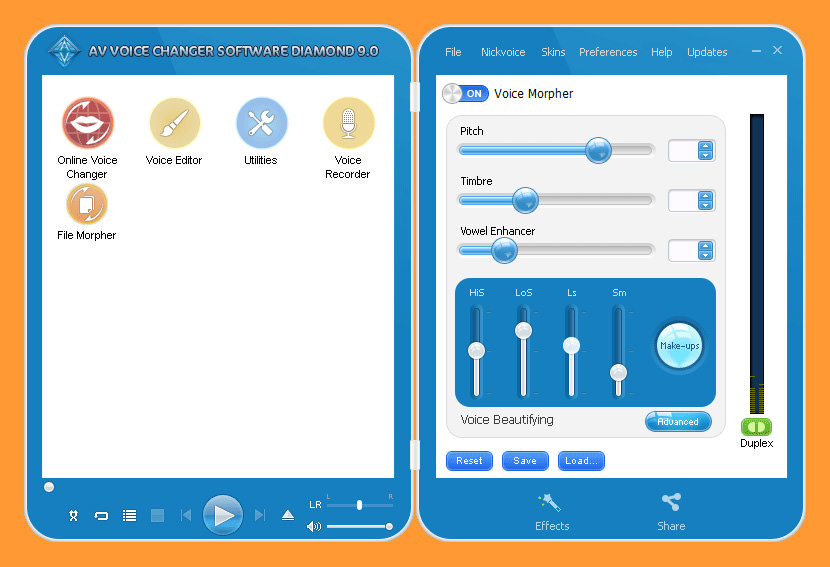 Morph and record. Cut and mix. Modify your voice or any audio file not only in real time, but also in waveform editing. Easily access and modify every characteristic of your voice. Your voice will sound deeper, higher, younger, older, more feminine, more masculine, or modified in any way you like; you're in charge. Thanks to the diversity of voice preferences and voice effects, each setting combination you create defines a truly unique voice that you can save and access at any time, or update/modify as you like.