Contrary to popular belief, you don't have to be a journalist to use the audio recording apps. It can be an effective note taking app, especially in times when you have to be discreet. Sure, every smartphone comes with a default audio recording app, but they are basic. Third party apps come with different audio quality, background noise reduction and many more for clearer and sharper sound.
🤣😍😂 7 Free Calendar Reminder Apps – Create To Do List And Voice Notes
Watch the documentary embedded above, because the guy always kept his smartphone recording app runs on the background, he was acquitted of murder as the evidence showed he was innocent. When asked why he does that, he said it is an insurance policy in case something bad happens and he does this all the time, and that one time saved him.
↓ 01 – Dolby On | Free | iOS / Android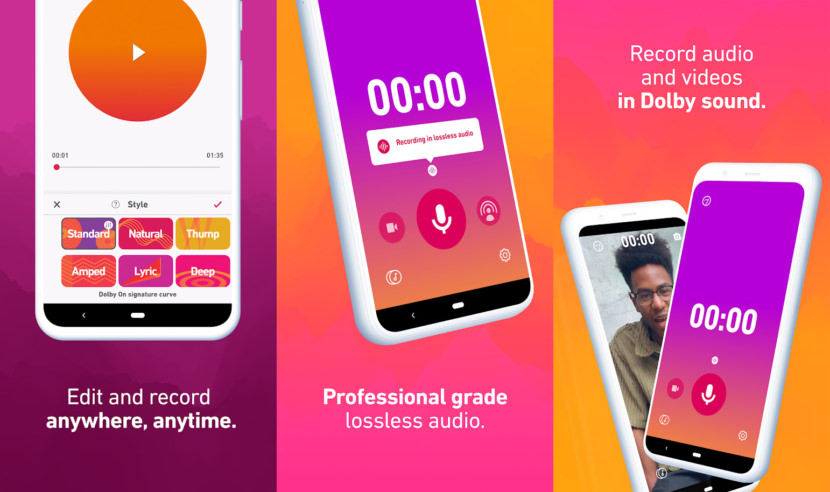 Instantly record your songs and videos or go live to your fans with audio quality you won't believe came from just your phone. Dolby On lets you capture and share your inspirations anytime and anywhere. Transform your phone into a powerful recording tool with just one tap. Record songs, sounds, instruments, podcasts, rehearsals, voice memos, ideas, lyrics, beats, and more with incredible audio quality! Dolby On is the only free recording app with cutting edge Dolby audio technology. Effortlessly record live music and videos with a suite of automatic studio effects including noise reduction, limiting, spatial audio, EQ, and more.
Clear up and improve your audio quality with noise reduction, de-essing, and a fade in/out.
Shape your audio and video recording with Dolby's unique Dynamic EQ and spatial audio for tone and space.
Optimize volume of your song recording for popular music platforms and social media platforms like SoundCloud, Instagram, Facebook, and more.
Capture ideas and demo recordings. Record your voice memos and music memos in a simple recording studio app.
Export your recordings, songs, and videos for additional editing: take your ideas into your favorite audio editor (DAW) or video editor.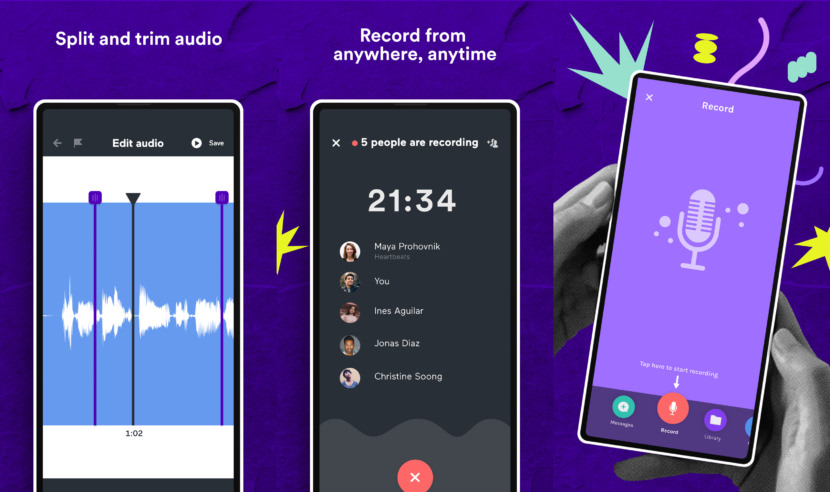 Unlike others, what makes Anchor stands out is the ability to do group recording, not to mention editing. Anchor is the easiest way to make a podcast, brought to you by Spotify. Now you can create your podcast, host it online, distribute it to your favorite listening platforms, grow your audience, and monetize your episodes—all from your phone or tablet, for free. It is also a recording app, record audio from anywhere, on any device. Visualize, edit, and arrange your audio segments using Anchor's intuitive episode builder. Add background tracks, transitions, and sound effects from our built-in audio library. Record remotely with up to 4 guests or co-hosts, wherever they are in the world.
↓ 03 – Noted | Free/Paid | iOS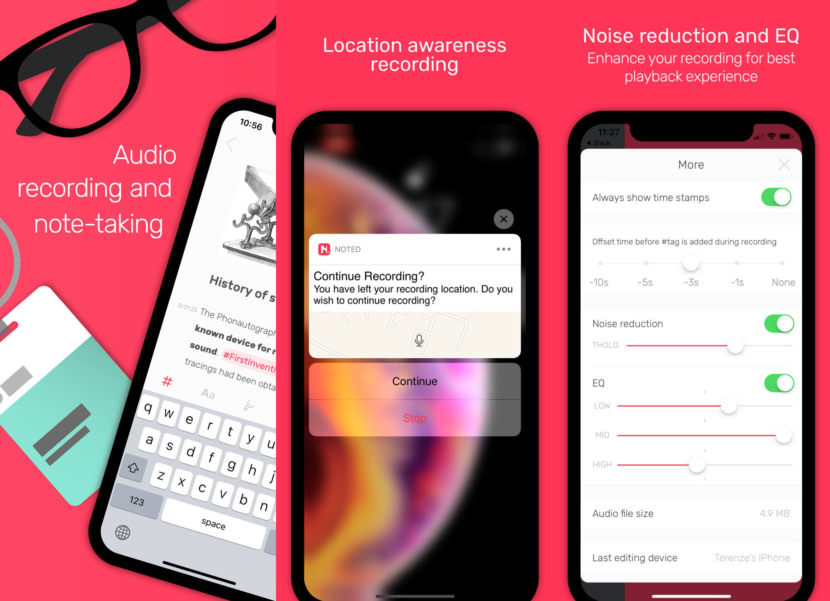 Record every detail, tag for later, play and share whenever you want. Meetings and lectures have never been easier. Noted Basic comes complete with all the core features, giving you up to five notes and all the editing, indexing and export tools you need, absolutely FREE. The advanced version Noted+ provides unlimited note-taking, noise reduction and adjustable quality audio recording, for only £0.99 per month or £9.99 per year.
Easily sync across devices via iCloud
Adjust audio quality for different needs
Noise reduction and EQ for total clarity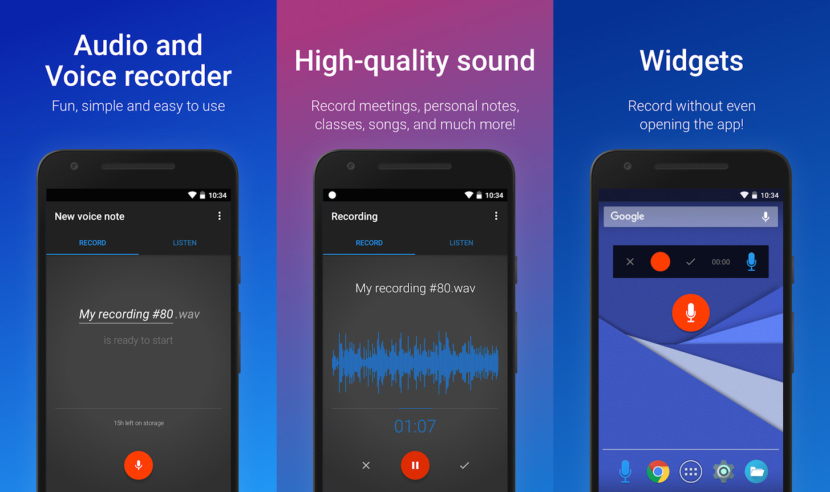 Easy Voice Recorder is a fun, simple and easy to use audio & voice recorder. Use it to reliably record your meetings, personal notes, classes, songs, and more, with no time limits! You can also use powerful audio filters on supported devices, rename and delete your recordings, save them as a ringtone, integrate with Tasker and Locale, and much more.
You can also use powerful audio filters on supported devices, rename and delete your recordings, save them as a ringtone, integrate with Tasker and Locale, and much more.
Record to high-quality PCM and AAC, or use AMR to save space.
Record in the background and control the recorder with a home screen widget.
Boost input volume with microphone software gain.
Skip silent parts.
Manage and organize your recordings with folders, and save recordings to your SD card.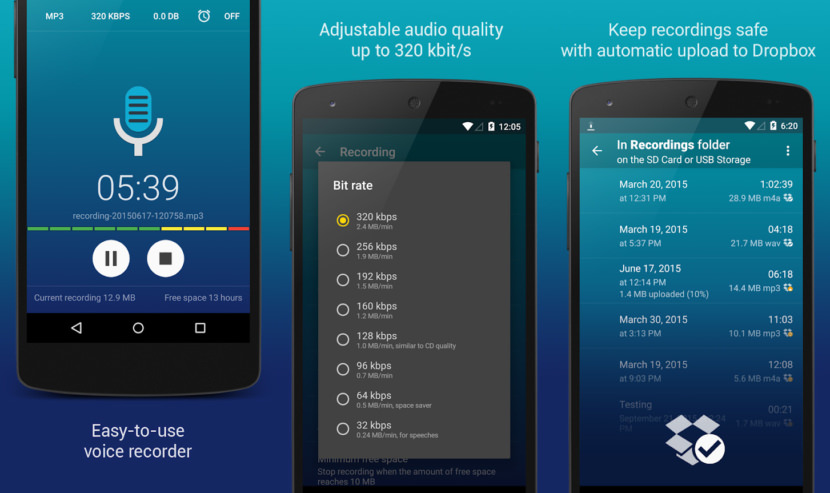 The Hi-Q MP3 Voice Recorder takes mobile sound recording to the next level. Feature-packed and loaded with customization options, and with high-fidelity 44 kHz audio sampling, it's miles ahead of any standard recording app. Personal voice notes, group discussions, band practice, concerts, lectures, talks, sermons and so much more—if you can hear it, the app can record it.
With the Hi-Q MP3 Voice Recorder you won't ever have to fuss with your phone to get the best recording quality. Record yourself and practice for a presentation, record song ideas and brainstorming sessions, record anything!
Gain. Specify input gain settings in real-time for optimum recording in various noise levels.
Input Selection. Select the more sensitive front microphone, or the clearer back microphone as you wish (depending on individual device).
Quality Settings. Customize audio quality with changeable bit rate up to 320 kbps. You can also record in WAV, OGG, M4A, and FLAC (experimental) formats.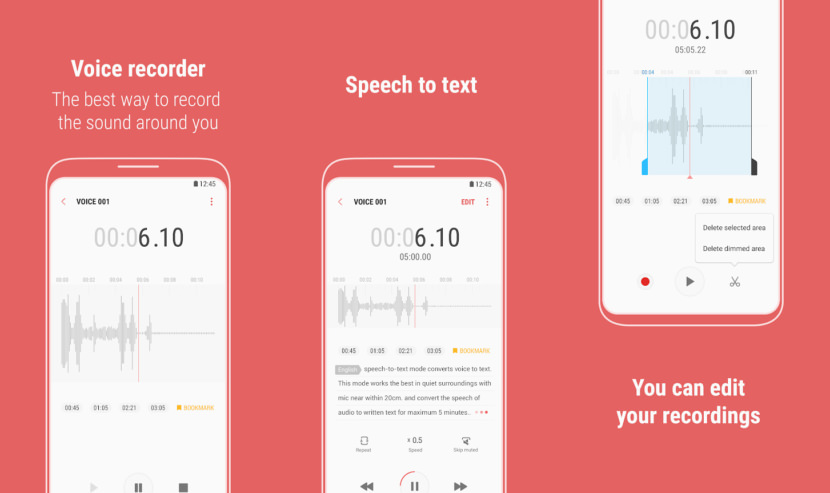 Samsung Voice Recorder is designed to provide you an easy and wonderful recording experience with high quality sound, while also offering playback and editing capabilities. For your everyday needs, they developed a "Voice Memo" recording mode so that you can convert your voice to text (Speech to text). Available recording modes are:
[STANDARD] It provides pleasantly simple recording interface.
[INTERVIEW] Two microphones located on the top and bottom of your device will be activated to capture you and your interviewer (or interviewee)'s voices, it also displays dual waveform accordingly.
[VOICE MEMO] Records your voice and then convert it to on-screen text, so called STT.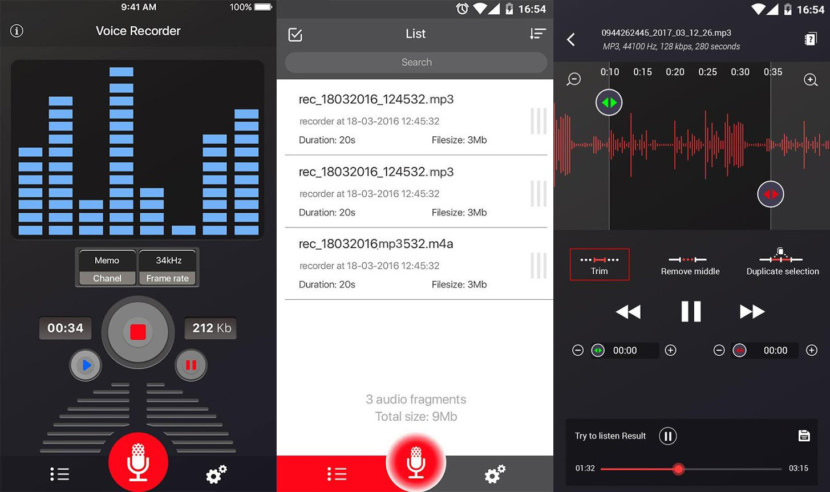 Voice recorder application is totally free. It is simple and easy to use. You can reliably record your meetings, personal notes, speeches, lectures, songs. There is no time limit. This application can record most of your sound and voice. You can record a business meeting, a lecture, or an interview. This app is the best choice. Other names which you can call it: voice recorder, audio recorder, sound recorder.
Recording with high quality.
Format file: mp3, ogg
Live audio spectrum analyzer
mp3 encoding with adjustable sample rate (8-44 kHz)
Recording in background (even when display is off)
Microphone gain calibration tool
↓ 08 – Otter Voice Notes | Free/Paid | Android / iOS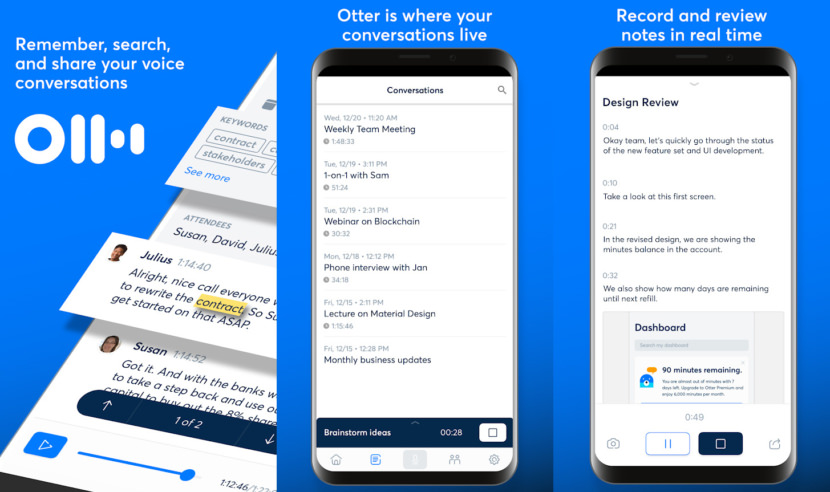 Otter is the smart note-taking and collaboration app that business people, students, and journalists use to get more value from meetings, calls, video conferences, interviews, lectures, and wherever important conversations happen. Record and review in real time. Search, play, edit, organize, and share your conversations from any device.
600 minutes of transcription per month
Unlimited cloud storage of all your conversations
Record audio via internal mic or Bluetooth device, or import existing recordings
See transcription in real-time, which you can quickly scroll back to revisit a point you missed
Snap photos (e.g. of a whiteboard, a slide, a presenter) while you record to add visual context to your conversations inline
Export audio as MP3
↓ 09 – SnipBack | Free/Paid | Android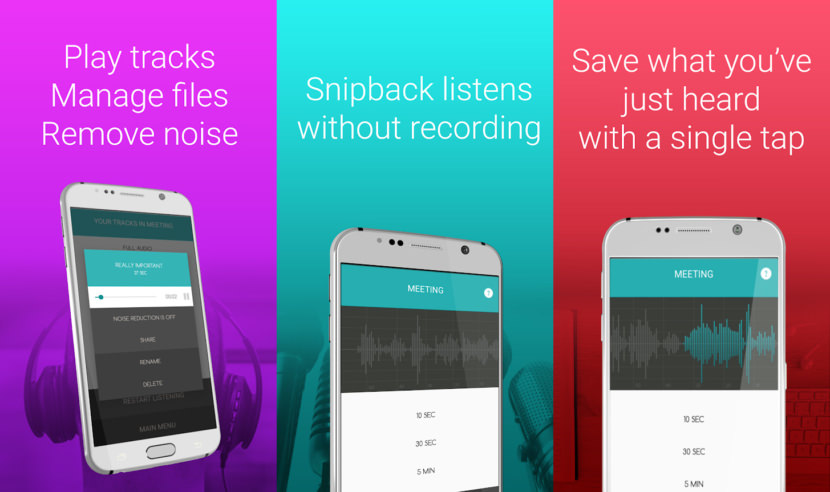 With this recording app, you simply put your smartphone in listening mode: after you have heard anything interesting, you press RETRIEVE AUDIO, and Snipback will save the last seconds of audio, from the past. Stop recording big audio files: in this way you won't have big audio files, but small and perfectly arranged audio notes.
Thanks to this smart approach to voice recording, you can take free audio memos out of a conversation, and save hi-res voice notes without running out of memory. It also works as a standard hi-res recorder if you need it. Moreover, thanks to its noise reduction feature, you will always get high quality audio recordings. Do you need to secretly record a conversation? No problem, Snipback also comes with a hidden voice recording feature! Main Features at a glance:
Hidden voice recorder feature (Listening secretly)
Always listening mode to retrieve sounds from the past
High quality sound recorder
Arrange recorded voice files in sessions
Customize recorded audio quality
Change the snippets duration (up to 30 min)