Okay Google set a reminder with an alarm… you can automatically set a reminder via Google Now by speaking to your smartphone. For those that dislike talking to their iOS Siri, Alexa or Google Now due to privacy reasons, typing on an app is the way to go. Which is the best tasks, reminders and To-Do lists software that works across all major platforms such as Windows, macOS, iOS and Android? Currently I am using the infamous 'Clear' app on my iOS iPhone, the problem I have is it runs on 1 platform and I have no way of syncing it while working on my Microsoft Windows workstation.
😭 😍 😂 7 Free Evernote Alternatives – Best Note Taking App With Simple Interface
Get the productivity boost you're looking for in these apps which combine a calendar, to-do list, and a smart assistant who'll do tasks for you so you don't have to. Getting Things Done (GTD) has never been easier! Use it for home life, work life, and anything in between. If money is not an issue, I did go for todoist, however if you are looking for a free app, Microsoft To-Do is the best, but it comes without audio or image note taking, which is only available in Microsoft OneNote.
How many times have you thought you could remember something and end up entirely forgetting what it was? This isn't uncommon behavior, and you could improve your memory by training and adopting certain techniques.
Free | With Password Protection | Text, Photos & Drawing | No Team Collaboration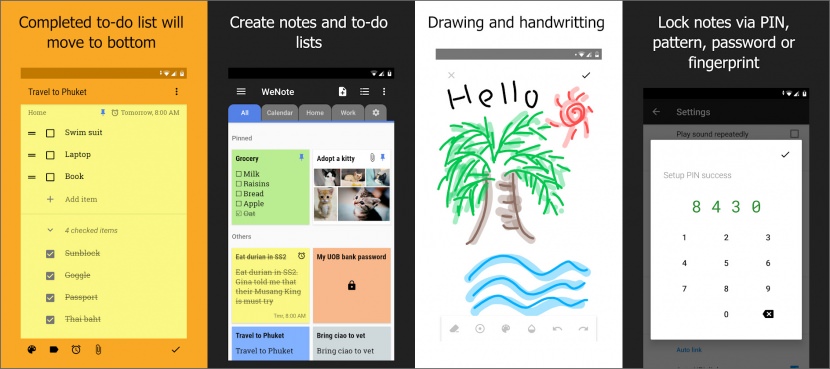 WeNote is a simple and easy to use note taking app. You can create color notes, to-do lists, reminders and calendar quickly. You can lock notes and to-do lists via PIN, pattern, password or fingerprint, to protect confidential information.
When you write down notes, emails, phone numbers, messages, cooking recipes, diary, journal, shopping lists and to-do lists, you will realize this is the easiest and quickest to use a notepad on earth. WeNote is a privacy-focused notepad. WeNote can work offline perfectly, even without Internet connection. No login required.
Lock secure notes – Lock notes and to-do lists via PIN, pattern, password or fingerprint.
Drawing and handwriting – You can attach drawing and handwriting into a note.
Audio recording – Audio recording allows hands free note-taking. You can add unlimited audio recordings into a note.
Pictures as attachment – A picture is worth a thousand words. You can add unlimited pictures into a note.
Free | Text Only | No Team Collaboration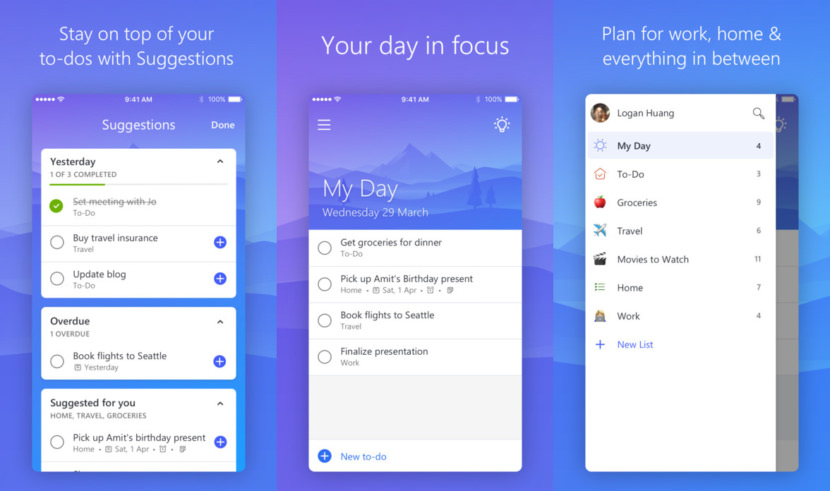 Microsoft To-Do replaced the popular Wunderlist. From work to play, Microsoft To-Do is the easiest way to get stuff done, every day. It is a simple and intelligent to-do list that makes it easy to plan your day. Whether it's for work, school or home, To-Do will help you increase your productivity and decrease your stress levels.
It combines intelligent technology and beautiful design to empower you to create a simple daily workflow. You can also use To-Do as a note-taking app, adding detailed notes to every to-do—from addresses, to details about that book you want to read, to the website for your favorite café. You can collect all your tasks and notes in one place to help you achieve more.
Freemium | Text / Attachments | With Team Collaboration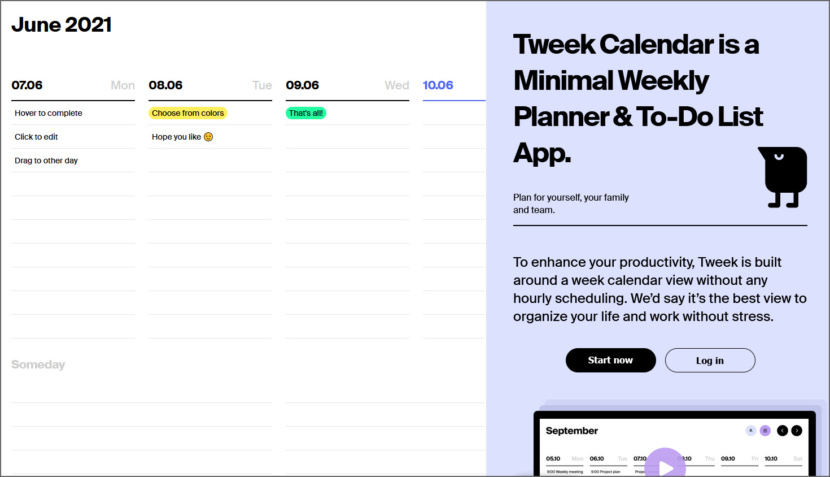 To enhance your productivity, Tweek is built around a week calendar view without any hourly scheduling. We'd say it's the best way to organize your life and work without stress. Tweek is free for up to three users. Share your calendars along with all todo lists and tasks with your friends, family or teammates.
Collaborate, add new tasks, set reminders, create notes and checklists for your colleagues and family. Get your calendar shared anytime and anywhere. Tweek is a flexible weekly planner app. The Premium version allows adding notes to the tasks. You can use the notes feature to add whatever is required for a particular task:
Subtasks
Checklists
Shopping lists
Notes
Formatted text (rich text)
Free | Text, Camera & Audio Notes | With Team Collaboration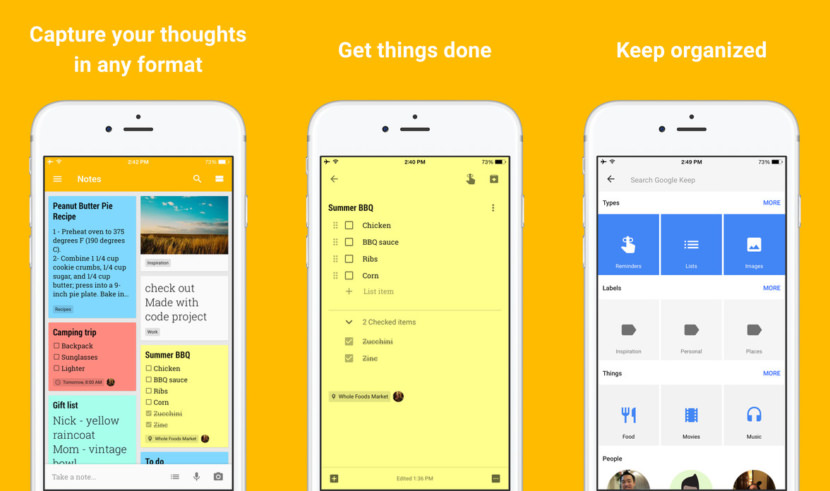 Google Keep is Google's own to-do list, the only problem is the very outdated design, somewhat child-like design, what makes it more useful than others is the ability to capture notes via the camera or record voice as notes. Google Keep works on your phone, tablet and computer.
Everything you add to Keep syncs across your devices so your important stuff is always with you. Quickly capture what's on your mind and recall it easily wherever you are. Create a checklist, enter a voice note or take a photo and annotate it. Everything you add is available instantly on all your devices – desktop and mobile.
Capture, edit, share, and collaborate on your notes on any device, anywhere.
Add notes, lists, photos, and audio to Keep.
Organize your notes with labels and colors.
Set and forget. Get reminded about a note at the right time or place.
Record a voice memo and have it automatically transcribed.
Grab the text from an image to help you quickly find that note again through search.
Freemium | Text, Camera & Audio Notes | With Team Collaboration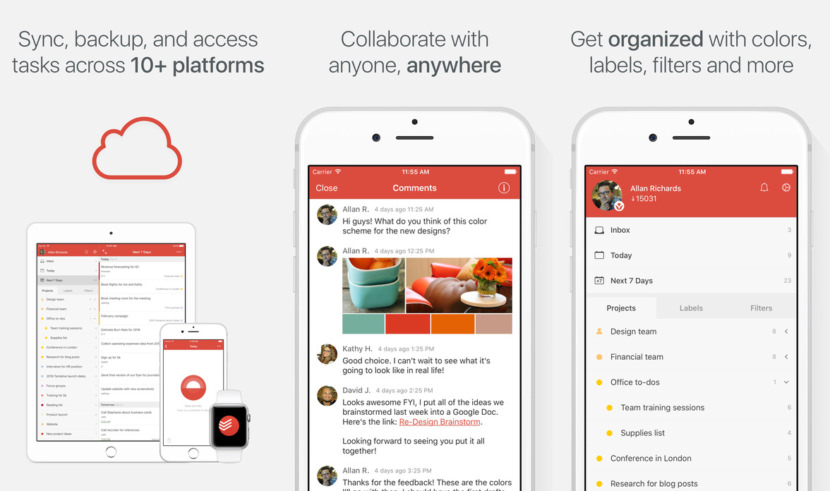 Start getting more done in less time. Manage tasks and projects anywhere with Todoist. At home. At school. At work. Online. Offline. And across 10+ platforms. Todoist offers more useful features than any other service. So you can do more to customize the experience, organize your tasks and projects, and optimize your productivity.
Collaborate on shared tasks – Share unlimited tasks with anyone – colleagues, family, friends – and collaborate in real-time on shared projects and goals.
Distraction-free design – Your tasks are a big part of your life. Stay motivated and organized with Todoist's intuitive and beautiful to do list.
Real-time data synchronization – Never think about syncing, they do it for you in real-time across all devices and platforms.
Reminders – Get reminded via email, push notification or SMS. Also receive location-based alerts when on‑the‑go.
Freemium | Text, Camera & Audio Notes | With Team Collaboration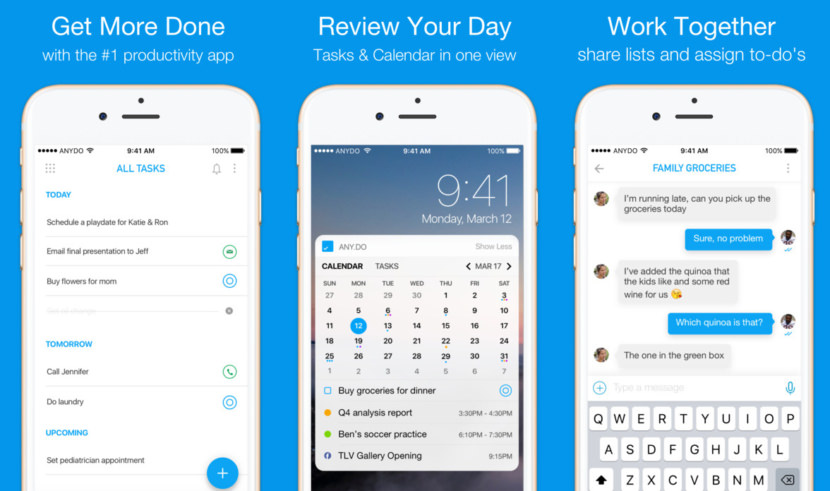 Any.DO helps you get things done with your friends in a simple & elegant way. It's free, simple & fun. Get life under control with the ultimate app for getting things done. Keep your tasks, lists and reminders in one place, always in-sync across all your devices.
Simple design means it just works
Never forget a thing with timed and location based reminders
Any.do Assistant can take care of tasks for you – it's that easy
Coordinate one on one meetings with just a few taps
7. Google Tasks | iOS | Android
Free | Text Notes | With GSuite Team Collaboration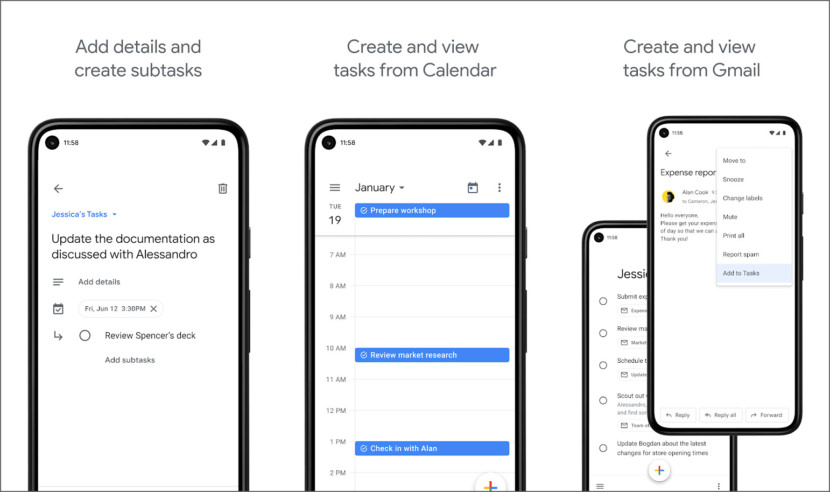 Get more done with the Google Tasks mobile app. Manage, capture, and edit your tasks from anywhere, at any time, with to-dos that sync across all your devices. Integrations with Gmail and Google Calendar help you get tasks done—faster. Connect with your team seamlessly using one suite: Gmail, Tasks, Calendar & more.