The brand new Sticky Notes for Windows has arrived! It has a new and improved design, added intelligence and Pen support, it is now easier than ever to quickly capture and add context to all your notes. However, for those that don't like the basic features offered by Microsoft Sticky Notes, there are many other alternatives.
🤣😍😂 How To Change Windows 7 Sticky Notes Font, Size, and Style
Some may find this new sticky note too 'pen' orientated, or too simple. For whatever reasons, here are some other alternatives with search capability, some with password protection and online syncing. For those using the latest Windows 10, the sticky notes by Microsoft is a much improved version over Windows 7, it is design for pen input too and sync with Android via Microsoft Launcher.
↓ 01 – Sticky Notes | Windows | macOS | Linux | Chrome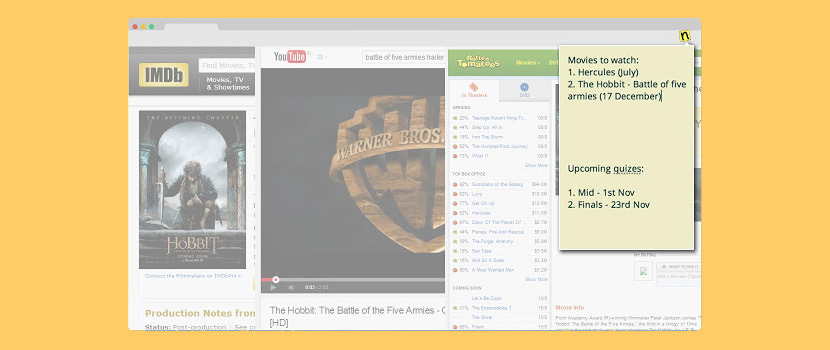 A perfect tool for taking quick notes. It's fast, secure, and private. A must have tool for everyone. Easiest way for taking quick notes. Features like font size, color & themes. Collect as you browse in an awesome manner.
Themes – Beautiful colour combination available to choose.
Secure – We use Google's chrome storage to sync your data.
Privacy – Only you own your notes data.


To-Do DeskList is a simple desktop to-do software that is powerful in its simplicity and effectiveness. There are several ways to handle such fleeting ideas – write them on paper, store them in a text file, or forget them after a few seconds. Since none of these methods is efficient, To-Do DeskList was made to help with storing such tasks and thoughts into a well-arranged and well designed to-do list in a way as simple and fast as possible.
Simple, nice looking and easy-to-use interface
Assigning priority levels to to-dos
All to-dos can have a reminder to a specific date and time
Hotkeys for adding a new to-do and displaying all to-do notes in front of other windows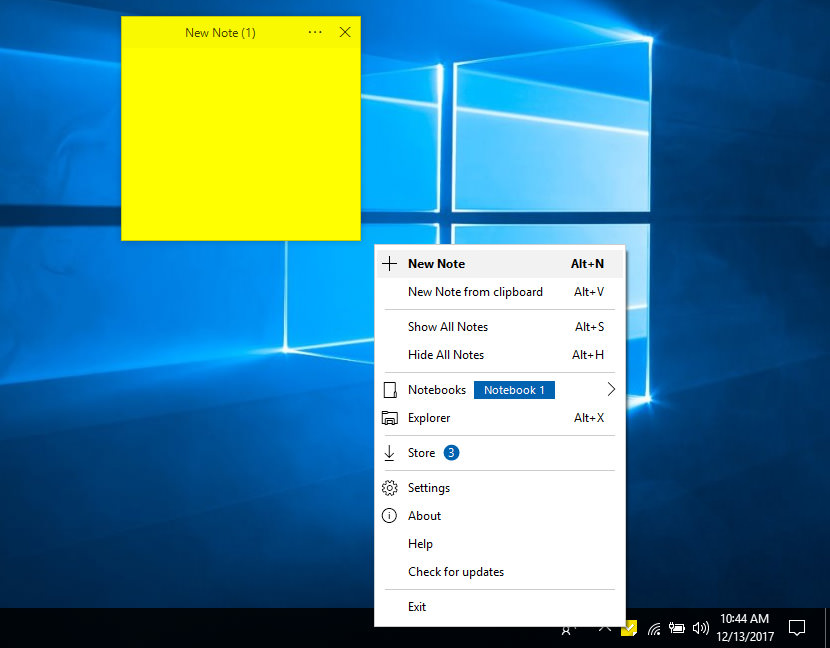 It's a simple, easy-to-use, absolutely free, fast and efficient note taking software. Take down all those annoying yellow reminder papers off your office wall and keep them neatly organized on your computer desktop. Simple Sticky Notes lives up to its title by providing a simple way of reminding yourself of important notes.
↓ 04 – Stickies | Windows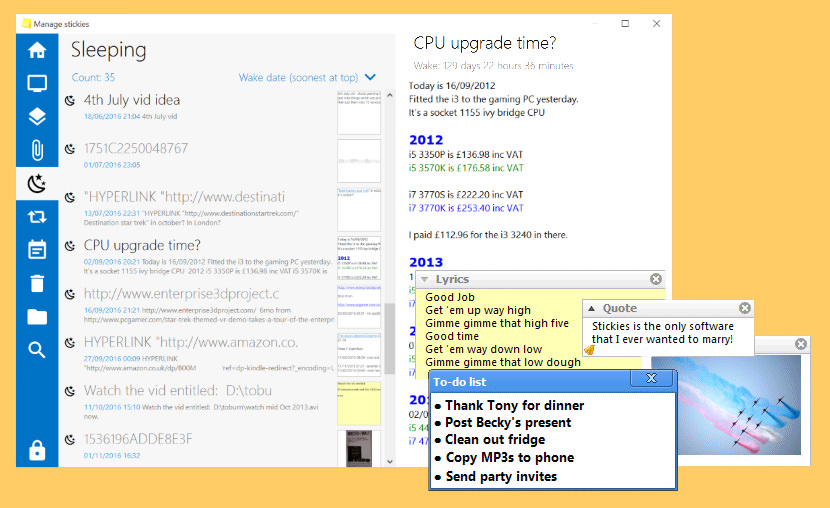 Stickies is a PC utility I wrote to try to cut down on the number of yellow notes I was leaving stuck to my monitor. It is a computerised version of those notes. The design goal behind Stickies is that the program is small and simple. Stickies will not mess with your system files, or write to the registry. Stickies stores information in a single text-based ini file.
↓ 05 – GloboNote | Windows | macOS | Linux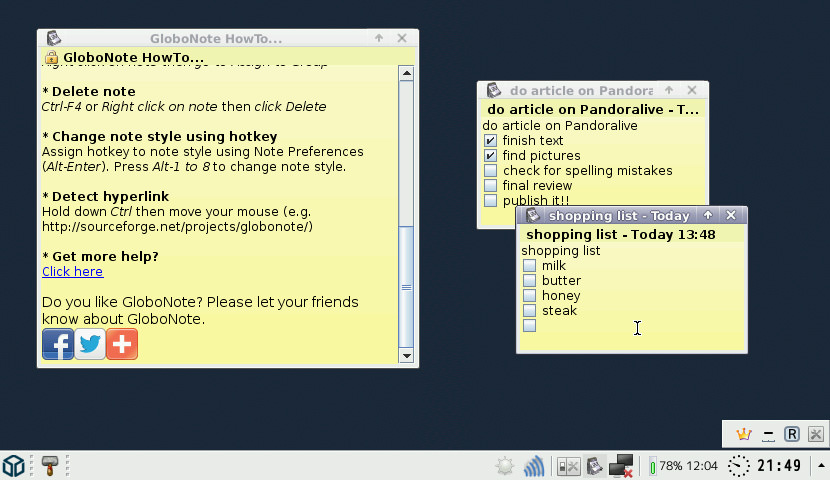 GloboNote is a 100% free and easy to use desktop note taking application. Packed with useful features that can run on any OS (Windows, Linux, macOS). You can use it to create sticky notes, to-do lists, personal journals, reminders and other notes all in one application. There are no limits to the number of sticky notes you can create. Notes can have different colors, assigned to different groups and searched using search tools.
↓ 06 – PNotes | Windows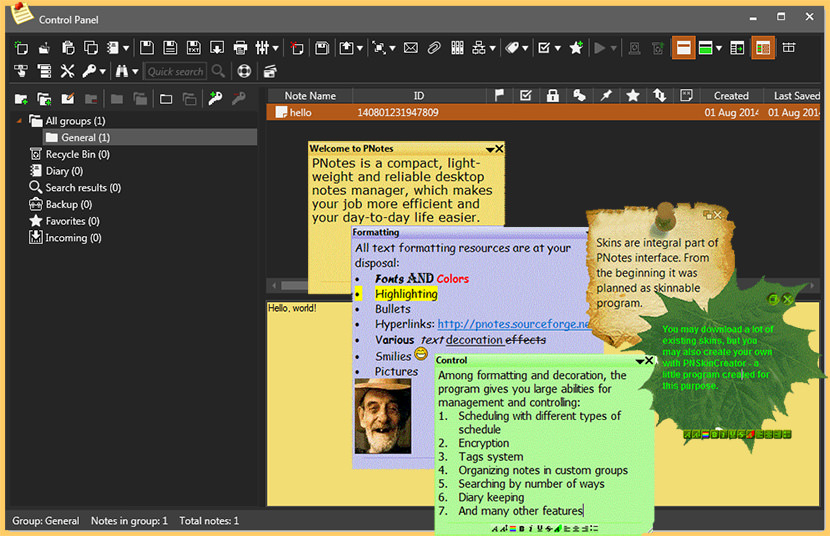 Managing your day-to-day life is not an easy job to do. There are so many things to be concerned for – housekeeping, shopping, children… And what about cousin's birthday you always forget or important phone numbers? Undoubtedly your working place is covered with dusty yellow (or blue, or pink) sticky notes. If so – PNotes is right for you. Throw the physical stickies away and replace them with virtual ones on your desktop.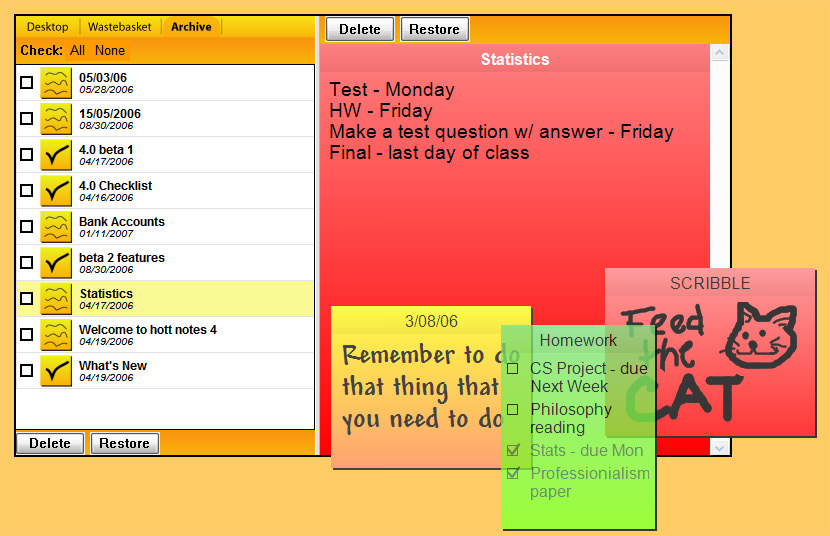 Hott Notes is a free reminder for Windows operating systems. It is totally free without additional advertisements, pop-ups, and spyware. The features that are in favor of Hott Notes are the reminder of important events, a checklist to keep track of work, scribble to write notes with style, pleasant interface, customizable themes & tools, editing notes and clicking done when finished, managing large number of notes in a single platform.
↓ 08 – Tomboy | Windows | macOS | Linux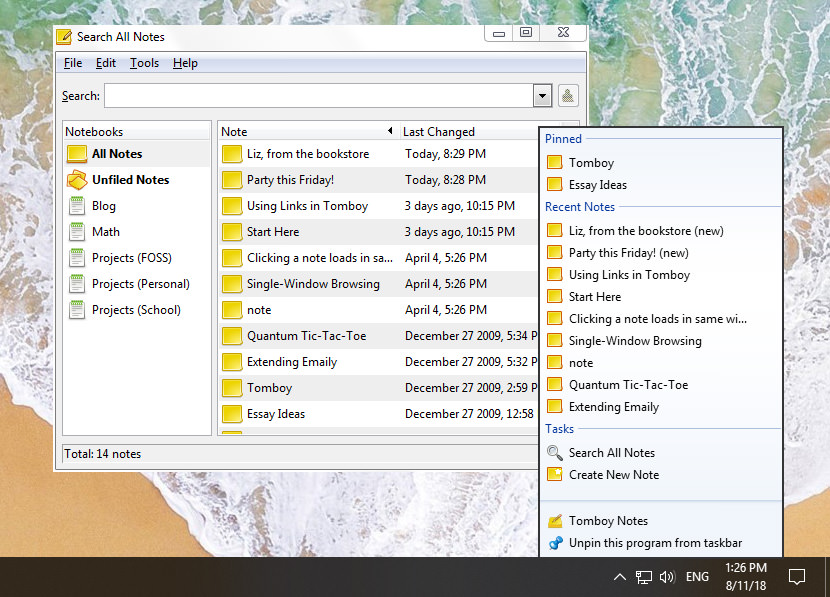 Tomboy is a desktop note-taking application for Linux, Unix, Windows, and macOS. Simple and easy to use, but with potential to help you organize the ideas and information you deal with every day.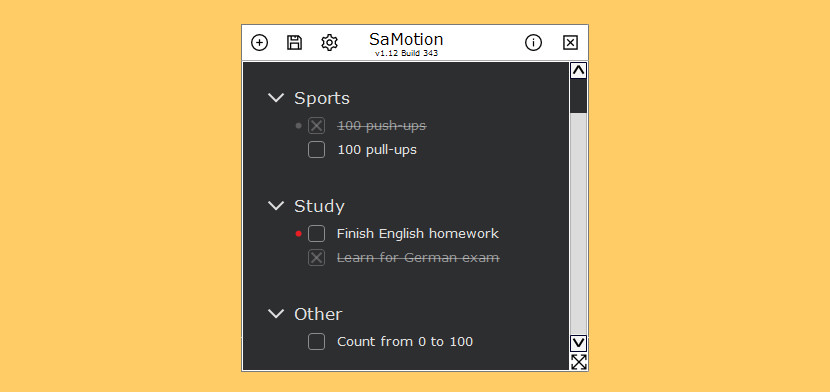 SaMotion is a simple to use, yet powerful tool to manage your tasks so you only focus on what is really needed. The docking feature allows you to use the tool in many situations. A few examples would be: As a private movie and series list, your projects or even for your real work. In addition SaMotion offers great protection of your data, by encrypting everything with Blowfish 448 Bit. You can export your graph as PDF and the project files and the executable are fully portable.