What is a spreadsheet? A spreadsheet or popularly known as Excel due to Microsoft Office, is an interactive computer application for organization, analysis and storage of data in tabular form. Spreadsheets developed as computerized analogs of paper accounting worksheets used by accountants for organizing a company's financial statements.
See More ▼ 32 Free Invoice Templates In Microsoft Excel And DOCX Formats
The million dollar question, if you run a small company, every cent counts. There is no need to pay for expensive software subscriptions when there are so many free alternatives. Unlike the olden days where compatibility is an issue, in today's world, everything is in the cloud and compatible. My favorite is Google Sheets.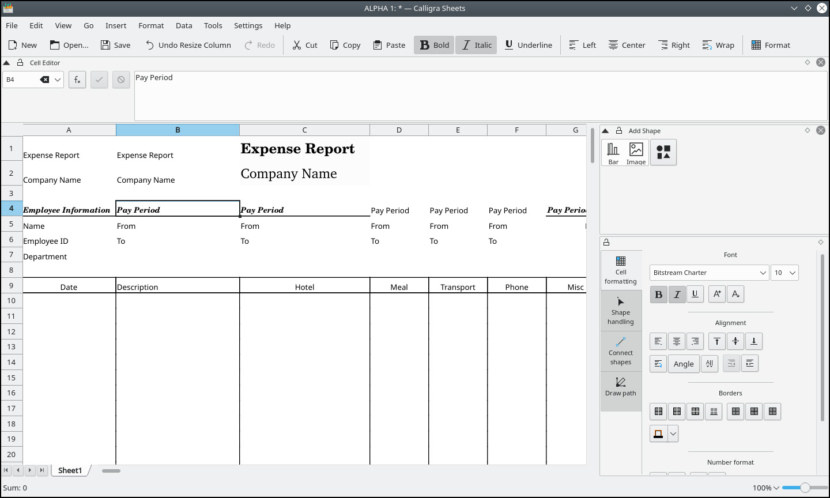 Calligra Sheets is a fully-featured calculation and spreadsheet tool. Use it to quickly create and calculate various business-related spreadsheets, such as income and expenditure, employee working hours, and more. Automate formula creation with the comprehensive formula list – be it economic or scientific, or anything else. Never struggle to remember a formula again.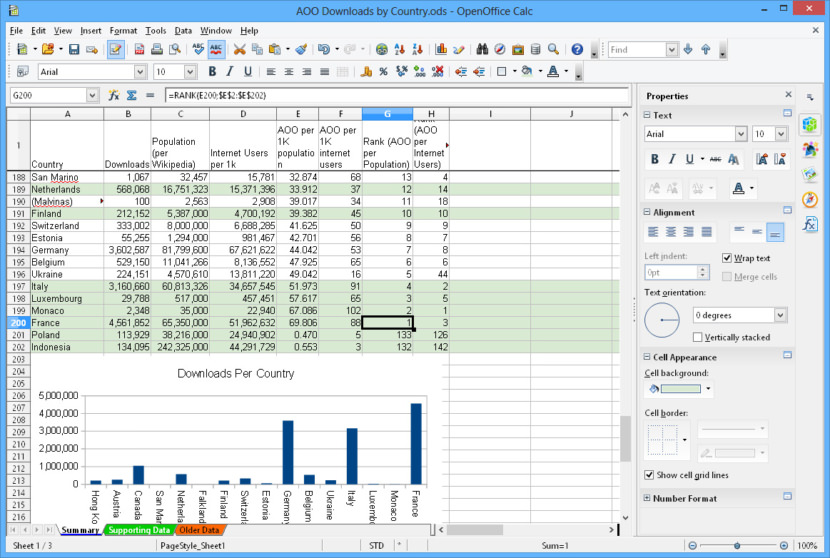 Calc, part of the Apache OpenOffice icon Apache OpenOffice suite, is a spreadsheet application. It is similar to Microsoft Office Excel icon Microsoft Office Excel , with a roughly equivalent range of features. Calc is capable of opening and saving most spreadsheets in Microsoft Excel file format. It provides a number of features not present in Excel, including a system that automatically defines series for graphing based on the layout of the user's data. Calc is also capable of writing spreadsheets directly as PDF files.
Save your spreadsheets in OpenDocument format, the new international standard for office documents. This XML based format means you're not tied into Calc. You can access your spreadsheets from any OpenDocument compliant software. You are free to import your old Microsoft Excel spreadsheets, or save your work in Excel format for sending to people who are using Microsoft products. Calc is able to read .xlsx files created with Microsoft Office 2007 or Microsoft Office 2008 for Mac OS X.
Download Script and Self Host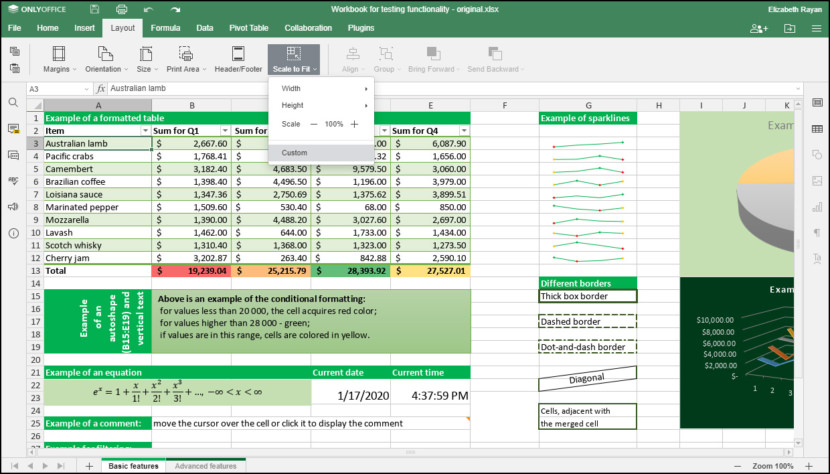 Create, edit and collaborate on Excel sheets online. Ease and automate your calculations online, have your data organized and analyzed with ONLYOFFICE Spreadsheet Editor. Open Excel online, view and edit .xlsx, .xls, .ods, and .csv files, and save online spreadsheets as a PDF.
Achieve quick and accurate results by choosing amongst over 400 available functions and formulas and using special syntax tips. Apply table templates, use named ranges, and sort and filter data to simplify working with spreadsheets. Quickly find necessary content in a sheet and replace it in one click.
Protect your spreadsheets – Set a password for the entire spreadsheet, workbook, or separate sheet. Hide formulas to keep them private.
Bring team efforts together – Work on business reports and stock recording collaboratively with your team. Access, open, and share spreadsheets or even links to specific ranges, co-edit them in real-time, leave comments on cells, and chat with collaborators online without leaving the editor.
Illustrate your data with visuals – Add charts, sparklines, and graphics. Insert equations, shapes, and images, and use Text Art, SmartArt graphic or YouTube videos for data presentation and visualization.
Automate your tasks with macros – Make your work with spreadsheets easier. Create your own macros using JavaScript language syntax, edit and save them to automate common and repetitive tasks.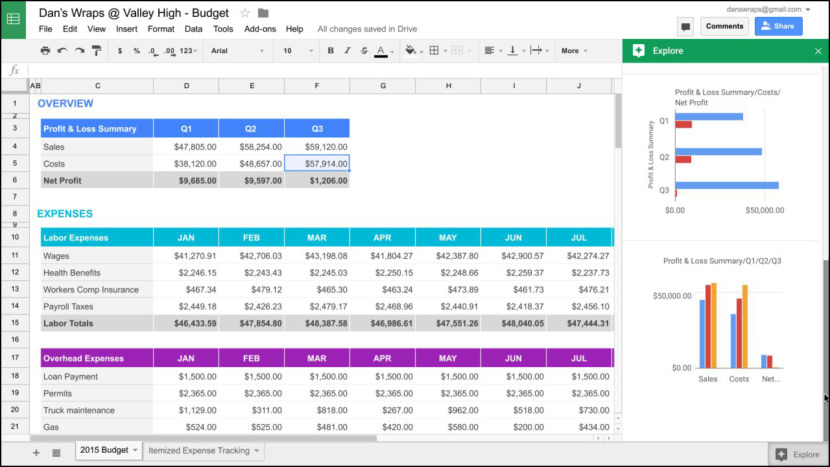 Google Sheets, part of Google Drive icon Google Drive , is an online spreadsheet app that lets you create and format spreadsheets and simultaneously work with other people. Access, create, and edit your spreadsheets wherever you are — from any mobile device, tablet, or computer — even when offline.
Import and convert Excel, .csv, .txt and .ods formatted data to a Google spreadsheet.
Export Excel, .csv, .txt and .ods formatted data, as well as PDF and HTML files.
Use formula editing to perform calculations on your data, and use formatting make it look the way you'd like.
Chat in real time with others who are editing your spreadsheet.
Create charts with your data.
Embed a spreadsheet — or individual sheets of your spreadsheet — on your blog or website.
LibreOffice is a successor of OpenOffice which forked from OpenOffice in 2010. Calc is the free spreadsheet program you've always needed. Newcomers find it intuitive and easy to learn, while professional data miners and number crunchers appreciate the comprehensive range of advanced functions. Built-in wizards guide you through choosing and using a comprehensive range of advanced features. Or you can download templates from the LibreOffice template repository, for ready-made spreadsheet solutions.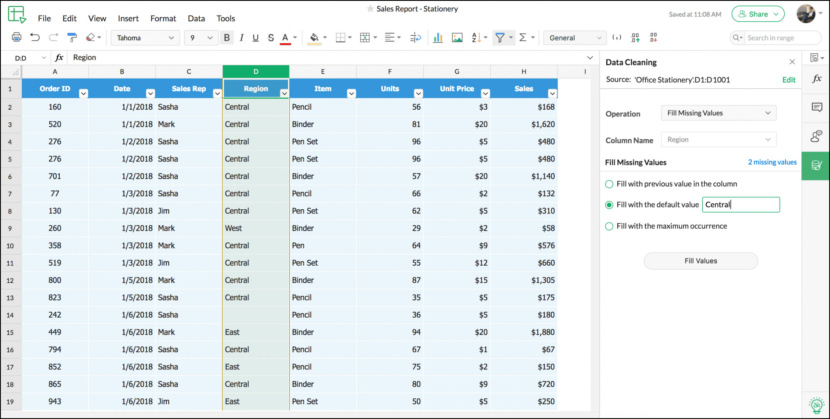 Work with Microsoft Excel spreadsheets effortlessly using Zoho Sheet. Zoho Sheet's compatibility with Excel helps you work on your spreadsheets online— just import your document and you're ready to go with no loss of formatting. Create spreadsheets your teams can easily collaborate on for free. Powered with an automated data processor, an AI-assisted data analyst, and 1000+ integration possibilities, Zoho Sheet makes data handling easier and more effective.
Collaborate, yet keep control – Lock selected cells for all or specific collaborators, restore previous versions, see what's changed since your last edit, and delegate different levels of control to different collaborators.
Data across devices – Work from anywhere, with any device. While you can access and edit your spreadsheets from any computer browser, Zoho Sheet's iOS and Android applications let you create spreadsheets and collaborate on the move.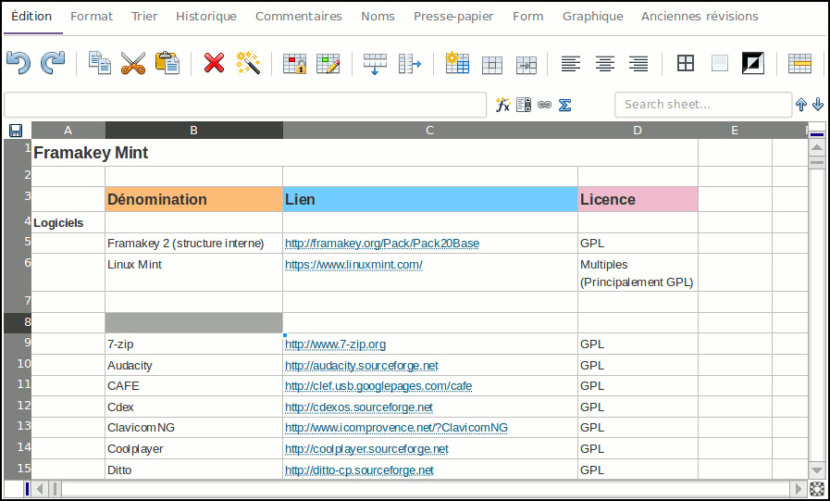 A "calc" is an online collaborative spreadsheet. Your data is automatically saved on the internet, and your friends can collaborate on the document at the same time (just provide them the address). View all changes in real time! Work together on your inventories, your surveys, your content, your meetings and much more!