Why pay when there are free alternatives? Everything is on the Cloud now. It has been a long time since I have had a copy of Microsoft Office installed onto my computer, the reason being that there are plenty of good alternatives that meet my basic needs in word editing. Microsoft Office Word, PowerPoint, and Excel are overfilled with features, a majority of us probably use less than 10% of the features available.
🤣😍😂 Free Open Source Vector Graphics Editor, Adobe Illustrator Alternative
Furthermore, I am not into downloading cracks or using a pirated copy of original software. Without further ado, here are 5 free alternatives productivity software to Google Docs (This is my default word editor), Apple iWork (Comes in all iPhone and iPad) and Microsoft Office Word, Excel, PowerPoint, Access and more.
↓ 01 – Apache OpenOffice | Offline | Windows | macOS | Linux
Writer Word Processor | Calc Spreadsheet | Impress Slides | Draw Graphics
Apache OpenOffice is the leading open-source office software suite for word processing, spreadsheets, presentations, graphics, databases and more. It is available in many languages and works on all common computers. It stores all your data in an international open standard format and can also read and write files from other common office software packages. It can be downloaded and used completely free of charge for any purpose. Apache OpenOffice is free downloadable software:
You may download Apache OpenOffice completely free of any license fees
Install it on as many PCs as you like
Use it for any purpose – private, educational, government and public administration, commercial…
Pass on copies free of charge to family, friends, students, employees, etc.
↓ 02 – LibreOffice | Offline | Windows | macOS | Linux
Word Processor | Calc Spreadsheet | Impress Slides | Draw Graphics
LibreOffice is a powerful office suite – its clean interface and feature-rich tools help you unleash your creativity and enhance your productivity. LibreOffice includes several applications that make it the most powerful Free and Open Source office suite on the market. LibreOffice is community-driven and developed software, and is a project of the not-for-profit organization.
↓ 03 – SoftMaker FreeOffice | Offline | Android | Windows | Linux
Word Processor | Spreadsheet | Presentations
SoftMaker Office has many functions of the correspondent programs from MS Office, OpenOffice.org or WordPerfect Office and also adds features such as its ability to run off USB flash drives and integrated reference works. It uses not only its own native formats, but is also highly compatible with Microsoft Office file formats.
It can read and write Microsoft Office file formats as well as OpenDocument Format (word processor only), RTF and HTML. Export to PDF function is included. Multi-language spell-checking, hyphenation and thesaurus is supported; furthermore an integrated five-language translation dictionary (English, German, French, Italian, and Spanish).
FreeOffice Mobile for Google Android Smartphone is the only office suite for Android smartphones that displays your documents exactly like they look on your PC. You can now download it for free. It reads and writes not only the old Microsoft formats DOC, XLS, and PPT seamlessly, but provides the same full-fidelity experience with the modern file formats DOCX, XLSX and PPTX of Microsoft Office 2007 to 2016.
Word | Excel | PowerPoint
Office Online is an online office suite offered by Microsoft, which allows users an easy way to access, view, create and edit documents using lightweight, web browser-based versions of Microsoft Office applications. The offering also includes Small Outlook.com iconOutlook.com, Small People iconPeople, Small Calendar iconCalendar and Small Microsoft OneDrive iconMicrosoft OneDrive, all of which are accessible from a unified app switcher. The on-premise version of this service called Office Web Apps Server can be installed in private clouds in conjunction with Small Microsoft SharePoint iconMicrosoft SharePoint and Small Microsoft Exchange Server iconMicrosoft Exchange Server.
↓ 05 – Zoho Docs | Online | Free With Limited Features
Word Processor | Spreadsheet | Presentations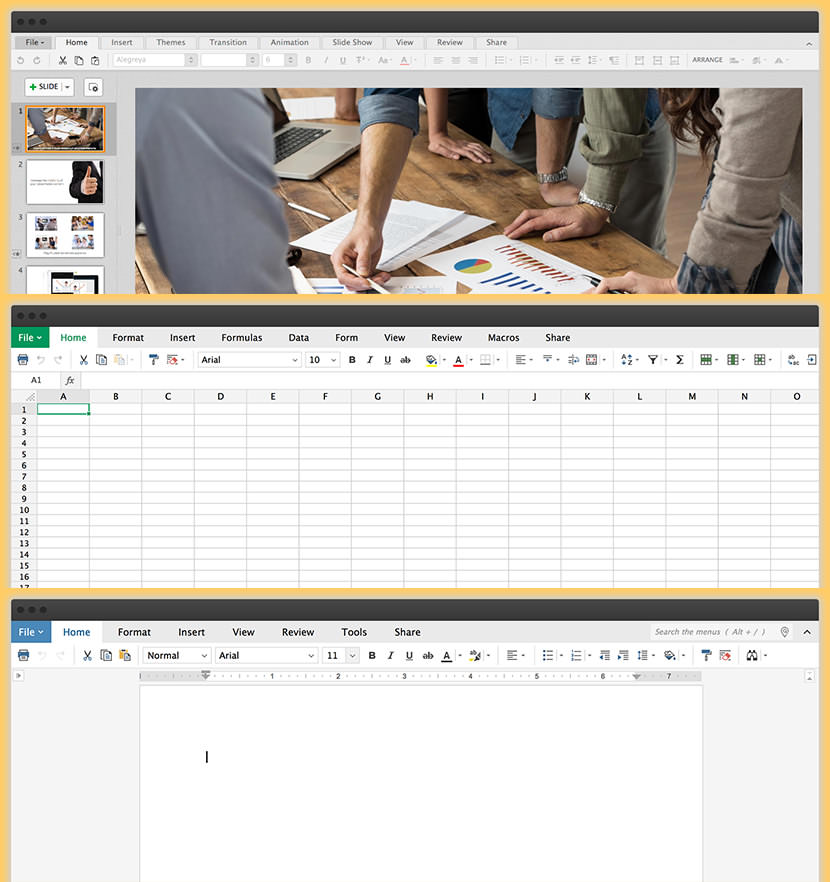 Zoho Docs for your desktop. Keep your files in sync, backed up, and available wherever you are. Zoho Docs for Desktop lets you sync files from your Windows, Mac, and Ubuntu Linux computers with complete security. Create, store, share, collaborate, and manage all your business documents in the cloud.
Word Processor | Excel | Presentations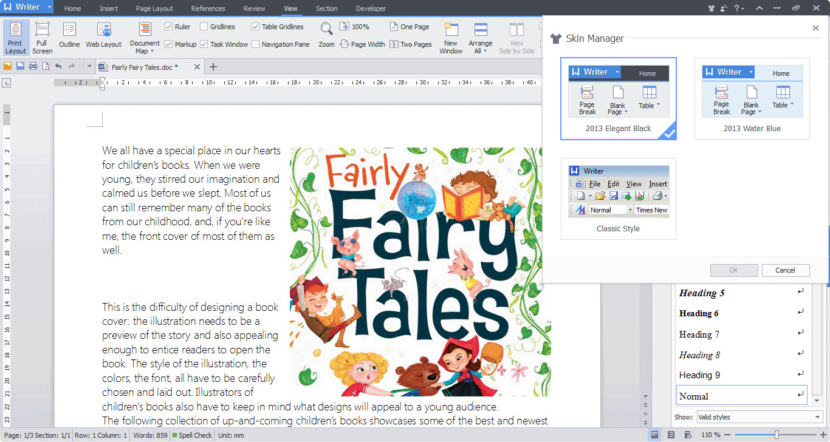 Multi-language Office Suite including English, French, German, Spanish, Polish, Portuguese and Russian. WPS Office 2016 Free is a free office productivity suite which is smaller and faster than most other office suites. The latest WPS Office 2016 Free allows you to switch language UI and access files on different devices by using File Roaming A brand new Docer Online Templates page is also added.
Writer – Word & text processing software which supports paragraph editing by drag & drop.
Spreadsheets – Easily create & edit Spreadsheets to analyze date. Export to both .xls & .xlsx extension files.
Presentation – Plenty of free PPT templates help you create brilliant slide shows easily.
Top 5 Free Microsoft Office Alternatives
These are the top 5 free software alternatives to Microsoft Office. In this video, I will show you the best free office suites. These useful and amazing free software computer programs can help you get the most use out of your PC. Hopefully you enjoy these very useful software alternatives that are the best alternatives to other software.