How to change or customize the size of your fonts and the style on your Windows 7 sticky notes? Windows 7 comes with useful sticky notes, the only problem is the lack of features and almost unreadable font size and style.
See More ▼ 9 Free Microsoft Sticky Note Alternatives With Advance Features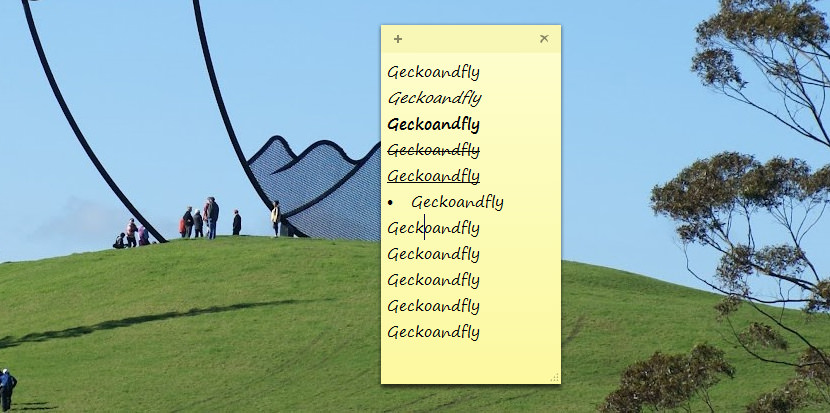 Here are the keyboard shortcuts for sticky notes:
Ctrl+B – Bold text
Ctrl+I – Italic text
Ctrl+T – Strikethrough
Ctrl+U – Underlined text
Ctrl+Shift+L – Bulleted (press once) or Numbered (press twice) list
Ctrl+Shift+> – Increase text size
Ctrl+Shift+< – Decrease text size
Ctrl+A – Select all
Ctrl+Shift+A – Toggles all caps
Ctrl+L – Left aligns text
Ctrl+R – Right aligns text
Ctrl+E – Centers text
Ctrl+Shift+L – Small Alpha list (3rd), Capital Alpha list (4th), small roman (5th), Capital roman (6th)
Ctrl+1 – Single-space lines
Ctrl+2 – Double-space lines
Ctrl+5 – Set 1.5-line spacing
Ctrl+= – Subscript
Ctrl+Shift++ – Superscript
Sticky notes are only available in Windows 7. For those using Windows XP, try ATNotes, it is a useful alternative.
How to change the font?
Segoe Print is the default font in Sticky notes, if you want to change the font to Arial or other alternative, please follow the step by step tutorial:
Step 1 – Type or Copy the text onto Microsoft Office
Step 2 – Highlight the font, then change the font family
Step 3 – Copy and paste it to Sticky Notes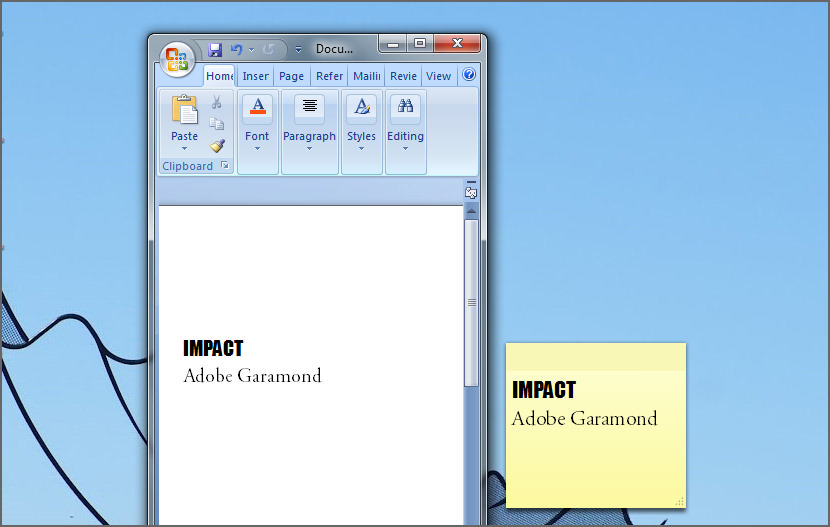 Windows 7 Sticky Notes Tutorial
Tutorial On Windows 7 Sticky Notes keep notes on what's important right on your desktop