Which is the best Note Taking App for Microsoft Windows, Apple Mac and Linux? Evernote is perhaps the most popular note taking software, Google Keep and Microsoft OneNote are both equally good. However, if you are looking for something simpler, something with clean user interface, something that doesn't store all your data on the cloud, here are some of the best open source and free note taking software for your desktop computer.
Related Article 2019 ➤ 5 Smarter Ways To Write Your 'To Do List' For Android & iOS Smartphone User
Some of these software do not sync with your tablet or smartphones's app or they lack an app for smartphones. Which is alright with me, since I dislike bringing 'My Work' with me everywhere. Works great on Android 8.0 Oreo / Android 9.0 [ Popsicle, Pancakes or Pie ] smartphones such as Samsung Galaxy, Huawei Mate, Oppo, Vivo, XiaoMi, Nokia, and also Apple's iOS iPhone.
↓ 01 – Simplenote | Free | Windows | macOS | Linux | Android | iOS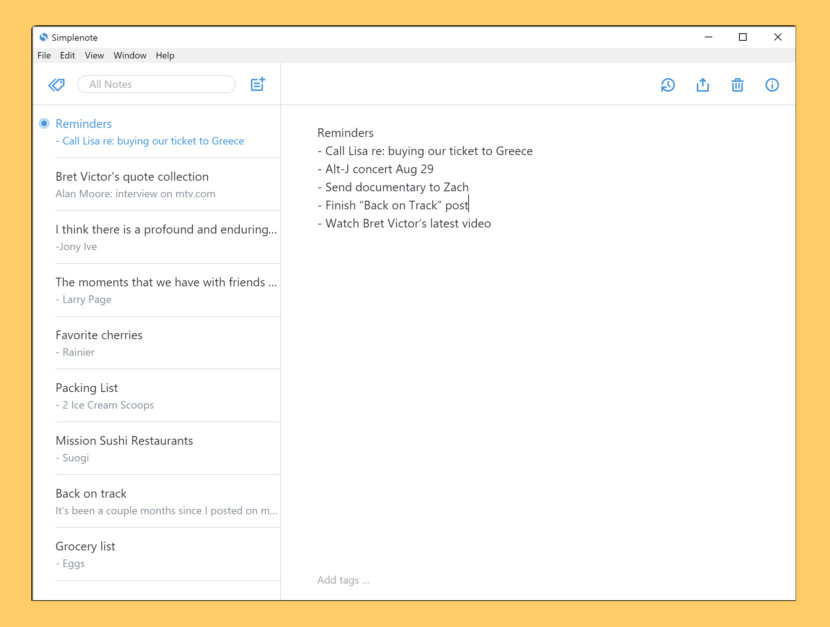 The simplest way to keep notes. Light, clean, and free. Simplenote is now available for iOS, Android, Mac, Windows, Linux, and the web. What makes Simplenote great?
Use it everywhere – Your notes stay updated across all your devices. No buttons to press. It just works.
Stay organized – Find notes quickly with instant searching and simple tags.
Work together – Share a list, post some instructions, or publish your thoughts.
Go back in time – Your notes are backed up when you change them. Just drag the version slider to go back in time.
Instantly search – Type what you're looking for, and your list updates instantly. You'll never misplace an important thought again.
It's free – Backups, syncing, sharing — it's all completely free.
↓ 02 – Zim | Open Source | Windows | Linux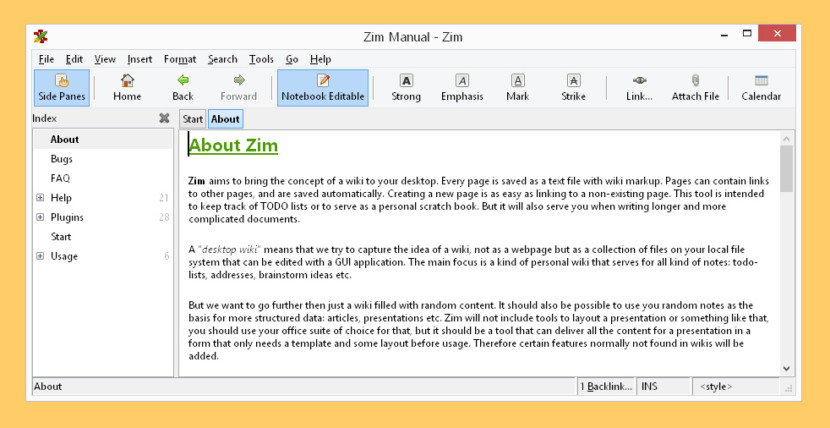 Zim is a graphical text editor used to maintain a collection of wiki pages. Each page can contain links to other pages, simple formatting and images. Pages are stored in a folder structure, like in an outliner, and can have attachments. Creating a new page is as easy as linking to a nonexistent page. All data is stored in plain text files with wiki formatting. Various plugins provide additional functionality, like a task list manager, an equation editor, a tray icon, and support for version control.
Keep an archive of notes
Take notes during meetings or lectures
Organize task lists
Draft blog entries and emails
Do brainstorming
↓ 03 – Turtl | Open Source | Windows | macOS | Linux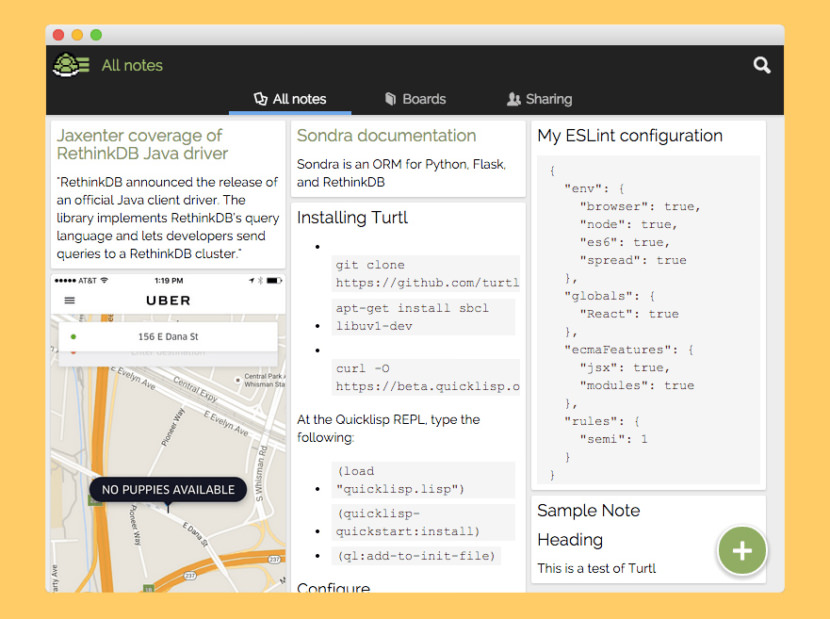 Turtl lets you take notes, bookmark websites, and store documents for sensitive projects. From sharing passwords with your coworkers to tracking research on an article you're writing, Turtl keeps it all safe from everyone but you and those you share with.
Turtl stores your info encrypted, unlike Evernote. Much more private.
You can easily share boards of bookmarks & notes you can synch files & images it's cross platform & free
↓ 04 – NixNote | Open Source | Windows | macOS | Linux | iOS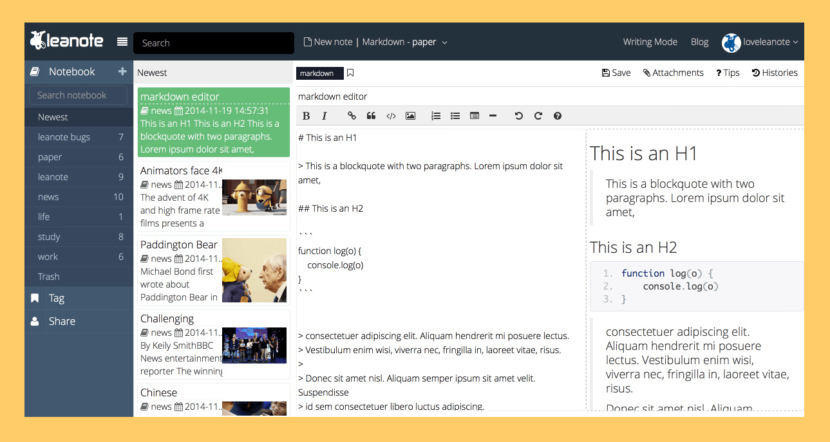 Made in China, it is probably the most complete open source, self-hosted or paid-for Evernote alternative in terms of functionality. Sadly, the English instructions aren't easy to find or that clear. But it works phenomenally well as an Evernote alternative. Basically, it comes with 30 days free trial and when the trial expires, you still can use the app but with limited functions.
↓ 05 – QOwnNotes | Open Source | Windows | macOS | Linux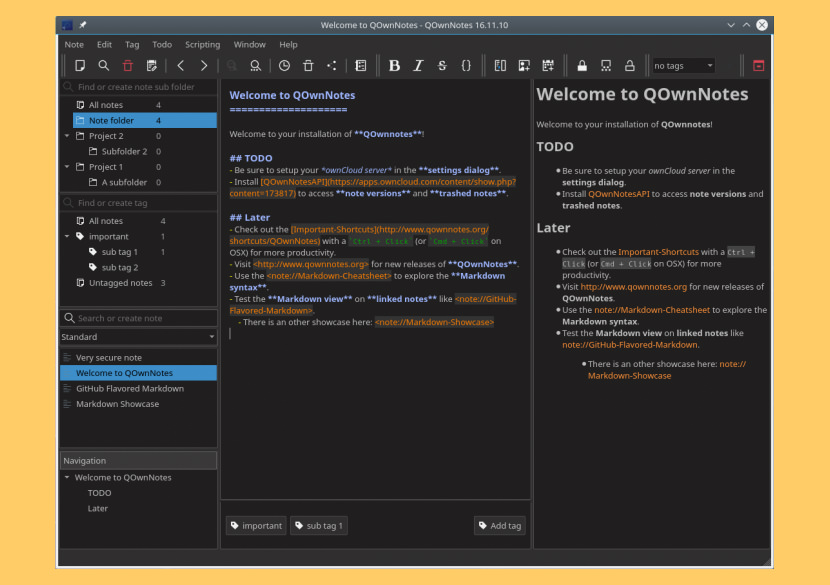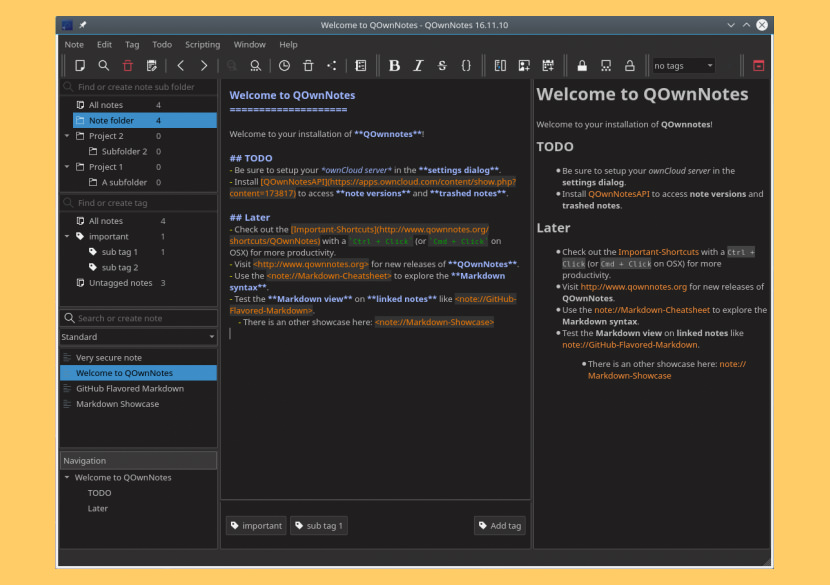 QOwnNotes is the open source (GPL) plain-text file notepad with markdown support and todo list manager for GNU/Linux, Mac OS X and Windows by Patrizio Bekerle, that (optionally) works together with the notes application of ownCloud (or Nextcloud).
You own your own notes! All notes are stored as plain-text files on your desktop computer.
Sync them over devices (desktop & mobile) with your ownCloud or Nextcloud sync client.
Use ownCloud Notes to edit your notes in the web.
↓ 06 – Elephant | Open Source | Windows | macOS | Linux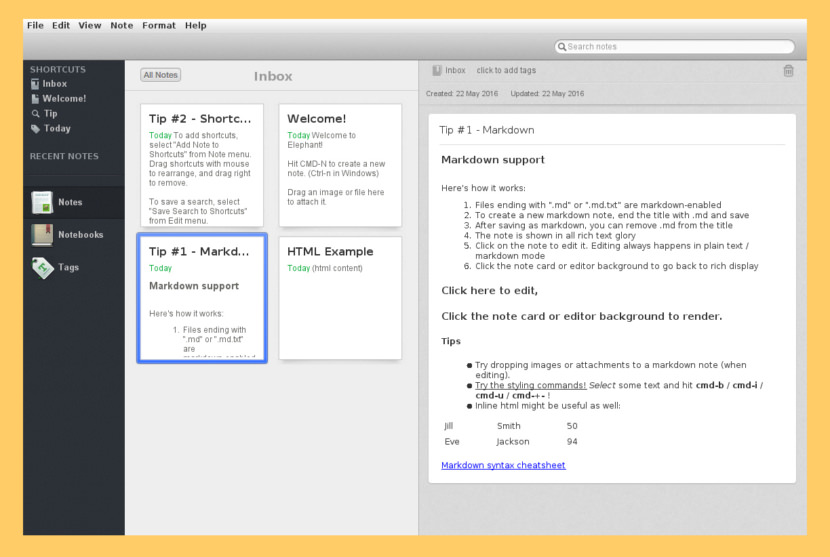 Elephant is a notetaker with a classic interface you already know. Keep your notes to yourself. No accounts or clouds. For syncing use Dropbox, Github, rsync. No feature bloat or redesigns, ever. Elephant stores notes in plain files and folders. No databases and no migration. Cross-platform for Mac, Windows and Linux. Built for longevity with a classic interface. New versions will never offer weird functionality. There will never be a chat feature and it will never show stuff from Financial Times.
Keep your notes to yourself. No accounts or clouds. For syncing use Dropbox, Github, rsync, …
Elephant stores notes in plain files and folders. No databases and no migrations. Notes can be plain text, styled rtf, markdown or html (html is read-only).
Cross-platform for Mac, Windows and Linux.
Built for longevity with a classic interface. New versions will never offer weird functionality.
Premium is free, no ads of any kind.
No feature bloat or redesigns.
No privacy policy weirdness!
↓ 07 – Laverna [ Discontinued ] | Open Source | Windows | macOS | Linux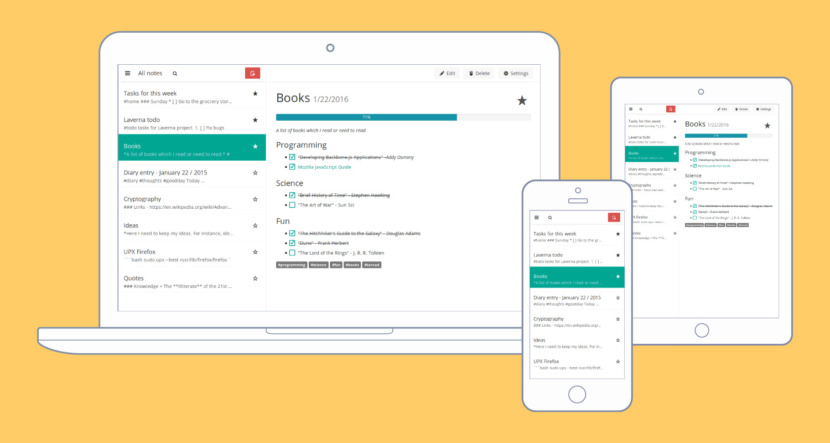 Laverna is a JavaScript note taking application with Markdown editor and encryption support. Consider it like open source alternative to Evernote. The editor can be switched to distraction free mode where you can focus solely on writing notes. You can make your notes available only to you by enabling encryption. Make your notes available on any device with your Dropbox & RemoteStorage account.
Tasks – Keep simple to do lists organized in notes and notebooks.
Keybindings – You can manage your notes without ever lifting your hands from your keyboard.
Code highlighting – Keep snippets of code to have access to them anytime and anywhere.
No registration – Do you prefer to stay anonymous? You do not need to go through registration process to start using Laverna.
Import & Export – You can export your notes from Laverna and import them back anytime. You are not tied to using it forever.