The name 'Photoshop' has become synonymous with photo editing or manipulation. Undeniably, Photoshop is the king of image editing (or Fake Photos). It is now unofficially the default image editor in the market with no close competitor that rivals it's features and usability. There's more than one image editor on the market, they may not be as good as Adobe Photoshop but these tools get the job done.
🤣😍😂 7 Best Online Photo Editors Like Photoshop For Quick Editing
Simple photo-enhancing software are everywhere, they can be easily downloaded onto your Android or iPhone smartphones, but a true genuine Photoshop alternative needs more than just red-eye correction and funky filters; it has to offer layers and masks, batch-editing, colour correction, and a wide assortment of automatic and manual editing tools. It also needs plugins to fill any gaps in its feature-set, and enable you to work as efficiently as possible.
↓ 01 – GIMP | Open Source | Windows | macOS | Linux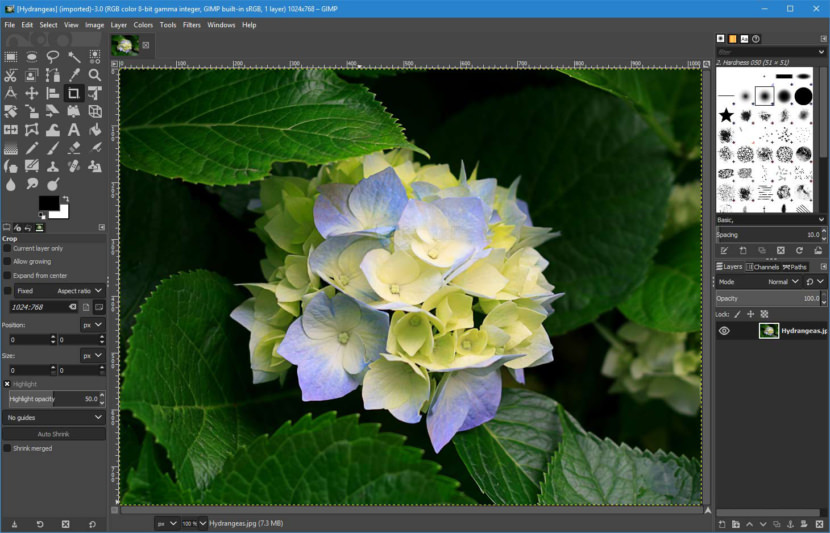 GIMP is a cross-platform image editor available for GNU/Linux, OS X, Windows and more operating systems. It is possibly the best free Photoshop alternatives in the market. Whether you are a graphic designer, photographer, illustrator, or scientist, GIMP provides you with sophisticated tools to get your job done. You can further enhance your productivity with GIMP thanks to many customization options and 3rd party plugins.
GIMP provides the tools needed for high quality image manipulation. From retouching to restoring to creative composites, the only limit is your imagination. GIMP gives artists the power and flexibility to transform images into truly unique creations. The file format support ranges from the common likes of JPEG (JFIF), GIF, PNG, TIFF to special use formats such as the multi-resolution and multi-color-depth Windows icon files. The architecture allows extending GIMP's format capabilities with a plug-in.
↓ 02 – Paint.NET | Free | Windows
Paint.NET is image and photo editing software for PCs that run Windows. It features an intuitive and innovative user interface with support for layers, unlimited undo, special effects, and a wide variety of useful and powerful tools. An active and growing online community provides friendly help, tutorials, and plugins.
Performance – Extensive work has gone into making Paint.NET the fastest image editor available. Whether you have a netbook with a power-conscious Atom CPU, or a Dual Intel Xeon workstation with 16+ blazingly fast processing cores, you can expect Paint.NET to start up quickly and be responsive to every mouse click.
Layers – Usually only found on expensive or complicated professional software, layers form the basis for a rich image composition experience. You may think of them as a stack of transparency slides that, when viewed together at the same time, form one image.
Special Effects – Many special effects are included for enhancing and perfecting your images. Everything from blurring, sharpening, red-eye removal, distortion, noise, and embossing are included. Also included is our unique 3D Rotate/Zoom effect that makes it very easy to add perspective and tilting.
Unlimited History – Everybody makes mistakes, and everybody changes their mind. To accommodate this, every action you perform on an image is recorded in the History window and may be undone. Once you've undone an action, you can also redo it. The length of the history is only limited by available disk space.
↓ 03 – FireAlpaca | Free | Windows | macOS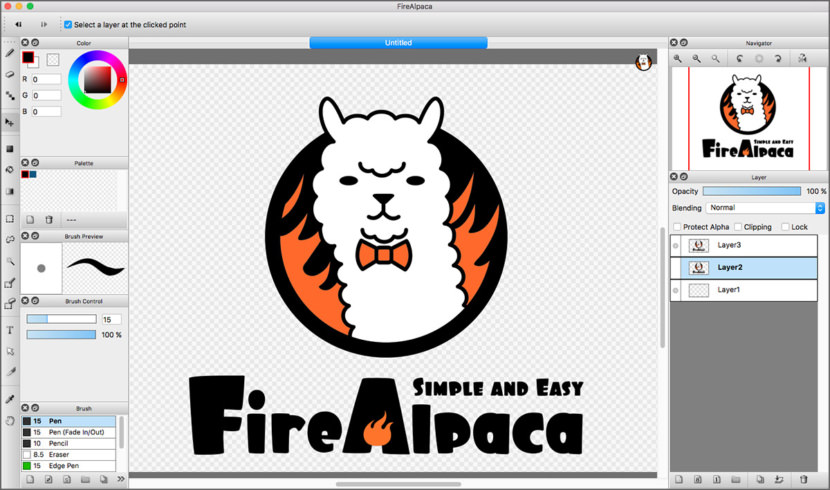 FireAlpaca is the free paint tool that is compatible with both Mac and Windows. Simple tools and controls let you draw an illustration easily. FireAlpaca is extremely simple! No need for the tricky control at all! Highly recommended for the paint tool beginners! And of course for the advanced users as well! Pen, Pencil, AirBrush, and Watercolor are ready to use in the default setting. You can customize your own pen too! Crisp stroke with pen and soft edged watercolor effect are the most popular brush types.
Comic Template – Several comic templates are already equipped in the default setting.
3D Perspective – You are able to snap to a 3D object, such as cube, by using 3D Perspective.
Light Performance! – Speedy even with an old computer. That's FireAlpaca!
↓ 04 – Seashore | Open Source | macOS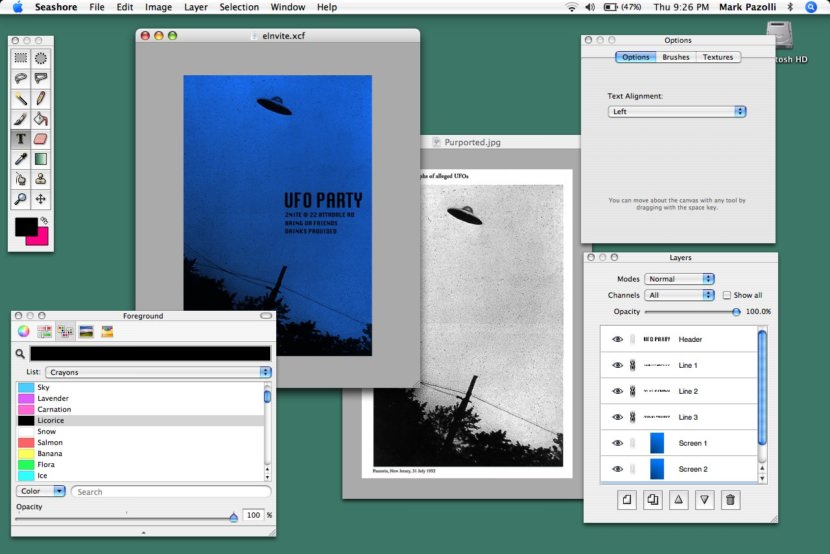 Seashore is an open source image editor for macOS. It features gradients, textures and anti-aliasing for both text and brush strokes. It supports multiple layers and alpha channel editing. It is based around the GIMPs technology and uses the same native file format. However, unlike the GIMP, Seashore only aims to serve the basic image editing needs of most computer users, not to provide a replacement for professional image editing products.
Full support for the XCF file format
Reading and writing TIFF, PNG, JPEG and JPEG 2000 file formats
Reading BMP, GIF, PDF, PICT, and XBM file formats
Layers and layer merging effects
Individual editing of layer channels
Transparency effects and transparency in gradients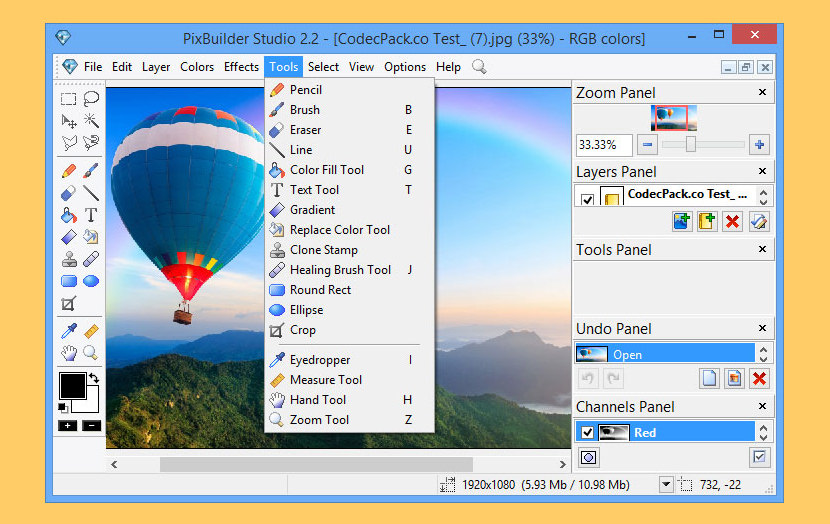 PixBuilder Studio is a free image editing software program for digital photo editing, images processing, and resizing. For digital photo editing, you can use its many professional quality functions. In PixBuilder Studio, to carry out great, professional looking photo editing, you can manipulate the image with color channels. Layers concept, multi-step undo, gradients and masks support, and text layers support all make PixBuilder Studio a great graphics software program for image processing and creating illustration.