The name 'Photoshop' has become synonymous with photo editing or manipulation. Undeniably, Photoshop is the king of image editing (or Fake Photos). It is now unofficially the default image editor in the market with not many competitor that rivals it's features and usability. Fortunately, there are other image editors on the market, they may not be as good as Adobe Photoshop but these tools get the job done.
🤣😍😂 4 Free Fake Image Detector – Analyze Photoshopped Photos
Simple photo-enhancing software are everywhere, they can be easily downloaded onto your Android or iPhone smartphones, but a true genuine Photoshop alternative needs more than just red-eye correction and funky filters; it has to offer layers and masks, batch-editing, colour correction, and a wide assortment of automatic and manual editing tools. It also needs plugins to fill any gaps in its feature-set, and enable you to work as efficiently as possible. Here are some free alternatives that enables you to perform your task, some even comes with basic A.I.
↓ 01 – Krita | Free | Windows | Linux | macOS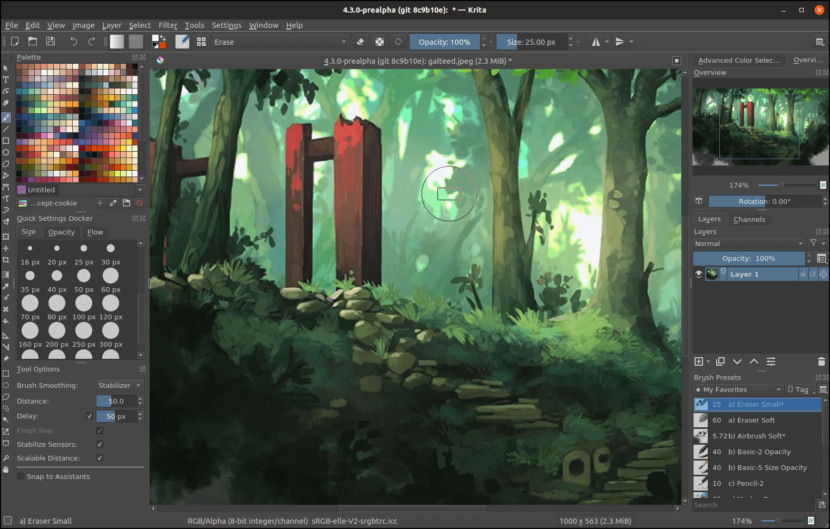 Krita is a free and open source cross-platform application that offers an end-to-end solution for creating digital art files from scratch. Krita is optimized for frequent, prolonged and focused use. Explicitly supported fields of painting are illustrations, concept art, matte painting, textures, comics and animations. Developed together with users, Krita is an application that supports their actual needs and workflow. Krita supports open standards and interoperates with other applications.
Beautiful Brushes – Over 100 professionally made brushes that come preloaded. These brushes give a good range of effects so you can see the variety of brushes that Krita has to offer.
Brush Stabilizers – Have a shaky hand? Add a stabilizer to your brush to smoothen it out. Krita includes 3 different ways to smooth and stabilize your brush strokes. There is even a dedicated Dynamic Brush tool where you can add drag and mass.
Vector & Text – Built-in vector tools help you create comic panels. Select a word bubble template from the vector library and drag it on your canvas. Change the anchor points to create your own shapes and libraries. Add text to your artwork as well with the text tool. Krita uses SVG to manage its vector format.
OpenGL Enhanced – Krita takes advantage of OpenGL for some of its operations. With OpenGL enabled, you will see increased canvas rotation and zooming speed. The canvas will also look better when zoomed out. (The Windows version also supports Direct3D 11 in place of OpenGL, via the ANGLE compatibility layer.)
PSD Support – Open PSD files that even Photoshop cannot open. Load and save to PSD when you need to take your artwork across different programs.
HDR Painting – Krita is the only dedicated painting application that lets you open, save, edit and author HDR and scene-referred images. Furthermore, with OCIO and OpenEXR support, you can manipulate the view to examine HDR images, and use it in the most cutting edge workflows from the film and visual effects industries.
Python Scripting – Powerful API for creating your own widgets and extending Krita. With using PyQt and Krita's own API, there are many possibilities. A number of plugins come pre-installed for your reference.
Full Color Management – Krita supports full color management through LCMS for ICC and OpenColor IO for EXR, allowing you to incorporate Krita into your existing color management pipeline. Or let it be the start of one: Krita comes with a wide variety of icc working space profiles for every need, with a color space browser to visualise and explore them.
↓ 02 – GIMP | Open Source | Windows | macOS | Linux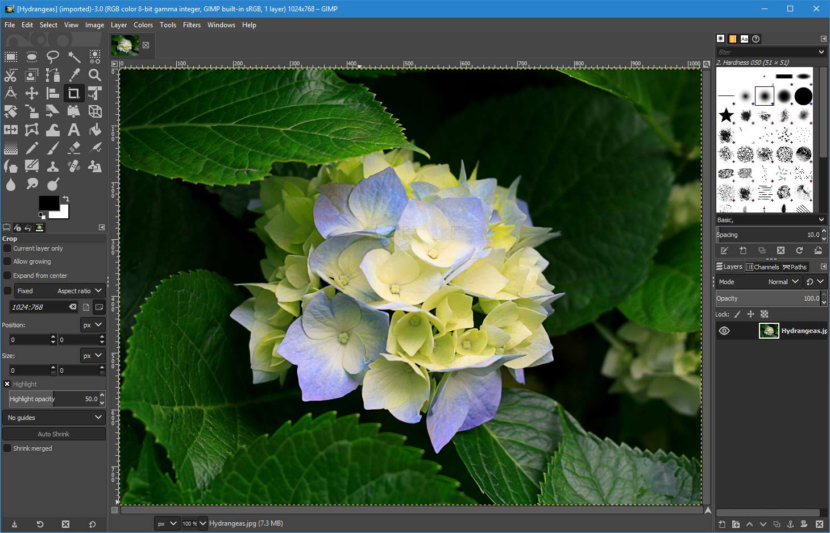 GIMP is a cross-platform image editor available for GNU/Linux, OS X, Windows and more operating systems. It is possibly the best free Photoshop alternatives in the market. Whether you are a graphic designer, photographer, illustrator, or scientist, GIMP provides you with sophisticated tools to get your job done. You can further enhance your productivity with GIMP thanks to many customization options and 3rd party plugins.
GIMP provides the tools needed for high quality image manipulation. From retouching to restoring to creative composites, the only limit is your imagination. GIMP gives artists the power and flexibility to transform images into truly unique creations. The file format support ranges from the common likes of JPEG (JFIF), GIF, PNG, TIFF to special use formats such as the multi-resolution and multi-color-depth Windows icon files. The architecture allows extending GIMP's format capabilities with a plug-in.
↓ 03 – MyPaint | Free | Windows | macOS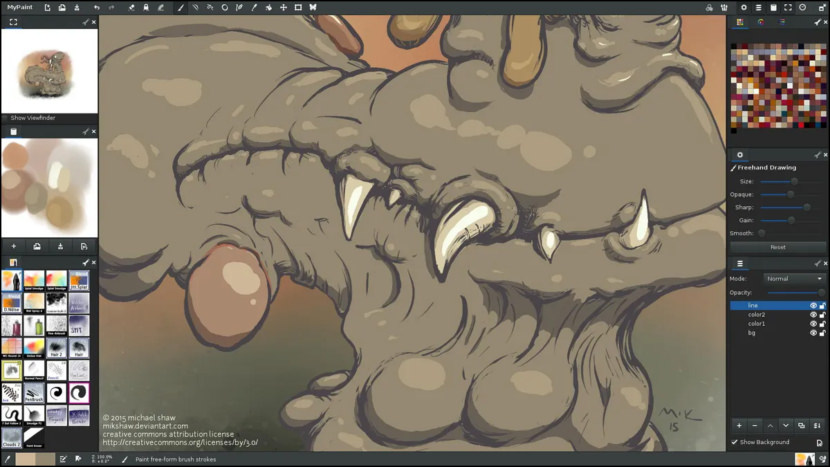 MyPaint is a fast painting program with an emphasis on full-screen use. It lets you focus on the art instead of the program. You work on your canvas with minimum distractions, bringing up the interface only when you need it. MyPaint supports pressure or tilt sensitive graphic tablets and comes with an easy-to-use brush collection. There is a complex interface for creating own brushes, focusing on brush dynamics (changes with speed, pressure, randomly).
MyPaint is a nimble, distraction-free, and easy tool for digital painters. It supports graphics tablets made by Wacom, and many similar devices. Its brush engine is versatile and configurable, and it provides useful, productive tools. The standard brushes can emulate traditional media like charcoal, pencils, ink, or paint. But you don't have to limit yourself to just the standard ones. It's easy to make expressive, artful new brushes that don't respond like anything conventional.
↓ 04 – Paint.NET | Free | Windows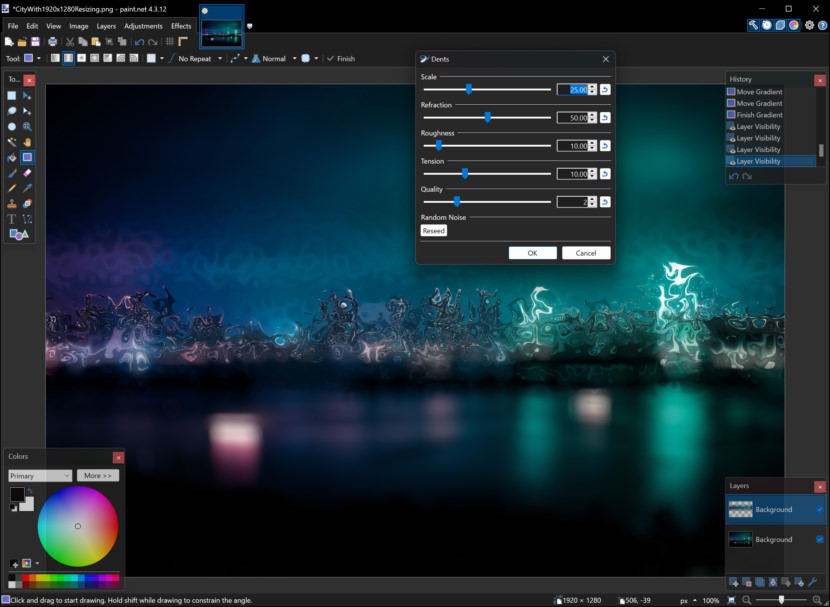 Paint.NET is image and photo editing software for PCs that run Windows. It features an intuitive and innovative user interface with support for layers, unlimited undo, special effects, and a wide variety of useful and powerful tools. An active and growing online community provides friendly help, tutorials, and plugins.
Performance – Extensive work has gone into making Paint.NET the fastest image editor available. Whether you have a netbook with a power-conscious Atom CPU, or a Dual Intel Xeon workstation with 16+ blazingly fast processing cores, you can expect Paint.NET to start up quickly and be responsive to every mouse click.
Layers – Usually only found on expensive or complicated professional software, layers form the basis for a rich image composition experience. You may think of them as a stack of transparency slides that, when viewed together at the same time, form one image.
Special Effects – Many special effects are included for enhancing and perfecting your images. Everything from blurring, sharpening, red-eye removal, distortion, noise, and embossing are included. Also included is our unique 3D Rotate/Zoom effect that makes it very easy to add perspective and tilting.
Unlimited History – Everybody makes mistakes, and everybody changes their mind. To accommodate this, every action you perform on an image is recorded in the History window and may be undone. Once you've undone an action, you can also redo it. The length of the history is only limited by available disk space.
↓ 05 – FireAlpaca | Free | Windows | macOS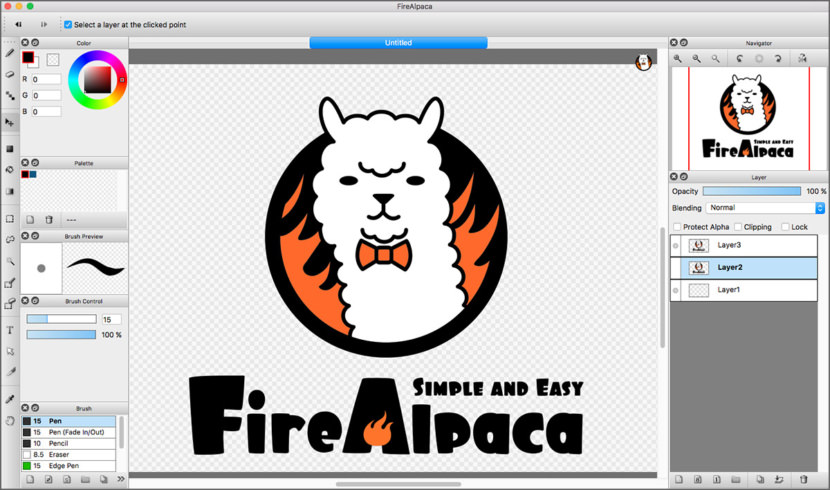 FireAlpaca is the free paint tool that is compatible with both Mac and Windows. Simple tools and controls let you draw an illustration easily. FireAlpaca is extremely simple! No need for the tricky control at all! Highly recommended for the paint tool beginners! And of course for the advanced users as well! Pen, Pencil, AirBrush, and Watercolor are ready to use in the default setting. You can customize your own pen too! Crisp stroke with pen and soft edged watercolor effect are the most popular brush types.
Comic Template – Several comic templates are already equipped in the default setting.
3D Perspective – You are able to snap to a 3D object, such as cube, by using 3D Perspective.
Light Performance! – Speedy even with an old computer. That's FireAlpaca!
↓ 06 – Seashore | Open Source | macOS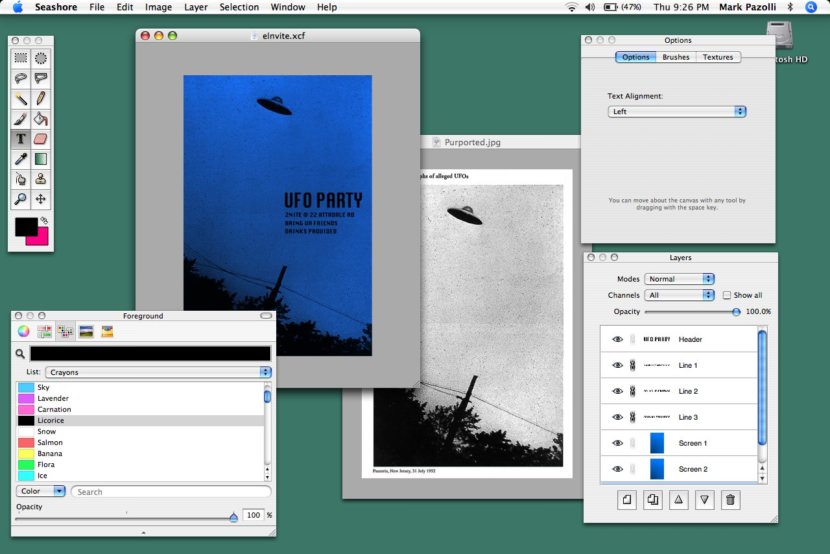 Seashore is an open source image editor for macOS. It features gradients, textures and anti-aliasing for both text and brush strokes. It supports multiple layers and alpha channel editing. It is based around the GIMPs technology and uses the same native file format. However, unlike the GIMP, Seashore only aims to serve the basic image editing needs of most computer users, not to provide a replacement for professional image editing products.
Full support for the XCF file format
Reading and writing TIFF, PNG, JPEG and JPEG 2000 file formats
Reading BMP, GIF, PDF, PICT, and XBM file formats
Layers and layer merging effects
Individual editing of layer channels
Transparency effects and transparency in gradients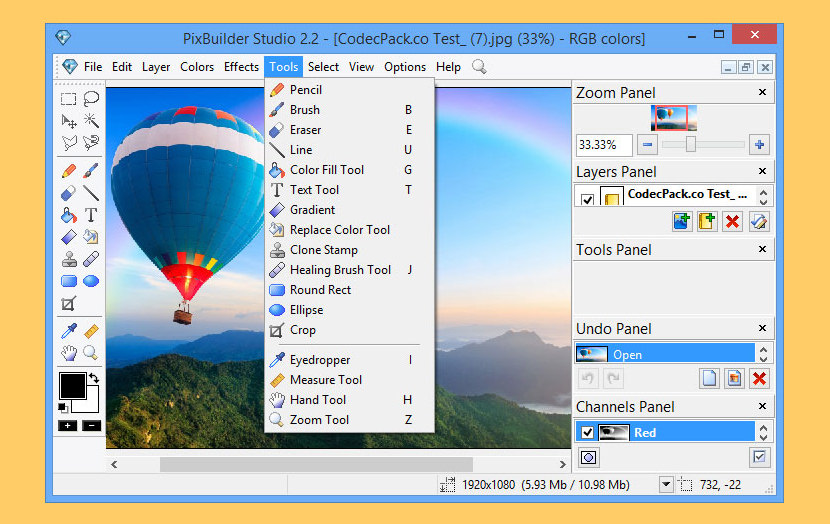 PixBuilder Studio is a free image editing software program for digital photo editing, images processing, and resizing. For digital photo editing, you can use its many professional quality functions. In PixBuilder Studio, to carry out great, professional looking photo editing, you can manipulate the image with color channels. Layers concept, multi-step undo, gradients and masks support, and text layers support all make PixBuilder Studio a great graphics software program for image processing and creating illustration.
↓ 08 – Graphite | Free | Web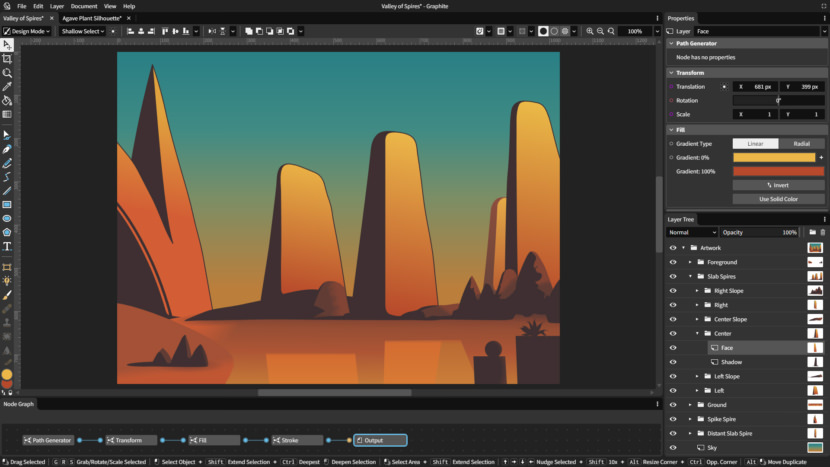 Graphite is an in-development raster and vector graphics package that's free and open source. It is powered by a node graph compositing engine that fuses layers with nodes, providing a fully nondestructive editing experience. Graphite is a lightweight vector graphics editor that runs in your browser. Its node-based compositor lets you apply image effects and co-create art with generative AI.
Make vector art out of shapes ranging from simple geometric primitives to complex Bézier curves. Style your shapes with strokes, fills, and gradients. Mix your layers with blend modes. Then export as SVG. The user experience of Graphite is of central importance, offering a meticulously-designed UI catering towards an intuitive and efficient artistic process. Users may draw and edit in the traditional interactive (WYSIWYG) viewport with the Layer Tree panel or jump in or out of the node graph at any time to tweak previous work and construct powerful procedural image generators that seamlessly sync with the interactive viewport.
A core principle of the application is its 100% nondestructive workflow that is resolution-agnostic, meaning that raster-style image editing can be infinitely zoomed and scaled to. Stop jumping between programs. Planned features will make Graphite a first-class design tool for these disciplines (listed by priority):
Graphic Design
Image Editing
Digital Painting
Desktop Publishing
VFX Compositing
Motion Graphics
↓ 09 – Photopea | Free | Web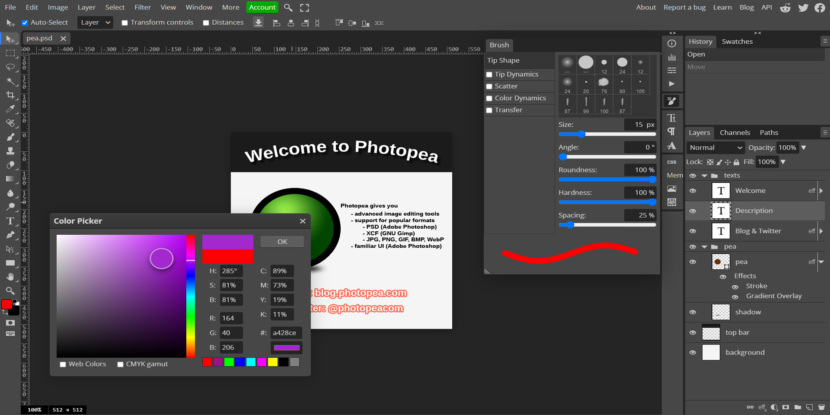 Photopea is an online photo editor, which can work with PSD, XCF and Sketch files (Photoshop, Gimp and Sketch App). Convert between PSD, XCF, JPG, PNG and many other formats. It is used for image editing, making illustrations, web design or converting between different image formats. Photopea is advertising-supported software.
It is compatible with all modern web browsers, including Safari, Edge, Chrome, and Firefox. The app is compatible with raster and vector graphics, such as Photoshop's PSD as well as JPEG, PNG, DNG, GIF, SVG, PDF and other image file formats. While browser-based, Photopea stores all files locally, and does not upload any data to a server.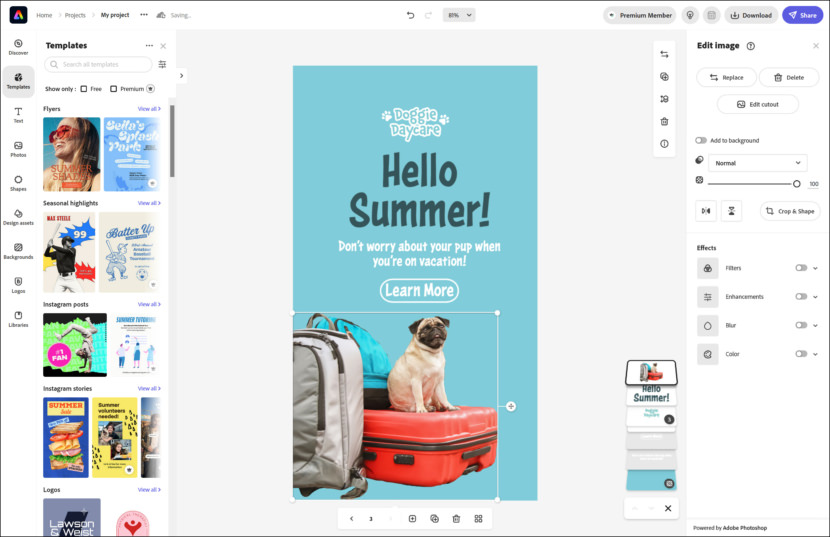 Design flyers, TikToks, resumes, and Reels with the new, all-in-one Adobe Express. Stand out with amazing artwork generated by Adobe Firefly AI. Create easier. Dream bigger. Create video, marketing, and social content. Edit photos and PDFs. Make it amazing with all Adobe powers, all in one app, including generative AI tools from Adobe Firefly and easy, one-click tasks like removing backgrounds.
Instagram Stories
Instagram Posts
TikTok videos
Youtube Thumbnails
Youtube Banners
Facebook post
Create video, marketing, and social content. Edit photos and PDFs. Make it amazing with all Adobe powers, all in one app, including generative AI tools from Adobe Firefly and easy, one-click tasks like removing backgrounds. Your imagination is your only limitation with text-to-image and text effects tools, powered by Adobe Firefly. You type it. Adobe Express generates it.
Marketing & Business
Logo
Banner
Invoice
Business card
Flyer
Posters
Brochure
Advertisements
Resume
Greeting Card
Invitation
Menu
Collage
Presentation