For those in the dark, FinFisher, also known as FinSpy, is surveillance software widely used by many government all over the world for spying on their citizens. The NSA and CIA probably use other software with similar capabilities. In general, it is very easy to capture voice data transmitted over 2G, 3G or 4G network, for the most part they are encrypted, but not sufficiently enough to be considered as safe.
See More ▼ 8 USB Password Protection Locker with Encryption For Flash Drive
The up and coming 4G LTE is much better, The 4G LTE successor is the SNOW 3G stream cipher and the UEA2 confidentiality and UIA2 integrity algorithms. The problem arises on how these data are transmitted (central server) and where are they stored? This is where End-to-end encryption and Encrypted in transit makes a huge difference. Works great on Android 8.0 Oreo / Android 9.0 [ Popsicle, Pancakes or Pie ] smartphones such as Samsung Galaxy, Huawei Mate, Oppo, Vivo, XiaoMi, Nokia, and also Apple's iOS iPhone.
"End-to-end Encryption" vs "Encrypted in Transit"
There are two types of encryption, Apple's iMessage and Facetime are both End-to-end encryption (User to User), this means the data are stored at the endpoints (i.e. by users, not by servers) and Apple does not keep the data nor can they decrypt the data with a master key. Google's Hangout on the other hand uses Encrypted in transit (User to Server to User) method, this means all data goes thru their central server and Google keeps a copy of the data, which is secure but with enough computing power, the data can be decrypted.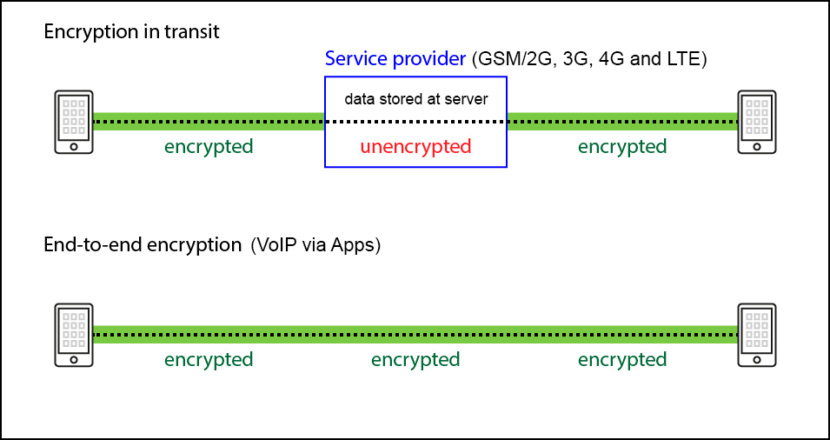 Only 5 apps made it to the list for military grade unhackable End-to-end encryption, data encrypted end-to-end is the only case where you can trust the service to protect your data. These apps are God sent for those in the opposition party in a country but can be badly abused by drug dealers, kidnappers, terrorists and more. Without further ado, here are 5 of the best anti-CIA, anti-NSA, and anti-FBI voice apps ( VoIP ) with military grade AES 256-bit end-to-end encryption.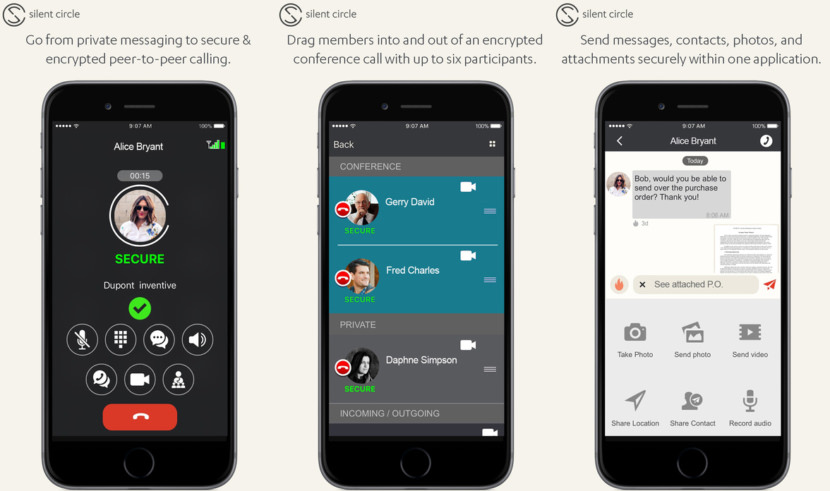 Silent Phone provides encrypted voice, video, and messaging brought to you by the world leaders in privacy, Silent Circle. Calls and messages between Silent Phone members are encrypted end-to-end protecting your business from criminals and competitors alike. Features:
True Privacy. Trusted by businesses and governments around the world.
Simple "zero–touch" deployment across your organization
Secure conference calling with HD call clarity
Burn functionality protects messaging with auto self-destruct
Voice memos offer a modern replacement for traditional, unprotected voicemail
Securely send pdf, docx, mov, mp4, png and jpg files.
Silent World allows communication with non-members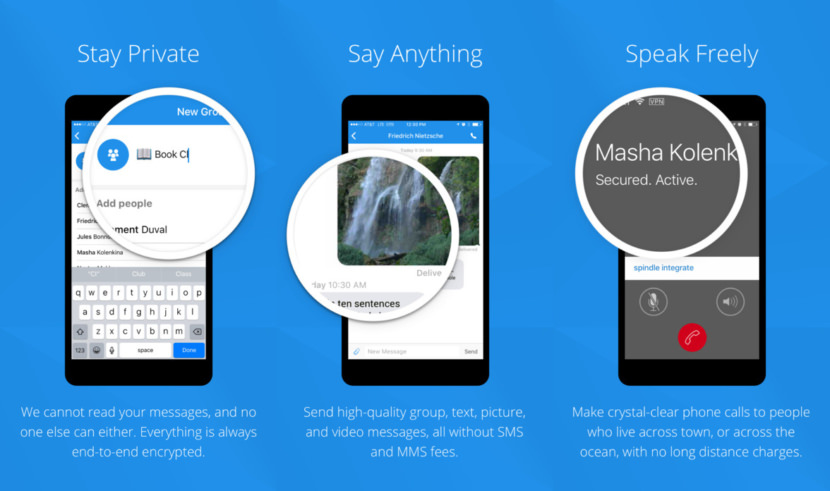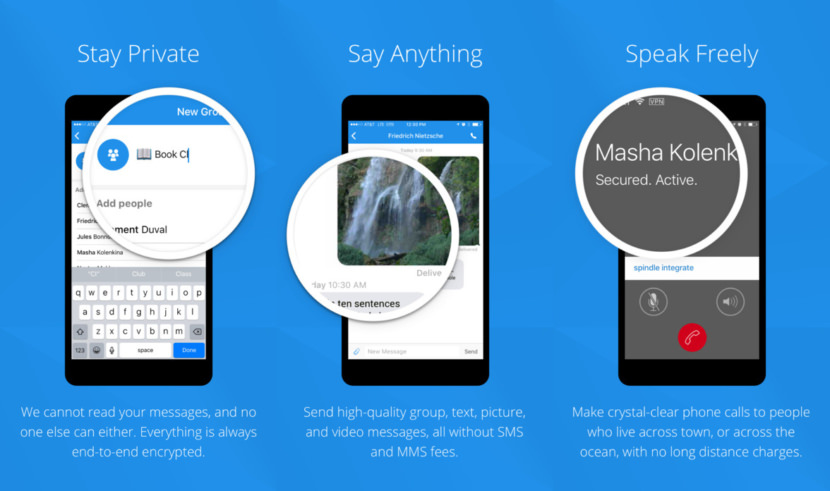 Privacy is possible, Signal ( Open Whisper System) makes it easy. Using Signal, you can communicate instantly while avoiding SMS fees, create groups so that you can chat in real time with all your friends at once, and share media all with complete privacy. The server never has access to any of your communication and never stores any of your data.
Be Yourself – Signal uses your existing phone number and address book. There are no separate logins, usernames, passwords, or PINs to manage or lose.
Group Chat – Signal allows you to create encrypted groups so you can have private conversations with all your friends at once. Not only are the messages encrypted, but the Signal server never has access to any group metadata such as the membership list, group title, or group icon.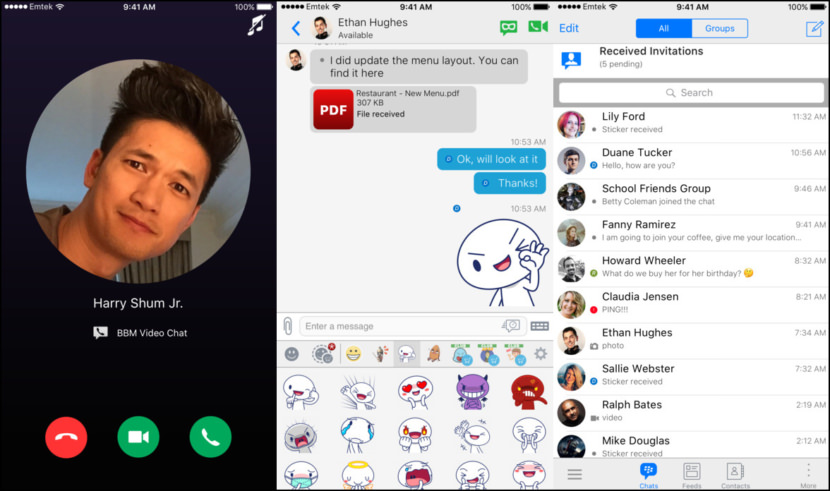 Blackberry BBM lets you chat and share with a speed, control and privacy you can't get on other instant messenger apps. It's the closest thing to being there in person. And with great new features, getting your message across is faster and easier than ever. Note: some features are not available for all devices.
Invite additional BBM contacts to join a chat to make things more lively! Join at any time and it ends when everyone leaves – up to 250 BBM contacts in one chat!
BBM Groups – Set up a permanent BBM Group with your close friends or co-workers – not only can you chat, but also share pictures in a group Album, assign tasks to group members and create calendar events for group members. Permanent BBM Groups can have up to 50 members.
Broadcast messages – Get the word out in a flash by sending a broadcast message to multiple BBM contacts at one time.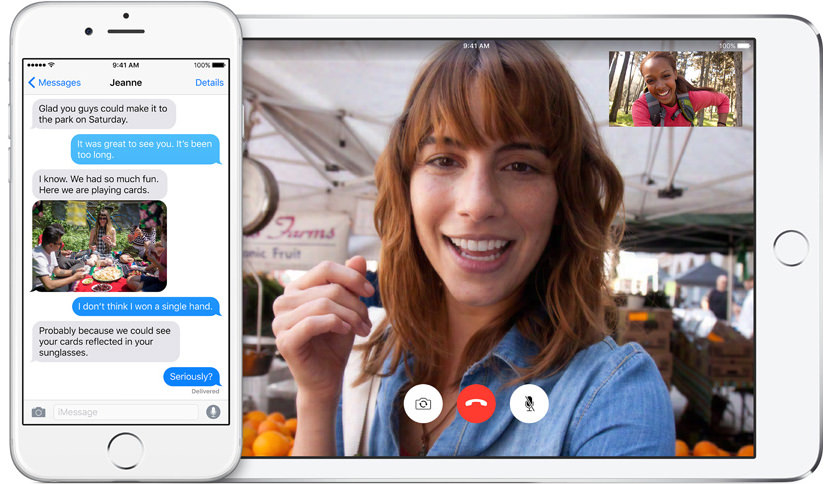 According to Apple, your iMessages and FaceTime calls are your business, not ours. Your communications are protected by end-to-end encryption across all your devices when you use iMessage and FaceTime, and with iOS and watchOS, your iMessages are also encrypted on your device in such a way that they can't be accessed without your passcode.
Apple has no way to decrypt iMessage and FaceTime data when it's in transit between devices. So unlike other companies' messaging services, Apple doesn't scan your communications, and they wouldn't be able to comply with a wiretap order even if they wanted to. While they do back up iMessage and SMS messages for your convenience using iCloud Backup, you can turn it off whenever you want. And they don't store FaceTime calls on any servers.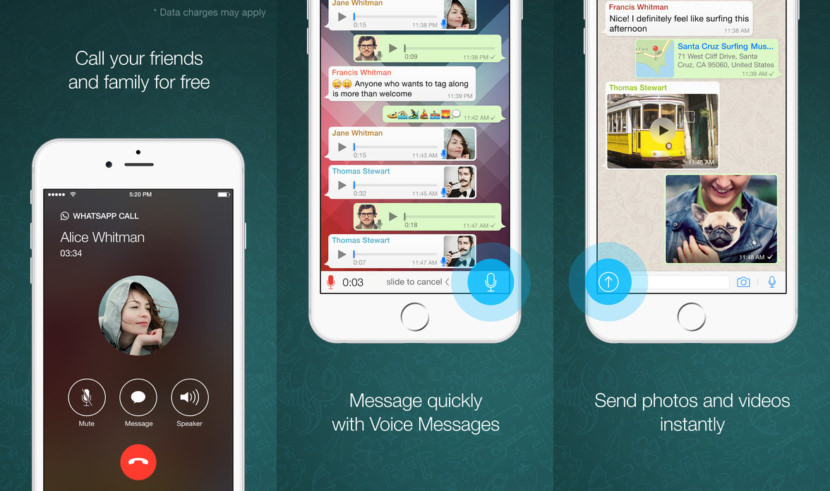 Privacy and security is in their DNA, which is why they have end-to-end encryption in the latest versions of their app. When end-to-end encrypted, your messages, photos, videos, voice messages, documents, and calls are secured from falling into the wrong hands. End-to-end encryption is available when you and the people you message are on the latest versions of WhatsApp.
WhatsApp's end-to-end encryption ensures only you and the person you're communicating with can read what is sent, and nobody in between, not even WhatsApp. Your messages are secured with a lock, and only the recipient and you have the special key needed to unlock and read your message. For added protection, every message you send has a unique lock and key. All of this happens automatically: no need to turn on settings or set up special secret chats to secure your messages.