Flash drive, also known as thumbdrive are portable storage devices. Everybody is familiar with this gadget but what happens when you lose it? What if it contains very important personal information or photos? Even if you leave it on your table, it can be stolen by someone and returned to the original place with the information accessed with you knowing it. This is why it is important to password lock and encrypt your USB flash drive.
Related Article 2019 ➤ 4 Free Full Hard Disk 256-bit AES Encryption Key For Data, File And Email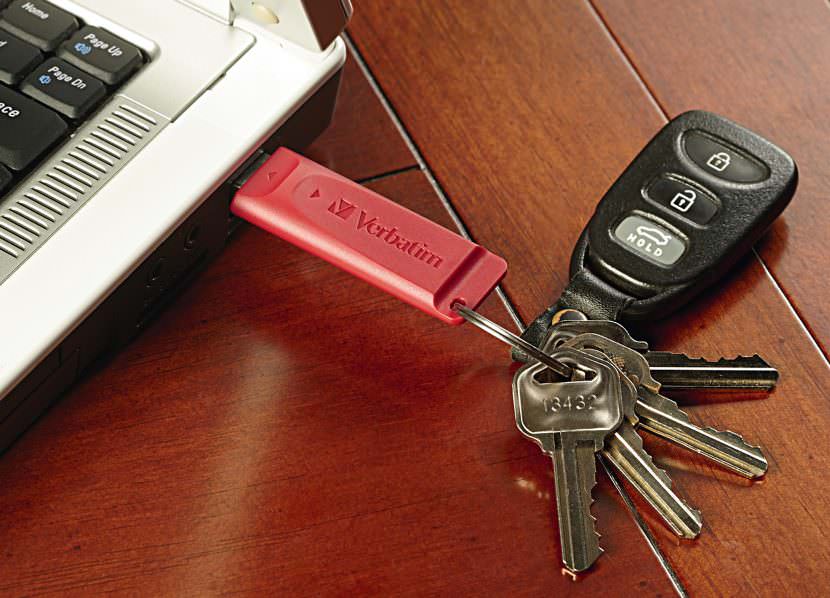 Rohos Mini Drive password-protects a USB flash drive by creating a hidden and encrypted partition on the disk. If you have many private files on the USB drive and want to keep them secret, you can protect them with a password and strong encryption using Rohos Mini Drive. It also offers a portable encryption tool for working with an encrypted partition on any PC.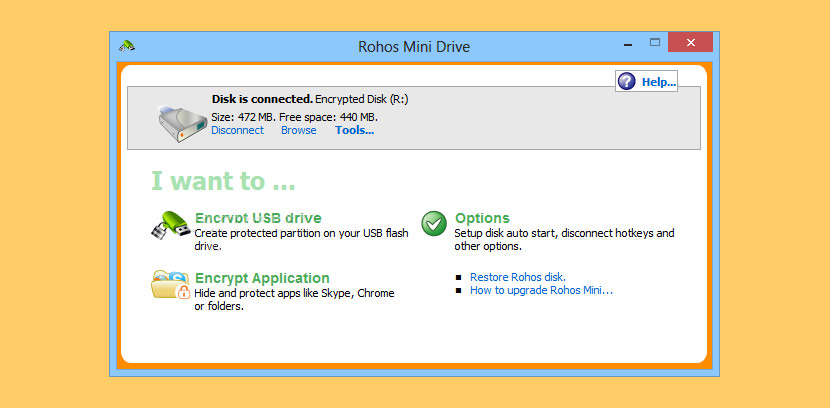 With portable Rohos Disk Browser you can work with a password-protected partition on any PC without Administrator privileges or installing additional software. It works like Windows Explorer, displaying folders and files. This portable utility is handy when you don't have access to your computer or laptop.
You can access your secret volume by entering the correct password.
On-The-Fly AES 256 bit key length encryption without Administrative privileges.
File Virtualization – prevents secret data from leaking outside an encrypted disk in temporary file folders, the Registry, the Recent Documents list, etc.
Secured virtual keyboard – protect an encrypted disk password from a keylogger.
↓ 02 – USB Secure | USD30 | Windows
Password protect your USB, SSD & external drives with reliable security for your files & folders on USB Drives. USB Secure lets you password protect your USB drives, SSD drives, external drives and memory cards. Protection is PC independent and does not require installation or administrative rights on the other end. You can unprotect your data by entering the password again. Works in all flavors of Windows.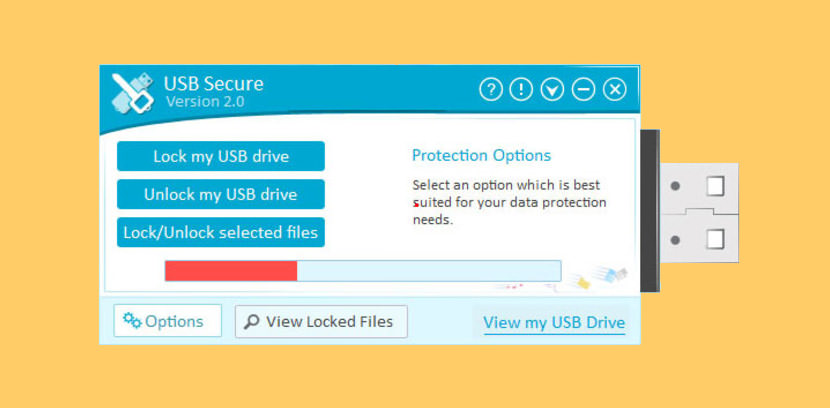 Portable Security – Compatible with all portable drives such as thumb drives, memory sticks & external hard-drives.
Plug and Play – PC independent, does not require installation on the other end, true plug and play protection.
One Click Protection – With a single click, your files & folders are locked using the latest technology in data security.
Anti Theft – Multiple layers of security prevent criminals from accessing your receptive files and folders.
Virtual Drive – View or modify your protected files & folders securely through the virtual drive interface.
Fast and Easy – Simple & user-friendly interface makes it effortless for anyone to quickly lock their files & folders.
Compatibility – Works on all versions of Windows, for example Windows 2000/ XP/ Vista / 7 / 8
Reliability – Patent pending protection methods ensures your data will remain secure under all circumstances.
↓ 03 – USB Flash Security | Free (Max 4GB Drive) | Windows
Lost or stolen mobile devices are a growing data security threat, yet there's no need to panic over sensitive data falling into the wrong hands if it's protected. That's where USB Flash Security from Kashu System Design comes in. It's a free USB security utility for mobile devices.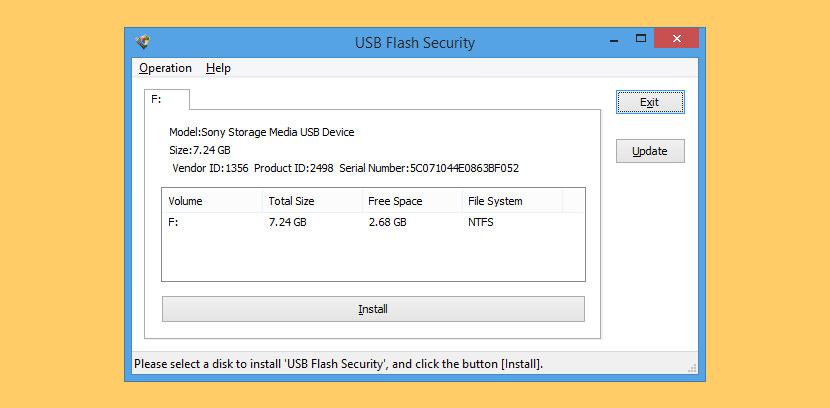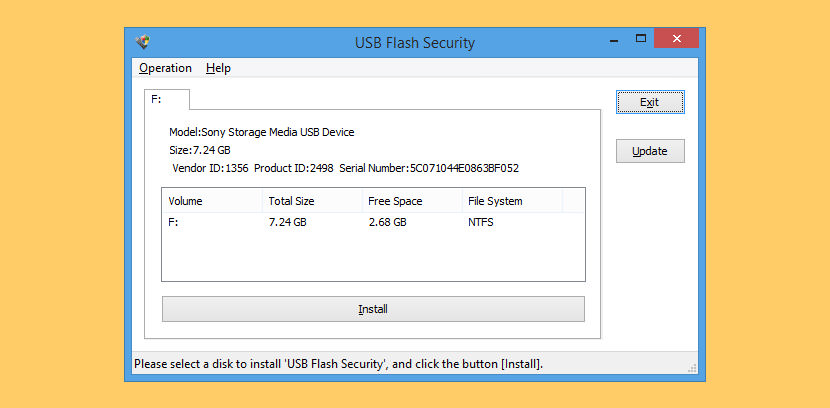 USB Flash Security's compact, tabbed interface displays all installed disk drives on your PC, but the software will only install on those drives with USB access. It's a keep-it-simple layout: there's a display window, file menus for Operations and Help, Exit and Update buttons, and the Install command bar, but that's it. We inserted a USB flash drive, and USB Flash Security immediately identified it.
Software is installed onto USB Flash Drive, works on any computer without "USB Flash Security".
Comes with AES encryption.
↓ 04 – EncryptStick | USD13 | Windows | Mac | Linux
Everyone has private information and files on a computer, laptop, flash drive, or some other portable storage device that should have extra security. Whether these files are photos, videos, financial records, banking information or other sensitive data, they are vulnerable to damage, loss and even theft.
Loss and misuse of private information can have serious consequences: embarrassment, expense, even job loss, are all possible outcomes, particularly when important information falls into the wrong hands. EncryptStick can quickly, easily and permanently secure your important information and protect your privacy.
Runs on Your Computer and Any USB Flash Drive – EncryptStick runs on PC, Mac and Linux computers and all recently made USB flash drives. EncryptStick software installs quickly and easily. When installed on a flash drive, you can use EncryptStick on any PC or Mac anywhere in the world.
Encrypt & Decrypt Your Private Files – EncryptStick turns your flash drive into a highly secure, private vault where you store the files you want to protect: photos, music, videos, documents, in all file types. You can create "vaults" for encrypting and protecting files on most writable media including Mac, PC and Linux platforms, shared network drives, external hard drives and additional USB flash drives. More media storage options to come. EncryptStick dynamically sizes vaults so that each only takes up the space it needs to store your protected files. Vault contents are only visible to you and remain hidden to others, unless they have your EncryptStick enabled flash drive and your password.
Strong & Fast Encryption – The EncryptStick encryption engine uses fast and strong AES algorithms. You have the option to encrypt your vaults with 128, 256, or 512-bit AES ciphers. Our encryption is registered and government approved, and is FIPS 140-2 compliant. In an upcoming release, we will offer a 1024-bit encryption option.
Limited Login Attempts – Stop brute force hacking, ten failed login attempts locks EncryptStick's login screen for a full minute thereby significantly reducing susceptibility to brute force password attacks.
↓ 05 – USBCrypt | USD50 | Windows
USBCrypt is a powerful software encryption utility for Windows 10, 8, 7, Vista, XP that protects your sensitive information from unauthorized access. It locks the bad guys out, and protects your personal, business, and financial data.
Use USBCrypt to encrypt your USB and other removable and fixed drives with strong encryption. USBCrypt uses the industry standard AES encryption algorithm to protect your files, the strongest protection available.
From 1MB to 128TB (which is the current limit of Windows), USBCrypt can encrypt drives of any size. After the initial encryption, the large drives work just as fast as the small ones.
From Windows XP to Windows 10, both 32- and 64-bit, with the latest service packs and hotfixes, all are supported by USBCrypt.
USBCrypt uses the industry-standard AES encryption, that makes it impossible for anyone to get to your files without knowing the correct password. There is currently no technology available to anyone in the world to break AES encryption.
You will find the mobile feature of Cryptainer very useful. Cryptainer can be installed directly on a USB / removable drive as a "stand alone" install. One can carry this installation of Cryptainer ('Cryptainer Mobile') to different machines without having to install Cryptainer on the host machine. Sensitive data can be stored within an encrypted volume file that can only be accessed through Cryptainer, with the correct password.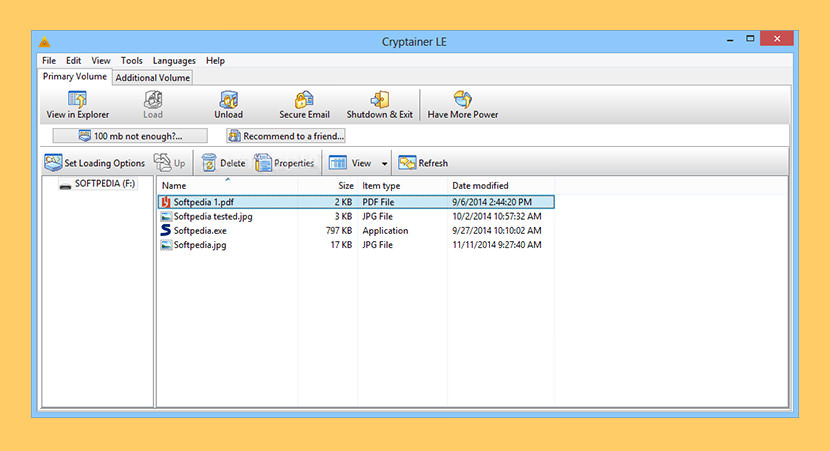 Cryptainer LE free encryption software is a comprehensive solution to encrypt any data, any disk, drive, file, folder on Any Windows PC. It has a very Simple, Easy-to-use interface to encrypt and decrypt files on the fly. It allows you total privacy and security without changing the way you work.
Cryptainer LE creates unlimited number of encrypted drives on your hard disk that appear as Real Drives in Windows. It functions like any other regular drive on your computer.
Fast Encryption – Cryptainer LE is fast. You will barely notice the difference in speed as compared to a regular "Copy Paste" function.
Storage Flexibility – Cryptainer LE allows to create encrypted disk drives on removable media. This allows for the flexibility to store and port data on removable media like Zip disks, tape drives, external drives (Flash Disks, USB drives, pen drives). It also allows users to Password Protect Folders, Files on CD ROMs, DVD's.
↓ 07 – USB Locker | USD20 | Windows
USB Locker is a strong portable drive protection application for all kind of USB drives including flash drives, thumb drives, memory- cards and external drives. USB Locker offers you unparalleled protection across multiple- platforms including Mac, Windows and Linux.

Keeping at a complete mind rest, USB Locker gives your data a robust protection against unauthorized access and keeps your data safe from misuse.
↓ 08 – Kruptos 2 Go | USD20 | Windows
USB drives are the most common way to move data from one computer to another. They are small, portable and often contain highly sensitive data which can be worth millions of dollars. USB drives pose a security risk and can be easily lost, stolen or misplaced.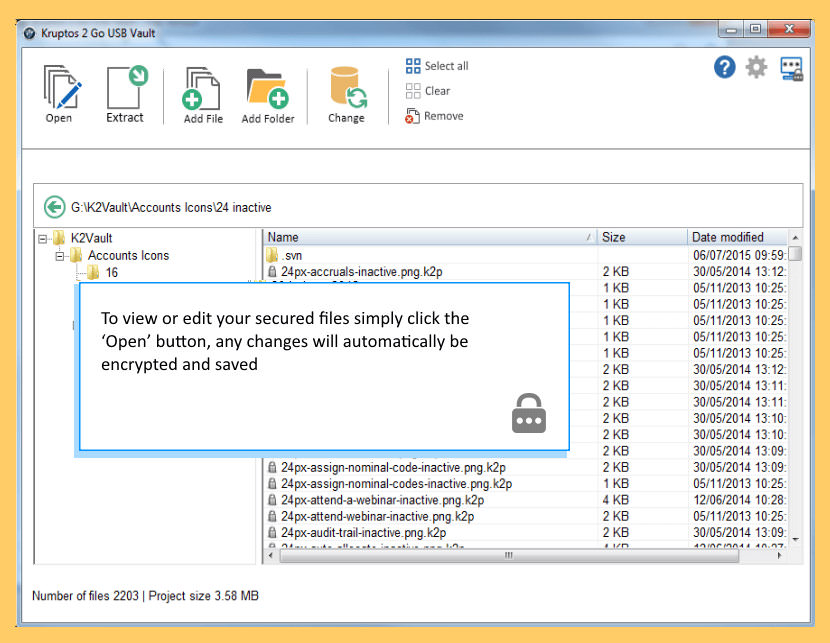 Kruptos 2 Go is a password protection tool for your USB Drive which protects your privacy and important data from data theft, data loss or leaks. Just drag and drop your files and folders into Kruptos 2 Go's encrypted 'Vault' and they will immediately be password protected which prevents your important data from being modified, read or even accessed without the correct password.