Have something to hide? Here are some Bitlocker alternatives for those without Windows Pro. When you save your secret files onto your computer, they are retrievable even if you delete them and empty the recycling bin. Not all door locks perform the same, this can be said about software. Not all folder lockers are designed to perform the same, most folder lockers are just basic password lockers. A clever investigator such as the FBI knows how to retrieve the files with a few clicks, by passing the password lock. It is like locking a grill door but allowing someone to stick their hands into the house.
🤣😍😂 3 Free Software To Force Delete Undeletable Files on Windows 7, 8 and 10
With a powerful computer that can compute trillions of key combinations in less than a few hours, that password can be hacked via brute force. However, the same can't be said when the password together with the content – files and folders are encrypted. A good file and folder locker must come with good encryption. If you intend to hide some unimportant stuff, the free version without encryption is good enough.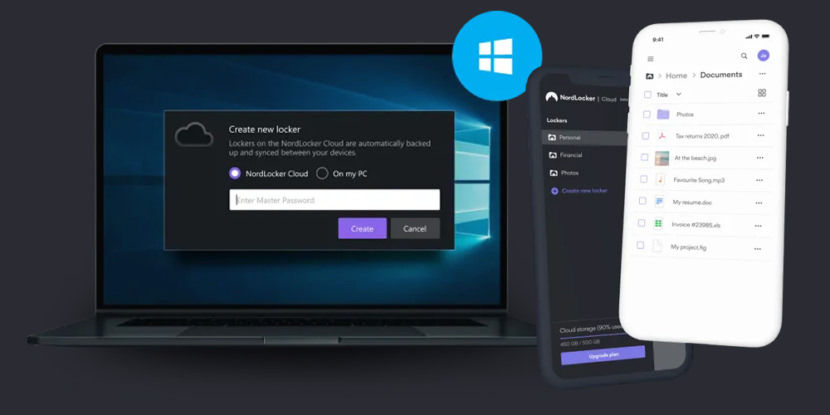 Just a simple drag-and-drop to NordLocker – and your files are protected with rock-solid encryption. Their modern, powerful cryptosystem runs fast, so securing your data won't burn your productive time. All file types are supported. Store and sync files securely. Get 3 GB of cloud storage for free.
In addition to file encryption, their tool also makes sure your files stay with you. Install the NordLocker encryption app on all your computers to access your files whenever you need to. NordLocker's sync feature makes sure you always have your files with you.
Runs on macOS, Windows, Android, and iOS.
Automatically lock the app after 15 minutes.
Automatically sync between all devices.
All files are encrypted.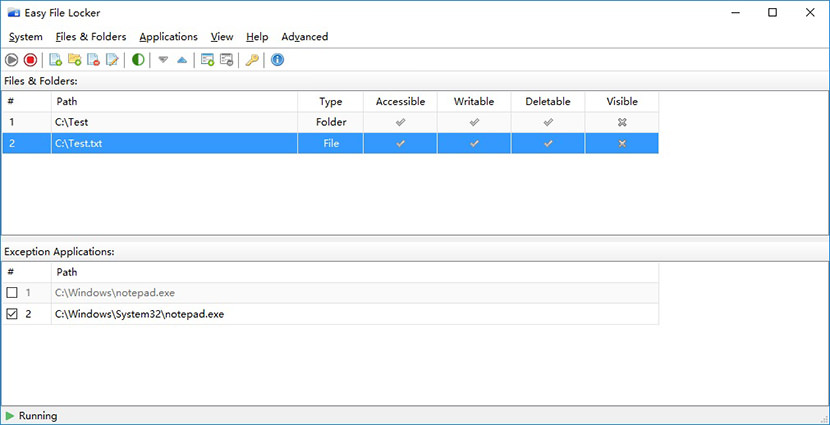 Easy File Locker is a light-weight and easy-to-use file lock software product for Windows. It can protect your private files and folders. With its great protection, users will not be able to open, read, modify, delete, move, copy the locked files/folders, or even not be able to see it. The hidden files/folders will be totally invisible to all users and to any program. Easy File Locker is designed for protecting files/folders on your local computer. it doesn't change the protected files and folders, it will not slow down the system speeds and it will never have the chance to destroy your data.
Lock files, Lock folders: The locked files/folders are protected from accessing, users can not open, read, modify, move, delete, copy, rename the protected files/folders. Files and sub-folders in a locked folder are also protected.
Hide files, Hide folders: You can hide your private files and folders, to make them completely invisible to users and programs.
Password protected GUI and uninstaller: Once you set a password, no one can launch the application or uninstall the software without the correct password.
↓ 03 – GNU Privacy Guard [ Free | Files & Text Encryption Only ]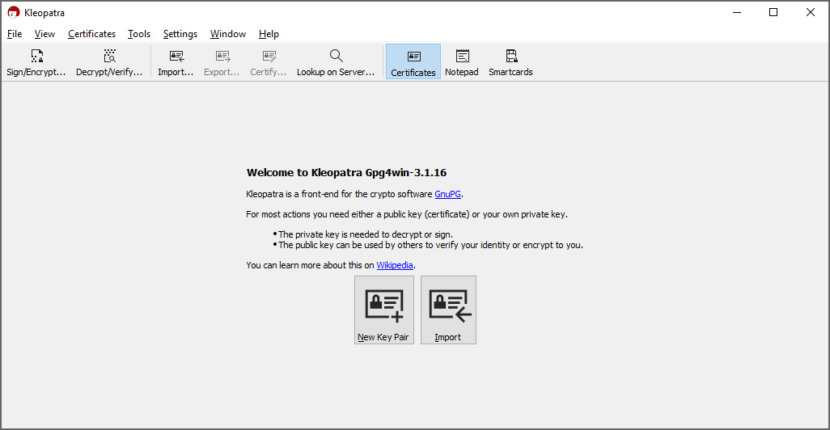 GnuPG also known as Kleopatra, is a complete and free implementation of the OpenPGP standard as defined by RFC4880 (also known as PGP). GnuPG allows you to encrypt and sign your data and communications; it features a versatile key management system, along with access modules for all kinds of public key directories. GnuPG, also known as GPG, is a command line tool with features for easy integration with other applications.
↓ 04 – Encrypt Care [ Free | Files & Text Encryption Only ]
Encrypt Care is an easy to use and feature-rich encryption software which allows user to encrypt or decrypt text and files in batch mode, generate, verify and export file checksums. Encrypt Care allows you to protect your data using the most powerful encryption algorithms, as well as protect your messages. With Encrypt Care you can do a lot of tasks with checksums – generate checksum of any text or file, generate hash for multiple files, verify checksums.
Encrypt and decrypt text and messages
Encrypt and decrypt files – photos, documents, programs etc.
Generate and verify checksum of text and file
Generate and export checksums for multiple files
Supports various algorithms (AES, Blowfish, CAST, DES, IDEA, RC2, RC4, TEA)
Supports various hashes (MD5, SHA-1, SHA-256, SHA-384, SHA-512)
Support Windows XP, Vista, 7, 8, 8.1, 10 (32 and 64)
↓ 05 – Encrypto [ Free | File Encryption ]
Encrypto lets you encrypt files before sending them to friends or coworkers. Drop a file into Encrypto, set a password, and then send it with added security. Encrypto takes any file or folder and adds AES-256 encryption to it. With encryption, you know your file is incredibly secure and that only the right person can access it. Rather than relay a password to the recipient, include a unique, embedded password hint that only they would be able to decipher.
Why stop at encryption? Encrypto's got seamless integration with Hider 2, which lets you hide your files and make them invisible to everyone — but you, of course. With Encrypto, not only can you encrypt and share files, but you can also save them to your own disk. Select your files, put them through Encrypto, and voilà — they're protected.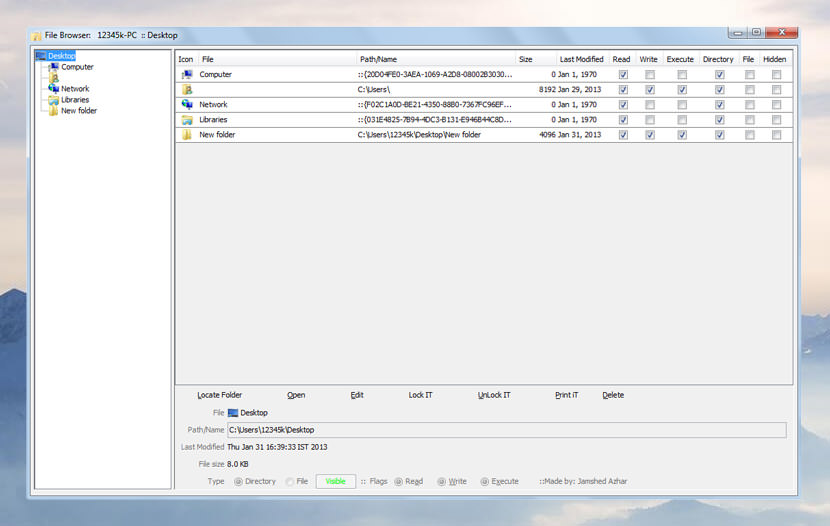 A very simple lock and unlock files and folders freeware.
↓ 07 – Folder Locker Pro [ Free | Basic Encrypting ]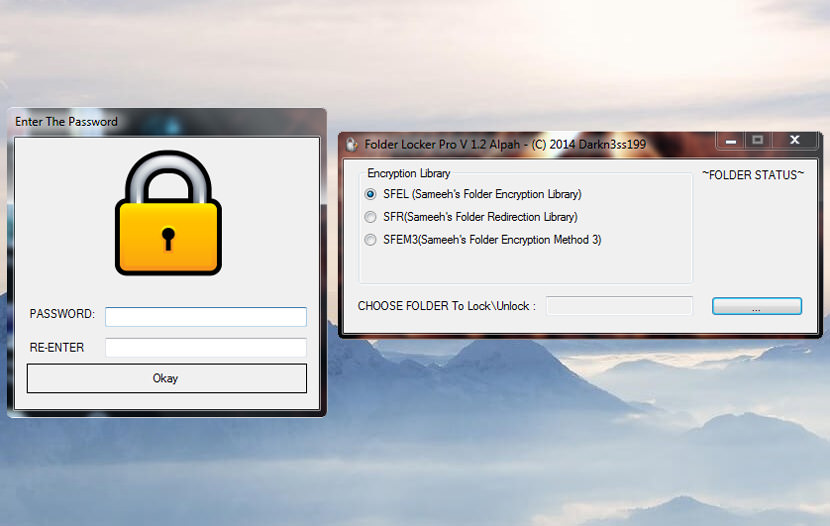 Lock Folder with a password and prevent others from accessing them 99%, it is hacker proof because unlike other freeware, it uses an encrypt technology, thus making it hard to brute force their way into your secret folder.
↓ 08 – Folder Lock [ Free | Encrypted Password ]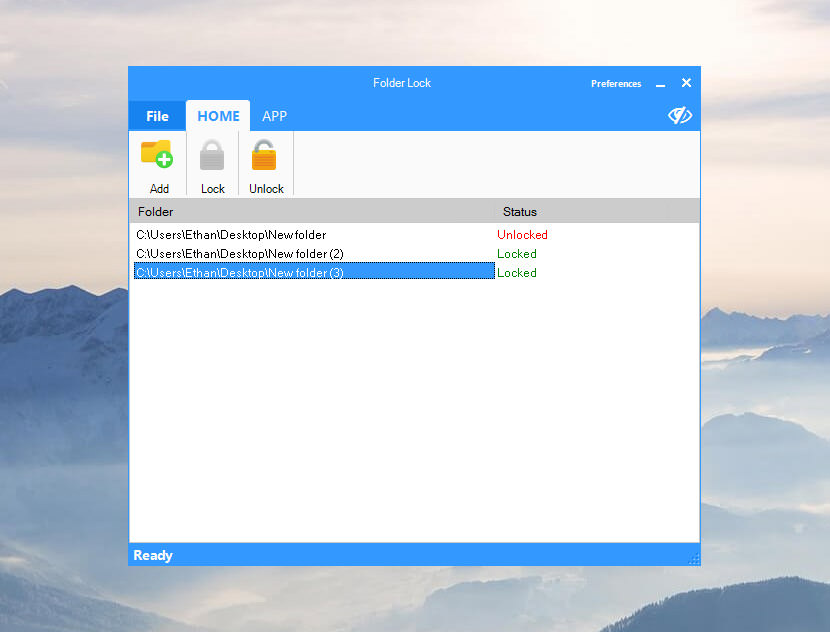 Folder Lock 8.5 is a small program that allows you to lock and hide any folder. Whether the folder is on your computer or USB, Folder Lock will take care of it. Small, and simple, just about anyone can use Folder Lock.
Folder Lock now has a working built in updater, so any updates that are released will be available for you to download at your choosing.
↓ 09 – Quick File Locker [ Free | Basic Encrypting ]
Do you want to protect private pictures, hide sensitive videos or lockdown documents? Do you want to ensure your privacy by locking, hiding and encrypting sensitive data? Then this free application is for you. Quick File Locker will quickly lock, hide and encrypt files, folders or USB drives to ensure your privacy.
It is very easy to use.Lock files with a simple drag and drop or with a right click on them in Windows Explorer. Also, Quick File Locker has Stealth-mode operation and protects locked data even in safe-mode. You can set a master password and that will be required to lock and unlock files or folders. Also hot keys can be set for locking, unlocking and to show or hide the application in stealth-mode operation.
Protect private pictures
Hide sensitive videos
Lockdown documents
Encrypt sensitive data
Supports also USB and external disk drives
Lock, hide and encrypt files or folders with a simple drag and drop
Lock or unlock files or folders with a right-click on them in Windows Explorer
Stealth-mode operation
Hot Keys can be set for locking, unlocking and showing or hiding the application in stealth-mode operation
Protect the use of the application with a master password
↓ 10 – SecretFolder [ Free | No Encrypting ]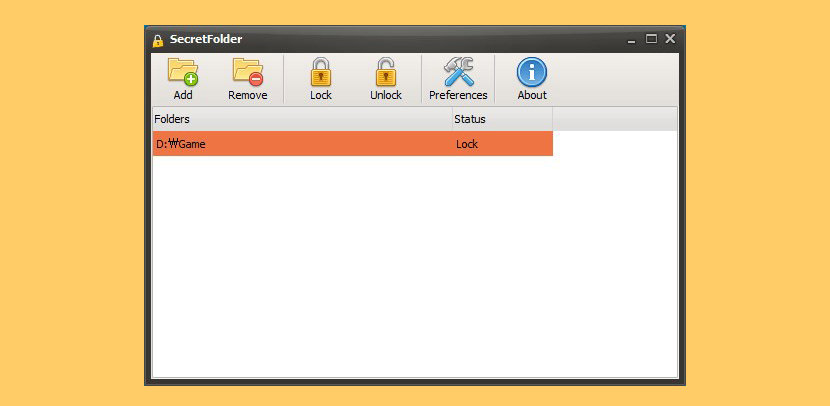 SecretFolder is a powerful solution for protecting your private data from others including crackers. You can hide your data from outside viruses and malware. Also you can avoid ransom-ware which generates a lot of damage to PC users. Information security will be started protecting local data. so you need to manage your private data by yourself. SecretFolder will let you provide a powerful function for your management to protect your private data.
Free to use at both home and in the office
Support for 64-bit Windows.
Immediate data protection (protect and unprotect commands are executed in no time).
NTFS, FAT32, exFAT and FAT volumes are supported.
CMD command will not be able to access the folders.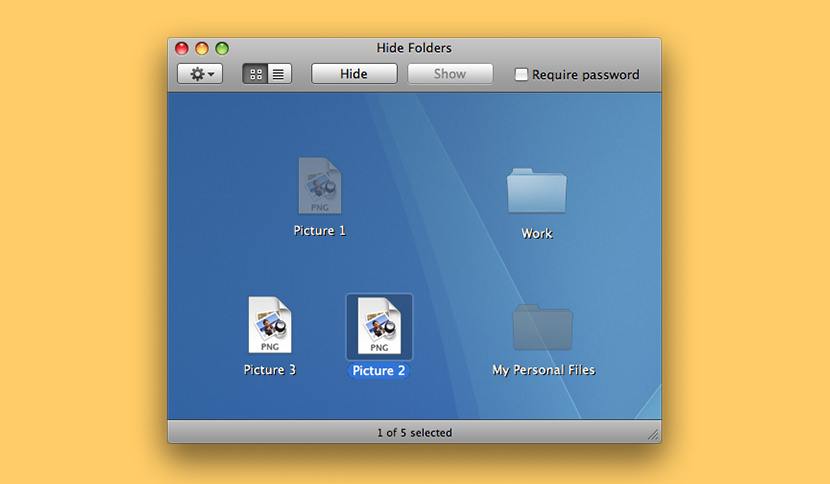 If you are interested in protecting your documents and folders, Hide Folders is just what you are searching for. With a click you will conceal files and folders with all their contents. The program is simple and natural to use because it works just as you are used to doing things everyday with your Mac. With this program you will protect your files avoiding them being modified, seen or erased by other users.
Hide Folders is a freeware app for macOS dedicated to protect documents and folders. With a click, conceals files and folders with all their contents. The application is simple and natural to use because it works just as you are used to doing things everyday with your Mac. With this app you will protect your files avoiding them being modified, seen or erased by other users.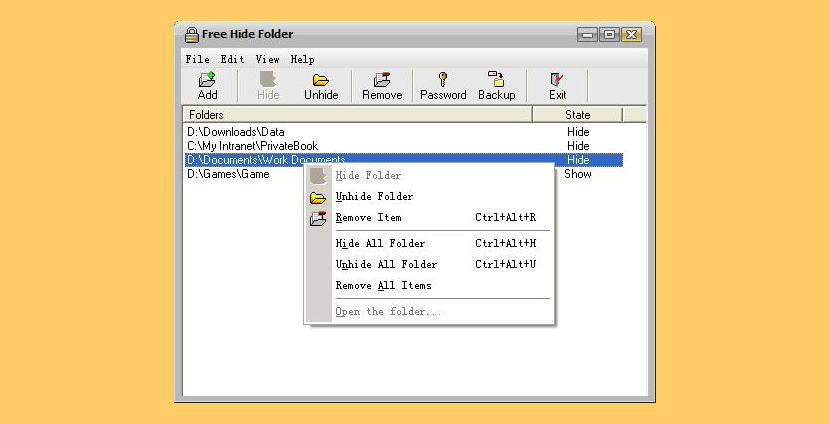 Free Hide Folder is a free computer security software to hide your private folders. It is very useful to keep your personal data away from others. Others will not know where your personal files exist and they will not be able to accidentally view them. You can hide folders simply with a few mouse clicks. Free Hide Folder is protected by a password that you can change or remove at any time.
↓ 13 – AES Crypt | Free | Files & Folder Encryption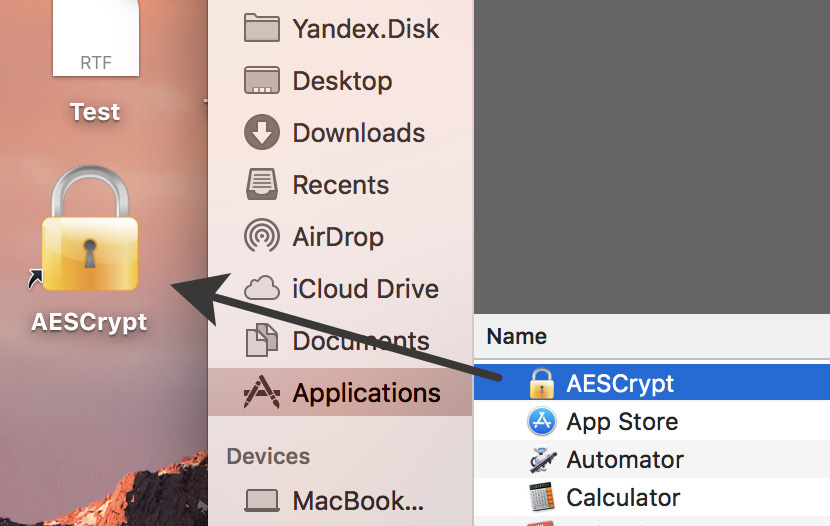 AES Crypt is a file encryption software available on several operating systems that uses the industry standard Advanced Encryption Standard (AES) to easily and securely encrypt files. Using a powerful 256-bit encryption algorithm, AES Crypt can safely secure your most sensitive files. Once a file is encrypted, you do not have to worry about a person reading your sensitive information, as an encrypted file is completely useless without the password. It simply cannot be read.
AES Crypt is the perfect tool for anyone who carries sensitive information with them while traveling, uploads sensitive files to servers on the Internet, or wishes to protect sensitive information from being stolen from the home or office. AES Crypt is also the perfect solution for those who wish to backup information and store that data at a bank, in a cloud-based storage service, and any place where sensitive files might be accessible by someone else.
↓ 14 – File Lock PEA [ Free | No Encrypting ]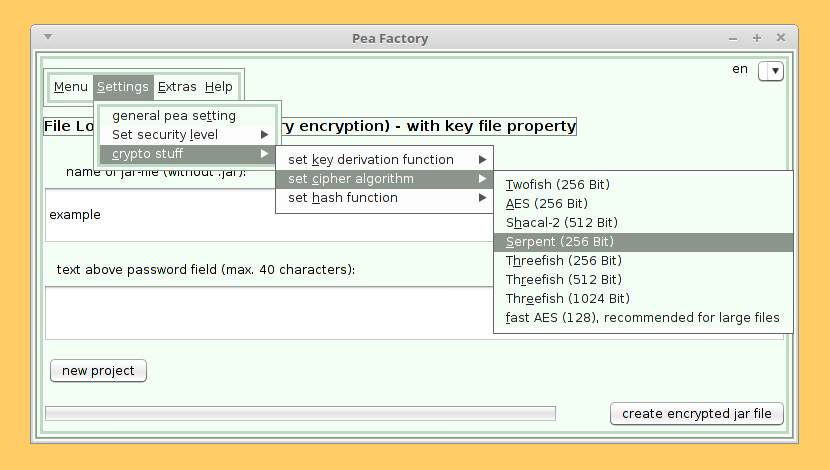 File Lock PEA (PEA = Password Encrypting Archive) encrypts data at the filesystem level and offers the possibility to decrypt single files or whole directories temporarily. The program is small and consists of a single archive file. Installation is not required. The program is written in Java and therefore platform-independent and runs on nearly every system without installation, but requires a Java Runtime Environment – that is already installed in most cases.
File PEA encrypts files and folders with authenticated encryption to protect confidentiality and integrity of the data and uses memory-hard key derivation functions to prevent custom hardware attacks. File Lock PEA is not intended to replace disk encryption, but to complement it. File Lock PEA is designed to handle several files or folders – for large amounts of data, it is not suitable.
↓ 15 – Lock & Hide Folder [ USD29 | 256-bit Blowfish Encryption ]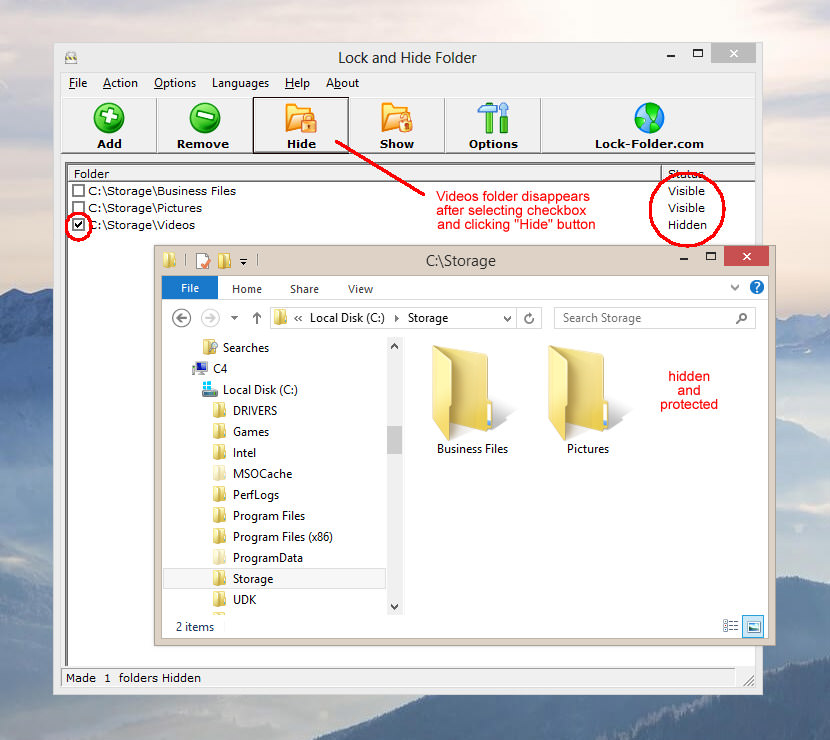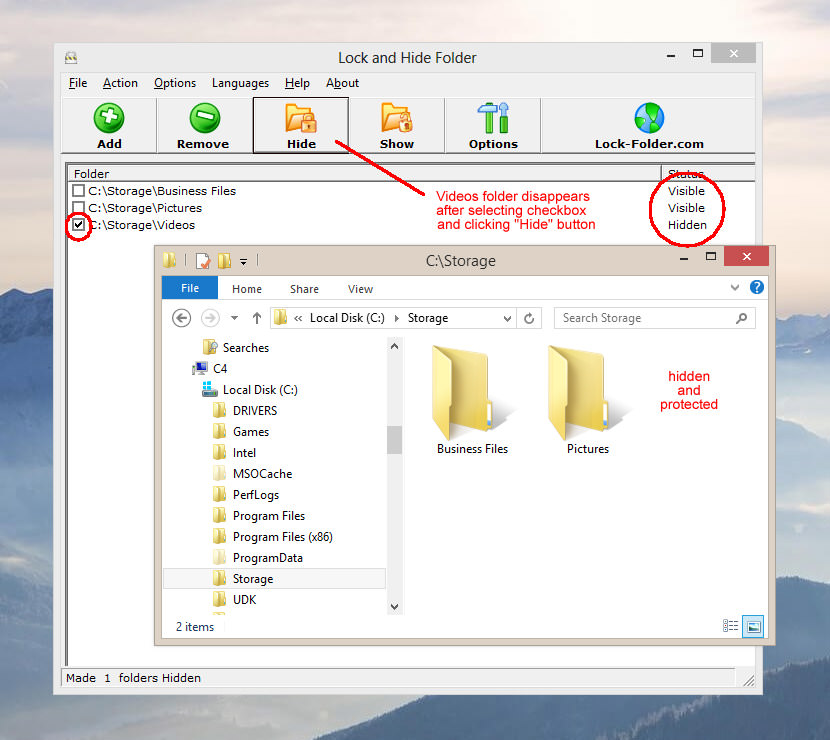 Lock and Hide Folder provides a quick and easy way to protect sensitive information on your computer from children, employers, and anyone else might access to use your computer including law enforcement and hackers.
This software will hide your sensitive files so that they can't be seen or accessed. Even links in your recent documents menu won't be able to find your hidden files! For extra security, use a password to prevent anyone from accessing your files. You can run this software in stealth mode so that no one knows it's there, and hide or show your sensitive files using hotkeys.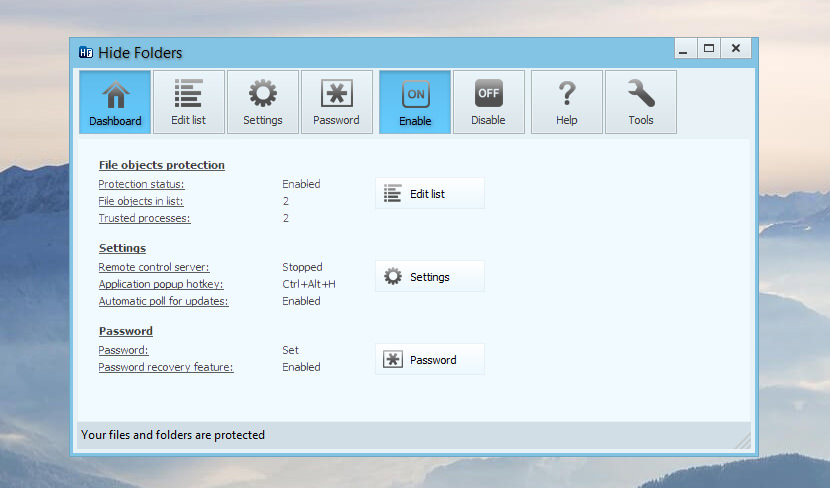 With Hide Folders you can easily protect any number of folders and files on your computer. You can select any file or folder to protect from the program, drag-and-drop the desired files and folders from Windows Explorer into the Hide Folders window or protect the file or folder using Windows Explorer context menu. Works great on Microsoft Windows 10.
↓ 17 – Folder Guard [ USD40 | No Encrypting ]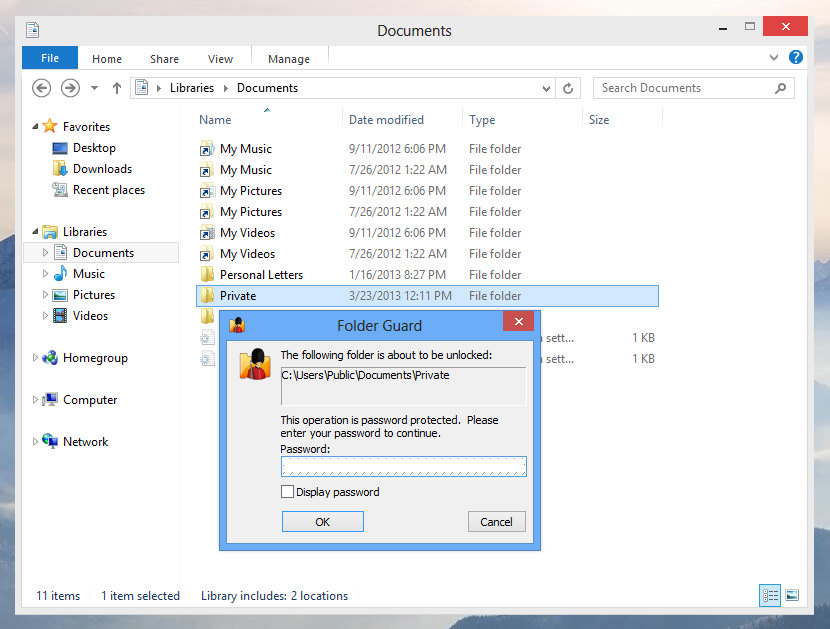 Folder Guard® is a powerful computer security program that you can use to control access to files, folders, and other Windows resources. You can use Folder Guard to lock your personal files and folders with passwords, to stop other users from peeking into your records. You can even completely hide your private folders from virtually all applications, and such folders would remain invisible until you enter a valid password. You can also protect sensitive system files from modification or destruction, disable access to the removable drives, restrict access to Control Panel, and more.
↓ 18 – Folder Lock [ USD40 | AES-256 bit File & Folder Encryption ]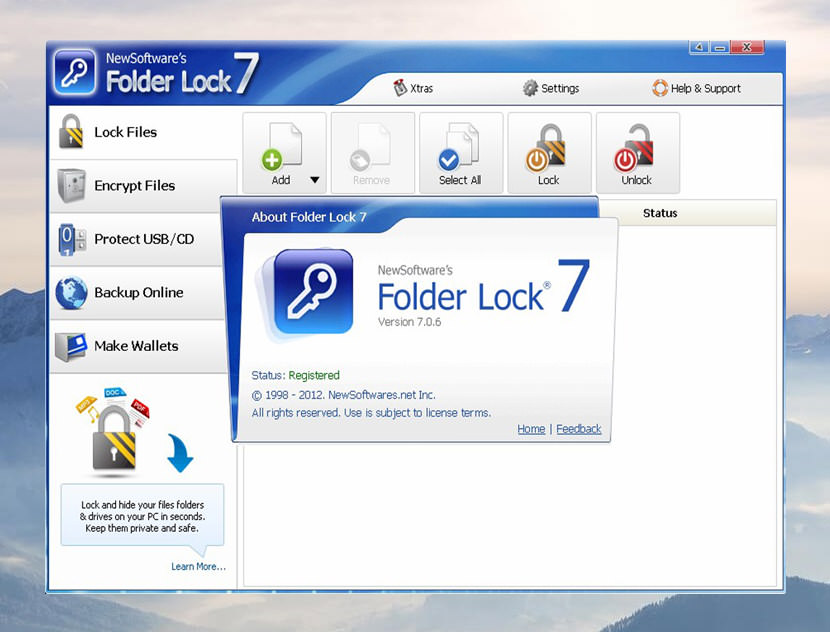 Folder Lock lets you password-protect files, folders and drives; encrypt your important files on-the-fly; backup them in real-time; protect portable drives; shred files & drives and clean history. Folder Lock is the most downloaded file-security application with more than 25 million users. It works on 32-bit and 64-bit versions of Windows 8, 7, Vista, XP.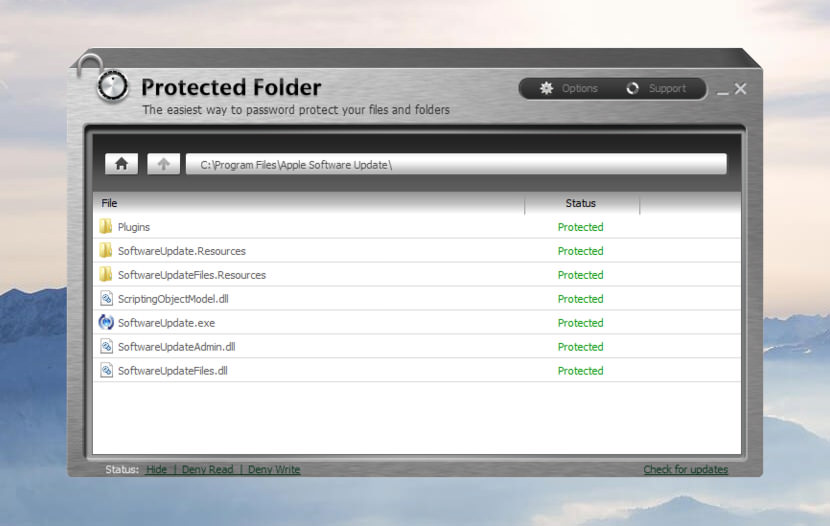 Secure your privacy by Protected Folder to protect your important and personal files from anyone else who might use your computer or when your computer is shared at work.
Protected Folder keeps locking your important data. Even if your PC is threatened by malicious attack, without unlocking it by entering the password you set, your files can not be stolen and are kept safely.
↓ 20 – Wise Folder Hider [ Free/USD20 | No Encrypting for Free Version ]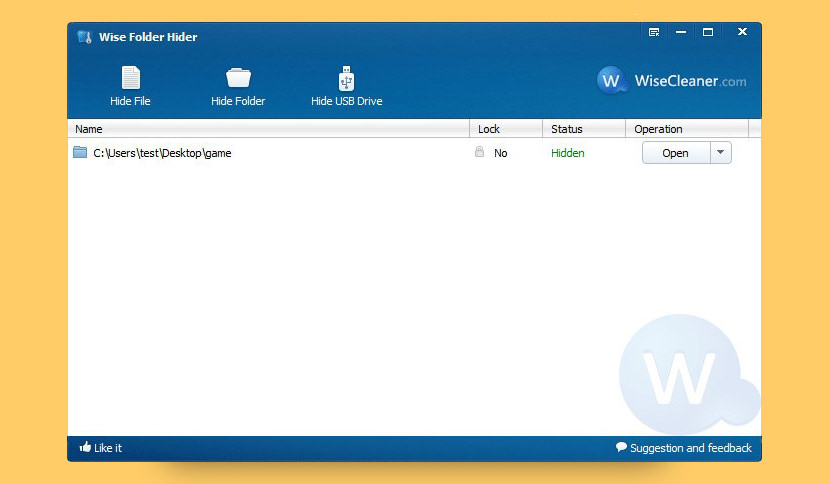 Wise Folder Hider is designed to password-protect your folders and files from being seen, read or modified by the priers. It provides enhanced security for files and folders on your Windows PC, blocking the unauthorized access of your private files or folders. It is an ideal utility for those who are concerned about the security of their personal data.
File Protect System (FPS) is a professional solution for the personal data protection that encrypt files and directories using a password. The application can be used alone to encrypt files and folders, or as a component of a complete cyber defense system. FPS allows you to build a reliable confidential information exchange system using embedded email clients. The application provides the user the option of choosing an encryption algorithm.
Encryption can be done using a password or a digital object (images or arbitrarily chosen file). Encrypted files can be stored on the local disk, on a server, on external storage or in the cloud. With FPS you can create packages of protected files. This feature is extremely important when creating archives or backups of critical information. If necessary, all processes can be documented in real time, allowing for subsequent analysis and optimization.
The application complies with the requirements of the EU General Data Protection Regulation (GDPR) The standard encryption algorithms used in the application are validated within NIST's Cryptographic Module Validation Program (CMVP). FPS was developed in accordance with the requirements of ISO 9797 and ISO 9798-2. The development process complies with the requirements set out in ISO / IEC 15408-1, which guarantees high reliability.
The application includes the following standard encryption algorithms: Advanced Encryption Standard (block size of 128 bits, key lengths: 128, 192 and 256 bits) Blowfish Haval (256 bit, 5 passes) CAST-128 (CAST-5) CAST-256 (CAST-6) Information Concealment Engine (ICE) Information Concealment Engine 2 (ICE-2) ICE Encrypt MISTY-1 (Mitsubishi Improved Security Technology) Ron's Code 2 or Rivest's Cipher 2 (RC-2) Ron's Code 4 or Rivest's Cipher 4 (RC-4) Ron's Code 5 or Rivest's Cipher 5 (RC-5) Ron's Code 6 or Rivest's Cipher 6 (RC-6) Serpent Tiny Encryption Algorithm (TEA) Twofish Affordable hash functions: Secure Hash Algorithm 1 [SHA-1] RIPEMD-160 Haval [256 Bit, 5 passes] Message Digest 5 [MD-5] Message Digest 4 [MD-4] Tiger RIPEMD-128 SHA-256 (SHA-2 family) SHA-384 (SHA-2 family) SHA-512 (SHA-2 family)
↓ 22 – Anvi Folder Locker [ Discontinued | Free | No Encrypting ]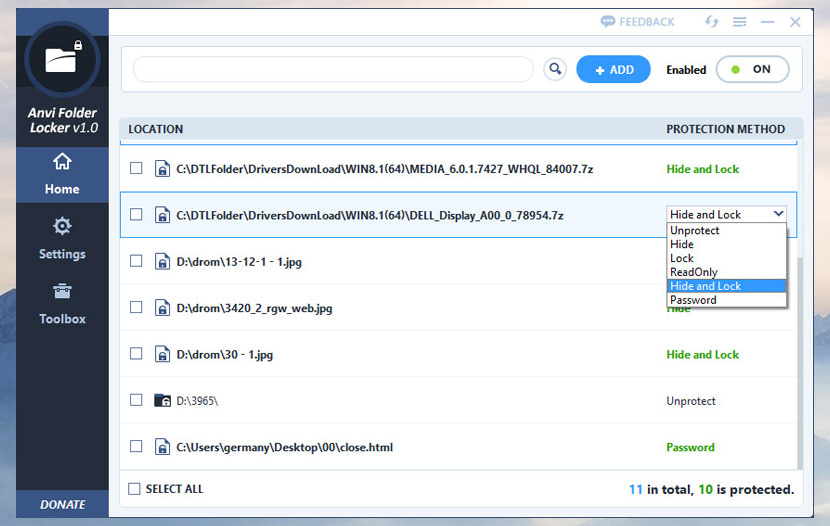 Anvi Folder Locker is a new and free security tool developed to help computer users manage or protect their important files. With Anvi Folder Locker, you can lock your personal files for protecting your privacy, set password to files so other users will have no access to visit. You can also add permissions to your files to stop them from being modified, destructed or removed. So just add a file or a folder, Anvi Folder Locker can Hide, Lock, Read Only, Hide and Lock, Password-Protect it.
↓ 23 – EMCO UnLock IT [ Free | No Encrypting ]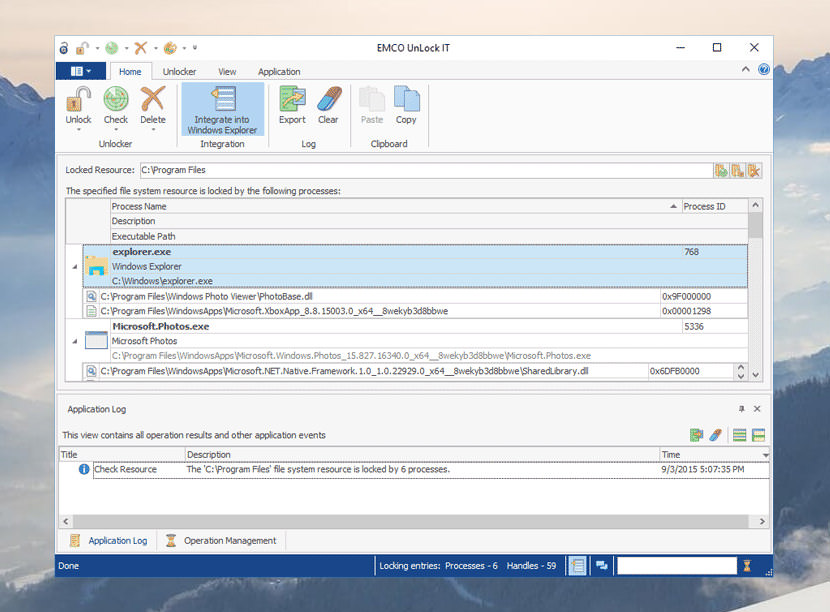 A neat free utility that helps you to unlock files and folders. It allows you to take control on resources locked by a system, applications and services. For a locked resource the application detects a list of locking processes and allows to unlock the resource by closing file and library handles or terminating locking processes. The application offers Windows Explorer integration that makes possible folders and files unlocking by just a single click in the context menu.