Cannot delete files on Windows? How to delete undeletable locked files and folders on Microsoft Windows? Sometimes there is another program 'locking' down the file because it is accessing it, for example Photoshop will lock a file when it is running in Adobe Photoshop. More often than not, a simple restart will solve this problem.
See More ▼ 15 Freeware To Securely Erase All Data From HDD Hard Drive Preventing Recovery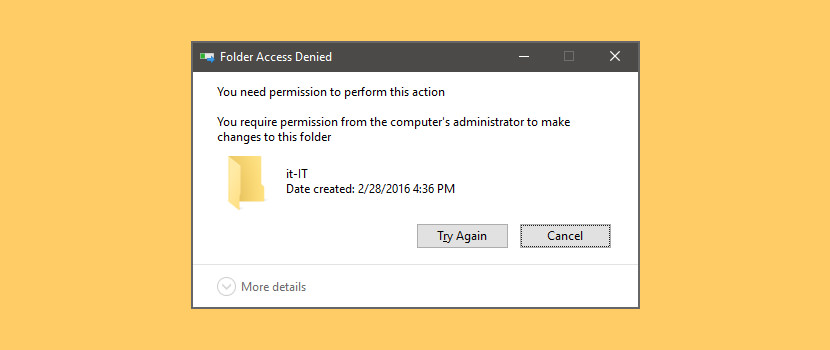 When to use these files and folder unlocker? Only when a restart of Windows fails to enable access do you use these special tools when you're getting the following messages.
Cannot delete file: Access is denied
There has been a sharing violation
The source or destination file may be in use
The file is in use by another program or user
Make sure the disk is not full or write-protected and that the file is not currently in use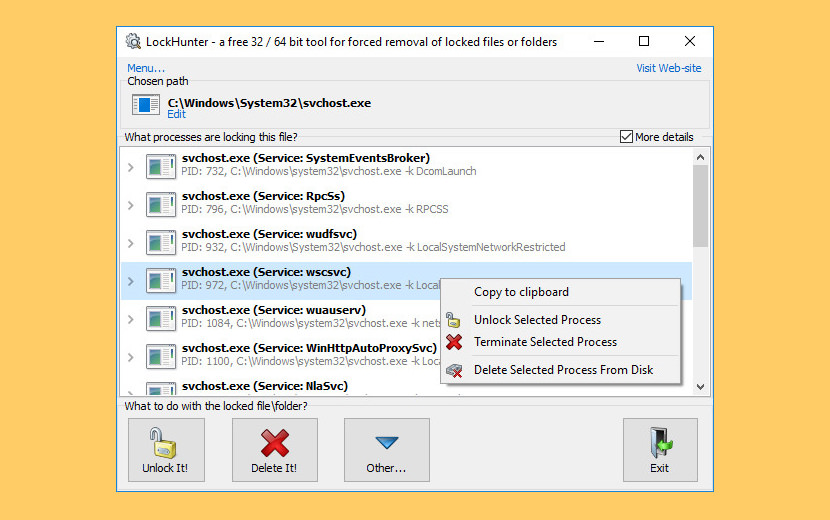 LockHunter is a Foolproof File Unlocker tool to delete files blocked by something you do not know. LockHunter is useful for fighting against malware, and other programs that are blocking files without a reason. Unlike other similar tools it deletes files into the recycle bin so you may restore them if deleted by mistake. Works great on Microsoft's Windows 10 and Apple's macOS.
Shows processes locking a file or folder
Delete empty folders
Gives you detailed information on the process
Allows to unlock, delete, copy or rename a locked file
Can delete a file at next OS restart
Allows to kill locking process
Allows to remove locking processes from hard drive
Can unload DLLs from processes
Integrates in to Explorer menu
It deletes files into the recycle bin, so you may restore them if deleted by mistake
Supports both 32 and 64 bit Windows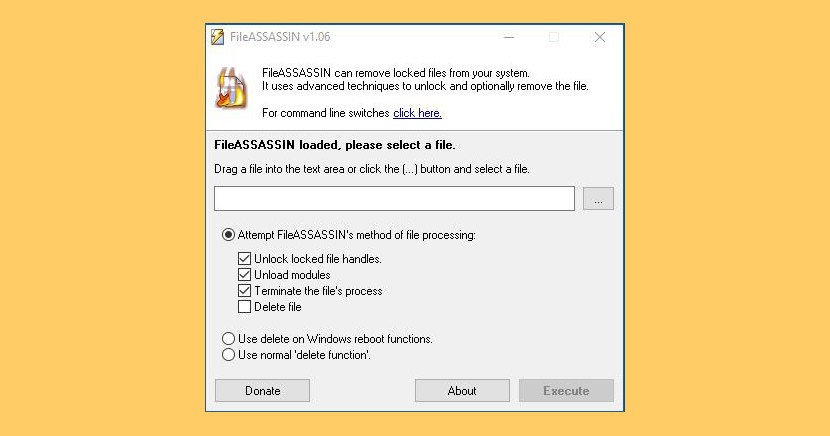 FileASSASSIN can eradicate any type of locked files from your computer. These 'locked' messages commonly appear when you're trying to delete files deposited by a malware infection, though occasionally a file just goes on lockdown. Whatever the reason for the file, FileASSASSIN can remove it. Advanced programming techniques unload modules, close remote handles, and terminate processes in order to remove the particular locked file.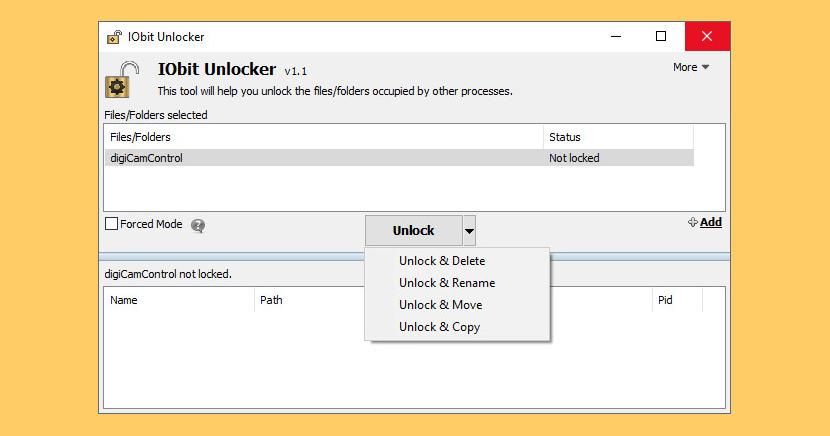 IObit Unlocker is a light-weighted yet powerful tool designed to fix the "Cannot Delete" or "Access Denied" problems. It can "Force" terminate all related processes that prevent you from deleting or accessing files / folders that you need to. IObit Unlocker also provides several useful options to make your work easier, like "Unlock & Delete", "Unlock & Rename", "Unlock & Move", and "Unlock & Copy".
You wouldn't be annoyed any more by messages like "Cannot delete file: Access is denied", "undeleted files", "The file is in use by another program or user", or "There has been a sharing violation"! Solution for "Cannot Delete" Problems on Windows.
No More "Cannot Delete" or "Access Denied" Problems
Useful Post-Unlock Options
Guaranteed Data Safety and Disk Stability
Light, Easy, and FREE to Use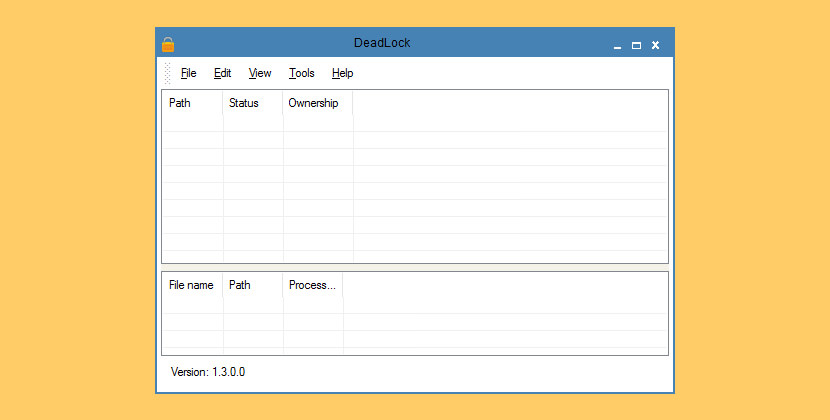 DeadLock is a free file and folder unlocking utility brought to you by CodeDead. It can help you unlock files or folders that you're unable to delete, copy, rename or move. As of version 1.3, DeadLock can also take ownership of files and folders! It can help you unlock files or folders that you're unable to delete, copy, rename or move.
Unlock files / folders
Take ownership of files / folders
Remove files / folders
Move 'locked' files / folders
Copy 'locked' files / folders
Command-line arguments
Automatic updates
Windows Explorer integration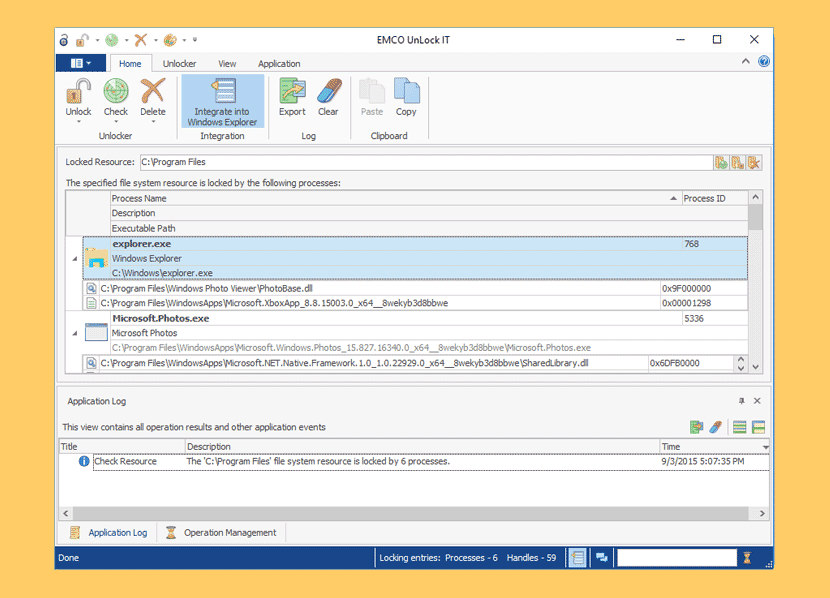 A neat free utility that helps you to unlock files and folders. It allows you to take control on resources locked by a system, applications and services. For a locked resource the application detects a list of locking processes and allows to unlock the resource by closing file and library handles or terminating locking processes. The application offers Windows Explorer integration that makes possible folders and files unlocking by just a single click in the context menu.
Force Closing File Handles – The application allows you to unlock a file by closing file handles to this file. This unlocking approach can be used to release a lock for files that are opened for modification. This approach is safe to use in most cases, because it doesn't require termination of a process that hold a lock.
Force Closing Library Handles – The application makes it possible to unlock the DLL file currently using by running processes. In this case opened handles to the DLL are forced to close in order to release locks. This approach also doesn't require termination of the process that uses DLL. In most cases can continue to work successfully.
Termination of Protected Processes – If a file can't be unlocked by closing file and library handles, the application can unlock it by terminating processes that hold locks. Even processes that are protected from termination can be terminated successfully, so approach can be used when you need to remove resources locked by viruses.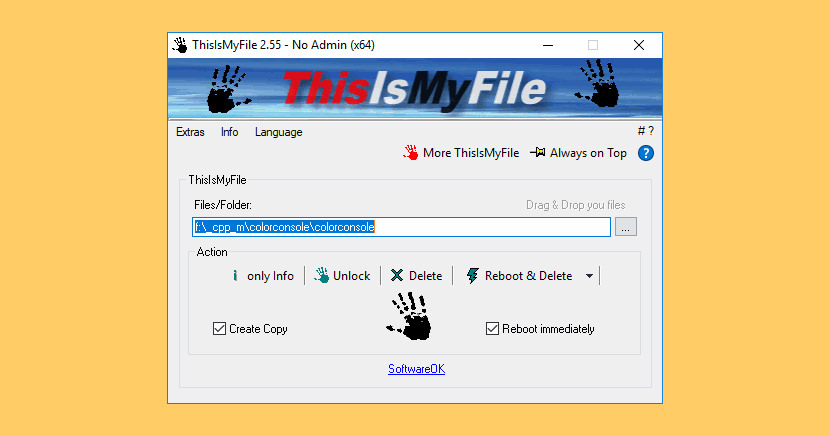 ThisIsMyFile is a small, fast tool for quickly unlocking and deleting locked or protected files on Windows. It's helpful for those times Windows locks up a file and makes it so that you can't remove it. Sometimes a simple reboot resolves the issue but this small app takes care of it quickly without reboot and with no installation needed.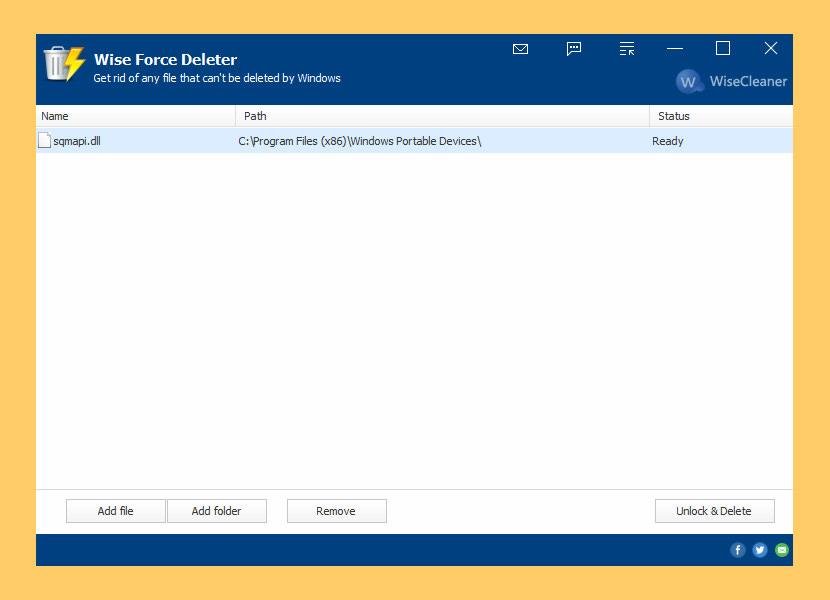 Wise Force Deleter is freeware that allows you to delete any file in your Windows system(64 and 32-bit). It has been developed and fully tested to work great on Windows 10 and other Windows operating systems, from Windows XP and up. No matter what you own – a desktop or a laptop.
Wise Force Deleter is designed to fix all the issues of 'file locking' by terminating the processes using the file or removing file-access restrictions that prevent you from deleting a file. With Wise Force Deleter, you can unlock and delete any file without frustration in Windows.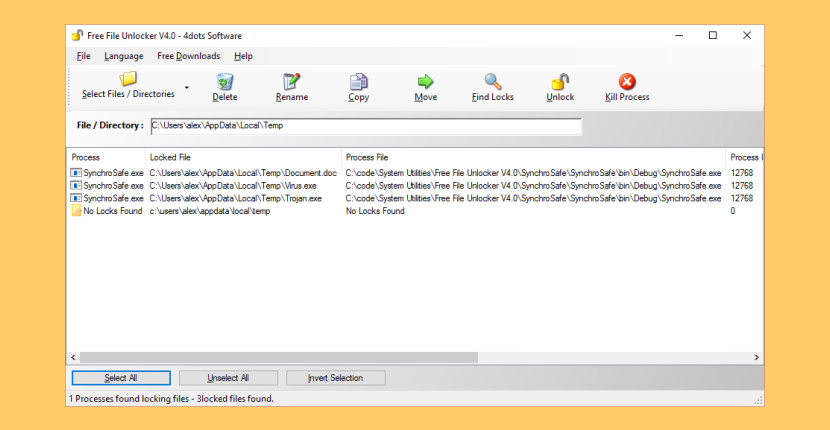 Delete Currently Used, Locked, Undeletable, Busy Files. Free File Unlocker is a free essential utility to delete currently used, locked, undeletable, busy files. Works with all 32bit and 64bit versions of Windows and Windows Server. It unlocks files or folders and stops error messages from appearing when trying to delete, move and rename them. It can also be used to terminate malware that is difficult to be removed and kill viruses and trojans. It is fully integrated with Windows Explorer.
9. NoVirusThanks File Governor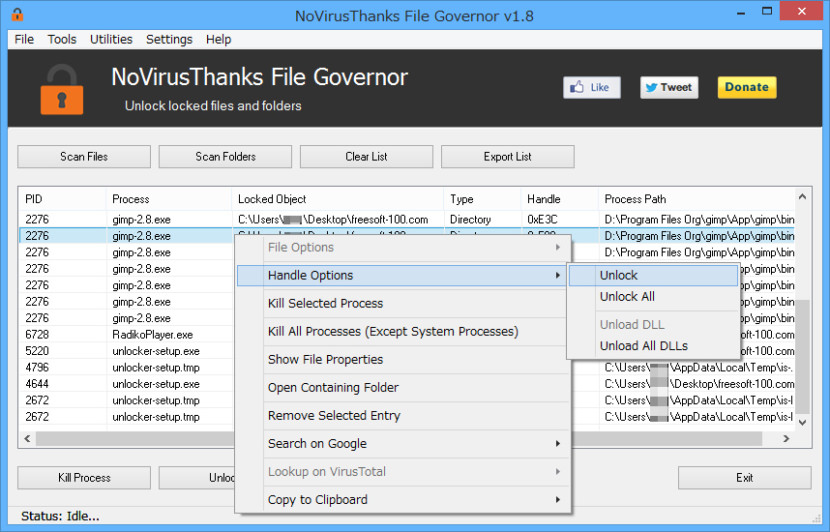 NoVirusThanks File Governor is an advanced program which allows for files and folders within the system to be unlocked so that normal file I/O operations can be completed when normally they would not be able to due to operating system restrictions for files currently in use. Once a file or folder is unlocked you will be able to force-close the file's handle, rename, delete, etc. In this case you should know these messages:
Unlock Locked Files – Safely unlock files that cannot be delete or are in use by other programs.
Unlock Locked Folders – Safely unlock all files inside a folder so that you can delete the folder.
Search Locked Files – You can scan files and folders for locked files from the program interface.
Terminate Processes – You can terminate processes that are using the locked file or folder.
Unlocker Alternative – This is a great free alternative to Unlocker, the popular file unlocker.
Close Open Handles – Safely close all opened handles and unload loaded DLL modules.