Files deleted from your USB thumb drive are not removed immediately; the deleted files are still known to be occupying the space although it is not visible in Microsoft Windows. Why is that so? Well, when you delete a file, Windows marks that particular sector in your hard disk as free in the registry, the content is removed when a new data is written onto the previous 'free' space, therefore if no new data is written, it is possible to retrieve the 'deleted' data.
🤣😍😂 12 Free Junk Files Cleaners – Increase SSD Hard Disk Storage Space
Who needs this software? If you happened to be sharing your USB flash drive with an IT expert friend and the USB thumb drive used to contain your private files (e.g. homemade video) which were deleted weeks ago, you should definitely try these data remover to avoid any unwanted incident. Also, securely erase all of your laptop's data on your hard disk before you give it away or sell it. The best way to permanently erase all data and files is to perform this task a few times with a few other software various times.
This free software works on all SSD hard disks, SATA hard drive, USB Thumb Drive, Flash Drive, SD Memory Card, Smartphone removable microSD Card and more. Most of them run on Microsoft Windows XP, Vista, 7 and 8 (64-bit desktop). Some do run on Apple macOS and Linux. Remember, almost nothing is guaranteed, everything man made can be unmade.
↓ 01 – Eraser | Files/Disk | Windows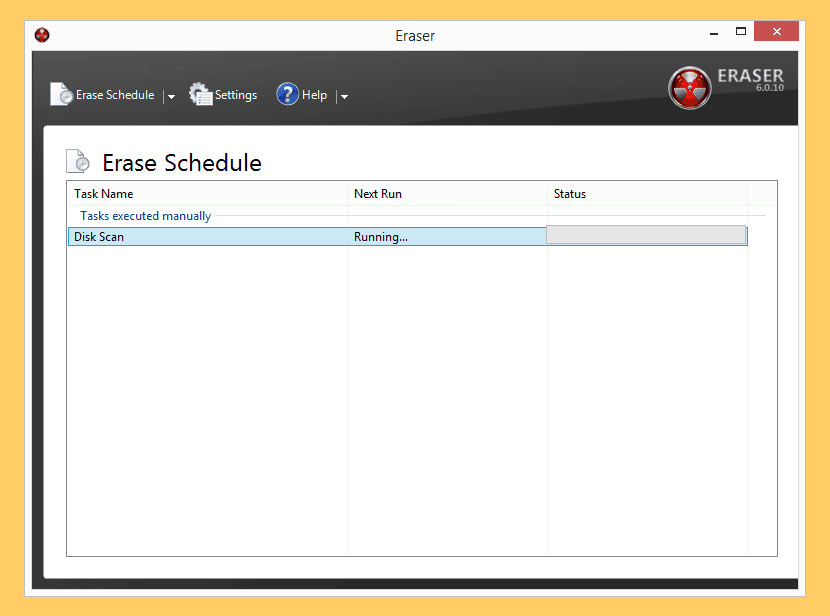 Eraser is an advanced security tool for Windows which allows you to completely remove sensitive data from your hard drive by overwriting it several times with carefully selected patterns. Eraser is currently supported under Windows XP (with Service Pack 3), Windows Server 2003 (with Service Pack 2), Windows Vista, Windows Server 2008, Windows 7 and Windows Server 2008 R2. With these following technology, you can rest assure your
Gutmann (35 passes)
US DoD 5220.22-M (8-306./E,C & E) (7passes)
RCMP TSSIT OPS-II (7 passes)
Schneier 7 pass (7 passes)
German VSITR (7 passes)
US DoD 5220.22-M (8-306./E) (3passes)
British HMG IS5 (Enhanced) (3 passes)
US Air Force 5020 (3 passes)
US Army AR380-I9 (3 passes)
Russian GOST P50739-95 (2 passes)
British HMG IS5 (Baseline) (1 pass)
Pseudorandom Data (1 pass)
↓ 02 – HardWipe | Files/Disk | Windows
Hardwipe is a slick on-demand data sanitizer for Windows Desktop with a user interface that is both beautiful and a dream to use. Use Hardwipe to permanently erase (or to "hard wipe") data on disk and portable storage media, thus ensuring that discarded, but sensitive, information can never be recovered by someone else. Hardwipe lets you "hard wipe":
Physical Devices
Logical Volumes
Files & Folders (inc. sub-trees)
Windows Recycle Bins
Free Drive Space
↓ 03 – WipeFile | Windows | Erases Files and Folders Secure and Fast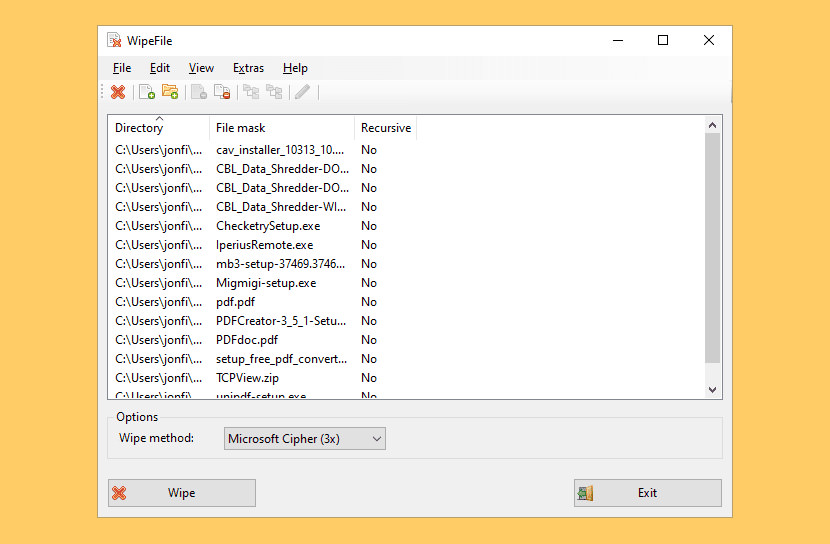 WipeFile overwrites the information completely, so there is no way to undelete the files or reconstruct the file content. WipeFile supports 14 different wipe methods, e.g. two US Navy standards, the standard of the US Department of Defence, US Airforce and NATO.
↓ 04 – Disk Redactor | Windows | Permanently Remove Data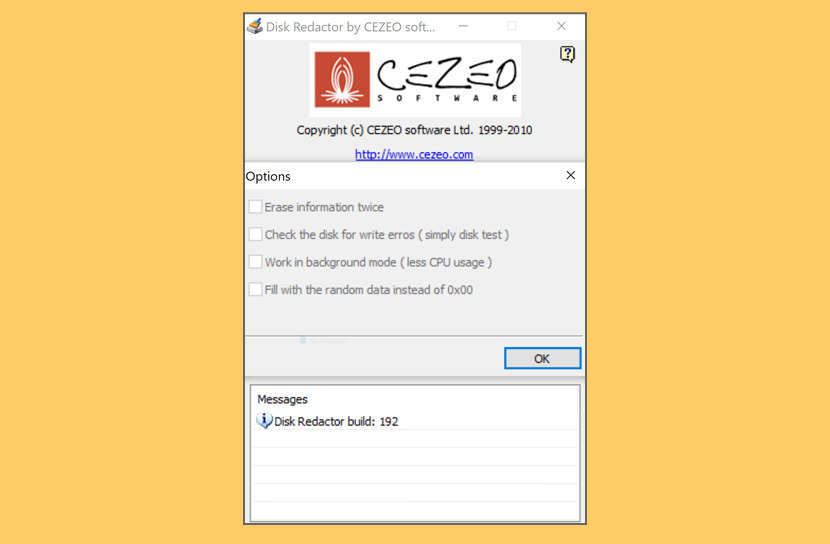 Unlike Disk Wipe, Disk Redactor is a simple data remover tool. It uses a fairly simple technology. Disk Redactor will perform the data shredding task as instructed, this will ensure all data are removed and not recoverable by any other recovery software.
Disk Redactor is a WIPE utility that lets you securely erase any old ( deleted ) files and prevent them from being recovered. All your private sensitive insecurely erased information will be wiped from free unused space on your drives to ensure complete data destruction.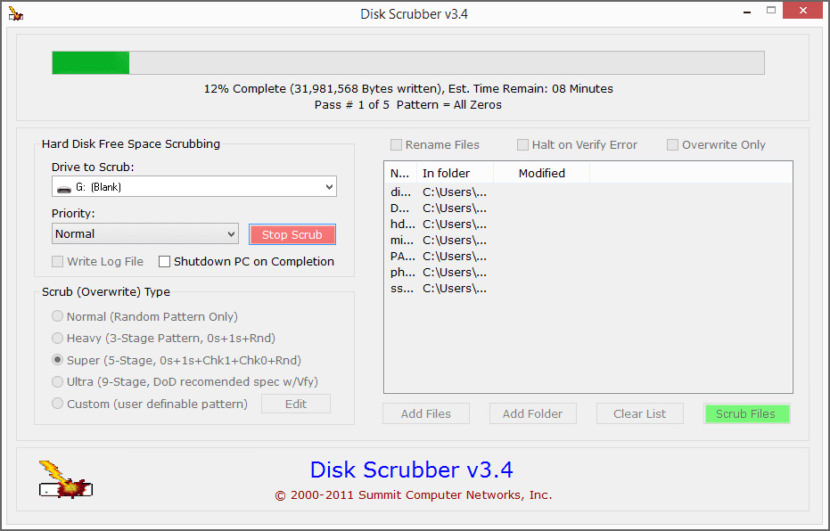 Summit's Hard Disk Scrubber is a Free secure delete program designed to help you permanently destroy sensitive data from your PC. Use Hard Disk Scrubber to overwrite free space on your Windows drives, or to permanently delete files so that they can no longer be recovered.
The Hard Disk Scrubber v3 offers new scrub types in addition to Normal, and Heavy that were found in earlier versions of the software. A description of each of these types follows. Each "Scrub Type" is a collection of "Scrub Patterns". The Hard Disk Scrubber offers 6 different scrub patterns in all. Each pattern is a 512K block of bit data. This data is what is used to overwrite the private data that you are permanently destroying.
Normal – Single Pass using Random Pattern
Heavy – Three passes, using Zeros, then Ones, then Random
Super – Five passes, using Zeros, Ones, Checkerboard Beginning with Zero, Checkerboard Beginning with One, then Random
Ultra – DoD prescribed – overwrite, overwrite with 1's complement, overwrite random, verify. These 4 steps repeated 3 times.
Custom – User-definable Scrub Type. Any patterns in any order for as many passes as needed.

CyberShredder is a quick, safe and handy utility that lets you erase confidential files from your computer permanently. Normal file deletion will remove a file's directory entry and allocation table information. The actual disk clusters that contained the file's data remain intact on your hard disk and can be recovered later. CyberShredder overwrites the space occupied from a file with random data and erases the file, so an unerase utility will never be able to recover it.
↓ 07 – File Shredder | Files/Disk | Windows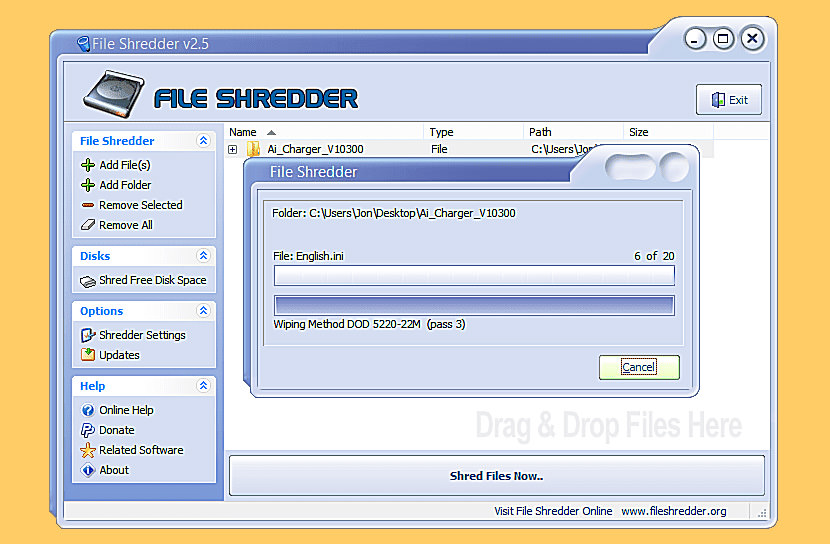 With File Shredder you can remove files from your hard drive without fear they could be recovered. There are quite a few software tools today for retrieval of deleted files under Windows OS. Those tools, often referred to as "file recovery" software, are taking advantage of a shortcoming of WIndows "delete" command that we all use regularly to delete files. Actually, the "delete" operation in Windows only removes bits of information from files so they appear deleted in the OS. It is easy to retrieve those files using the aforementioned specialized file recovery software.
↓ 08 – Zer0 | Files | Windows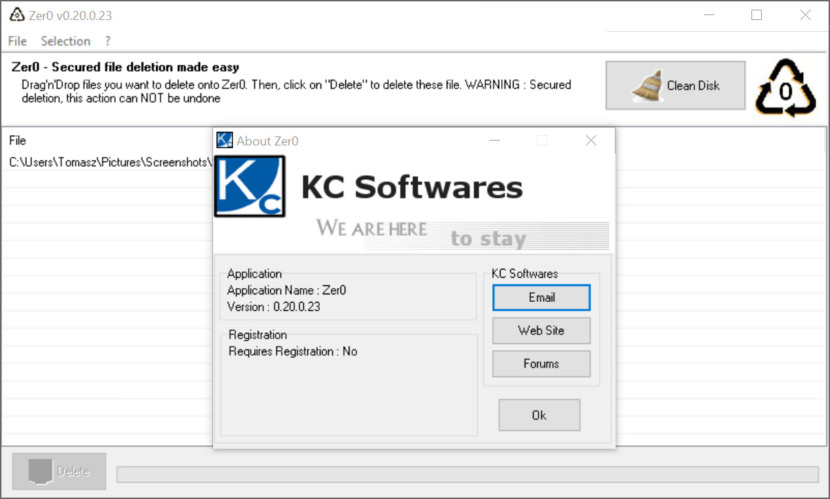 Zer0 is a user-friendly file deletion tool with a high level of security. With Zer0, you'll be able to delete files and to prevent file recovery by a 3rd person. So far, no user reported an efficient method to recover a file deleted by Zer0.
User friendly HMI : Drag And Drop, 1 click and the job is done !
High security file deletion algorithm
Multithreaded application core : Maximum efficiency without freezing the application.
↓ 09 – Turbo Shredder | Files | Windows | Linux | macOS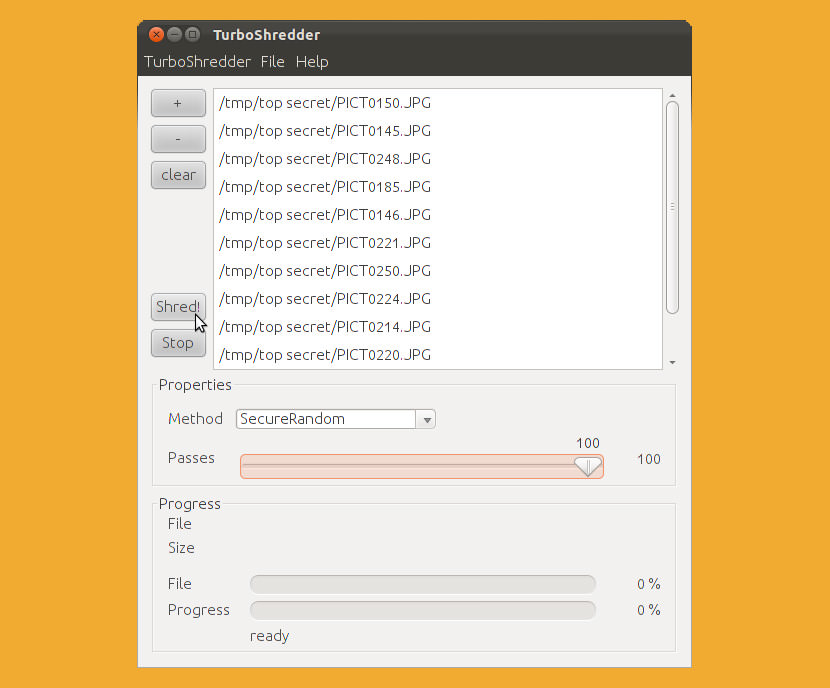 Do you want to delete some top secret files? DON'T do that by only pressing DELETE, because the data would still be on your drive! Use Turbo Shredder and remove files by securely wiping them out.
Features
Overwrite data up to 100 times.
Overwrite file names and directory names.
Deletes timestamps of files and directories
Overwrite data with zeros, ones or random data.
Supports several deletion algorithms.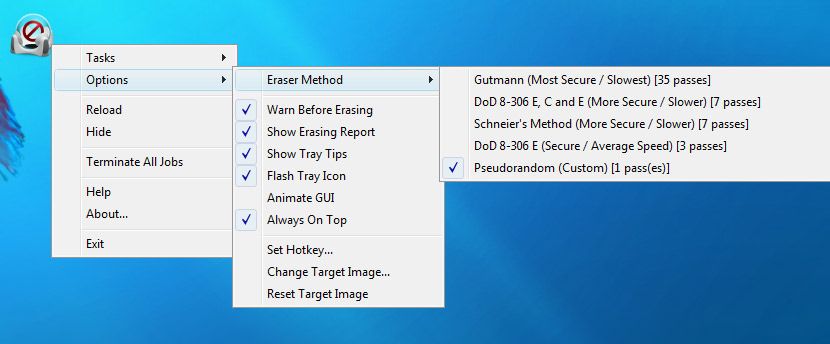 EraserDrop Portable is an easy-to-use secure data removal tool. It is a drop target (a floating icon on your desktop) that you can drop files onto to quickly erase them so they can not be recovered. EraserDrop does away with the standard Eraser Portable interface and is packaged as a portable app so you can easily delete files on the go. EraserDrop also includes the ability to wipe the Recycle Bin and wipe drive free space. Right-click and use the 'Tasks' submenu.
Flash Drive Note: Nearly all modern flash drives use wear leveling to spread write operations out over a device. This interferes with Eraser (and other secure deletion utilities) ability to wipe single files. Wiping an entire drive or erasing a file and then wiping free space may be a little more secure but still not delete all data, though it will put additional wear on your drive.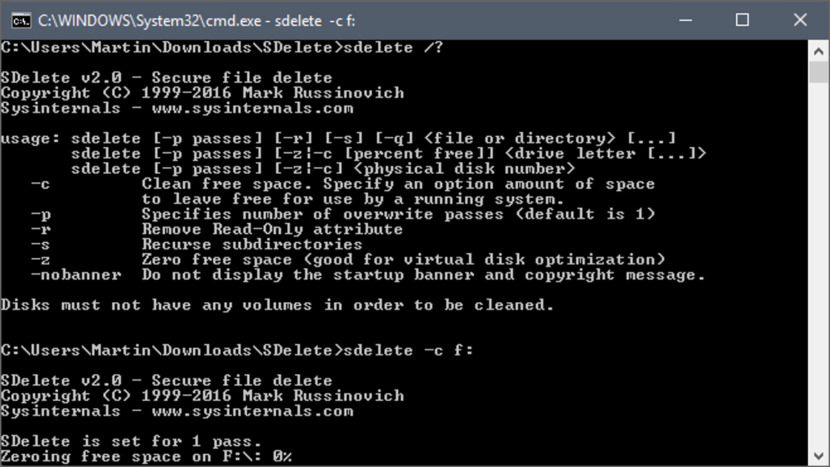 One feature of Windows NT/2000's (Win2K) C2-compliance is that it implements object reuse protection. This means that when an application allocates file space or virtual memory it is unable to view data that was previously stored in the resources Windows NT/2K allocates for it. Windows NT zero-fills memory and zeroes the sectors on disk where a file is placed before it presents either type of resource to an application. However, object reuse does not dictate that the space that a file occupies before it is deleted be zeroed. This is because Windows NT/2K is designed with the assumption that the operating system controls access to system resources. However, when the operating system is not active it is possible to use raw disk editors and recovery tools to view and recover data that the operating system has deallocated. Even when you encrypt files with Win2K's Encrypting File System (EFS), a file's original unencrypted file data is left on the disk after a new encrypted version of the file is created.
The only way to ensure that deleted files, as well as files that you encrypt with EFS, are safe from recovery is to use a secure delete application. Secure delete applications overwrite a deleted file's on-disk data using techniques that are shown to make disk data unrecoverable, even using recovery technology that can read patterns in magnetic media that reveal weakly deleted files. SDelete (Secure Delete) is such an application. You can use SDelete both to securely delete existing files, as well as to securely erase any file data that exists in the unallocated portions of a disk (including files that you have already deleted or encrypted). SDelete implements the Department of Defense clearing and sanitizing standard DOD 5220.22-M, to give you confidence that once deleted with SDelete, your file data is gone forever. Note that SDelete securely deletes file data, but not file names located in free disk space.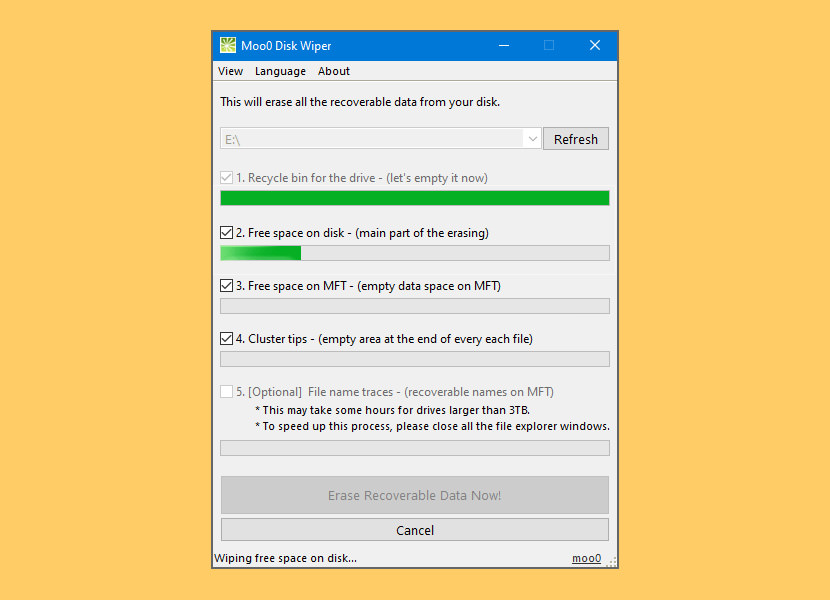 Moo0 Anti-Recovery lets you easily erase all the recoverable data from the empty space of your disk drive, leaving the existing files untouched.
Have you ever sold/disposed of your PC, HDD or USB sticks? Are you really sure nobody's recovered your personal data, such as ID, password, personal photos, credit card number and so on, from them, then? Now, you can be relieved from the fear by using this easy program. You may also want to use this tool before leaving your desk for some days.
↓ 13 – BleachBit | Files & Browser History | Windows | Linux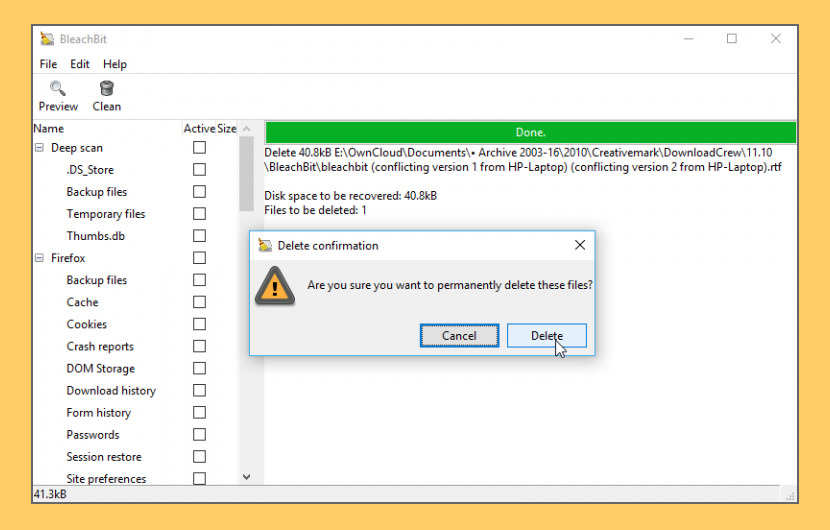 BleachBit quickly frees disk space and tirelessly guards your privacy. Free cache, delete cookies, clear Internet history, shred temporary files, delete logs, and discard junk you didn't know was there. Designed for Linux and Windows systems, it wipes clean a thousand applications including Firefox, Internet Explorer, Adobe Flash, Google Chrome, Opera, Safari,and more. Beyond simply deleting files, BleachBit includes advanced features such as shredding files to prevent recovery, wiping free disk space to hide traces of files deleted by other applications, and vacuuming Firefox to make it faster. Better than free, BleachBit is open source.
↓ 14 – CCleaner | Disk | Windows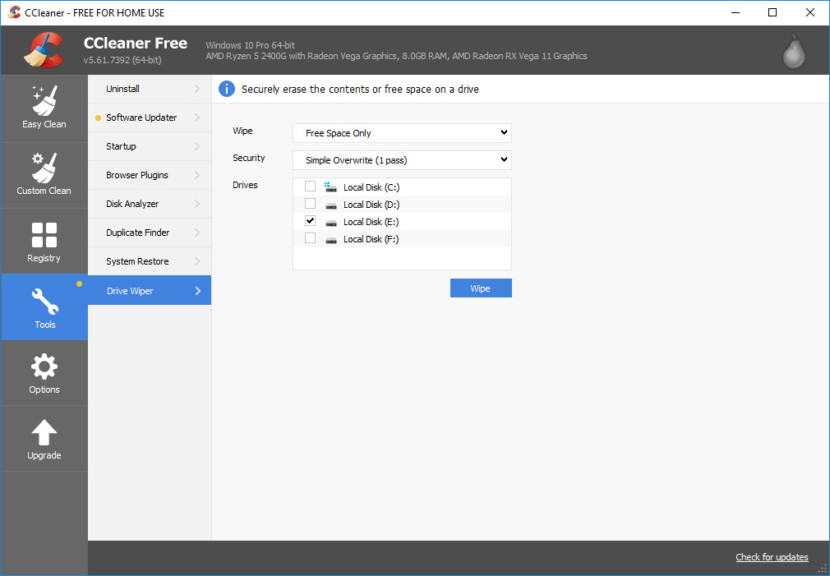 When you delete a file, Windows removes the reference to that file, but doesn't delete the actual data that made up the file on your hard drive. Over time, this data will be overwritten as Windows writes new files to that area of the drive.
This means that, given the right software, someone could reconstruct all, or parts of files that you've deleted. For privacy and security reasons, you can set CCleaner to wipe the free areas of your hard disk so that deleted files can never be recovered. CCleaner is the number-one tool for cleaning your PC. It protects your privacy and makes your computer faster and more secure!
↓ 15 – OW Shredder | Disk/Files | Windows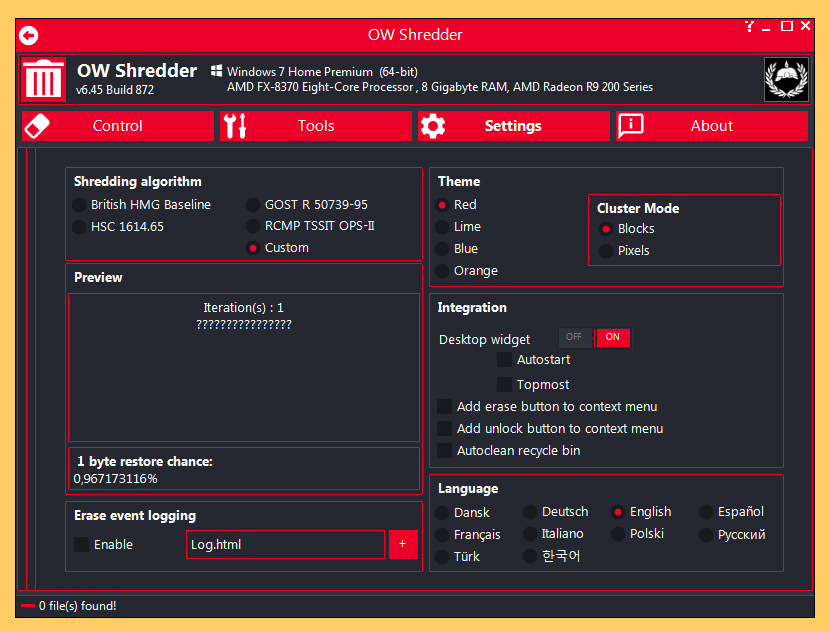 OW Shredder is a powerful security tool that allows you to completely erase sensitive data from your computer. Individual files, free disk space, and entire volumes get erased securely. In addition OW Shredder offers various tools to scan, analyze, and wipe; other traces that were left behind. OW Shredder also supports a desktop widget, a context menu integration and automatic recycle bin cleaning. All in all this small and portable application gives users or even companies the perfect solution to eliminate sensitive data from their computers or servers.
↓ 16 – File Shredder Tool | Disk/Files | Windows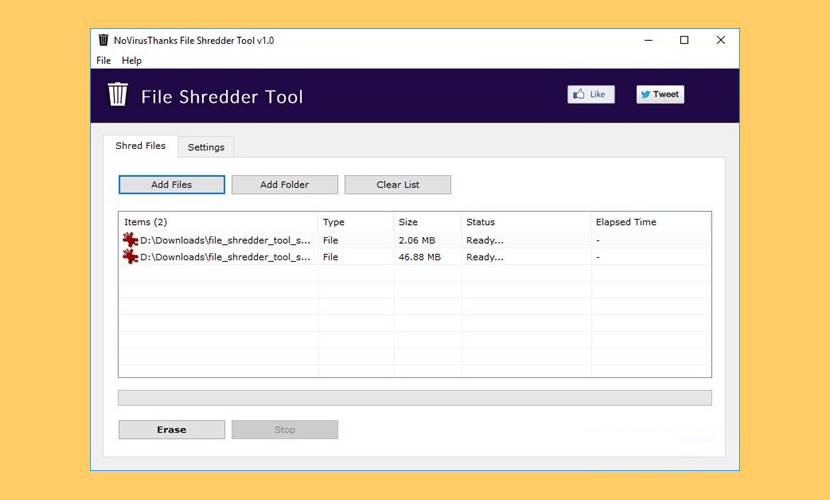 File Shredder Tool is a simple Windows OS utility that can permanently delete files from your hard drive so that no one can recover them with file recovery software. As you know the Windows native "Delete" operation doesn't permanently delete files, in fact most of the files deleted via the recycle bin can be easily recovered. This tool can completely remove sensitive data from your hard drive in a fast and easy way.
Shred and wipe important files, permanently delete files on your PC. Different shredding algorithms are used to ensure permanent file deletion, it supports a single pass, 3 passes (DoD), 7 passes (DoD) and 35 passes (Gutmann). Before deleting the file this tool renames the file to a random name, making it impossible to even know the name of a deleted file.
Overwrite Files – It supports a single pass, 3 passes (DoD), 7 passes (DoD) and 35 passes (Gutmann).
No NTFS MFT Traces – Since the files are renamed prior deletion no important traces are left in NTFS MFT.
No Spyware \ Adware – The program is free from spyware, adware or other pests, nothing extra is installed.
↓ 17 – SlimCleaner [ Discontinued ] | Disk | Windows

The Disk Wiper gives you an effective solution for permanently erasing sensitive data, while protecting those things you want to keep safe. Use it to overwrite the free space on your hard disk sectors that could contain traces of unwanted, sensitive, or private data. This reduces the risk that that data may be recovered by deep scan, data recovery software, protecting your privacy for even those things you can't see.