Bootable OS is useful when you do not want to expose yourself to the world. If you have an old laptop, desktop or netbooks lying around gathering dust, these devices are ideal for running a bootable OS just for surfing the internet on a public WiFi. How do I make my USB bootable? First, you'll need an image writer, here is a list of image writer to write the image onto your USB flash drive.
🤣😍😂 3 Free Linux Antivirus – Anti-Ransomware, Server Malware And Spyware
Peppermint OS is best for old netbooks, Chrome OS is for basic surfing, Ubuntu Game Pack is designed for gamers. There is a portable OS for every type of users. Windows To Go is not featured here is because it is no longer being supported by Microsoft and it is not exactly lightweight to begin with. Without further ado, here are a simple list of lightweight portable OS for your old laptops and desktops.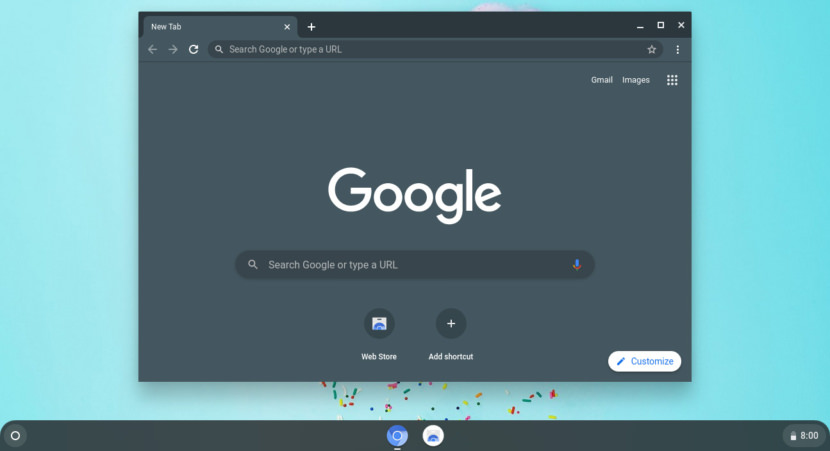 What's the difference between Chromium OS and Google Chrome OS? Chromium OS is the open source project, used primarily by developers, with code that is available for anyone to checkout, modify, and build. On the other hand, Google Chrome OS is the Google product that OEMs ship on Chromebooks for general consumer use.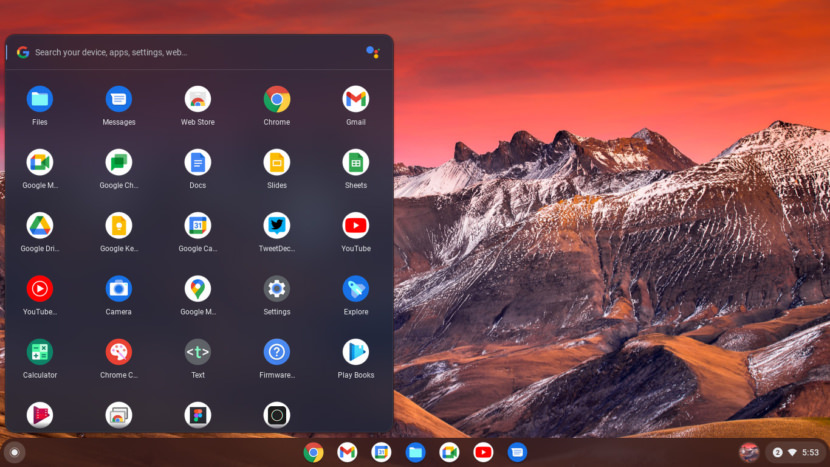 Chrome OS Flex is a web-based operating system that provides fast access to web applications and virtualization. While the Chrome OS is exclusively available for Chromebooks, Chrome OS Flex can be downloaded and installed on any computer with Windows or macOS. Chrome OS devices contain a Google security chip that helps to protect the system but Chrome OS Flex devices do not as the OS is downloadable on third-party systems.
Chrome OS Flex can be looked upon as a lighter operating system than traditional Windows and macOS which can help users in reusing their outdated devices. Try the cloud-first, fast, easy-to-manage, and secure operating system for PCs and Macs. ChromeOS Flex is a sustainable way to modernize devices you already own. It's easy to deploy across your fleet or simply try it to see what a cloud-first OS has to offer.
Devices boot quickly, don't slow down over time, and update in the background, reducing device downtime.
Deploy ChromeOS Flex across your fleet via USB or network deployment and a user's settings and policies sync to the device almost instantly.
Blocked executables and sandboxing technology eliminate the need for antivirus software.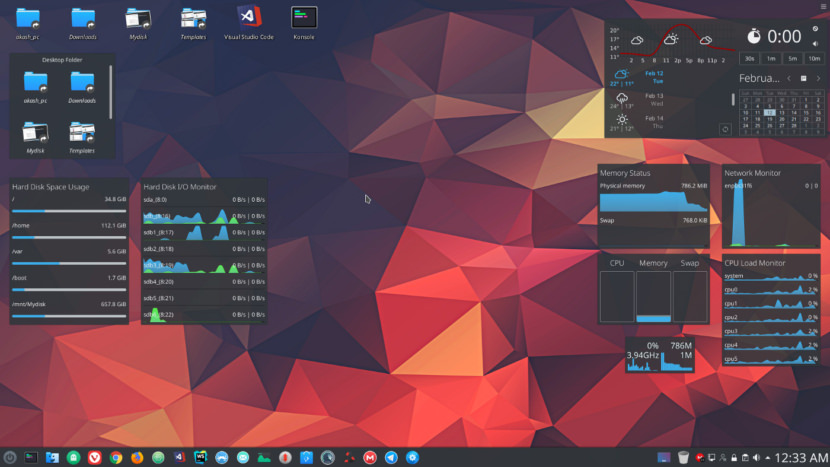 Manjaro is a free and open source Linux operating system that emphasizes user privacy and control of their hardware. It is user-friendly and suitable for those new to computers, and can be installed on a wide range of devices.. Architectures supported include x86-64 and ARM, making it a great choice for any device or computing environment.
Replace your current operating system or run Manjaro alongside it. You will need a minimum 2GB USB flash drive depending on the image you download. Manjaro will work on a minimum of a 2GB RAM Intel Atom with 30GB disk space. A better CPU and more RAM will improve the experience, after downloading the image, be sure to verify its integrity. Minimal images have a minimal set of packages, while full images offer a more complete experience and come with more software pre-installed by default.
Gaming – Play native games using steam or lutris , emulate other game platforms with steam proton or wine, use retro emulators and get all your games in one place, play media or video content or setup a media center, connect controllers over usb or bluetooth
Creativity – Design using inkscape or gimp, do 3d with blender or freecad and bring them to life on your 3d printer with prusa slicer, do video editing using kde-live, or openshot , record or stream videos with open broadcast software
Office – Easily accomplish any office task with the available office suites, multiple document formats are supported and compatible with document format standards. Get your email on check with the best email clients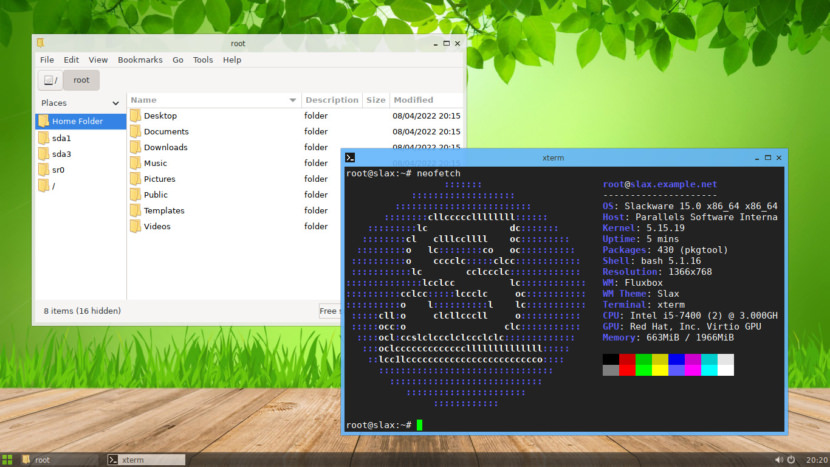 Slax is a compact, fast, and modern Linux operating system that combines a sleek design with a modular approach. With the ability to run directly from a USB flash drive without the need for installation, Slax is truly portable and fits easily in your pocket. Despite its small size, it offers a visually appealing graphical user interface and a carefully curated selection of basic pre-installed programs such as a file manager, text editor, terminal, and more.
When Slax is started from a read-only media such as CD/DVD, it keeps all system modifications in memory only, and all the modifications are lost when you reboot. On the other hand, if you run Slax from a writable device such as USB Flash Drive, it can store all changes there, so all your configurations and modifications are restored next time you boot, even if it is on a different computer. This feature is known as Persistent Changes and you can read more about it in a separate chapter.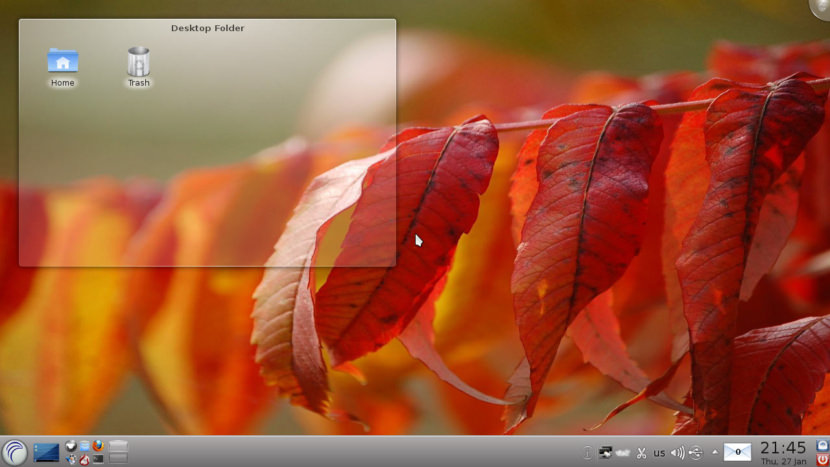 Porteus is a complete linux operating system that is optimized to run from CD, USB flash drive, hard drive, or other bootable storage media. It's small (under 300Mb) and insanely fast which allows you to start up and get online while most other operating systems are left spitting dust. Porteus comes in both 32 & 64 bit and aims to keep on the bleeding edge. It also supports several different languages and the user forum has language sections. Join the community now!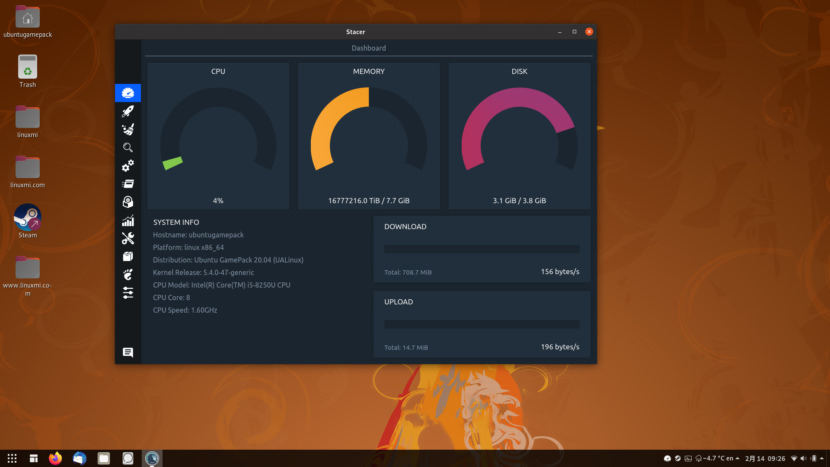 It is an operating system that will guarantee the launch of more than 85,842 games developed both specifically for Linux and developed for Windows, DOS, various game consoles Sega, Nintendo, PSP, Sony PlayStation, ZX Spectrum and many others. It is supplied as ISO image for 64 bit (x64, amd64, x86-64) systems and is available for free download. Sparky APTus Gamer is also installed to allow access to numerous gaming console emulators. The emulators include:
AdvanceMENU – front-end for AdvanceMAME, AdvanceMESS, MAME, MESS, xmame, Raine and other emulators
Atari800 – emulator for Atari 8-bit systems, XE Game System and Atari 5200 SuperSystem
DeSmuME – Nintendo DS emulator
Desura – digital distribution platform for Windows, Linux and X systems – OnLine installer
DOSBox – DOS emulator for BeOS, Linux, Mac X, OS2, and Windows
DOSEMU – DOS Emulator for Linux
ePSXe – enhanced PSX emulator
FCEUX – Nintendo Entertainment System (NES), Famicom and Famicom Disk System (FDS) emulator
FS-UAE – Cross-platform Amiga emulator
GNOME Video Arcade – Simple MAME frontend
Hatari – Atari ST, STE, TT and Falcon emulator for Linux and other systems
Higan – Emulator for Nintendos SNES, NES, Gameboy, Gameboy Color and Gameboy Advance
Kega_Fusion – Sega SG/SC/SF, Master System, Game Gear, Genesis/Megadrive, SVP, Pico, SegaCD/MegaCD emulator
MAME – Hardware emulator which faithfully reproduces the behavior of many arcade machines
Mednafen – Atari Lynx, GameBoy, NES, SNES, PC-FX, Sega, Sony PlayStation and other systems
MESS – Emulator for various consoles and computing systems
Nestopia – Nintendo Entertainment System/Famicom emulator
PCSX – Sony PlayStation emulator
PlayOnLinux – Front-end for Wine
PPSSPP – PPSSPP is an open source PSP emulator available for Windows, MacOS, Linux and Android
Steam – launcher for the Steam software distribution service – OnLine installer
Stella – Atari 2600 Emulator for SDL and the X Window System
VisualBoyAdvance – Full featured Game Boy Advance emulator
Virtual Jaguar – Cross-platform emulator for Atari's infamous Jaguar console
Wine – Windows implementation
Winetricks – a POSIX shell script 'package manager' for WINE to install some Windows software easily
Yabause – Sega Saturn emulator
ZSNES – Emulator for the Super Nintendo Entertainment System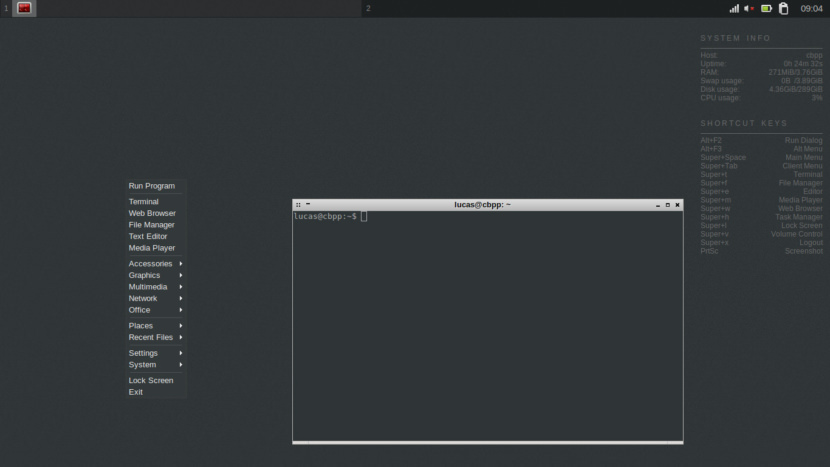 CrunchBang Linux was a Linux distribution derived from Debian by Philip Newborough. CrunchBang was designed to use comparatively few system resources. Instead of a desktop environment it used a customized implementation of the Openbox window manager. The goal is to design an OS that is minimalist, very light on resources and runs on very old hardware.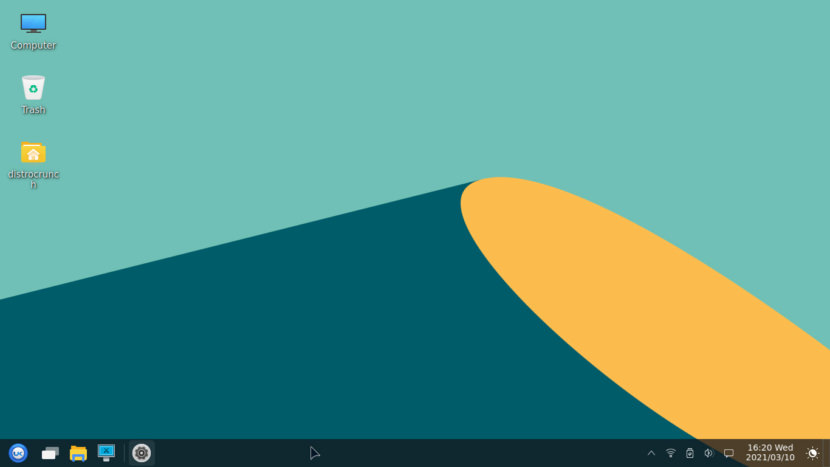 SparkyLinux is a GNU/Linux distribution based on the Debian GNU/Linux operating system. Sparky is a fast, lightweight and fully customizable operating system which offers several versions for different use cases, such as a fully featured standard desktop version with a lightweight desktop environment. It works out of the box on almost any hardware and delivers a curated selection of software for home users.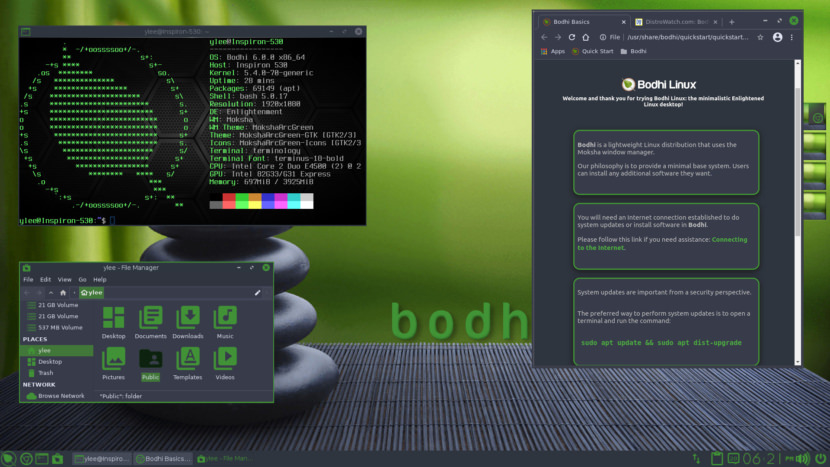 Bodhi is a superfast, and lightweight distro that offers a very easy yet low-resource hungry desktop environment. The philosophy for the distribution is to provide a minimal base system so that users can populate it with the software they want. Bodhi Linux is derived from the Ubuntu long term support releases.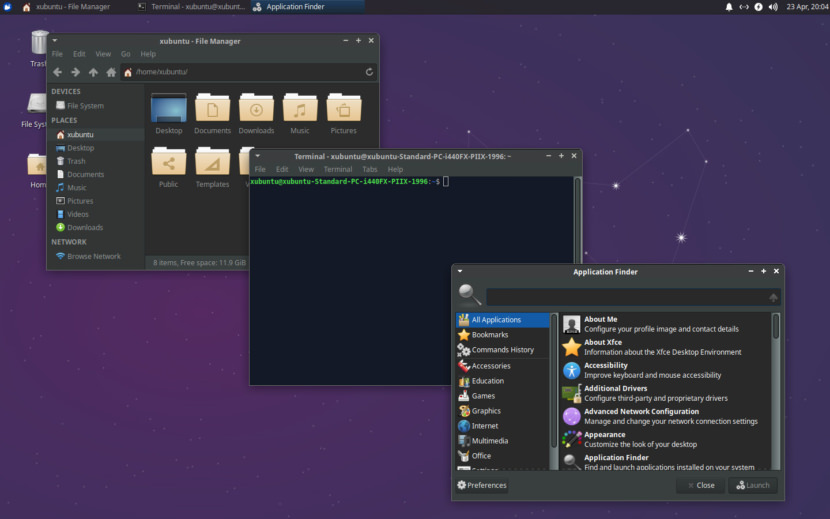 Xubuntu is an elegant and easy to use operating system. Xubuntu comes with Xfce, which is a stable, light and configurable desktop environment. Xubuntu is perfect for those who want the most out of their desktops, laptops and netbooks with a modern look and enough features for efficient, daily usage. It works well on older hardware too.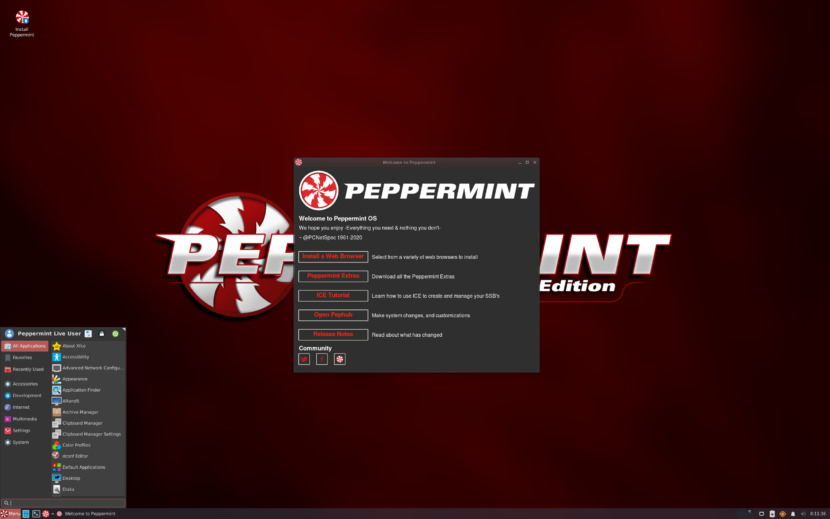 Peppermint OS is a Linux distribution based on Debian and Devuan Stable, it uses the Xfce desktop environment. It aims to provide a familiar environment for newcomers to Linux, which requires relatively low hardware resources to run. Their core value is to offer a minimalistic desktop, giving the individual the choice of what they want to install, beyond a few base tools and custom themes and icon sets.
It is a bare-bones OS, with no firewall, browser, office or media player. This reason, is each community member has their own idea of how and what they would like to install to their computer.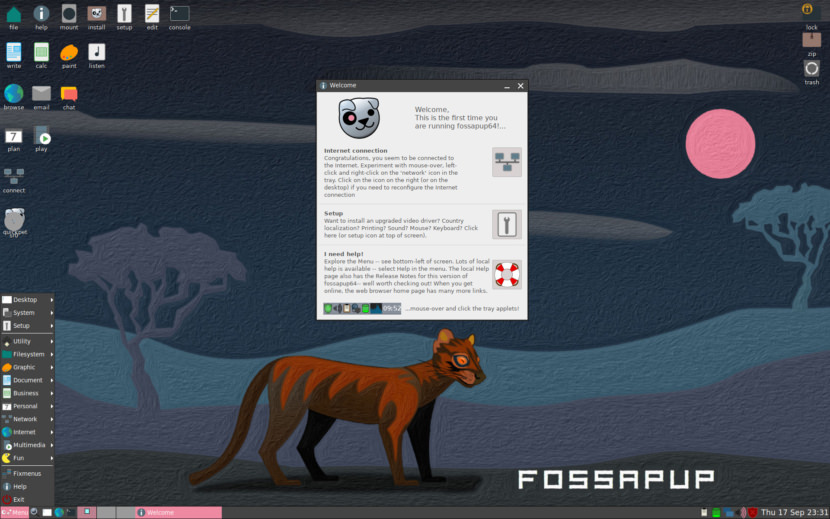 Puppy Linux is a unique family of Linux distributions meant for the home-user computers. It was originally created by Barry Kauler in 2003. Puppy Linux is not a single Linux distribution like Debian. Puppy Linux is also not a Linux distribution with multiple flavours, like Ubuntu (with its variants of Ubuntu, Kubuntu, Xubuntu, etc) though it also comes in flavours.
Puppy Linux is a collection of multiple Linux distributions, built on the same shared principles, built using the same set of tools, built on top of a unique set of puppy specific applications and configurations and generally speaking provide consistent behaviours and features, no matter which flavours you choose.
Ready to use → all tools for common daily computing usage already included.
Ease of use → grandpa-friendly certified
Relatively small size → 300 MB or less.
Fast and versatile.
Customisable within minutes → remasters.
Different flavours → optimised to support older computers, newer computers.