Is something not quite right with your Windows computer even when you have an antivirus installed? Are you being plagued by pop-up windows trying to get you to download security software or alerts claiming your PC isn't secure? It appears like your antivirus could have been compromised, therefore a portable antivirus that works alongside your existing antivirus can provide a crucial second opinion on the health of your PC.
See More ▼ Top 16 Free 60, 90 & 180 Days Antivirus Trial – Norton, Kaspersky, AVG, Avast, BitDefender And More
If your Microsoft Windows is infected by malware, chances are, your antivirus has been disabled by the virus or trojan. Uninstalling and reinstalling any antivirus is useless because the malware is programmed to disable it. This is where portable USB antivirus comes to the rescue. Two heads is better than one, having a second opinion from a different security software is better than none. Without further ado, here are the complete list of the best portable antivirus scanner that can be used without installation to scan and clean infected computers.
Windows Malicious Software Removal Tool (MSRT) helps keep Windows computers free from prevalent malware. MSRT finds and removes threats and reverses the changes made by these threats. MSRT is generally released monthly as part of Windows Update or as a standalone tool. MSRT targets prevalent malware families only. For comprehensive malware detection and removal, consider using Microsoft Safety Scanner or any other 3rd party tools listed below.
Pro & Con of Portable Antivirus
Portable standalone antivirus needs to be updated regularly; some antivirus allows you to download the database, while other requires you to download the entire software. Some standalone antivirus are not updated frequently, thus it might not be able to detect the latest malware. Here is the complete list of all portable antivirus, they are compatible with fully featured antivirus.
Do you think your PC has a virus? The Microsoft Safety Scanner is a free downloadable security tool that provides on-demand scanning and helps remove viruses, spyware, and other malicious software. It works with your existing antivirus software. Microsoft Safety Scanner expires 10 days after downloading. To re-run a scan with the latest anti-malware definitions, please download and run Microsoft Safety Scanner again.
This tool does not replace your antimalware product. For real-time protection with automatic updates, use Windows Defender Antivirus on Windows 10 and Windows 8 or Microsoft Security Essentials on Windows 7. These antimalware products also provide powerful malware removal capabilities.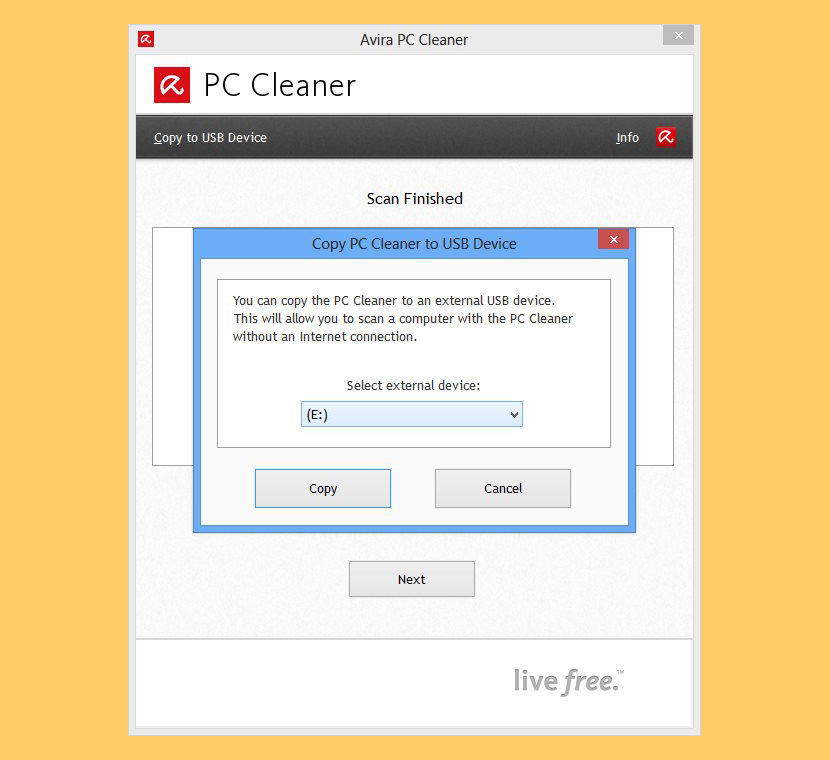 Avira PC Cleaner is a malware scanner that works alongside other anti-malware products. It protects PCs, laptops and netbooks running Windows XP (SP3) and above. Best of all, PC Cleaner doesn't require installation, registration or any additional drivers. On-demand scanners are often called second-opinion scanners, as they may be run next to any installed antivirus solution.
The main idea is to verify that resident security software is working correctly and that no malicious software slipped by it. While running on-demand scanners is no guarantee that the system is indeed clean, it increases the likelihood that it is.
Comodo Cleaning Essentials (CCE) is a set of computer security tools designed to help users identify and remove malware and unsafe processes from infected computers. Designed as a portable application, the software requires no installation and can be run directly from removable media such as a USB key. CCE consists of two core technologies:
Fully featured malware scanner capable of unearthing and removing viruses, rootkits, hidden files and malicious registry keys hidden deep within a system. The scanner is highly configurable, uses the latest heuristic techniques to detect previously unknown viruses, features first-class malware removal capabilities and is capable of detecting hidden drivers and services loaded during system start-up.
Instantly identify and stop every untrusted process running on an endpoint with a single click
Powerful antivirus scanner capable of removing malware, rootkits, hidden files and malicious registry keys hidden deep within a system
Forensic level stats and graphs allow internal processes and resource usage to be analyzed with unrivaled granularity
Integration with Comodo cloud scanners provides real-time safety verdicts for unknown processes
Perfect for ensuring network endpoints are totally clean of threats
No installation required – can run direct from USB or user desktop via RDP
They've changed the way this software runs now, it is not portable anymore but still perform the scan as usual. Checks for known malware and software vulnerabilities on your PC – plus advises you on your PC's security status with the free Kaspersky Virus Removal Tool. Kaspersky Virus Removal Tool uses Kaspersky Lab's latest technologies – plus real-time access to cloud-based security information – to ensure it can scan your PC for the latest viruses and emerging threats.
A very simple quick scan for viruses and malware, during the download of Kaspersky Virus Removal Tool, there will be a download of Kaspersky Security Scan installation files, as well as Kaspersky Software Updater which is an integral part of Kaspersky Virus Removal Tool. Get FREE & quick help for your PC – download an efficient tool to clean up your computer from viruses, Trojans, malware, adware and more.
A rootkit for Windows systems is a program that penetrates into the system and intercepts the system functions ( Windows API ). It can effectively hide its presence by intercepting and modifying low-level API functions. Moreover it can hide the presence of particular processes, folders, files and registry keys. Some rootkits install its own drivers and services in the system (they also remain "invisible"). Remember, TDSSKiller is not a substitute for anti-virus or Internet security software protection. To keep your computer and devices secure, you should install Internet security software.
Eliminates deeply embedded and difficult to remove crimeware that traditional virus scanning doesn't always detect. Norton Power Eraser is a free tool that can be downloaded and run to remove threats from your computer. You can run this tool to scan for threats even if you have a Symantec product, or any other security product. If you cannot start the computer in Normal mode, you can run this tool in Safe mode. Norton Power Eraser is easy to download, and scans your computer quickly to detect the most aggressive computer viruses. You don't need to install this tool.
The Norton Power Eraser tool is compatible with computers running Microsoft Windows operating systems only. It does not work with computers running on macOS. Norton Power Eraser uses aggressive methods to detect threats, and there is a risk that it can select some legitimate programs for removal. You should carefully review the scan results page before removing files.
Run Dr.Web CureIt!® (no need to install it) is Russian antivirus that quickly scan your computer and cure it of any malicious objects. Dr.Web CureIt! is an indispensable tool for curing computers running MS Windows 8/7/Vista/XP/Server 2003/2008/2012 (32- and 64-bit systems). Dr.Web CureIt! detects and neutralizes viruses, rootkits, Trojan horses, spyware, and other malicious objects that have gone undetected by your anti-virus software.
The Dr.Web CureIt! utility will cure an infected system once, but it is not designed to provide your PC with real-time protection from viruses. The utility available on their website always features the latest virus definitions, but its virus databases aren't updated automatically. Included in Dr.Web CureIt! is a set of virus databases that are only current until a new update is released (usually one or more times per hour).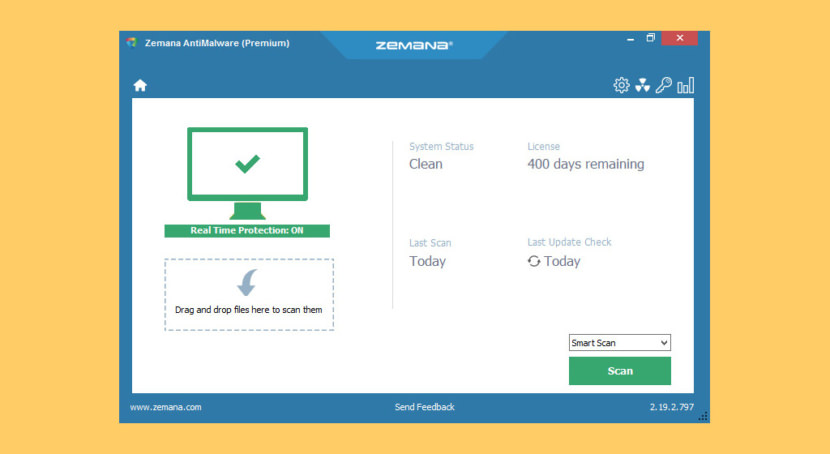 Clean your computer in minutes, no matter how badly infected! Zemana AntiMalware Free makes it possible! Zamana AntiMalware is an excellent choice to have installed on your computer, because of the low resource consumption you can use the program daily to make sure you're not infected with any malicious files, and because of the ease to use interface the program is avaiable to every computer user and not only expert.
Advanced Malware Detection and Removal
Browser Cleanup
Effective Against Rootkits and Bootkits
The Emsisoft Emergency Kit contains a collection of programs that can be used without software installation to scan for malware and clean infected computers: Emsisoft Emergency Kit Scanner and Emsisoft Commandline Scanner. The Emsisoft Emergency Kit Scanner includes the powerful Emsisoft Scanner complete with graphical user interface. Scan the infected PC for Viruses, Trojans, Spyware, Adware, Worms, Dialers, Keyloggers and other malicious programs.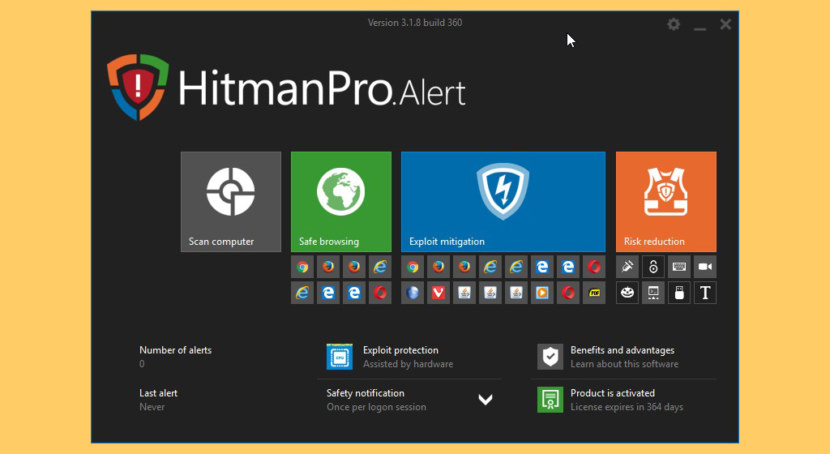 HitmanPro is only 12 MB and requires no installation. It can start directly from a desktop, USB Flash Drive, CD/DVD, or a remote storage device. Even if your antivirus is being manipulated by malware or ransomware is getting a hold of your files, HitmanPro functions normally, detecting and removing the threat.
HitmanPro has the ability to remove persistent threats from within your operating system and replaces infected Windows resources with safe, original versions, all while proactively blocking reinfection attempts. A new host of malware is activated every day and can be found everywhere, even on trusted websites, evading regular antivirus programs. HitmanPro is designed to run alongside your antivirus, using its behavioral deep scanning to find and eliminate zero-day, next-gen malware that has avoided detection.
Detect and remove malware on your PC with a powerful and user-friendly tool that uses the same ThreatSense® scanning technology and signatures as ESET Smart Security and ESET NOD32 Antivirus — just by using your web browser. One-time scan to remove malware and threats from your computer for FREE.
Smart way to test your antivirus – Easy-to-use tool that can run alongside any existing antivirus
Comprehensive malware detection – Find and remove viruses, Trojans, spyware, phishing and other internet threats
FREE and easy-to-use tool – No commitment, no registration and completely free one-time scan
Periodic scanning of your device – Regular and automatic monthly check for infections and suspicious applications
HouseCall is Trend Micro's highly popular on-demand antivirus software scanner for identifying and removing viruses, trojans, worms, unwanted browser plugins, and other malicious software. HouseCall Antivirus includes the following features:
Stand-alone eliminates compatibility issues associated with browser-activated scanners
Smart Scan delivers the latest antivirus protection while reducing download times
Enhanced Detection and Cleanup addresses rootkits and other sophisticated threats
Enhanced Scanning performance speeds threat detection
Vulnerability scans find threats on other devices connected to your home network
F‑Secure Online Scanner helps to get rid of viruses and spyware that may cause problems on your PC, and it works even if you have other security software installed on your computer. F‑Secure Online Scanner is easy to use with just a couple of clicks: just download it and run it. It does not leave anything on your PC. Virus worries? Run a scan for free and get rid of malware.
Find and remove viruses, malware and spyware on your PC
Easy to use, doesn't leave anything on your computer
Works with any other security software installed
Completely free to run and use
Panda Cloud Cleaner is an advanced disinfector based on Collective Intelligence (scanning in-the-cloud) that detects malware that traditional security solutions cannot detect. Disinfect your computer with Panda Cloud Cleaner, they help you keep viruses at bay. Greater detection capacity than traditional antivirus solutions thanks to its latest generation technologies.
Online detection of all types of malware, vulnerabilities and unknown threats. It is easy to use from your browser and always up-to-date against the latest threats. A free report about threats detected and the status of the security protection installed on your computer.
ClamWin is a Free Antivirus for Microsoft Windows. It provides a graphical user interface to the Clam AntiVirus engine. It features high detection rates for viruses and spyware, regular antivirus updates from the ClamAV team, and a standalone antivirus scanner. ClamWin allows for manually scanning individual files, folders, or drives but does not include an always-on background scanner.
Using cutting edge technology found in their enterprise-grade software, this powerful tool detects all types of malicious software on your computer—including viruses, spyware, rootkits and Conficker—and returns it to a working state.
The tool has direct access to virus data from SophosLabs, their global network of threat researchers, ensuring that even the very latest viruses are detected and removed. And it works alongside your existing antivirus. Their free Virus Removal Tool is a quick and easy way to find and get rid of any threats lurking on your computer. Their tool identifies and cleans up infections your antivirus might have missed.
Removes viruses, Conficker, rootkits, and fake antivirus
Supports Windows XP SP2 and up
Works alongside your existing antivirus
eScanAV Antivirus Toolkit (MWAV) is a FREE utility that enables you to scan and clean Viruses, Spyware, Adware and any other Malware that may have infected your computer. The eScanAV Antivirus Toolkit (MWAV) requires no installation and can be run directly from anywhere, on your computer, USB Drive or from a CD ROM. It can also run if you already have other Anti-Virus software installed on your computer.
The eScanAV Antivirus Toolkit (MWAV) also gets updated on a daily basis with the latest updates to detect spyware and adware released recently, plus the engine is constantly being improved for faster and intelligent detections. Free eScan Antivirus Toolkit Download for Windows® 2012 R2 / 2012 / 2008 R2 / 2008 / 2003 R2 / 2003 / 10 / 8.1 / 8 / 7 / Vista / XP. Scan for Viruses, Spyware and Adware in your computer. Just download and run. No installation of this software required.
aswMBR is the rootkit scanner that scans for MBR/VBR/SRV rootkits. It can detect TDL4/3(Alureon), ZAccess, MBRoot (Sinowal), Whistler, SST, Cidox, Pihar and other malware. The current version of aswMBR uses "Virtualization Technology" to improve detection of stealth malware. Please note that to use this feature your machine & CPU must support hardware virtualization.
19. VIPRE Rescue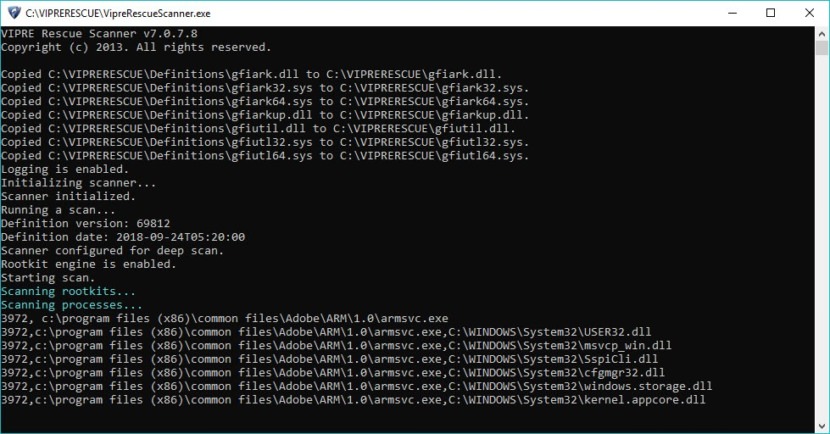 [ Discontinued ] VIPRE Rescue is a handy, easy to use tool designed to clean your computer if you are already infected with a virus and your operating system is not working properly as a result of the infection. If you are already running VIPRE and a virus has disabled it, you can still run this program to clean your computer.
20. Symantec Norton Security Scan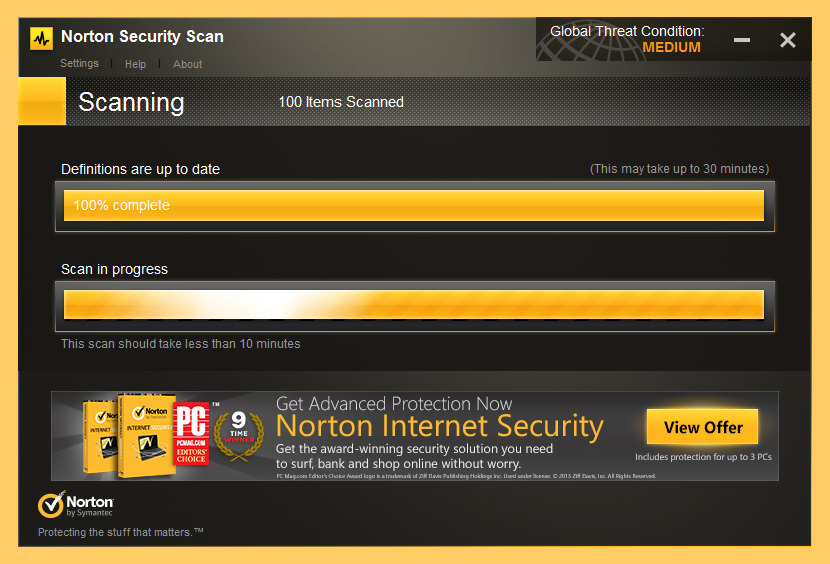 [ Discontinued ] The power and speed of Norton scan technology, available to you for FREE. Scans your computer and lets you know if viruses or malwares are present.
Use Norton Security Scan to determine if your system has been infected with viruses, malware, spyware, or other threats. Newly added — the Cookie Manager that you can use to check for suspicious or dangerous cookies and remove those that raise a concern.
21. BitDefender Quick Scan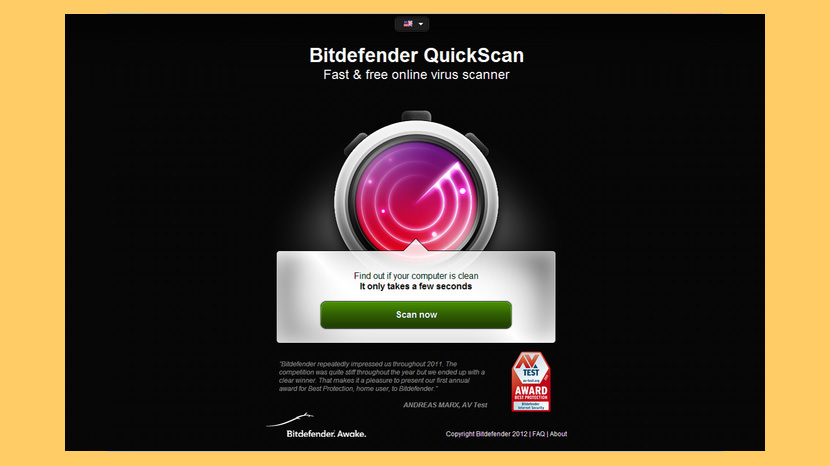 [ Discontinued ] Bitdefender QuickScan uses in-the-cloud scanning technology to detect active malware on your system, in under a minute. Because it focuses on active e-threats, the product uses just a fraction of the system resources needed by a regular virus scan and requires no time-consuming virus signature updates, as the detection process is performed by remote Bitdefender servers.
How To Stop Viruses, Trojan and Malware