Two heads is better than one, here are a list of free antivirus services that provides users with multi-engine online scanners. There is not much of a difference between having 40 antivirus engine as oppose to 20, the most important thing about this service is to have various opinion instead of one.
Related Article 2019 ➤ 4 Multiple Antivirus Programs For Installing Norton, McAfee, Kaspersky, Avast, Avira & AVG On The Same Laptop
If you have a suspicious file you can submit it to the following websites and their system will analyze your file, these services will analyzes suspicious files and facilitates the quick detection of viruses, worms, Trojans, and all kinds of malware detected by antivirus engines. Upload And Scan Suspicious Files, these online scanners scan individual files on demand. It does not offer permanent protection for the user's system either.
↓ 01 – VirusTotal [ Web + Files | Max 128MB | 54 Engines ]
VirusTotal is a free service that analyzes suspicious files and URLs and facilitates the quick detection of viruses, worms, trojans, and all kinds of malware. VirusTotal, a subsidiary of Google, is a free online service that analyzes files and URLs enabling the identification of viruses, worms, trojans and other kinds of malicious content detected by antivirus engines and website scanners. At the same time, it may be used as a means to detect false positives, i.e. innocuous resources detected as malicious by one or more scanners.
↓ 02 – MetaScanOnline [ Web + Files | Max 140 MB | 43 Engines ]
Metascan Online is a free online file scanning service powered by OPSWAT's Metascan technology, a multiple engine malware scanning solution. Metascan is a powerful and flexible solution for detecting and preventing known and unknown threats. ISVs, IT admins and malware researchers use Metascan to get easy access to multiple anti-malware engines at a single time, via a rich set of APIs.
↓ 03 – Jotti's Malware Scan [ Files | Max 50 MB | 20 Engines ]
Jotti's malware scan is a free service that lets you scan suspicious files with several anti-virus programs. You can submit up to 5 files at the same time. There is a 50MB limit per file. Please be aware that no security solution offers 100% protection, not even when it uses several anti-virus engines. All files are shared with anti-virus companies so detection accuracy of their anti-virus products can be improved.
↓ 04 – VirSCAN [ Files | Max 20 MB | 39 Engines ]
VirSCAN.org is a FREE on-line scan service, which checks uploaded files for malware, using antivirus engines, indicated in the VirSCAN list. On uploading files you want to be checked, you can see the result of scanning and how dangerous and harmful/harmless for your computer those files are.
↓ 05 – VirusCheckMate [ Discontinued ] [ Web + Files | 42 Engines ]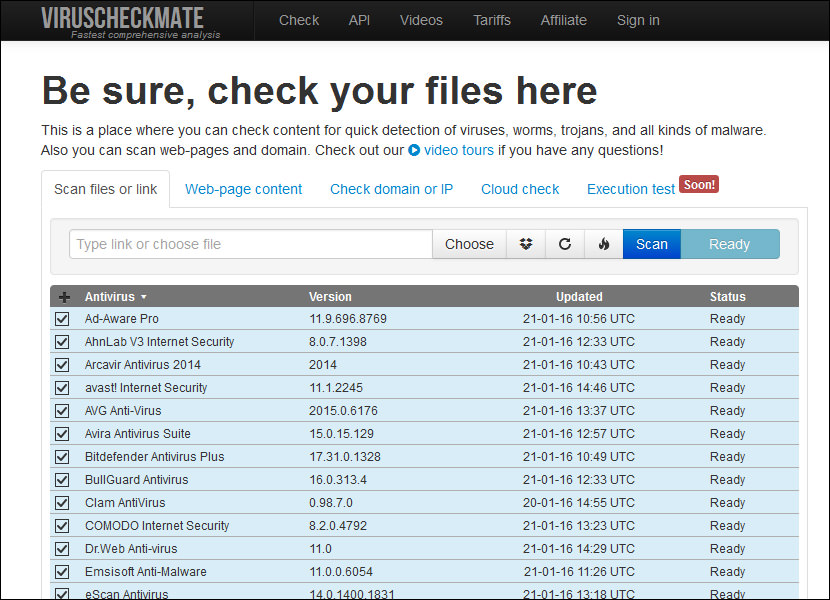 This is a place where you can check content for quick detection of viruses, worms, trojans, and all kinds of malware. Also you can scan web-pages and domain.