Unlike yesteryears where email attachments are limited to certain files and a miserably 5MB in size, today's almost unlimited file size means these file sharing services are rendered redundant. Together with the birth of file sharing platforms such as Dropbox, Google Drive and more, what is the point of having such services? Anonymity is the only feature these services provide.
Almost all online file storage services require you to sign up and create an account, these websites on the other hand help you to share large sized files easily and anonymously. Just drag and drop the file, depending on the service provider, it can stay on their server between 24 hours to 30 days, some comes with encryption and password. Useful for those that don't want to leave any digital footprint due to privacy reasons.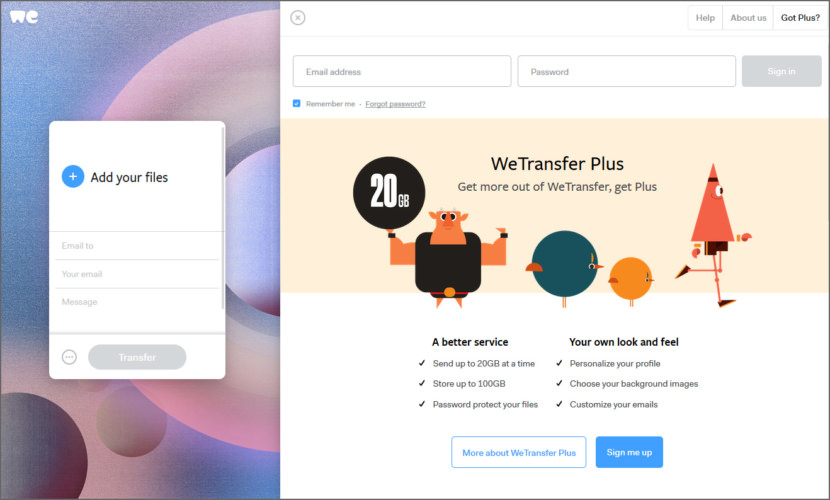 WeTransfer is a service to send big or small files from A to B. It can transfer any type of file – such as presentations, photos, videos, music or documents – to friends and colleagues. You can send files up to 2 GB and they will be available for two weeks, with no registration. WeTransfer is the simplest way to send your files around the world. Every month, users in 195 countries send one billion files through our platform. Founded in 2009, our team is based in the Netherlands and the US.
↓ 02 – Send Anywhere | Max 4GB / 10GB (Chrome Extension)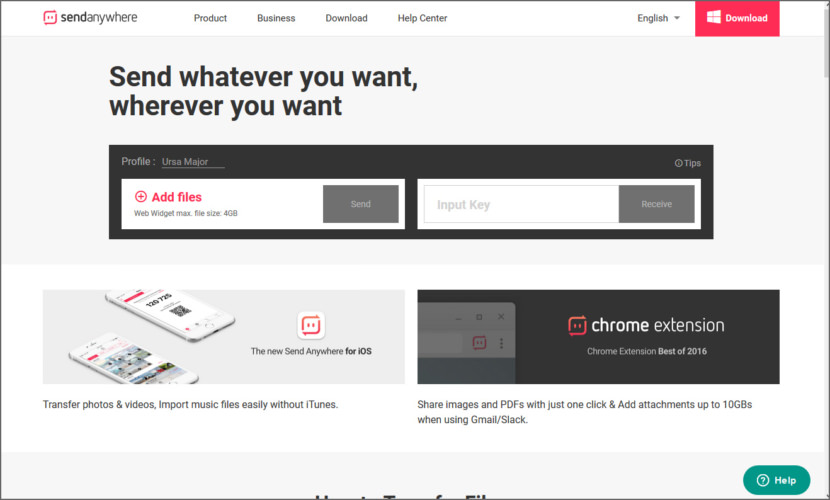 A cross-platform file sharing service which allows users to easily share digital content peer-to-peer, in real-time, without cloud storage. Unlike messenger or cloud based storage apps Send Anywhere allows the end user to send as many files, of any file type and size, as many times as they want, across Android, iOS, and Desktop. Send Anywhere utilizes p2p networking to bypass cloud storage thereby making the transfer process more secure and quicker. Transfer photos & videos, Import music files easily without iTunes. Share images and PDFs with just one click & Add attachments up to 10GBs when using Gmail/Slack extension.
↓ 03 – SendGB | Max 4GB | 256-bit AES Encryption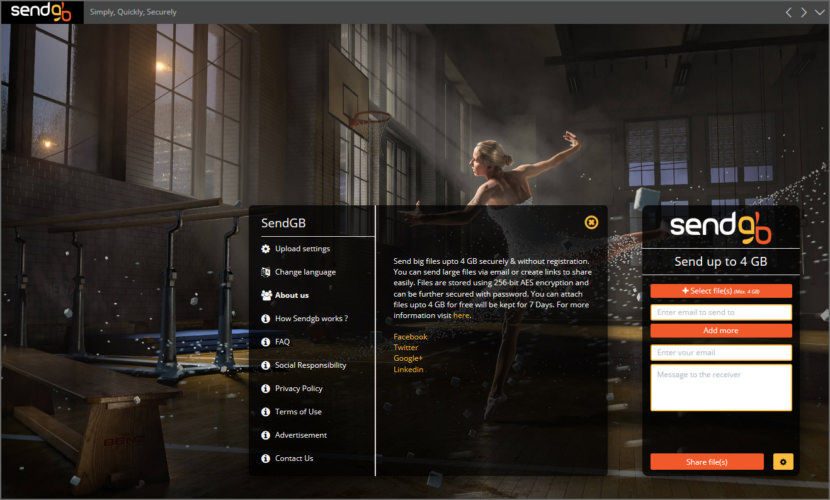 Send big files upto 4 GB securely & without registration. You can send large files via email or create links to share easily. Files are stored using 256-bit AES encryption and can be further secured with password. You can attach files upto 4 GB for free and will be kept for 7 Days. You can transfer files by selecting your files or drag and drop. You can send files to anywhere in the world with SendGB, which offers 10 languages.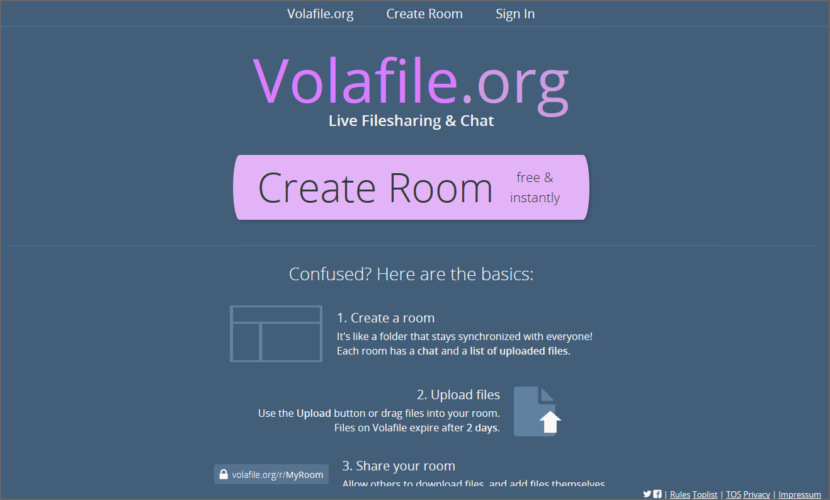 Volafile.org provides free and temporary online storage. We don't make you wait for annoying countdowns before downloading and there are no unfair restrictions. Volafile.org offers real time file sharing and fast downloads without delays or annoying countdowns. Users can share files in rooms, each with a chat and a filelist. Volafile has a built-in audio player, a gallery for images, and shows previews for both images and videos.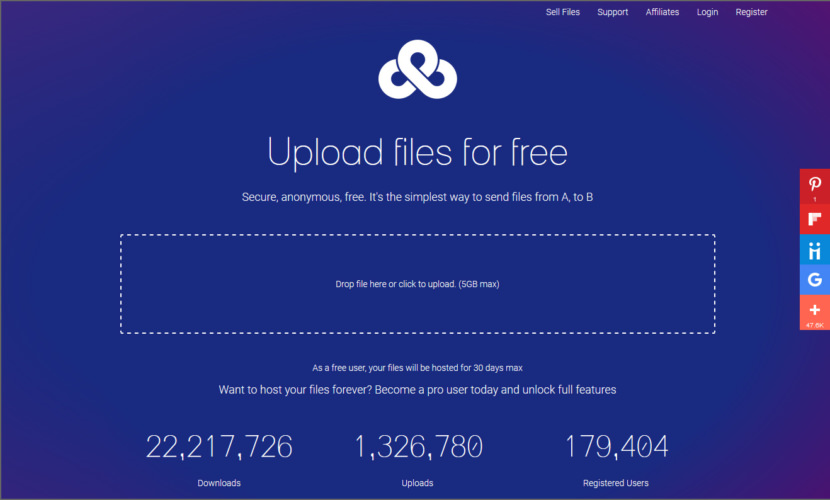 UploadFiles.io is a completely free file sharing service, upload files without limits, securely & anonymously. Files are encrypted & stored securely in the cloud, and are deleted after 30 days. Upload your files now and get your shareable URL immediately. Upload your files now and get your short, shareable URL immediately.
↓ 06 – SendSpace | Max 300MB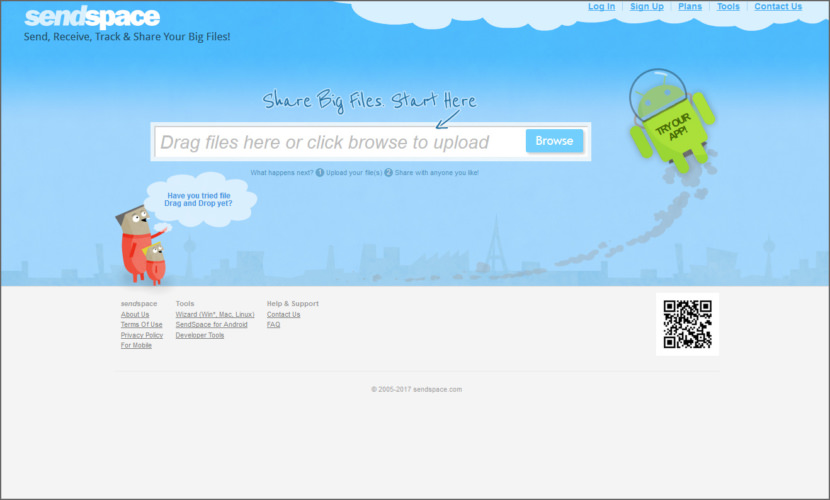 SendSpace is the best way to send large files too big for email attachments to friends, family and businesses, anywhere in the world. We have grown to become the preferred file transfer network for millions of users. SendSpace is available online, on desktops (Windows, Mac and Linux) as SendSpace Wizard and on Android.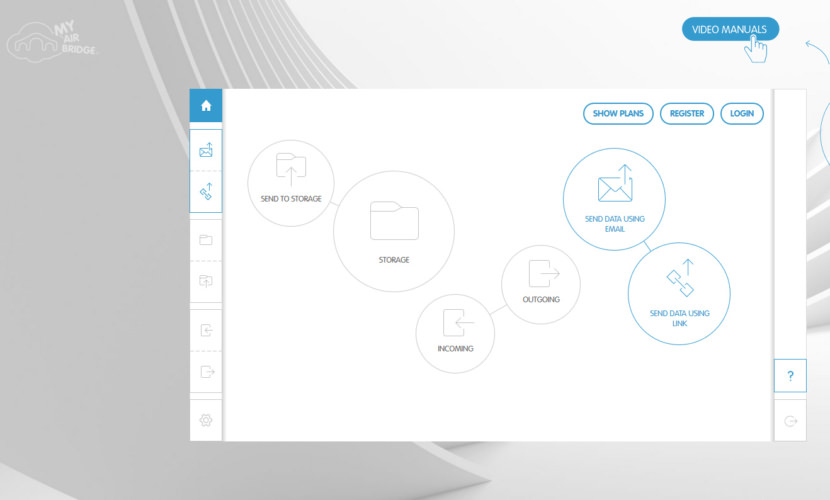 MyAirBridge's basic function is to transfer data from one place to another, quickly and securely. Single files of up to 20 GB can be transferred free of charge. Expanded functions, such as personal data storage, longer package expiration periods, faster data transmission, etc.
Storage – In your Storage area, you can easily save data that you'd like to share, gradually add to and update, or that you just wish to back up. Data in your Storage area can be used to further work with data from attachments; you can delete it, add to it, and share it.
Sending data – Via MyAirBridge you can send packages up to 100 GB (20GB for free) with mail notification for the recipient or you can just easily create a data link for further sharing.
Security – Security of transfer and stored data is our primary concern. MyAirBridge.com portal has one of the best ratings (A+) for transfer security awarded by a global authority (www.ssllabs.com). Data on the server is encrypted.
↓ 08 – Gofile | Max 5GB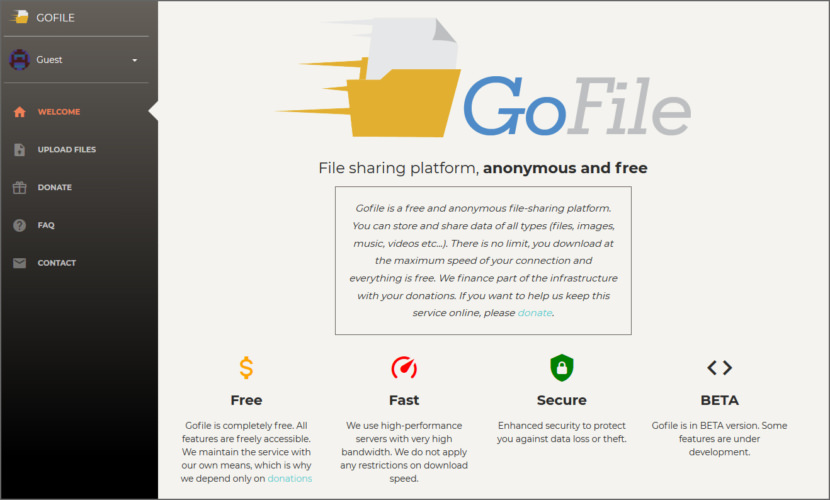 Gofile is a free and anonymous file-sharing platform. You can store and share data of all types (files, images, music, videos etc…). There is no limit, you download at the maximum speed of your connection and everything is free. They use high-performance servers with very high bandwidth. We do not apply any restrictions on download speed. Enhanced security to protect you against data loss or theft.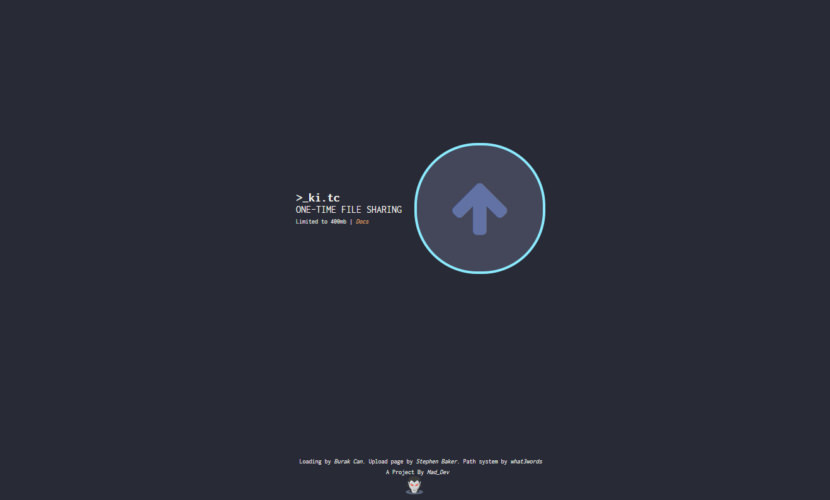 One-Time File service is limited to 400mb with an emphasis on API integration. The service also adopts a user verification module via keybase.
When it comes to uploaded data encryption, no service is without fault. Always encrypt locally before uploading. I am running tests on the introduction of local encryption before uploading, but due to the immense amount of required resources, Chrome, FF, and Vivaldi all crashed for files larger than 10mb.
Bitwarden Send is a trusted way to securely share information directly with anyone. Digital business and collaboration require sharing sensitive data. To do this securely, you need a solution that lets you quickly transmit encrypted information to another individual.
57% of IT decision makers use unencrypted methods to share passwords. With Bitwarden Send, teams and individuals are empowered to share information using security best practices.
Transmit Securely – Information is encrypted end-to-end for robust protection.
Share Text and Files – Transmit any information including passwords, documents, credentials, and more.
Rest Assured with Auto-delete – Set deletion times ensure your information does not stick around.
↓ 11 – FileDropper | Max 5GB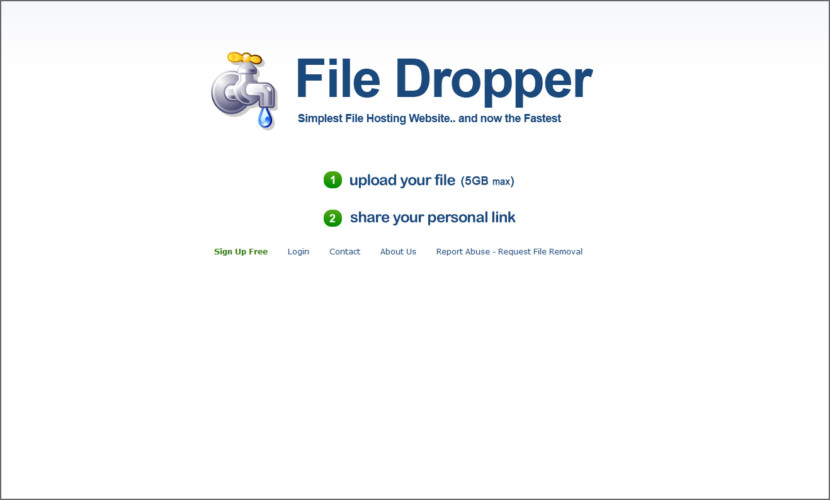 FileDropper was created as a fresh alternative for online file storage to sites like MegaUpload and RapidShare. Unlike those sites, they do not reel the user in and make them wait for annoying countdown timers. They do not hide the download link with aggressively placed ads. Their goal is simple, to offer the most basic file hosting service so you can share your stuff quickly.
↓ 12 – Ge.tt [ Discontinued ] | Max 2GB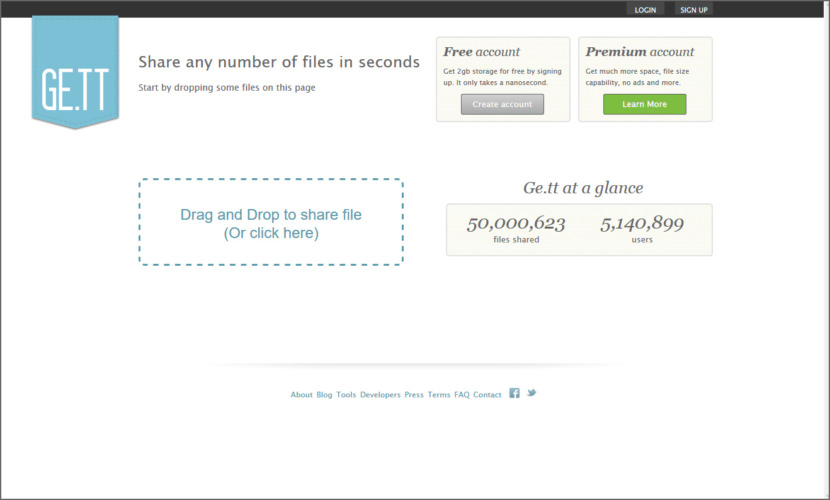 Ge.tt is a clever, instant file-sharing web app that makes sharing files simple and fast. No need to wait for files to upload! You are given a link for your files as soon as you select them. Ge.tt doesn't use Flash, Java applets, or any other plug-ins.
↓ 13 – Firefox Send [ Discontinued ] | Max 1GB | Encrypted Link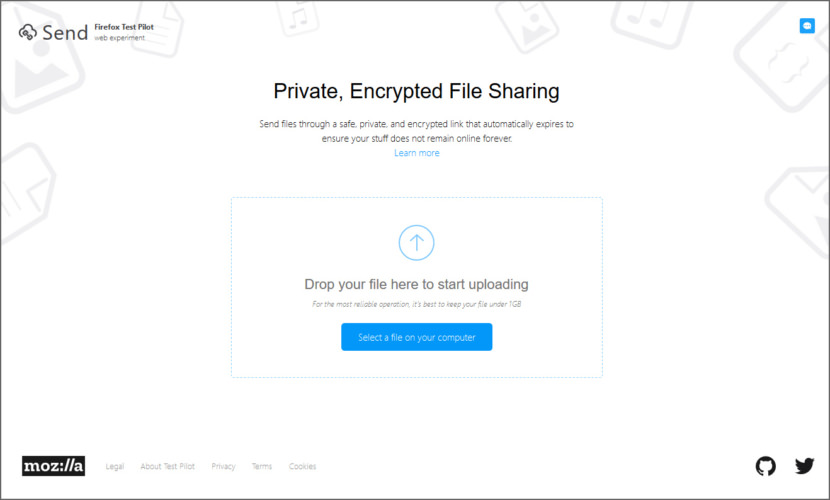 Firefox Send lets you upload and encrypt large files (up to 1GB) to share online. When you upload a file, Send creates a link to pass along to whoever you want. Each link created by Send will expire after 1 download or 24 hours, and all sent files will be automatically deleted from the Send server. Send files through a safe, private, and encrypted link that automatically expires to ensure your stuff does not remain online forever.
↓ 14 – reep.io [ Discontinued ] | Unlimited Size | Direct P2P Browser Transfer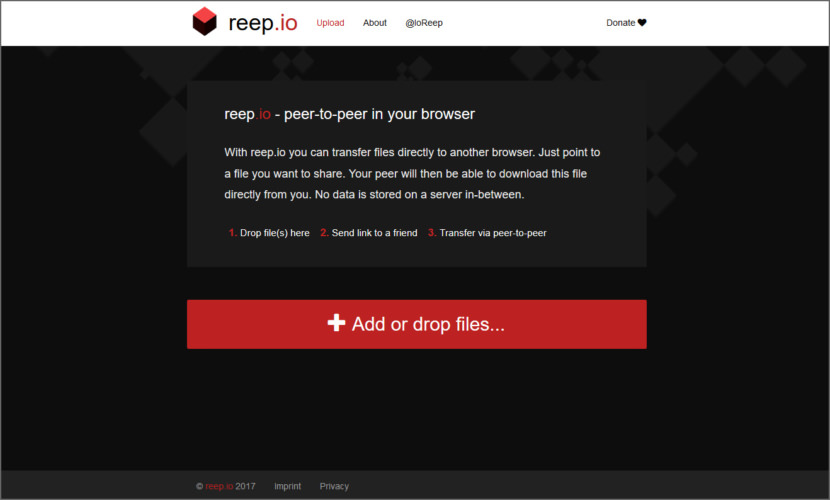 With reep.io you can transfer files directly to another browser. Just point to a file you want to share. Your peer will then be able to download this file directly from you. No data is stored on a server in-between. reep.io uses modern WebRTC technology to enable peer-to-peer file transfers between two browsers.