There are two ways of setting up an Intranet for your small office and home – central server or p2p. The advantage of Peer-to-Peer networking or "torrenting" as it's often called these days, is the absence of a central server, thus saving space and electricity bill. Below are 4 free peer-to-peer and friend-to-friend protocols and software applications.
See More ▼ 4 Software to Create Virtual Wireless Internet Connection Hotspot in Windows 10
A Decentralized Social Sharing Network designed **For the People** with no dependencies on any corporate system or central servers. Make strong crypto usable for the average computer user, have strong crypto in daily communication.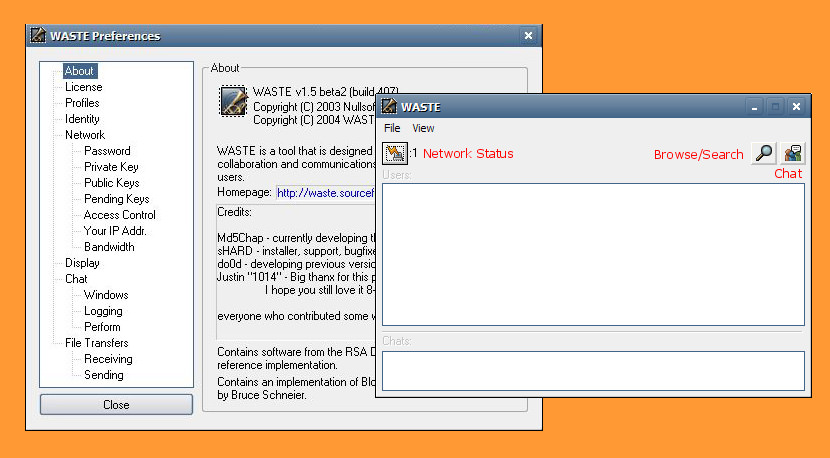 WASTE is an anonymous, secure, and encrypted collaboration tool which allows users to both share ideas through the chat interface and share data through the download system. WASTE is RSA secured, and has been heralded as the most secure P2P connection protocol currently in development. WASTE is a software product and protocol that enables secure distributed communication for small (on the order of 10-50 nodes) trusted groups of users.
WASTE is designed to enable small companies and small teams within larger companies to easily communicate and collaborate in a secure and efficient fashion, independent of physical network topology. Works great on Microsoft's Windows 10 and Apple's macOS. WASTE currently provides the following services:
Instant Messaging (with presence)
Group Chat
File browsing/searching
File transfer (upload and download)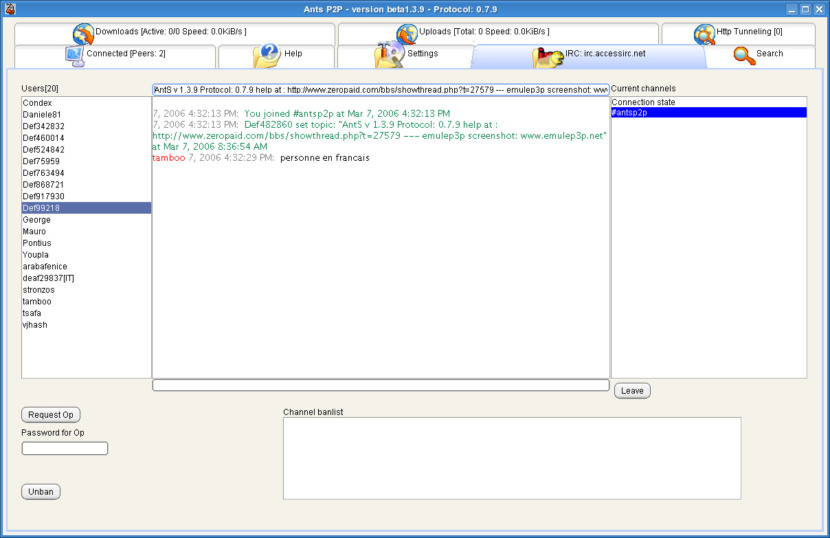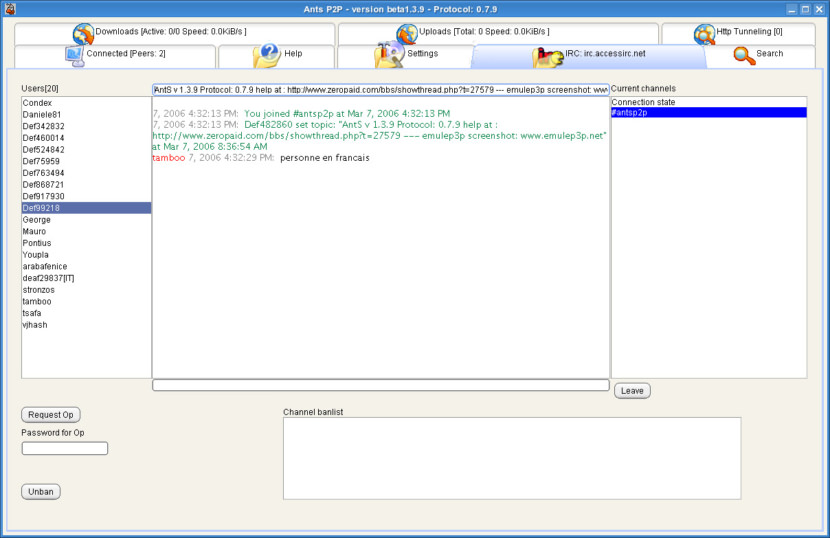 ANts P2P realizes a third generation P2P net. It protects your privacy while you are connected and it makes you not trackable, hiding your identity (ip) and crypting everything you are sending/receiving from others. Features
Automatic resume and sources research over the net
Search by hash, string and structured query
Completely Object-Oriented routing protocol
Point to Point secured communication: DH(512)-AES(128)
EndPoint to EndPoint secured communication: DH(512)-AES(128)
Serverless GWebCache-based peer discovery procedure
ANts allow P2P communications through any kind of HTTP Proxy
ANts allow P2P communications through any kind of NAT or traffic filtering system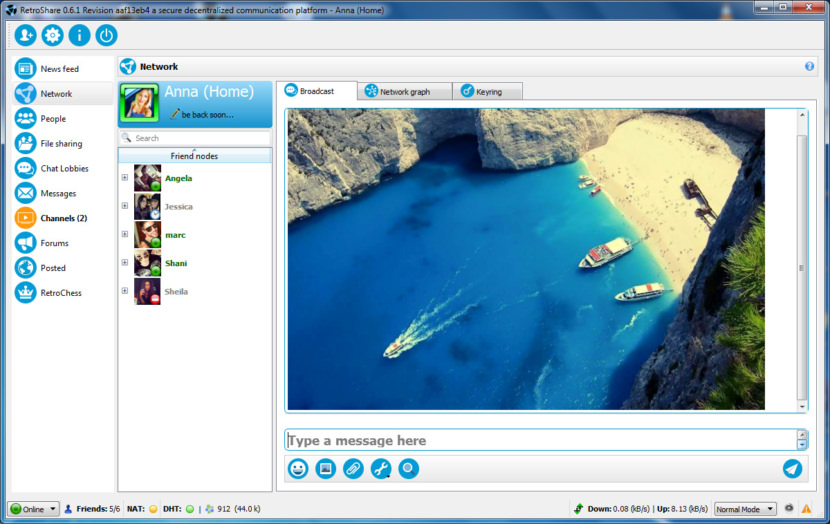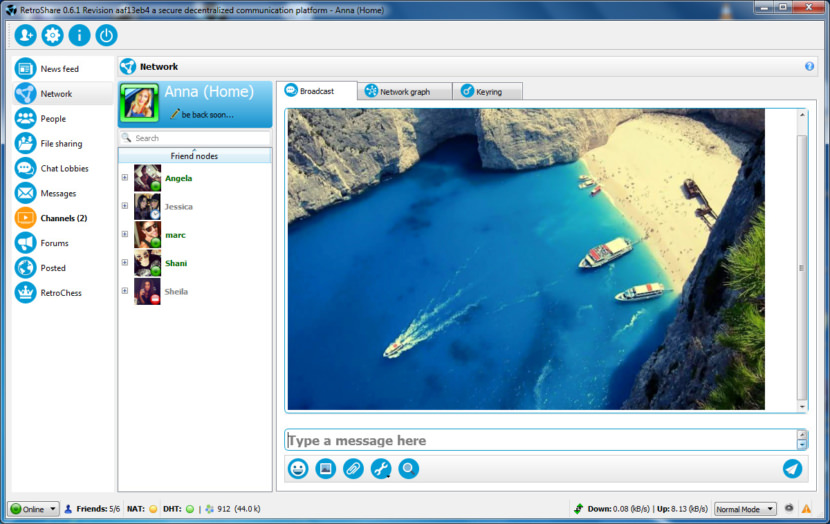 RetroShare is an open source cross-platform, private and secure decentralized communication system. It lets you securely chat, share photos, videos, and more, using OpenPGP to authenticate peers and OpenSSL to encrypt all communication. Retroshare creates encrypted connections to your friends. Nobody can spy on you. Retroshare is completely decentralized. This means there are no central servers. It is entirely Open-Source and free. There are no costs, no ads and no Terms of Service.
Chat – Send text and images. Discuss with various people in chat rooms. Express your emotions with the rich smiley set. Use distant chat to securely chat with friends-of-friends.
Voice and Video – Make free and secure calls with the VoIP plugin. Catch up face to face with a video call.
Mail – Send encrypted messages to other members of the network. Retroshare can store encrypted messages on friends nodes to deliver messages while you're offline.
File sharing – Share files with your friends or with the whole network. Use the search to find files. Retroshare uses swarming similar to BitTorrent, to accelerate the download. This makes it possible to share big files with 1GB or more. Your privacy is protected with anonymous tunnels. Only your direct friends might learn which files you download.
Protect your IP with Tor/I2P – Need to hide from Internet surveillance? Can't connect to your friends because of censorship? Need to bypass nasty firewalls? Use Retroshare over Tor to hide the connection between you and your friends.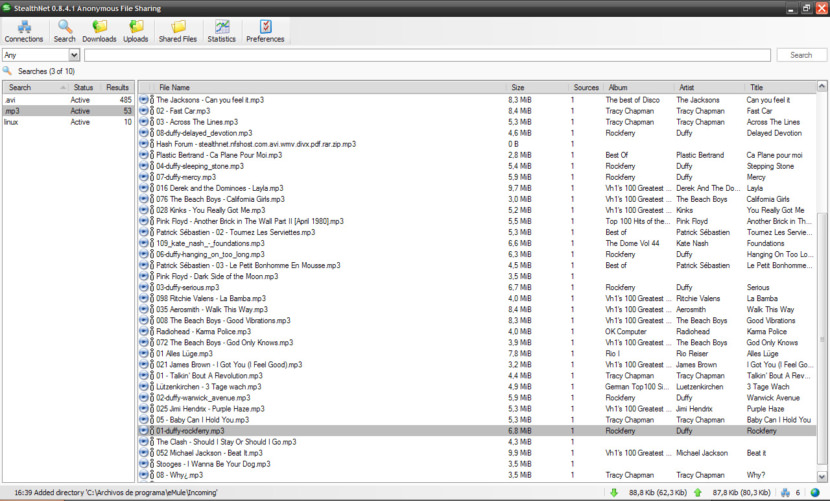 StealthNet is based on the original RShare client and has been enhanced by a developer team who consists of Planet Peer community members. In comparison with the current RShare client StealthNet offers a lot of new features like download resuming (interrupted downloads can be resumed), multi language support, a search filter for several file types and much more.
In the early stages StealthNet was known as RShare Community Edition (RShare CE). However, due to several reasons they had to rename this project to its new name StealthNet. This is the reason why the RShare forums on the Planet Peer Board also have been renamed to RShare/StealthNet.
Download Resuming allows resuming of interrupted downloads
Allows to add and remove files and directories in real time
filter for file types
Point-to-Point traffic encryption with Advanced Encryption Standard (AES)
Strong file hashes based on SHA-512 algorithm
Anti-flooding measures are in place to prevent sabotage of the RShare network like flooding with useless data packets
Text mode client for systems with Mono support like Linux, OSX and others is available