How to perform iPhone data recovery without backup? Before you proceed, understand that the best iPhone recovery software is iCloud itself. The software listed below has limited capabilities, it will only work if you have access to the phone itself, even the FBI finds iPhone security features almost impossible to crack. This software works when you have a broken screen, jail-broken iOS that refuses to boot up, or a dead iPhone with limited access. All provided you know the PIN number for the device, without the PIN, there is no way you can access your iOS.
🤣😍😂 7 Best Backup And Restore App From Android To Desktop PC
Personally I find it ironic that because the free iCloud is limited to 5GB, a number of people with their expensive iPhone refuse to subscribe to a USD1 per month subscription for 50GB service. My advice is, a regular iPhone / iPad / iPod backup plan with iTunes and iCloud is always the best solution. Prevention is always better than cure. Common Causes of iPhone/iPad/iPod Touch Data Loss
Accidental deletion or iOS upgrade failure, like new iOS update issue.
Device damage, but it can be recognized while connected with PC.
Device locked but forget the password.
iPhone data recovery due to water damage.
Jailbreak failure, device stuck at white Apple logo or recovery mode.
iOS upgrade crash, virus attack, improper operation…
Powerful and user-friendly iPhone Data Recovery software, it supports various data loss situations. Get back data from iOS devices whether they are lost due to accidental deletion, iOS upgrade or jailbreak failure, etc. Even when your iDevices get lost, stolen, broken or locked, Gihosoft Free iPhone Recovery software can restore data from iTunes backup. Easy-to-use interface is designed to guide any computer user through the iPhone data recovery procedure in 3 steps: instant connect, fast scan and perfect recovery. Recover Up to 12+ Types of Data from iPhone, iPad or iPod Touch:
Photos & Videos: Camera Roll, Photo Stream, App Photos & Videos
Messages & Call Log: Messages, Message Attachments, Contacts, Call History, Voice mail, WhatsApp/Viber messages & attachments
Memos & Others: Notes, Calendar, Reminders, Safari Bookmark, Voice Memos
Not only providing you three recovery modes, Primo iPhone Data Recovery also enables you to repair your breakdown iPhone at home. It fixes a wide array of iOS system crashes and issues – an upgrade error, iDevice stuck on black screen, white screen and Apple logo or even a looped recovery mode. Recover 25 types of iOS content from iPhone, iPad and iPod touch.
Personal Data: Contacts, Call History, Messages, Message Attachment, Voicemail, Calendar, Reminders, Notes, Note Attachment, Safari History, Safari Bookmarks
Media Data: Photos, Photo Videos, Thumbnails, Music, Videos, AudioBooks, Playlists, Ringtones, iBooks, Voice Memo
App Data: WhatsApp, WhatsApp Attachment, Line, Line Attachment, Instagram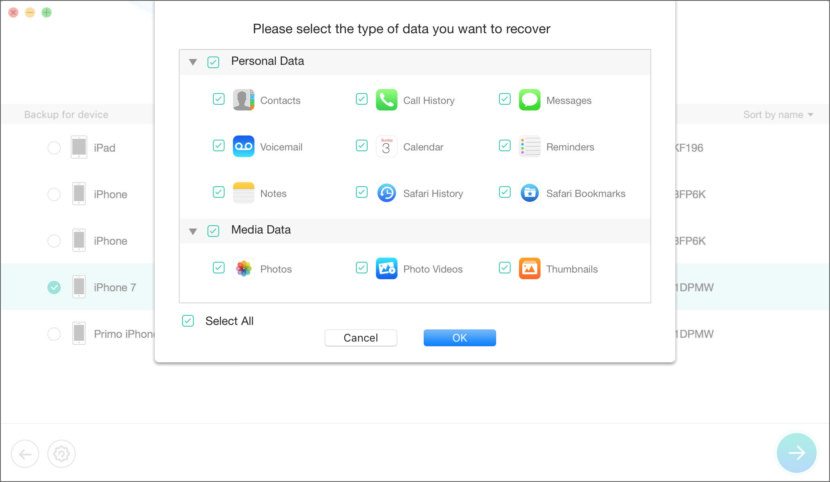 Based on custom-designed technologies, PhoneRescue comes as the ONLY lifesaver to safely rescue you from any iOS data disasters at the first moment. Photos, messages, contacts, or just any piece of iPhone data you can't live without, we bring them all back for you, in the most straightforward, efficient and secure manner. PhoneRescue creates and applies diverse state-of-the-art technologies to ensure you get the most secure, complete, easiest and fastest data recovery.
What Can Be Recovered from iPhone/iPad? Photos, Messages, Contacts, Call History, Voicemail, Calendar, Reminders, Notes, Safari Data, Videos, Music, iBooks, Voice Memo and App Data
Supported Devices: iPhone Series: iPhone X, iPhone 8 (Plus), iPhone 7 (Plus), iPhone SE, iPhone 6s (Plus), iPhone 6 (Plus), iPhone 5c, iPhone 5s, iPhone 5, etc. iPad Series: iPad Pro, iPad mini 4, iPad mini 3, iPad Air 2, iPad Air, iPad mini 2, iPad 4, etc.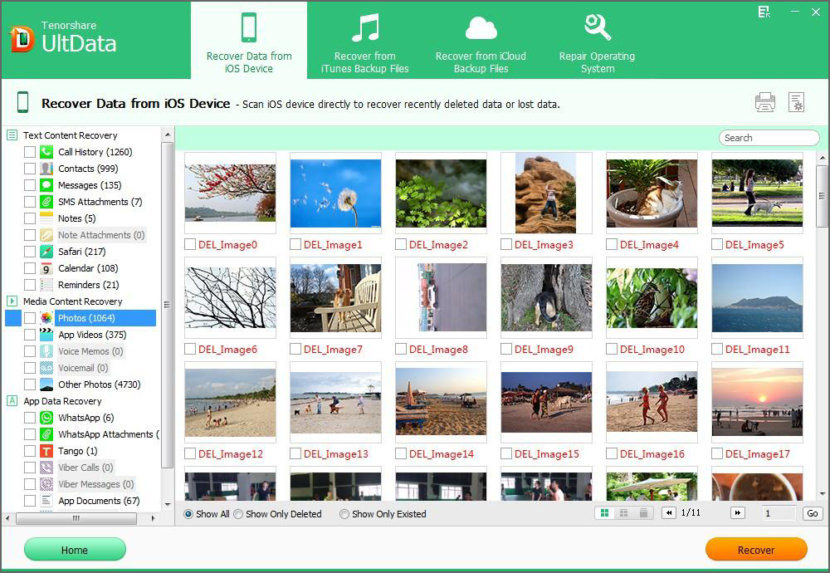 Recover and save your lost/deleted files to the computer in multiple formats. Text contents (Messages, Call History, Notes, etc.) can be saved as .txt, .xls, .xml file; Media contents (Videos, Photos, Memos) will be recovered as original formats like .jpg, .png, .mp4, etc; iPhone Contacts can be exported as .vcf file. Below is a complete list of text content recovery, media content recovery and App data recovery that is supported by UltData (iPhone Data Recovery). Take a check and see if you can find the exact one you are looking for.
Text Content Recovery – Call History, Contacts, Messages, SMS Attachments, Notes, Note Attachments, Safari, Calendar, Reminders
Media Content Recovery – Photos, Other Photos, App Videos, Voice Memos, Voicemail
App Data Recovery – WhatsApp, WhatsApp Attachment, Tango, Viber Calls, Viber Messages, App Documents, Messenger, Messenger Attachment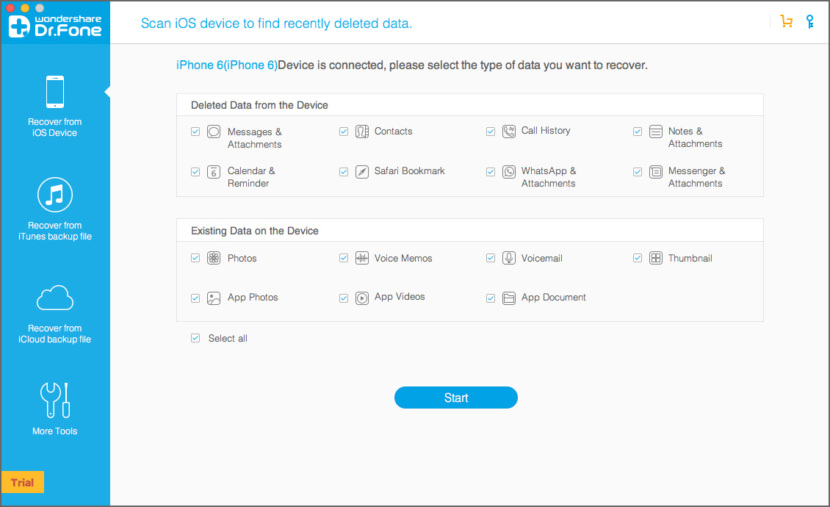 This iOS data recovery software enables you to recover data like contacts, messages, photos, notes, call history, reminders, WhatsApp messages, and more, up to 18 file types. After scanning your iPhone, iPad or iPod touch, or extracting iTunes or iCloud backup files, you can preview and choose any items you want to recover to your computer or on your device. It's totally up to you. No matter if you're using the latest iPhone 7, iPad Pro, or the old iPhone 4, iPad 1, this iOS data recovery is fully compatible with all models of iPhone, iPad and iPod touch.
Supported Devices – iPhone, iPhone 7 Plus, iPhone 7, iPhone SE, iPhone 6s Plus, iPhone 6s, iPhone 6 Plus, iPhone 6, iPhone 5s, iPhone 5c, iPhone 5, iPhone 4s, iPhone 4, iPad, All models of iPad Pro, iPad Air, iPad mini, and iPad, iPod touch, iPod touch 5, iPod touch 4
Supported file types – Contacts, Messages, Call history, Notes, Photos, Video, Calendar, Reminder, WhatsApp messages, Messenger, Voice memos, Voicemail, Safari's bookmark, App's photos, App's video, App's documents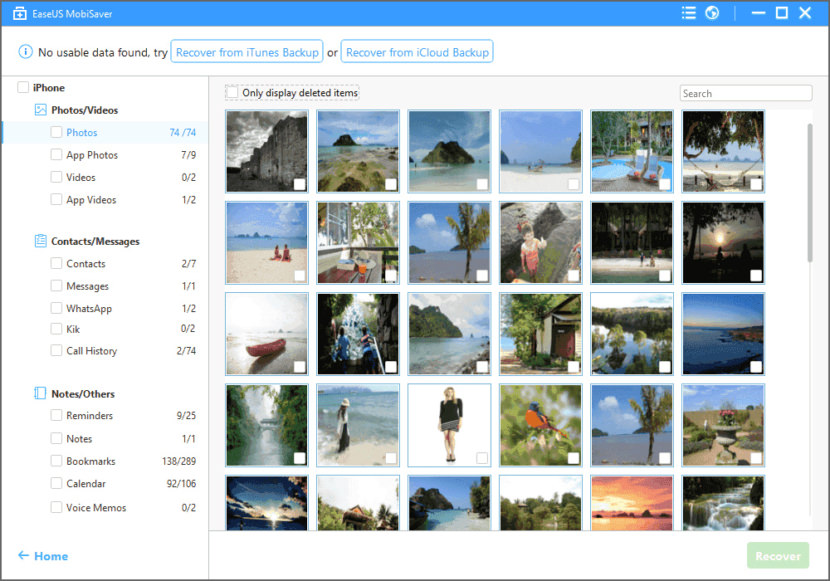 World's first free data recovery software for iPhone, iPad and iPod touch. Compatible with new iPhone X/iPhone 8/iPhone 8 Plus and iOS 11. Freely Recover up to 12 Types of Files from iPhone, iPad, iPod Touch. Unlike a few other ios data recovery software that don't support older/newer modes, EaseUS MobiSaver has universal capability. EaseUS MobiSaver is free for personal use, and proved to have worked very well with a very simple & easy to use interface.
Contacts, Message, Call History, Notes, Photos, Videos, Calendar, Reminder, WhatsApp Message, iMessage, Voice Memos, Safari's bookmark, App's videos, App's photos, Kik Message
Support Two-factor Authorization of Apple.
↓ 07 – Enigma Recovery [ discontinued ] | Free Trial / USD50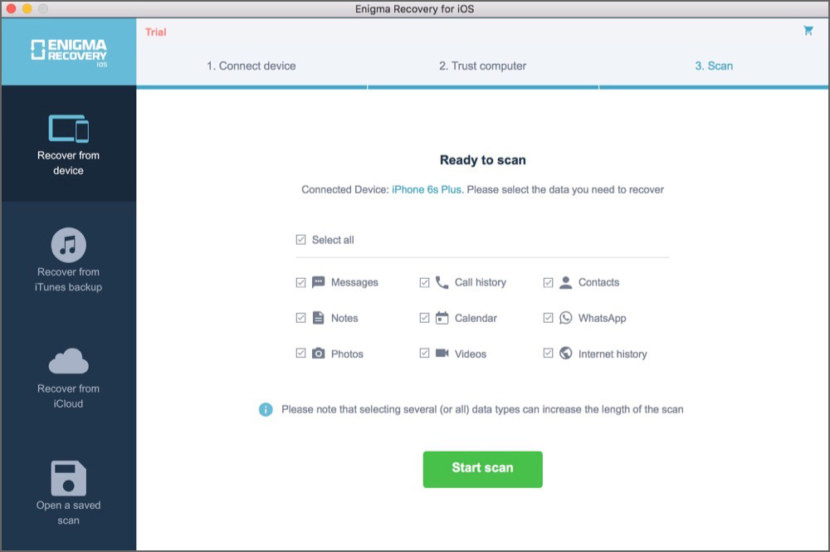 Recover deleted data from iOS devices & backups. With Enigma Recovery software you can recover deleted messages, calls, contacts & more. Enigma Recovery is the ideal data recovery tool for you. Their software can recover the deleted data you feared was lost forever from your iPhone, iPad or iPod Touch. Designed to work with our free Restore App, the software will help you to restore deleted data back to your device. You can also export data to your Mac or Windows PC, so you'll always have a copy of the data that matters most to you.
With Enigma Recovery, you can recover 10 different types of data from your iOS device, including:
Text messages, iMessages, Contacts, Calls, Notes, WhatsApp*, Photos*, Videos*, Internet history*, Calendar*
*Deleted data can be recovered only from iTunes/iCloud backups. Existing data can be recovered from your device.