You can manually configure your iPhone's WiFi DNS but not the mobile cellular network internet. Do you want to change DNS settings for your cellular connection – but are frustrated that the only choices you have to set DNS servers for your Wi-Fi network are to change the settings on your device, or reconfigure your router? To be able to do this, you'll need an app to perform this task.
See More ▼ 5 Free DNS Parental Control For XBox, PlayStation, iPhone, iPad And More
These DNS apps let you quickly and easily set and change DNS server preferences on your iPhone or iPad. You simply choose from several popular public DNS providers, such as Cloudflare, OpenDNS, Google Public DNS, Norton ConnectSafe and more.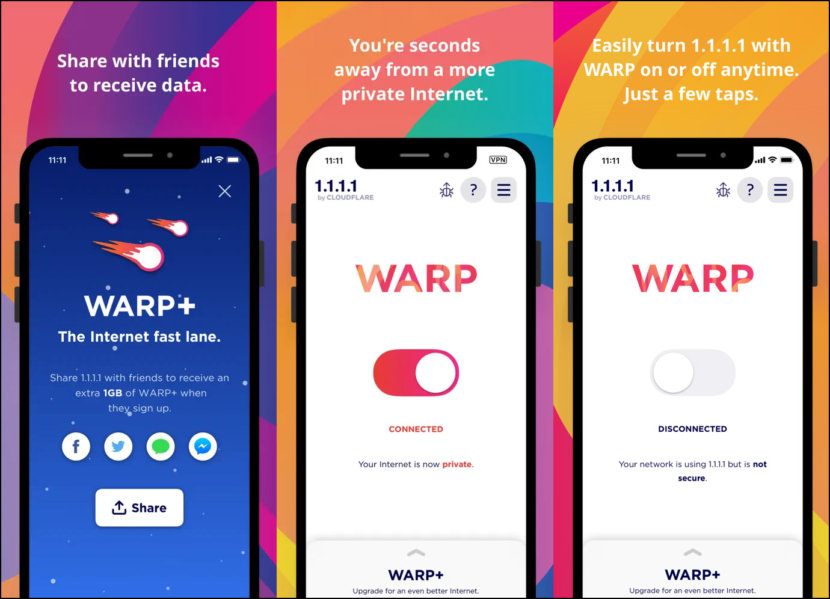 WARP is built on the same network that has made 1.1.1.1 the fastest DNS resolver on Earth, even faster than Google's DNS. Your connection to WARP is fast and reliable wherever you live and wherever you go.1.1.1.1 w/ WARP makes your Internet more private and safer. No one should be able to snoop on what you do on the Internet. They've created 1.1.1.1 so that you can connect to the Internet securely anytime, anywhere. WARP replaces the connection between your phone and the Internet with a modern, optimized, protocol.
In addition to the full WARP service, WARP+ subscribers get access to a larger network. More cities to connect to means you're likely to be closer to a Cloudflare data center – which can reduce the latency between your device and Cloudflare and improve your browsing speed.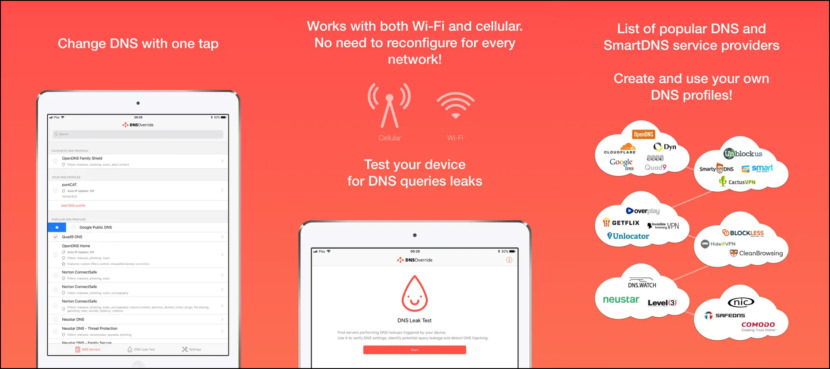 DNS Override is the World's FIRST App that Lets You Easily Change DNS Server Settings On Your iPhone or iPad! DNS Override lets you choose your preferred DNS servers and use them with all Wi-Fi and cellular networks. By selecting different DNS service providers, you can benefit from:
Reduced DNS query delay = faster and more reliable Internet access
Improved security = malware, phishing, scam sites blocked
Automatic misspelled domain correction
Adult content filtering = pornography, crime, gambling, violence, alcohol, drugs, hate, file sharing sites blocked
Access to geo-restricted content thanks to major SmartDNS providers support built into the app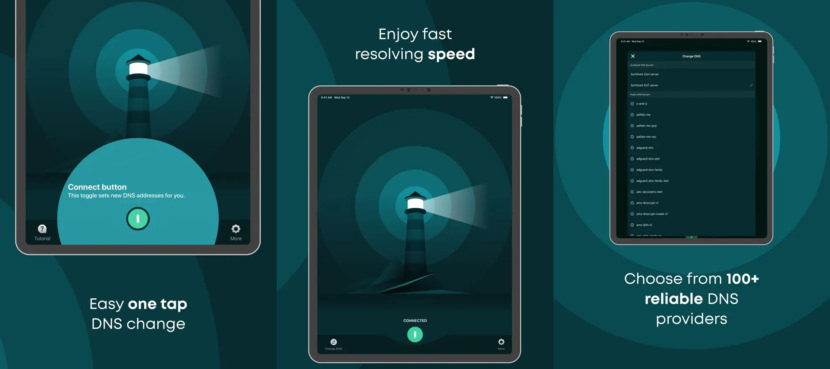 Internet Service Provider (ISP) gives you a default DNS server which is not necessarily the best one. Trust DNS is a DNS changer that helps to protect your privacy by encrypting your DNS requests & allowing you to choose from 100+ free public DNS servers. DNS changer works with IPv4 protocol on Wi-Fi, LTE, and all mobile data (4G, 3G, 5G) carriers.
Trust DNS is the first layer of internet security that has basic protection against surveillance and censorship attempts. It can't change your IP address and bypass complex blocking methods. DNS resolver just changes your device DNS and does not perform any other activity in the connection.
Secure Servers by Trust DNS – private & encrypted DNS requests to ensure that your Internet provider can't see and store your browsing data.
Ad Blocking Servers – remove all ads to enjoy a faster mobile browsing experience. Servers to pick: Pi-hole, Adguard DNS, Pi DNS, BlahDNS, Oszx & many more.
Parental Control Servers – ensure safe browsing for your family by filtering inappropriate content, such as adult websites, gambling & others. Servers to pick: Adguard DNS, CleanBrowsing Family & many more.
Malware Protection Servers – protect yourself from phishing, malware, ransomware, and malicious domains. Use a DNS server that blocks malicious activity. Servers to pick: Cloudflare Security, Adguard DNS, Doh-Tiarap, Brahma world, CleanBrowsing, etc.
'No Filter' Servers – access websites restricted at DNS level by changing your default DNS provider. Servers to pick: OpenDNS Family Shield, Cloudflare Family, Adguard Family protection, CleanBrowsing, DNS for Family, etc.
Change DNS Server for Mobile Data Network and WiFi. DNS Changer is the easiest way to change your DNS. Works for both WiFi and Mobile Network Data Connection. The DNS Changer change's your device's DNS address, not affecting your connection speed in any way. So, it is faster than a regular VPN. Install DNS Changer for IOS and try it yourself!
With DNS Changer, you can find the fastest DNS server and connect to it with just one touch! So your browsing speed and gaming experience (ping and latency) can be improved. (But you should remember that DNS settings will not affect your internet download / upload speed but response time)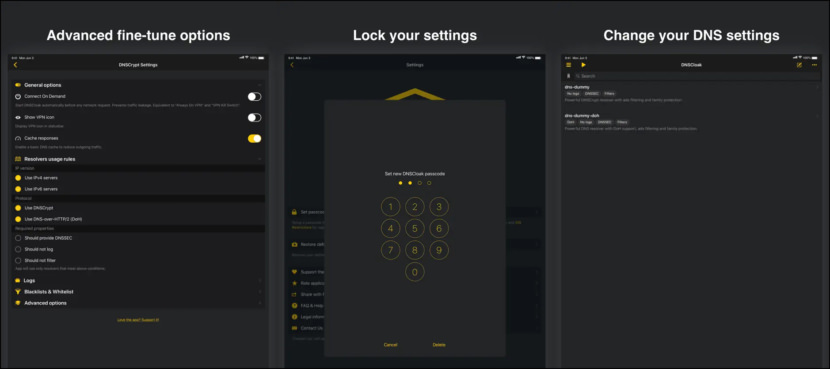 Their app implements DNSCrypt & DNS-over-HTTPS/2 (DoH) protocols and allows you to secure your DNS traffic against of spoofing. It overrides your DNS settings with a single or multiple DNSCrypt or DNS-over-HTTPS/2 (DoH) resolvers. Works both for WiFi & cellular. DNSCrypt is a protocol that authenticates communications between a DNS client and a DNS resolver. It prevents DNS spoofing. It uses signatures to verify that responses originate from the chosen DNS resolver and haven't been tampered with.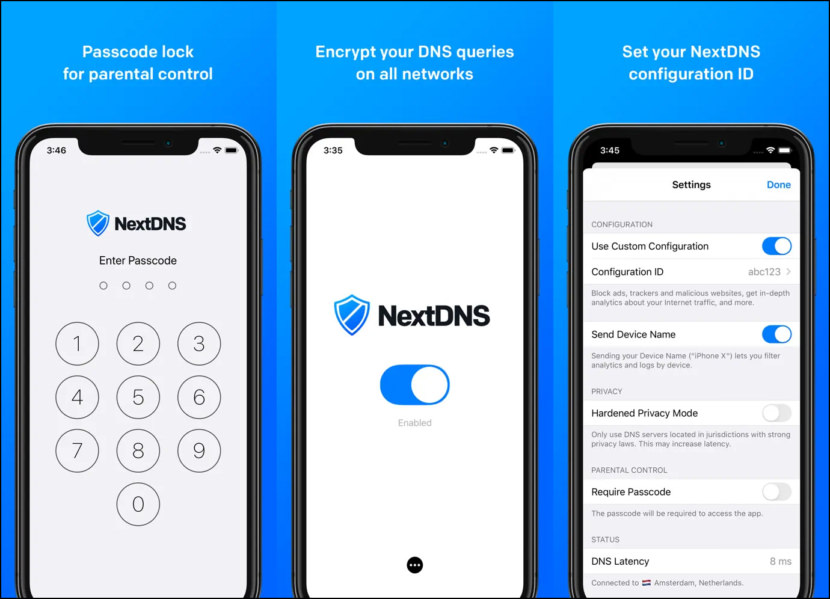 NextDNS protects you from all kinds of security threats, blocks ads and trackers on websites and in apps and provides a safe and supervised Internet for kids — on all devices and on all networks. You can set your configuration ID from your NextDNS account in the Settings to bring your blocking policy to your phone and get Analytics and Logs about your traffic.
Protect yourself against malware and phishing attacks, cryptojacking and more.
Block ads and trackers on websites and in apps — including the most devious ones.
Protect your kids and control what they can access online, and when.
See what's happening on your devices with in-depth analytics and real-time logs.