Updated: August 11, 2018 / Home » Tutorials
How to change the data and properties on a Jpeg, Tiff or RAW image file format? If you're searching for a freeware that does simple exif editing, look no further. Microsoft Windows Explorer has the capability to edit exif data. You can change the description, tags, authors, copyright information, data modified and many more. This article will teach you 3 methods to change exif data of photos with exifTool viewer.
Related Article ➤ 12 Free Alternative Image and Photo Organizer for Microsoft Windows
↓ 01 – AnalogExif – for Apple Mac and Microsoft Windows
AnalogExif is a free metadata editor for the scanned films and DSC-captured digital images.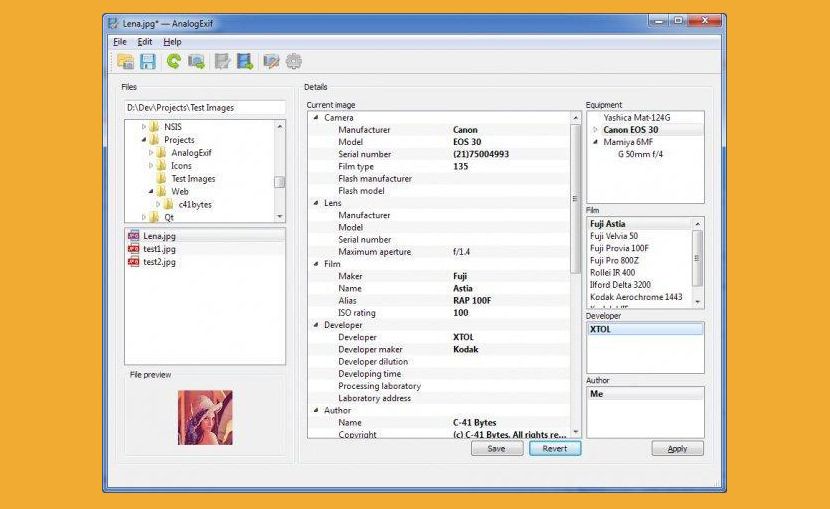 Modification of the most EXIF, IPTC and XMP metadata tags for JPEG and TIFF files
Equipment library to store metadata properties of the film cameras and other analog equipment
Custom XMP schema for film camera properties (e.g. film name, exposure number etc.) and user-defined XMP schema for extra flexibility
Batch operations (copy metadata from another file, auto-fill exposure number)
Customizable set of the supported metadata tags
↓ 02 – JPEG & PNG Stripper – Change 'Date Taken' With via Microsoft Windows Properties Viewer
This method allows you to modify the 'date taken' data, unfortunately it is limited to a few options. The rule of thumb is to remove all other data with JPEG & PNG Stripper and individually input the date created. This simple tool that strips off all the metadata in Jpeg and PNG.
Step 1 – Right click on the file
Step 2 – Select Properties
Step 3 – Select the 'Details' tab
Step 4 – Double click on the empty field on the right column and edit the data
The above method works on Windows, what if you're into changing the date for photos taken with your iPhone or Android Camera? You'll need a much more powerful tool on your Mac or Windows PC.
↓ 03 – ExifTool – Read, Write and Edit Meta Information
This is perhaps one of the most powerful Exif editor. Runs on both Microsoft Windows and Mac OSX, ExifTool is a powerful editor that reads, writes and edit meta information in a wide variety of files.
ExifTool supports many different metadata formats including EXIF, GPS, IPTC, XMP, JFIF, GeoTIFF, ICC Profile, Photoshop IRB, FlashPix, AFCP and ID3, as well as the maker notes of many digital cameras by Canon, Casio, FLIR, FujiFilm, GE, HP, JVC/Victor, Kodak, Leaf, Minolta/Konica-Minolta, Nikon, Olympus/Epson, Panasonic/Leica, Pentax/Asahi, Phase One, Reconyx, Ricoh, Samsung, Sanyo, Sigma/Foveon and Sony.
Photo EXIF Data Misconceptions On Social Media