When it comes to SQL, one of the biggest fears is to encounter a corrupted SQL. Incompatibility is another issue to tackle, for those that handle SQL, backing up multiple SQL in various versions is the normal. For those with WordPress, it is advisable to backup via the MySQL Admin, WordPress Plugin and also the internal WordPress XML Export.
🤣😍😂 7 Best WordPress Automatic Sync, Database Backup & Restore Service
Why Do We Need SQL Repair Software? SQL Database Repair software is needed to repair the Corrupt and Inaccessible MDF and NDF files. These SQL files may be corrupted due to various reasons like databases in Suspect mode or Offline mode. Also, there may be recovery pending and database attachment issues.
This software is one of its kind to recover the deleted records of SQL Database. Stellar software is perfect for the recovery of all Database components including tables, triggers, indexes, keys, rules & stored procedures and supports the recent as well as older SQL Database versions.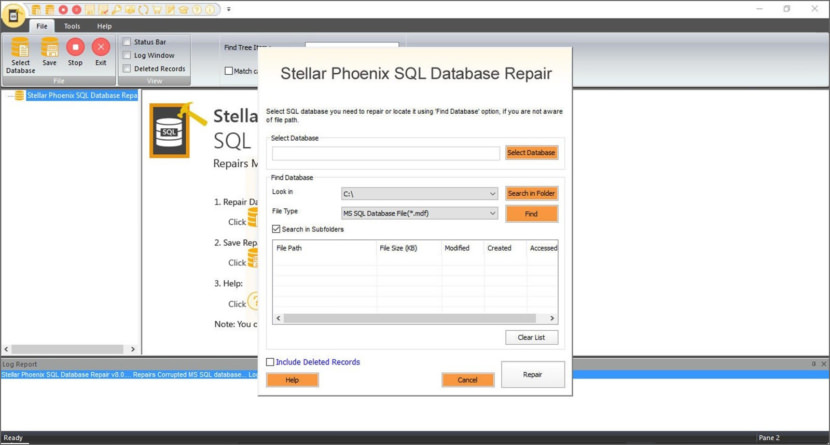 Stellar SQL Database Repair is the most recommended software by MSSQL Administrators. The Software fixes corrupt SQL database files and recovers inaccessible objects to save business data. Stellar SQL database repair is an advanced utility to repair & restore corrupt SQL server data files (mdf & ndf). It repairs & recovers SQL objects like table, triggers, stored procedure, primary key, and many more.
Repairs Corrupt SQL Database (.mdf &.ndf) files
Recovers tables, triggers, indexes, keys, rules & stored procedures
Performs Recovery of deleted records from SQL Database
Saves Scan result of Database to Perform Recovery at Later Stage
Allows saving of repaired file in MS SQL, HTML, XLS & CSV formats
Restores Objects of MDF and NDF Files
Supports MS SQL Server 2016, 2014, 2012, 2008 and older versions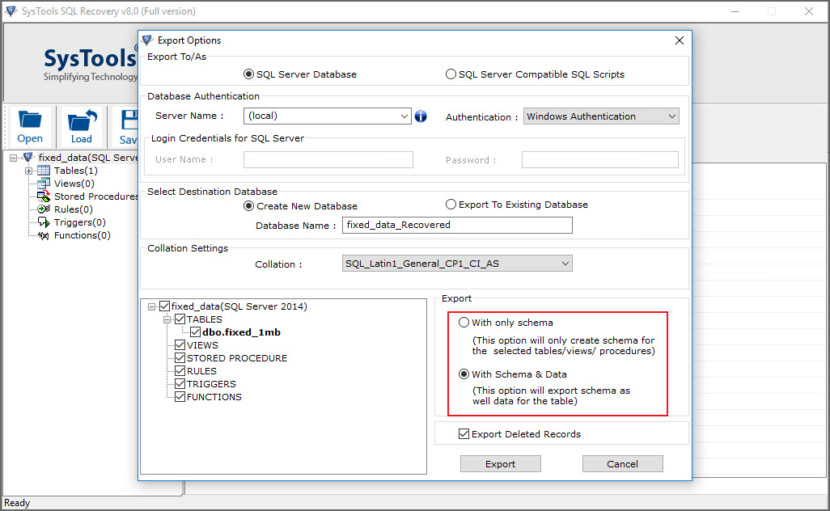 Repair Corrupt SQL Server Database MDF/NDF files easily using SysTools SQL Recovery Software. It allows repairing and recovering functions, views, rules, Key, tables, stored procedure, unique keys, Triggers and associated Primary data types & all other properties associated with the database precisely .The software is capable of exporting the recovered files into SQL Server Databases or as SQL server Compatible scripts and much more.
Quick & Advanced Scan To Repair SQL Database : Both Primary & Secondary
SQL Recovery Software will Recover Deleted SQL Server Database table's Data
Scan & Recover Multiple NDF Files (Secondary Database)
Scan & Recover Triggers, Rules, Functions, Tables, Stored Procedures
Export File into SQL Server Database or as SQL Server Compatible Scripts Using SQL Database Repair Tool
Auto Fetches SQL Server Name while Exporting to SQL Server Database
Desired Items Selection to Save File with Schema or Schema & Data Both
Support ASCII and Unicode XML datatype
Recover SQL Server 2017, 2016, 2014, 2012, 2008 / 2008 R2, 2005, 2000 database files i.e. MDF
Recover data from Wallet Ransomware affected .mdf files.
↓ 03 – ApexSQL Recover | USD$1399 / $2499 / $2999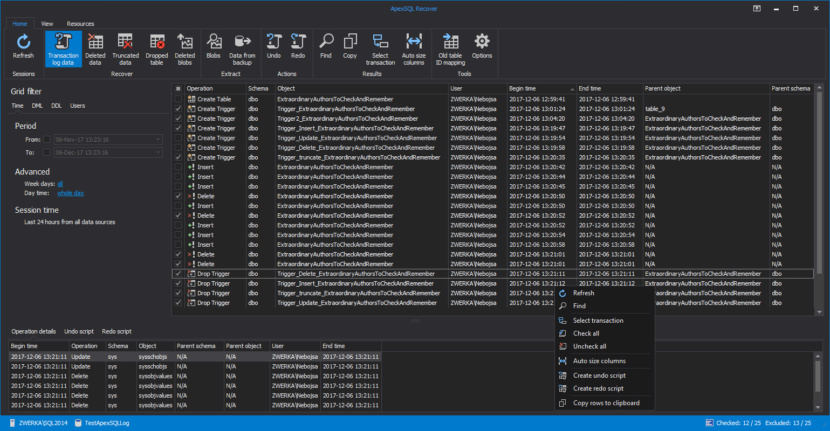 Every DBA has at one point or another been faced with the challenge of recovering lost data. There are many ways in which data can be lost, such as DELETEs , TRUNCATE TABLEs , DROP TABLES , database corruption or even the very common UPDATE without the WHERE clause. ApexSQL Recover can recover lost data due to delete, truncate and drop operations. Recover BLOB data as files.
Extract data from database backups without restoring them. Some features include compressed backup support, smart resource management, direct-to-database recovery, blob extraction, advanced filtering and more. ApexSQL Recover is compatible with all SQL Server databases from SQL Server 2005 onwards.
Recover data without installing server side components on the SQL Server itself
Compressed backup support: Use natively compressed transaction log and database backups as data sources
Recover FileTables' schema and data
Smart resource management: Automatically identify the optimal recovery method for peak performance
Improved scalability: Fully leverage the increased memory limit and performance boosts provided by the x64 architecture
Direct-to-database recovery: Recover data directly to a database including data lost due to TRUNCATE or DROP operations. Recover lost tables directly to database including tables containing calculated columns or tables with missing schema and user defined data type definition
BLOB extraction: Extract online BLOBs as data files
Advanced filtering: Specify the timeframe in which your data or objects were lost
Support for additional SQL Server objects and data types: Restore data from compressed tables and SPARSE columns. Recover vardecimal and FILESTREAM data
Support for multiple data source types: Recover from live databases and transaction logs, detached database and transaction log files as well as native or compressed transaction log and database backups
Lost data recovery: Recover data lost due to a DELETE or TRUNCATE operation
Object restore: Recover dropped objects
SQL Server 2016 support
Support for Microsoft SQL Server 2017 CTP 2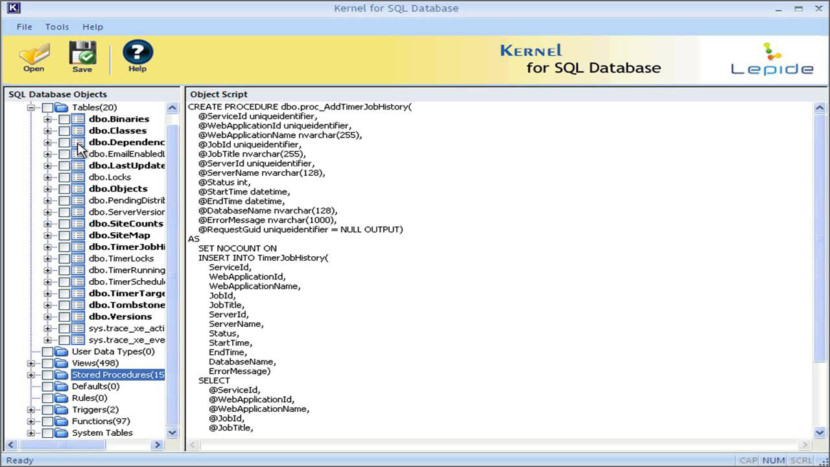 Kernel for SQL Recovery allows painless SQL database recovery from corrupt MDF/NDF files. It restores your lost database objects back to running SQL server, without disturbing their original properties. SQL recovery tool has no file size restriction, and therefore retrieves all deleted tables, triggers, and stored procedures etc. in a single attempt.
Repairs corrupt/inaccessible database files of any SQL server version
Recovers all database objects: tables, triggers, rules, functions, deleted records, etc.
Smooth recovery of large-sized MDF/NDF files
Creates a backup of restored databases in script form
Supports recovery of UNICODE characters from the database
Recovers multiple MDF/NDF files at a time
Preserves original data – structure and properties remain intact
Restores recovered MDF/NDF files to LIVE SQL server
Supports MS SQL Server: 2016, 2014, 2012, 2008 R2, 2008, 2005 and 2000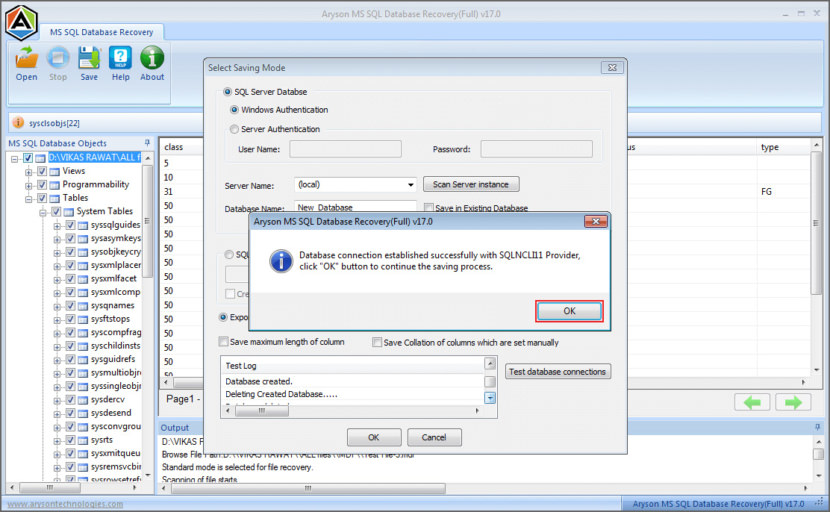 Aryson SQL Database Recovery Tool is one of the most used online tools to recover and restore corrupt / damaged SQL database files with ease. The software can do SQL recovery in minutes and successfully restore SQL database objects without any hassle.
Being an advanced solution the software can easily repair and recover corrupt MDF as well as NDF file extension without harming the original data. In addition to it, the interface of the software is so easy that even a novice user can also use it without any technical assistance.
Repair SQL Database – SQL database repair tool allows users to complete SQL repair with perfection. It can repair and restore all your corrupt MDF as well as NDF files with ease.
SQL Server Recovery – To execute complete SQL Database Repair, the SQL recovery tool has been loaded with two different recovery modes: Standard mode for minor corruption and Advanced mode to handle major corruption.
Restore SQL Database Objects – SQL repair tool not only repair your MDF and NDF files but it can also recover SQL database objects like indices, views, tables, triggers, stored procedures, rules, keys, etc.
Smart Data Preview – Being an advanced tool, the SQL database recovery software has some amazing features and one of them is its preview feature. With the help of the preview feature, a user can easily preview the files and the status of the scanned files. In addition, you can even select the files that you want to save.
Deleted Records Recovery – Recovery of deleted files is kind of a tough ask but with the help of SQL database repair software you can easily recover and even restore deleted files from your MDF and NDF database.
Flexible Saving – The tool enables users to capture the snapshot of the file recovery that can be saved at user defined location.
Easy-to-use Application – The software comes with an easy to use application making it a cake walk for novice users to repair SQL database files with ease.
Support & Compatibility – Aryson SQL Repair tool is an updated and advanced software which runs smoothly on all versions of MS Windows Operating system.
Automatic Updates – No one wants to do manual updation as it takes a lot of time that is why, the SQL recovery software provides you with manual updates. You get notified on your registered email id whenever your software is updated with new features.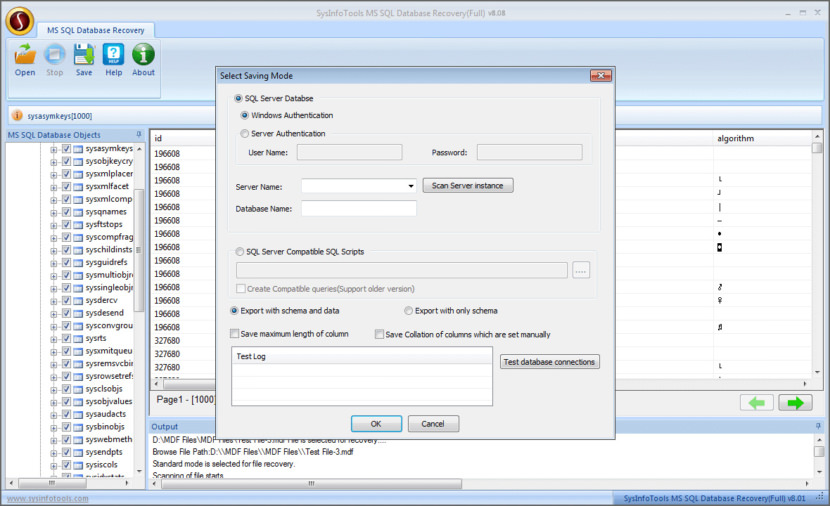 SysInfoTools SQL Database Recovery Software is a great tool to recover and restore corrupt SQL databases. It not only lets users recover corrupt databases but it also supports recovery of MDF and NDF files with two amazing recovery modes: Standard and Advanced. It also lets users save their recovered files in two different formats for flexibility: SQL Server compatible Script format or SQL Server database format.
Recovery from MDF & NDF Files – Corrupt file issues cause inaccessibility in both MDF & NDF files and bring the SQL Server database to an inconsistent state. This software is programmed to perform successful recovery from MDF as well as NDF files of Microsoft SQL Server.
Support for SQL Server Compressions – The Software is capable of supporting all major compressions on SQL database tables. ROW-level compression, PAGE-level compression as well as the Unicode compression is supported by this tool in order to recover all the data in the original format. Click here for more information.
Save as SQL Scripts – The other saving option enables users to save the recovered data in the form of SQL Scripts at user-defined location. It supports the creation of SQL Scripts which are highly compatible with both newer as well as older versions of SQL Server.