The zip file format is the most popular form of data storage. It is widely used for backup and transfer of information over the internet. As any format with a well-defined structure, it is highly sensitive to corruptions. In case of even a minor corruption of the file structure, standard zip tools will no be able to extract its content. This is because all zip tools check archives for integrity.
Related 2021 Article ➤ 10 Free Zip File Compressors With High Compression Ratio
Finding difficult to solve 'Not a valid Archive' Zip file error? No worries, here are 5 free zip repair tool to fix corrupt, inaccessible, damaged or bad or broken zip archives. Good luck.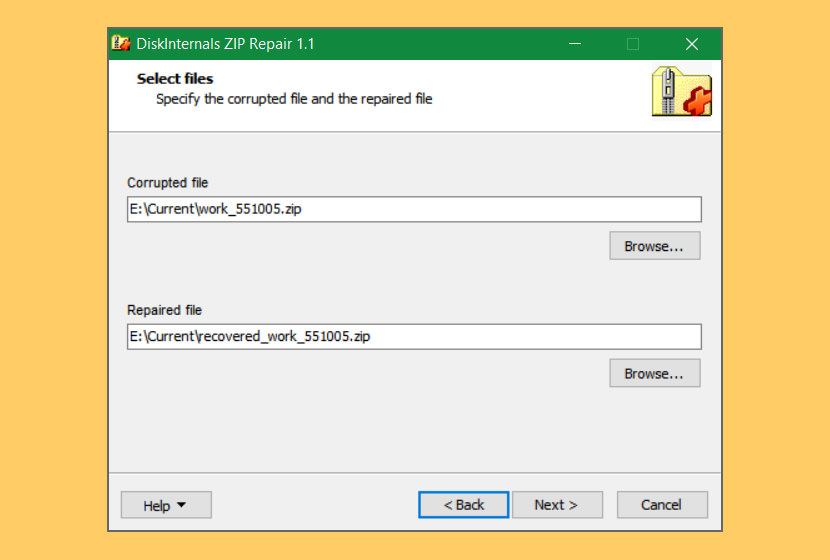 If CRC values of the original files of an archive don't match the extracted ones, the standard tools won't extract them. In such a case DiskInternals ZIP Repair helps to restore zip structure and extract the contents of the archive.
DiskInternals ZIP Repair has built-in extraction features that allow it to extract partially damaged and restored files. It performs at a revving speed and demonstrates high accuracy of the recovery. The program supports all major zip capabilities and reinforces your standard zip applications with an automatic recovery feature.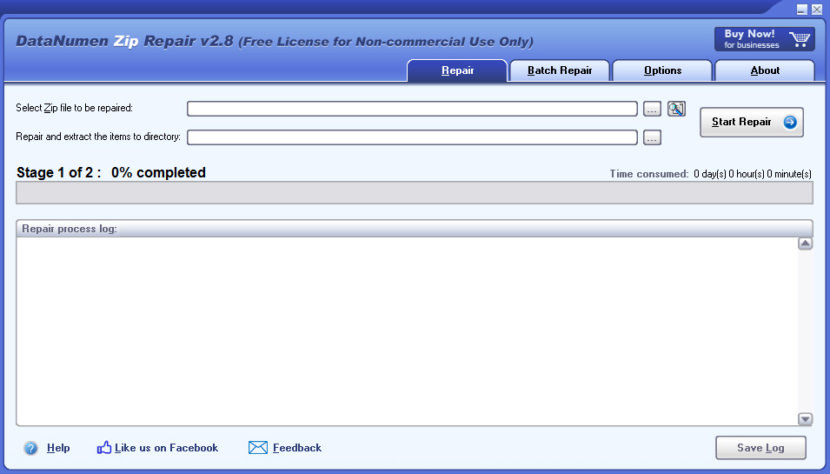 DataNumen Zip Repair is the best FREE Zip repair and recovery tool in the world. It can repair the corrupt Zip files and recover as much of your data as possible, thereby minimizing the loss in file corruption. Recovery rate is the most important criterion of a zip recovery product. Based on our comprehensive tests, DataNumen Zip Repair has the best recovery rate, much more better than any other competitors, including WinRAR and other zip repair tools, in the market!
Can fix all sub-types of Zip files and all kinds of self-extracting files.
Check data integrity and fix incorrect CRC values in the archive.
Support to repair Zip files and Zip item files larger than 4GB.
Support to repair spanned Zip files, split Zip files and encrypted Zip files.
Support to repair Zip files on corrupted media, such as floppy disks, Zip disks, CDROMs, etc.
Support to repair a batch of files.
Support to find and select the Zip files to be repaired on the client computer.
Support to extract recovered items in the fixed Zip or SFX archive.
Can be used as a computer forensic tool and electronic discovery (or e-discovery, eDiscovery) tool.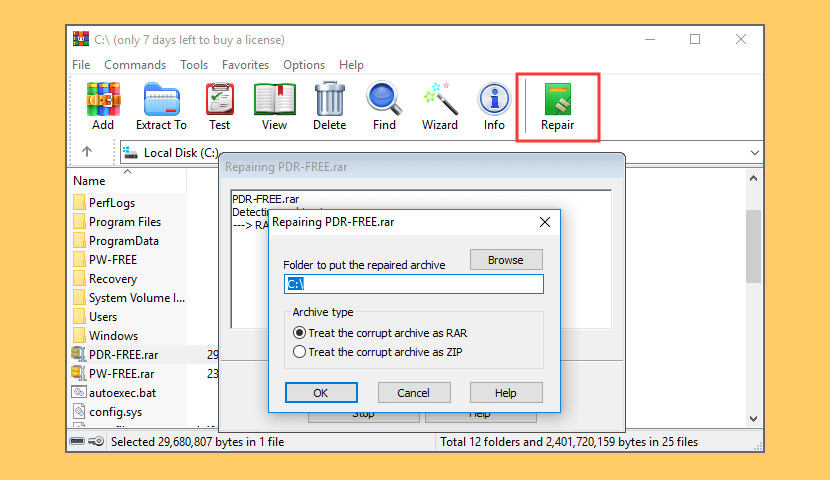 I get the error message "CRC failed in file name. The file is corrupt!" or "Packed data CRC failed in volume name. The volume is corrupt!". Unfortunately, the File data are corrupt. The archive may have been damaged after creation. In this case it is sometimes possible to repair it if the recovery record has been applied.
It also could have been damaged during creation due to hardware failures (usually caused by an over-clocked CPU or unreliable memory). In the latter case the recovery record will not help. The only way to detect if the repair will help is to try to apply the repair command to the archive and test the results.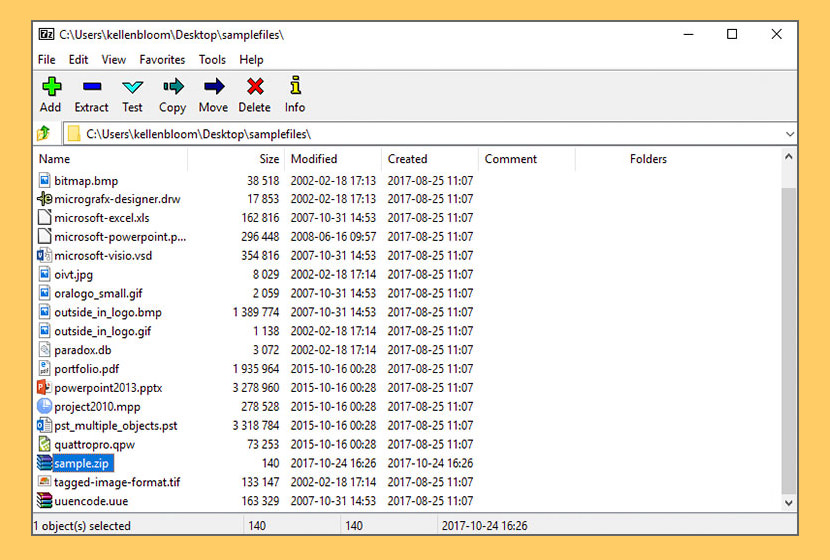 It's possible that new version of 7-Zip can solve your problems with 7z archives. So download latest version of 7-Zip and try to use that new version. You can try also latest alpha or beta version. If new version also doesn't help, read this manual. Corruption case: Data errors or CRC errors for files inside archive
Here we describe the case, when you can open archive and you see the list of files, but when you press Extract or Test command, there are some errors: Data Error or CRC Error. It's pretty difficult to recover data for that case.
If archive was compressed in "Solid" mode, and you have exact copies of some files from archive, you can create similar archive with good copies of files with same settings and in same order, and replace "bad" parts of bad.7z with "good" parts from another good.7z. You must look listings of files in bad and good archives, logs of "test" command, and think about ways to replace bad parts.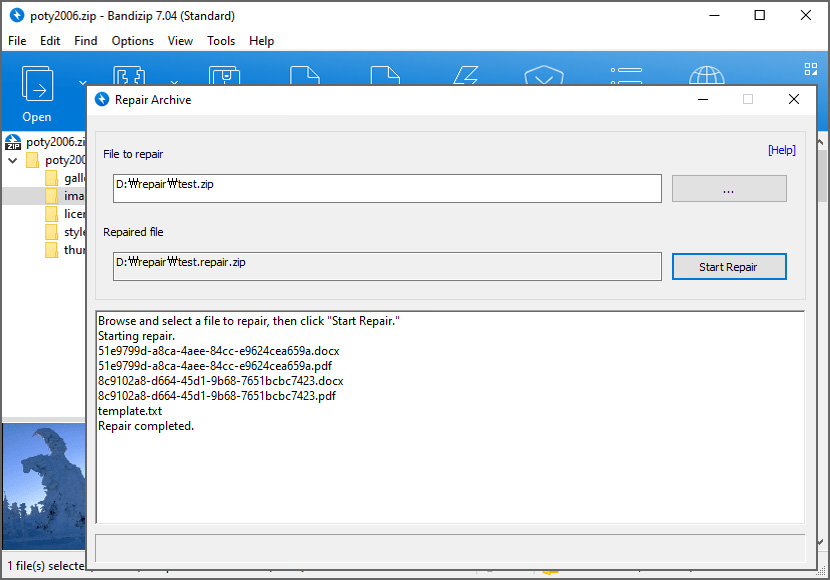 If your ZIP file is corrupted, this feature may repair uncorrupted data of the file as much as possible. This feature analyzes not only a file's header corruption but also all data repairable in the file; it may take a considerable amount of time to repair your archive. This feature repairs a file's header corruption. It is unable to repair corruption of the data itself.