Adobe After Effect is arguably one of the best video effects editors in the market, it provides users with a robust suite of tools to enable both novice and professional video editors to compose what they need to in order to create amazing visual effects for videos and films.
See More ▼ 5 Free Adobe Premiere Pro And Apple Final Cut Pro Alternatives
Alternatives with a similar workflow include Small FXhome HitFilm, Blackmagic Design Fusion, and NUKE. Unfortunately, all 3 are not free. Here are 3 Adobe After Effect alternatives that give you blockbuster quality visual effects and compositing for free. You have full control to create your own unique effects using cutting edge technology.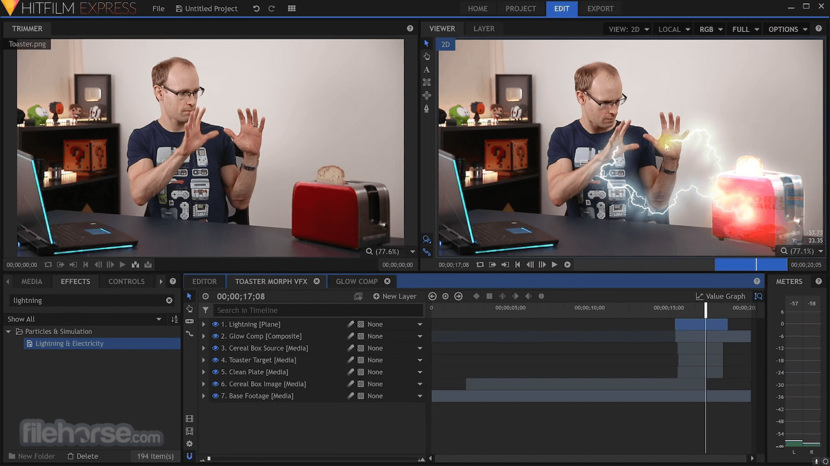 Video editing, VFX, and all the power you need to make something cool. Take your first step towards pro-filmmaking with their free starter software: HitFilm Express. Perfect for students, YouTubers, and beginner filmmakers. HitFilm Express gives you access to the most powerful free video-editor and VFX software on Earth and a community of 3.9 million filmmakers.
Enhanced performance – You can customise your playback quality and paused quality. This allows you to experience really fast playback in the editor and trimmer, preventing lagging and making it much easier to time up edits/cuts. Not only can you playback at a different quality, you can now control that quality from the menu in the viewer. This allows you to make faster, snappier edits.
Mask editing and rendering – Masking is used to manually create a matte. A matte determines which parts of a layer are visible. Practically, this means that masks are used to cut holes in your layers. HitFilm Express's mask editing is faster than ever before enhancing and speeding up the rotoscoping process. As video quality increases, the software must be capable of handling everything it's given which is why performance has been boosted.
Professional formats – HitFilm Express's UHD support and RAM preview ensures the best possible quality for your projects. Work with all footage, from your vertical smartphone shots to high-end professional camera documentaries, HitFilm can handle it.
Animation tools – A large number of advanced animation tools are now available within both editor timelines. This huge update allows you to create and edit audio and video transitions without the need to create composite shots.
Natron is a powerful Digital Compositor that can handle your 2D/2.5D needs. Its robust OIIO file formats and OpenFX architecture is what make Natron the most flexible open source compositor for the visual effects community. Its interface and function are the same across all platforms such as MacOS, Linux and Windows. Natron has a powerful keying, roto/rotopaint, 2D tracking tools that are staple for all current film production projects that require visual effects.
32 bits floating point linear color processing pipeline.
Colorspace management handled by OpenColorIO.
Dozens of file formats supported: EXR, DPX, TIFF, PSD, SVG, RAW, JPG, PNG … and more.
Network rendering: Natron can be used as a command-line tool and can be integrated on a render farm manager such as Afanasy.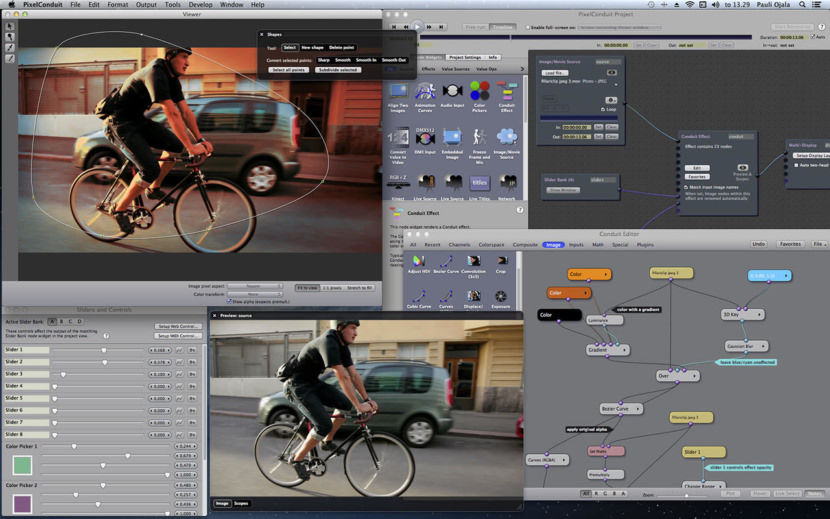 Everything in PixelConduit is designed for real time performance and high color precision. With its flexible user interface and advanced extension possibilities, PixelConduit is at home in any scenario that deals with video, whether it's live effects, dynamic video installations, or post-production work like compositing and workflow automation.
PixelConduit includes over 90 different image processing operations that support High Dynamic Range imaging (floating-point color) everywhere throughout the rendering pipeline. All the built-in tools such as blue/green screen keyers, various color correction tools and high-quality blurs can be combined without limitations thanks to the Conduit Effect System, a powerful node-based user interface.
Fast – Render in real time even above HD resolutions. Thanks to the optimizing Conduit Effect System, you can combine dozens of full-quality effects such as keyers, blurs and tone curves while still editing live.
Precise – Conduit always works in floating-point color (128-bit RGBA), so you never have to worry about color artifacts like clipping or banding again.
Affordable – PixelConduit for Mac is free with no limitations to available resolutions, file formats or effect complexity. Also version 4.0 includes the Complete edition features for free.
Powerful – Like high-end video effects systems, PixelConduit uses a node-based interface that shines for creating complex effects. The user interface is modern, ergonomic and respects the desktop environment.
Universal – PixelConduit is a lightweight app that is easy to integrate in your workflow.