Undeniably Adobe Premiere is one of the best video editing software in the market, it has the biggest market share at approximately 60% followed by Apple Final Cut Pro with 20% plus minus. Unfortunately, there are no free 'light' versions of both Premier and Final Cut. Both software packs with tons of features only a professional will ever use, therefore the subscription based fee for Adobe Premier and one off payment for Final Cut is quite expensive, especially for individuals such as YouTubers and those that use it once in a blue moon.
See More ▼ 8 Free Video Editing Software For YouTube Movies And Film
As a person that edits videos once or twice in a year, I've compiled a list of 'Free' video editing tools that can be the best alternatives to Adobe Premiere and Final Cut. Unlike the discontinued Windows Movie Maker and up and coming VideoLAN Movie Creator, these free tools listed below offer more advanced features you need for creating and editing more professional looking videos.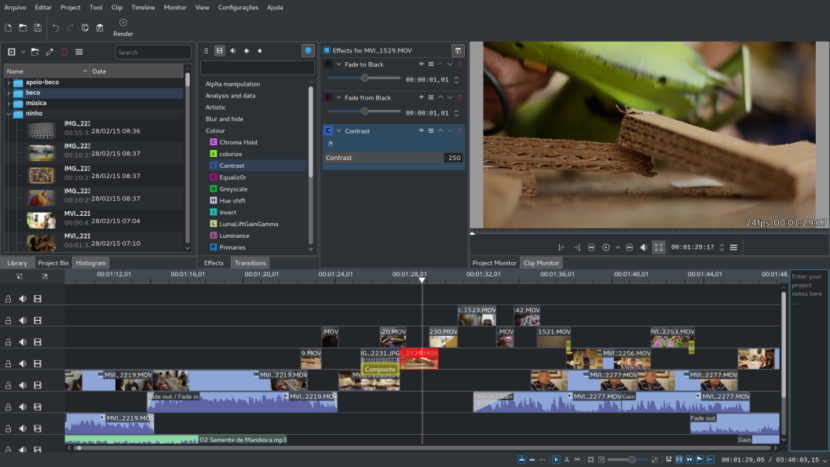 Kdenlive is an acronym for KDE Non-Linear Video Editor, it is a free and open-source, full-featured video editor. It is primarily aimed at the GNU/Linux platform but also works on BSD and MacOS. It is currently being ported to Windows as a GSOC project. Non-linear video editing is much more powerful than beginners' (linear) editors, hence it requires a bit more organization before starting.
However, it is not reserved to specialists and can be used for small personal projects. Most of the video processing is done by the MLT Framework, which relies on many other open source projects like FFmpeg, frei0r, movit, ladspa, sox, etc… Works great on Microsoft's Windows 10 and Apple's macOS.
Multi-track video editing – Kdenlive allows you to use and arrange several audio and video tracks, each one can be locked or muted to your convenience.
Use any audio / video format – Being based on the powerful FFmpeg libraries, Kdenlive can use almost any audio and video formats directly without the need to convert or re-encode your clips.
Configurable interface and shortcuts – You can arrange and save your custom interface layouts to fit your workflow. Keyboard shortcuts can also be configured to match your preferences.
Many effects and transitions – Dozens of effects are available, ranging from color correction to audio adjustments, as well as all the standard transform options.
Automatic backup – Your project file is automatically backed up every few minutes, and older versions of the project file are also kept in case you need to roll back to a previous version.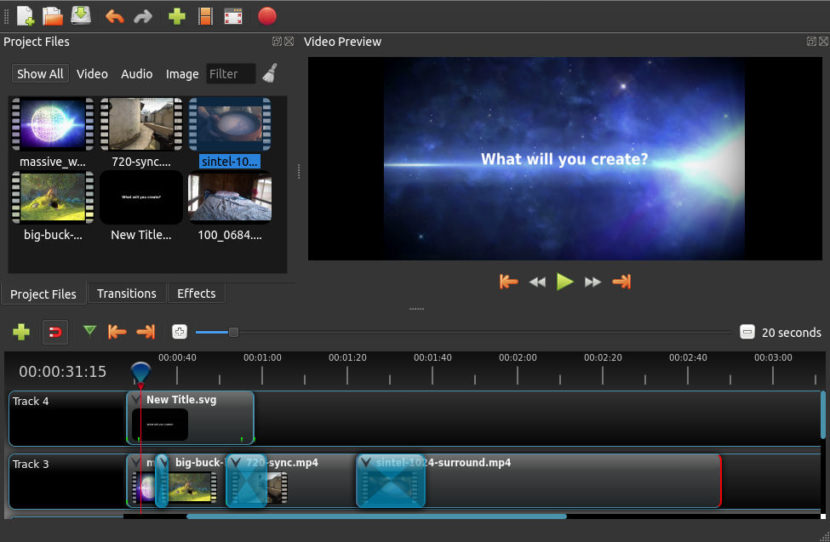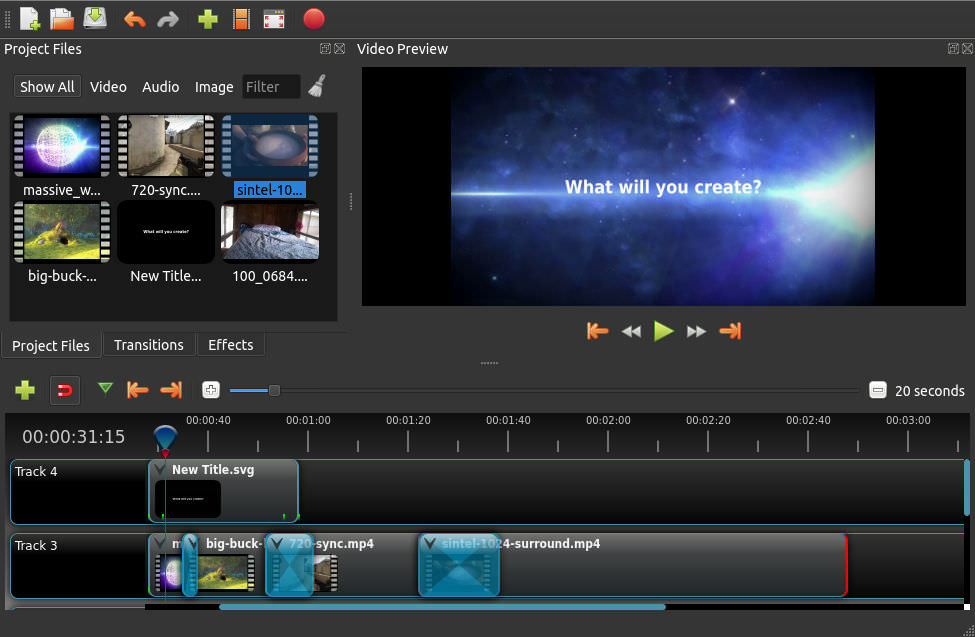 OpenShot is an open source video editing program. OpenShot Video Editor is a free, open-source video editor for Linux, Mac, and Windows. They designed OpenShot to be an easy to use, quick to learn, and surprisingly powerful video editor. Easily cut, slice, and edit any video or film. Based on the powerful FFmpeg library, OpenShot can read and write most video and image formats. For a full list of supported formats, see the FFmpeg project. OpenShot's export dialog defaults to some of the more common formats, but with the advanced tab, you can use any FFmpeg format.
Powerful curve-based Key frame animations – OpenShot comes with a powerful keyframe animation framework, capable of an unlimited number of keyframes and animation possibilities. Keyframes interpolation mode can be quadratic bezier curves, linear, or constant, which determines how the animated values are calculated.
Unlimited tracks / layers – Tracks are used to layer images, videos, and audio in a project. You can create as many layers as needed, such as watermarks, background audio tracks, background videos, etc… Any transparency will show through the layer below it. Tracks can also be moved up, down, or locked.
Compositing, image overlays, watermarks – When arranging clips in a video project, images on the higher tracks/layers will be displayed on top, and the lower tracks will be displayed behind them. Much like a stack of paper, items on top cover up items below them. And if you cut any holes out (i.e. transparency) the lower images will show though.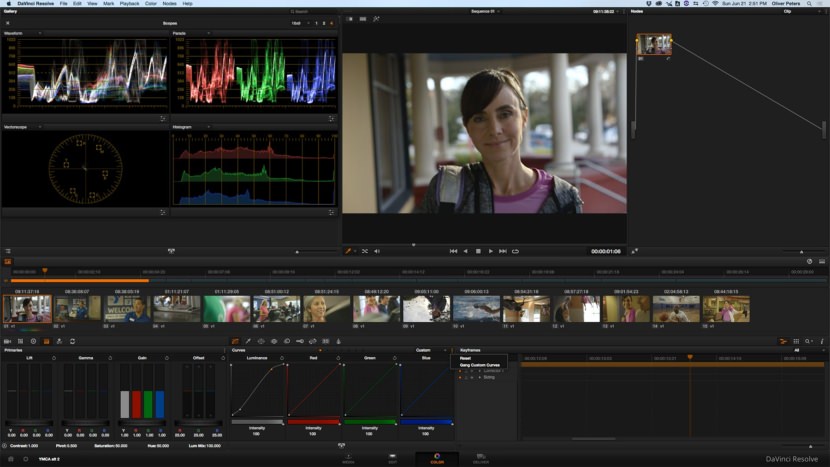 DaVinci Resolve ( DaVinci Resolve Studio cost USD300 ) is the world's most advanced editing and color grading system for independent users working on SD, HD and Ultra HD projects. Originally designed for Hollywood's elite colorists, DaVinci Resolve has been used on more feature films and TV shows than anything else because it lets you create images that are simply impossible with other tools. DaVinci is also the world's fastest growing and most advanced editing software! Revolutionary new tools for editing, color correction and professional audio post production, all in a single application!
Fairlight audio post production tools let you record, edit, mix, sweeten and master sound with full 3D audio space and up to 1000 channels. Colorists will find filters that include automatic facial recognition and tracking for quickly smoothing skin tones, brightening eyes, changing lip color and more!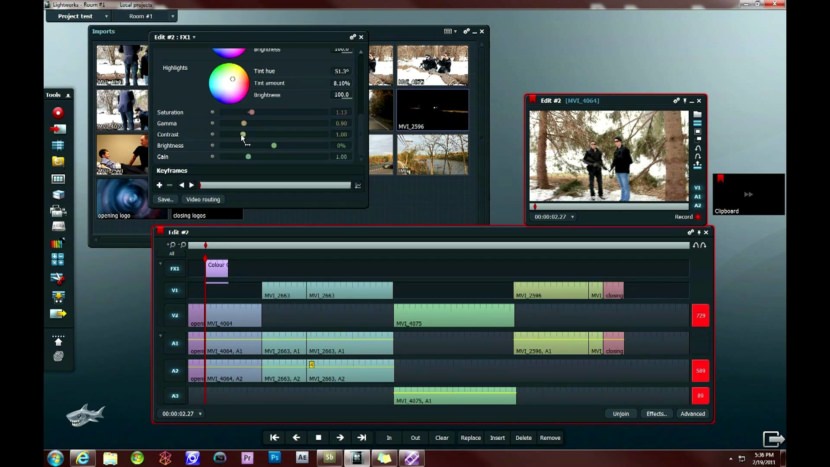 Lightworks ( Lightworks Pro cost USD440 ) is an editing powerhouse, delivering unparalleled speed and flexibility, fully integrated with the other members of the Complete Collaboration family. Lightworks is an Academy and Emmy award-winning professional-grade video editor with over 20 years of history in the film and broadcast industry.
Having cut hundreds of films such as Pulp Fiction, The Departed, Centurion, Shutter Island,The King's Speech, Martin Scorsese's The Departed, Mission Impossible, Pulp Fiction, Braveheart and Batman, it includes a full feature set of editorial tools — from advanced trimming and media management, to stereoscopic support and real time effects including multiple secondary color correctors. Lightworks has an advanced effects pipeline, utilizing the power of your GPU. And with support for up to 2K workflows with real time effects, it is the most advanced editing application available. Lightworks comes loaded with these amazing features:
Simple & intuitive User Interface
Easy timeline editing & trimming
Real time ready to use audio & video FX
Access amazing royalty-free audio & video content
Lo-Res Proxy workflows for 4K
Export video for YouTube/Vimeo, SD/HD, up to 4K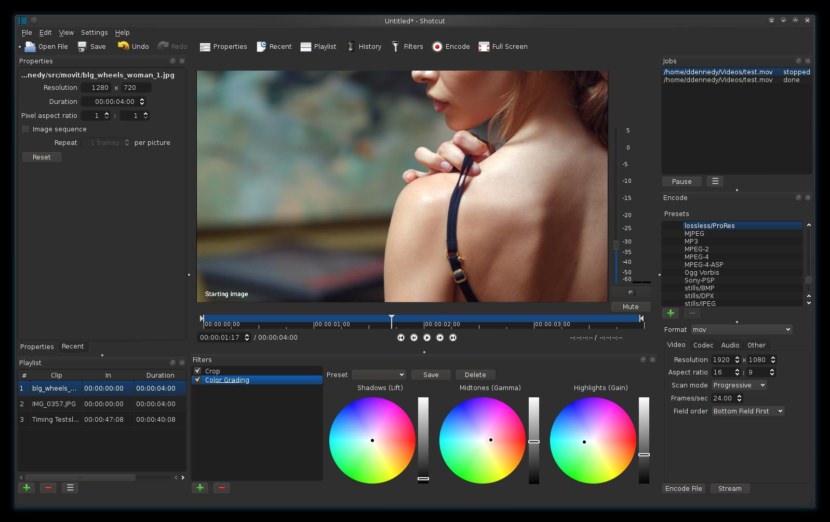 Shotcut is a free, open source, cross-platform video editor for Windows, Mac and Linux. Major features include support for a wide range of formats; no import required meaning native timeline editing; Blackmagic Design support for input and preview monitoring; and resolution support to 4k.
Wide Format Support – Supports hundreds of audio and video formats and codecs thanks to FFmpeg. No import required which means native editing, plus multi-format timelines, resolutions and frame-rates within a project. Frame accurate seeking supported for many video formats.
Device and Transport Options – Blackmagic Design SDI and HDMI for input and preview monitoring. Screen, webcam and audio capture. Network stream playback. Supports resolutions up to 4k and capture from SDI, HDMI, webcam, JACK & Pulse audio, IP stream, X11 screen and Windows DirectShow devices.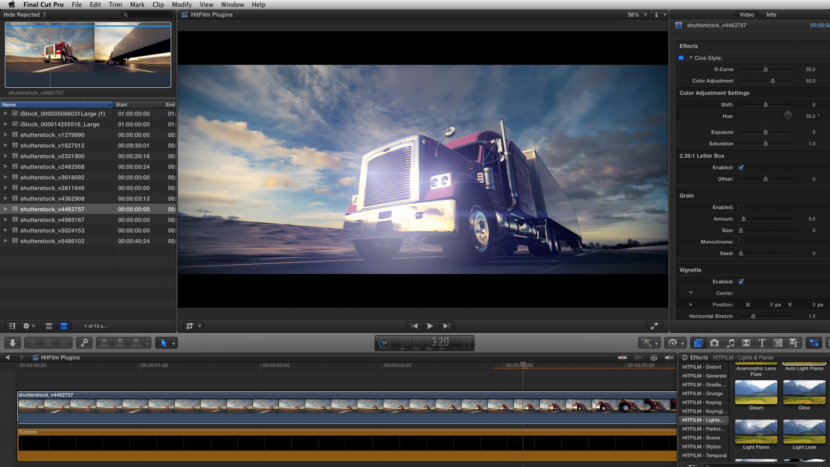 HitFilm (HitFilm Pro cost USD350) is a layer-based editing and compositing package. HitFilm Ultimate gives you blockbuster quality visual effects and compositing at an indie price. You have full control to create your own unique effects using cutting edge technology. FXhome's revolutionary video post-production software combines cutting edge visual effects and compositing with non-linear editing. Transform your film productions with integrated 3D model animation, advanced particle simulation and a sophisticated 3D compositing environment.
Up to 4K UHD at 8-bit pixel depth
Standalone editing & 3D compositing
Keyframe animation & graph editor