There are many good video editing apps for smartphones, however, not everyone is into editing on a tiny screen, if you want something more professional, you'll need to edit the videos on a powerful computer powered by Microsoft Windows or Apple macOS. Granted that some fulltime YouTubers and Tiktokers do edit their videos on a smartphone, personally I think editing it on a laptop or desktop makes more sense.
🤣😍😂 5 A.I. Generated Templates For Instagram Stories, YouTube Thumbnails, TikTok & More
There are some web-based video editor that gives you access to a suite of TikTok style editing features, but the lack of control and the need for fast internet speed might not be an ideal platform if your video files are large. The best video editor will be the one that 'enables' you, bringing out the best in your videos via special effects. Without further ado, here are some software for TikTok video editing, ideal for YouTube Shorts, Facebook Reels, Instagram Stories and most short form video formats.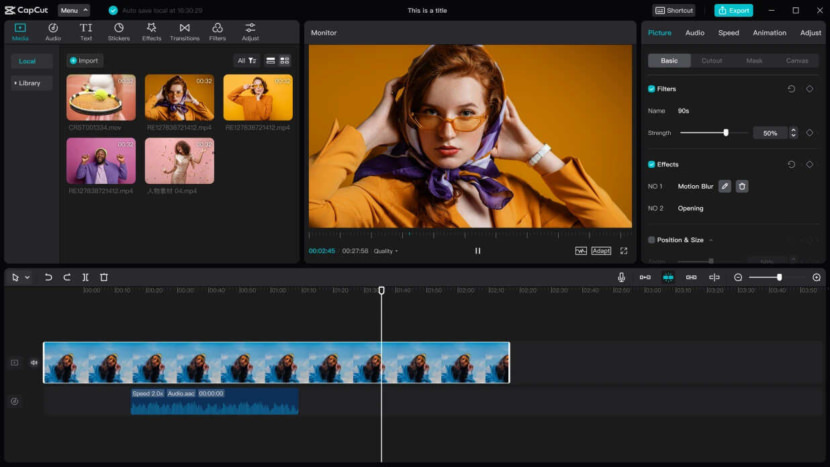 Capcut by ByteDance, parent company of TikTok is perhaps the best mobile video editing app for short form videos editing. After all, they are the creator of TikTok, they know what works best for short form videos. Unlock your productivity with a simple interface and intuitive shortcuts.
Whether you're creating videos for social media ads, marketing, or have other business purposes, we've got you covered. Use CapCut to create or share video content with your team, and work faster than ever. To meet your professional needs, CapCut desktop supports complex video editing with stable performance and a user-friendly interface. Download the desktop app and start creating your projects.
Capture memorable moments and create on the go. Cut, trim, and edit videos with CapCut app to record and celebrate life. Finish editing with ease in just a few minutes and share your work on social media. Download the app on your desktop or laptop to work offline at anytime.
Edit videos with thousands of free effects, animations and transitions.
Rich and powerful text feature, use stunning way to create texts.
Professional animation feature for complex editing workflow, make your animation smooth and dynamic.
AI-generate captions in one click, multiple languages are supported.
Support 4k 60fps export, keep the highest image quality.
Text to speech converter
Video effects & filters
Auto subtitles generator
Video background remover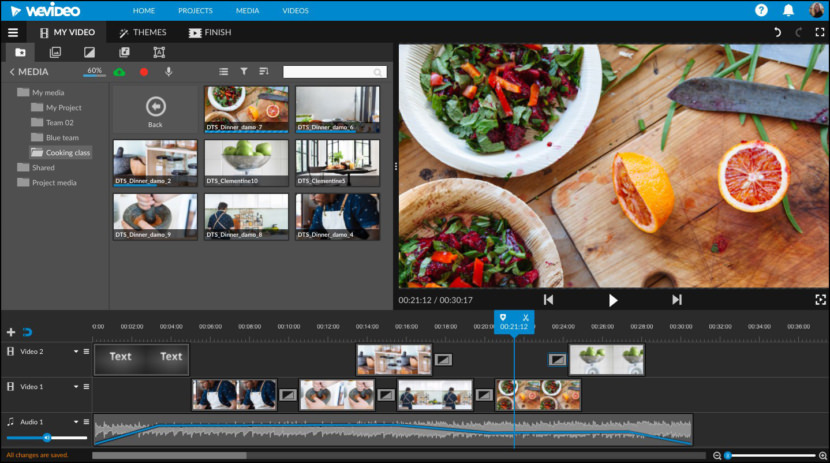 TikTok is just one of the many social media platforms you're on. There's also Instagram stories, Facebook reel, YouTube shorts and more, save that precious content creation time with their TikTok video editor! Start with a video template and then pull from our huge library of ready-made motion titles, transitions, music tracks, video clips, and more.
WeVideo's TikTok video editor makes it easy to resize any clip in 9:16 format, apply filters, and add trendy effects. Do your video editing professionally on an Apple Mac or Windows PC. You don't have to be a professional video editor to stock fresh clips on your TikTok feed. Use their video maker to put your own spin on all the TikTok trends!
Apply video effects – Select video effects to make your video shine — like picture-in-picture, green screen, animation, or slow motion — and create non-scrolling TikTok videos.
TikTok aspect ratio – With our TikTok video editor, easily resize any video to fit TikTok's 9:16 aspect ratio. It's also easy to resize any project for Instagram or other social media!
Mix up the tunes – Apply video transitions to fade audio in/out, mix in sound effects, or add background music to enhance the audio track. Boost volume and adjust levels, too!
Add text & music – Make the clips you upload even more polished with motion titles and music from our built-in stock library. Customize the look of text to mimic TikTok's popular stickers.
Easy voiceovers – Whether on Mac, Windows, or any other device, you can easily create a show-stopping voiceover using our webcam recording tools in the video editor.
Pro transitions – Go from clip to clip in a dazzling way with our video editing app's one-click transitions. Just drag any transition to your Timeline and watch as clips come together!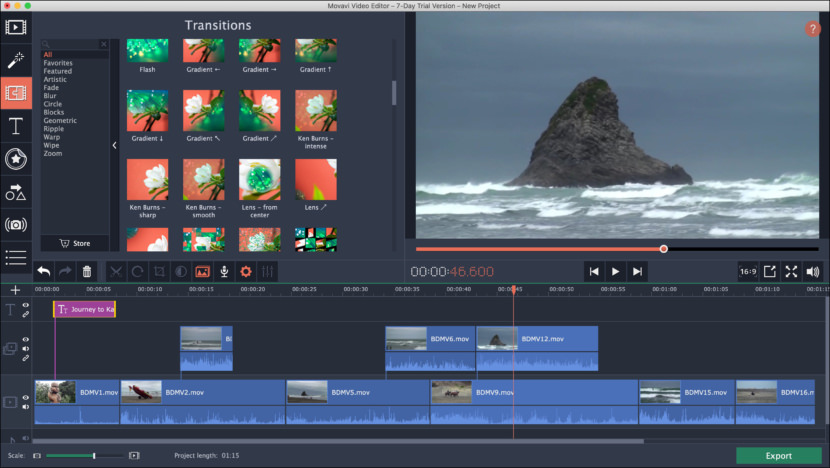 An all-in-one video maker: an editor, converter, screen recorder, and more. Perfect for remote work and distance learning. Become a content guru with our entire video toolkit: make effortless edits, create engaging screencasts, and convert media files in seconds.
Movavi Video Suite is designed to be an invaluable part of any educational activity. Create engaging video presentations with stylish transitions and callouts.
AI background removal – Use the power of the AI to instantly swap backgrounds in your vacation videos with no green screens. Drop in a new vibrant scene and get ready for an avalanche of likes on TikTok!
AI noise removal – Cut through the noise if you partied hard this summer! Remove car, wind, and other uncool sounds from your videos with this new AI-driven audio denoiser.
Direct upload to TikTok – Get on the For You page this fall with direct sharing to TikTok. Upload your sunny vids straight from the app and collect tons of views and likes much faster!
Extra effects for YouTube – Let your creativity take effect! In addition to the 5 new frames, we'll give you an exclusive pack of effects for YouTube at no charge – just because we love you. Try them out in your next hit!
↓ 04 – Filmora | Windows | macOS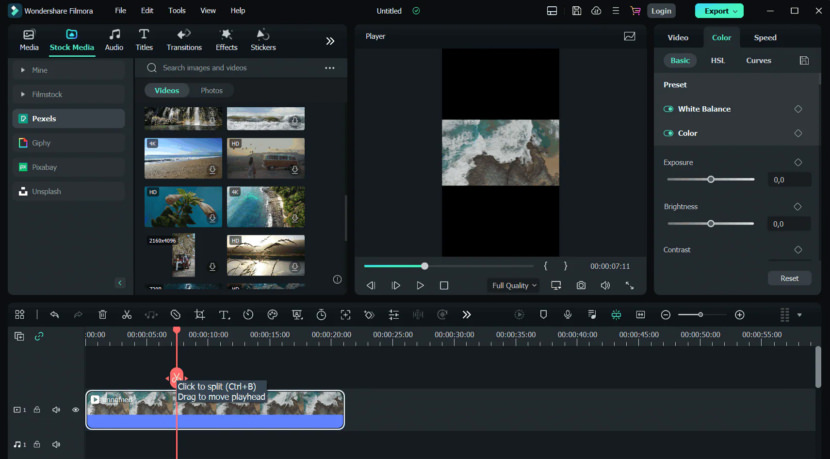 Filmora makes video editing easier and professional. You can easily make impressive and captivating videos using Filmora, a video editor for Windows. With Filmora's built-in editing features, creating videos only requires a few simple steps. You don't need any prior experience to make high-quality videos. Filmora offers instant mode, preset templates, and auto beat sync to make a video in a few steps.
Filmora also has green screen, keyframe, as well as plenty of features and effects that are easy to use. Filmora makes video editing simple. Millions of creators choose Filmora as their video editor. Not only Filmora is easy to use, but we also offer 10+ million built-in free stock medias, and outstanding video effects to make your video more attractive.
Filmora supports a wide range of file formats including Apple ProRes, MPEG-2, MPEG-4, AVCHD, and native camera formats like Canon and Sony RAW, as well as a wide variety of codecs in a QuickTime (MOV) or MXF container.
Mask and Blend – Filmora masking and blending are easy-to-use and filled with resourceful modes.
Boris FX – Get cinematic look with high-quality lighting and stylization effects.
NewBlue FX – Build stunning animated titles and motion graphics in your video editing easily.
Remove Background – Instantly remove the background of any video for free with the Filmora AI tool.
Chroma Key (Green Screen) – Reimagine your world by changing backgrounds and creating special effects.
Motion Tracking – Level up your editing with intuitive object tracking that's accessible to everyone.
Keyframing – Filmora keyframing can bring dynamism and energy to your videos with smooth animated effects
Split Screen – Multiply your fun with multiple screens for a unique way to tell your story.
AI Copywriting – Access to ChatGPT Plug-in:Filmora now offers ChatGPT plug-in to provide a more inspirational copywriting experience.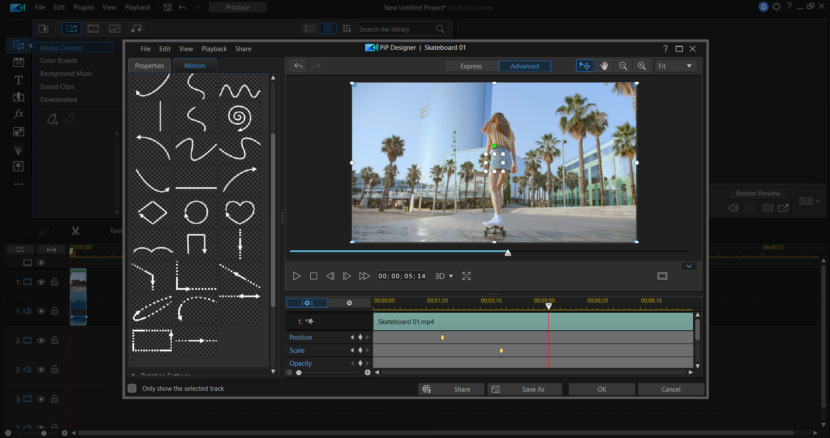 Edit Like a Pro With AI. Includes 8,000,000+ stock videos, images & background music, sound effects, stunning designed templates, magical video effects, titles, transitions, and video editing tools powered by AI. CyberLink PowerDirector bridges the gap between professional and consumer video editing.
PowerDirector 365 is chock-full of tools to help cut, mix, edit, transition, and create themes for video footage to make a fully-fledged movie. Notable features include the theme designer which helps maintain a consistent style in a video despite knitting together several different pieces of footage and dynamic keyframe controls.
Create attention-grabbing video intros with thousands of shareable templates
AI-powered tools include motion tracking, object detection, dereverb, wind removal, sky replacement, and more
Edit and export videos in up to 4K resolution
Trim, splice, rotate, crop and zoom
Control brightness, color, and saturation with precision
Create artistic scenes with mesmerizing masks & blending effects
Replace background with green screen editing by using chroma key
Library of drag & drop video effects and transitions
Hundreds of templates, color filters, and titles
6,000+ Soundtracks and Sound Effects
Sound editing with pitch shift, vocal transformer, denoise, and more
Audio recording directly in projects perfect for voice-overs
Produce fast forward or slow motion videos with speed adjustment
Upload straight to YouTube or share with friends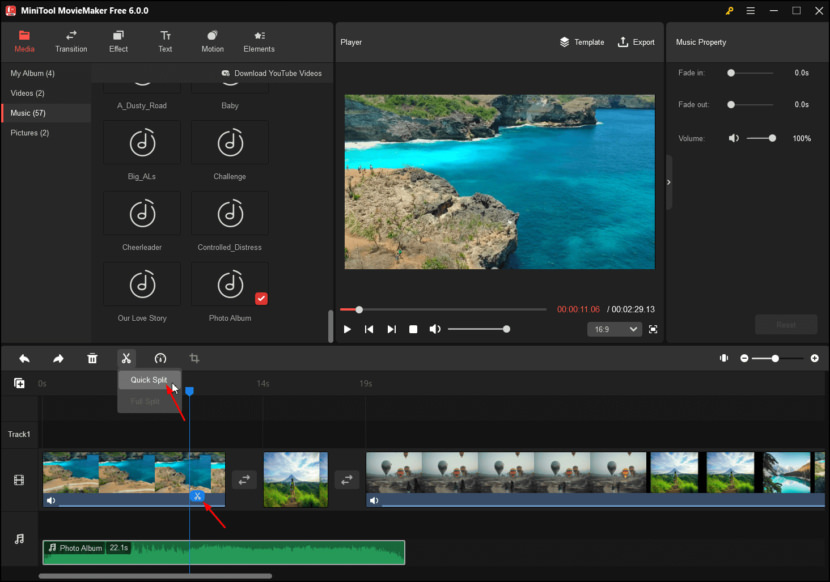 MiniTool MovieMaker is a simple video editing choice for beginners. With intuitive interface and rich features, it transforms your video into a piece of art and gives the video a stunning look! It makes your content shine. With embedded video templates, you can freely export multiple videos and pictures to generate stylish videos. This Windows movie maker simplifies the whole editing process and is especially user-friendly for beginners.
MiniTool MovieMaker delivers the best functionality for all people interested. With this Windows movie editor, it's easy to produce exquisite vlog videos, electronic albums, game commentary videos, online courses, etc. MiniTool MovieMaker can import almost all video/image formats and save your videos in standard or HD quality. Most notably, it allows exporting videos up to 1080P without watermark, and this is free!
Change your video aspect ratio to make it fit various playback devices like desktops, laptops, tablets, and smartphones, as well as common social platforms. Popular options include 16:9 (widescreen), 9:16 (portrait), 4:3 (standard), and 1:1 (Instagram). With MiniTool MovieMaker, videos can be exported without a watermark. Support all standard or HD output video formats like WMV, MP4, AVI, MOV, F4V, MKV, TS, 3GP, MPEG-2, WEBM, etc.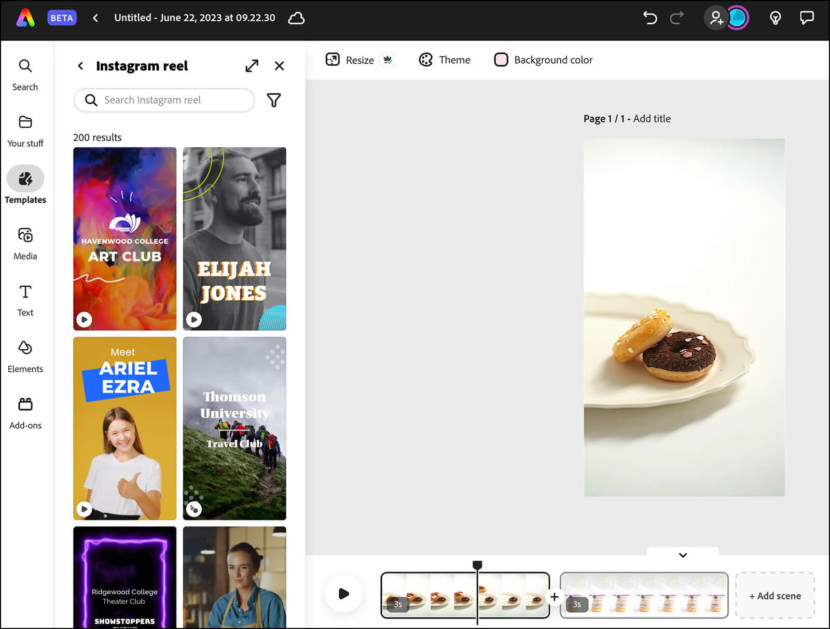 Whether you're new to TikTok or you're a viral star, create videos that will stand out in any feed. Adobe Express lets you make videos quickly and easily wherever you go. Personalize our free, easy-to-use templates in seconds to create your own content on your desktop or mobile device. Whatever your passion, sector, or skill level, make your TikTok video with our free templates today.
Be patient when first starting your TikTok. Playing around with different tools and templates and learning from mistakes is all part of the experience. Make a variety of videos and see what resonates with your followers. Take time to get to know your audience as it grows.
Worry less about producing a certain type of video and focus more on authenticity as that's what performs best. With Adobe Express, it's easy to workshop ideas and learn as you go and you can do it all for free.
↓ 08 – BeeCut | Windows | macOS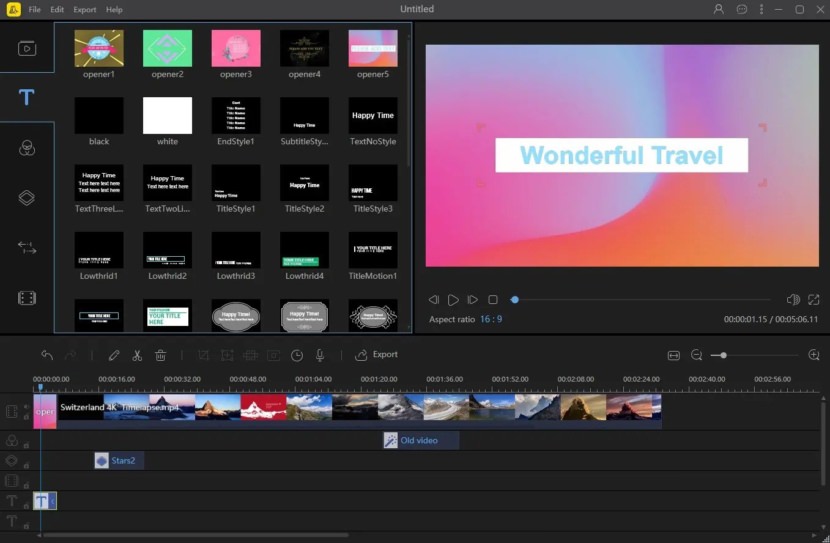 BeeCut is a video editor that offers you nearly all the video editing functions including cutting, cropping, merging, zooming, adjusting the color, speed, adding mosaic, text, audio to video, etc. Simply import your footage to create your own awesome videos within minutes, no computer skills needed.
The video editing software supports editing videos with 16:9, 4:3, 1:1, 9:16 and 3:4 aspect ratios. You can publish your edits to YouTube, Facebook, Instagram, TikTok and other social media. Besides, the rendered video can also be burned to DVDs and imported into your iOS and Android devices. Simply share any video as you want.
Level up your videos by adding some stunning video transitions, overlays, filters, visual effects, titles, voiceover and music. Once your assets are on the timeline, you can position your media how you want it. With this video editor, it's really hassle-free to get polished results.