A picture is worth a thousand words, an eye catching beautiful YouTube thumbnails will generate many more clicks than an ugly thumbnail. Having said that, editing videos and creating content is hard enough, let alone mastering another new skills in editing posters for Facebook, TikTok, YouTube, Instagram, and more.
🤣😍😂 45 Free Modern Resume / CV Templates – Minimalist, Simple & Clean Design
This is where AI generated design that uses the power of artificial intelligence to design wizard to make amazing designs. Now you can create ads, flyers, posters, business cards, banners, menus, social media posts and more with a simple description. AI design tool that lets you visualize your design ideas with a selection of refined templates made just for you.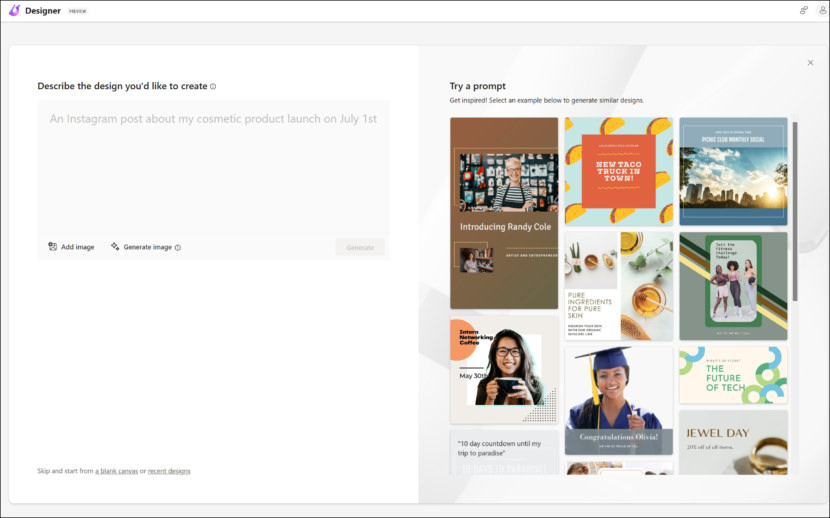 Microsoft Designer is powered by AI technology, including DALL·E 2 by OpenAI, which means you're able to instantly generate a variety of designs with minimal effort. Our cutting-edge AI supercharges your ideas. With Designer, there's no need to spend time building cards or social media posts from scratch. And you no longer need to search through thousands of pre-made templates.
Designer invites you to start with an idea and let the AI do the heavy lifting. For example, with 'start from scratch' within Designer, you can simply describe an image you want to see, and the app does the work for you to create something totally unique. As you work in Designer, every surface of the app is powered by AI to help ensure consistent, aligned, properly scaled, and beautiful designs, even with or without any inherent design ability. A graphic design app in Microsoft 365 that helps you create stunning social media posts, invitations, digital postcards, graphics, and more, all in a flash.
↓ 02 – Canva Free | Free Limited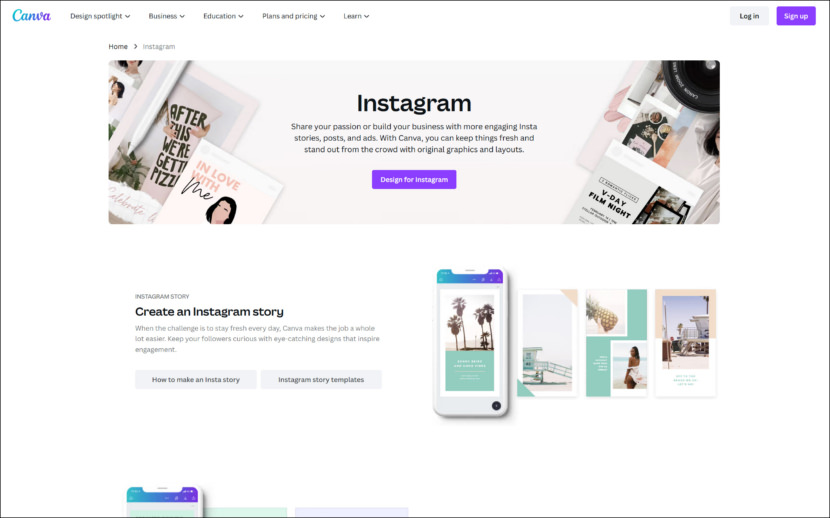 Create amazing visual content with no design experience. Start by yourself, or invite others to collaborate. Design anything with thousands of free templates, photos, fonts, and more. Bring your ideas to life with Canva's drag-and-drop editor. Share designs easily, with a simple click. Design engaging content for Facebook, Instagram, and TikTok in minutes. Post them directly from Canva.
Always start inspired. Effortlessly customize over 250,000 free templates for any need. Find everything you need to design in one place. Canva has an extensive media library of free stock photos, videos, graphics, audio tracks, and more.
↓ 03 – Genially | Free Limited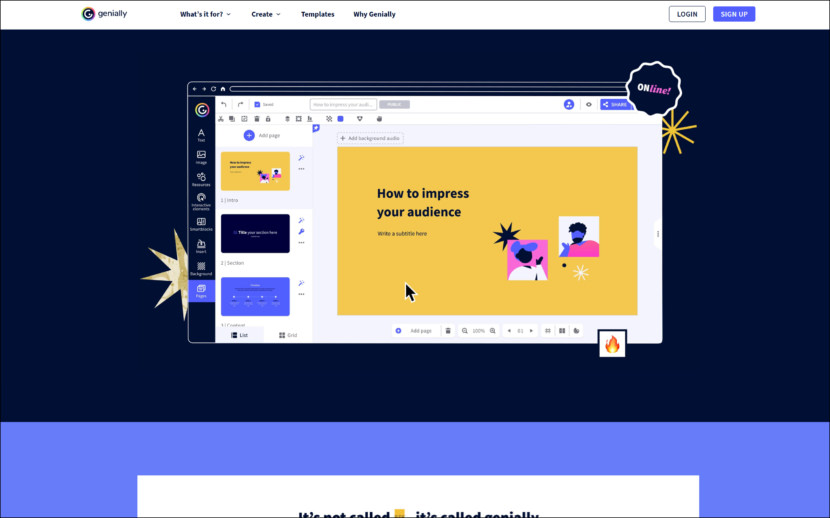 Genially is described as 'is the world-leader in interactive visual communication. Use this all-in-one online tool to create stunning presentations, interactive images, infographics, dossiers, quizzes, etc. you can enrich with interactivity and animation effects' and is an app in the office & productivity category.
Choose from over 1000 templates, or start from scratch. Join a community of millions of users worldwide that includes businesspeople, teachers, marketers, designers and companies like Hulu, Danone, Michelin and Heineken. The future of communication awaits you.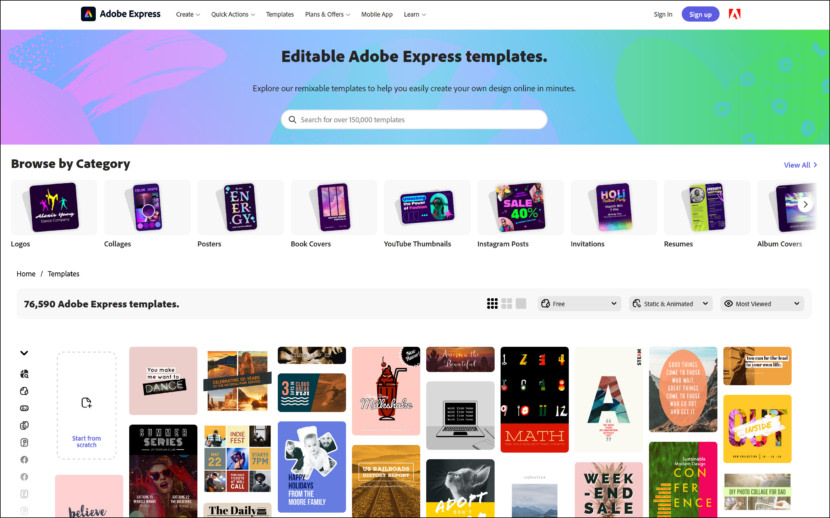 Adobe Express (formerly Adobe Spark) enables you to quickly and easily create standout social graphics, flyers, logos, and more on mobile and web. No design skills needed and it's FREE to get started. Feel like you have a designer in your corner as you select or upload your own images, try different layouts, add text to photos, and apply effects and filters. Find just the right professionally designed template for Stories, social posts, and ads for Instagram, Facebook, Snapchat, Twitter, and Pinterest.
The free version includes basic editing and photo effects, thousands of templates and design assets, over 2,000 unique Adobe Fonts, 2GB of storage, and Adobe Stock royalty-free photo collection. Explore our remixable templates to help you easily create your own design online in minutes.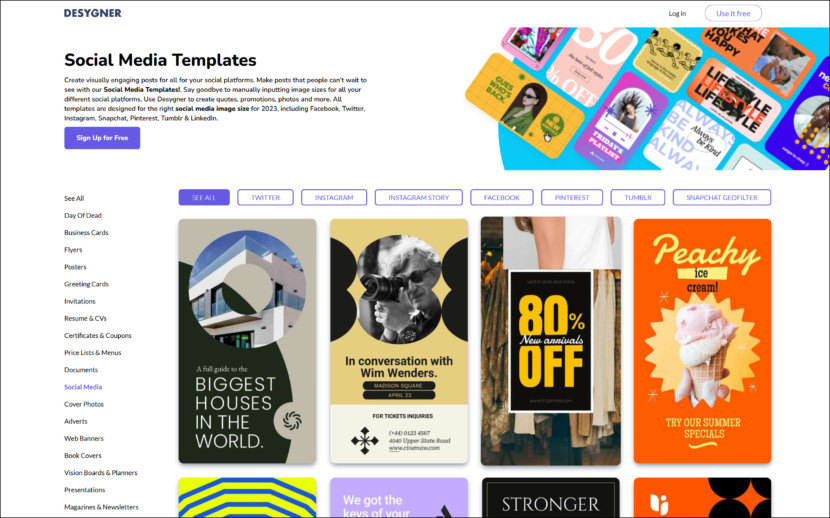 Access to easy-to-use editing features like Background Remover, PDF Editor and Animation. Explore the largest professional stock photo collection of 150+ million images. Imagine thousands of templates and combinations, all for you. With an immersive library of customizable templates available at your fingertips, you can express yourself however you want, whenever you want – without spending a dime on expensive design software.
Create visually engaging posts for all for your social platforms. Make posts that people can't wait to see with our Social Media Templates!. Say goodbye to manually inputting image sizes for all your different social platforms. Use Desygner to create quotes, promotions, photos and more. All templates are designed for the right social media image size for 2023, including Facebook, Twitter, Instagram, Snapchat, Pinterest, Tumblr & LinkedIn.