If your system is off the grid, it is useless to a hacker, even if it is infected with the best trojan, without the internet there is no possible way of controlling the system. Having said that, almost every device is connected to the internet, if you suspect your Microsoft Windows is performing an unauthorized connection but your Antivirus fails to flag it, you will need a windows process monitoring tool, it will monitor your network and display a list of processes that are accessing the internet. Here are 6 free tools to check what is secretly accessing the internet and stop any suspicious malware activities.
See More ▼ 10 Software To Monitor Broadband Internet Bandwidth And Block Usage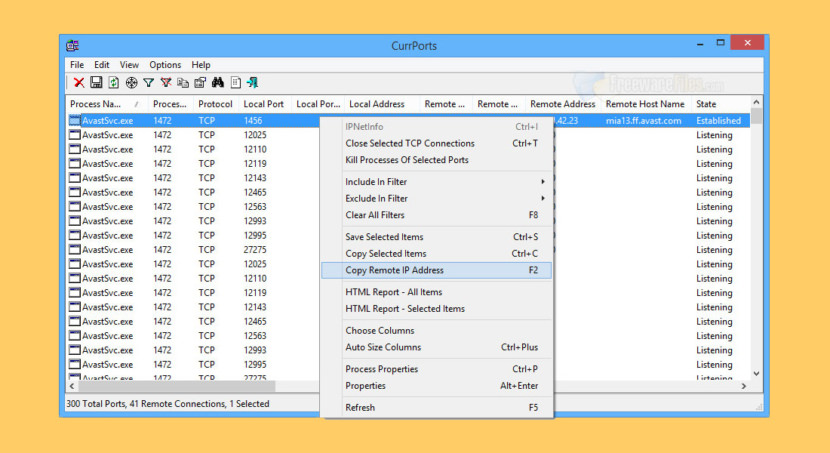 CurrPorts is network monitoring software that displays the list of all currently opened TCP/IP and UDP ports on your local computer. For each port in the list, information about the process that opened the port is also displayed, including the process name, full path of the process, version information of the process (product name, file description, and so on), the time that the process was created, and the user that created it. In addition, CurrPorts allows you to close unwanted TCP connections, kill the process that opened the ports, and save the TCP/UDP ports information to HTML file , XML file, or to tab-delimited text file. Works great on Microsoft Windows 10.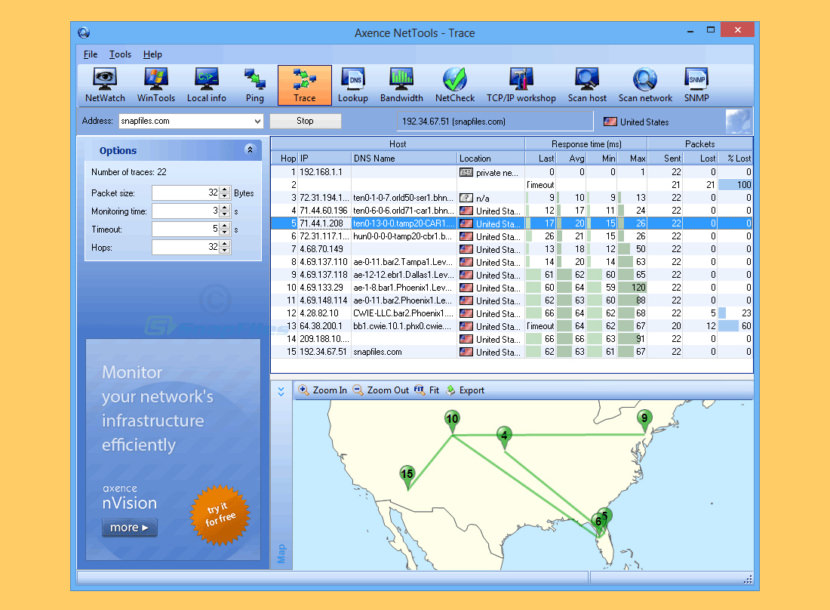 Free and functional network diagnostic tool. Axence netTools is a set of ten handy tools for network scanning and monitoring which is popular all over the world. The software is designed both for home and commercial uses. All functionalities of netTools are present in the Network module of Axence nVision® software.
Discovering the machines connected to the given network
Identification of services running on discovered devices
Operating verification of HTTP, POP3, MS SQL, Oracle and 50 other services
Detecting open ports at the determined address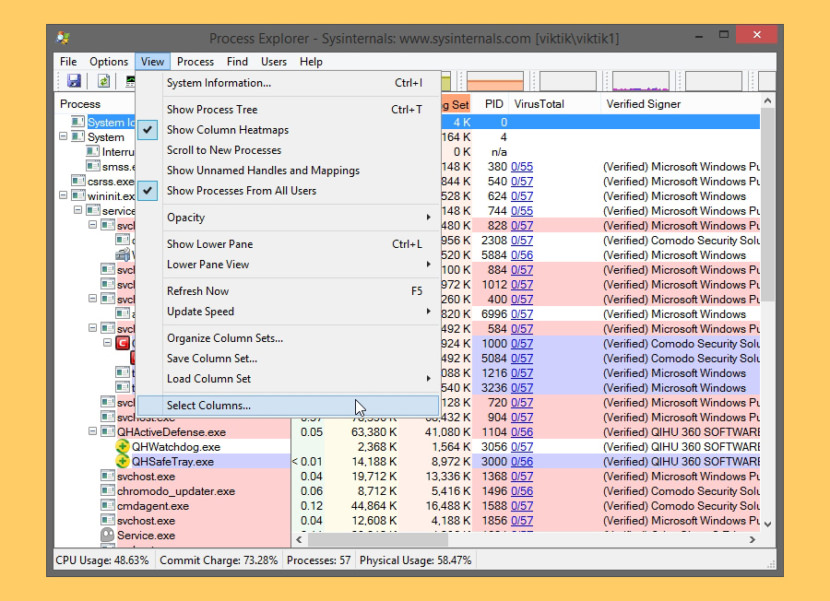 Ever wondered which program has a particular file or directory open? Now you can find out. Process Explorer shows you information about which handles and DLLs processes have opened or loaded. The Process Explorer display consists of two sub-windows. The top window always shows a list of the currently active processes, including the names of their owning accounts, whereas the information displayed in the bottom window depends on the mode that Process Explorer is in: if it is in handle mode you'll see the handles that the process selected in the top window has opened; if Process Explorer is in DLL mode you'll see the DLLs and memory-mapped files that the process has loaded.
Process Explorer also has a powerful search capability that will quickly show you which processes have particular handles opened or DLLs loaded. The unique capabilities of Process Explorer make it useful for tracking down DLL-version problems or handle leaks, and provide insight into the way Windows and applications work.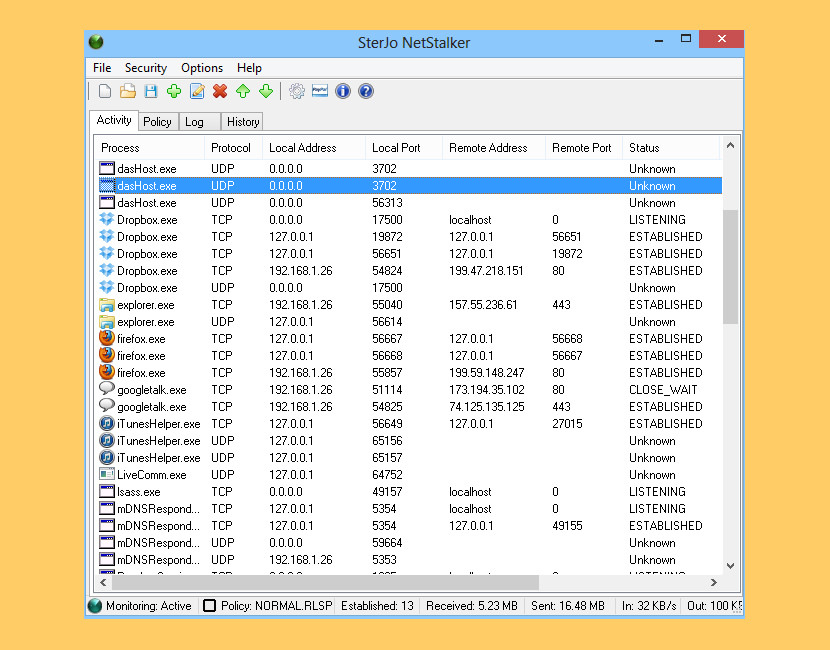 SterJo NetStalker is security software made specially for your PC protection. It will detect all connections to your computer, both authorized and unauthorized, and alert you for every new connection. It is kind of a free firewall – not a classic firewall as they know it, but rather a monitoring software, which will display details about all connections on your PC.
Analysing all open ports on your system will be done in less then a second. SterJo NetStalker will also analyse all running processes on your computer. That's especially useful when processes look suspicious, so this free computer protection software will work like a firewall software and inform you when your PC security is threatened.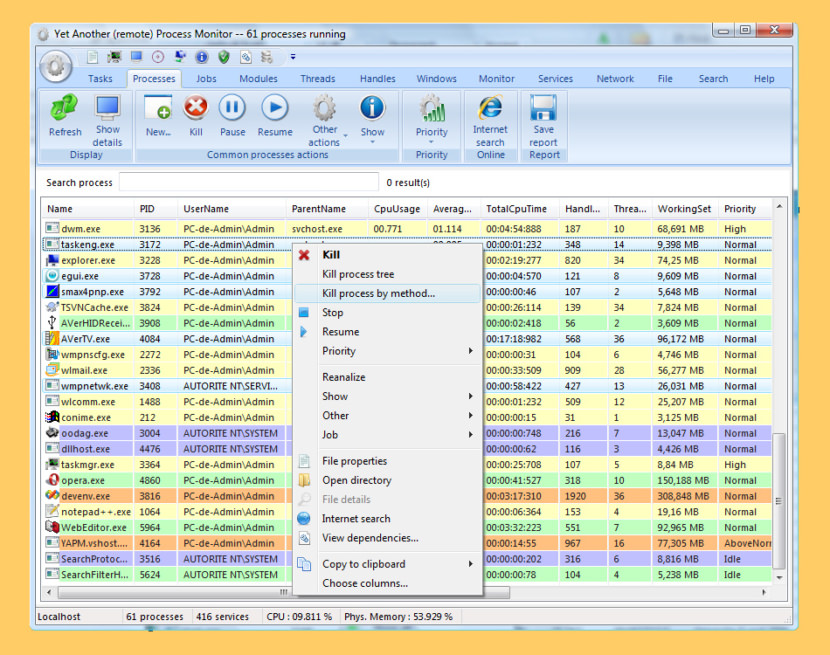 Yet Another (remote) Process Monitor (YAPM) is a powerful application that allows you to view and manage your running tasks, processes, threads, modules…etc. and your services on a local or on a remote machine. YAPM offers lots of features to manipulate them, such as privilege management, memory management, a complete history of statistics, a dependency viewer… etc. It is the first and only open source software to offer all these features. In addition to all basic features available with the standard Windows Task Manager, YAPM offers lots of other useful features:
Local and remote monitoring
Module and thread management
Job management : allows to add some processes to a job and set limits to the job. ; this affects all the processes in the job. For example, user can set an unique priority for all processes, a maximum memory usage for each process in the job…etc.
Handle management (keys, files, semaphores…etc. opened by a process)
View of TCP/UDP connections opened
Windows management (opacity, position, show, hide…)
Window' find' process feature : allows to find the process associated to a window via a drag & drop over the screen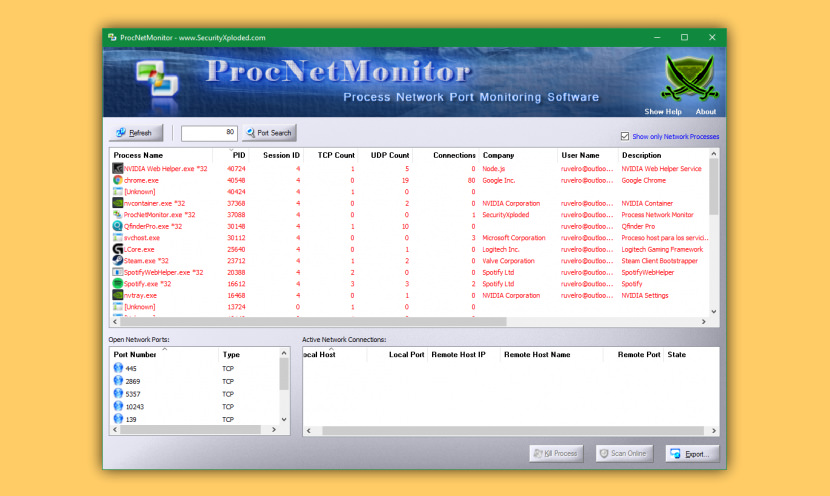 Process Network Monitor is the FREE software to monitor & analyze the Network activity of all running Processes on your system. It shows all open network Ports (TCP/UDP) and active Network Connections for each process. It also presents a unique 'Port Finder' feature which makes it easy to search for a particular Network Port used by any of the running processes. For example you can search for port 80 to find all processes who are accessing web (HTTP) services currently. You can right click on any process and perform more actions such as killing it, viewing properties, performing scans etc.
Detailed Network Activity of Process: Displays all network bound processes and all (TCP/UDP) ports/connections opened by selected Process.
Unique 'Port Finder' feature: Search for processes which are using specified port such as 80 (used for websites).
Online Malicious Process Verification: Scan suspicious Processes using online services such as VirusTotal, ProcessLibrary and Google.
Quick Sort Feature: Arrange the listed Processes based on name, pid, path, company, tcp/udp count, net connections etc
Right Click Context Menu: Helps you to quickly Kill Process, View Properties and Perform Online Scan.