Android is no doubt the most popular mobile operating system, however, it is too fragmented and can be too confusing for some. For example, you can place the app on your home screen on the app screen, settings can be accessed via the app or the manufacturer's settings or Android's settings. Why use an Android Launcher?
See More ▼ 26 Best Android Antivirus – Free Anti-Theft, AppLock, Call Blocker And More
Third-party launchers offer a lot of customization for users to suit their needs. The way they arrange, organize, and interact with their apps on Android is called the launcher. Launchers usually consist of a series of home screens, where they can arrange app shortcuts and widgets and an app drawer. I highly recommend the Poco Launcher by XiaoMi.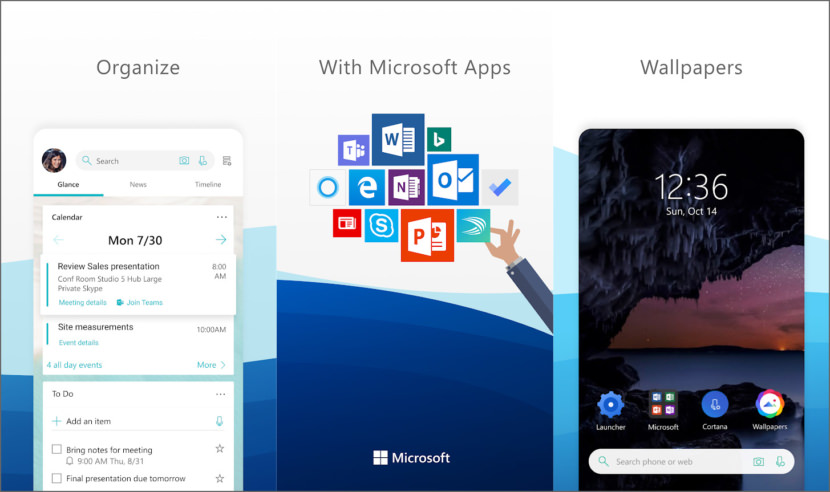 With Microsoft Launcher, you can personalize your Android device to match your style with wallpapers, theme colors, icon packs and more. With a Microsoft account or work/school account, you can access your calendar, documents, and recent activities in your personalized feed. You can even open photos, docs and web pages on your Windows PC* to be productive across all your devices.
People at your fingertips. Have your most important people at your fingertips. Pin contacts to your Home screen and place them anywhere on the Home screen, dock or in folders.
Choose your look. Personalize the look and feel of your device by customizing your wallpaper, theme and accent colors, icon packs, gestures and more.
Personalized feed. See your most important information at a glance like news, calendar events, docs, contacts and more in your personalized feed. You can even set your feed as your default Home.
Continue on PC. Snap a pic on your phone and see it instantly on your Windows PC* or continue editing an Office 365 document on your PC by linking your phone with your Windows PC.
Search the web and your phone in one place. Search the web or your files, apps, docs, messages and web results using Microsoft Launcher's universal search bar.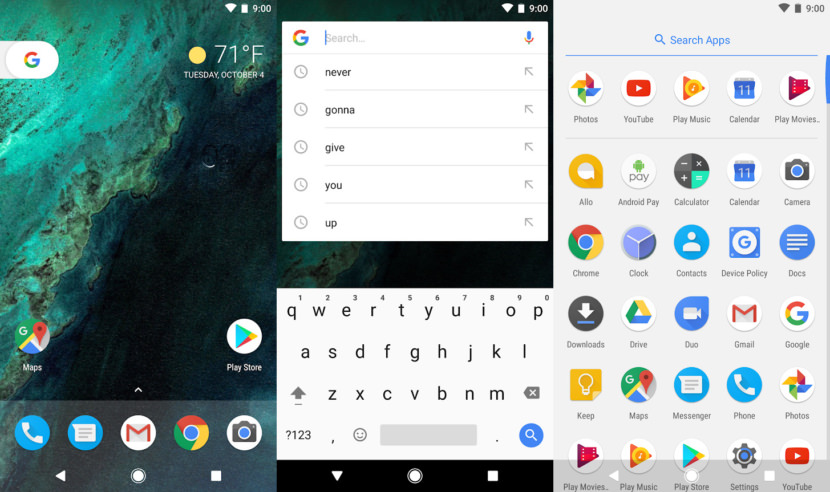 Pixel Launcher is the home screen experience for the Pixel and Pixel XL phones by Google. Personalized information from Google is just a swipe away.
Swipe right from your home screen to see personalized Google cards that bring you news and personalized information, at just the right time.
Quick access to Google Search on your primary home screen.
Swipe up on the bottom Favorites row to find your apps from A-Z.
App Suggestions bring the app you're looking for to the top of your A-Z list.
Long-press on apps that support shortcuts to jump right into where you need to go or long-press on the shortcuts to drag them to the home screen.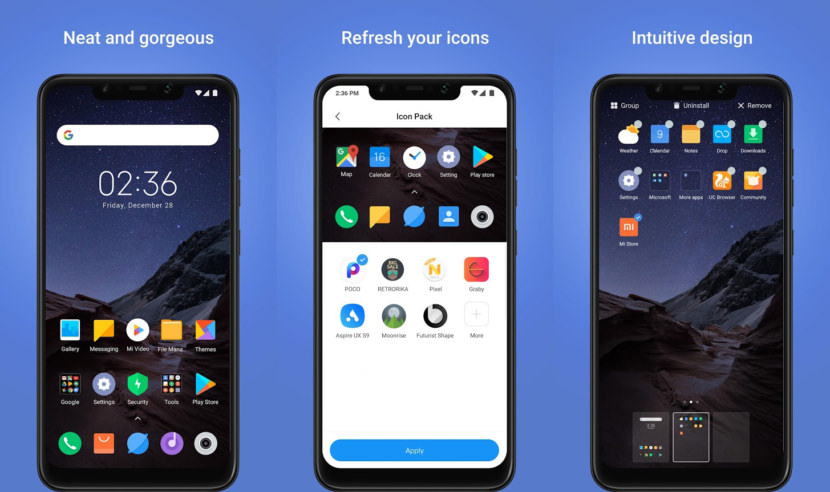 POCO Launcher is a full-featured customizable launcher for Android phones by XiaoMi. It's beautifully designed, super fast and secure. And super lightweight as well!
Clean Home screen – POCO puts all apps in the App drawer, so your Home screen looks neat and clean.
Customize Home screen layout – Resize the Home screen layout and app icons. Use third party icon packs to give your device a new look.
Convenient search – App recommendations, icon color categories, and lots of other customizable features allow you to find what you need much faster.
Manage apps – Group apps by category automatically or create custom groups to always keep important things just a tap away.
Privacy protection – Keep your apps private by hiding their icons.
Fast and smooth – POCO Launcher is born for breakneck speeds. Forget about slow system animations!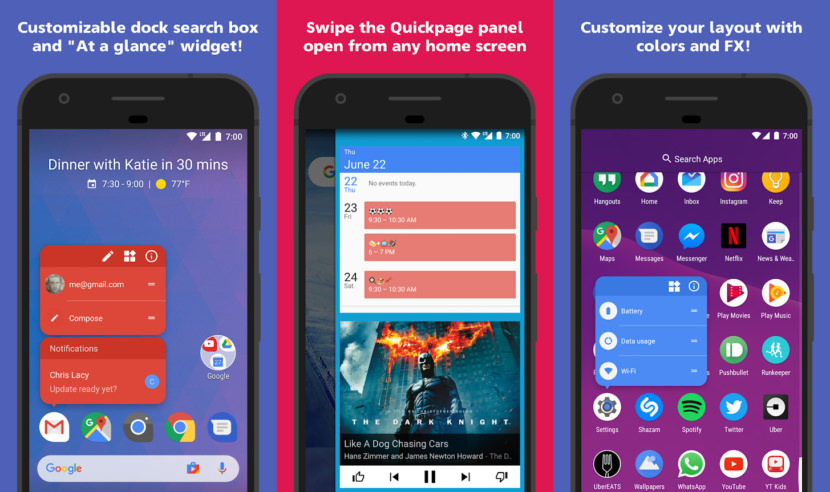 Action Launcher brings the best features of Pixel Launcher and Android Pie to your device, then adds a wealth of color, customizations and unique features so you can quickly and easily make your home screen shine! Bringing Android Oreo
and Pixel Launcher to your phone, today.
Action Launcher has long been a favorite Android launcher of their readers. It comes with a stock Android feel. However, there are some extra features over top that add some uniqueness. Quicktheme lets you customize the colors of your UI based on your wallpaper.
All Pixel Launcher features: swipe up from your dock to reveal the new full screen All Apps mode, tint the dock, use the new circular folder style, place the Google Pill and Date widgets and more. Enabled by default, and available for free!
Full customizable dock search box: Complete control to color and customize the search box and its icons to your heart's content!
At a Glance widget: Quickly view the weather, date and your next calendar appointment!
App Shortcuts: Use Android 8's App Shortcuts, on devices running Android 5.1 or later!
Adaptive Icon support: Devices running Oreo can use native Adaptive Icon support. Devices not yet on Oreo can also use Adaptive Icons by installing Action Launcher's official companion app, AdaptivePack!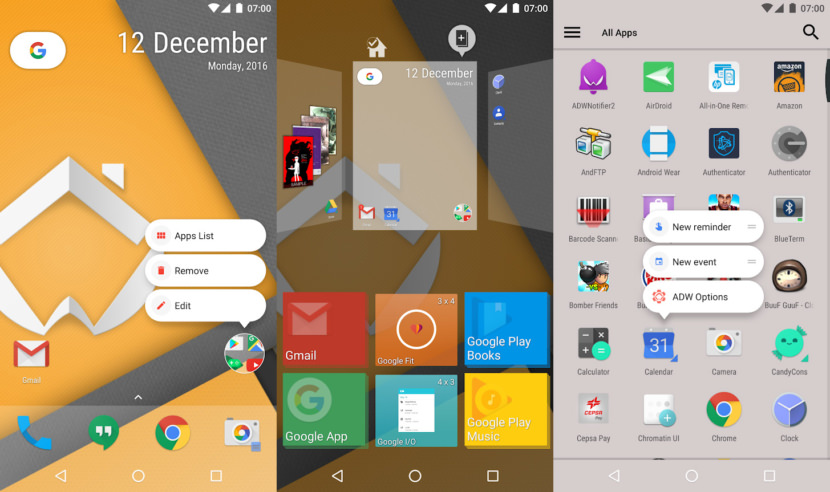 You may think the original and best launcher of all time has not been updated, because people assume that time is a strict progression of cause to effect, but *actually* from a non-linear, non-subjective viewpoint, it's more like they released this update 3 years ago and you didn't realize. Don't worry, they understand not everyone has…1.21 gigawatts!! to spend.
Icons Appearance – Set the size, rotation, font, color, predefined filters and compositions to create your own designs.
App Drawer – Do you have many applications? Do not worry, with the categories, the search and many designs you will find them very fast
Custom Widgets – Why use widgets that do not suit your needs? Create your own in the easiest way and don't forget to share them.
Themes – Quickly change the whole look of your desktop with themes. Remember that you can combine them.
Gestures – Set up your gestures to access faster and easier the daily actions
Better – Better screen management, global configurations, widgets and shortcuts picker, desktop transitions, app drawer, folders, wrap folders and much more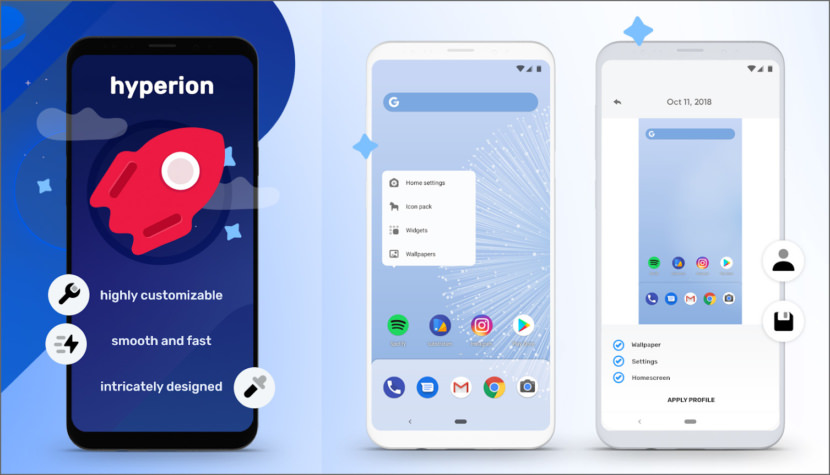 They believe that not only should everyone deserve a sweet, feature-filled launcher with a beautiful UX, they wanted it to always be up to date with the best of what Google has to offer at a consistent pace, as well as consistently pushing new tweaks and customization options that users want…without the bloat!
Launcher and accent theming: with an intricately designed theme by Manuel Möllmann (Deep Darkness Theme)
Desktop, Drawer and dock icon changes (Icon size, Label size, Text colour, Text shadows, Multiple lines)
Covers: For folders, you can swipe up to open or mask the folder with a main icon
Icon packs: View your icon pack changes immediately without quitting activities!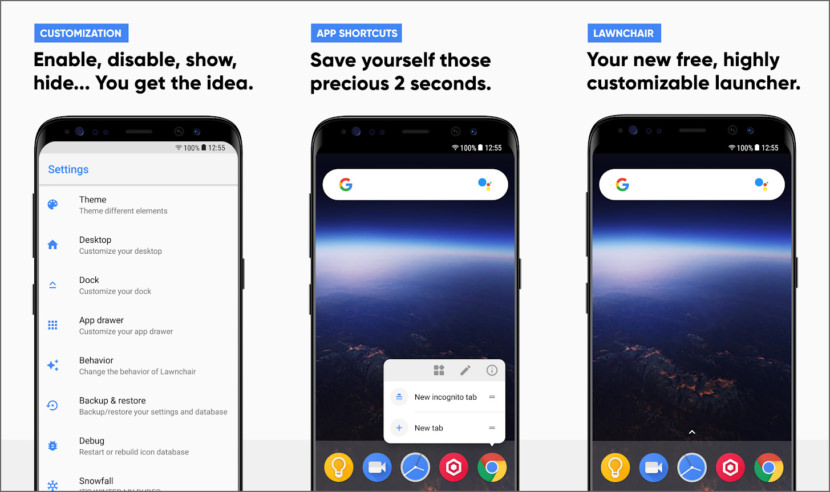 Lawnchair. Get it? It's a bad pun, they know. Based on Launcher3 from AOSP, Lawnchair has all the features of the Pixel Launcher (including the Google Feed), plus customizability. Best of all? No root required. Lawnchair, bringing Pixel Features to the masses. An open-source project developed by volunteers, Lawnchair has quickly become the de-facto choice for Android enthusiasts everywhere. New features are being added regularly… with the promise that Lawnchair will always be FREE and open-source.
Android Oreo features – Notification dots and improved shortcut UI have been backported for anyone to use! Perfect for anyone who won't be getting Android Oreo anytime soon.
Pixel Launcher: Customizable – Icon size, label, rows, and columns are all adjustable. Lawnchair also supports icon packs, and the Pill is customizable as well. These aren't the only features, and more are added regularly.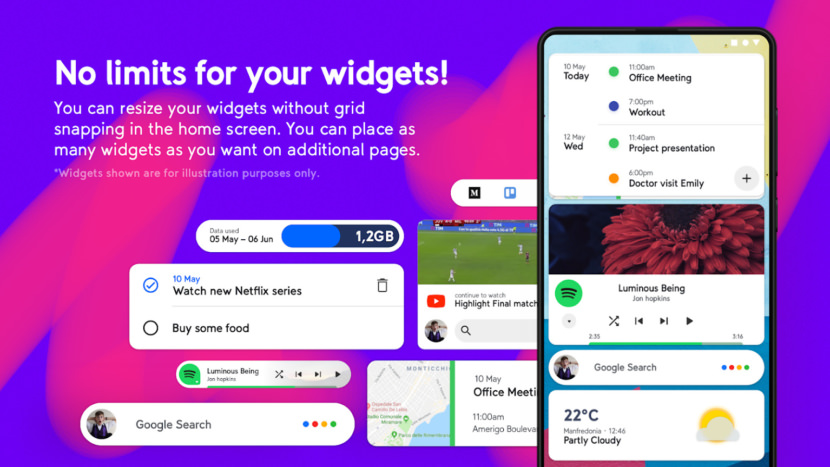 Smart Launcher is back and has been completely renewed! Smart Launcher is the innovative launcher that makes your smartphone or tablet faster and easier to use. Smart Launcher is a community-driven project, regularly updated with new features to support the most recent Android APIs and new devices.
Ambient theme – Smart Launcher automatically changes the theme colors to match your wallpaper.
Adaptive icons – The icon format introduced with Android 8.0 Oreo is fully supported and available for any Android device! Adaptive icons means not only customizable shapes but also beautiful and bigger icons!
Designed to be used with one hand – They moved the items you need to interact the most in the bottom part of the screen where they are easier to reach.
Ultra immersive mode – You can now hide the navigation bar in the launcher to maximize the screen space
Smart search – The Smart Launcher search bar allows to quickly find contacts and apps or to perform actions like searching on the web, adding a contact or performing a calculation.
Built-in clock widget with weather – The built-in widget has been redesigned to show info like alarm, next event and weather.
On screen notifications – Smart Launcher will now show you which apps have active notifications without requiring you to download an external plugin. This makes the feature more stable and reliable.
Protect your apps – You can hide the apps you want and if you want to keep them secret, you can protect them with a PIN.
Wallpaper selection – Smart Launcher includes a very efficient wallpaper picker that allows you choose between many sources of pictures. You can also backup your wallpaper before to try a new one!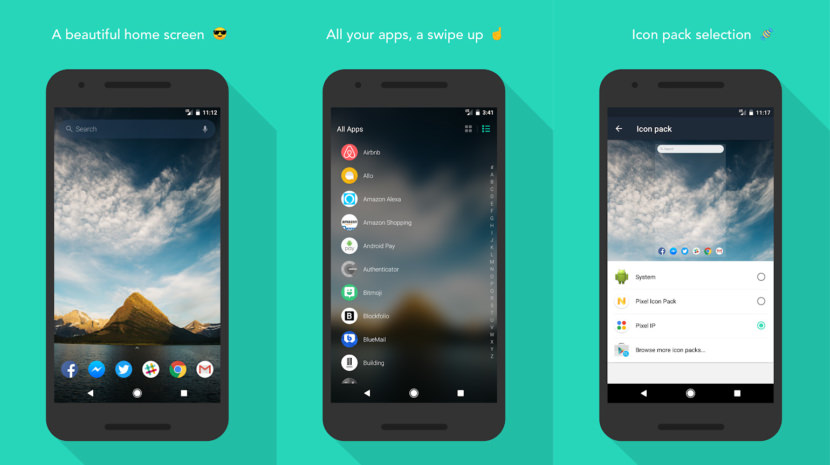 Evie makes your phone faster and easier to use. It's an Android launcher that gives you universal search across apps. Use Evie: speed, beauty and elegance without sacrificing what you love about Android: customizability and personalization. Making Android fast, simple and beautiful. The best out-of-the-box Android experience, with the tools you need to craft the perfect home screen.
Universal Search – Search inside all of your apps in one place. Let us do the hard work for you!
Quick Navigation – Not in the mood to use their lightning-fast search? Swipe up for instant access to all of your apps instead.
Custom Shortcuts – Long press on search results to create custom shortcuts. Need to "Call mom" in a jiffy? Make it a shortcut!
Personalization – Import and customize layout, wallpaper, icon size, app icons, icon size, or start from scratch! You are unique, and they think your home screen should be too.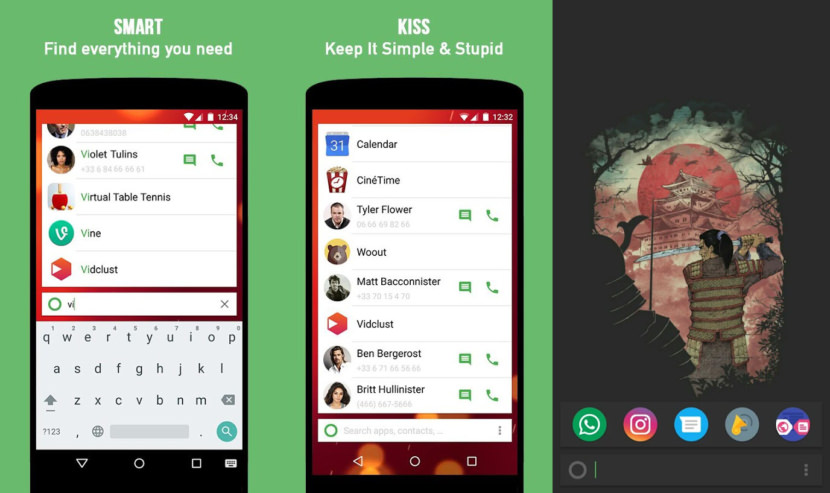 KISS Launcher lets Android users simplify their home, clean their screens and access the functions they need as quickly and as simply as possible. KISS Technology has been developed to allow users to save time and battery power. KISS Android Launcher helps users find the most used features of their phones to offer an adaptable reception service continuously depending on use patterns.
Tiny 250KB only
Optimized for battery life
Blazingly fast, launcher for Android requiring nearly no memory to run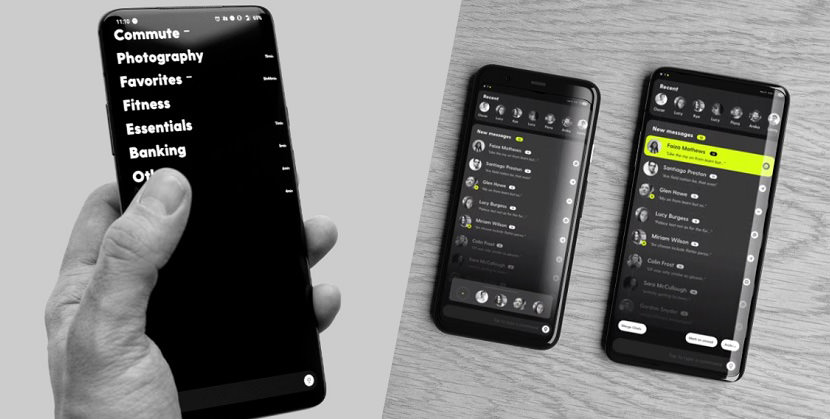 Ratio is a minimal launcher designed to refine your smartphone experience. Ratio is their way of bringing their unique custom OS to other Android phones. At the moment they are sharing their launcher with the OnePlus 7 and Pixel 4 series, but they will soon include other select Android models.
12. Apex Launcher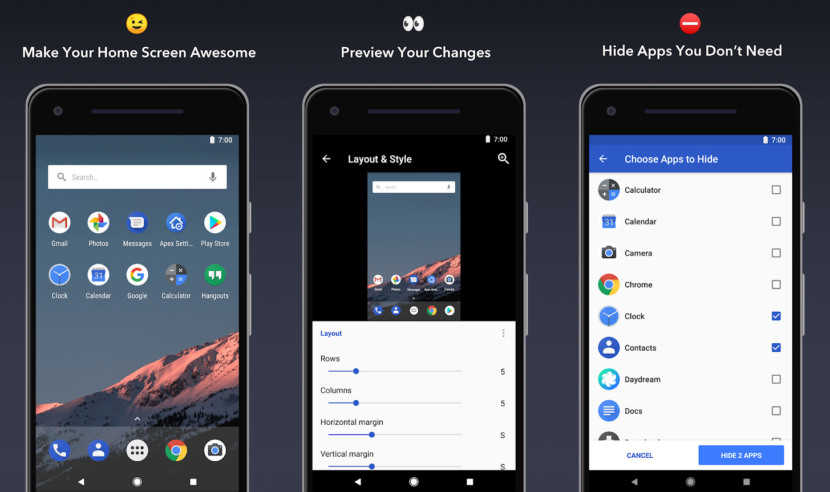 [ Discontinued ] ustomize your Android Home Screen experience, Apex Launcher has been around for a very long time and remains one of the most iconic Android launcher apps ever. Like Action Launcher, it aims to give a stock Android look and feel with a few extra features thrown in for good measure. Among those include the ability to alter things like transition animations, scrolling habits, and there is even a scrolling dock where you can lay plenty of icons.
Personalized Customization – Free icon packs and themes to personalize your phone interface. Fancy & 3D transition effects to redefine your stylish launcher.
Secure and Protect – Hide & lock apps to protect your privacy.
Efficiency and Fast Speed – Quick search, gestures, backup & restore to boost your work!
13. Customized Pixel Launcher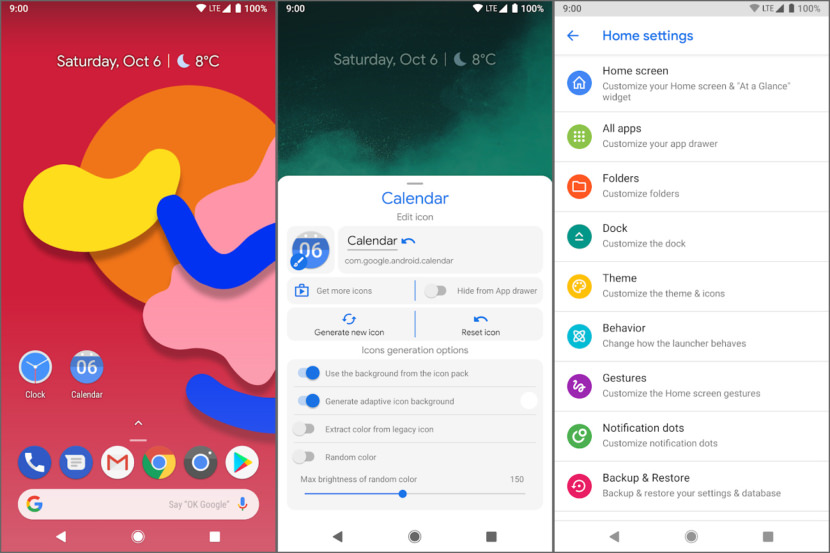 [ Discontinued ] The CPL project began as a fork of the Rootless Pixel Launcher from amirzaidi (Amir Zaidi), who added support for Google news feed and the 'At a Glance' widget to AOSP Launcher3 and also added many fixes to the original AOSP version. Gradually, CPL became a separate project that provided many options for customizing and fine-tuning the interface.
14. Nova Launcher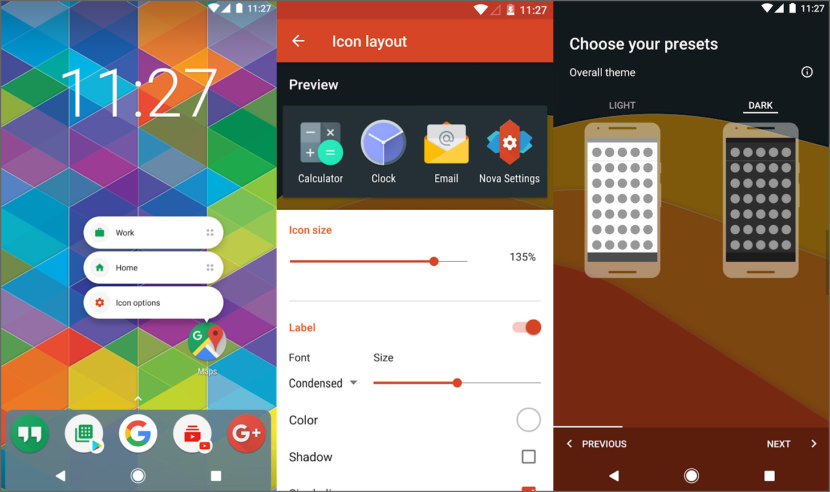 [ Discontinued ] Nova Launcher is one of the best Android launchers around. It is a buttery smooth launcher which I have been using for over three years now. It is fast, efficient and lightweight. The highly customizable, performance driven, home screen. Accept no substitutes! Nova Launcher is the top launcher for modern Android, embracing full Material Design throughout. Nova Launcher replaces your home screen with one you control and can customize. Change icons, layouts, animations and more.
Icon Themes – Find thousands of icon themes for Nova Launcher on the Play Store
Subgrid positioning – Much greater control than standard launchers, Nova Launcher allows you to snap icons or widgets half way through the desktop grid cells
Color controls – for labels, folders, unread badges, drawer tabs and backgrounds
Customize App Drawer – Custom tabs, Vertical or Horizontal scrolling, Custom effects
Improved Widget Drawer – Widgets grouped by app makes it much faster to use
Infinite scroll – Never far from your favorite page, loop through the desktop or drawer continuously
Backup/Restore – Sophisticated backup/restore system allowing you to backup your desktop layout and launcher settings
Scrollable Dock – Create multiple docks and scroll between them
Widgets in dock – Place any widget in your dock, such as a 4×1 music player widget
Import Layout – No need to rebuild your desktop from scratch, Nova Launcher can import from most popular launchers. Including the one that came with your phone.
Fast – Nova Launcher is highly optimized to do it's work quickly and quietly, keeping the animations smooth and letting you use your phone as fast as you can move your fingers.
15. Asus ZenUI Launcher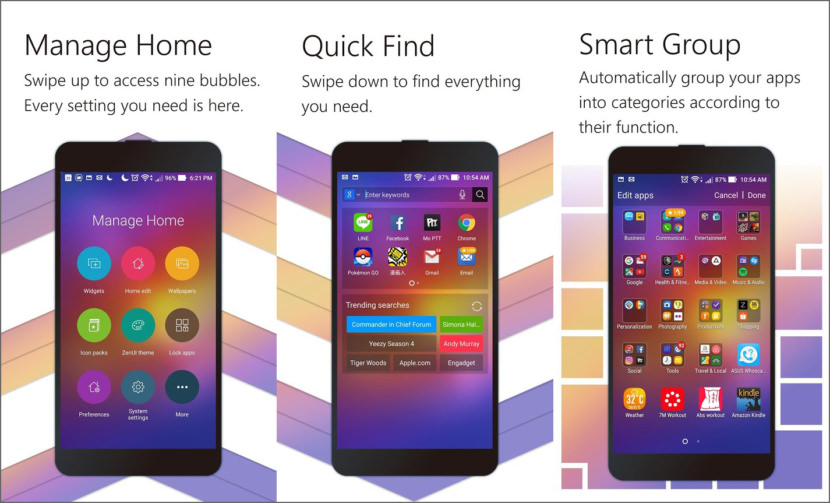 [ Discontinued ] Customize your launcher the way you want it to be: apply your favorite wallpapers and widgets, apply scroll effects or transitions, or organize your apps in folders. Secure your apps from prying eyes with integrated app locking features. Efficiently and intuitively manage your home screen!
Swipe up home screen to access the setting shortcuts to key features such as apps, widgets, wallpapers, icons, and system themes to customize your launcher easily.
Organize your apps and folders in One layer mode (access all apps on home screen) or Two layer mode (access apps using a shortcut).
Auto-group related apps using Smart Group feature to keep your screen organized.
Get a sneak live preview on your screen when customizing your wallpapers, themes, fonts, and more!